Nothing conjurs up the appetite like a canape of cold, chilled brains, am I right?
In all seriousness, I'm serious about normalizing offal, and, as brains are some of the most obscure, wiggly, and to most, ghoulish of organ meats, I'm trying to build a section of this site that can show how to cook and enjoy brains that are actually approachable, and delicious. This salad, inspired by one I read about in Richard Olney's indispensable offal book in The Good Cook series published by the editors of Time Life Books.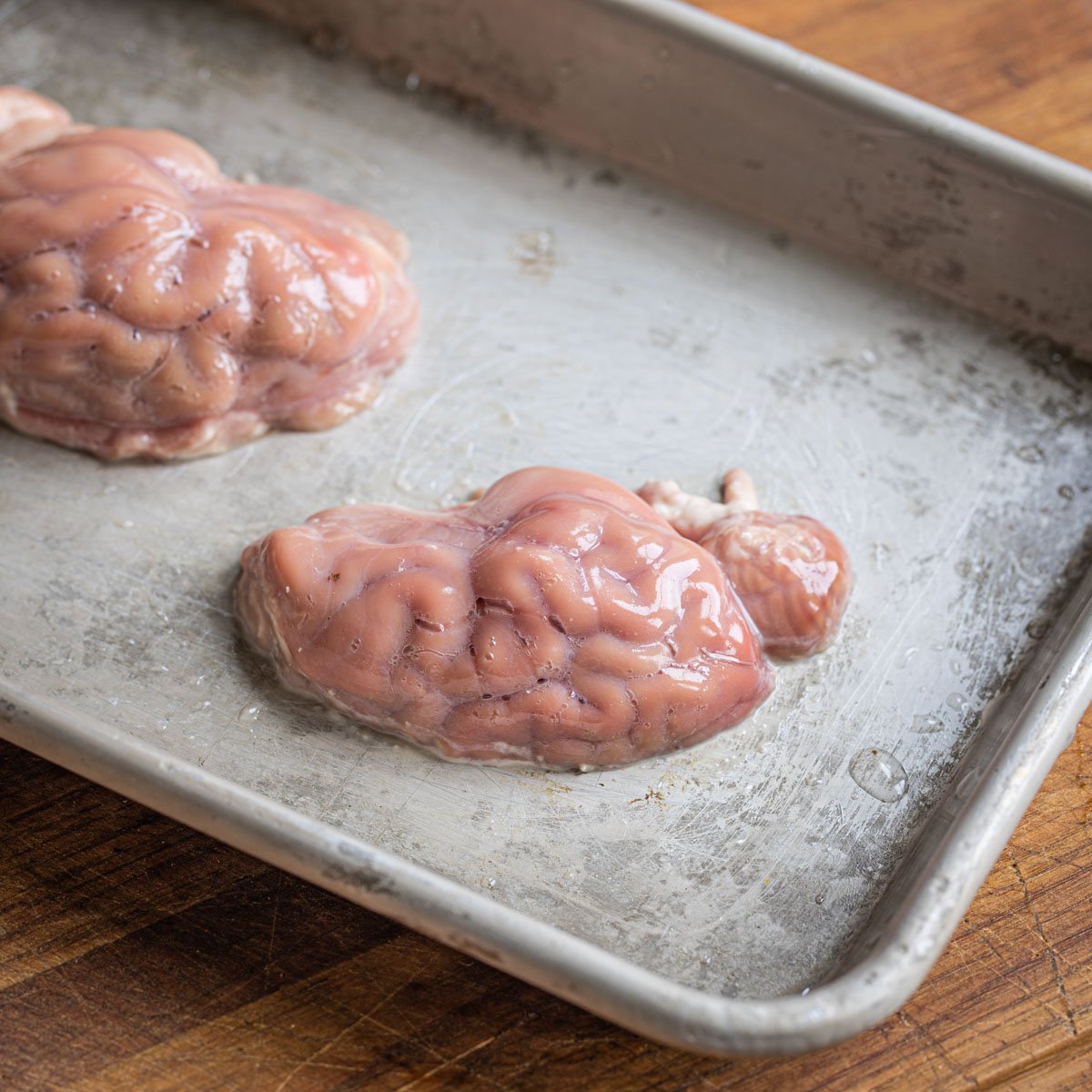 Brains and eggs are a natural pairing
I was flipping through pages going to the brain recipe section (like ya do) looking for some ideas I could imagine serving to first time brain eaters, or people who'd never considered eating cranium candy. "Brain Salad with Eggs" sounded like a good place to start. Brains and eggs have similar textures, and mixing the two together could be a good way to disguise them, I thought. Since everyone loves deviled eggs, I imagined egg halves filled with a salad of chopped hard boiled eggs, delicately poached brains, and some other flavorings to lighten it (pickled banana peppers, lemon, herbs, etc).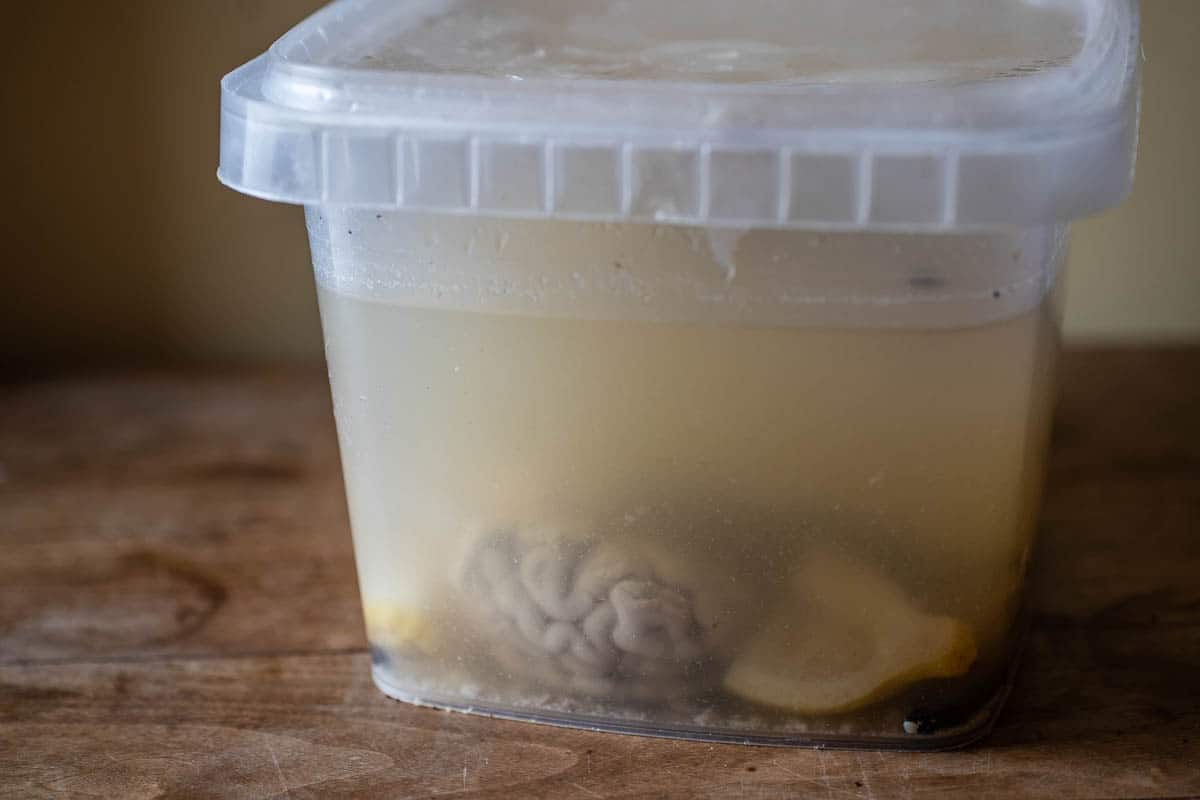 I got all the ingredients together to make the dish, soaked, then poached my brains, chopped them and mixed with some hard boiled egg whites and yolks, and then re-read the recipe. Unfortunately (or fortunately as the case may be) the brain salad I saw in my mind was a far cry from the dish described by Olney. The original brain salad was different, more deconstructed, and was basically hard boiled egg halves topped with pieces of poached brain with the whole shebang drizzled with mayonnaise—it was a little too brain-forward for my purposes, and I think you'll like my version here a lot better if you're feeling up to taking a crack at it.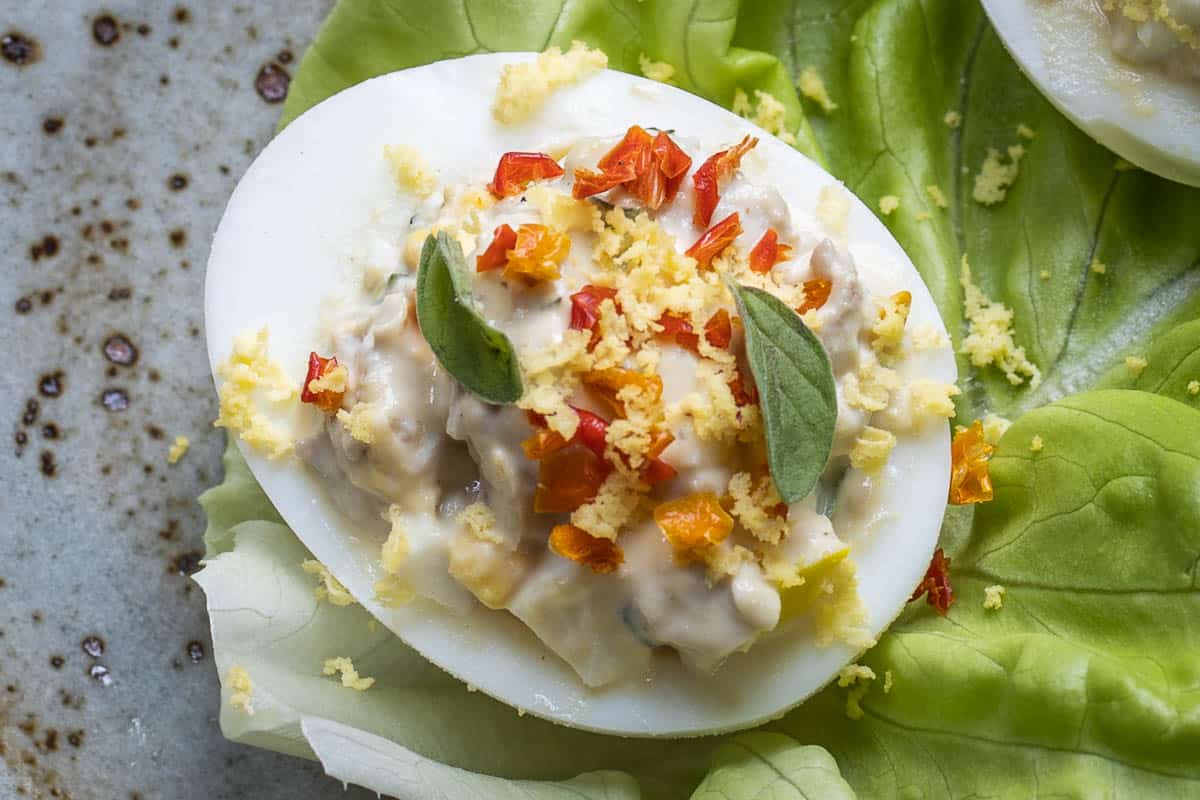 Pepper confetti
Even if you don't have a hankering for brain recipes (if you don't I'm impressed you got this far) the pepper confetti here is a really cool garnish for all kinds of salads, cold and warm dishes. Inspired by Thomas Keller's pepper confetti from the legendary French Laundry cookbook. While it doesn't sound like much, I can gaurantee you that you'll be shocked at how much flavor gets concentrated into a few sprinkles of dried sweet peppers.
After I made it I was sprinkling them on everything, but they're particularly good with eggs. Tuck that away in your hat for a rainy day, or when the garden is giving you more peppers than you know what to do with. To make pepper confetti, you trim the ribs of sweet peppers (use multiple colors for the best effect) dice them as finely as possible, then dehydrate them and sprinkle on all the things.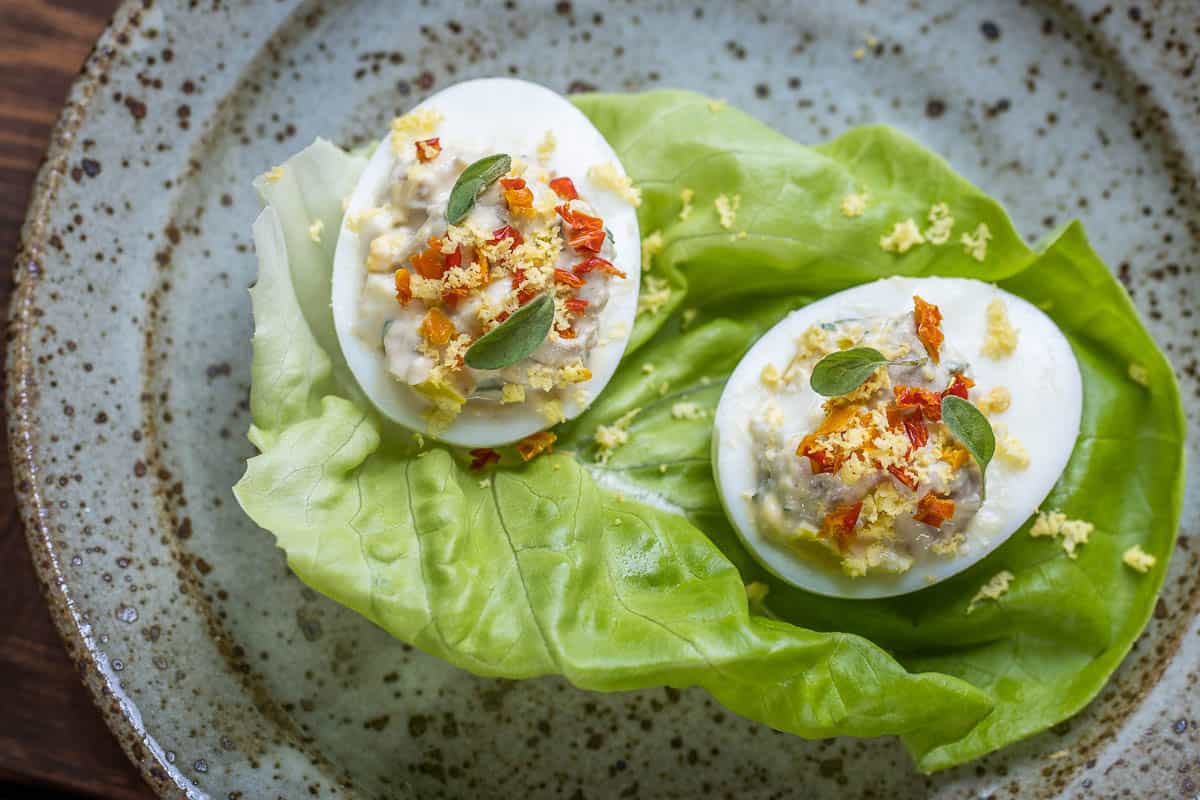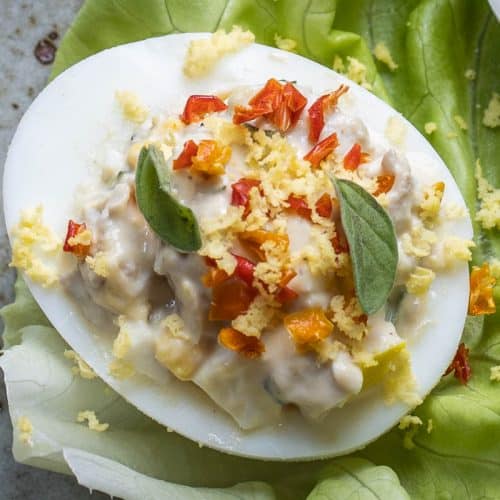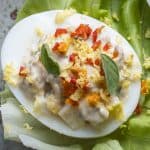 Print Recipe
Lamb Brain Salad with Herbs and Pickled Peppers (Salade de Cervelle)
A simple recipe for brains mixed with hard boiled eggs, mayonnaise, herbs and pickled peppers that will fool most people. It's delicious. You can scale this to fit your needs, but I stretch a modest amount of lamb brains here to yield about 12 egg halves.
Ingredients
Brains
1

lamb brain

4oz, halved

Splash of vinegar

such as apple cider

2

cups

water

1

teaspoon

salt

1

dried or fresh bay leaf
Salad
1

hard boiled egg

1.5

tablespoons

pickled banana peppers

small dice (¼ inch)

Kosher salt and fresh ground black pepper

1

small lemon

2

tablespoons

prepared mayonnaise

either homemade or something good like Hellmans

1

teaspoon

chopped fresh oregano or another herb

Pepper confetti

optional, see note

6

hard boiled eggs

optional, see note
Instructions
Soak the brains
Soak the brains in cold water in the fridge, changing the water until it runs clear, a few hours.

Mix the water, salt and vinegar, then put into a container and add the brain halves and leave overnight. The next day, discard the water.
Poach the brains
Cover the brain with fresh water, along with the bay leaf and a ½ inch wide peel of lemon zest and a pinch of salt. Bring the mixture to a simmer, then turn the heat down as low as possible and cook, uncovered, for 30 minutes.

Cool the brain in the poaching liquid.

Remove the brains and pat dry, then dice into small cubes about ½ -¼ inch size.
Assembly
Mix the diced brains and remaining salad ingredients, spoon into the egg halves, garnish with dried pepper confetti if using, or just a few leaves of herbs and serve on lettuce leaves or another green thing to help make them attractive and fool your dinner guests.
Notes
Eggs
I serve the brain salad here on egg halves as I like the shape and form, and deviled eggs are a vehicle most people I know enjoy. You will have extra yolks leftover, which are good mashed with oil and herbs and spread on toast, buzzed up into mayonnaise (send me a message if you want to try that) etc. If you don't want to serve them in egg halves, you could use toast points.
Pepper Confetti
The pepper confetti here is meant to add color, but also adds a bright pop of flavor. To make it, take a few small, multi-colored lunchbox peppers, or just a red bell pepper, quarter them and remove the ribs, then dice into ⅛ inch or smaller dice if you can.
Dehydrate the peppers at 150F (high setting) on a silicon mat or parchment paper until crisp, then store in an air tight jar in the fridge and sprinkle on things as needed. It's a delicious way to enjoy peppers.