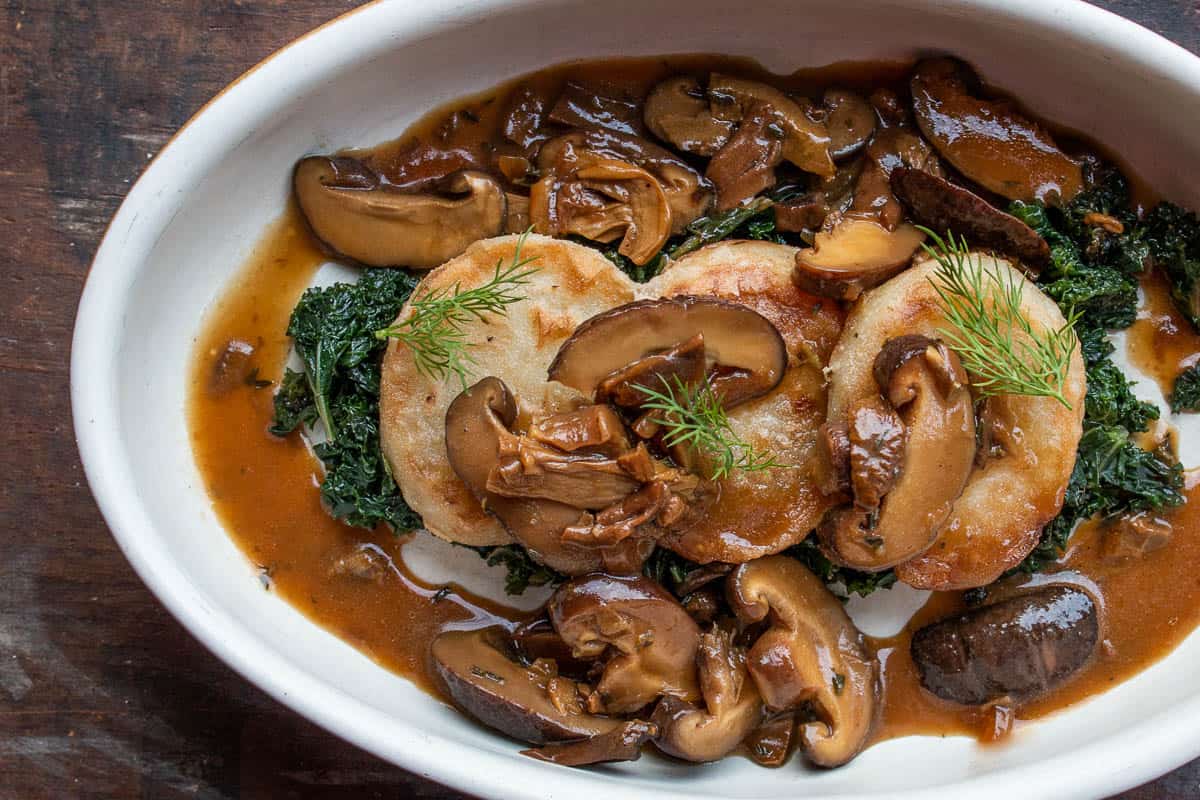 Vegetarian or not, you're going to love these little daikon radish steaks with wild mushroom ragu, but first, I have to give credit to where my inspiration came from.
Like most of my colleagues, I'm always hungry for new information and secrets from others in the culinary industry. You can find recipes for just about anything online, but there are plenty of things that you can't, too. Case in point, the fiendishly creative, vegetable-focused recipes of Chef Jeremy Fox, formerly of the lauded vegetarian restaurant Ubuntu, and now Rustic Canyon.
Chef Fox's book On Vegetables was on the Christmas wish list of most of the chefs in my kitchen back when it came out in 2017. I ordered myself a copy as soon as it came out, and I wasn't disappointed. One quick thing to know though: the book is written for chefs. Many of the techniques are complex and involved—some aren't, but I would say most of them are. That being said, you can probably still get some good ideas just from flipping through it (what I often do) and Jeremy's Daikon piccata is the one that inspired the daikon radish steaks here today.
Daikons: more than coleslaw and pickles
Yes, daikon radish steaks. If you've ever seen one in a store and wondered about how to cook a daikon radish (sometimes they're absolutely massive, huge!) you wouldn't be alone. And, in all honesty, I was in the same daikon-curious camp until I read Chef Fox's book and saw his recipe for daikon radish piccata. I mean, sure, I'd sliced them thin and added them to vegetable slaws, where they're delicious, but it would have never occurred to me to cook a daikon radish like a meat substitute. Admittedly, them being a known Japanese ingredient, and my training being western probably had something to do with it.
My girlfriend loves slaws, and daikon radishes are often at the coop, so they show up in the fridge from time to time One day, remembering the daikon piccata from On Vegetables, I peeled one, poached it, tossed them in flour and fried them up golden brown until they resembled something like flat scallops. It was paradigm shifting.
Daikon radishes, cooked just until a knife can pierce them, are a shockingly good substitute for meat, or simply as a side dish. The way I'm presenting them here, they could go either way.
For the finished dish, I blanch and fry some daikons, and serve them on some wilted greens garnished with my all-purpose mushroom ragu recipe that I described back in this post. It makes a nice, earthy entree or side dish if you want to serve some protein alongside.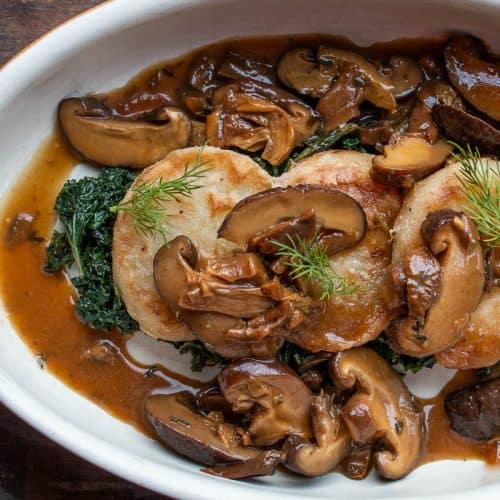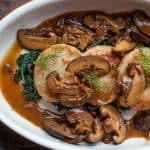 Print Recipe
Daikon Radish Steaks with Mushroom Ragu
Daikon radishes blanched and fried crisp, served with a rich mushroom sauce.
Ingredients
Daikon Steaks
All purpose flour or equivalent

as needed for dredging, optional

Flavorless cooking oil or lard

as needed, about ¼ cup, for browning the daikon

12

slices

daikon radish

peeled and cut into ½ inch rounds
Sauce and garnishes
2

cups

wild mushroom ragu

see recipe

2

Tablespoons

unsalted butter

Kosher salt and fresh ground black pepper

to taste

Wilted greens

for serving

Dash of fresh lemon juice

to taste

Fresh herbs

for finishing, especially dill, chives, chervil or parsley
Instructions
Daikon Radishes
Bring a pot of lightly salted water to a boil, then add the daikon, and simmer for a minute or two, or until they're tender and taste good to you. Remove the daikon, drain and pat dry.

Toss the daikon with the flour, tap off any excess, then brown well in the oil or lard. Remove the daikon, drain out any scorched oil, then add the mushroom ragu and heat through. keep the radishes warm in a preheated oven.
Finishing and serving
Stir the butter into the mushroom ragu, adding a little liquid if the pan threatens to dry out. Swirl the pan and stir on medium heat, until the butter is melted and the sauce starts to thicken.

Off the heat, add a dash of lemon juice, then double check and correct the seasoning for salt and pepper. Mound some wilted greens on the middle of each plate, lay three slices of daikon on each, then ladle the mushroom sauce over the top, sprinkle with the fresh herbs and serve.

For a family style dish, arrange the daikon slices on top of some wilted or fresh greens on a platter and pass the sauce separately.