Buckwheat kasha with wild mushrooms and onions is a classic piece of Eastern European comfort food you need to try. I was ignorant of it for a long time, and I can't believe it took me so long to get around to it. For me, it's a dish that'll always be tied to a particular day. Here's what happened: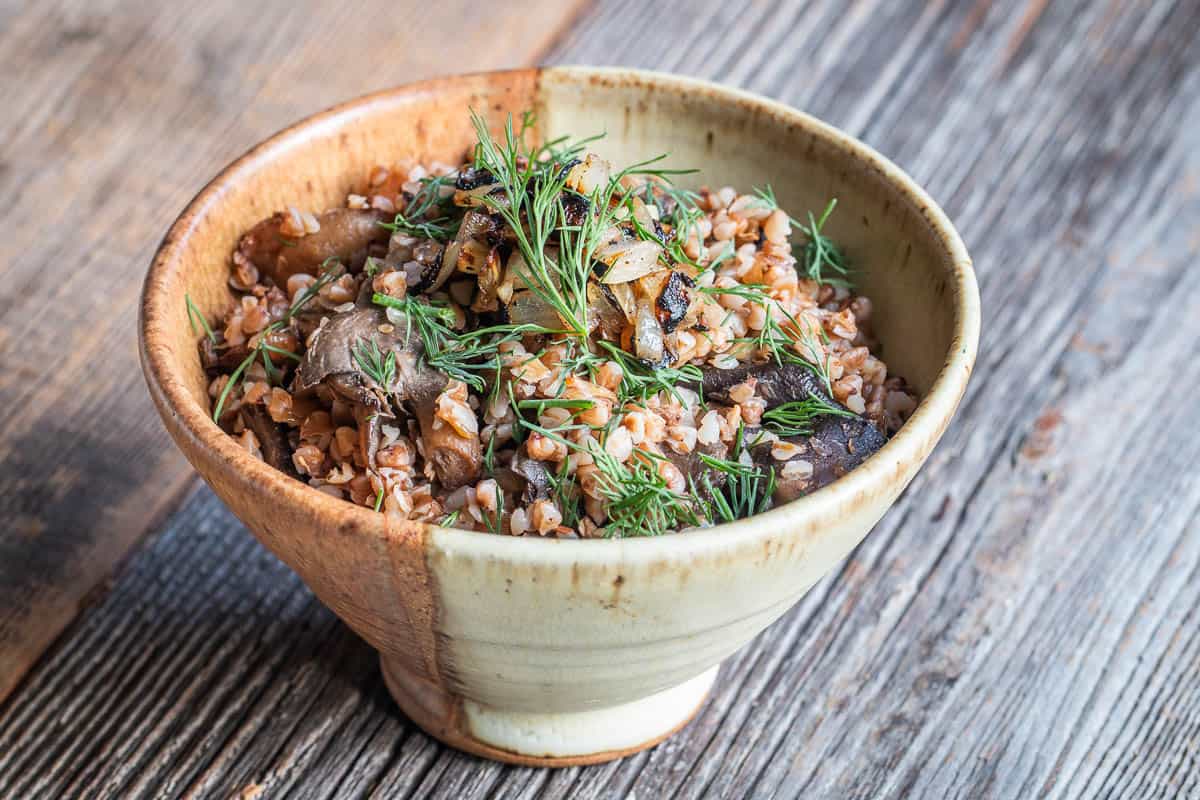 I was outside in the yard when a car pulled up. After a car door shut, I heard women talking, and the unmistakable cadence of an Eastern European accent. "Russians?" "Here?" "Of course, they've come for the mushrooms". I thought grimly. I didn't think they'd venture this far into Wisconsin past Willow River Park, since there's as many types of slippery jacks there as the day is long.
Russians love mushrooms
Fearful, I went back to the house before I going over to say hi and meet/inspect our visitor, making sure the fresh hen of the woods and honey mushrooms I'd picked that morning were covered up and hidden in the fridge behind all the cabbage and beets I could find. Afterword, I made sure to wash my hands, arms and face to remove any mushroom smell. If I know one thing, it's that more than anything else in the world Russians have a lust for wild mushrooms, so you can never be too careful.
I walked out of the house, smiled, and said hi to my girlfriends colleague Anastasia from who'd stopped by for the afternoon. She came carrying a large sack of some food stuff in a curious looking yellow bag. "I brought you kasha!" She said enthusiastically. Before I could tell her that I didn't have any of the wild mushrooms around she would demand as tribute for such a gift, and ask if she would accept beets in their place, she starting telling us all about the kasha.
The Rice of Russia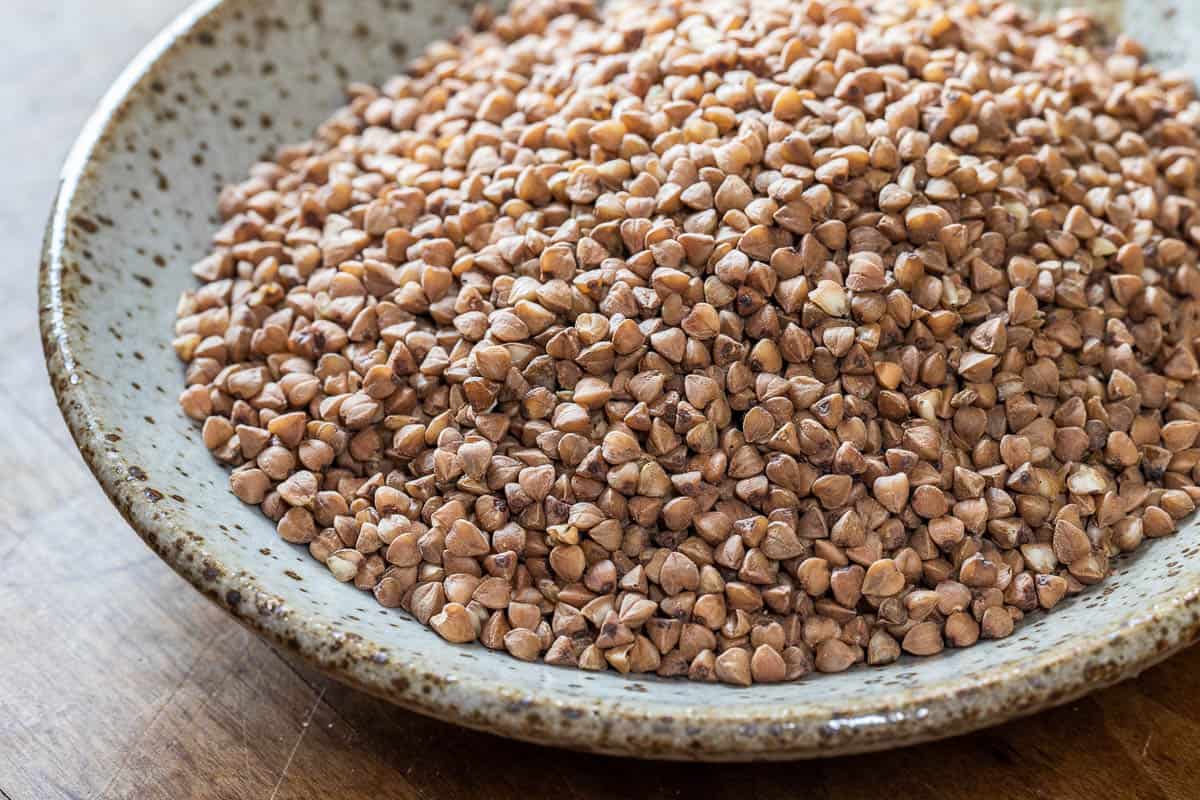 Anastasia told us that buckwheat kasha was the "rice of Russia" and that, at the beginning of the year while Americans had gone and scooped up all the skim milk, white sugar and fettuccine (or whatever it is we eat) she and her family had stocked up on kasha like the end times were coming.
Lowering my guard, I asked her how she liked to cook it. A few different recipes came up, but cooked with onions and mushrooms was the one that stuck with me. Kasha with onions and honey mushrooms would be on the menu that evening, a fitting combination with the way Russians love their honey mushrooms, I thought.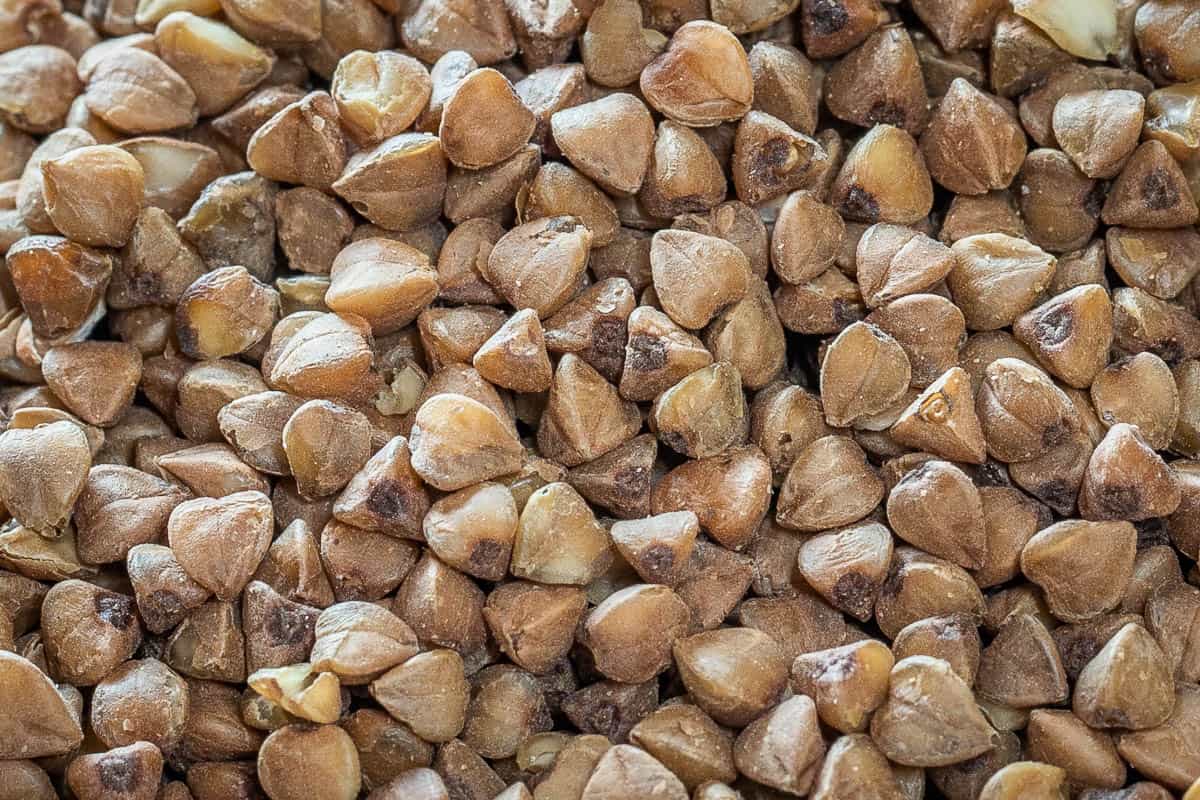 Grateful for the new-to-me food to play with, on a whim, I asked Anastasia if she liked mushrooms (a great conversation starter if you're ever around someone from Eastern Europe). Her eyes visibly widened, and, like clockwork, she started gushing about how much she loved them, and all the different ways her family enjoyed them.
Before she left, I made sure to give her my largest hen of the woods to say thank you, and the happiness in her eyes as she carefully cradled it to her car made this mushroom hunting Scrooge's day. Funny enough, she'd never been mushroom hunting in the U.S. yet. Now that she knows, I give it until next season until she's picking her own. 🙂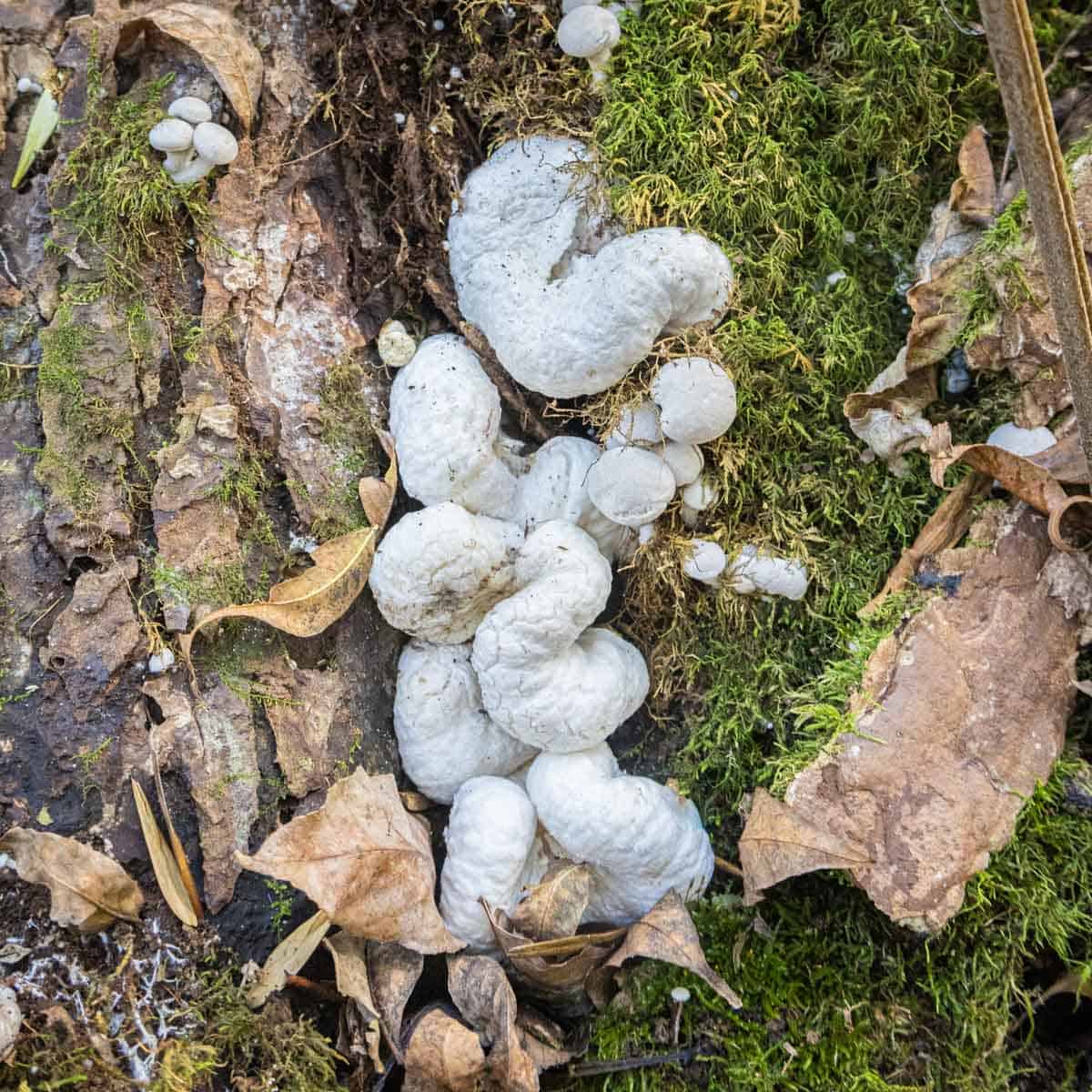 More than pancakes
Most people in America will know buckwheat as a flour, maybe one that makes a really good pancake. I've always loved a good buckwheat pancake, and I relied the flour occasionally to make gluten free dishes like crepes and Italian pizzoccherri noodles for diners here and there.
I also like the color it gives to my scrapple. But somehow, someway, cooking with buckwheat groats/seeds escaped me until earlier this year. I knew they were a thing, I just never had an excuse. Suffice to say I'm ashamed it took me so long.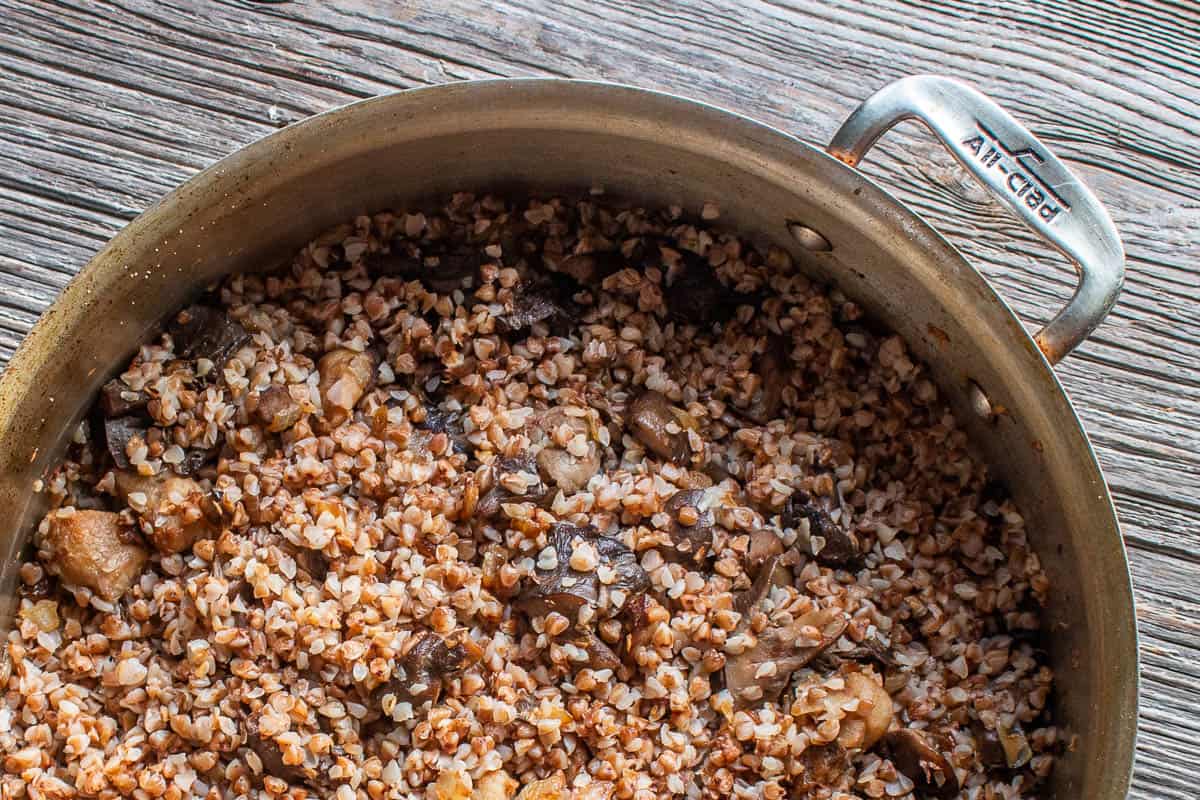 One bite and you'll see why it would be easy to eat your weight in Kasha. It has the tender give of white rice, but a deeper aroma and flavor from the roasting process. Just like rice, it's super versatile, and useful in everything from soups, stews, pilafs and side dishes to breakfast. It's just a hardworking, delicious starch.
The toasty-ness gives it a natural affinity for caramelized onions, mushrooms, butter, poultry fat, and, strangely enough, pasta. Along with cabbage soup, a simple dish of cooked kasha is one of the national dishes of Russia. If you want to try some for yourself, Uvelka Brand is what Anastasia brought us, and said it was the brand she preferred from back home. 
What follows here is essentially the simple kasha recipe with mushrooms and onions Anastasia related to me as we spoke. And it is so addictive it could probably make slippery jacks taste good. I used aborted and non-aborted entoloma mushrooms (Entoloma abortivum), and I prefer my onions cooked quite dark. Some fresh dill is optional. Passing butter at the table is not.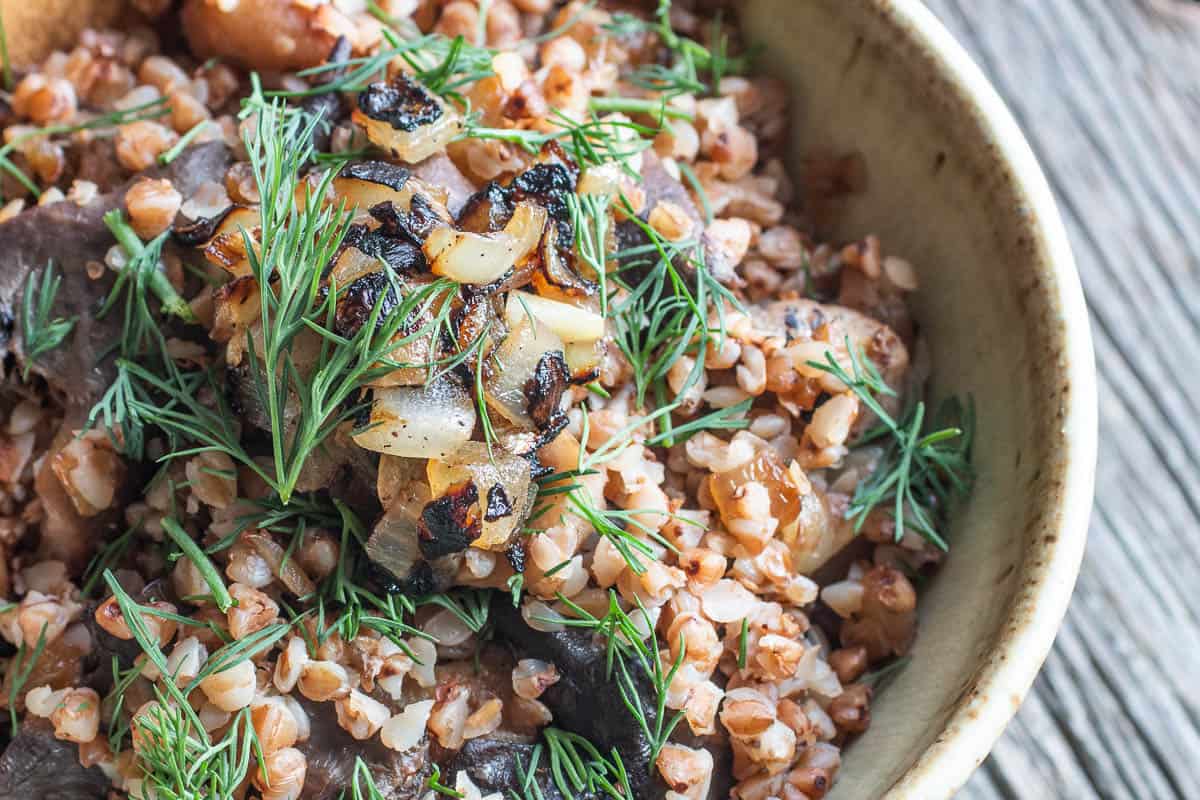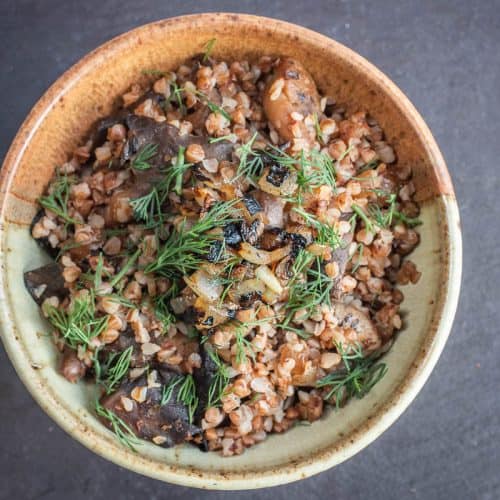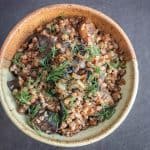 Print Recipe
Buckwheat Kasha with Wild Mushrooms and Onions
A simple recipe for roasted buckwheat kasha with caramelized onions, wild mushrooms, butter and herbs. It's dense enough to be a main dish by adding a salad, some leftover meat, and a dollop of sour cream. Serves 4-6
Ingredients
Kasha
¼

teaspoon

salt

plus more to taste

2

cups

water
Mushrooms and Onions
4

tablespoons

animal fat

especially duck or chicken fat, or unsalted butter

8

oz

yellow onion

1 large diced ½ inch

12

oz

wild mushrooms

Fresh chopped dill or your favorite herb

optional
Serving
Unsalted butter

softened, for serving
Instructions
Kasha
Bring the kasha and water to a boil in a small pot the the ¼ teaspoon of salt, then turn the heat to low, cover, and cook until the kasha is tender, about 15-20 minutes, then keep warm.
Mushrooms and onions
Meanwhile, in a large pan, cook the onion on medium high heat in the fat until starting to brown and fizzle around the edges, then remove from the pan and reserve (can be done ahead of time). I like my onions with a touch of black on them. Leave some fat behind in the pan.

Add the mushrooms to the pan with ¼ cup water and cook on medium heat, stirring occasionally, until the pan is dry and the mushrooms are wilted and cooked. Add another spoonful of fat if needed.
Finishing
Season the mushrooms to taste with salt and pepper, then add ¾ of the onions to the pan, along with the kasha, double check the seasoning, adjust until it tastes good to you.

Stir in the dill, and serve with the remaining onions spooned on top, along with extra chopped dill and soft butter at the table. It reheats very well.
Notes
*If your buckwheat is green, like in most coops I've seen, you can toast the green groats in a skillet until golden to get the same flavor as roasted buckwheat kasha.
More