Do you like bacon? Pancakes? Crispy, browned things cooked on a griddle? Maple syrup? Of course you do, so fasten your seatbelt and come aboard the organ train, because we're traveling to scrapple country.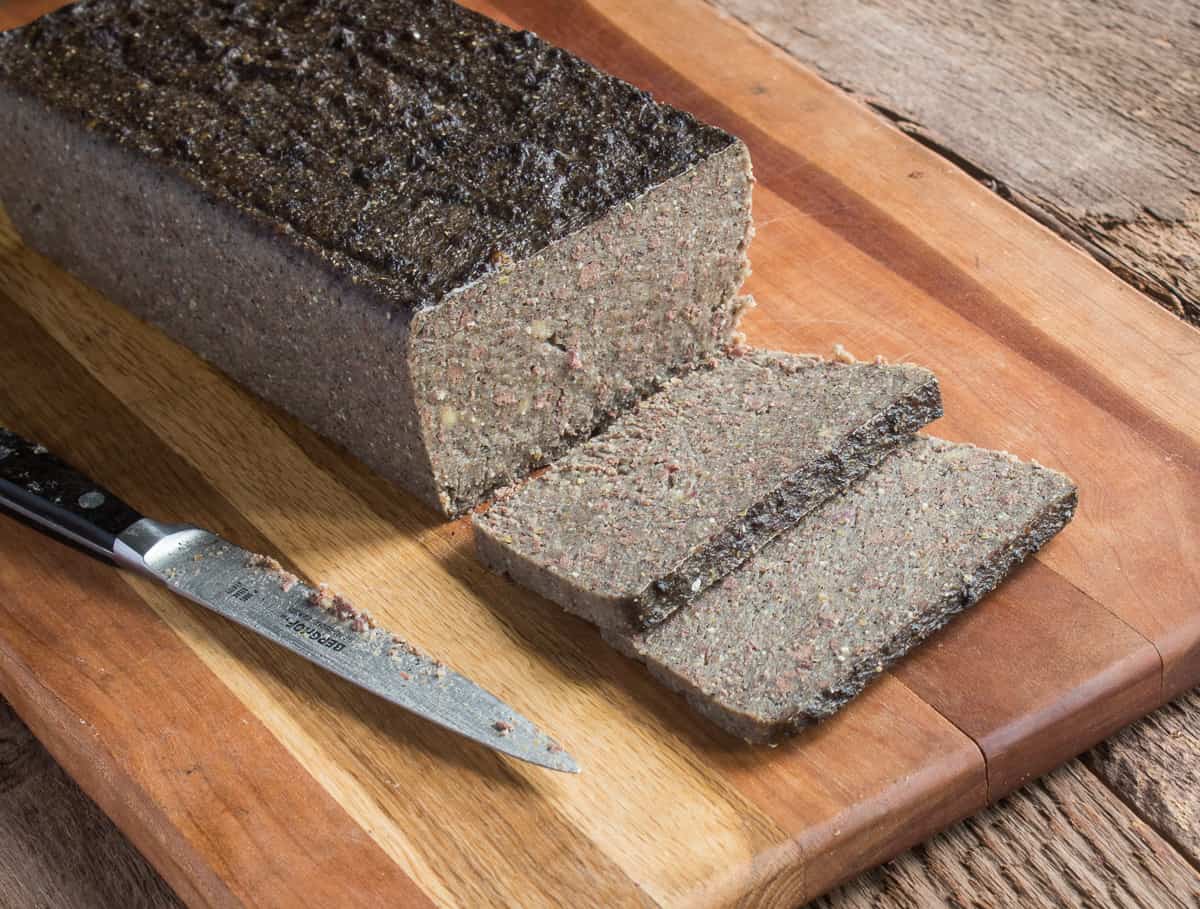 If you like offal, or even if you don't partake in the finer parts of animals and you've never had scrapple, you're in for a treat. I've cooked a lot of organ meat, and I can tell you, over the years I've found different tricks here and there for making things palatable. Scrapple is one of the finest, most mild-tasting organ meat recipes I've made.
If you're not familiar, scrapple, (also known as pannhaas) is a sort of Pennsylvania Dutch specialty with a cult following from the Mid-Atlantic region of the U.S.. Undoubtedly born of the pork harvest like it's grain-laden cousin black sausage, scrapple is one of the kings of offal.
Once you get the basic method down you can modify it and tweak things however to suit your needs. Most recipes use pork or even a pig head, but it can be made with just about anything.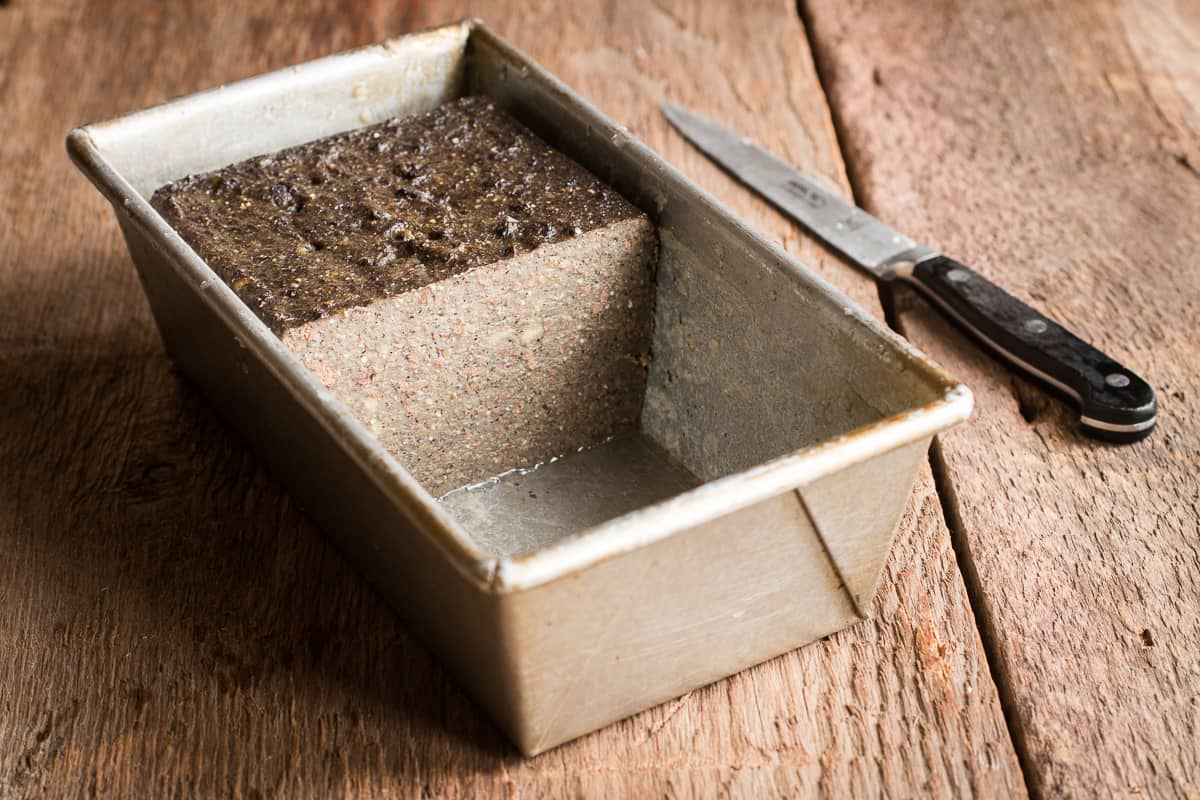 What is scrapple exactly? Besides a triumph of organ meat cookery, it's basically a thick porridge of buckwheat and cornmeal mixed with spices and ground organs, typically liver, but often with other things too.
For our purposes here, I've designed the recipe for any and all organ meats. I've done the work testing and tweaking, so all you need to do is plug and play whatever 14 oz of organs you have into the basic formula, and be on your way.
Great scrapple starts with a great stock
A note on cooking liquid. Like most scrapples I researched, mine starts out with a base of rich meat stock, and if you want a really good one, you need it--no compromise there.
The reason is that, while the cornmeal and buckwheat will definitely firm up the scrapple, meat stock that's been long-cooked to extract collagen from bones will add an extra layer of "firmness".
That firm set gives you more control when you're slicing, lending extra layers of nuance and body to the finished product. If you have to, you can use some canned stock, but soup bones, neck bones, or any sort of bone with meat attached will be the best.
As I note in the recipe, if you have some leftover meat like pork butt you can just chop that and toss it in too.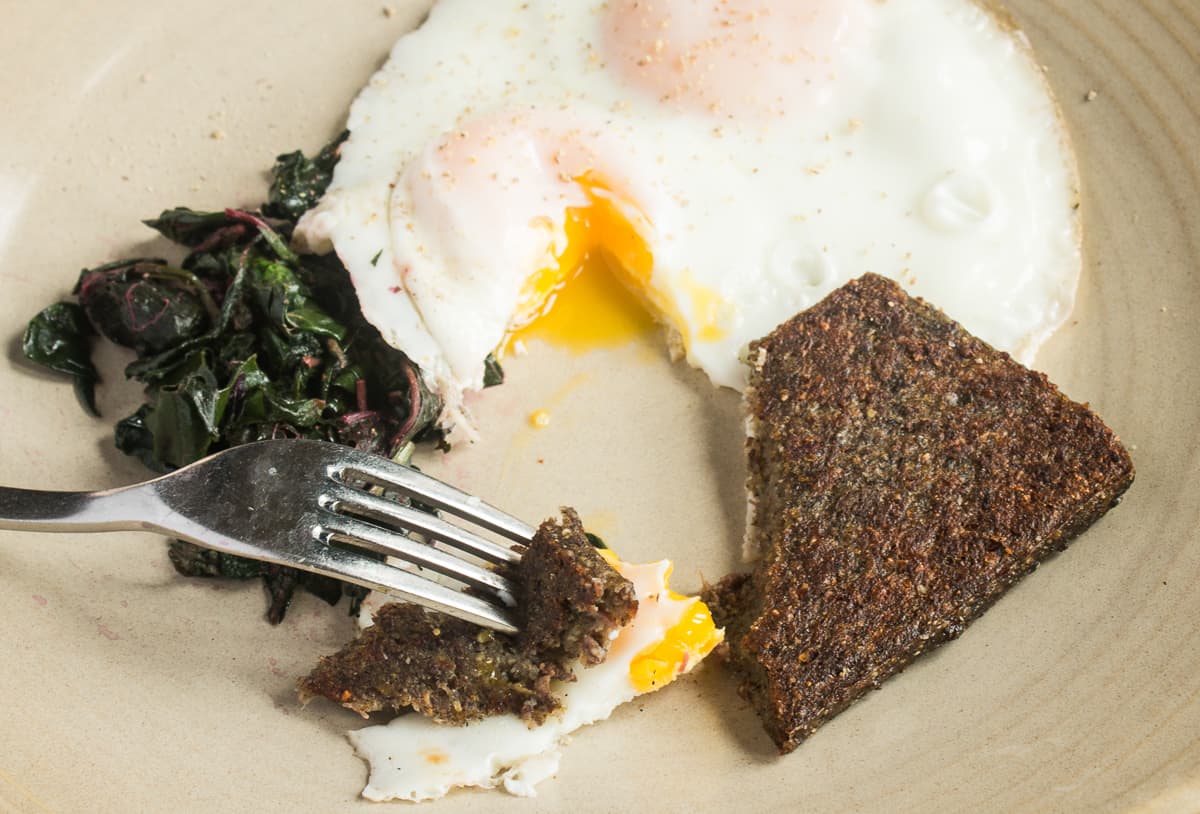 Once the scrapple is made and cooled comes the fun part: eating. The scrapple gets cut into slices, then fried crispidity-crisp, and, if you want to be traditional, served for breakfast with maple syrup.
The syrup might sound odd, but the spices in the scrapple help the pairing, and if you've ever had a plate of steaming hot pancakes with bacon on the side, you'll be no stranger to a little sweetness in the savory realm.
Trust me, it's eaten with a touch of maple for a reason. That being said, as I ate through a number of different loaves, I did find some hot sauce was a good change of pace here and there. At your house, you choose how you eat your scrapple.
Oh, and if you want to skip making your own and buy some, my friends on the East Coast recommend Habbersett Scrapple (see the link after the recipe).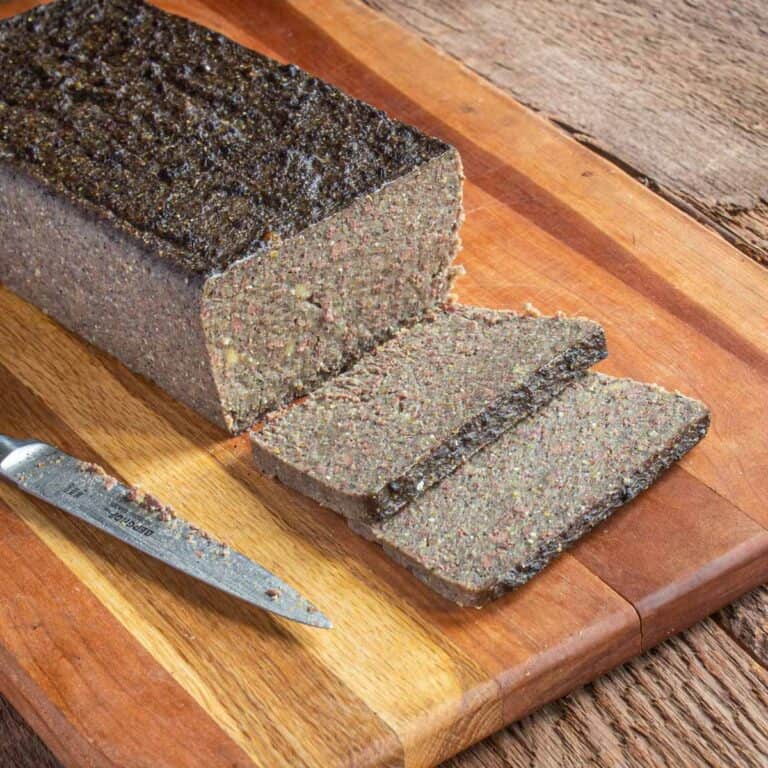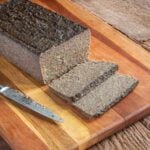 Print Recipe
Traditional Pennsylvania Dutch Scrapple Recipe
The Classic Pennsylvania Dutch treat made with liver, spices, cornmeal and buckwheat.
Ingredients
14

oz

liver or a blend of organs like liver, kidney, and heart

cut into medium-sized chunks

1 10

oz

chunk of bone with meat attached, preferably a shank

such as a lamb or deer shank, or soup bones. Or substitute 4 ounces of cooked meat.

2

cups

fine cornmeal

¼

cup

buckwheat flour

½

cup

yellow onion

diced small

18

grams

(1 level tablespoon) kosher salt

This may seem like a lot of salt, but remember this is a breakfast "meat" like bacon or sausage. If you're sensitive to salt, use 2.5 teaspoons.

6

cups

water

Maple syrup

small amounts for serving (optional)

2

dried bay leaves

1.5

teaspoons

spice mix

follows
Spice Mix
¾

teaspoon

fresh ground black pepper

¼

teaspoon

fresh ground nutmeg

¼

teaspoon

fresh ground cinnamon

¼

teaspoon

fresh ground allspice
Instructions
Cover soup bones or shank and onion with the 6 cups of water, add the bay leaves, cover with a lid, then simmer on medium heat or bake at 300 for 2 hours or until very tender.

Chill the shank until cool enough to handle. Remove the meat with a slotted spoon and set aside. Strain the broth and reserve. There should be exactly 4 cups of liquid, if there isn't add enough water or stock to make up the difference.

Cut the liver, heart or other organs into roughly 1 oz pieces.

Remove the meat from the shank bone, then put the shank meat, cooked onion and organs in a meat grinder, or process n a food processor until fine. Sweat the meat mixture to evaporate the water in a saute pan for 2-3 minutes, then reserve, and allow to cool, covered.

Meanwhile, Whisk the cornmeal and buckwheat flour with the salt and spices, and combine with the 4 cups of cooking liquid in a saucepot big enough to hold it. Heat the mixture, whisking constantly until it thickens, then turn the heat down to low and cook for 15 minutes.

Add the cooked meat to the cornmeal mixture, and continue cooking, stirring occasionally to prevent sticking on the bottom for another 30 minutes. You can also bake the mixture at 300 for 30 minutes, or until very thick, as long as it's covered.

When the mixture is very solid and the cornmeal is well cooked, pour the mixture into a greased loaf pan, there may be a small amount of excess. Chill the scrapple, uncovered on a counter until room temperature, then refrigerate, covered with plastic wrap until completely set before slicing.

To serve the scrapple, cut ½ inch slices and fry until crisp on medium-high heat on both sides. Serve for breakfast or lunch, with maple syrup on the side, if you like.
Notes
Substitute different organs for the liver and mix and match if you like.
Related Posts
Veal Liver with Bacon, Onions and Mushrooms
References
A Brief History of Pennsylvania Dutch Scrapple