A deliciously chewy mushroom that's relatively new to mushroom cultivation, chestnut mushrooms are one of the few species of Pholiota that are safe to eat. If you're like me, once you taste their crunchy stems slurped up in a bowl of noodles you'll be hooked. In this post I'll go over their background, how to get your own, and the best ways to cook them.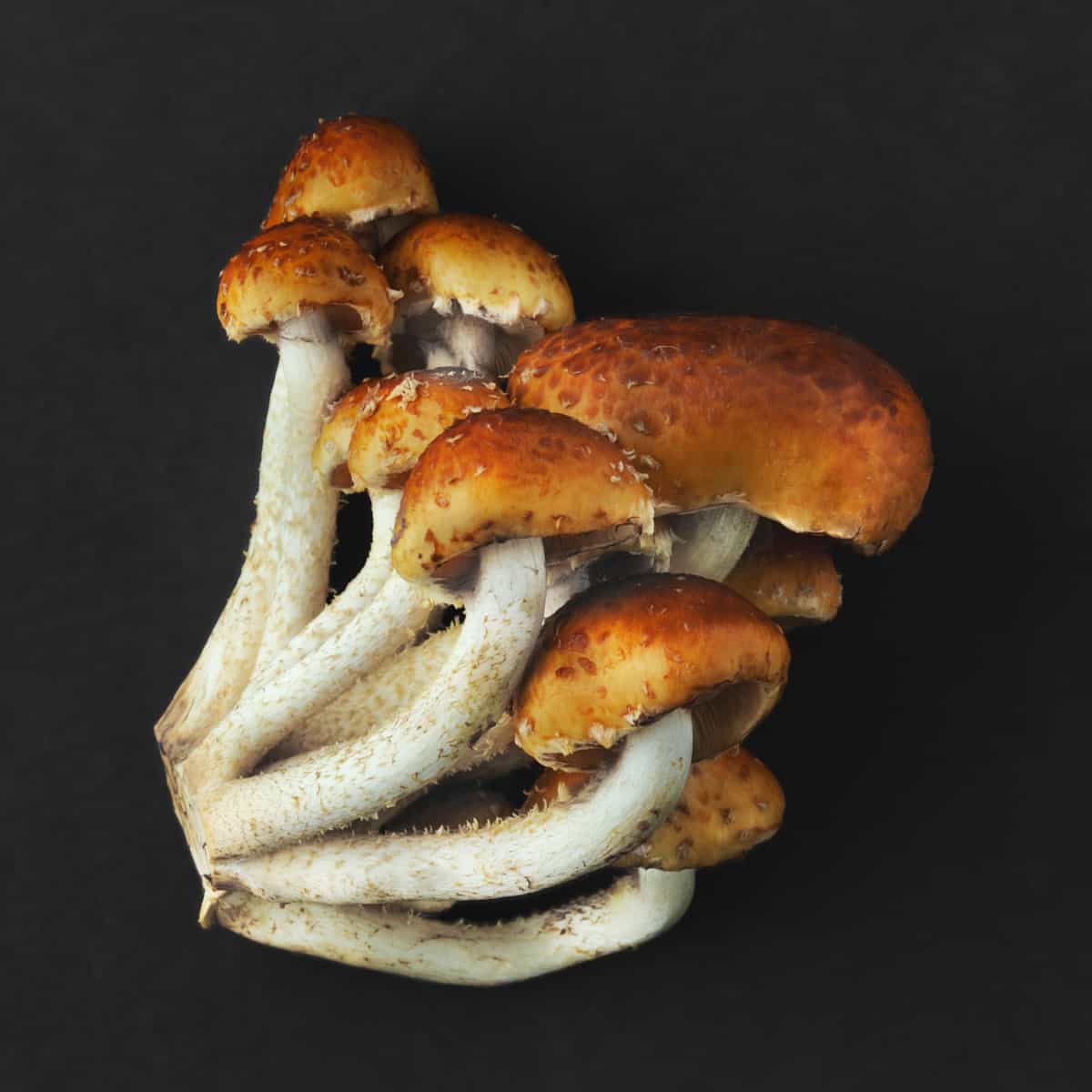 An Edible Pholiota
A cousin of the popular wine cap in the Strophariaceae, chestnut mushrooms (Pholiota adiposa) are Native to Europe and might also be called cinnamon cap mushrooms. These are a parasitic, hardwood-loving species found growing in clusters on living trees and decaying or rotting wood. In Europe they're commonly associated with beech trees.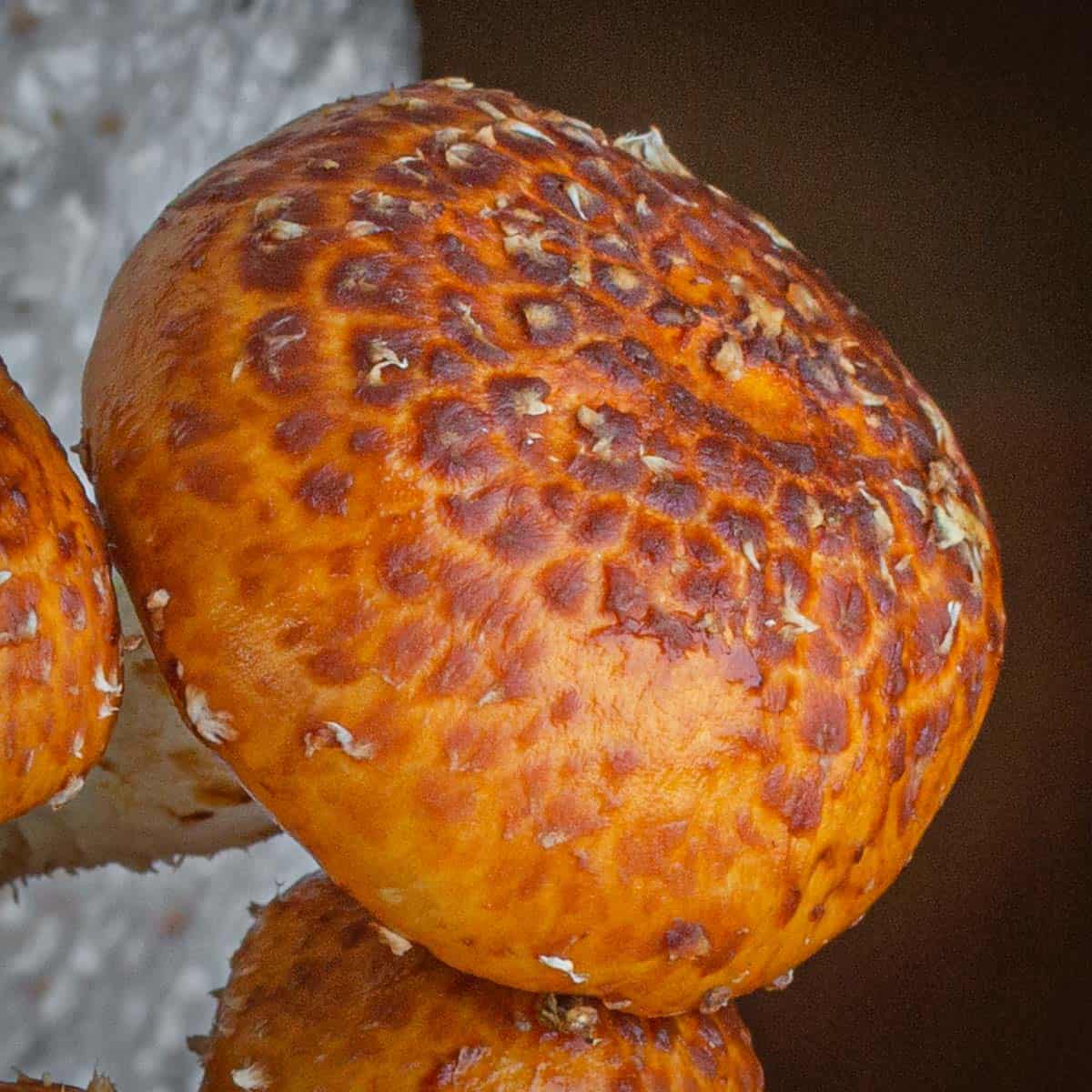 They're one of a few species of edible pholiota, also known as scaly cap mushrooms. Two characteristics that always help me identify mushrooms in the Pholiota genus are the triangular, pointed scales on the cap and stems, and how they grow in tufts or clusters of mushrooms. Like enoki, in the wild they may have a slippery or slimy cap when wet.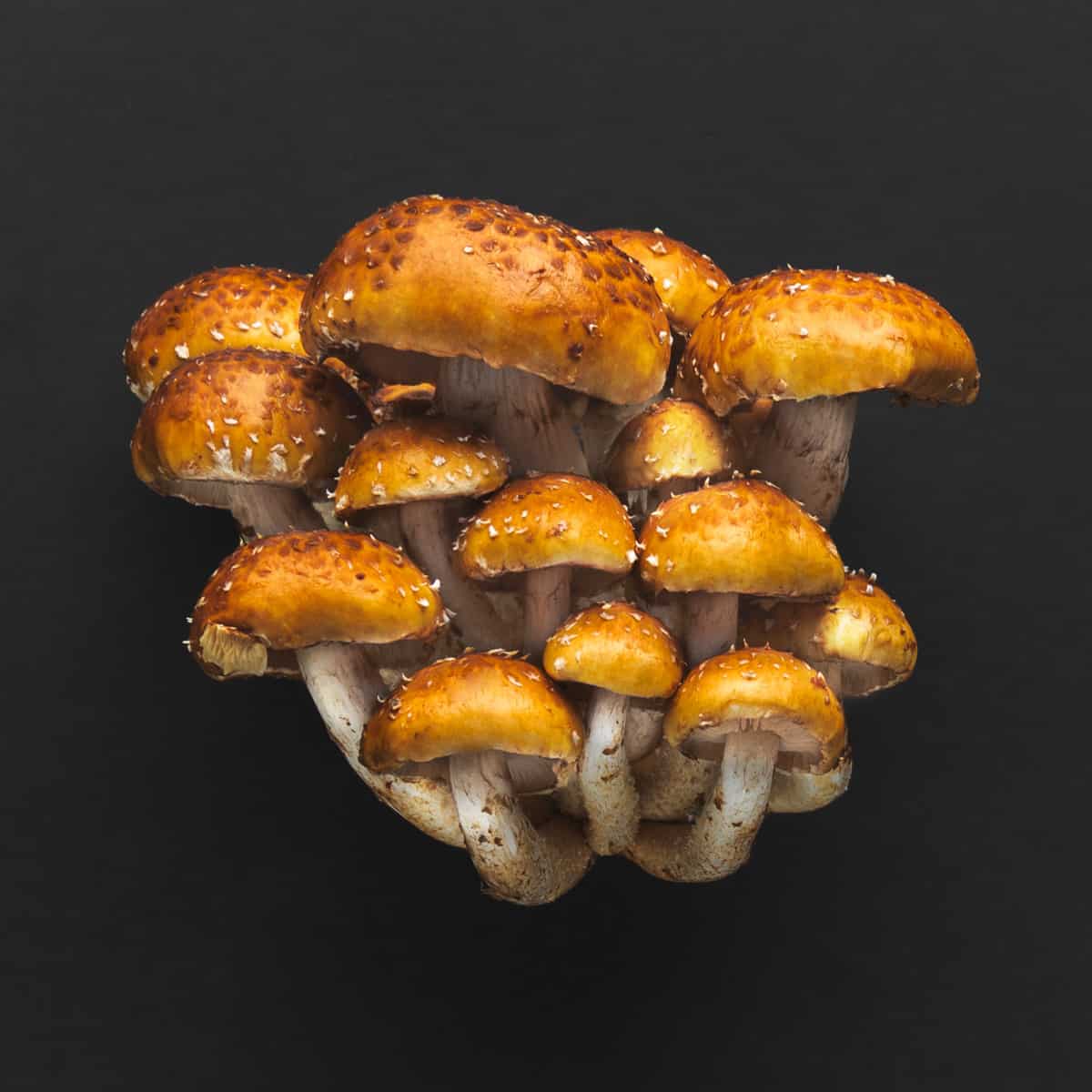 While some people claim to eat scaly caps like Pholiota squarrosa and Midwestern Squarossaroides, most wild pholiota are not recommended for the table and some cause reactions if eaten with alcohol.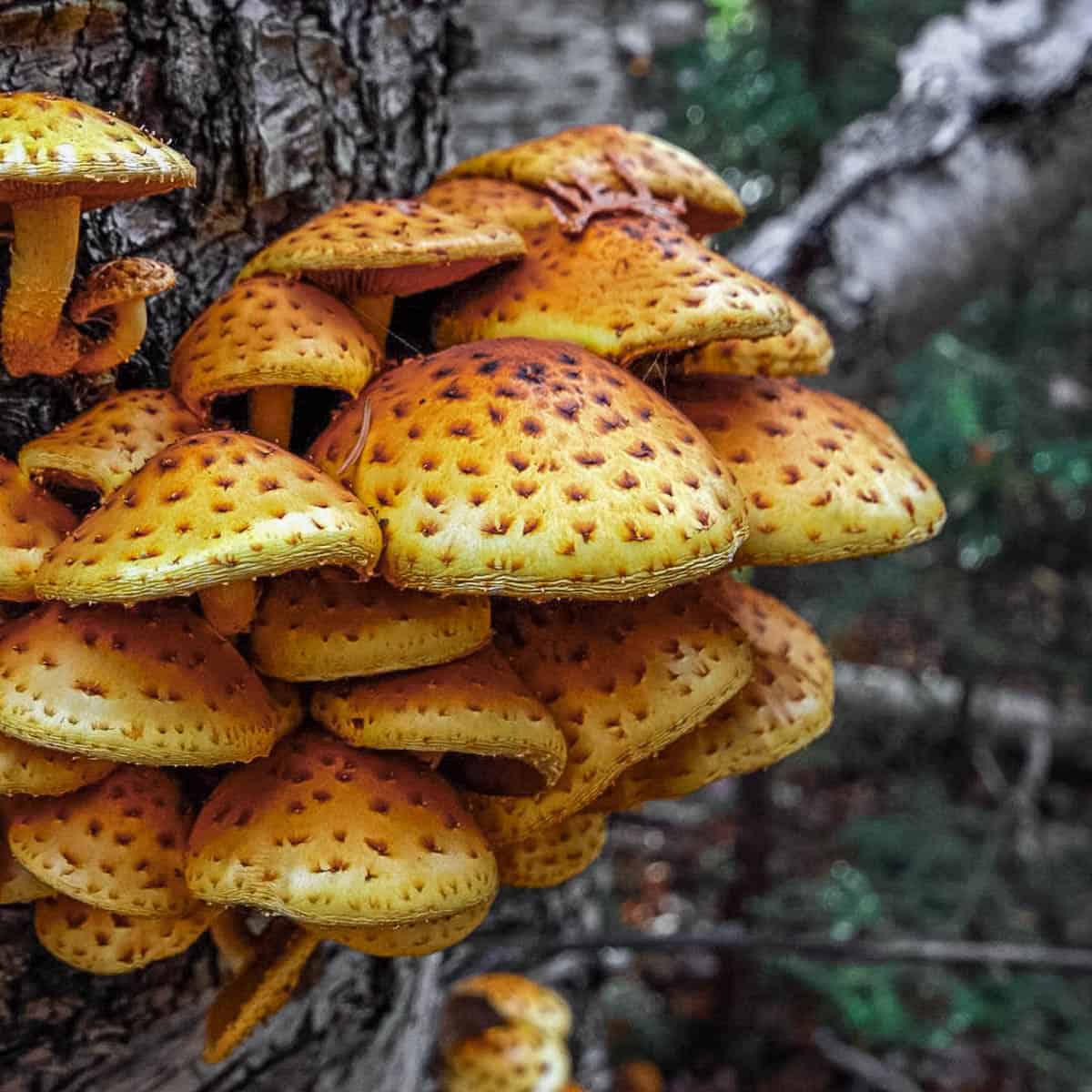 The Importance of Latin Names
Chestnut mushrooms are also the perfect example of why Latin names are important as there's many mushrooms that could go under the same common name. Brick caps, the common cremini, a small bolete, and plenty of others might be called chestnuts.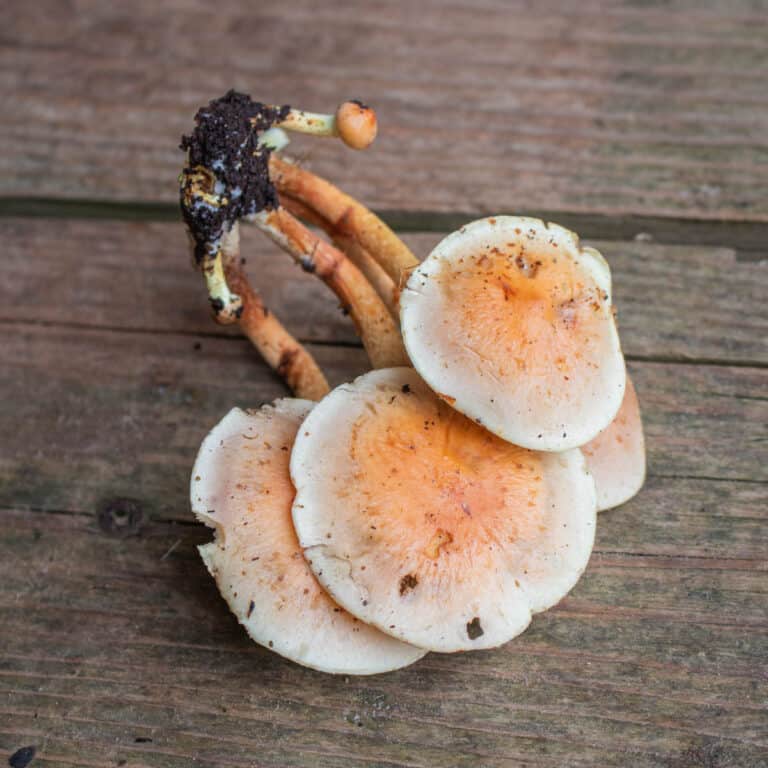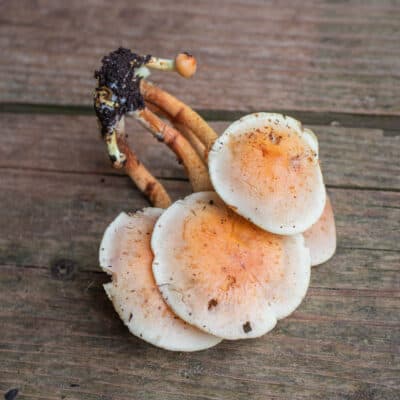 But, there's only one Pholiota adiposa. Another cousin, Pholiota aurivella, is edible, shares the chestnut common name, and can be cultivated.
Growing Chestnut Mushrooms
Chestnut mushrooms can be grown outdoors on inoculated hardwood logs. Mushroom suppliers like North Spore sell inoculated spawn bags and grow kits that will grow mushrooms on your counter. Grow kits make for an easy, edible project in the Winter.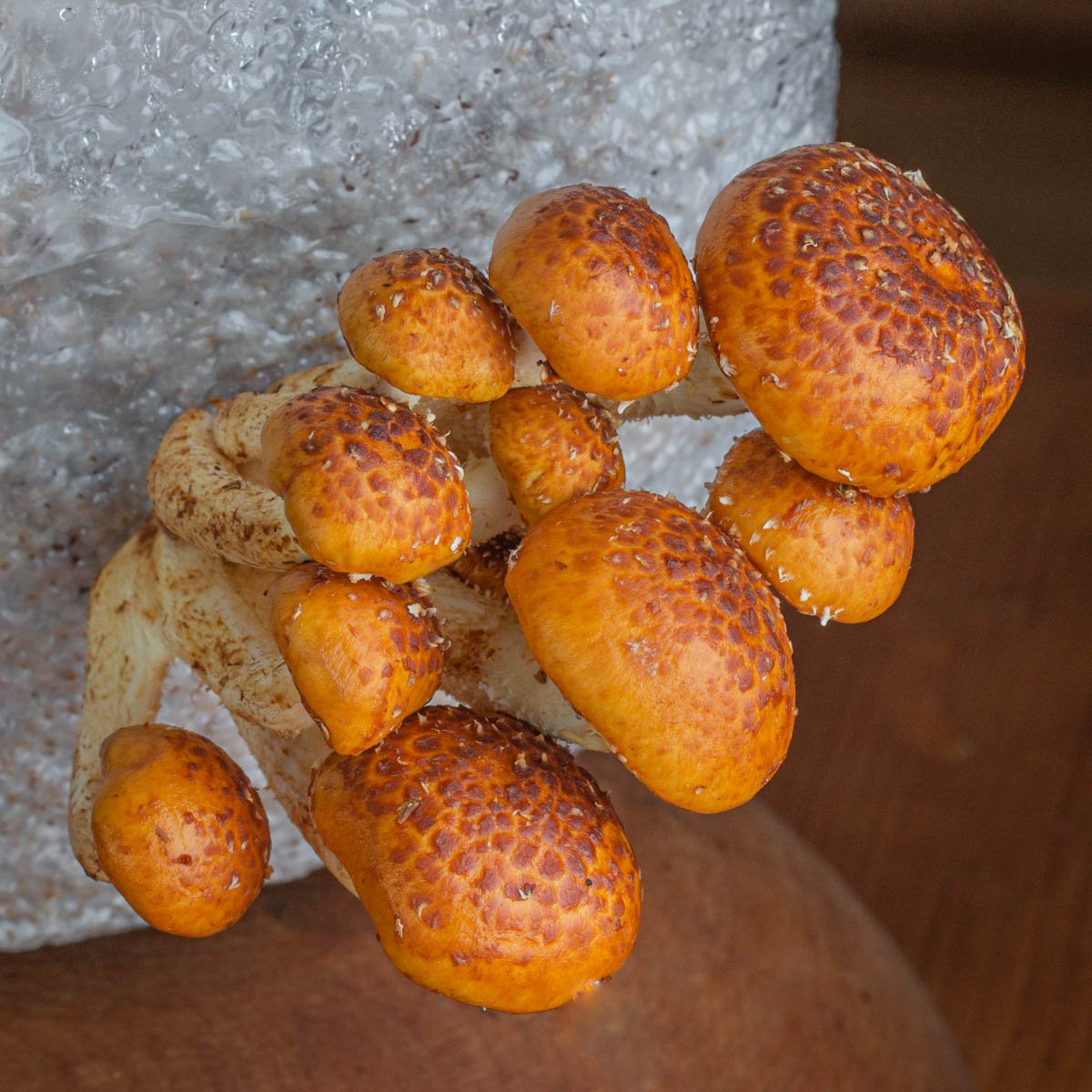 How to Cook Chestnut Mushrooms
While I assume there's a tradition of cooking wild ones, evidence of their use is scarce, at least in English. Japan and China seem to use them the most.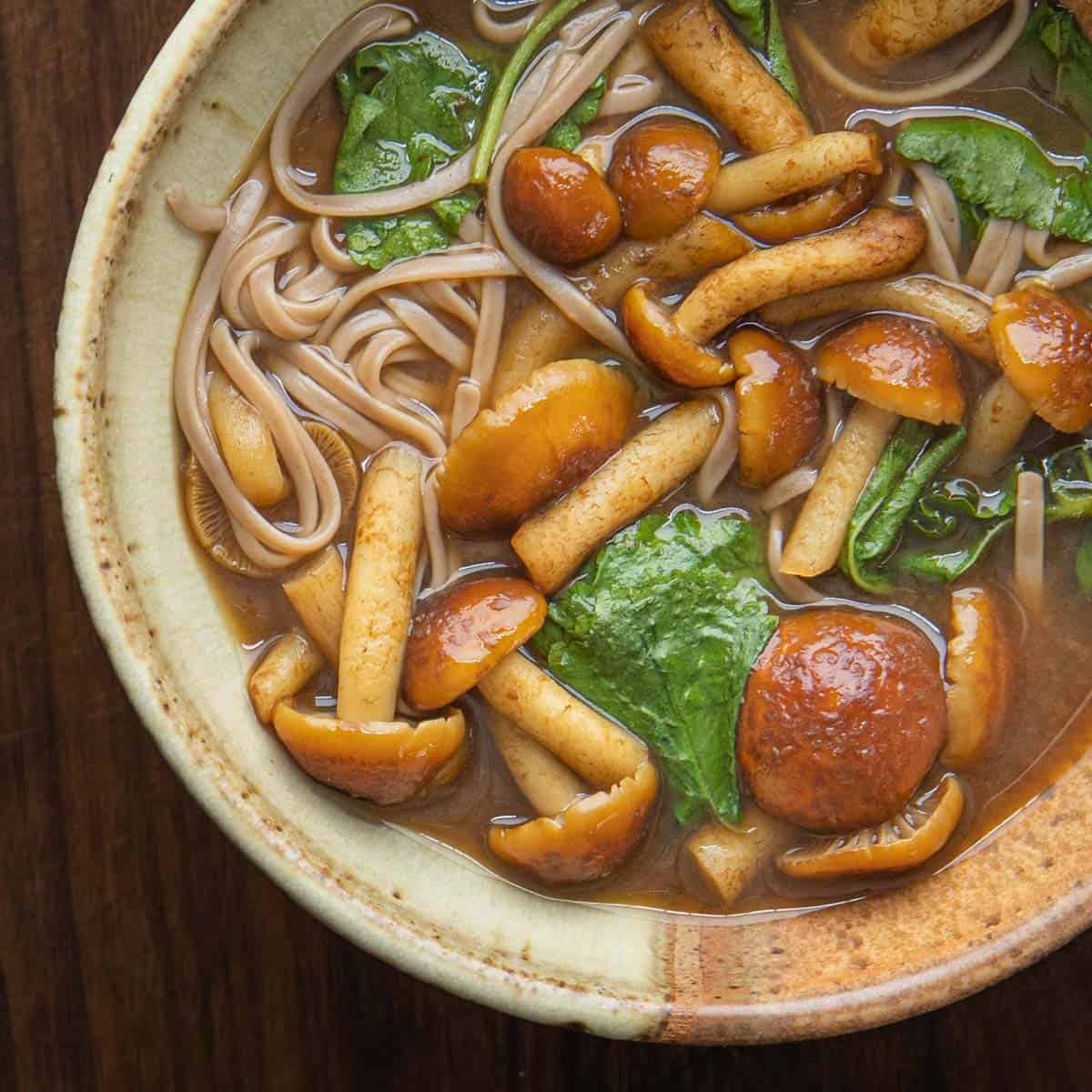 In Japan they're known as numerisugitake, and are cultivated along with their cousin nameko mushrooms (Pholiota nameko). Using Japanese cuisine as inspiration is a good way to start enjoying them, and I think they're best cooked without cheese or cream. You can also use them in Japanese recipes that call for hen of the woods.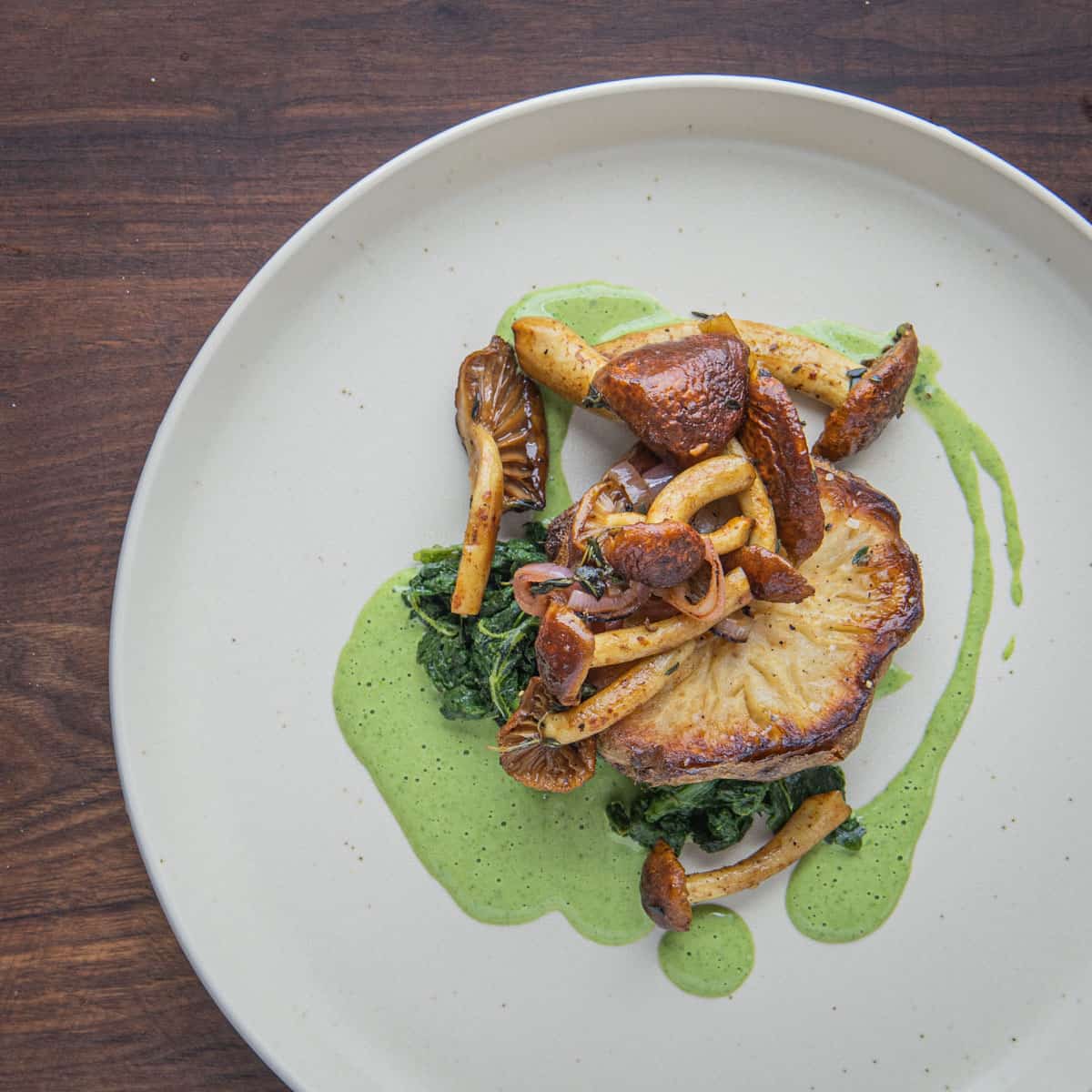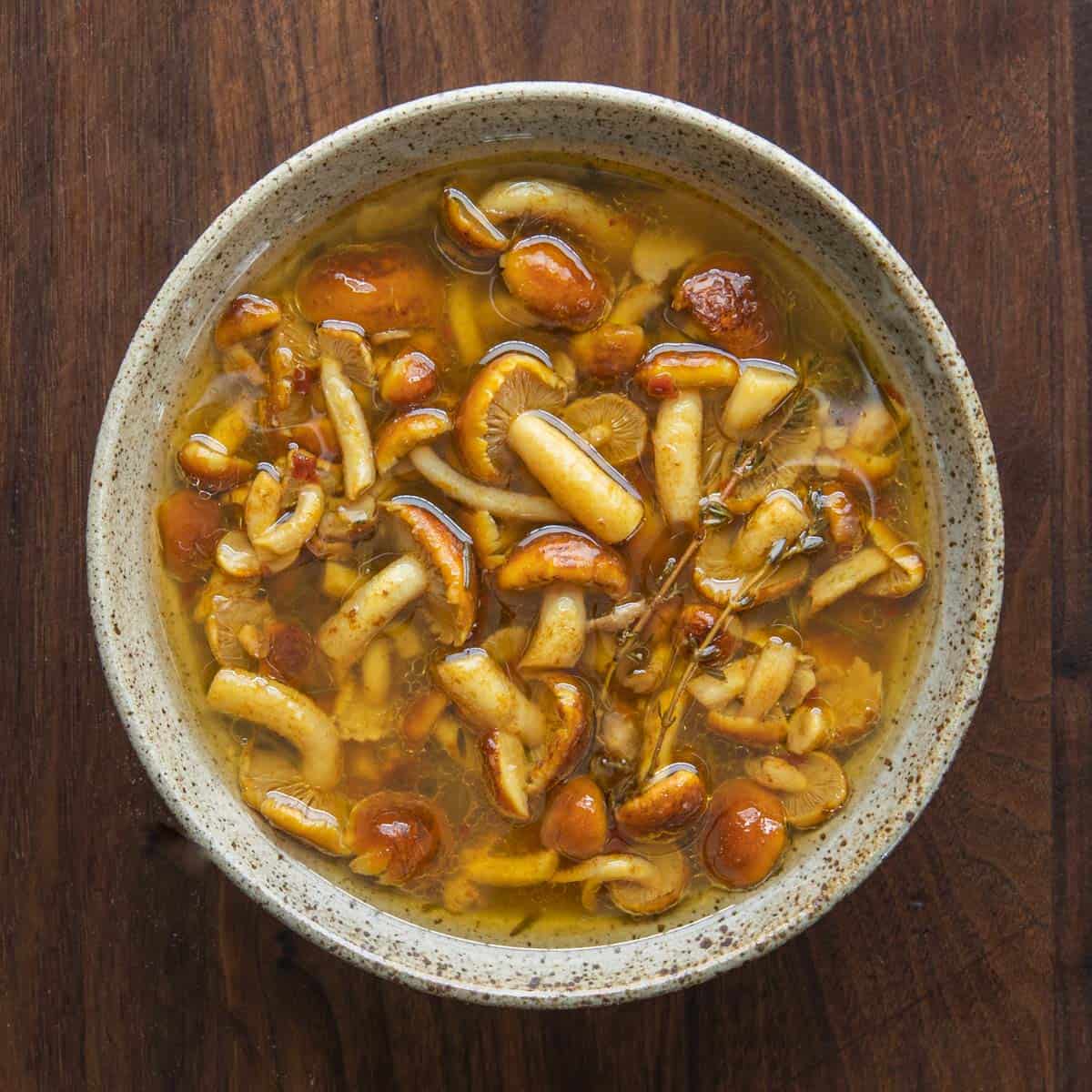 A versatile mushroom, they have a nutty flavor and slightly sweet taste. The best part is their chewy texture that stays crunchy after cooking. Depending on the size, they can be left whole if small, halved or quartered if large. Save small mushrooms for soup or pickling.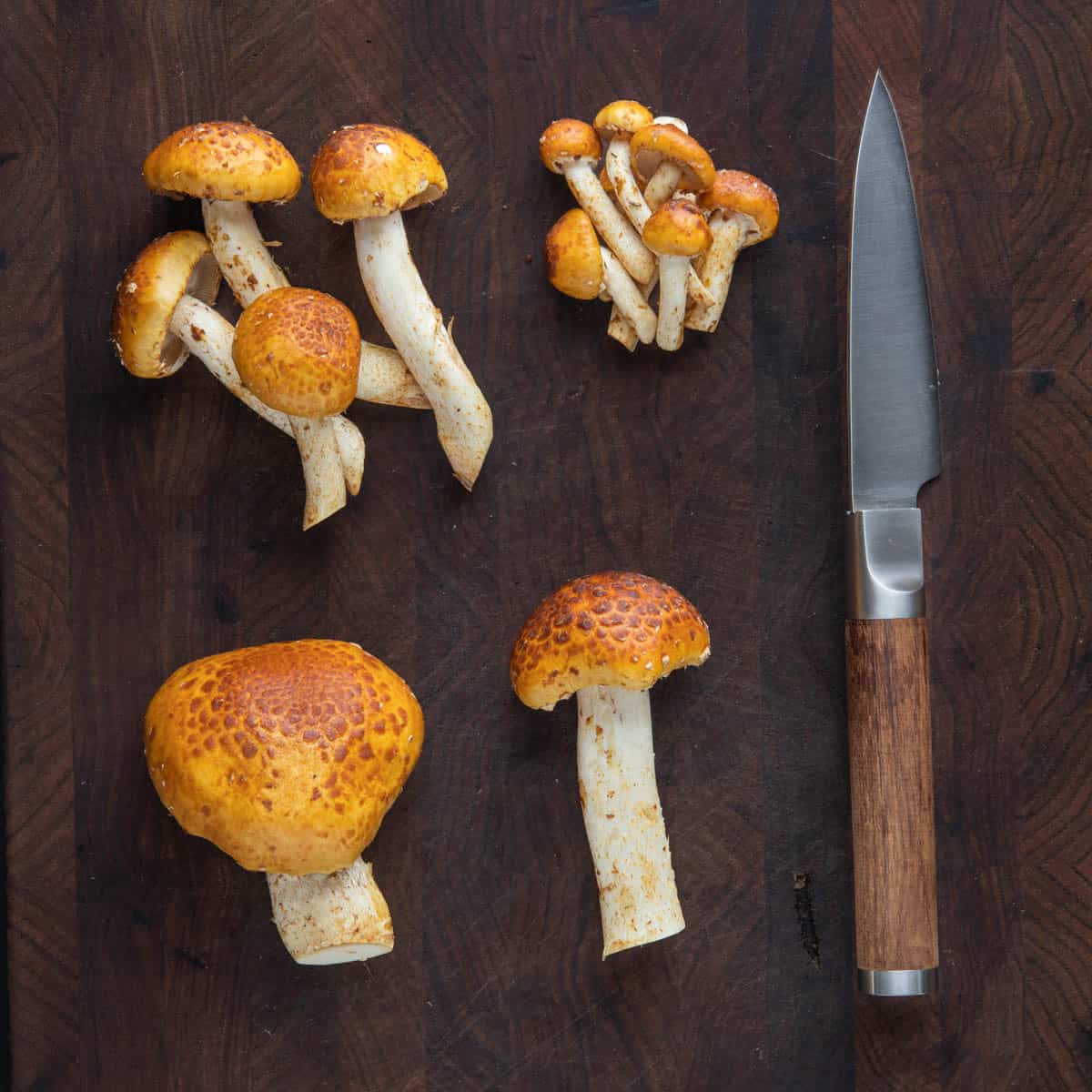 The Long, Edible Stem
These have a long, firm stem that's tender and good to eat. They're great roasted and served in a salad as in the recipe in this post, but take well to many preparations. My Oyster Mushroom Soup with Soba Noodles is a good option too.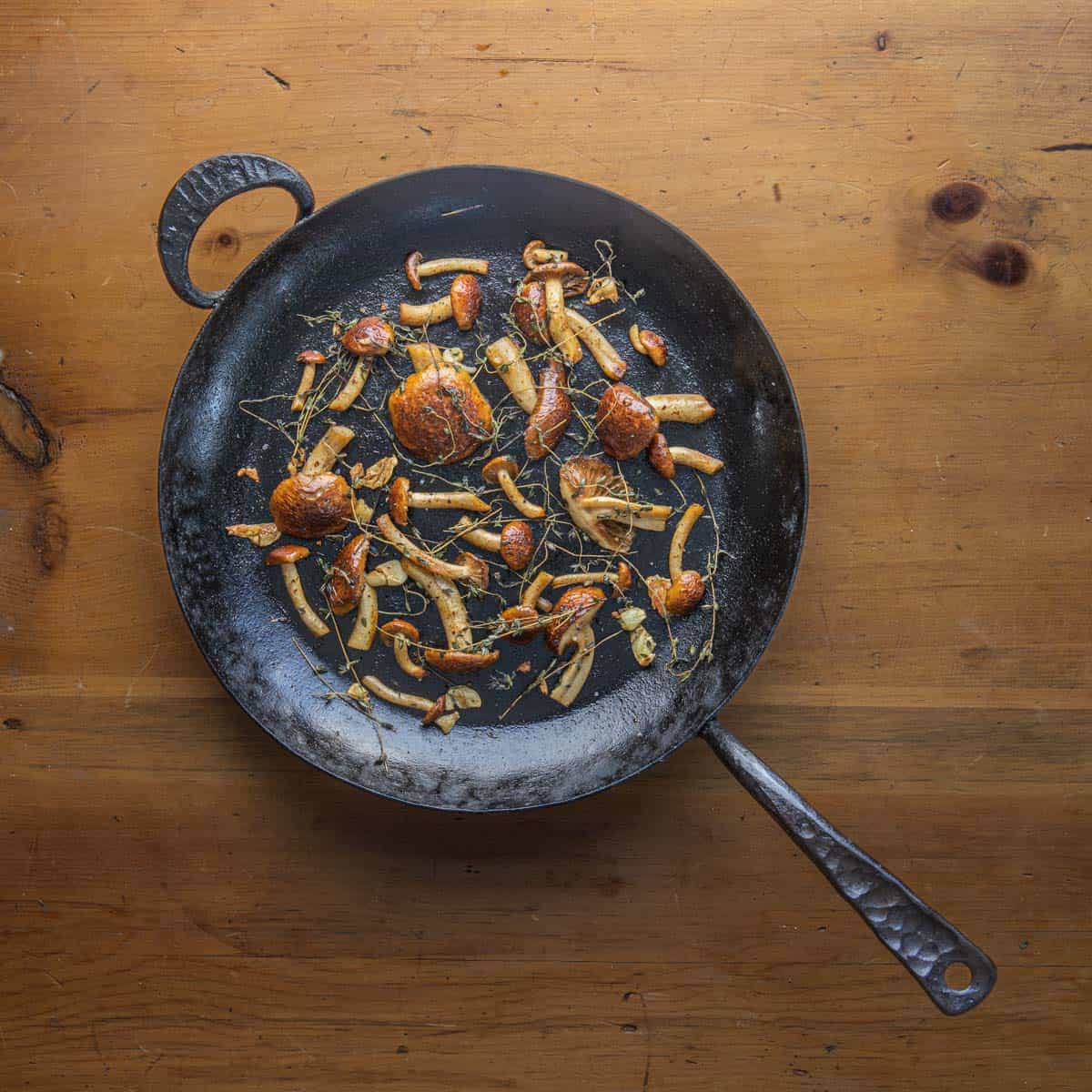 My favorite chestnut mushroom recipe so far is a simple salad of roasted mushrooms. If you have anything to add, especially on traditional uses of them in Japan or China, please comment.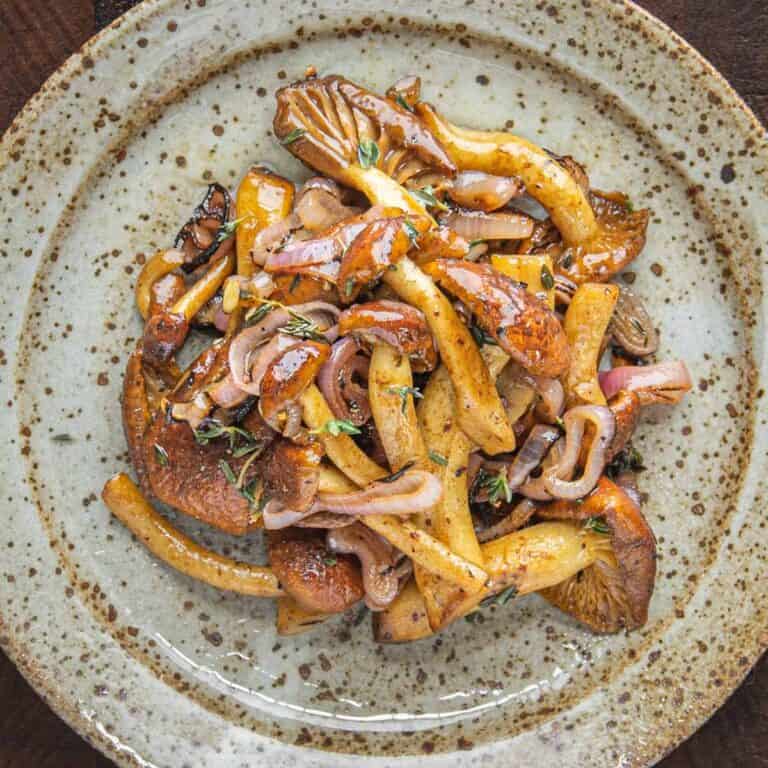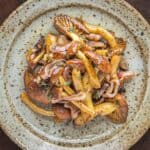 Print Recipe
Roasted Chestnut Mushroom Salad
A deliciously chewy salad or antipasti of roasted mushrooms marinated with oil, thyme, shallots and balsamic vinegar. Serves 4.
Equipment
1 12 inch cast iron pan or baking sheet

1 small mixing bowl
Ingredients
8

oz

chestnut mushrooms

2

tablespoons

cooking oil

1

tablespoon

extra virgin olive oil

½

teaspoon

kosher salt

plus more to taste

Fresh ground black pepper

A handful of fresh thyme sprigs

3

large cloves of garlic

1

Tablespoon

balsamic vinegar

4

oz

shallot

cut into ¼ inch rounds
Instructions
Mushrooms
Crush the garlic cloves and cut into ½ inch pieces.

Trim the mushroom stems to an even length. Toss the mushrooms in a bowl with the oil, salt, garlic, thyme sprigs and pepper.

Lay the mushrooms out on a cast iron pan or baking sheet lined with parchment and roast at 425 F for 20-25 minutes or until lightly brown. Rotate the pan 180 after 15 minutes.
Shallots
Peel the shallot and slice ¼ inch thick. Heat the shallot slices in a dry cast iron skillet until lightly charred (or just saute them quickly). Remove to a bowl and add the vinegar.

Remove the mushrooms from the oven. Discard the thyme sprigs, transfer to a bowl, add the shallots and olive oil and cool.

Double check the seasoning for salt and pepper and adjust until it tastes good to you. Serve warm or room temperature.
Notes
Variations
Try this with a handful of walnuts mixed in, or with a nut or seed oil like pumpkinseed or walnut instead of the olive oil.
Nutrition
Serving:
3
oz
|
Calories:
530
kcal
|
Carbohydrates:
35
g
|
Protein:
9
g
|
Fat:
42
g
|
Saturated Fat:
4
g
|
Polyunsaturated Fat:
9
g
|
Monounsaturated Fat:
28
g
|
Trans Fat:
0.1
g
|
Sodium:
1195
mg
|
Potassium:
1449
mg
|
Fiber:
5
g
|
Sugar:
15
g
|
Vitamin A:
5
IU
|
Vitamin C:
12
mg
|
Calcium:
104
mg
|
Iron:
3
mg
Chestnut Mushroom Substitutes
Look for a mushroom with a chewy texture. Shiitakes are the best substitute, along with king oysters.
References
Buy Grow Kits from North Spore
Buy Fresh from R and R Cultivation (Twin Cities Metro)