Chicken of the woods are one of the most common, easy to identify edible mushrooms. But, what you might not know is that there's different types of laetiporus species, and some are better than others. Most foragers will agree that the white pored chicken (L. cincinnatus) is the best of all of them.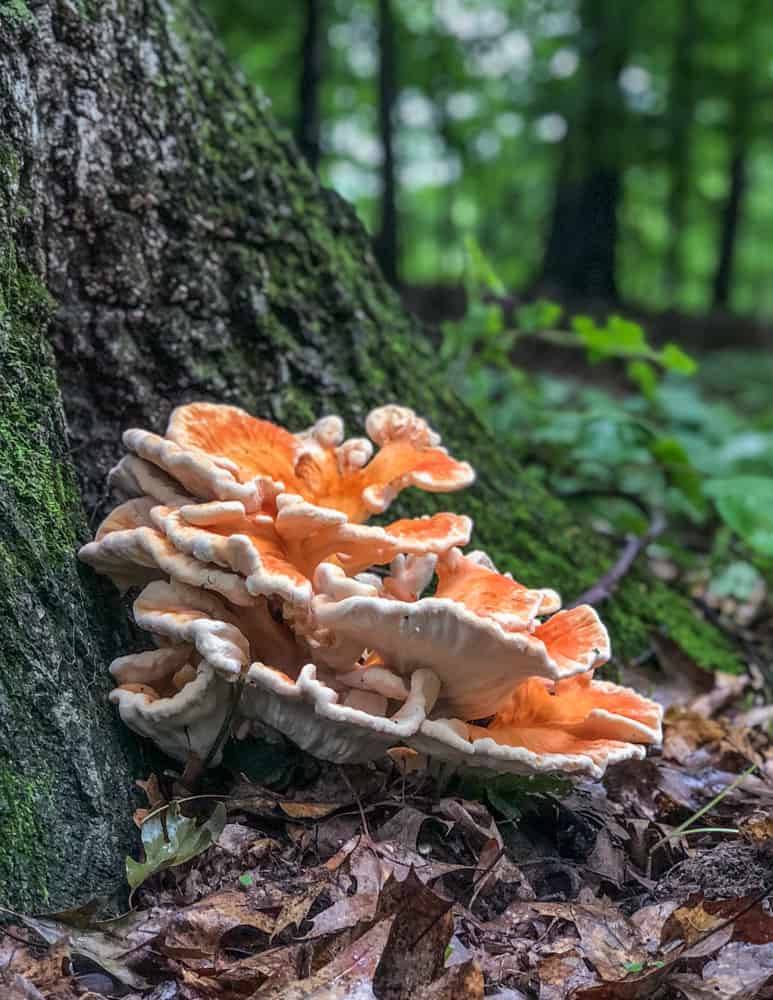 Today I'll share everything I know about them, and why they're one of my favorite edible fungi.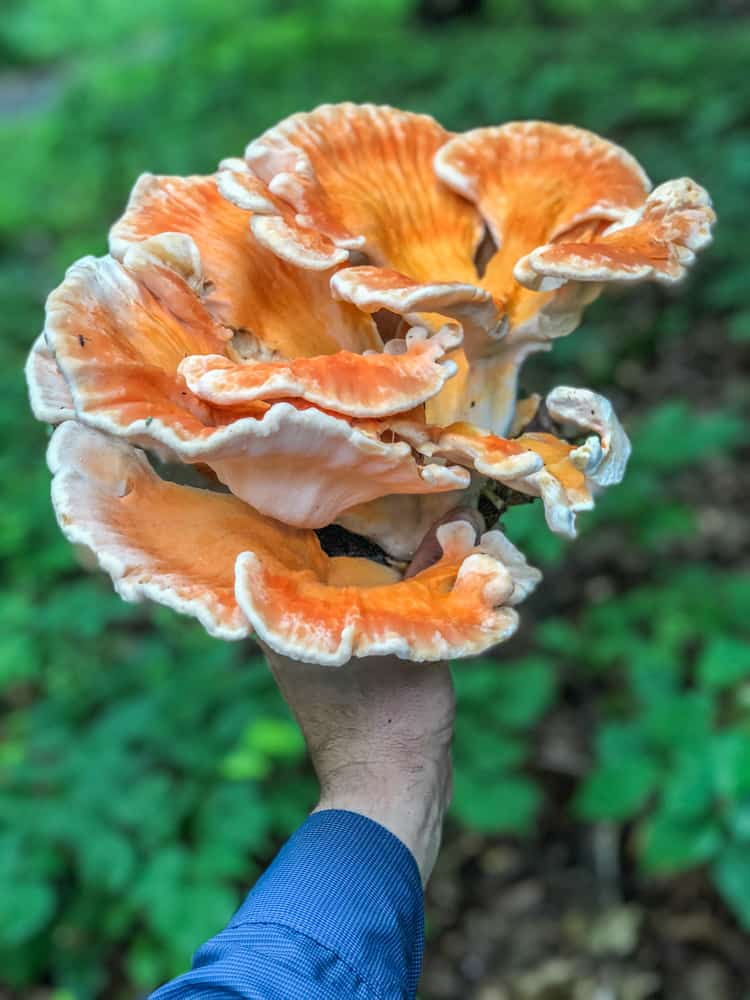 Identification
Like their other polypore cousins, white chicken of the woods are a parasitic mushrooms of injured, dying or dead trees trees that cause a butt rot and or brown rot. While some Laetiporus species like L. gilbertsonii and L. conifercola consume conifers, I've only seen L. cincinnatus on hardwood trees, typically red or white oak trees.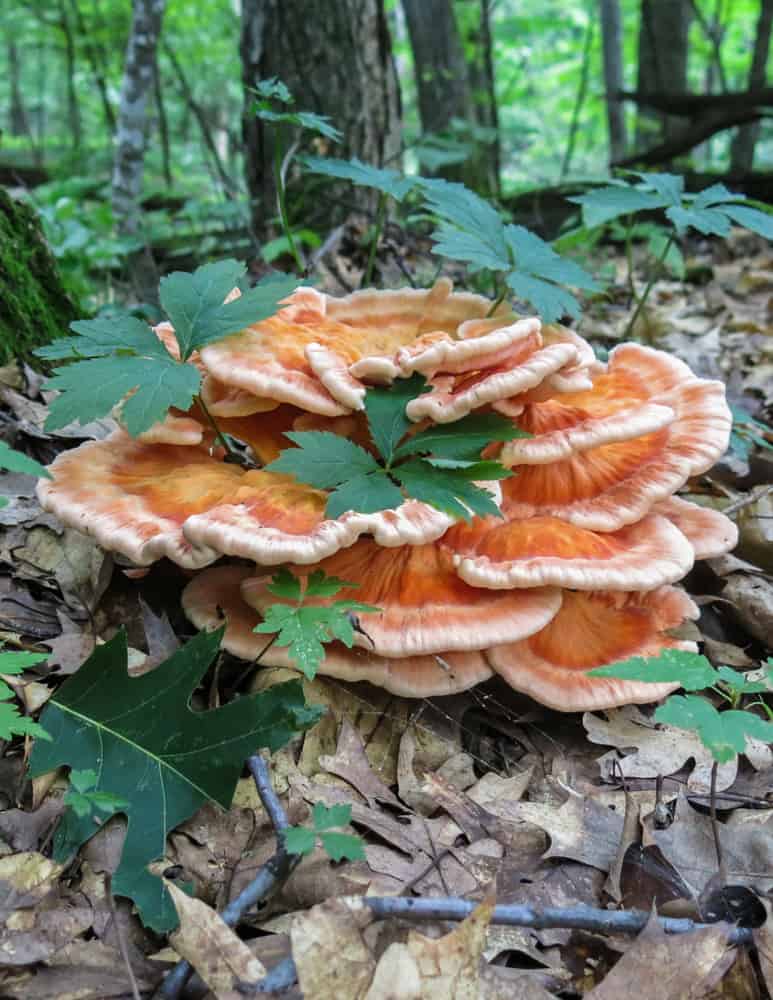 White chickens aren't as common as yellow chickens, but both of them will start to show themselves at the same time. Where I live in the Midwest and across the great plains through Eastern North America, there's typically a short spring season at the end of May if we get enough rain, with the larger flushes coming during July-August.
White chickens vs yellow chickens
White chickens are similar to their cousin, the common sulphur shelf (Laetiporus sulphureus and others) in that they taste like chicken (kind of ) but with a few big differences. While both are good, edible wild mushrooms I like to pick and eat, white chickens are the best.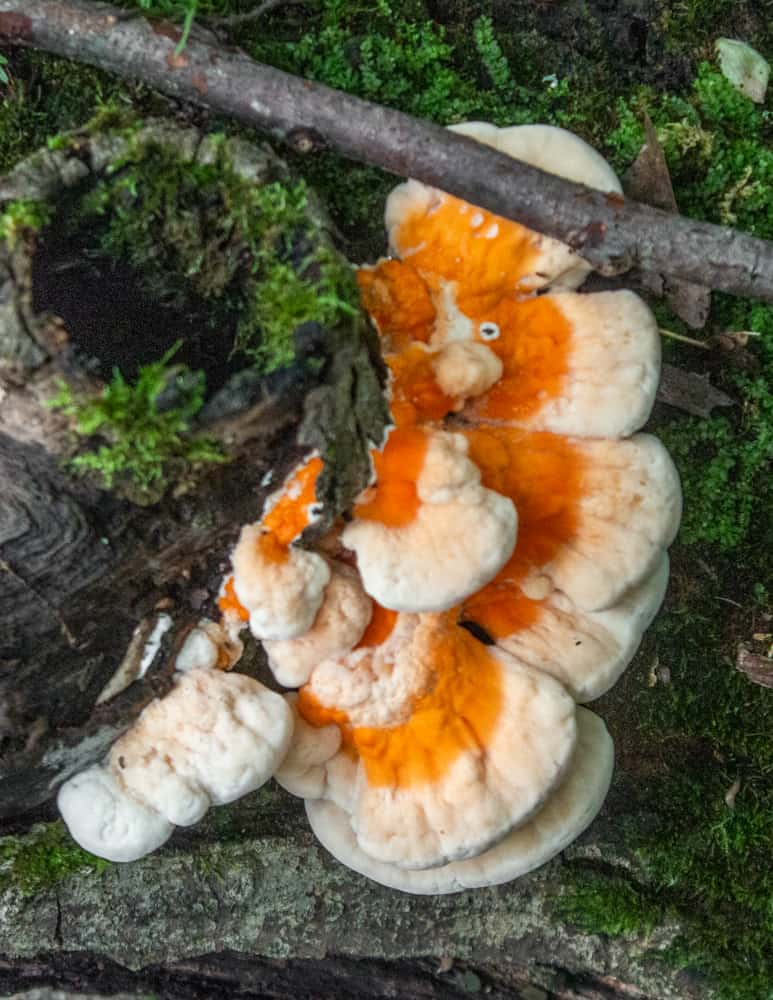 Here's a few quick notes on the differences between the two.
White chickens have a white pore surface, where yellow chickens have bright yellow pores.
Yellow chicken of the woods are often riddled with bugs. White chickens have a strong resistance to larvae, and I've often found them perfect with not a single bug hole.
White chickens are generally more tender than their yellow cousins, and a larger amount of the body is usually edible.
The fruiting bodies of white chickens tend to appear as basal rosettes more than fan-shaped mushrooms on trees and logs, but either form is possible to find. Yellow chickens, from my experience, seem to prefer growing in a shelf-form on trees more than as a basal rosette.
Yellow chickens usually have thick, soft leaves at the perfect stage of harvest. White chickens will be slightly thinner.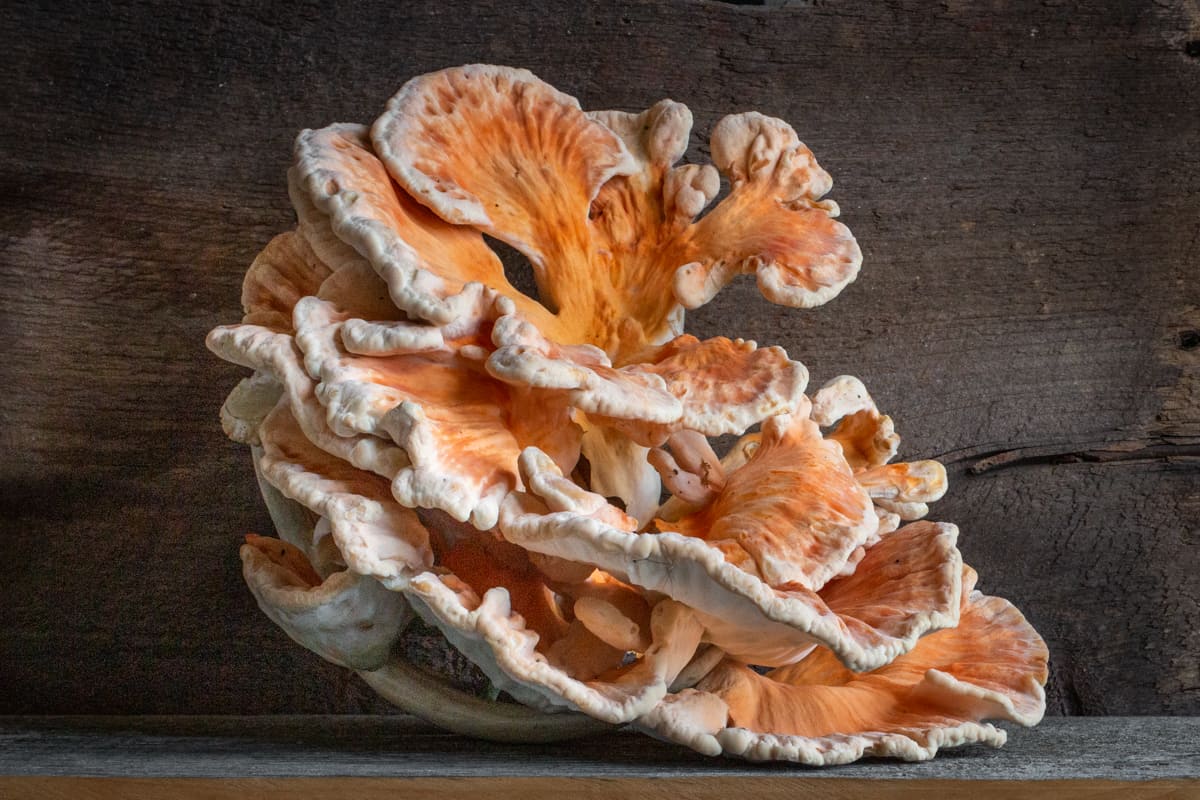 Cooking
White pored chicken of the woods can be cooked just like any other mushroom, but you need to make sure that you're eating only the most tender parts.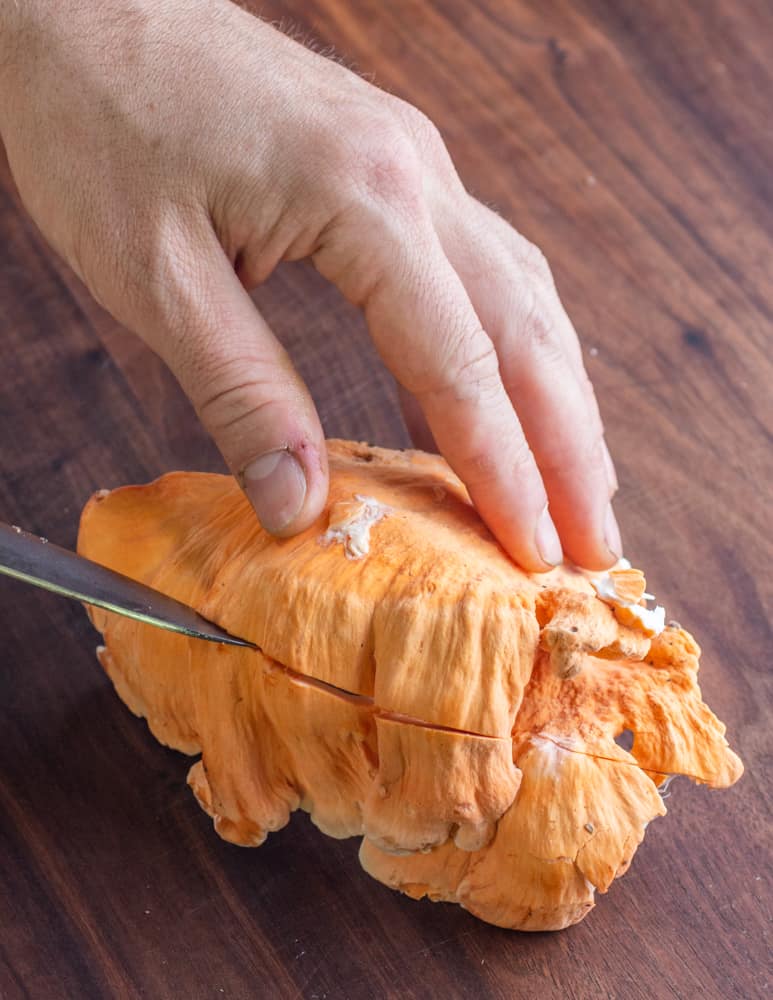 Older mushrooms may seem appealing when you find them, but, depending on the age, the majority of the mushroom can often be woody, and it's not uncommon for only 30-40% of the total mushroom you find to be edible.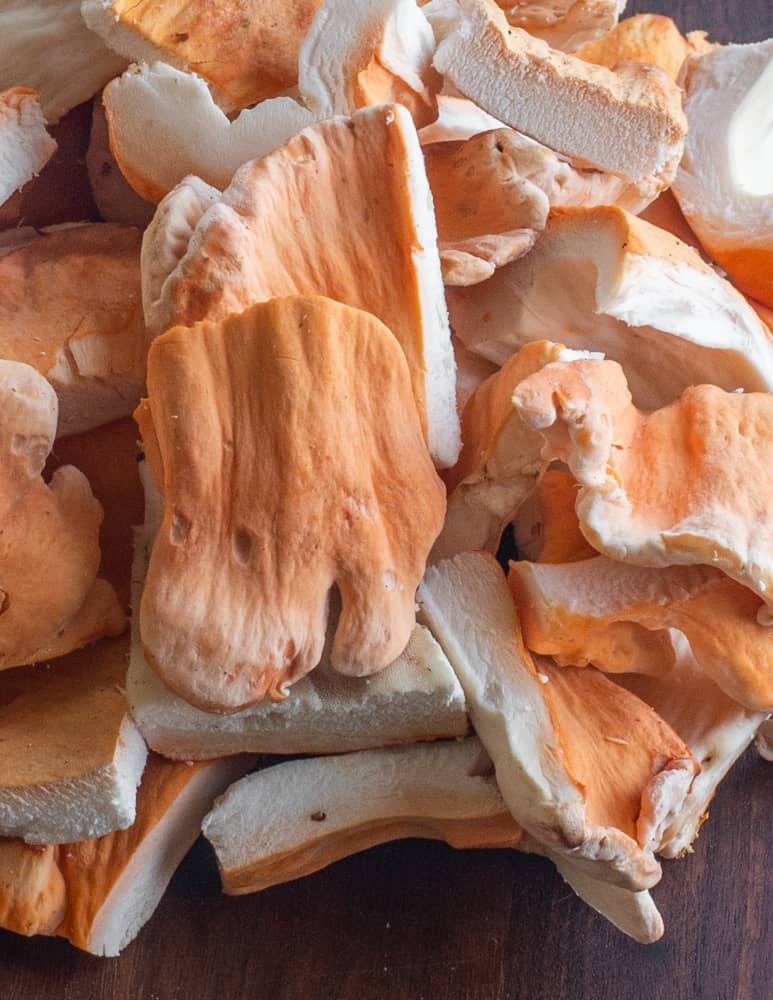 When harvesting, If the mushroom is reasonably young, I like to take most of it home. When it's time to clean and cook them, I cut off only the most tender part of the margin, discarding the woody parts or dehydrating them for stock.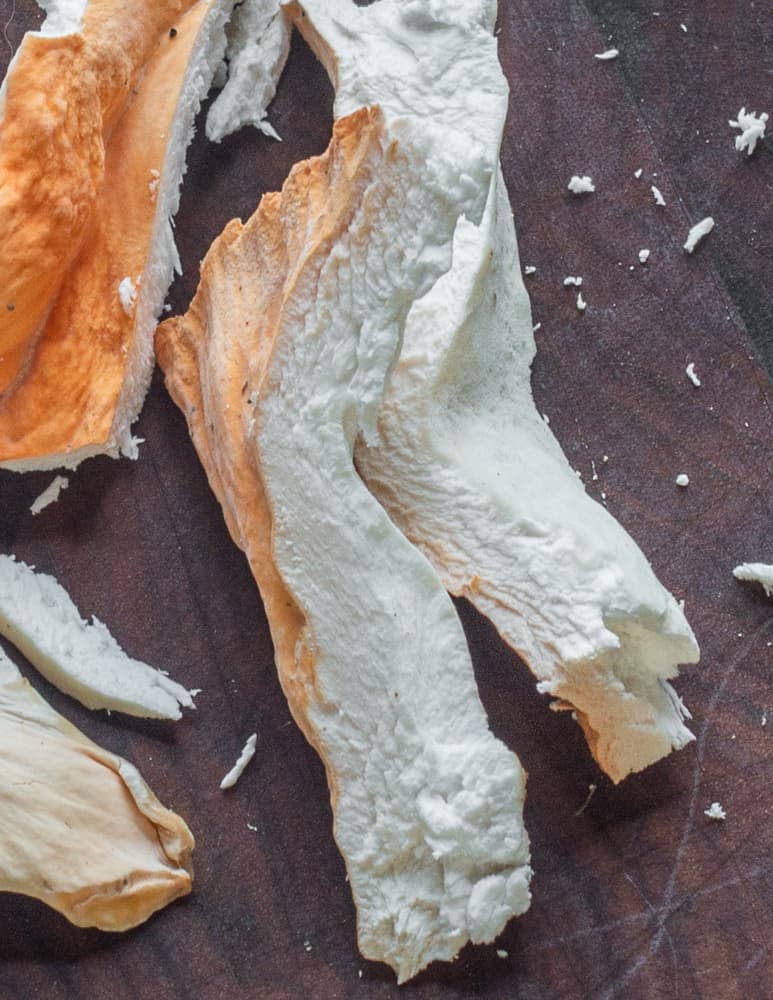 If you find mushrooms that are very young and tender, it's possible for the entire mushroom to be tender and good to eat, but rare.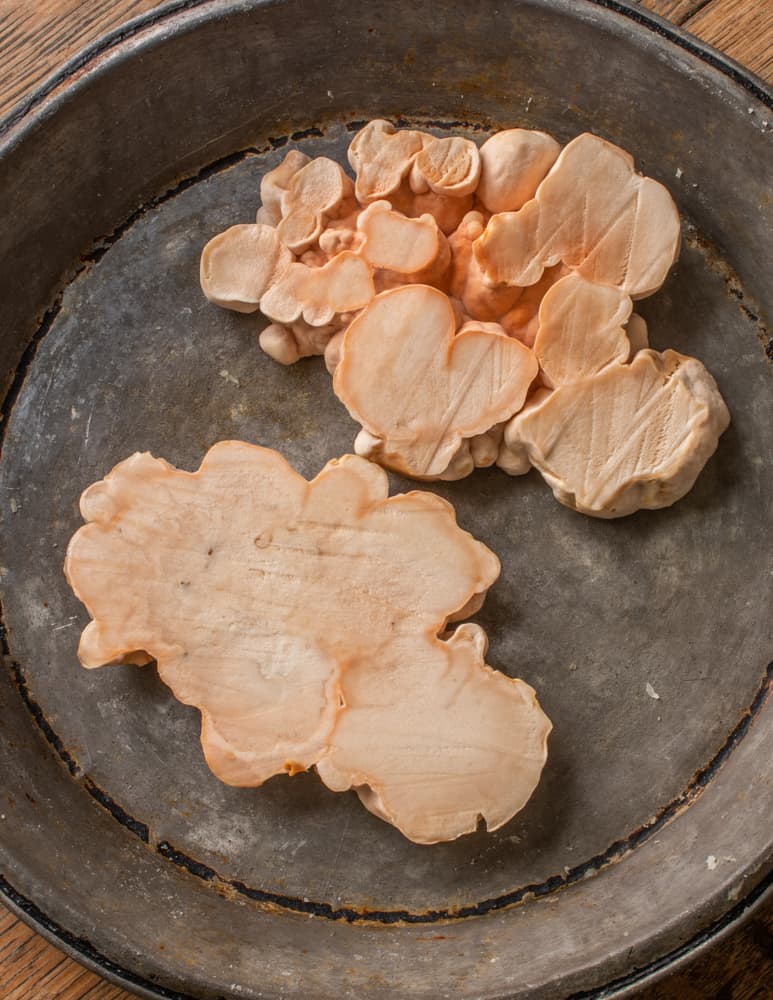 Bugs
Bugs that appear as larvae or maggots love yellow chicken of the woods, but white chicken of the woods have a good resistance to them. When cutting up your mushrooms, you want to see only pure, tender mushroom.
If you see tiny holes as in the image below, there's bugs. Larvae don't affect the flavor, and are harmless, but some people (myself included) find them unsettling. Bugs also decrease the shelf life of the mushrooms.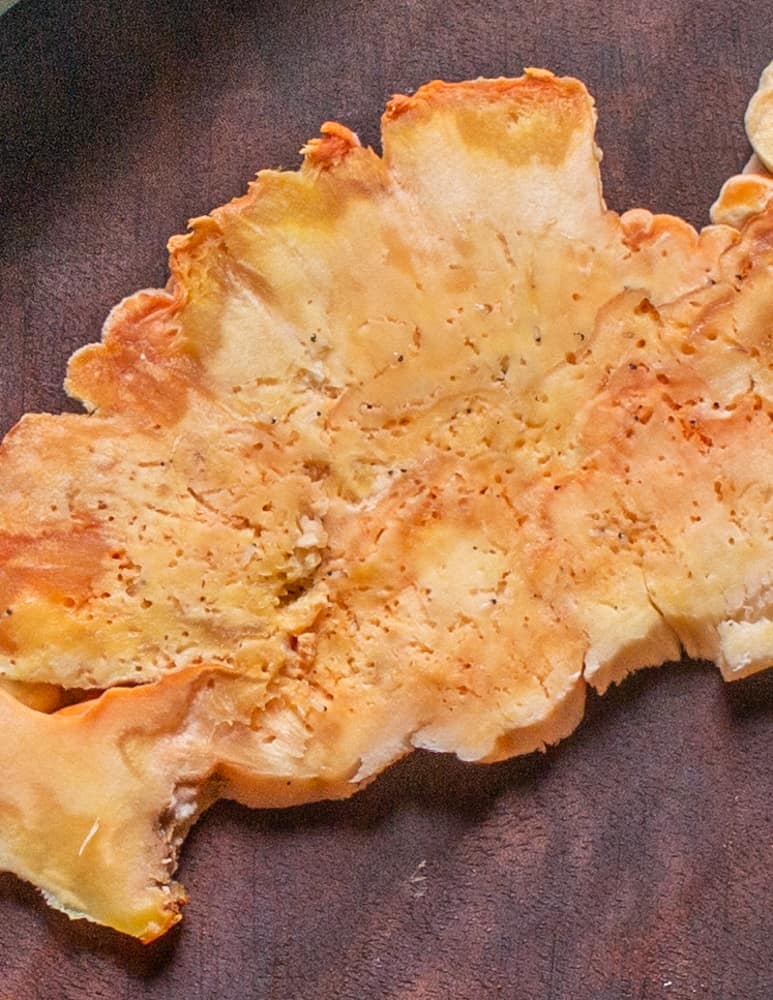 How much, or how many bugs you can tolerate in your mushrooms is a matter of personal preference. I have some friends who will eat just about anything.
The chicken mushroom allergy
It's widely known among mushroom hunters that chicken of the woods are known to cause an allergic reaction in some people. Typically mushrooms that grow on coniferous trees are more problematic than hardwood-loving species, but any of them can cause an issue if someone is sensitive.
One of the more common reactions is tingling or numbness in the lips, but a stomach ache or even vomiting can occur if someone is sensitive. Don't let that scare you though, chicken of the woods mushrooms are sold commercially across the United States, and I have served them to the general public for many years.
Recipes
Chicken of the woods are a great substitute for chicken in your favorite recipes. Depending on the age and tenderness of your mushrooms, you can do different things with them.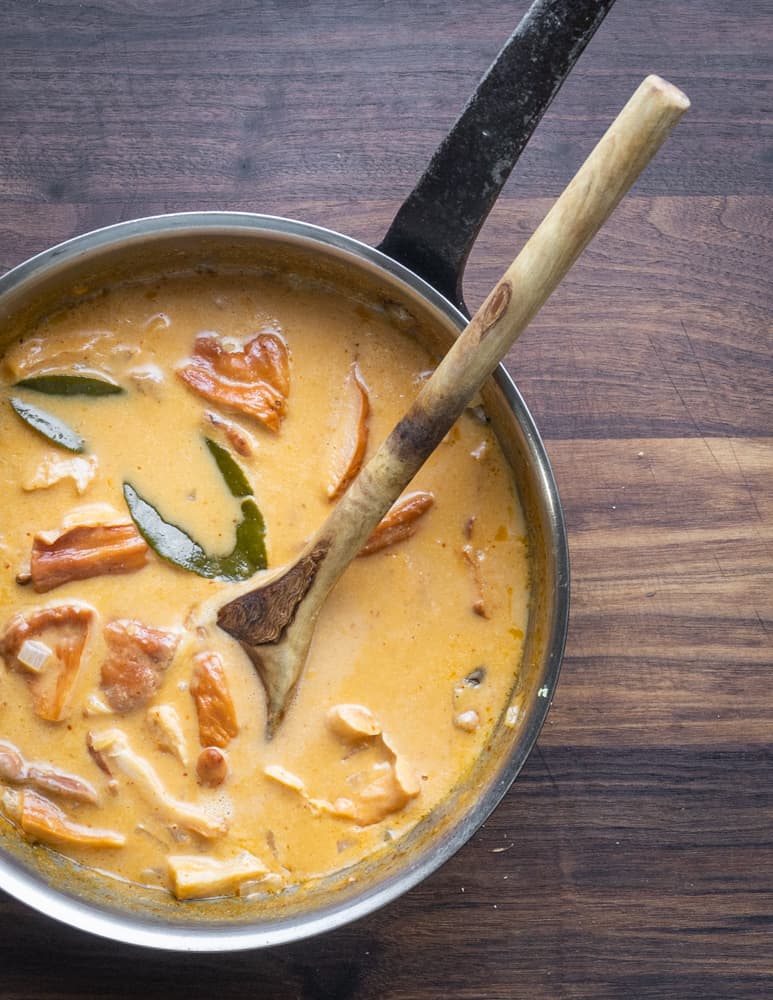 Two of my favorites are coconut curry and chicken fried chicken of the woods. Here's a few other chicken of the woods recipes I like. 
Chicken Mushroom Recipes
Related Posts
Chicken of the Woods Mushrooms
References