Think eating chicken of the woods is strictly an American thing? The continents separated a long time ago, but we still share many of the same mushrooms, at least as far as culinary purposes are concerned (specific species are another story).
Doing research with Jesse for The Wild Harvest show as we planned Episode 3 I was reminded of the Italian name for chicken of the woods: fungo del carrubo, the carrubo I can only assume referring to a host tree in the region.
That tree is the carob, which is interesting as I don't see many mushrooms growing with trees in the Fabaceae (legume family). Interesting, eh? After we shot the gnocchi for Episode 3, I had plenty of chicken of the woods leftover, so Italian chickens had to happen.
If you look online, there's really only one way that you'll see to cook mr. fungo del carrubo: a simple dish of braised mushrooms made juicy with tomato eaten with charred bread, preferably with a clove of fresh garlic rubbed into it (an optional addition).
Like just about everything, there's lots of ways you could riff on the dish and make it your own, for example: fresh tomatoes instead of passata (pureed and passed through a mill to remove seeds), garlic-no garlic, chili-no chili, or switch up the herbs to something like mint, etc.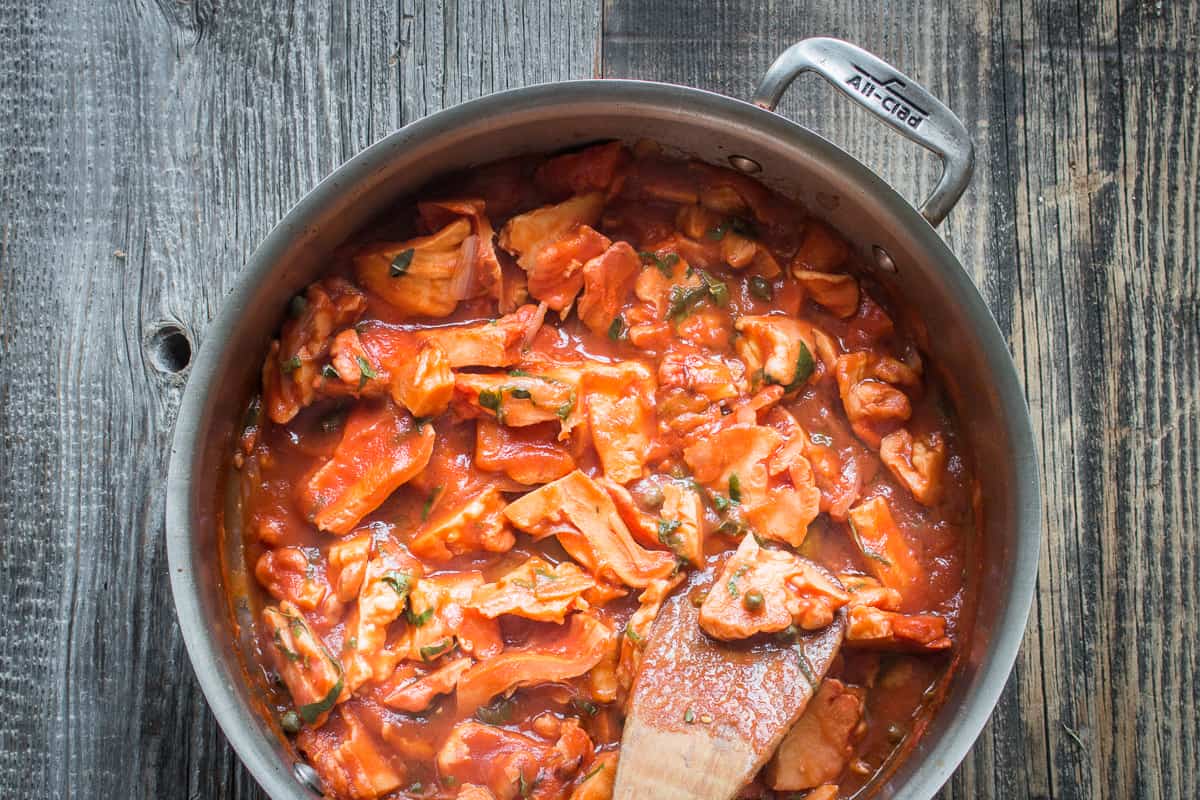 This rendition sneaks in one of my favorite techniques for cooking garlic I learned from Chef Angelo Volpicelli from Rome. I slice garlic thin, then cook slowly in oil until it turns golden, not burnt, but perfectly golden.
When the garlic hits the exact shade of color, I add some hot chili, take the pan off the heat and swirl it for a minute, infusing all the hot oil with the aromas, then I add something to refresh the pan, typically white wine, tomato, or an ingredient that holds water, like leafy greens.
It's a great way to build flavor, but you'll want to make you're friends with garlic. Just about every pasta we used to make at the old Italian restaurant Trattoria Da Vinci started with garlic and oil cooked that way.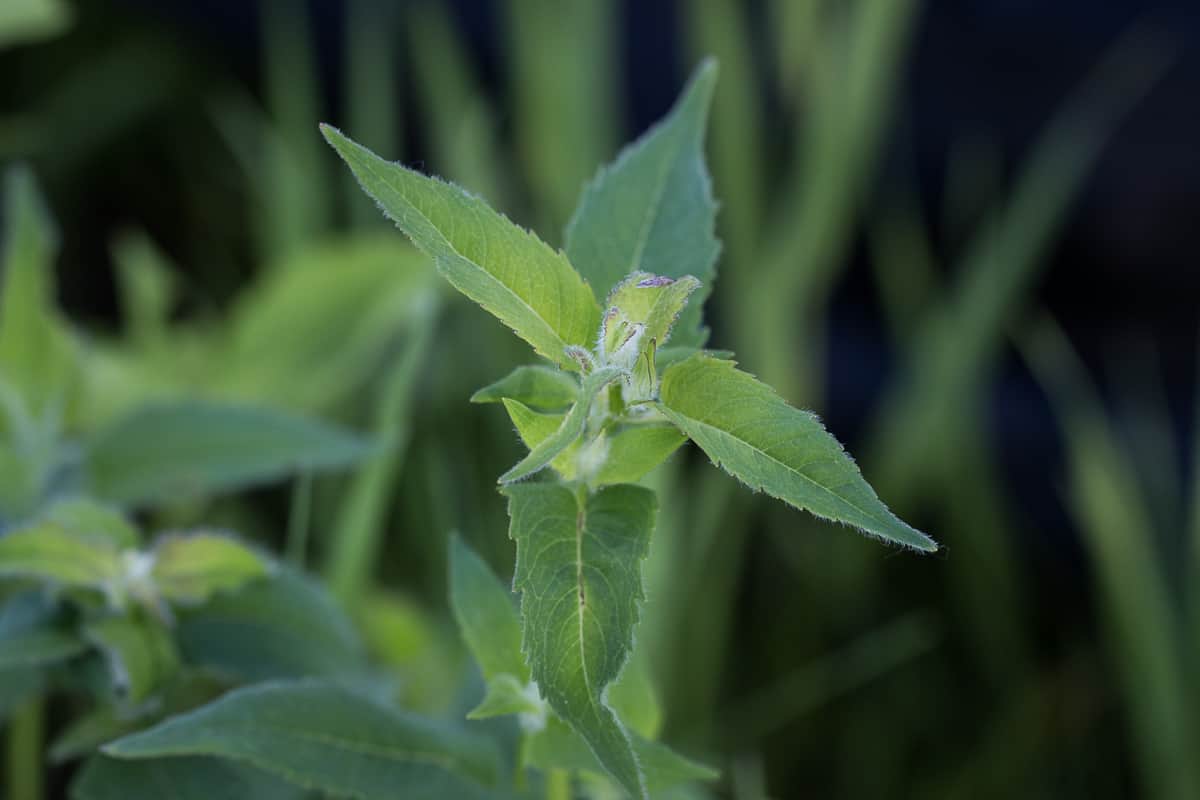 Then there's the herbs. You could use whatever tomato-friendly herbs you like here, but fresh Monarda fistulosa (also known as bee balm, wild oregano, and wild bergamot) is in season so I grabbed a handful. Ubiquitous in Minnesota and Wisconsin, and many other places, bergamot's rich in thymol, giving it a really savory quality, that, when paired with tomato, takes on the moniker of "pizza plant", since any tomato it touches will taste like it turned into a pizza.
If you haven't had it, M. fistulosa is really one of the most useful wild herbs you can easily forage for your locally-inspired pantry. I cook mostly with M. fistulosa, but there's plenty of cultivated versions too, (Monarda didyma being the most common I see--try the red flowers with fruit, especially ripe melon!) but they often have fruity tones to them that would make them taste strange with something deeply savory like the braised chicken mushrooms.
It's a great way to cook your chickens if you're used to just frying them up, and, of course would be good with plenty of other mushrooms, especially fungo de carrubo's cousin, la signorina (hen of the woods). Oh, and they're not pictured here, but for extra credit, consider grabbing some Sicilian castelvetrano olives, pitting them and tossing in a handful at the end.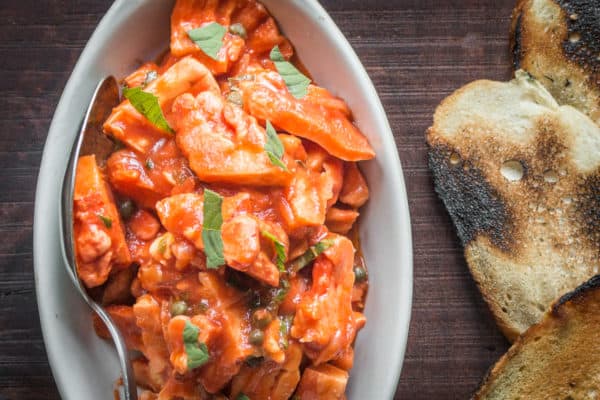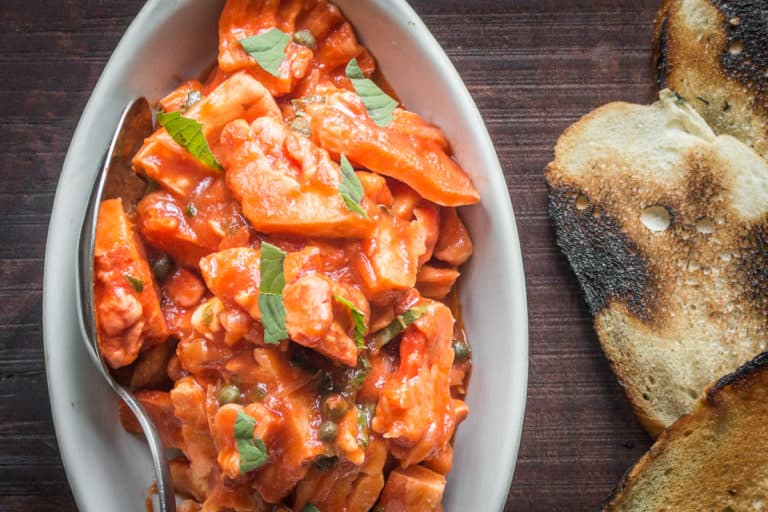 Related Posts
Chicken of the Woods Mushrooms
Vegan or Vegetarian Mushroom Recipes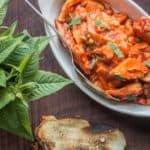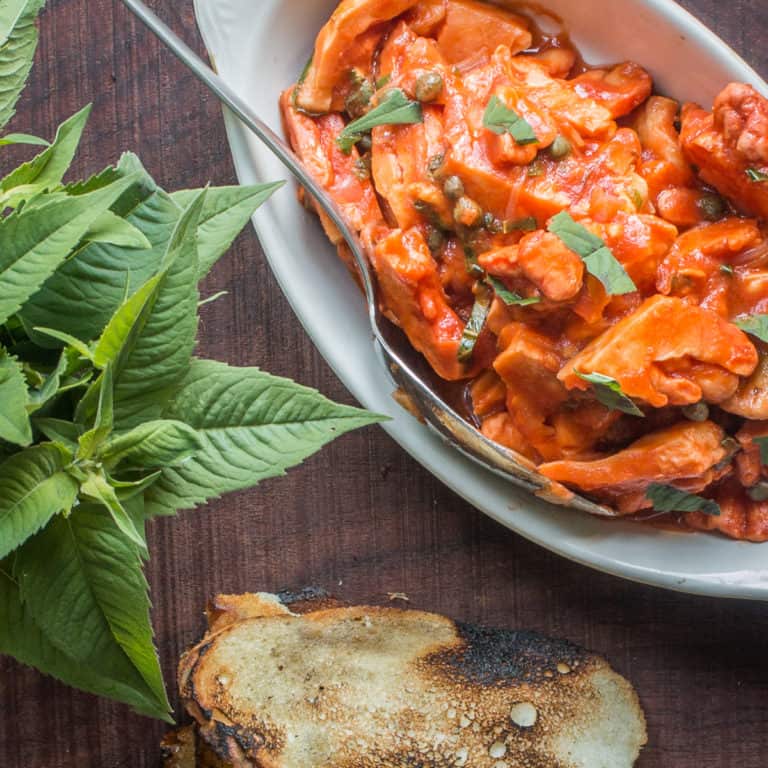 Print Recipe
Sicilian Chicken of the Woods (Fungo del Carrubo)
A traditional Italian preparation for chicken of the woods, flavored with wild monarda leaves and served with charred bread rubbed with garlic.
Ingredients
1

lb

young tender chicken of the woods sliced ¼ -½ inch thick

1

large clove garlic

¼

cup

mild olive oil or extra virgin mixed with flavorless oil, like grapeseed

plus a tablespoon or two extra if the pan threatens to dry out, along with a drizzle at the end.

1

large shallot or a small yellow onion

1

tablespoon

sliced Monarda fistulosa

fresh mint or oregano

Crushed red pepper flakes or hot chili

to taste

1

tablespoon

capers

or a small handful of Catelvetrano olives (see note)

2

dried bay leaves

¼

cup

dry white wine

¼

cup

water or stock

1.5

cups

seedless tomato puree

or tomato sauce (see note)

Grilled high quality bread

preferably slightly charred, for serving

A couple whole fresh garlic cloves,

as needed for rubbing into the bread
Instructions
Heat the oil in a wide pan with high sides a cast iron skillet will work, but isn't ideal as the sauce is acidic.

Add the mushrooms and cook until they've given up their moisture, then push them to the side of the pan, add a little extra oil if the pan looks dry, or if your mushrooms were very juicy. Add the garlic to the clean spot of the pan, then arrange the pan off-center on the burner so that the heat is focused on the garlic.

Sweat the garlic in the oil slowly, taking your time until it's light golden and aromatic, then add the shallots and cook for a minute.

Add the crushed red pepper directly to the garlic and shallot, cook for a moment more, then deglaze the pan with the wine, tossing in the bay leaf. Reduce the sauce by half, then add the tomato puree, water, capers or olives, bergamot or other herbs and cook until the mixture is thickened lightly and the mushrooms are coated with a rich sauce, about 15 minutes.

Meanwhile, lightly oil the bread and char on a grill. It should have good black spots, but not by ashy. Rub a garlic clove gently into the toasted bread slices, pressing down so that it "melts" into the bread a bit--don't go crazy, a little goes a long way here.

Double check the seasoning of the mushrooms for salt and chili, adjust as needed, then serve the stewed mushrooms with the grilled garlic bread on the side. Drizzle some oil over the top to give the dish an attractive sheen.

Spoon the mushrooms and their sauce on the bread and eat. Leftovers make killer mushroom hoagies a la cheesy meatball sub sandwiches.
Video