A tender cake of foraged greens mixed with spices you can serve as a side dish or as part of a larger meal, this wild spinach cake is a fun lambs quarters recipe that you can adapt to a lot of different leafy greens you might have.
The cake is also a good example of the variety of things you can make with edible wild greens in general. If you have my book, you're probably familiar with the wild green cakes. This recipe's similar to those, but it's lighter because it doesn't include eggs, which also means it's good for my vegan forager friends.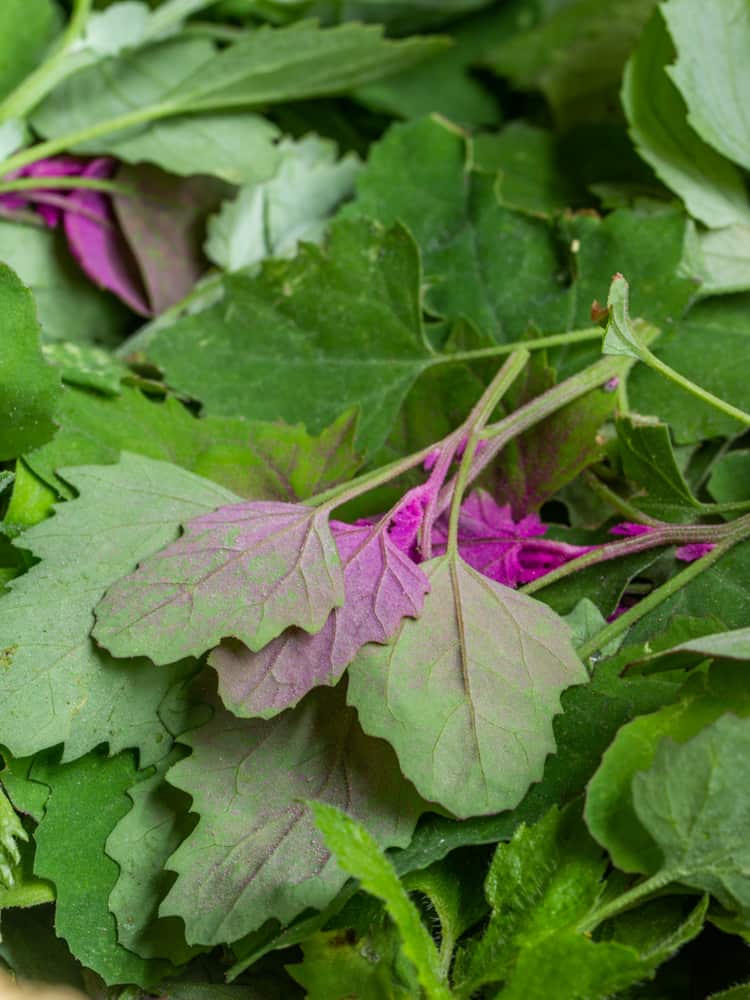 I got the idea one night while watching a woman on a Turkish You Tube channel make what she called a borek from Nettles, which is technically a type of pastry. There wasn't really a list of ingredients and proportions, just a simple home video of her making a cake similar to this one.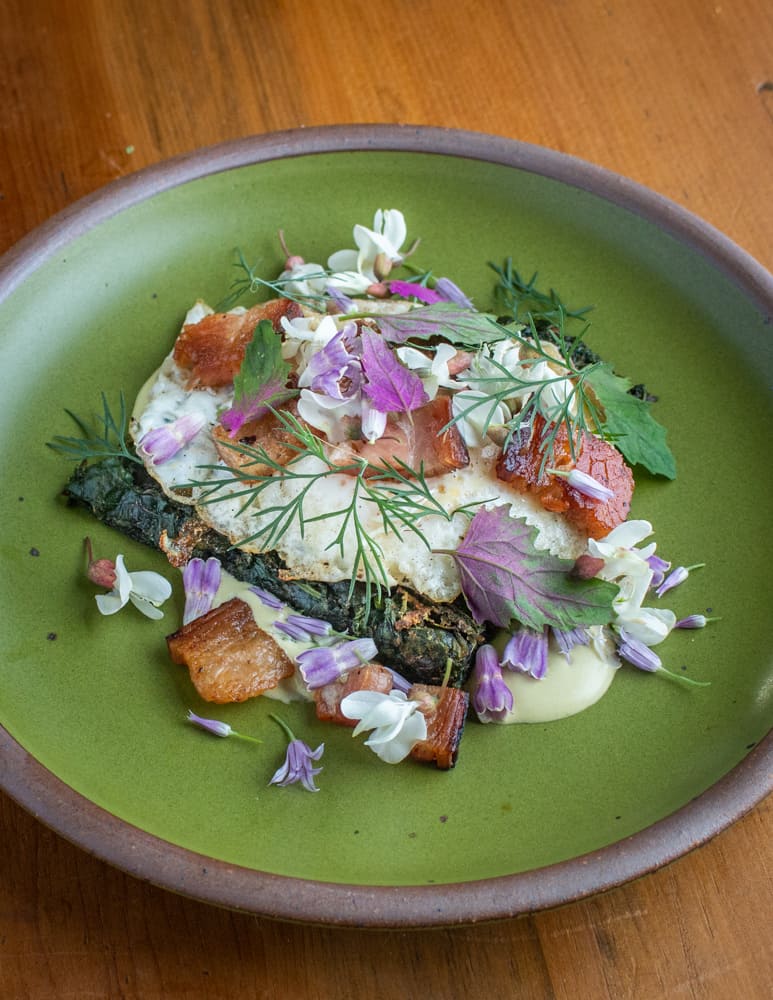 I worked on the proportions to make the recipe easy to follow, trying to keep the flavors and basic idea the same to keep it respectful of tradition. There's a link to the video at the bottom of this post.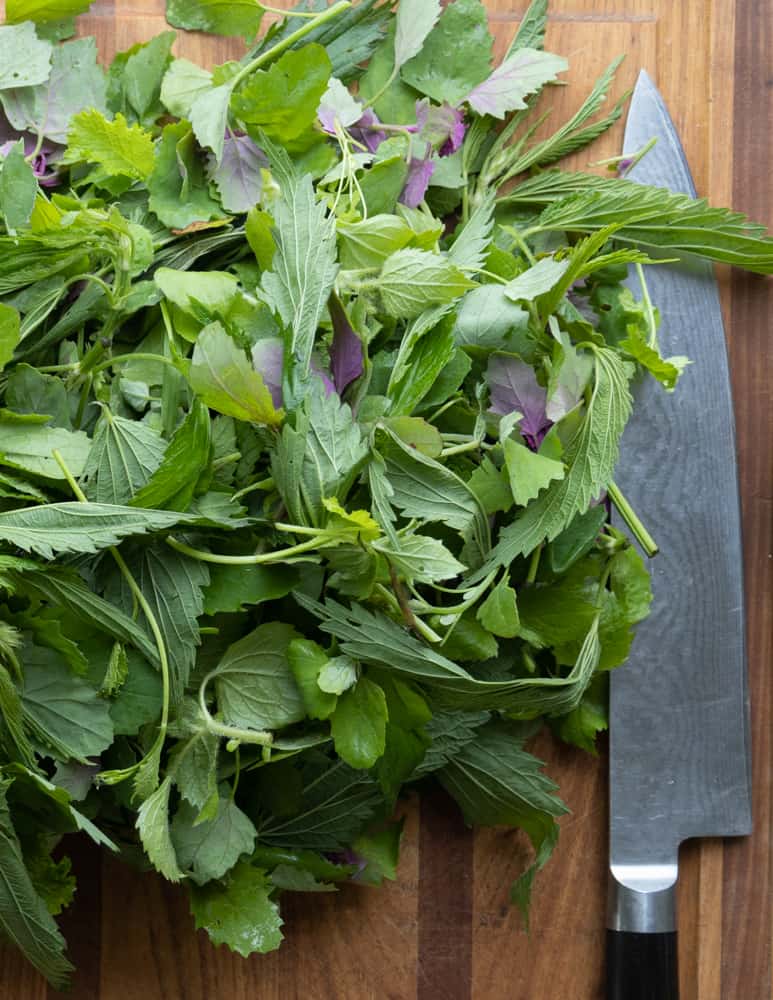 How it's made
To make the cake, you take a bunch of greens and cut them into shreds (chiffonade) rotate the mass of greens 180 degrees and cut again, then mix with some flower, salt and spices and cook carefully in a pan with a little oil.
You pile the greens high into a pan, cover and cook gently until the greens are wilted. During the cooking the greens will wilt, with the flour absorbing the natural water and firming up. Gradually as it cooks, the greens will lose most of their volume and become a flat, tender, semi-firm cake.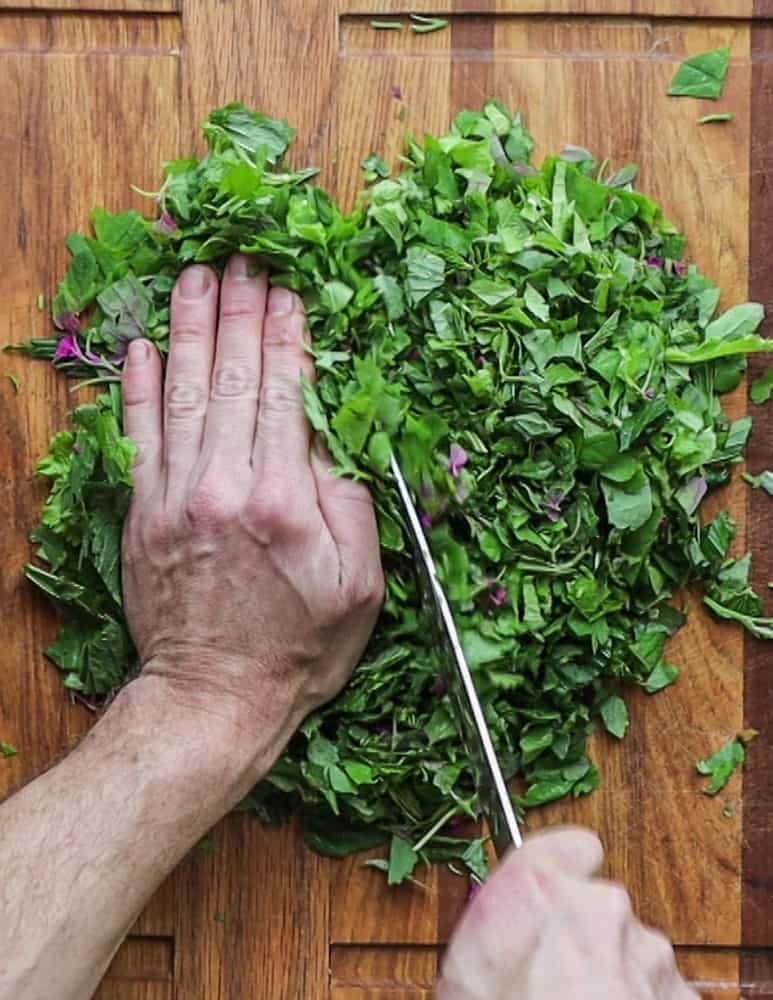 This is a dish that takes some finesse to pull off, but it's fun and a nice break from salads or cooked greens. It also holds and reheats well.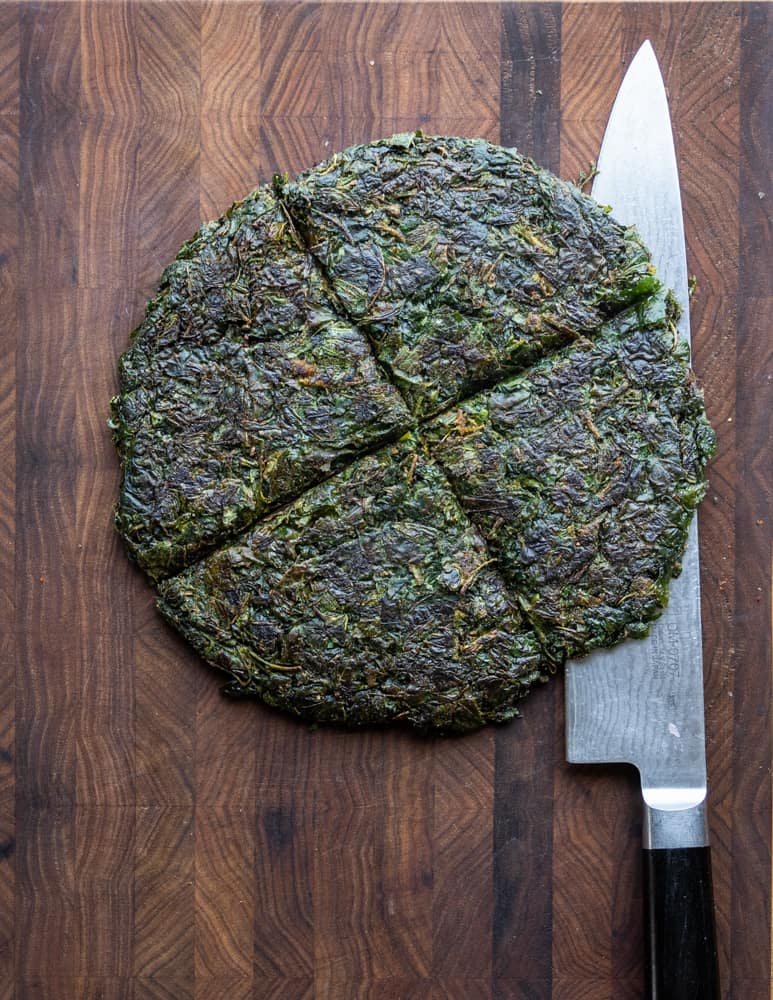 Different Greens to Use
Ideally you'll use soft-textured, leafy greens here that have a large amount of leaf. I try not to have too many stems in this as they can take longer to cook. Ideally you'll use nettles, lambs quarter, amaranth greens or something similar. If you don't have any of those, spinach or chard work well too.
It's important that the greens have a decent amount of natural water, so avoid using any type of kale, which is drier can scorch easily, and takes longer to become tender.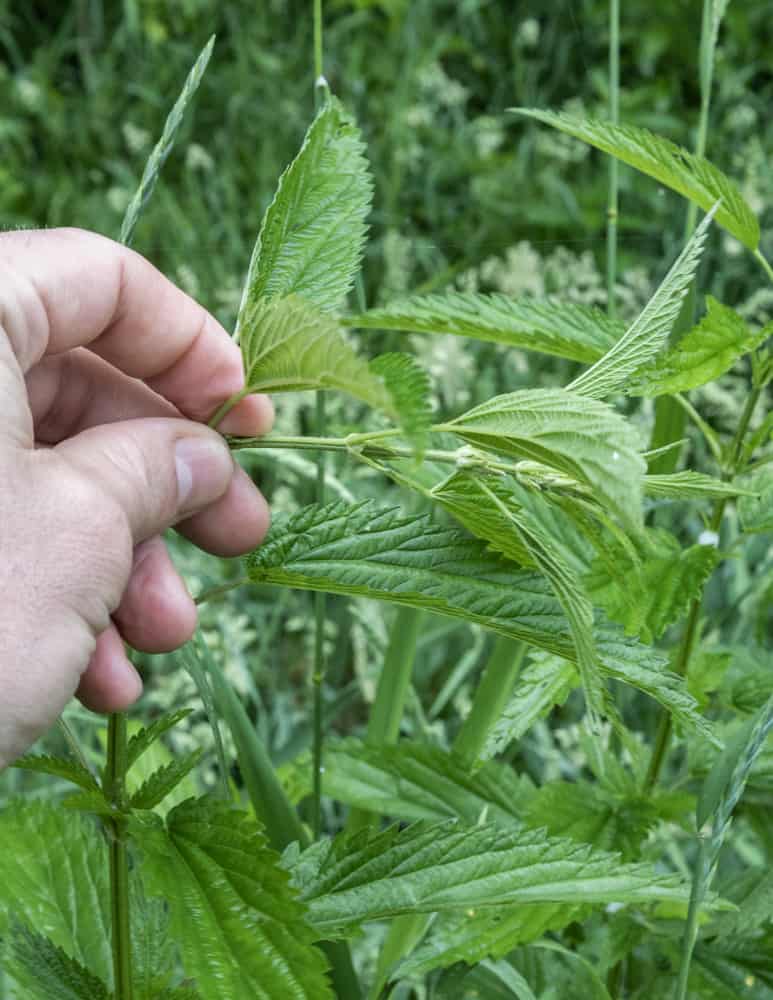 Adapting the recipe
If you have some, try using a mixture of allium greens for ⅓ of the total greens. Ramp leaves will work well, as well as onion tops.
Herbs can add a nice flavor too. A small handful of sliced mint or a sprinkle of chopped thyme or dill will all work.
Ideally you'll use cooking oil here, and a blend of extra virgin olive oil with another oil is good. Using oil infused with garlic will add a nice flavor too.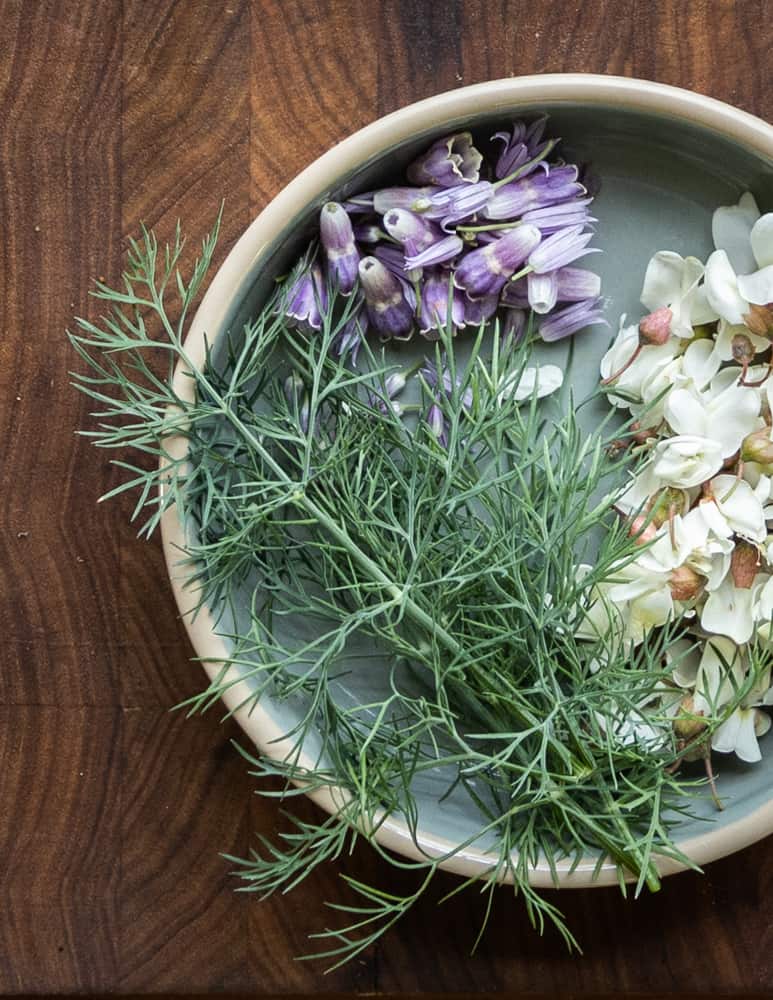 Serving
You can cut slices of the cake and serve it as a side dish, and it's fine like that, especially with a lemon wedge if you have one. You can also use cut wedges of the cake as the base of a dish and build things around it as shown here.
Pictured is one I ate for lunch with things I had on hand. There's some ramp sriracha sour cream on the bottom of the plate, an over-easy egg fried in bacon grease and a handful of flowers of the moment, heavy on the chives. A couple sauteed mushrooms like chanterelles, a few spoonfuls of tomato sauce, or some grated sheep milk cheese would be nice too. Get creative with what you have and choose your own adventure.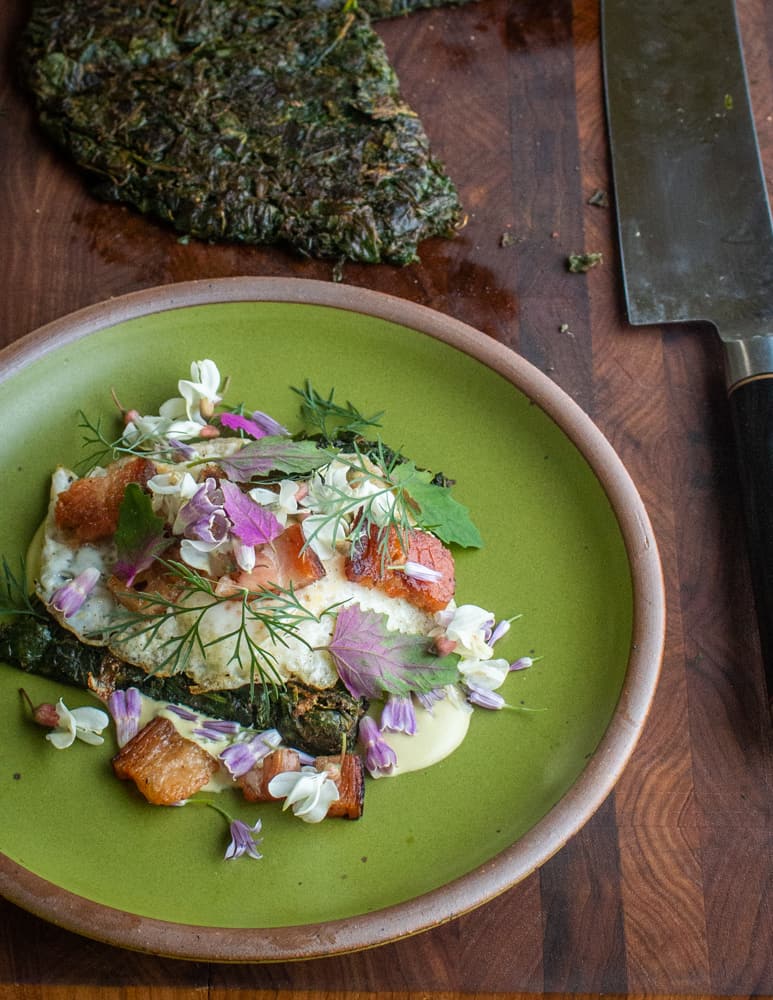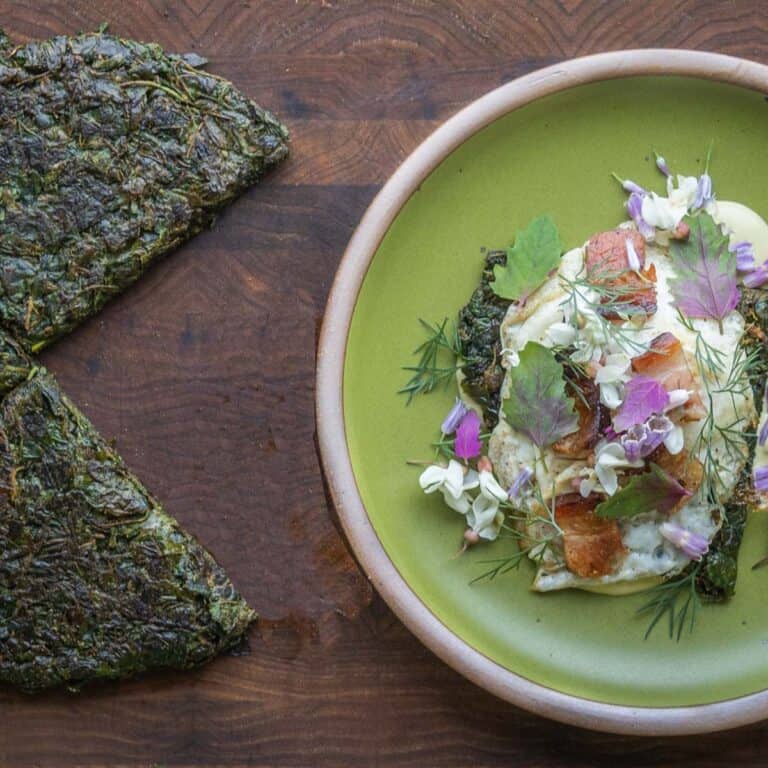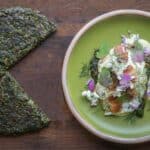 Print Recipe
Wild Spinach Cake (With Lambs Quarters)
A tender cake made from lambs quarters or other greens, finely chopped and mixed with flour, salt and spices.
Ingredients
10

oz

fresh lambs quarters or other greens such as nettles

You want mostly greens here. Any large stems should be discarded.

4

Tablespoons

flour

½

teaspoon

kosher salt

½

tablespoon

sweet paprika or smoked paprika

Knife tip of cayenne pepper

½

teaspoon

ground cumin

optional

4

Tablespoons

cooking oil

plus more as needed
Instructions
Cutting
Grasp The lambs quarters into a ball, then shred them fine. Rotate the mass of greens 180 degrees, then shred again to make tiny squares.

Transfer the greens to a bowl and mix in the remaining ingredients well. The greens should look lightly coated with flour.
Cooking
In a 10 inch nonstick pan, such as cast iron, heat half of the oil. Spoon in the greens and let them cook for a minute or two on medium heat, or until the greens have started to wilt.

Using a wooden spoon, press the greens down the side of the pan, then gently press down on the top of the greens to compact them.

Cover the pan with a tight fitting lid and cook for a few minutes, turning down the heat to medium low. Continue cooking for a couple more minutes until the greens are wilted and move as one when the pan is shaken.
Flipping the cake
Using a spatula, peek underneath the cake of greens. When you can see it's lightly browned, flip it using a spatula, using the pan, or by inverting the mass of greens on a cutting board and sliding back into the pan.

Using a wooden spoon or spatula, press down on the sides of the cake in the pan, trying to keep it a nice circlular shape. Drizzle the remaining oil around the side of the pan to help the cake brown evenly.
Cooking until golden on each side
Cook the cake for 5 more minutes, or until the bottom is lightly browned. Continue cooking, gently flipping the cake as needed to double check that both sides are evenly browned, which will help the cake stick together after it's sliced.

If the pan looks dry, drizzle a little more oil around the sides of the cake.
Serving
When both sides of the cake are golden brown, slip it onto a plate using a spatula. Using a chef's knife, cut the cake into ¼ s and serve. It's great with fried eggs on top.
Notes
This is fantastic with lambsquarters, but many different leafy greens can be used. Spinach, nettles, mallow, or a combination of different greens like chard will all work.
Nutrition
Calories:
182
kcal
|
Carbohydrates:
11
g
|
Protein:
3
g
|
Fat:
14
g
|
Saturated Fat:
1
g
|
Polyunsaturated Fat:
4
g
|
Monounsaturated Fat:
9
g
|
Trans Fat:
0.1
g
|
Sodium:
294
mg
|
Potassium:
249
mg
|
Fiber:
5
g
|
Sugar:
0.2
g
|
Vitamin A:
1428
IU
|
Vitamin C:
0.02
mg
|
Calcium:
345
mg
|
Iron:
2
mg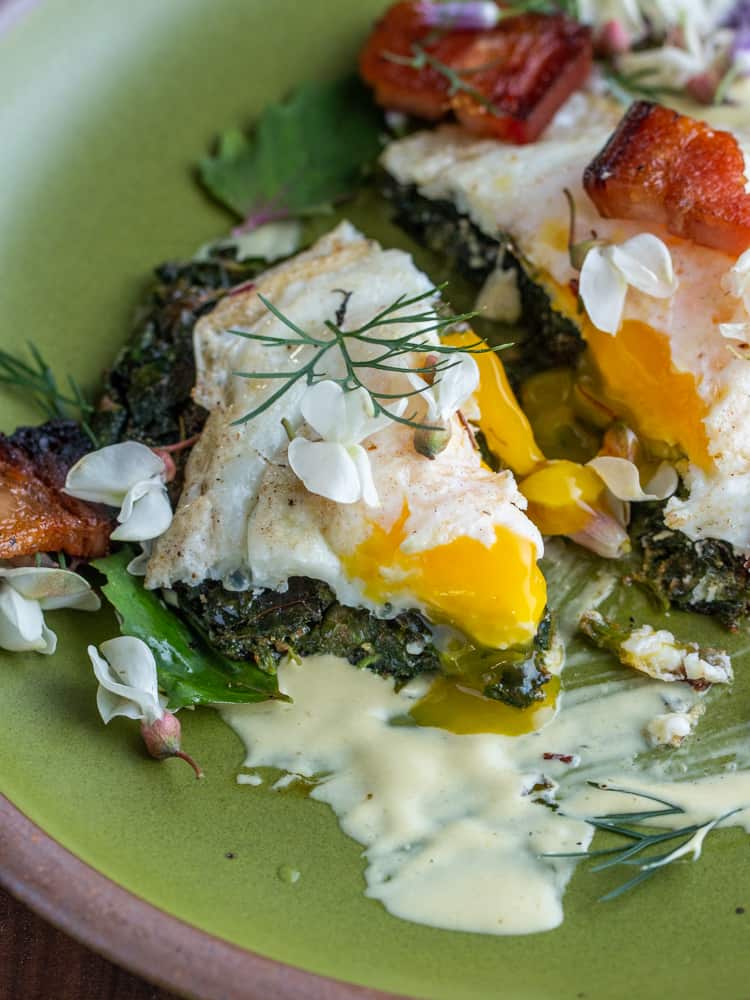 Related Posts
Wild Spinach Dip (Borani Esfenaj)
Resources