Lambs quarters are one of the most versatile edible wild greens around. Here's how to make them into a delicious salad with other greens.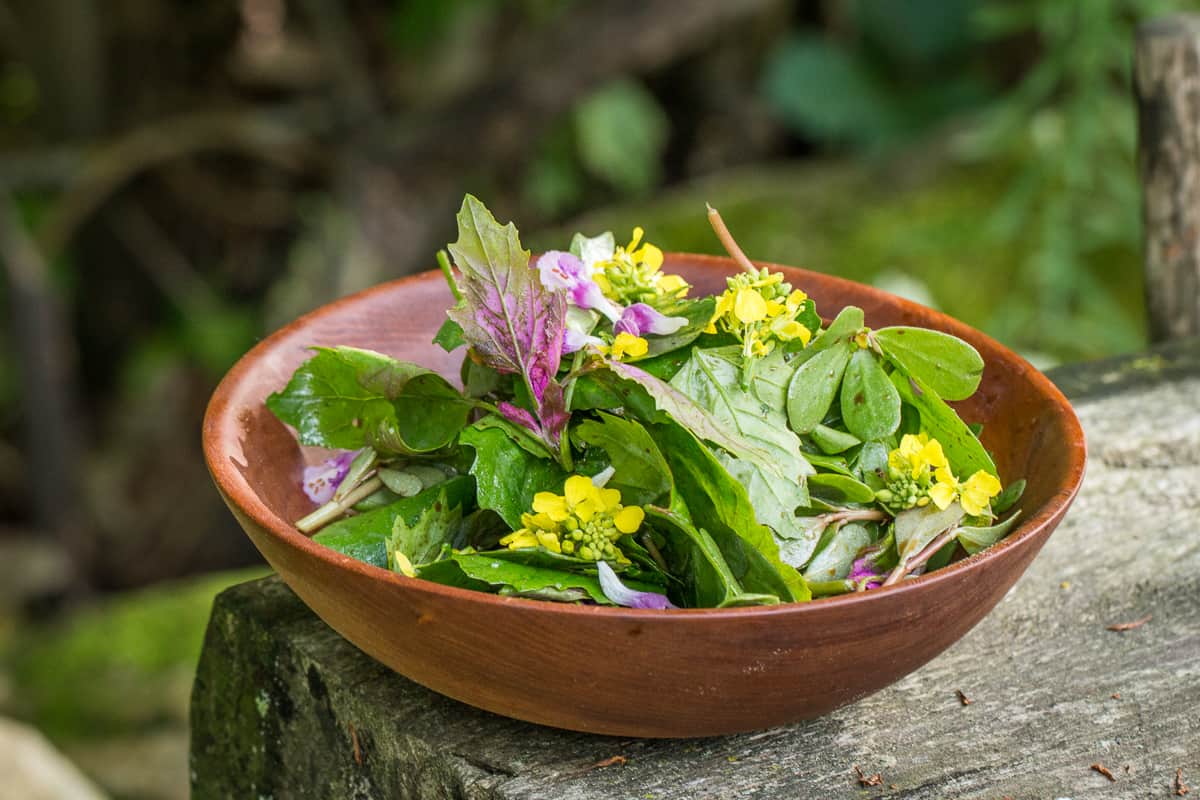 I've written about making salads from foraged greens before, but, more often than not, in the height of summer salad green season, I'm not making salads out of 15 different plants--it's probably more like 3 or 4.
Some of the plants will change here and there as the summer goes on, but one thing stays the same: every time I reach for the scissors to cut some greens for salad, lamb's quarters will be in the mix, and they will probably make up the bulk of the salad.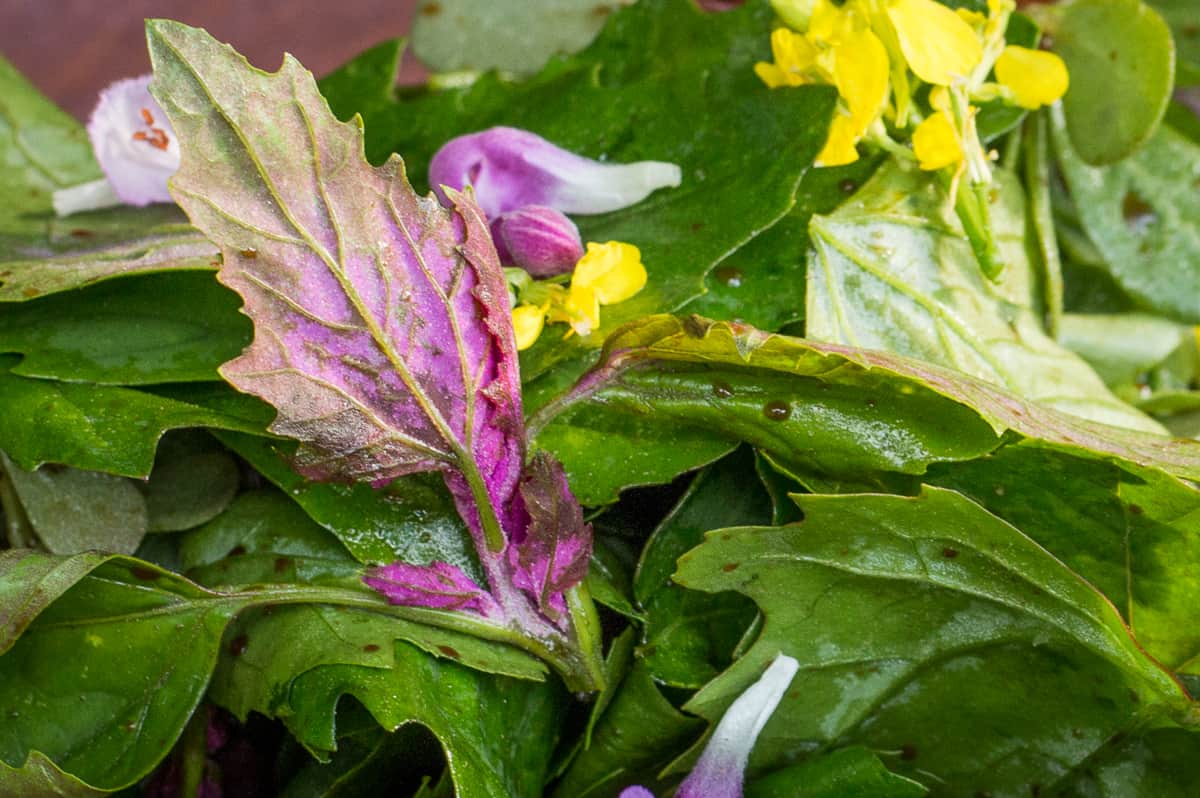 Lamb's quarters / wild spinach are just so versatile. Sure, you can cook them, but during the early summer, there's not a lot of wild greens that are pleasant to eat raw straight from the ground (if you keep cutting them back, they'll continue to give you beautiful young greens throughout the summer, too).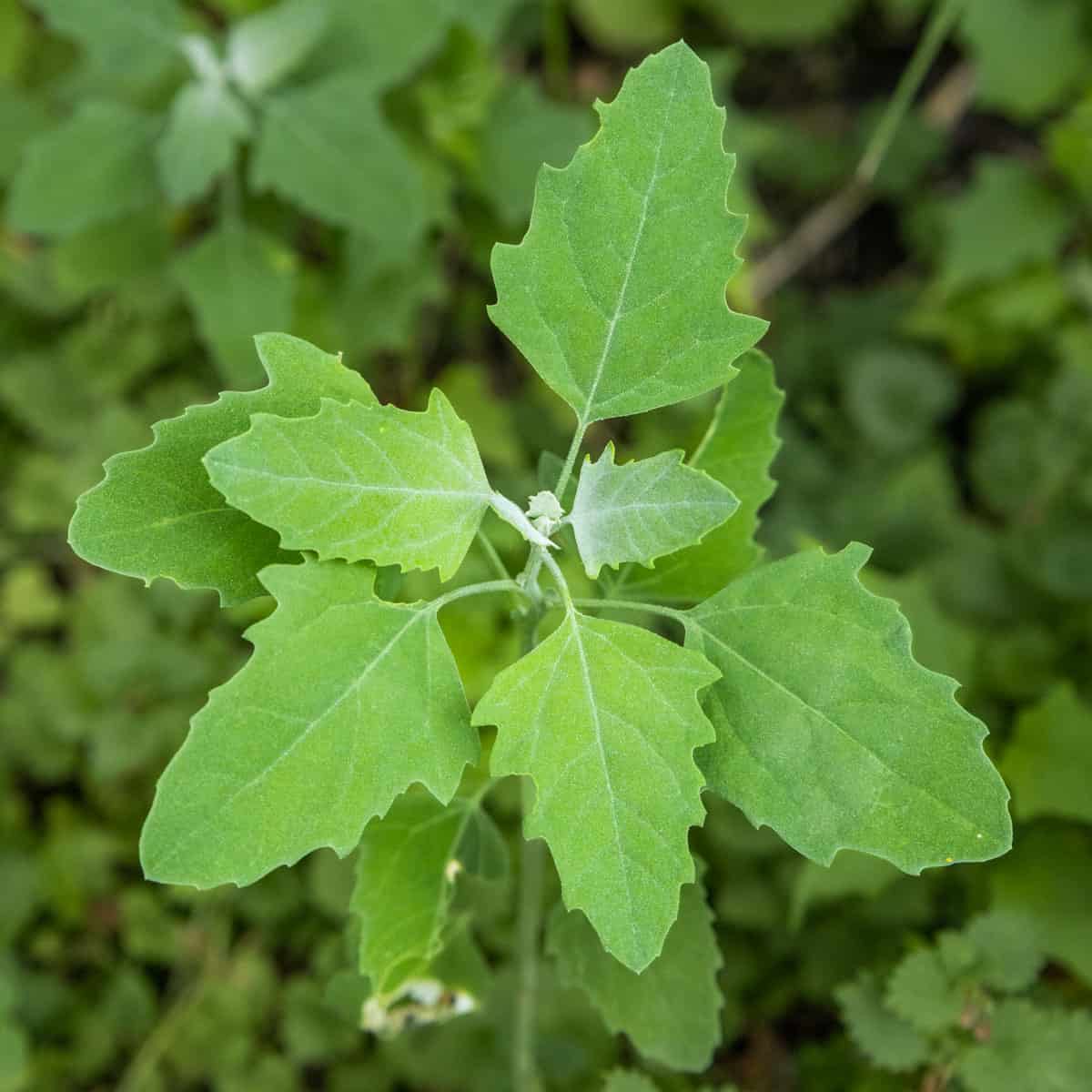 Lamb's quarters stay mild and tender for a decent amount of time (again, especially if you cut them down regularly) and they soak up a light dressing without getting soggy, since the greens have a sort of natural waterproofing to them. Add a handful of other greens for some variety, especially things like purslane or nasturtium leaves and flowers, and you have a delicious wild salad that you can enjoy for a good portion of the summer before the lamb's quarters start to bolt.
Tips
Refresh your greens before refrigerating or dressing them. Greens wilt quickly, but if you refresh them in cool water (which does double duty of washing them) until they perk up, then spin and refrigerate, they'll be ready, and standing at attention for whenever you need.
Add torn herbs for exciting pops of flavor. Basil, mint, tarragon, parsley are all good choices.
Wild salads like dressings with a touch of sweetness. That could be something thick like my aronia or berry dressing here, or simply a drizzle of maple syrup or a pinch of sugar in your dressing.
Chef tic here. Bottled dressings are a no-no. If you keep bottled dressings in your fridge, throw them away. Bottled dressings are way too stodgy and strong tasting for any salad green you have respect for, and they make your greens taste like dressing, instead of letting their natural flavor shine. Instead, consider the simple oil and vinegar method below.
One of the best dressings is no dressing. Try seasoning your greens with oil and vinegar to taste. Yes, oil and vinegar in separate containers. First, season the greens with a little oil, then vinegar, then salt and pepper. Mix, taste, adjust, serve. Easy.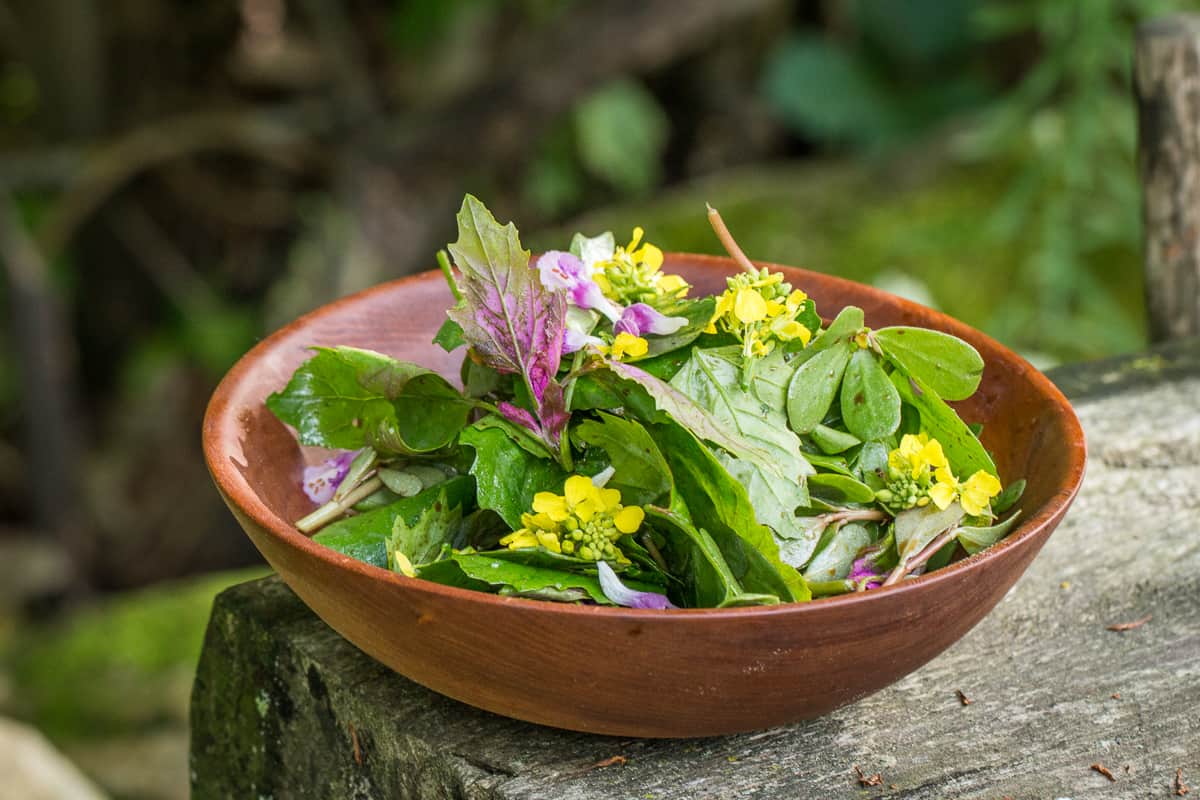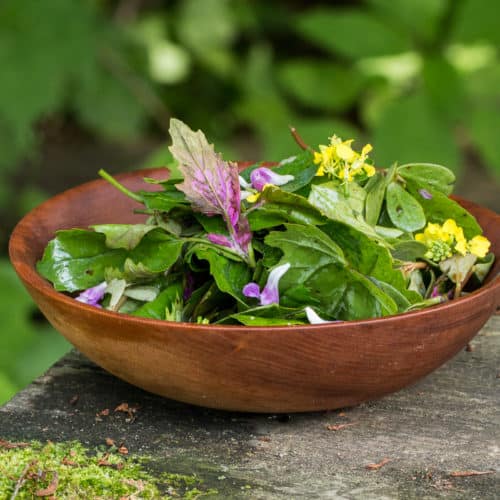 Print Recipe
Lamb's Quarters Salad
A simple salad of lamb's quarters with oil and vinegar
Ingredients
4

oz

Lamb's quarters and tender stems

small, whole clusters or leaves are ok

1

oz

Other greens, like purslane, nasturtiums, etc

Extra virgin olive oil, to taste

or your favorite salad green

White or regular balsamic

white is nice since it doesn't color the greens, both are ok though (see note)

Kosher salt and fresh ground black pepper

to taste

Fresh torn herbs, like basil, mint, tarragon, cilantro, etc

to taste

edible flowers, like deadnettle, day lily, comfrey, mustard, etc,

optional
Instructions
Wash the greens and soak in cold water for 10 minutes. If needed, pick the greens off any tough stems.

Spin the greens dry in a salad spinner, or roll up in some cloths or towels and refrigerate to weep moisture.

Toss the greens and herbs in a bowl with a dash of oil, vinegar, salt and pepper to taste, mix, taste and adjust the seasoning for whatever you see fit until it tastes good to you, then serve. Garnish with the flowers if using.
Notes
A little sweetness is key in helping those with timid palates shovel this down. A lot of times I use a touch of balsamic reduction I make at home, but commercially made saba, or cream of balsamic is really good, and widely available for the most part. If you can find some of either of those, use it, just a tiny amount will do--too much will be too sweet. In a pinch, I might just add a dash of maple syrup to lemon juice, apple cider vinegar, or another acid. 
Nutrition
Serving:
2
oz
|
Calories:
16
kcal
|
Carbohydrates:
3
g
|
Protein:
2
g
|
Fat:
0.3
g
|
Saturated Fat:
0.04
g
|
Polyunsaturated Fat:
0.1
g
|
Monounsaturated Fat:
0.01
g
|
Sodium:
75
mg
|
Potassium:
370
mg
|
Fiber:
1
g
|
Sugar:
0.4
g
|
Vitamin A:
6184
IU
|
Vitamin C:
20
mg
|
Calcium:
63
mg
|
Iron:
2
mg