Yamagobo is one of the tried and true recipes for cooking with burdock root that comes from Asian cuisine. It's a simple recipe: burdock roots peeled and mixed with a pickle solution typically colored orange with..carrot powder, or more commonly orange food coloring--no thanks.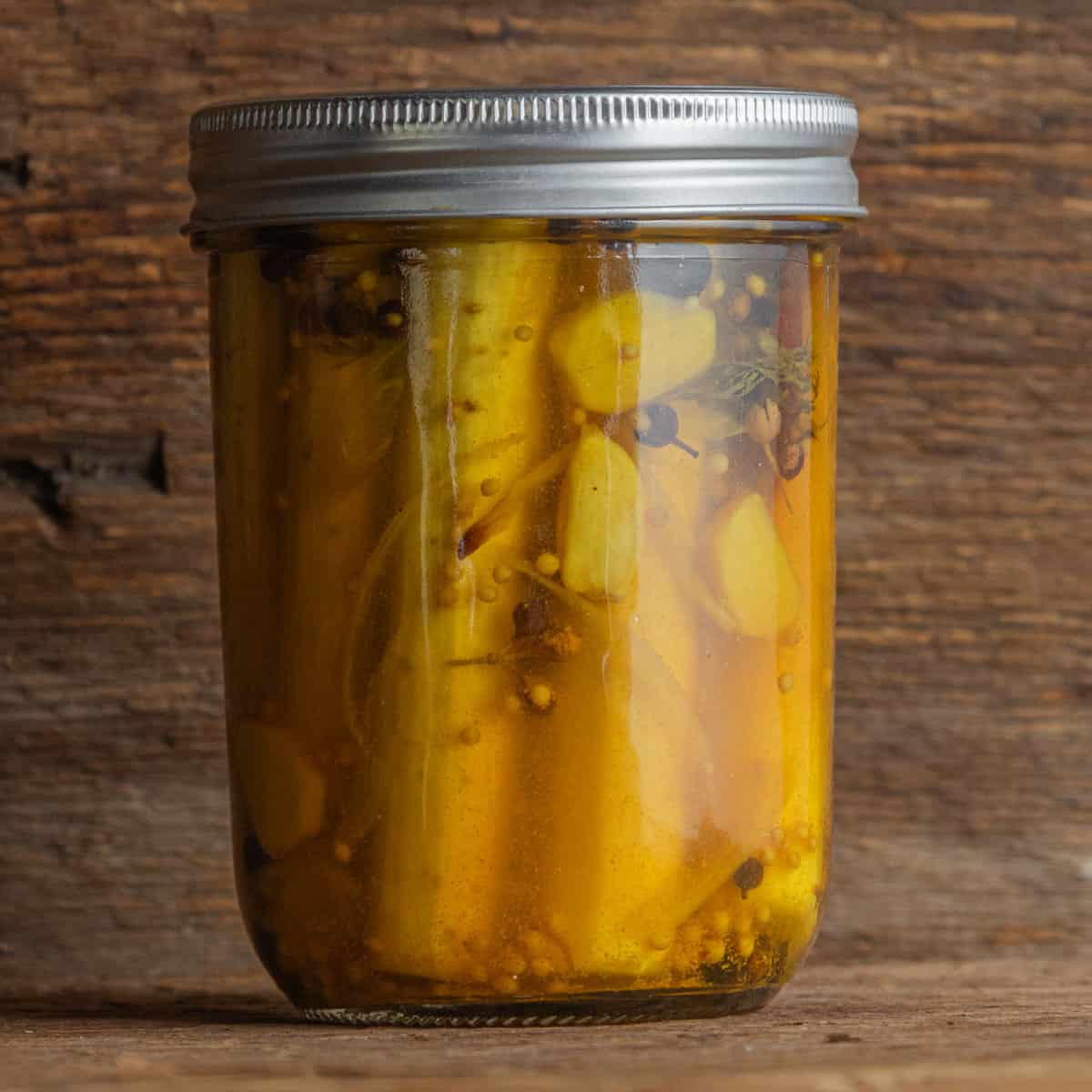 After a reader tipped me off to the preparation, I had to try some for myself. Unfortunately, going through the trouble of slicing, dehydrating and powdering carrots didn't give me any sort of interesting color. I knew I could use fresh or ground tumeric, but tumeric also adds a particular flavor, so I went in another direction.
Last year I started drying my own wild fruit, and one of the most interesting things I noticed was how deep of a color certain things lent to different recipes, especially baking and liquids. Dried chokeberries (Aronia) and wild grapes both make especially purple things, chokeberries being the stronger of the two.
The first batch I made was ok. It had a great purple color (even deeper than the yamagobo pictured) but there was something wrong: the roots were tough and stringy, even after a simmer in the pickle liquid that I'd hoped would tenderize them a bit.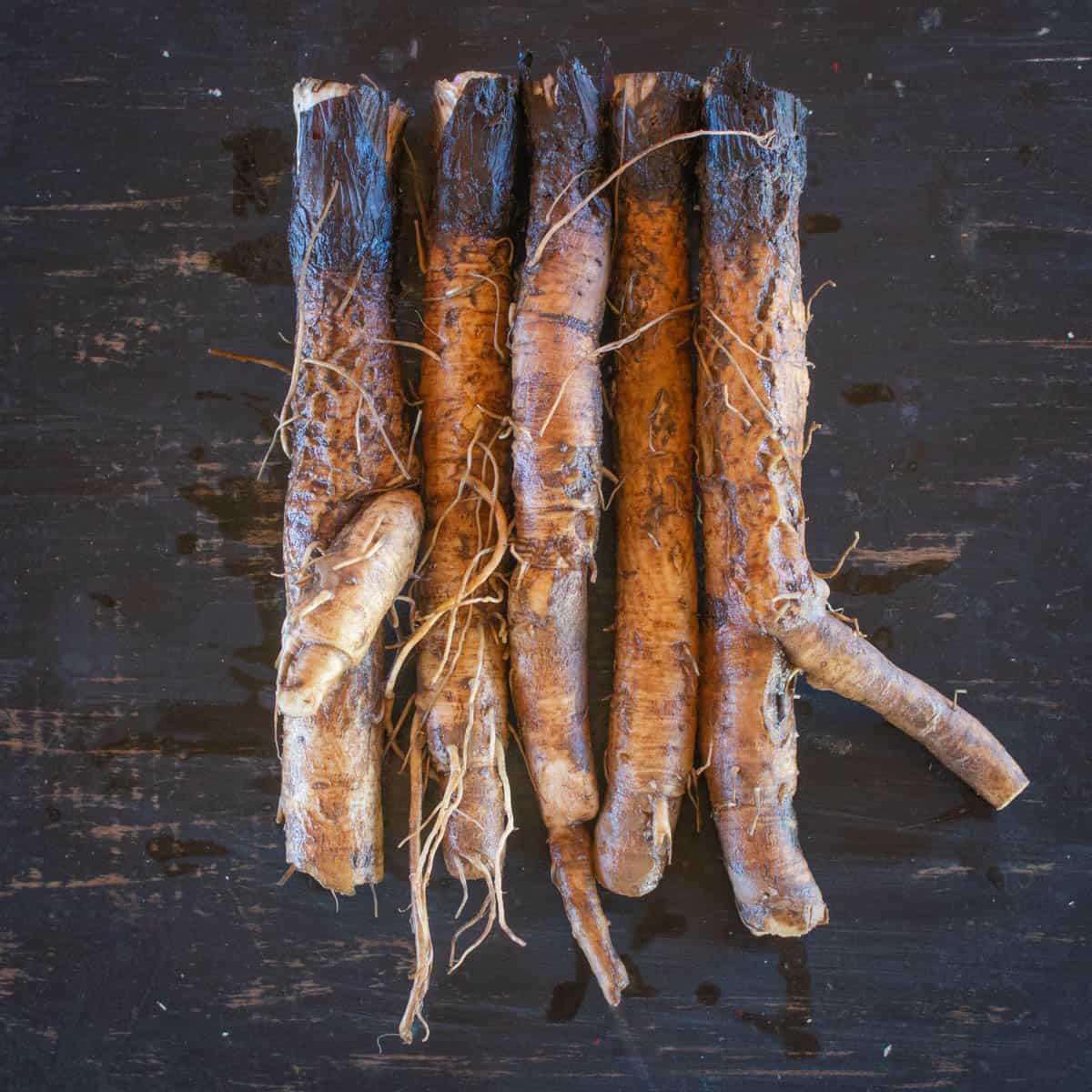 After a couple bites of extra chewy root, I knew what the problem was. I'd used Arctium minus to make yamagobo, and with those I typically just dig the top portion of the root (which is the toughest) since it's the easiest to harvest.
In Asia, greater burdock (Arctium lappa) is the species of choice, and it's actually cultivated as a commercial crop. The roots of greater burdock are better all around compared to common burdock, especially if you're lazily digging the top portion of the root as I was.
So, I tried making the yamagobo again with greater burdock from my local Asian market, and, like I suspected, that was the ticket. The roots were tender-crisp, and pleasant straight from the jar. You could probably get a similar result from foraged common burdock, but you'd need to really get down and pry out more of the tap root, which, if you've done it, is a pain.
Traditionally the pickles are used in certain hand rolls and served alongside dishes with pork, but I've served them as little nibbles on foraging forays with a bit of crunchy salt on the side as a fun, colorful example of the different ways cultures use this interesting root. I'm sure you can find some interesting things to do with them.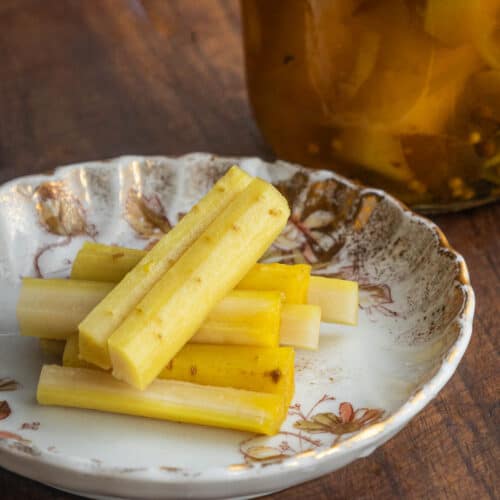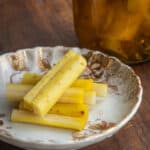 Print Recipe
Chokeberry Burdock Yamagobo
A simple recipe for pickled burdock root. Makes 1 pint jar
Ingredients
8

oz

gobo burdock

not common burdock

¼

cup

water

¾

cup

rice wine or apple cider vinegar

1

teaspoon

salt

2

tablespoons

sugar

1

dried bay leaf

Pinch

of hot chili

optional

A few slices of fresh ginger

1

Tablespoon

dried

ground berries, preferably wild grapes or aronia berries, or use tumeric
Instructions
Peel the burdock and cut into thick matchstick lengths that will nicely fit the jar.

Meanwhile, bring the remaining ingredients to a boil. Pack the gobo into a pint jar, then fill the jar with boiling water (a microwave works good) to heat it up and make sure the jar seals.

When the pickling liquid comes to a boil, pour the hot water out of the jar with the burdock, then pour over the hot, purple pickling liquid up to cover the burdock.

Screw on the lid, turn the jar upside down, and wait for it to cool and seal. Store in a pantry and wait at least a week to let the flavors meld. The pickles are shelf stable unopened, but should be refrigerated after opening.
Notes
Coloring the roots 
I use dried, powdered chokeberries here, but they're optional. It's just to give the roots a little color and make them attractive. If you don't have any dried berries you can grind to a powder, add 1 teaspoon of tumeric to the pickling liquid. 
Nutrition
Serving:
2
oz
|
Calories:
66
kcal
|
Carbohydrates:
16
g
|
Protein:
1
g
|
Fat:
0.1
g
|
Saturated Fat:
0.02
g
|
Polyunsaturated Fat:
0.03
g
|
Monounsaturated Fat:
0.02
g
|
Sodium:
587
mg
|
Potassium:
200
mg
|
Fiber:
2
g
|
Sugar:
8
g
|
Vitamin A:
45
IU
|
Vitamin C:
2
mg
|
Calcium:
38
mg
|
Iron:
1
mg