A simple miso soup is one of my favorite matsutake recipes. It comes together quickly and highlights the unique flavor of the mushrooms.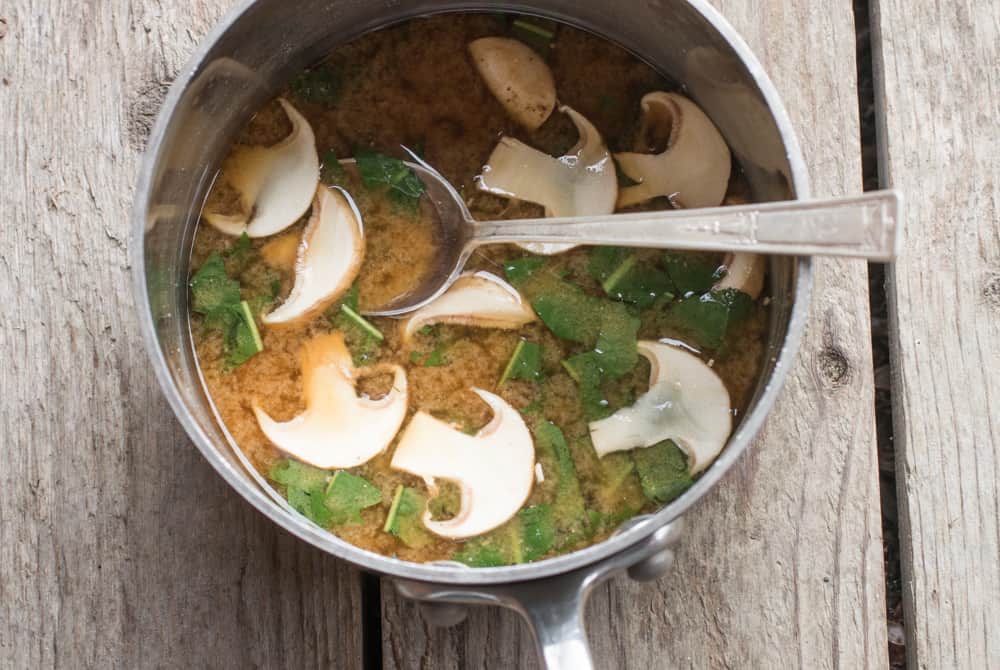 This miso soup is about a nice broth flavored with miso, but moreso it's all about having another useful, simple matsutake recipe. Unlike the vast majority of wild mushrooms, matsutake don't like cream, cheese or butter at all. The more clean, simple recipes you have for them, the better.
I've eaten mushrooms in miso soup plenty of times, but usually they're small soup mushrooms like Flammelina velutipes (enoki), or Hypsizygus tessellatus (buna shimeji), never something as special as a matsie, and I wouldn't expect to.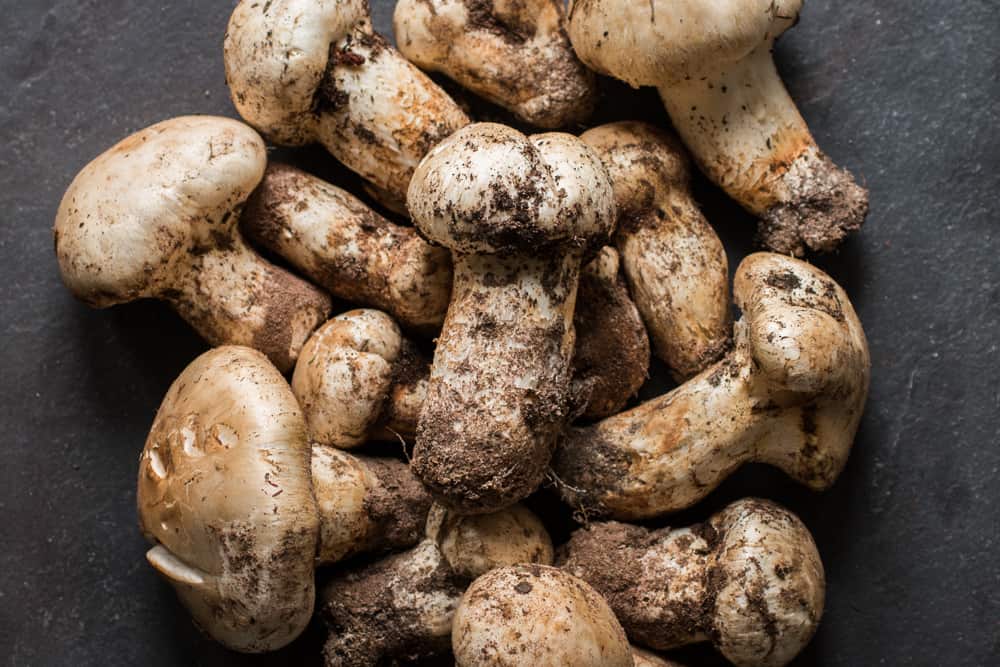 It's not just as simple as throwing matsutake in some dashi and letting them ride though, it's all about making sure you can capture the matsutake aroma. Cooked and simmered in the broth like the other mushrooms you might use, the matsutake could be overtaken by the miso flavor, and if I can't taste matsutake in my matsutake miso soup, I wasn't going to be happy.
Am I splitting hairs here? Some people might say so, but those people didn't drive six hours round trip to pick their matsutake. To make sure I taste matsutake, (their aroma is most potent raw) I add them to the soup add the last minute, and I slice them thicker than other mushrooms that go into soup so they keep a crunch that floods your sinuses with matsutake flavor as you chew.
Mitsuba
As I was gathering things to put together the miso soup, I had a revelation. I'd just learned about Cryptataenia canadensis, or Mitsuba, as it's known in Japan.
It's a plant in the parsley family (the other name is Japanese parsley), and it's often used in miso soup, too, so I knew it would be a great in the soup. I spend a lot of time on a farm in Wisconsin that's completely covered in the stuff, so all I had to do was take a walk into the sugar bush with the dog and grab some.
You might be able to get some at your local asian market, or just substitute some other tender greens, cilantro, parsley, or just skip it. I was just happy I'd thought of a great way to have matsutake and mitsuba together, next time, I'm going to have to grill the mushrooms and toss them with mistsuba like a warm salad. Yum.
This is a basic scratch miso soup, but you could sure use a packet from an Asian market in a pinch, or use your favorite dashi recipe. I added some dried matsutake to my dashi, but it's optional, most of the matsie flavor is going to come from the shaved mushrooms here.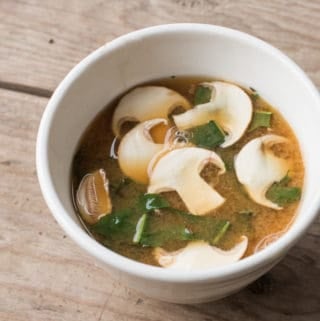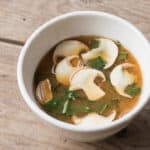 Print Recipe
Matsutake Miso Soup
Matsutake miso soup. The dashi broth will make 8 cups (more than you need), and the finished soup will serve 4.
Ingredients
6

cups

dashi

2

cup

diced wild greens

such as mitsuba

1

cup

tofu

diced ¼ inch

4

tablespoons

red miso

or to taste

2

oz

matsutake

4-6 small mushrooms, thickly shaved

Dashi

6.5

cups

water

Kombu: ½ oz

15 grams or one 4 x 4 inch piece

Bonito flakes

2 cups, or 40 grams

A good handful of dried matsutake

optional
Instructions
For the dashi
Soak kombu for 3 minutes in the 6 cups of water. heat the water with kombu to nearly boiling, but do not boil. Remove and discard kombu. Add bonito flakes, dried matsutake, and turn off heat, allow to infuse for 20 minutes.

Strain, cool and reserve. Discard bonito or save to make furikake.
For the soup
Heat the dashi and miso until simmering.

Add the greens and tofu and heat through.

Double check the seasoning and adjust as needed, then add the matsutake, stir to heat through but don't try to cook them, turn off the heat and serve.
Notes
For a traditional texture, you can peel the mushrooms apart instead of slicing them. 
Nutrition
Serving:
8
oz
|
Calories:
169
kcal
|
Carbohydrates:
12
g
|
Protein:
17
g
|
Fat:
6
g
|
Saturated Fat:
1
g
|
Polyunsaturated Fat:
3
g
|
Monounsaturated Fat:
1
g
|
Sodium:
1830
mg
|
Potassium:
1153
mg
|
Fiber:
5
g
|
Sugar:
2
g
|
Vitamin A:
102
IU
|
Vitamin C:
10
mg
|
Calcium:
239
mg
|
Iron:
2
mg
More
Guide to Matsutake (Pine Mushrooms)