Lapin Chasseur is a classic French stew of rabbit meat with mushrooms, wine, tomato and herbs.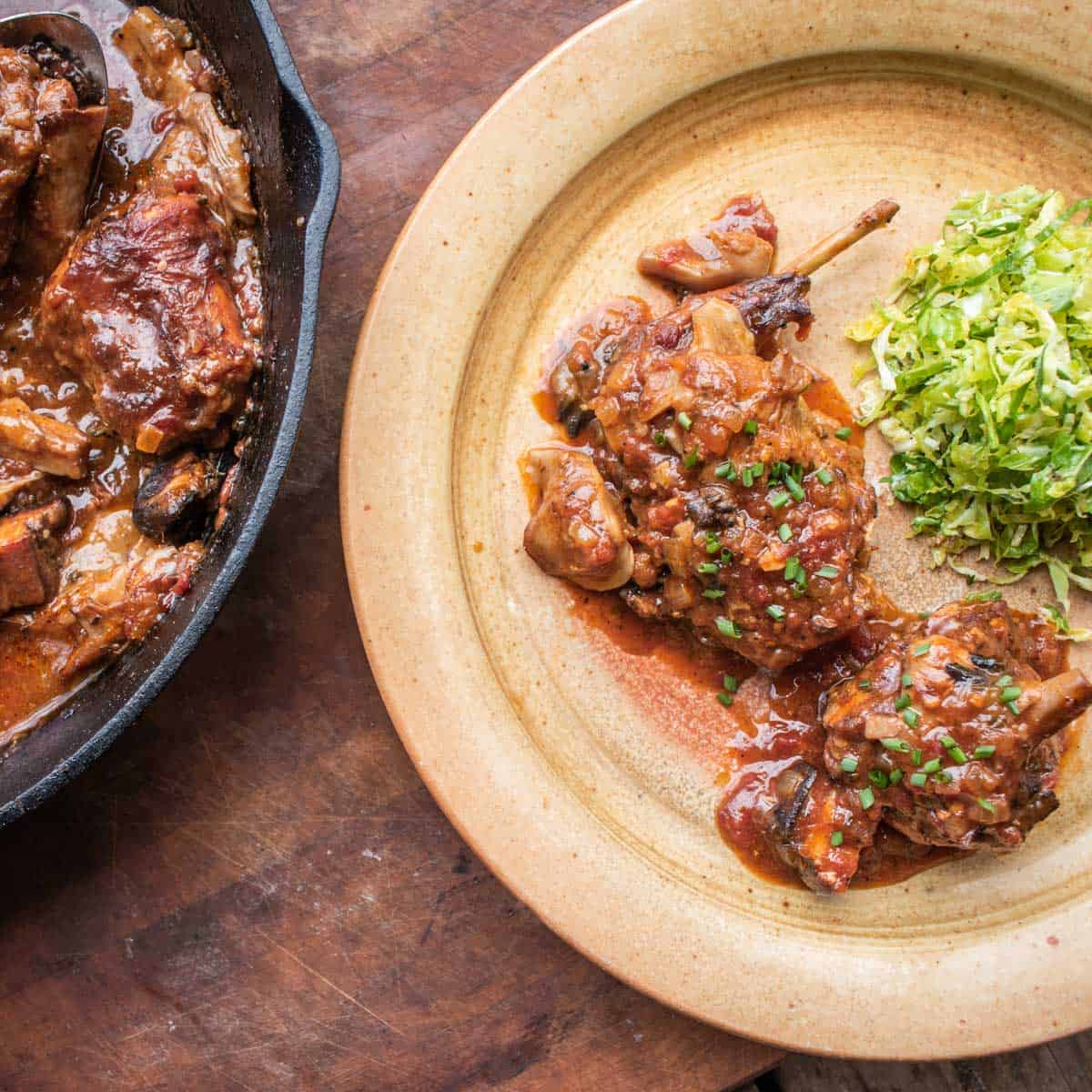 Cooking Garden Pests
I planted my first plant ever this year-a squash. There was a problem though. As my little squash grew, I wasn't the only one watching it.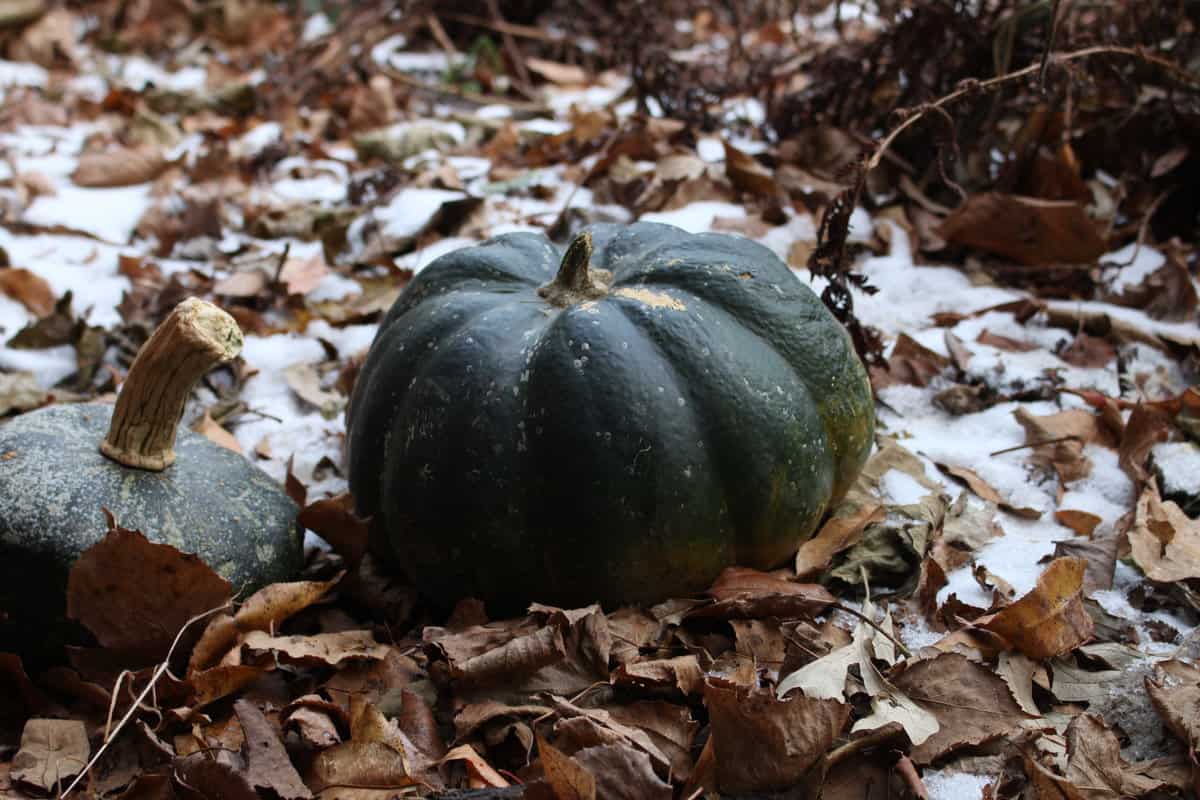 The squash was just one in a ¼ acre or so garden filled with other cucurbits, of all colors, sizes and shapes, but it seemed the bunnies from the warren under the hill were only interested in one-mine.
I made sure to check the squash a few times a week to ensure it was getting everything it needed, but every week, leaves would be eaten, and eventually a few baby musque became rabbit fodder. After losing a few squash, rabbit and pumpkin curry was sounding more delicious by the day.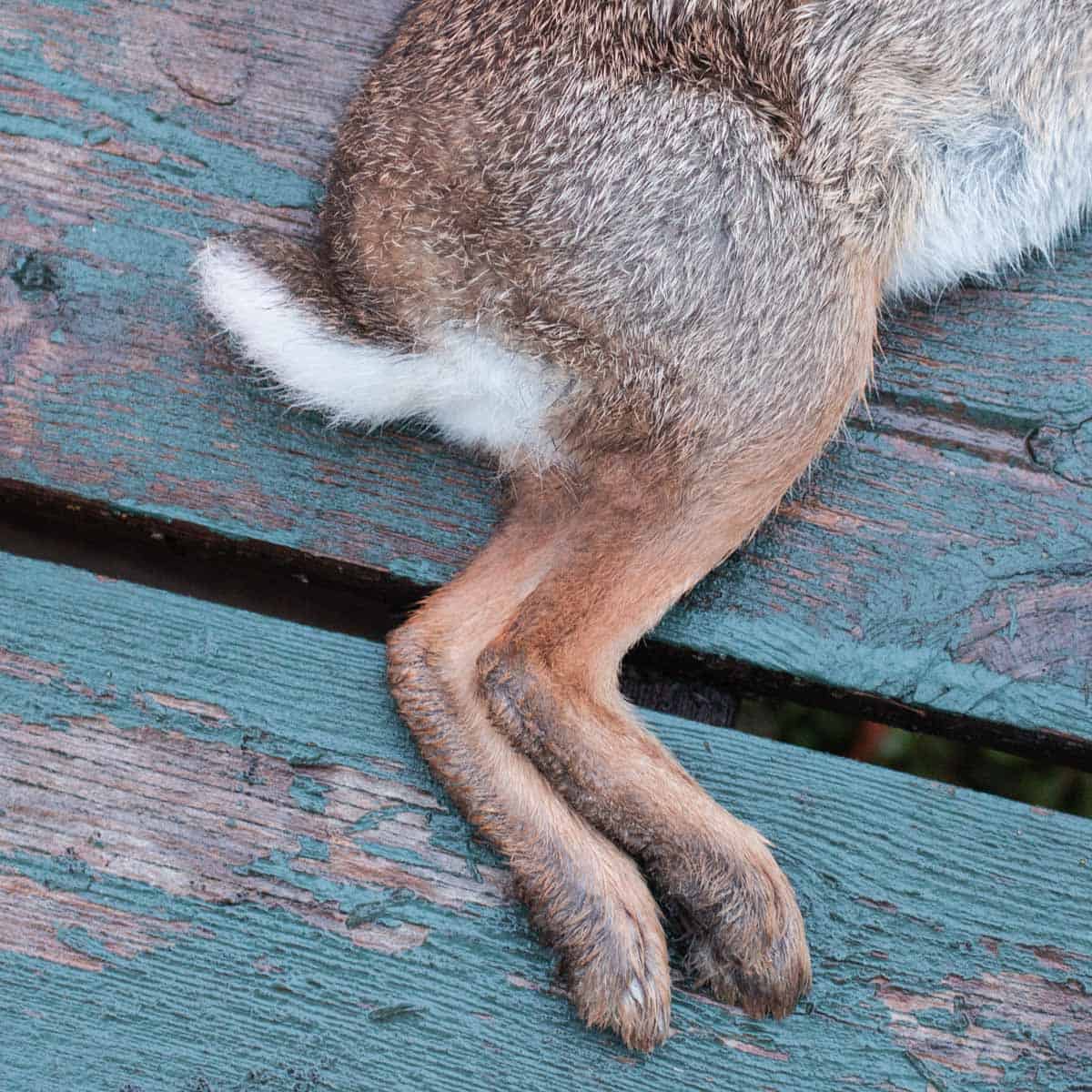 I lucked out one night at dusk, and caught mr. cottontail nibbling leaves. After missing at least 5 times with my adult bb gun (.177 pellet rifle) I scored, and meat was back on the menu.
Unfortunately, I'd planted the squash too late in the season, and they would never mature to their full size (a healthy 30 lbs or roughly the size of a small baby carriage) so cottontail and pumpkin curry would have to wait. Next year, musque.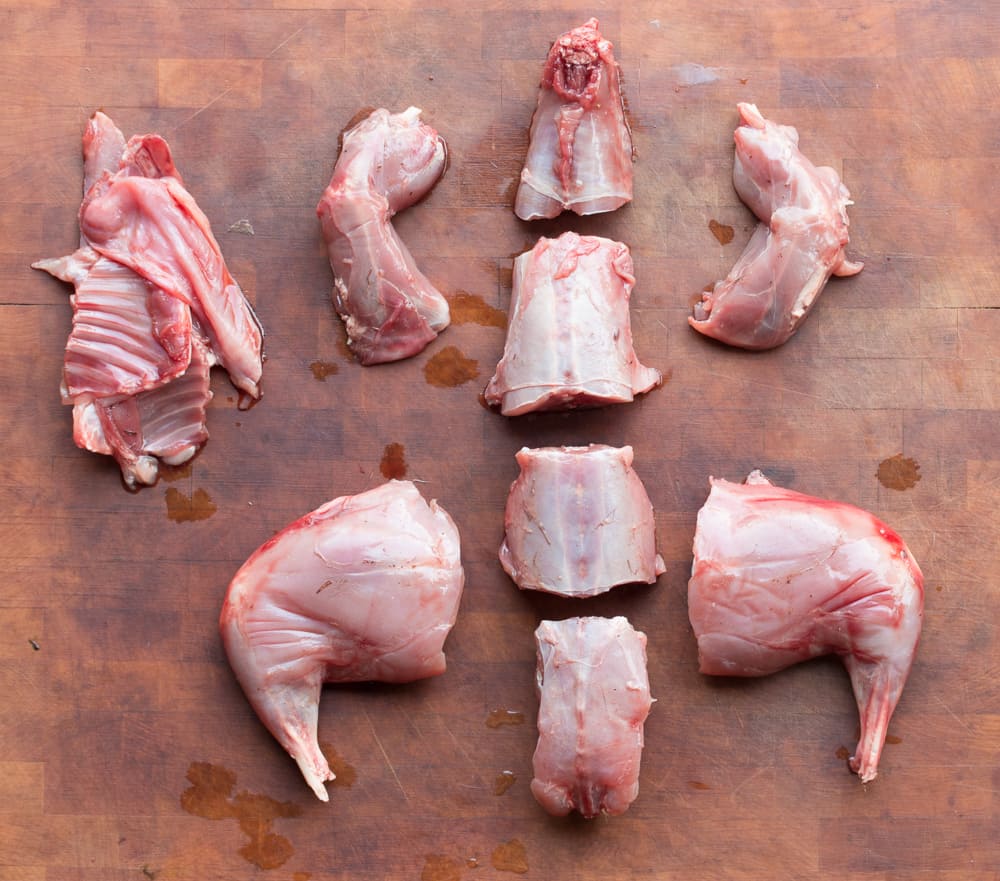 Mushrooms
It was late fall, so I grabbed some of the few blewits and shaggy manes. A perfect autumn combination would've been some shaggy parasols and black trumpet mushrooms too.
Either way, I knew a great recipe would be rabbit and wild mushrooms in a classic lapin chasseur.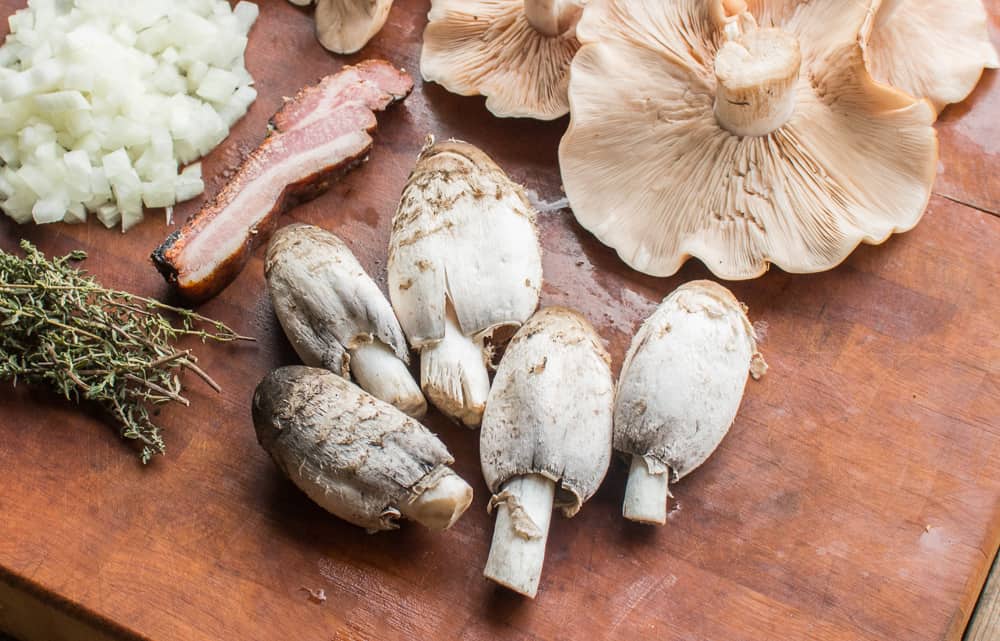 A Classic Rabbit Dish
Chasseur is the famous French hunter's sauce. After the hunt the hunters would pick mushrooms to cook with the day's harvest, or so romantic stories go. It's a great one pot dish. Like coq au vin, It's almost always better made at home than ordered in a restaurant.
A lot of chefs would probably say that you need to use demi to call something sauce chasseur, but I disagree. And honestly a lot of them probably just use Knorr pre-made demi, a sort of syrupy, bouillon I don't like.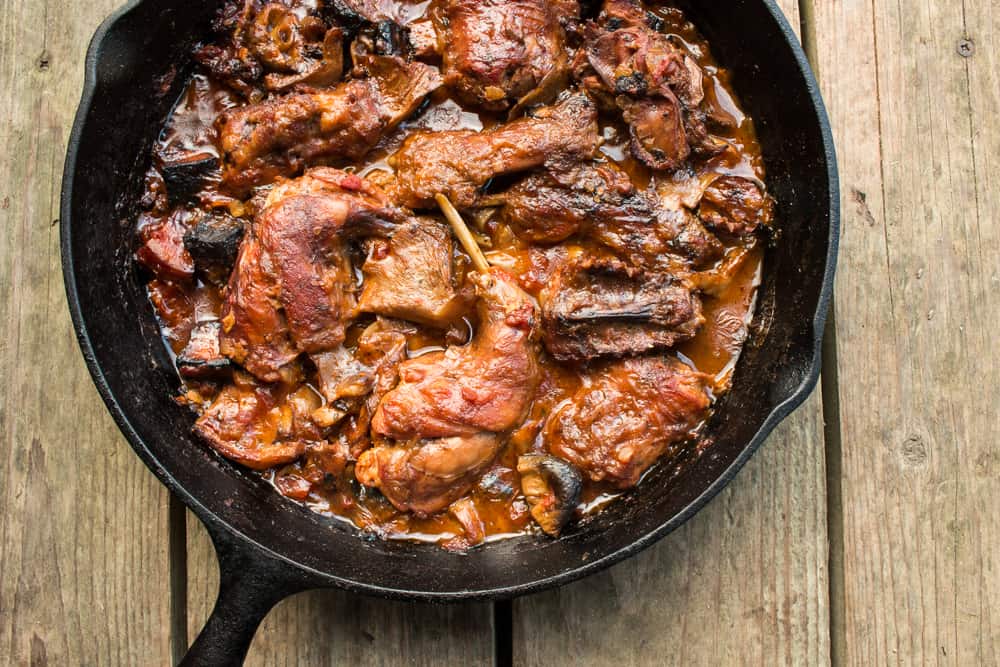 True demi-glace, or stock reduced to half its volume will make a great sauce. But I really like making a good braised rabbit in one pan for dinner the same day it's harvested.
Small game stews like this, with bones and variable parts, I think of as a sort of gentleman hunter dish. It's the kind of thing Brillat Savarin would make for a hunting party at his cabin with friends.
I can just about see the cabin in the countryside. There's a pack of hunting dogs, old men with cigars and spirits, and a roaring wood fire. In the back of the room is a black iron pot filling the room with rabbit, tomatoes, mushrooms and herbs.
More French Recipes
Classic Fried Frog Legs Recipe
Morilles a la Creme (Morels with Cream)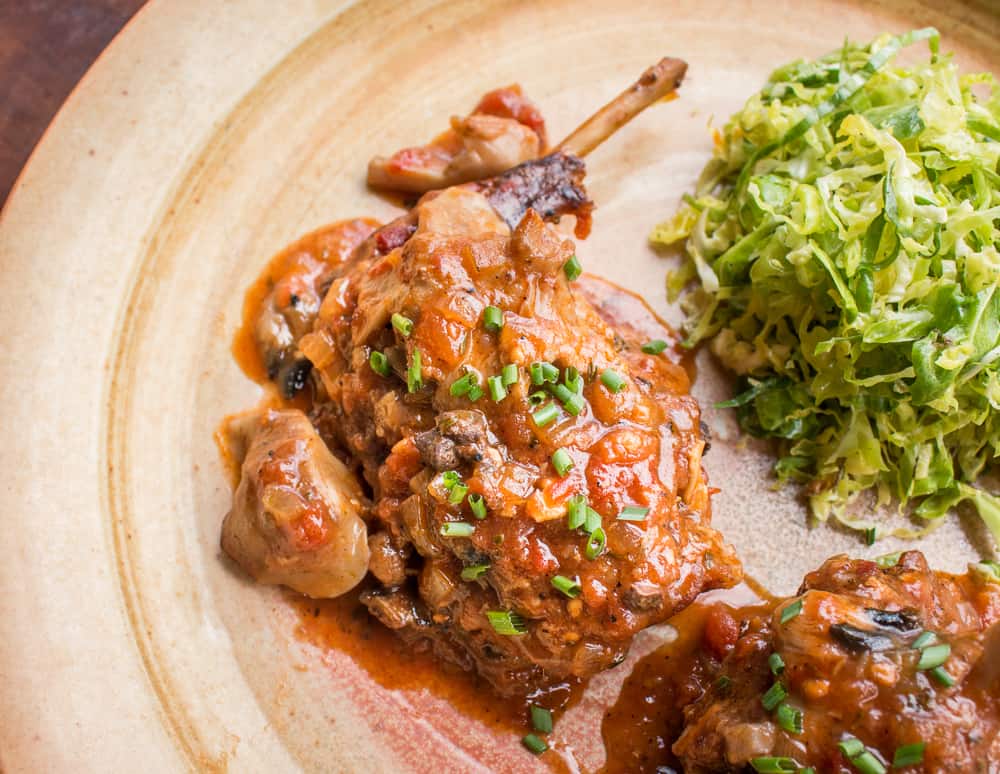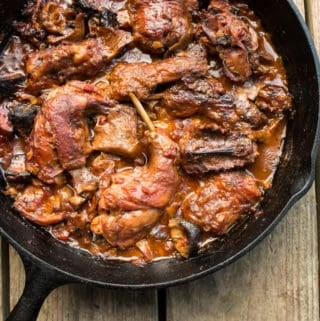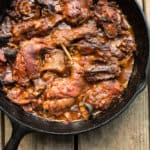 Print Recipe
Rabbit Chasseur with Wild Mushrooms 
A classic French dish of rabbit and mushrooms braised with tomato and meat stock.

Equipment
1 12 inch cast iron pan or large skillet

1 Butcher knife or poultry shears
Ingredients
1

large or medium-sized rabbit with kidneys

heart and liver, legs separated, loin/saddle/breast cut into 3-4 two inch pieces

All purpose flour

or equivalent, for dredging

Kosher salt

Fresh ground black pepper

1

teaspoon

fresh chopped thyme

1

cup

dry white wine

2

Tablespoons

brandy

1

cup

tomato juice or puree

1

cup

chicken stock

rabbit stock, or hot water in a pinch

2

tablespoons

bacon drippings or lard

or light olive oil

2

ounces

good slab bacon

cut into ½ inch pieces, or an equivalent smoked meat product

½

cup

or ½ a medium-sized onion

small diced

8-16

ounces

fresh wild mushrooms

left whole if small, quartered or halved if large (I used blewits and shaggy manes here)

1

Tablespoon

finely sliced garlic

1

Tablespoon

unsalted butter
Instructions
Cut up the rabbit
Remove the front and back legs from the rabbit. Cut the saddle and rib portion into 2-3 inch pieces.

Finely chop the rabbit offal and reserve.
Cooking
Season the rabbit pieces liberally with salt and pepper, then dredge in flour. Add the rabbit pieces to a hot skillet brown deeply in lard on medium-high heat.

Halfway through, remove the rabbit pieces to a paper towel. Reduce the heat to medium. Add the bacon and cook until crisp. Add the sliced garlic to the pan and cook, adding fat as needed until the garlic is lightly browned, and aromatic.

Add the onion, rabbit offal, and mushrooms to the pan. Cook for another 10 minutes, stirring occasionally until lightly browned. Add the rabbit pieces, wine, tomatoes, and stock to the pan.

Transfer to the oven and cook at 325 for 45 minutes, covered, or until the meat just moves from the bone stirring from time to time. It should not fall apart.
Serving
Remove the rabbit from the pan and keep warm. Finish the sauce by reducing until it's thickened lightly (there will be some evaporation from baking, and you may not need to). Finally whisk in the tablespoon of butter and correcting the seasoning for salt.

Alternately, just serve the rabbit from the pan and let people ladle sauce over their plates. Traditionally you'd probably have this with rice or pasta, but I opted for a simple quick slaw of shaved brussels with lemon and oil.
Nutrition
Serving:
2
pieces
|
Calories:
551
kcal
|
Carbohydrates:
10
g
|
Protein:
60
g
|
Fat:
22
g
|
Saturated Fat:
8
g
|
Polyunsaturated Fat:
3
g
|
Monounsaturated Fat:
8
g
|
Trans Fat:
0.1
g
|
Cholesterol:
228
mg
|
Sodium:
328
mg
|
Potassium:
1428
mg
|
Fiber:
1
g
|
Sugar:
6
g
|
Vitamin A:
368
IU
|
Vitamin C:
14
mg
|
Calcium:
51
mg
|
Iron:
9
mg