A simple shrimp or seafood mousseline you can use for all kinds of things. Read on and I'll explain the things you need to know. I've been making this for many years, and used it regularly in my restaurants.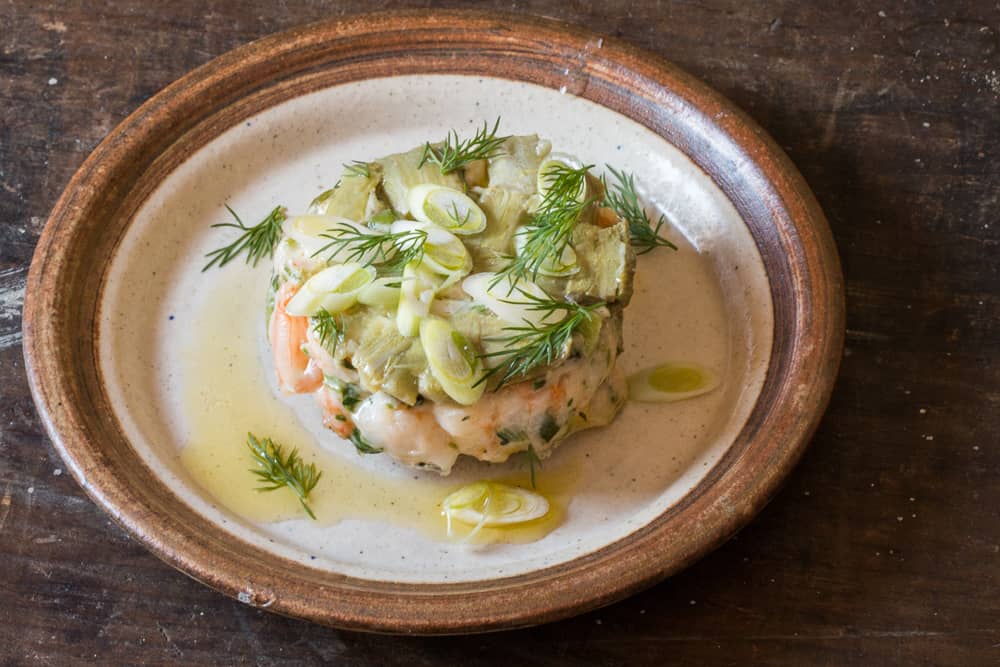 One of the best selling appetizers I used to run at my first restaurant, The Salt Cellar, was a simple deep fried shrimp cake served with lovage aioli.
It went through a number of different preparations behind the scenes as I tried to dial in efficiency, but at it's heart it was always nothing more than a simple mousseline of shrimp, mixed with a few herbs. If I remember correctly, I got the idea from Jean Louis Palladin, one of my culinary idols.
There's just something about shrimp in patty form, cakes of larger fish are easy to make, but they have a tendency to dry out. Shrimp has tighter muscle fibers, and a texture more akin to lobster.
Where a simple fish cake can be a decent appetizer, one made from shrimp, which are more expensive adds a little luxury to the mix, making them a hot seller, compared to a once in a while special that typical fish cakes can be, as far as restaurant sales go.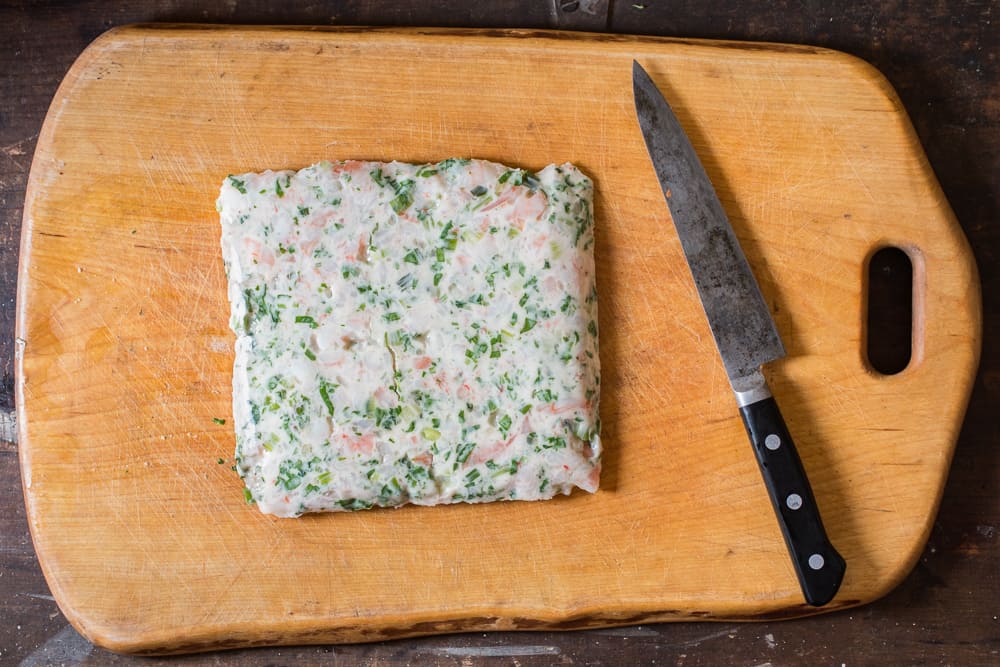 It's easy, really, you make a mousse of shrimp, then add chopped shrimp, herbs, and some green onion, season, cook and eat. From there, all I did before was have prep cooks patty and bread them with flour, egg and breadcrumbs.
Mousseline is really versatile though, and besides breading and frying, you can also just cook the shrimp mixture as is and call it a dumpling, which you could do by simmering spoonfuls in a little stock, baking, or, in the method I was playing with here, poaching them in a water bath after vacuum sealing them.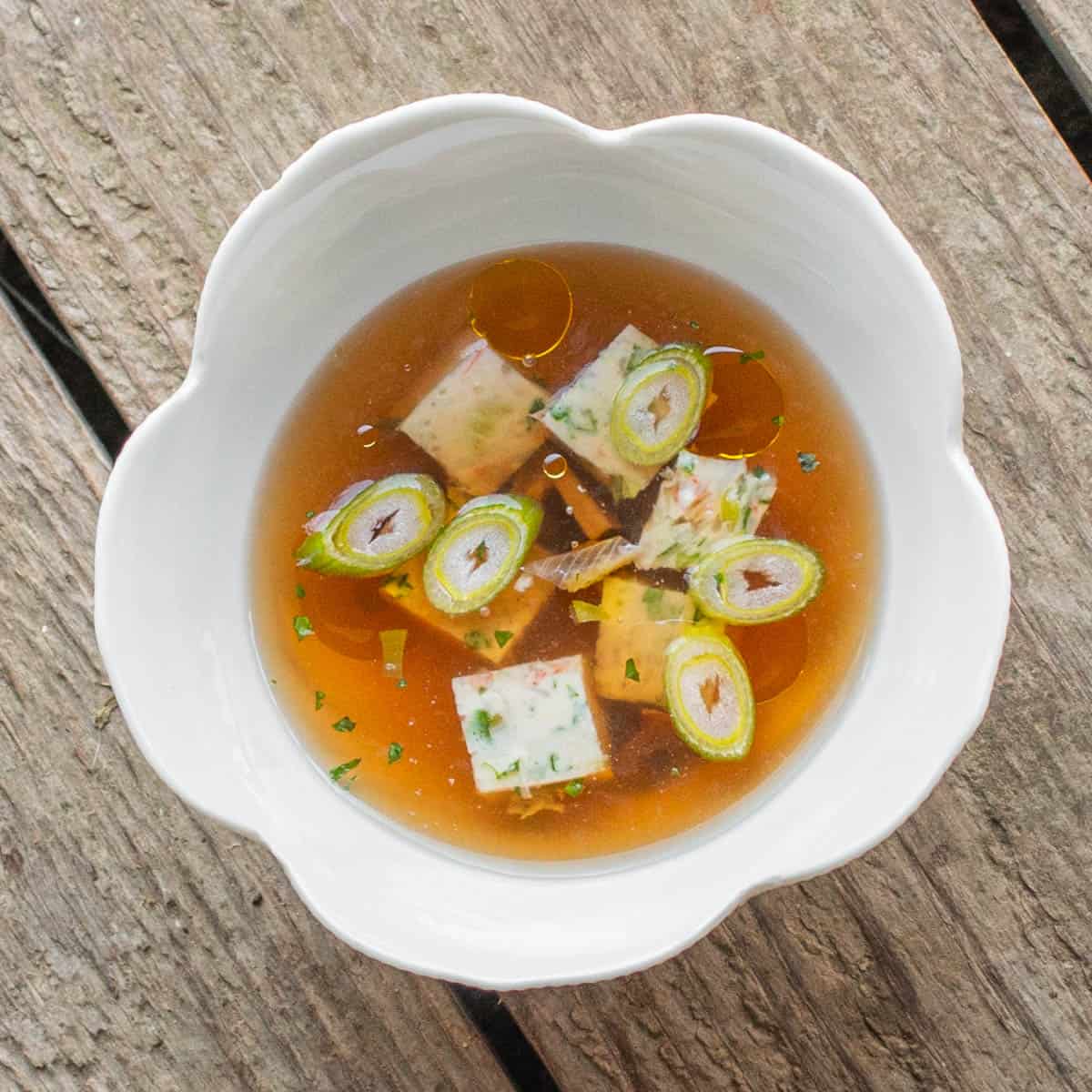 The vacuum sealing takes some guesswork out of the equation, so I can do other things at the same time and not have to worry at all about over cooking them, it also makes it a snap to cut them into shapes to float in a broth, like the saffron milk cap broth. Whatever you do, and whatever you use (other fish will work with the proportions listed).
These are one of my go-tos when I want to show off shrimp, or, if the situation calls for it, scallops, which the smoothest, silkiest mousseline. Buttered tomato sauce, a simple wedge of lemon and a fresh salad, or just a dollop of garlicky aioli are all great garnishes.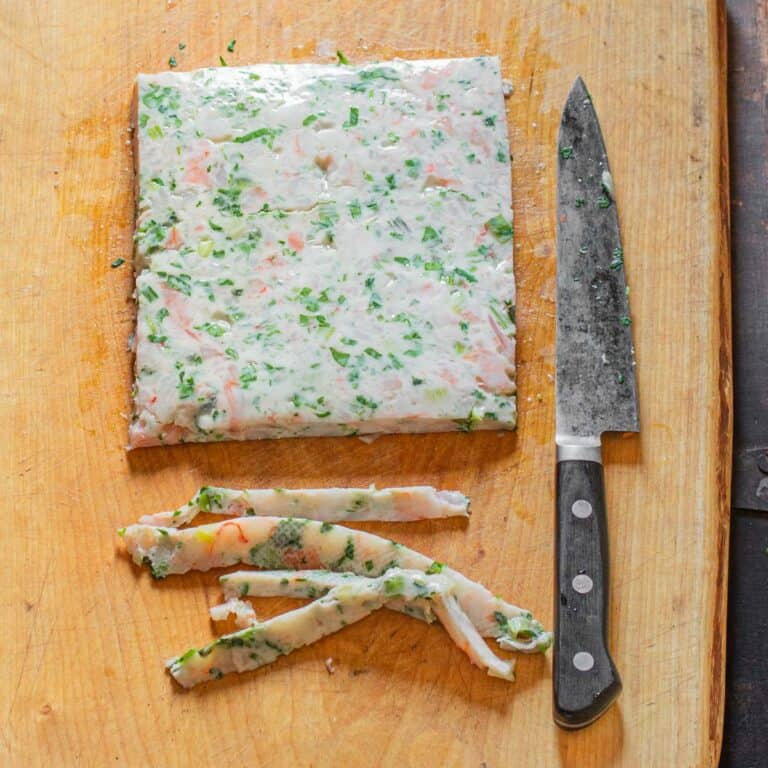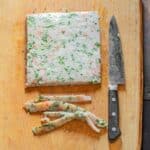 Print Recipe
Shrimp Mousseline
Makes enough to garnish 10 bowls of broth, or patty them to make 6 three ounce cakes
Equipment
1 sous vide machine

1 Vacuum bags
Ingredients
1

lb

shrimp

preferably shell-of and deveined

¼

cup

plus 2 Tablespoons heavy cream

1

small bunch of scallions

tender white and green parts only

¼

cup

chopped mixed herbs

choose from tarragon, chives, parsley, and cilantro

Fresh lemon zest

finely grated, about ½ a small lemon

Kosher salt

to taste

Tiny pinch of cayenne or a dash of hot sauce
Instructions
Dice the scallions ¼ inch and reserve.

Slice the shrimp into ½ inch pieces and pulse in a food processor.

Reserve half of the chopped shrimp. Put the remaining shrimp in a food processor and process to as fine a paste as you can, adding a good pinch of salt.

Slowly drizzle in the cream in a steady stream, scraping down the sides of the bowl as needed.

Remove the shrimp paste to a bowl and stir in the remaining ingredients.

Pack the mixture into a quart-sized vacuum bag and seal, then press it flat.
Sous vide
Sous vide the shrimp mousseline at 150F for 1 hour, then remove and cool. I like to cut this into small cubes and warm them up in broth, or use a garnish for something like pho.
Other ways to cook
You can also spoon the shrimp mixture into ramekins and bake in a water bath in a 325F oven until just cooked.
Notes
The mousseline is super versatile. You can use it as a base to add different things too, especially scallops, pieces of salmon, etc. Feel free to be creative with different shapes and forms. The basic dumplings in broth are a good place to start. 
Nutrition
Calories:
59
kcal
|
Carbohydrates:
0.2
g
|
Protein:
9
g
|
Fat:
2
g
|
Saturated Fat:
1
g
|
Polyunsaturated Fat:
0.2
g
|
Monounsaturated Fat:
1
g
|
Trans Fat:
0.002
g
|
Cholesterol:
80
mg
|
Sodium:
56
mg
|
Potassium:
125
mg
|
Sugar:
0.2
g
|
Vitamin A:
87
IU
|
Vitamin C:
0.04
mg
|
Calcium:
33
mg
|
Iron:
0.2
mg