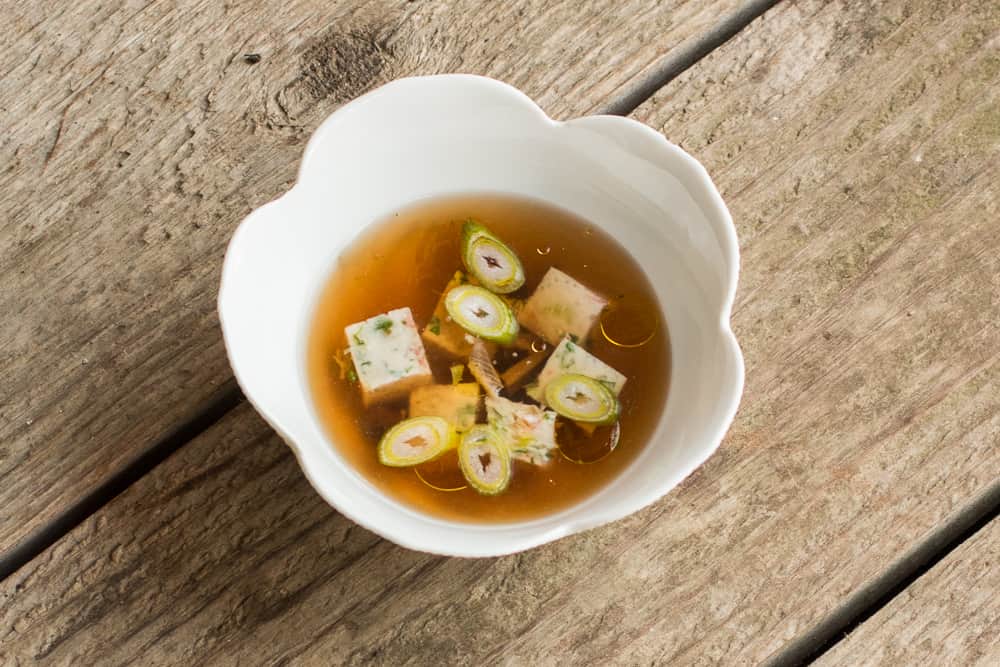 Snow is on the ground, and that means it's time to start working through the mushroom stash. The first thing in my queue was a simple broth with shrimp dumplings based on an old recipe I used to run as a deep fried fish cake appetizer. The dumplings were just for fun since I was testing them for the book, but I'm on the fence about including them as I'm trying to keep it vegetable focused.
There's a little work involved as they're made from mousseline, but nothing insurmountable. The shrimp mousse is really, really nice in a crystal-clear broth, and all you only need a food processor, although a vaccuum sealer helps to form them.
If you want to see how to make the dumplings, they're here. My friend Jacqui, a fellow forager over in France, passed along the idea for the knotweed variation I have pictured in the post. Thanks Jacqui, that was a great idea for using fermented knotweed.
But dried milkcaps. I had a tiny cup of dried milkcap mushrooms, specifically Lactifluus/Lactarius volemus, voluminous milkcaps, Bobaloo Jones, or whatever their new nomenclature is now (I can never keep up).
I'd made broth with milkcap mushies before, and I remembered it was very good, but something told me to make it again, just to see how the voluminous milkcap matched up against the saffron milkcaps I tried last time.
I didn't expect much, but what else was I going to do with a couple handfuls of of dried milkcaps?
Dried Milkcaps Make Exciting Stocks and Broths
My journal notes from the first milkcap broth had an excited, underlined note that said "tastes like chicken broth" or something like that. The flavor's a little hard to explain. Sure, it's "mushroomy".
But, just mushroom flavor doesn't describe it well enough, that's like saying yogurt and cheddar taste similar because they're both made of milk. The flavor is definitely more toasty-nutty than it is deep and woodsy, which is how I'd describe most others used for broth, boletes being a good example, or button mushrooms.
Another good analogy would be that if dried porcini taste like beef, then dried lactarius taste like crustaceans, or fish. The milkcaps have a lighter weight on the palate, the flavor is completely different than what the words "mushroom broth" conjure up.
After learning from the time I threw away a batch of ischnoderma broth, this one I kept as simple as possible, and it paid off in spades.
A scroogy handful of scallion greens, some onion skins for color, a few leaves of celery, and, most importantly, a couple slices of fresh ginger, and salt until it was right, and that was it. (An inch of lemongrass would've been welcome too). After it was seasoned and cooling, I drank half of it straight away.
The Volemus "Aroma"
If you've ever smelled or touched voluminous milkcaps, you might be wondering about now if the broth tastes like the mushrooms smell fresh. In short, no. The name "voluminous" means full, and these things are full of something alright. They have lots of milky latex, and are well known for their strong aroma.
Not necessarily a bad stink, just strong, and it gets on stuff, like your hands, harvesting bag, clothes, pet, inside of your car, upholstery, hair, and god forbid one gets jostled during transit and ends up under the seat in the summer.
I have one famous mushroomer friend who eats them and says they smell like a sweaty bedroom, and it's a sharp smell, but I don't find it unpleasant, just unique. In reality they're just another testiment to the deep flavor differences you can taste between genera.
Anyway, the next time you think about passing up on some milkcaps, you might consider drying them, and probably picking up a pack of ramen noodles on your way home, too.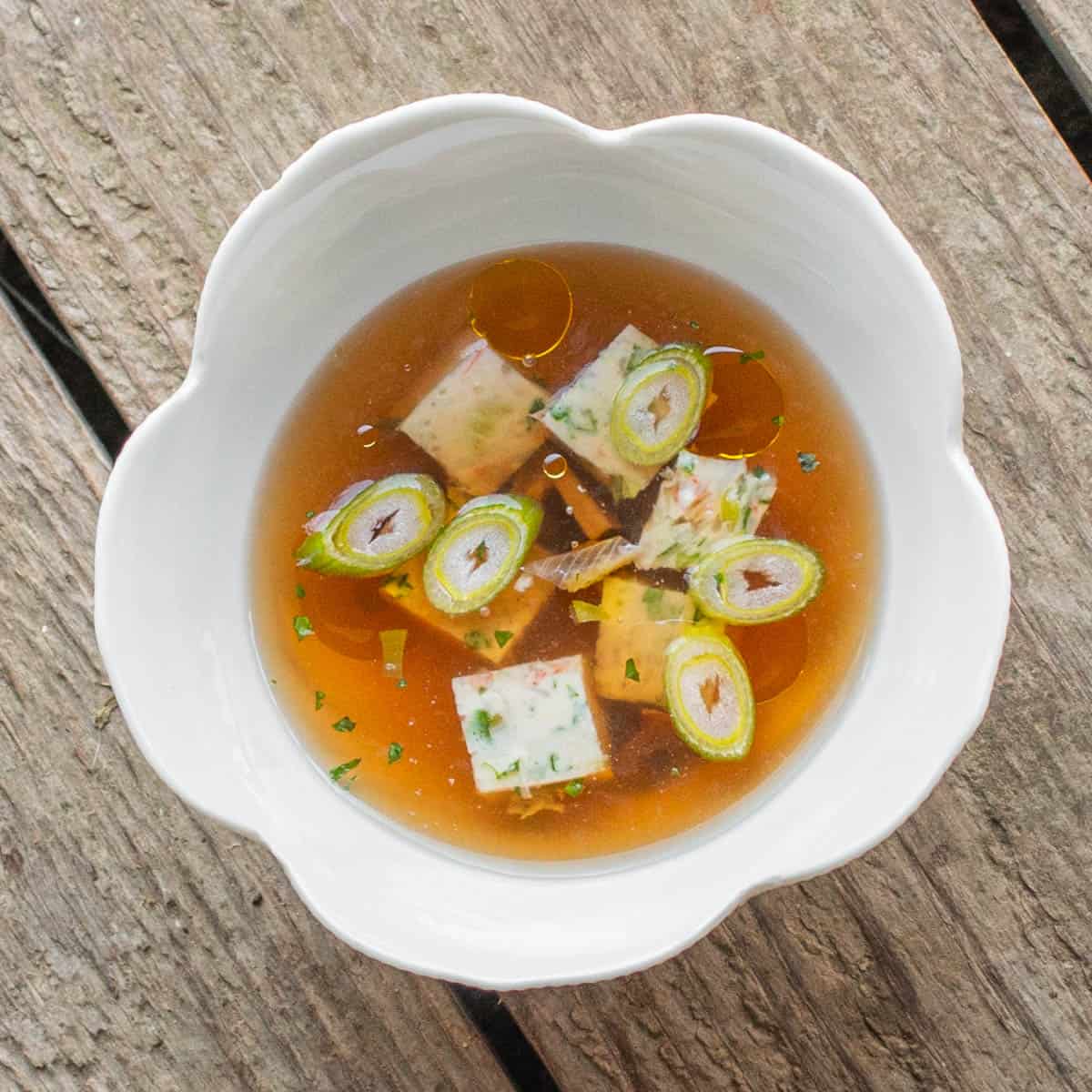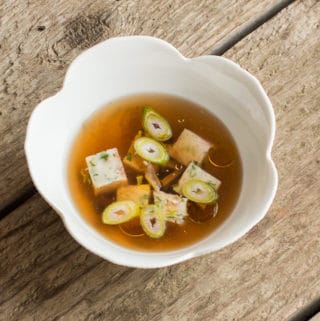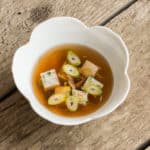 Print Recipe
Saffron Milk Cap or Lactarius Broth
Broth made from dried Lactarius mushrooms. This will yield about 3.5 cups.
Ingredients
20

grams

dried lactarius volemus or similar milkcaps

such as Lactarius hygrophoroides

The skin of a small yellow onion

1

small clove of garlic

with skin

½

inch

piece of ginger

thinly sliced

¼

cup

of chopped leek or scallion greens

1

four inch rib of celery

5

cups

of water

1

teaspoon

kosher salt

plus more to taste
Instructions
Very lightly toast the Lactarius, (or dehydrate at a high temperature) then combine with the remaining ingredients, cover, bring to a simmer, and cook for 30-45 minutes.

Add the salt, stir to dissolve, taste and adjust as needed until it tastes good to you, cool to room temperature, strain and refrigerate.

If your mushrooms were in attractive pieces, you can reserve them and add to the broth as a garnish.
More