Ischnoderma resinosum, the underused polypore mushroom with a certain beefy quality has lots of trim that could go into a great stock. It's one of the best Ischnoderma recipes I know that captures the unique flavor of this mushroom.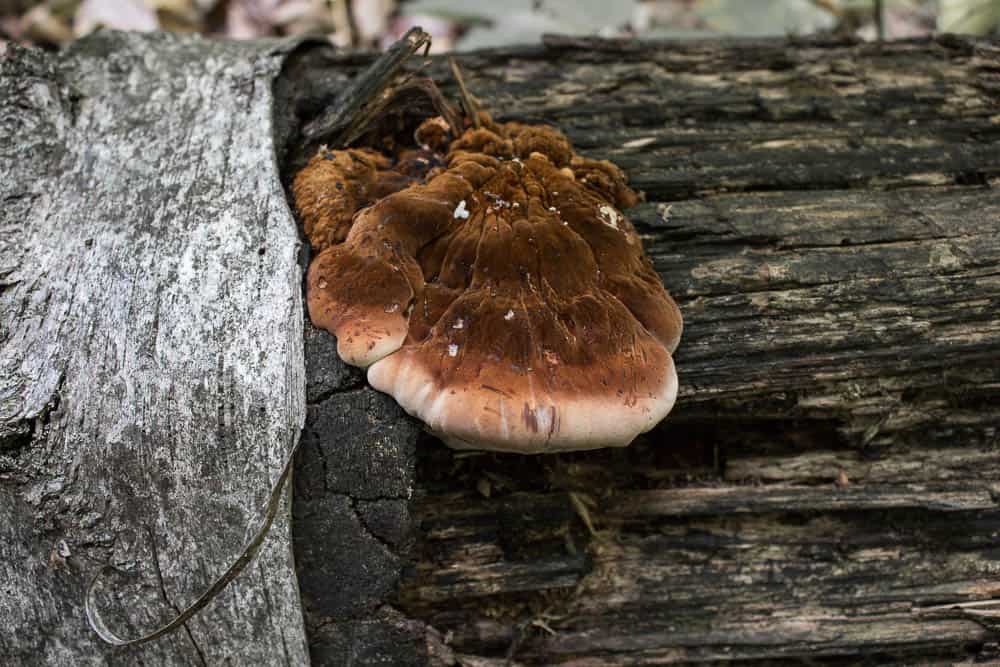 A while back one of my friends from the local mycological society mentioned making broth from them, which sounded like a great way to use all their trim. I made sure to keep my eyes peeled for some the next time I was out hunting.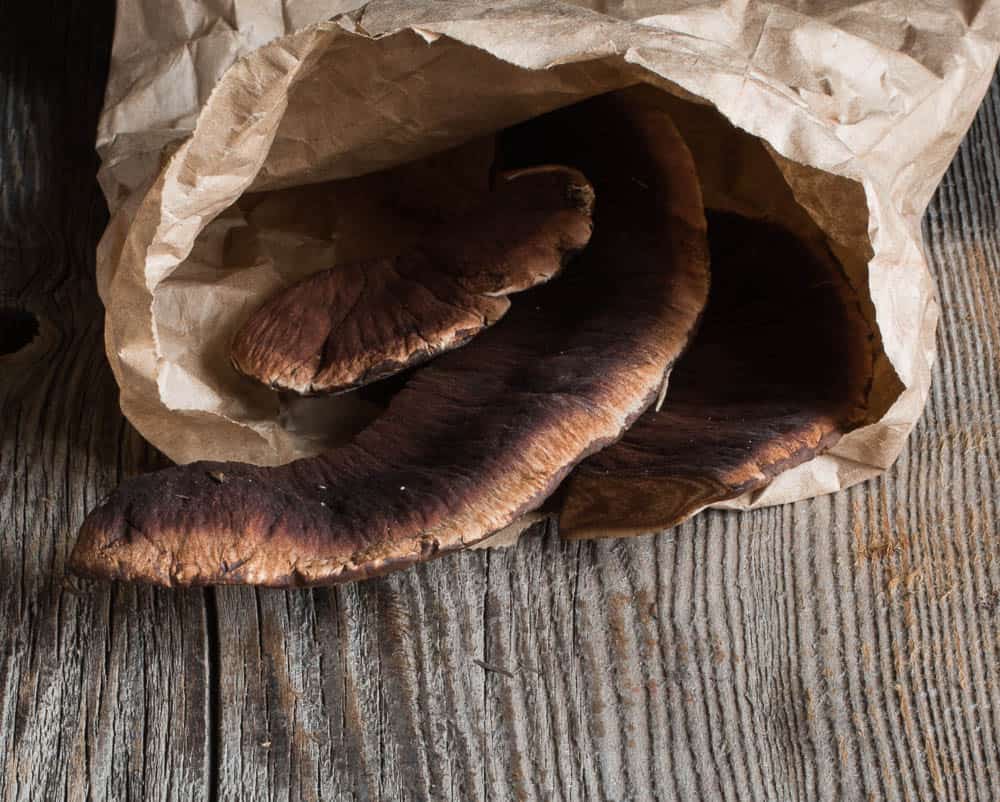 A week or so later I grabbed a couple of tender pieces at the farm and tried out making some stock when I got into work. I took a bunch of carrots, onion, celery and a couple cloves of garlic, ground them up, cooked them down, added the mushrooms and a bouquet of herbs and let it simmer away.
After a few hours I gave it a taste, then angrily poured the liquid into the drain and tossed the mushrooms and vegetables into the garbage. All I could taste was carrots, onions, and celery. I had made vegetable broth flavored with mushrooms in it, where I was trying to make mushroom broth flavored with vegetables.
Most mushrooms have delicate flavors, only a few can over power other things. Some are truly strong, the first that pops into my head being imported Italian porcini, which really beat you over the head compared to boletes I pick and dry locally here in MN.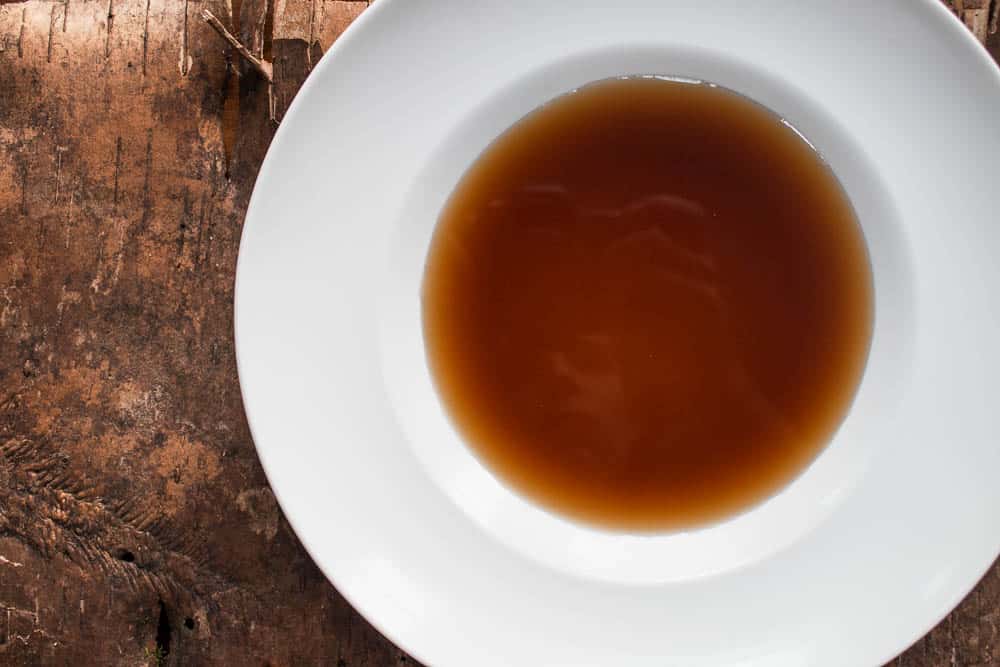 Angry at myself for wasting my haul, I kept my eyes peeled and a couple weeks later I got a few more slices of young growth. This time I kept it super simple: mostly mushroom, with a little fresh thyme, bay, and a few slices of onion and carrot.
After a gentle simmer I had what I was looking for, a good tasting mushroom broth that tasted like mushrooms, with some gentle aromatics in the background.
The same goes for making this and serving this, don't try to put too many things with it or you won't taste the mushroomy-ness of the stock, some broken pasta or cooked grains, cooked mirepoix or some other mild vegetables are all you need for a nice soup, or with a little less broth on the plate, the base of a roasted chicken or vegetarian entree.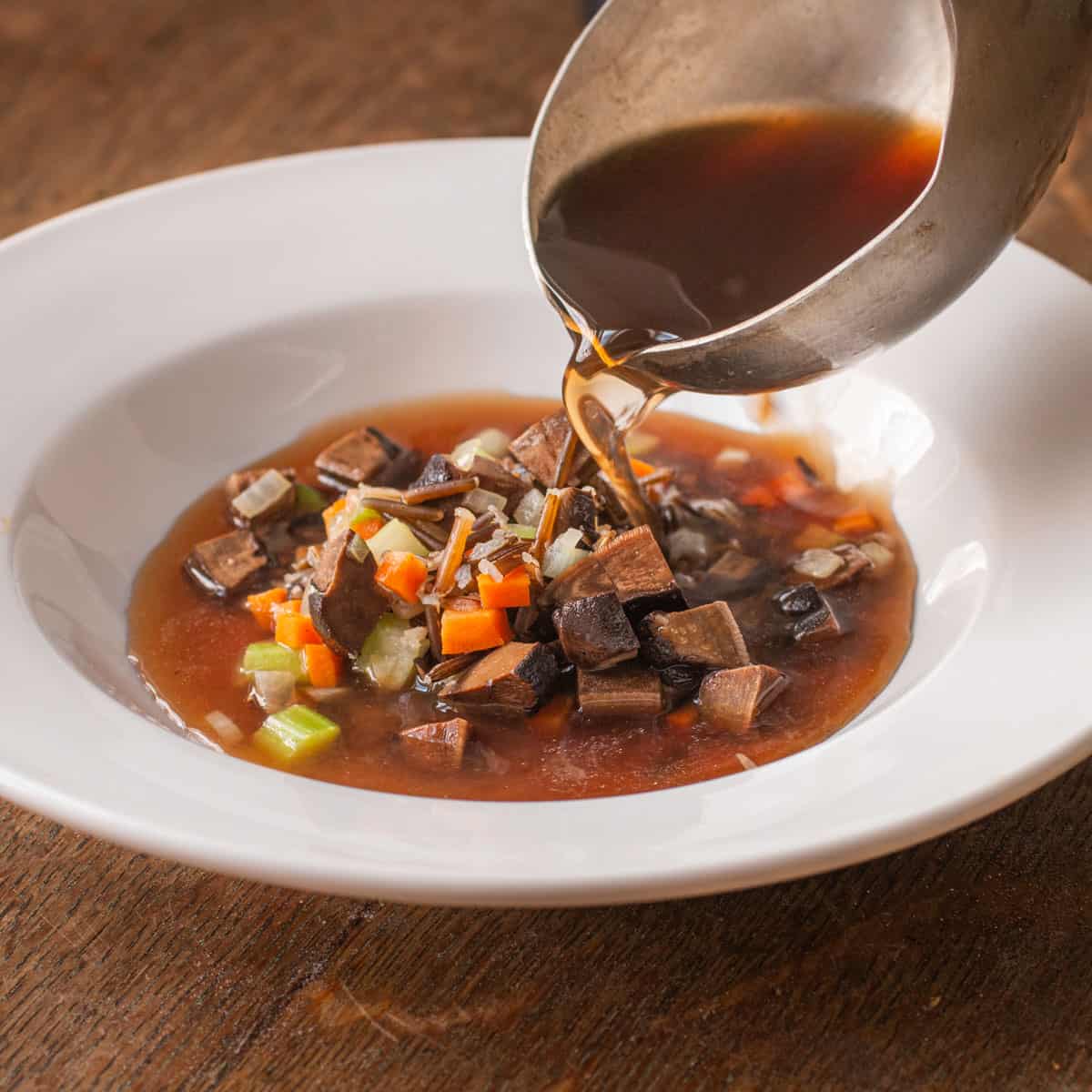 More Great Recipes for Ischnoderma
Oyster Mushroom Soup with Soba Noodles
Wild Chicken Mushroom Thai Red Curry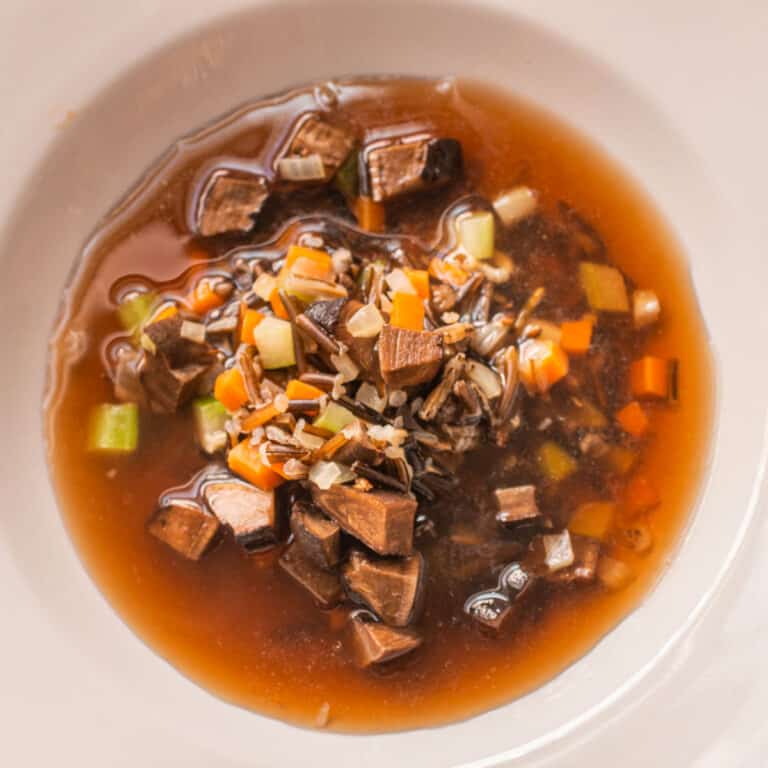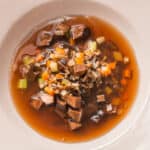 Print Recipe
Ischnoderma Resinosum Broth
A simple mushroom broth made from Ischnoderma resinosum mushroom scrap or trim. Yield: 4 cups
Ingredients
4

cups

chopped

cleaned ischnoderma mushrooms, roughly 1 inch or smaller pieces

1

fresh bay leaf

a few sprigs of fresh thyme

1

garlic clove

whole

5

peppercorns

¼

of one small onion

skin on

A couple slices of carrot

8

cups

filtered water

Kosher salt

to taste

1

tablespoon

flavorless oil
Instructions
Sweat the garlic carrot and onion in the oil, add the ischnoderma and sweat for 2 minutes more. Add the water and bouquet and bring the mixture to a simmer, then turn the heat down to low, cover and cook for 1 hour.

Strain the stock, then cool, transfer to a labeled, dated container and refrigerate until needed. The stock will keep for at least a week.
Notes
Ischnoderma is my first choice here, but you can also use this recipe for other woody polypores like hen of the woods, and chicken of the woods. 
Nutrition
Serving:
1
cup
|
Calories:
785
kcal
|
Carbohydrates:
15
g
|
Protein:
10
g
|
Fat:
82
g
|
Saturated Fat:
7
g
|
Polyunsaturated Fat:
25
g
|
Monounsaturated Fat:
45
g
|
Trans Fat:
0.02
g
|
Sodium:
24
mg
|
Potassium:
452
mg
|
Fiber:
11
g
|
Sugar:
4
g
|
Vitamin A:
63
IU
|
Vitamin C:
1
mg
|
Calcium:
93
mg
|
Iron:
3
mg