I love a good curry, and chicken of the woods mushrooms make a great one. Sulphur shelf mushrooms have a flavor and texture reminiscent of chicken so they're a shoe-in for a good mushroom curry. It's one of my all-time favorite vegan mushroom recipes.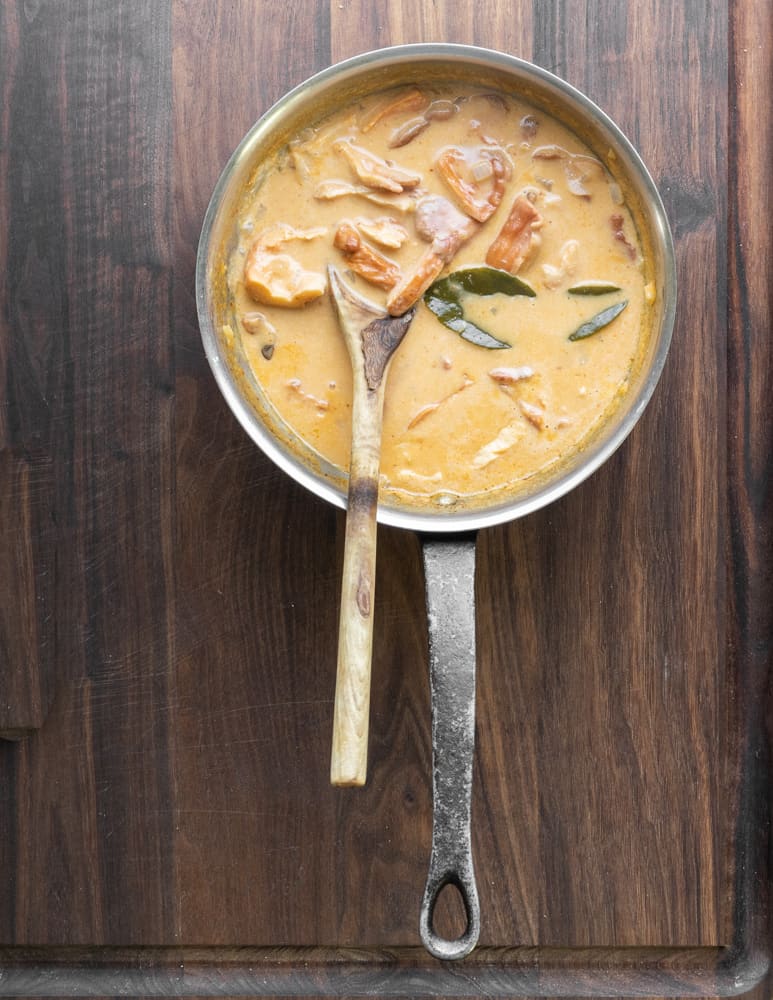 And they're so good the carnivore in me doesn't complain about vegetarian dinner. Here I'm using white-pored chicken of the woods, but yellow pored chickens and other wild mushrooms like hen of the woods, chanterelles, and lobster mushrooms would be good too.
A decent bowl of Thai red curry is a pretty simple thing to make, but I don't usually make it unless I have a couple specific ingredients.
The most important is some Thai red curry paste, and a couple of aromatics like lemongrass, galangal and lime leaves. If you have an Asian market near you these are pretty easy to come by. If you don't just order some red curry paste online and skip the rest, if you have to.
Here's a quick intro on the other ingredients in case you're unfamiliar. I get mine from Dragon Star Oriental Market in St. Paul.
Galangal
I go out of my way to get a little galangal for all kinds of soups and curries I make with coconut milk. Galangal is a rhizome like ginger and wasabi. It's hard to cut with a knife, and you won't be eating it, but the lemongrass-meets-ginger flavor it gives to broths is fantastic.
Just like ginger, you can buy large pieces of galangal a store, cut them into chunks and store them in a bag in a freezer to pull out whenever you need.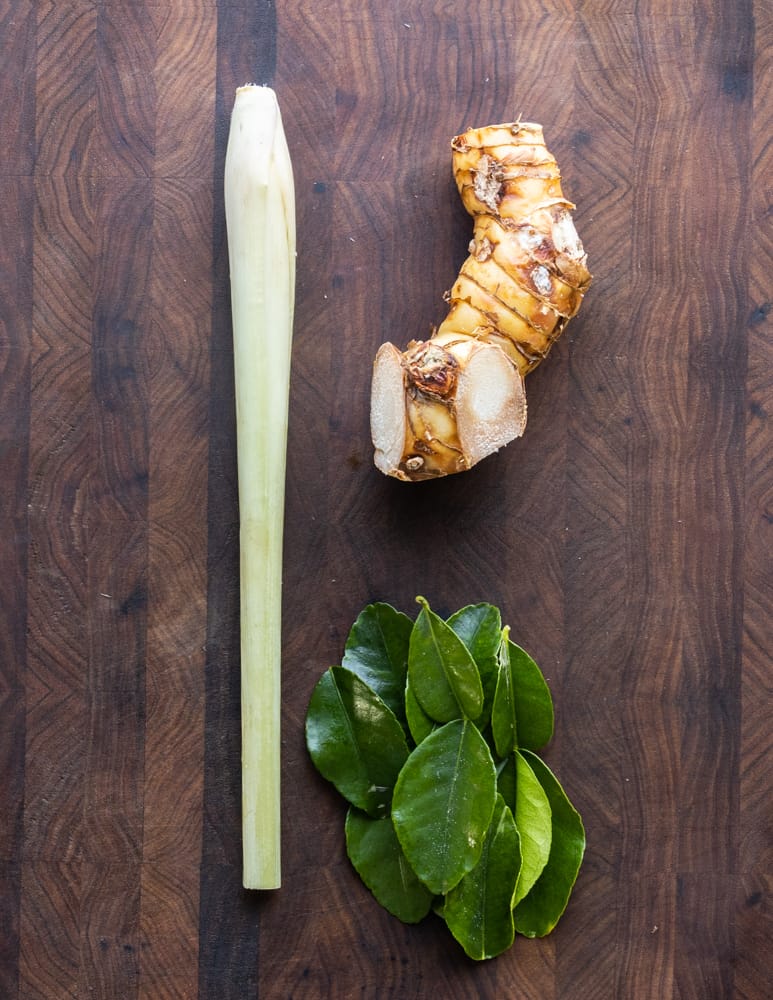 Lime Leaves
Kaffir lime leaves are easy to find if you have an Asian market near you. Sometimes they'll be available fresh near the herbs and greens. If you can't find them fresh most stores have small bags in the frozen section and they work just fine. You can also use fresh lime leaves off a tree, but the flavor isn't exactly the same.
Curry Paste
I use the curry paste in a can as it's what my great uncle who lived in Thailand for many years showed me. Making curry paste is an art form and I don't usually try making it myself, although ramp leaves make a good green curry paste.
Toasted Rice
I like to serve it with rice, but not just any rice. Typical rice usually needs to be soaked or rinsed to remove some of the starch, but sometimes I don't feel like doing that.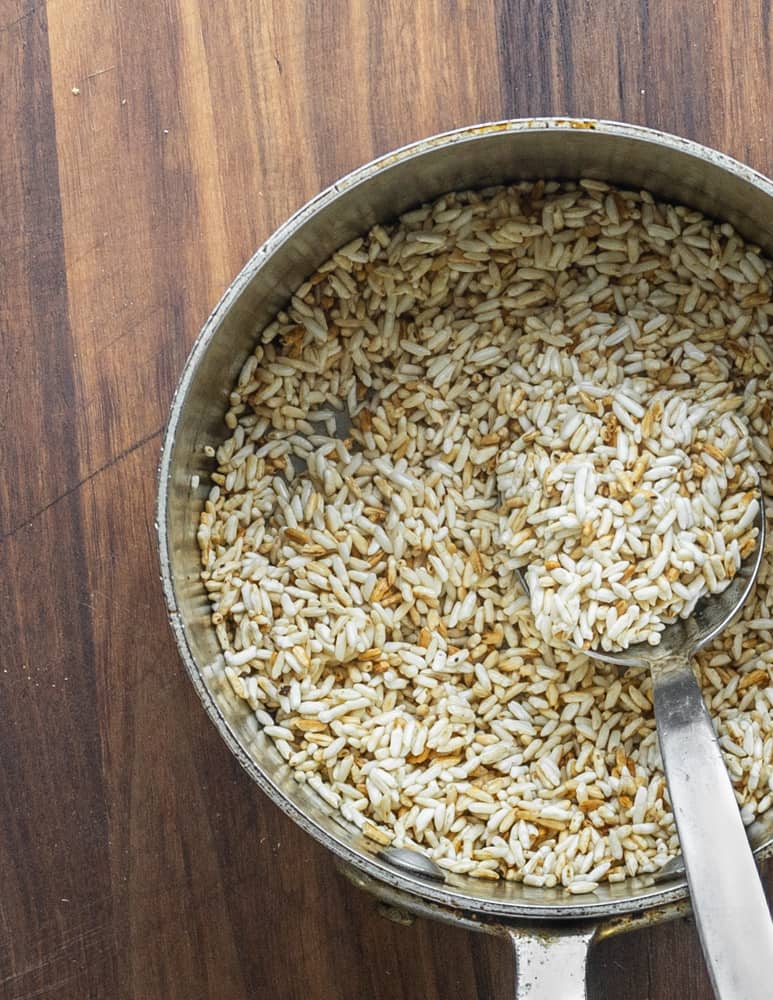 A great hack you can use for cooking rice in general is toasting it before cooking instead of rinsing. Toasting the rice in a little oil (roughly two teaspoons per cup) before cooing gives it roasted, toasty notes.
Beyond adding a good flavor, toasting also denatures the starch coating the grains, which means it cooks into perfect individual kernels every time. Even if you don't like curry, try toasting rice sometime and thank me later.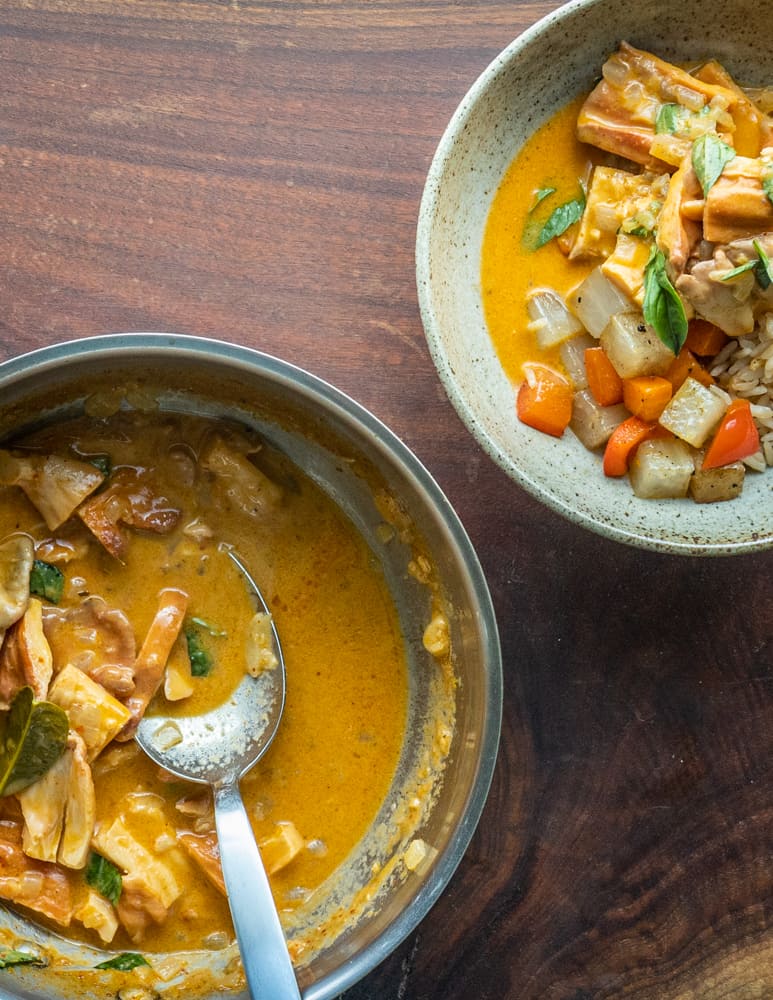 Also, if you have some chicken mushrooms handy, make sure to try my chicken fried chicken of the woods too, it's a reader favorite here.
More
Vegetarian and Vegan Mushroom Recipes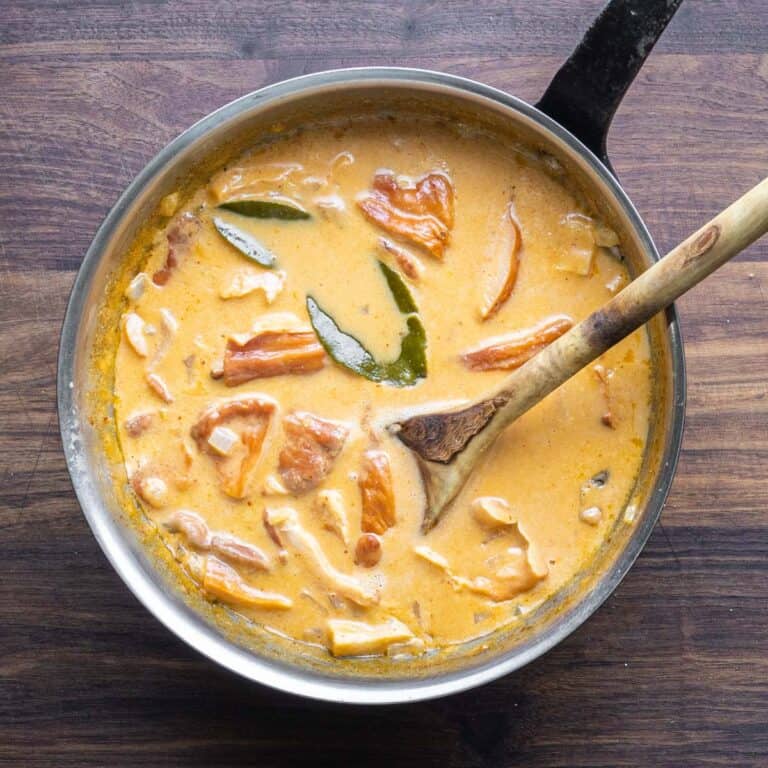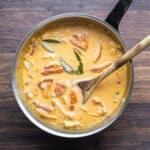 Print Recipe
Wild Chicken Mushroom Thai Red Curry
A simple curry made with chicken of the woods mushrooms, coconut milk, aromatics and Thai red curry paste. You can easily double the recipe. If you don't reduce it until it's thickened, it makes a great soup. Toasted cashews make a great additional garnish if you have some. Serves 2 as an entrée or 4 as an appetizer
Ingredients
Curry
6-8

oz

fresh tender chicken of the woods

1

can high fat coconut milk

1

cup

vegetable stock or water

1

tablespoon

coconut oil

1

small yellow onion

1

teaspoon

minced ginger

1

teaspoon

minced lemongrass

¼

inch

slice of fresh galangal

optional but recommended

2

fresh or frozen kaffir lime leaves

optional but recommended

1

large clove garlic

1.5

Tablespoons

canned red curry paste

add this to taste, some may want more

Dash of fish sauce

optional

1-2

teaspoons

maple syrup or sugar

optional

A small handful of Thai basil

cilantro, or culantro to finish, to taste, optional
Finishing and Serving
1-2

teaspoons

fresh lime juice

to finish

Cooked rice

see note

Freshly cooked vegetables
Instructions
Curry
Cut the chicken of the woods mushrooms into bite-sized pieces, then sweat in a sauce pot (2-3 quart capacity) until wilted. If the pan threatens to get dry, add a splash of water or stock.

Season the mushrooms with salt, push to the side of the pan and add the onion, garlic and ginger and cook for 2 minutes more.

Add the vegetable stock or water and cook 2 minutes more.

Crush the galangal with the back of a knife or in a mortar and pestle. Lightly crush the lime leaves in your palm to release their aroma.

Add the lemongrass, coconut milk, curry paste, maple or sugar, fish sauce, and kaffir lime leaves and bring to a simmer. Simmer until the mixture is slightly thickened, about 20-30 minutes depending on how thick you like it.

Double check the seasoning and adjust until it tastes good to you. Add more curry paste before you would add salt, since curry paste from a can is usually very salty.

If the curry looks too thick, thin it with a bit of water or stock and double check the seasoning again before serving.
Serving
Right before serving, add a small handful of sliced or torn Thai basil leaves and the lime juice. Serve with rice, cooked vegetables, and a few extra torn leaves of thai basil, cilantro, or culantro.
Notes
To make toasted rice 
To make toasted rice, take whatever white rice you like, such as long grain, and put it into a pot with high sides you can stir. Add 1-2 teaspoons of oil per cup, turn the heat to medium high, and cook, stirring occasionally, until the rice is lightly browned and smells toasty.
Doing this on the stove is imprecise and I usually have some kernels that are more brown than others, which doesn't bother me. If you want the rice perfectly toasted and even-colored, spread it out on a cookie sheet and bake it at 350 until very light brown. 
Nutrition
Serving:
8
oz
|
Calories:
102
kcal
|
Carbohydrates:
8
g
|
Protein:
3
g
|
Fat:
7
g
|
Saturated Fat:
6
g
|
Polyunsaturated Fat:
0.3
g
|
Monounsaturated Fat:
0.5
g
|
Sodium:
7
mg
|
Potassium:
358
mg
|
Fiber:
2
g
|
Sugar:
4
g
|
Vitamin A:
1
IU
|
Vitamin C:
6
mg
|
Calcium:
18
mg
|
Iron:
1
mg
Related Posts
Chicken of the Woods Mushrooms
Chicken Fried Chicken of the Woods