Summer wild mushroom varieties have finally started to show up in my next of the woods. The first thing I made this year was a riff on one of my favorite shareable wild mushroom appetizers.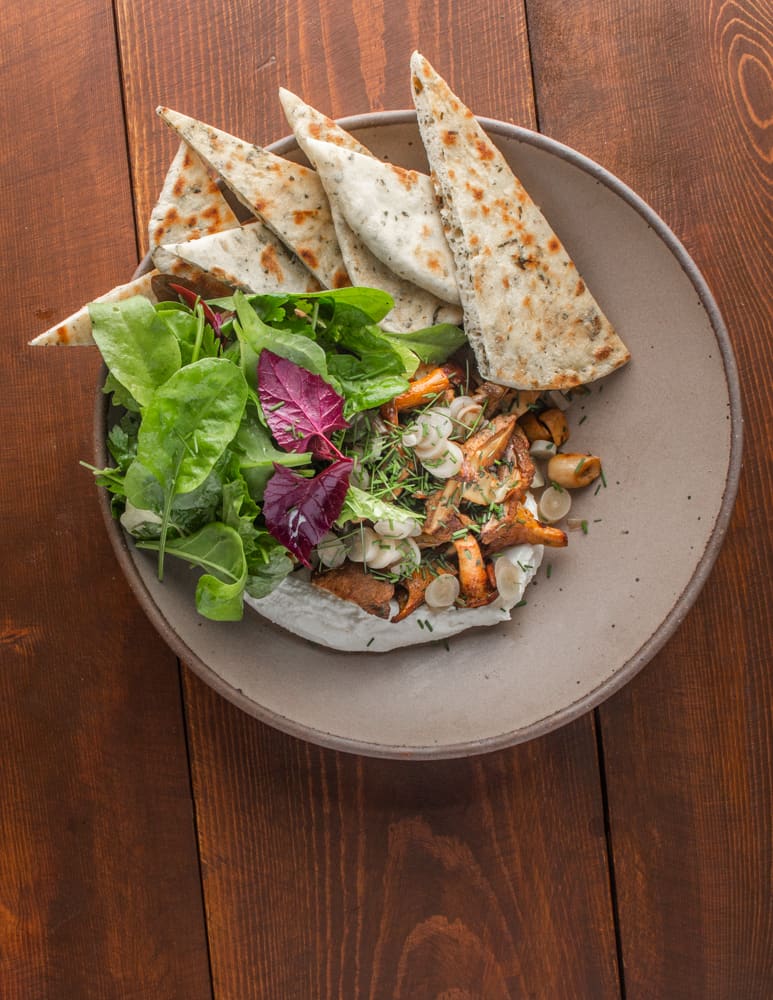 It's basically a giant pile of sauteed mushrooms with whipped cheese and a sprinkle of pickled ramps you smear over flatbread, with an optional salad on the side.
There's some South of France vibes here. It makes for a good al fresco meal, and comes together quickly after a long day in the woods.
Wild Mushrooms
I used a few different types of wild mushrooms that are great in a blend: chanterelles, chicken of the woods mushrooms, cornflower boletes, and a lone quilted green russulas or green brittle gill. Feel free to use whatever mushroom varieties you like, but it's best made with a variety.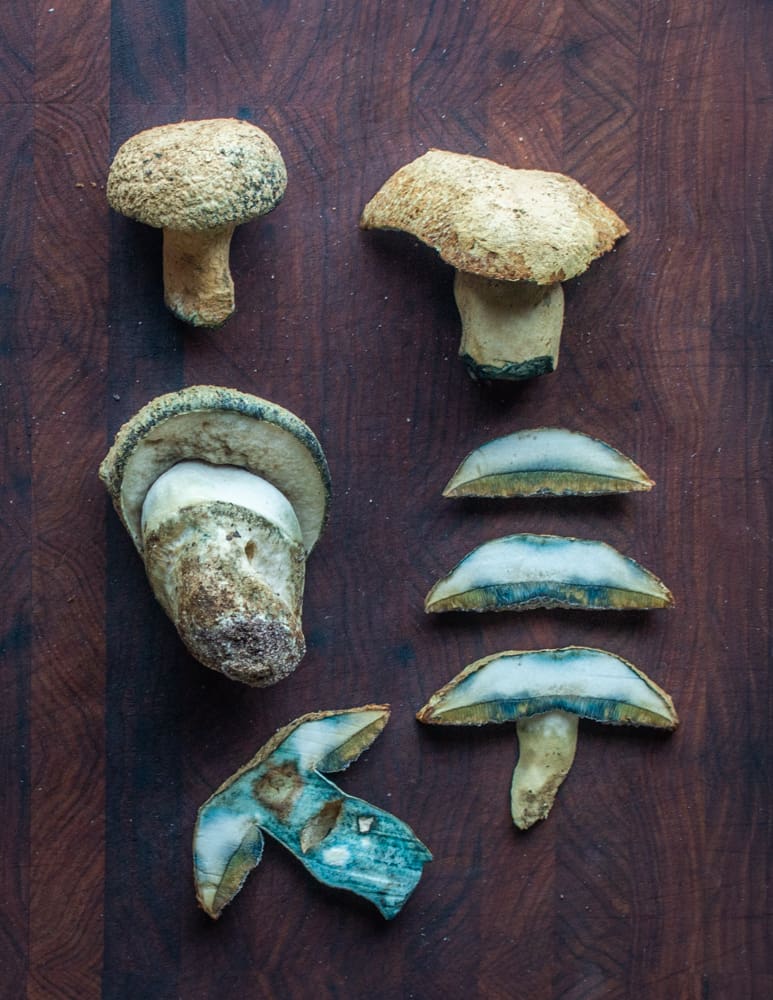 For cooking, you want to show off the mushrooms individually, so it's good to be picky in how you cut them. It's important that the mushrooms are generally the same size: not too big, not too small. You want them to be able to fit on a spoon. Golden chanterelles I leave whole when possible. Larger mushrooms are cut into thick slices or quartered.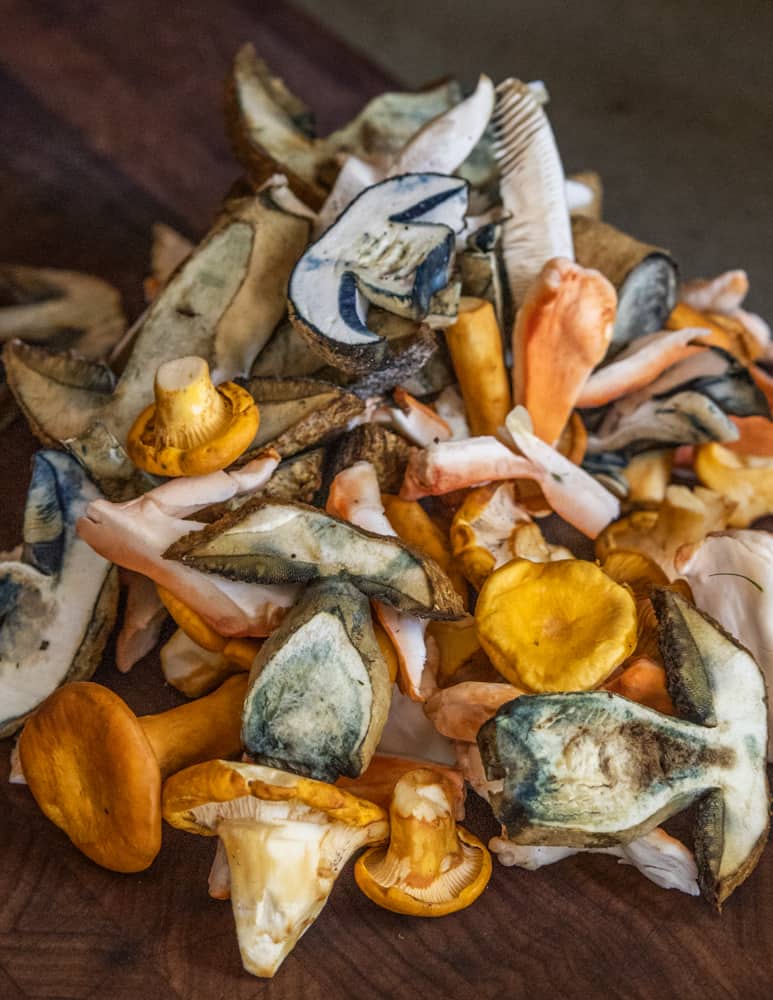 Since I wash all my wild mushrooms before cooking they contain a good amount of water. To cook them without having oil splatter everywhere, I start them off in a hot pan with a splash of water or stock for a wet-saute.
If you're not familiar the wet saute is a great way to cook large pans of mushrooms. Cooking them in a splash of water first allows you to control the amount of fat you use, which prevents them from getting too oily.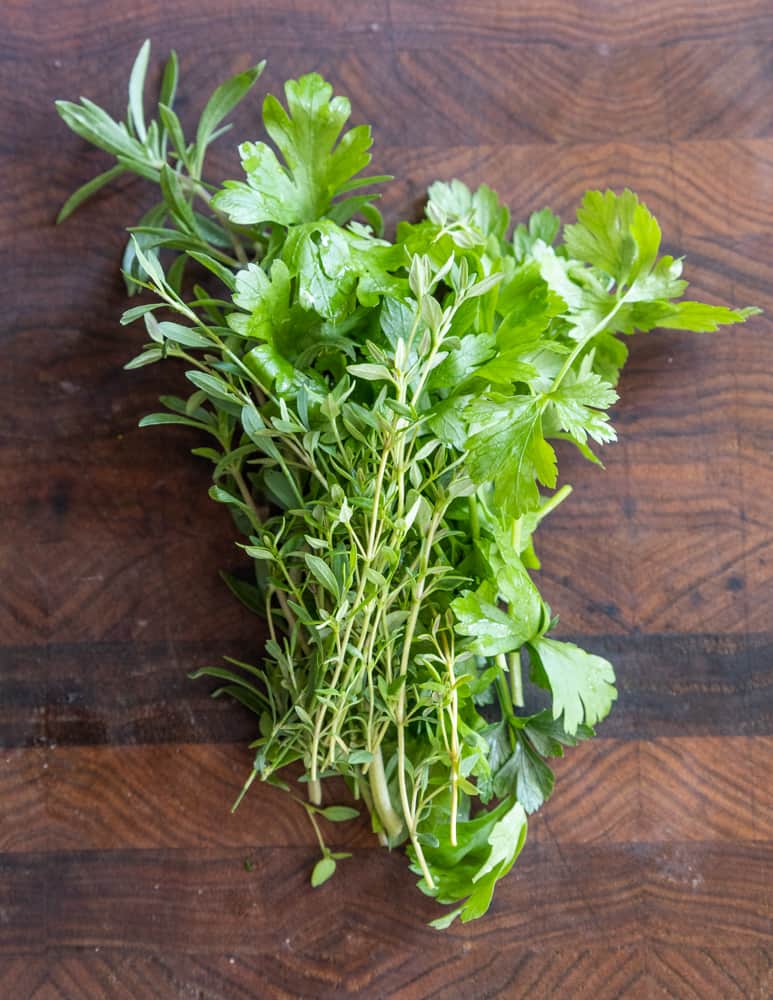 After the water has evaporated, I add a little oil, finishing with a knob of butter and a mix of herbs. I finished these with a mixture of summer savory, thyme and parsley root tops. Feel free to add whatever fresh herbs you have on hand.
Cheese
You can use all kinds of different cheeses here, the most important thing is that it's spreadable. I used Bulgarian feta thinned with yogurt and splash of cream or its whey, blended in a food processor until it's smooth and fluffy.
Good feta is hard to come by though, so I'm writing the recipe using chevre as it can be mashed with a fork with a splash of cream, and the 4oz packages are just about the perfect size. All you need is something spreadable to use as mortar for securing the mushrooms on the flatbread. You could also use labneh, hummus, or baba ghanoush.
Flatbread
The flatbread is the vehicle for everything here. I made a version flavored with wild herbs using dried bee balm and ramp leaves, but it's fine to use a packaged pita or naan in a pinch. If you use a packaged product make sure to heat them up on a griddle first to improve their texture.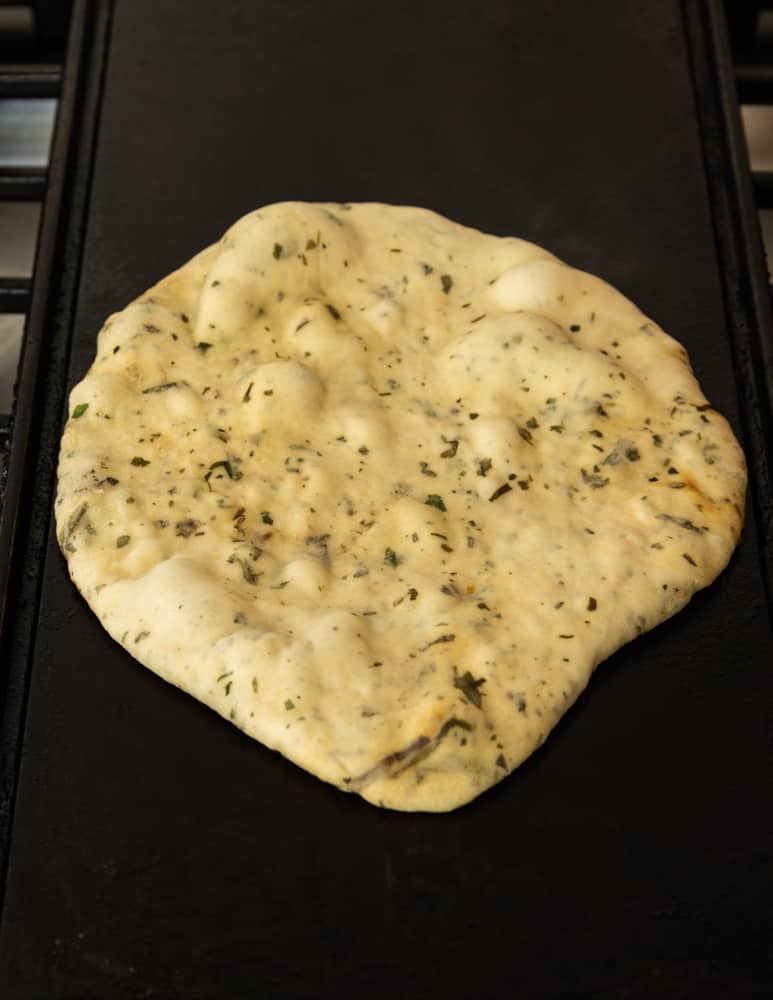 Greens
A fresh green salad adds some color and lightens things up a bit. It's optional, but it's a perfect place for some of the tender leafy greens I had in my garden. They also add good color that makes the plate pop.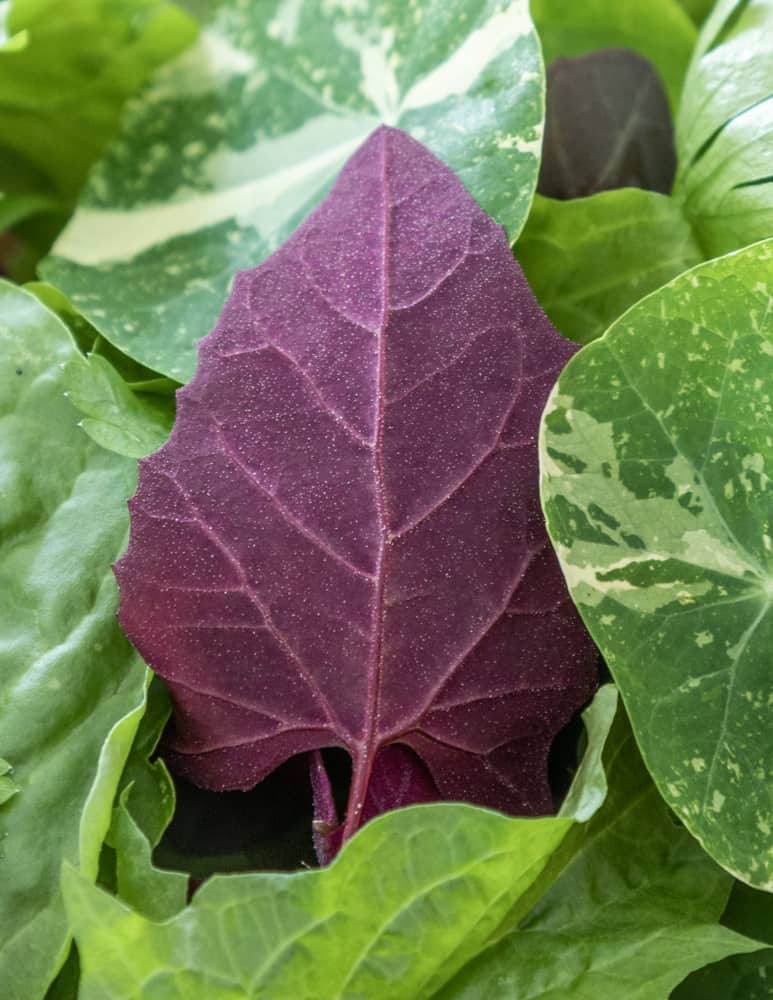 I had some orache, heirloom lambs quarters, spinach beet, and nasturtium leaves that made a great side salad. Use whatever you have on hand, or skip it. It's all about the mushrooms at the end of the day.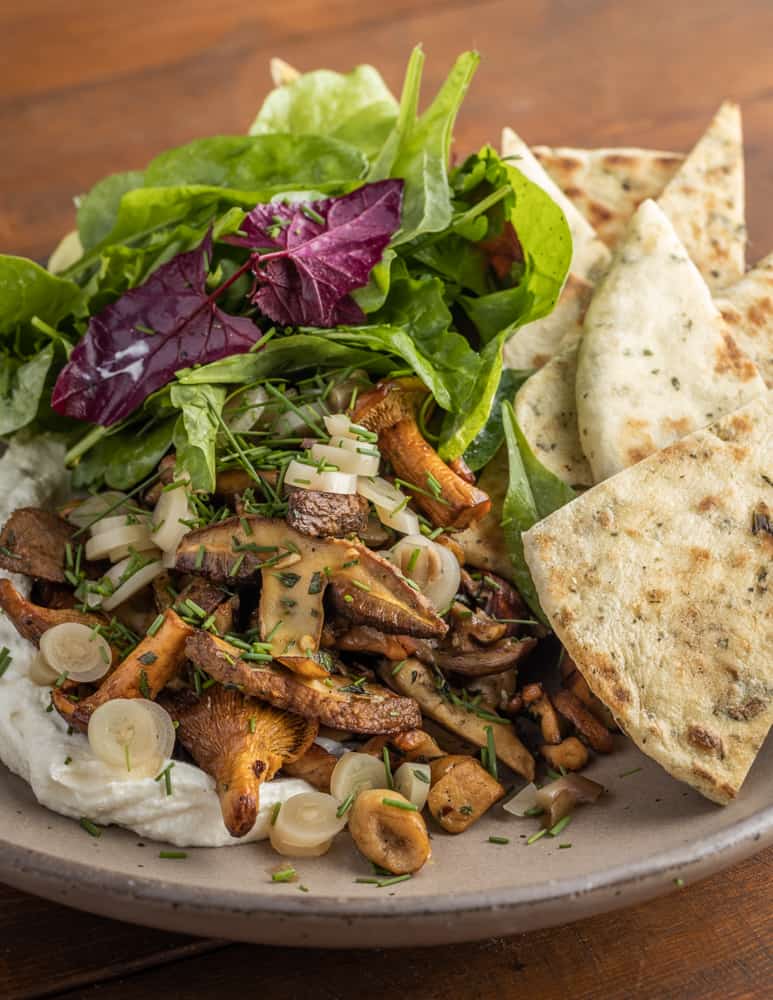 Mushrooms Mentioned in This Post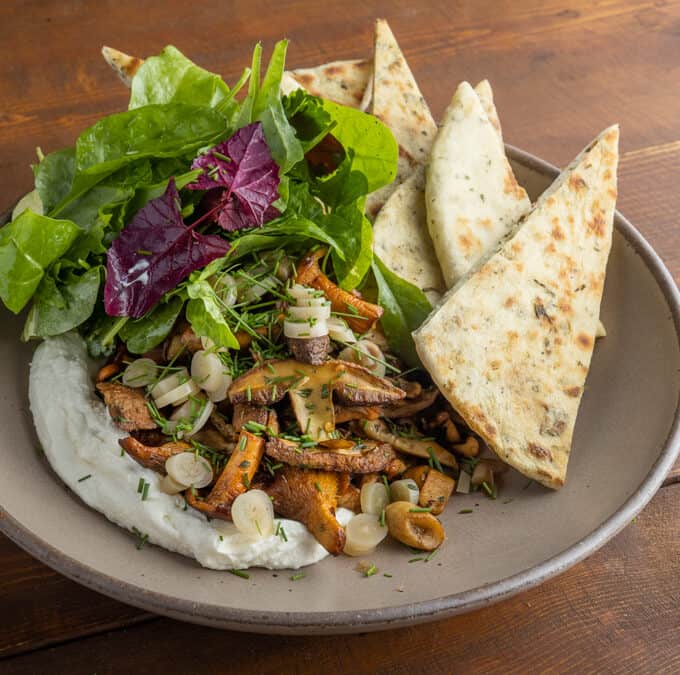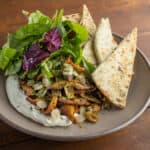 Print Recipe
Sauteed Wild Mushrooms with Chevre and Bee Balm Flatbread
A blend of sauteed summer wild mushrooms flavored with garlic and herbs, with whipped cheese, and flatbread is a great wild mushroom recipe that will serve a crowd after a long day in the woods.
Equipment
1 12 inch cast iron skillet or saute pan

1 mixing bowl
Ingredients
Mushrooms
10

oz

wild mushrooms

1

large clove garlic

Pinch

red pepper flakes

¼

cup

stock or water

Kosher salt and fresh ground black pepper

to taste

Fresh herbs

such as summer savory, to taste

1

Tablespoon

cooking oil

1

tablespoon

unsalted butter

Pickled ramps

or other pickles, such as gherkins or whatever you like, thinly sliced about 1-2 Tablespoons
Cheese
8

oz

High quality feta

such as Bulgarian. *See note.

⅓

cup

Thick Greek yogurt
Green Salad
4

oz

fresh

small salad greens

Kosher salt and fresh ground black pepper

Extra virgin olive oil

to taste

Fresh lemon juice

to taste
Flatbread-see recipe below (use some pre-made naan in a pinch)
Instructions
Cheese
Put the feta and yogurt into the bowl of a food processor and blend until smooth and fluffy. You may need to scrape down the sides of the bowl occasionally to help it blend. Add a little extra whey or a splash of milk if it needs help getting a smooth consistency. Reserve the whipped cheese.
Clean the mushrooms
Fill a sink with cold water. With a paring knife in hand, swish each mushroom individually in the water to loosen any grit, then pare and trim the knife, putting cleaned mushrooms in a single layer on a tray lined with paper towels.

Cut the mushrooms into thick slices. If you have chanterelles, do your best to keep them whole or in large pieces.
Cooking
In a large 10 inch pan, heat the mushrooms and the water on high until the mushrooms are wilted and have given up their juice.

Add the oil and season to taste with salt and pepper, then cook until lightly browned. Move the mushrooms to the side of the pan, add the garlic and butter and cook for 2 minutes more.

Finally add the herbs and a pinch of crushed red pepper flakes, double check the seasoning for salt, and serve.
Salad
Quickly toss the greens with a stingy amount of oil, a dash of lemon juice, salt and pepper to taste.
Serving
To serve, spread a thick swoosh of cheese off-center on a large plate, arranging the mushrooms in the middle. Cut the flatbreads into wedges and arrange around the side. Sprinkle the pickles over the mushrooms.

Mound the salad greens where you can. Smear each piece of flatbread with a bit of the cheese, which will help the mushrooms adhere. Spoon some mushrooms on top of the cheese, and eat with the salad on the side.
Notes
On the Cheese 
If you don't have a store that sells good feta held in whey in large blocks (Mediterranean markets carry it) use a 4 oz tube of chevre mashed, and then whisked with heavy cream until spreadable.
You can use regular feta, but it's saltier. 8 oz of cheese will make a little more than you need, but it's basically the smallest amount you can make in a food processor which incorporates more air and gives the fluffiest result. 
Nutrition
Calories:
155
kcal
|
Carbohydrates:
4
g
|
Protein:
7
g
|
Fat:
13
g
|
Saturated Fat:
6
g
|
Polyunsaturated Fat:
1
g
|
Monounsaturated Fat:
4
g
|
Trans Fat:
0.1
g
|
Cholesterol:
39
mg
|
Sodium:
435
mg
|
Potassium:
234
mg
|
Fiber:
1
g
|
Sugar:
1
g
|
Vitamin A:
218
IU
|
Vitamin C:
1
mg
|
Calcium:
190
mg
|
Iron:
1
mg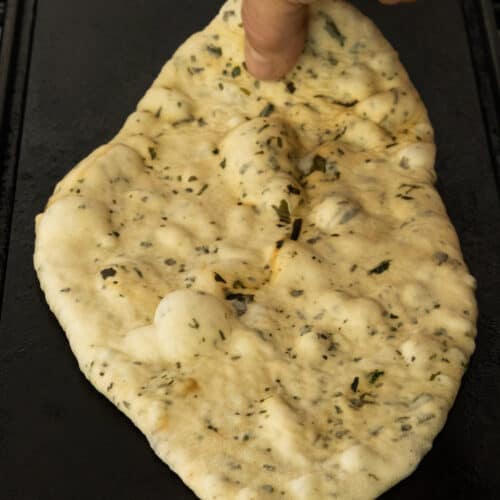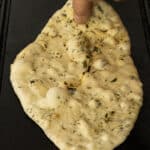 Print Recipe
Wild Herb Flatbreads
Simple homemade flatbreads flavored with wild herbs like bee balm and dried ramp leaves.
Ingredients
2

cups

all purpose flour

¾

teaspoon

kosher salt

1

teaspoon

sugar

2

teaspoons

instant yeast

¾

Cup

warm water

2

Tablespoons

dried ramp leaves

crumbled

1.5

Tablespoons

dried bee balm leaves

crumbled, any woody stems removed
Instructions
Mix the flour, sugar bee balm, ramp leaves and salt. Add the water to the bowl of a stand mixer, then the flour mixture, oil and yeast. Work with the paddle attachment until just combined, then switch to the dough hook and knead for a few minutes until the dough comes together and cleans the side of the bowl.

Remove the dough and form into a ball, then transfer to an oiled bowl, cover with cling film, and allow to rise at room temperature until doubled in size. Punch the dough down and reform into a ball.

From here the dough can be made ahead of time or frozen.

When it's time to cook, remove the dough from the fridge and divide into four pieces (or whatever size).

On a lightly floured surface, roll the dough out thinly into a long, rough oval, then put directly onto a hot, lightly oiled griddle and cook until browned on both sides. Ideally you'll serve immediately after the flatbreads come off the griddle and are still hot, but they can sit for a bit and can be gently reheated.