If you're new to everyone's favorite mushroom that tastes like chicken, or a veteran, everyone should know a simple recipe for sauteed chicken of the woods. It isn't quite as simple as just tossing mushrooms in a pan. In this post I'll explain all the details you need to know to have a good meal whether you're over a campfire, or at home in the kitchen.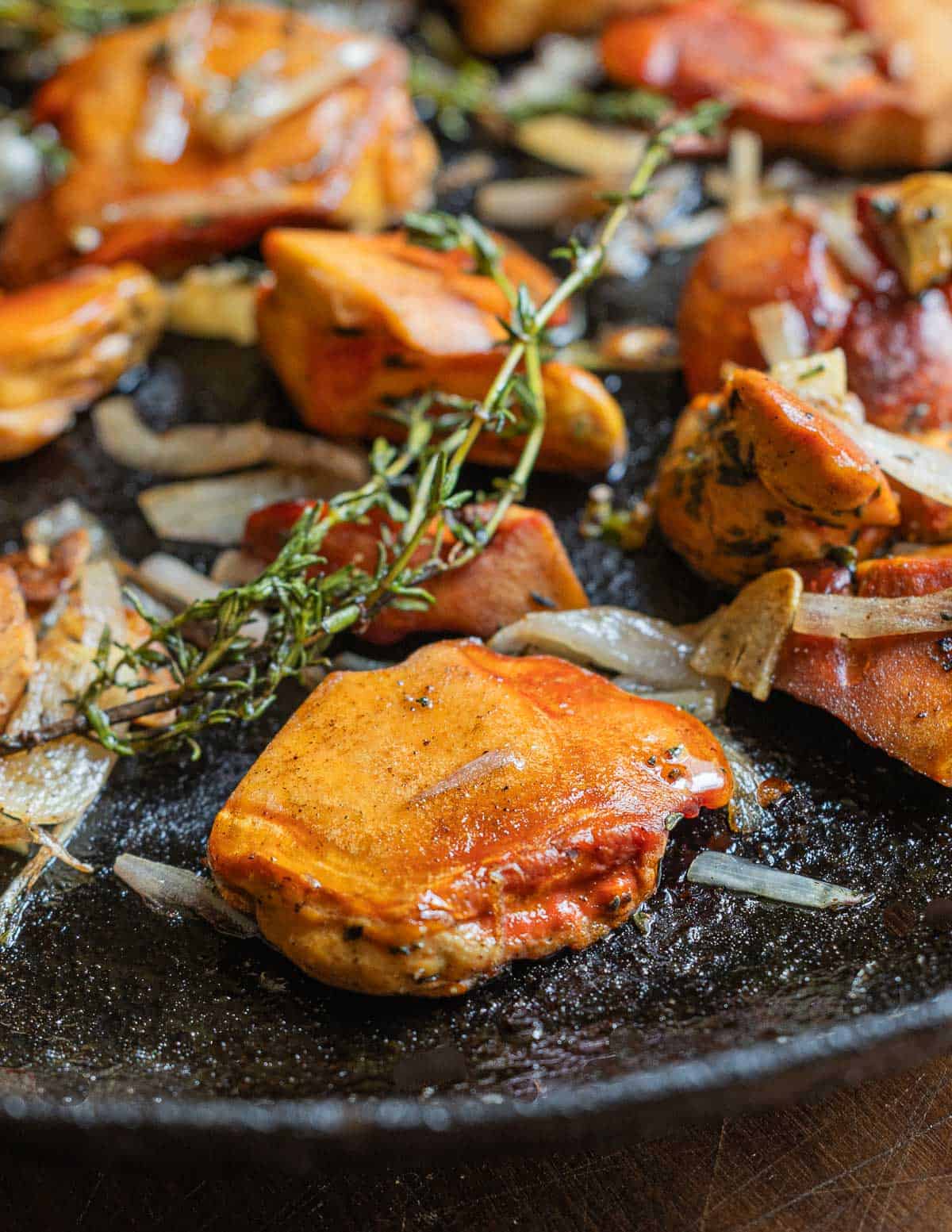 How long to cook chicken of the woods
One of the most important things to keep in mind is that sulphur shelf mushrooms must be thoroughly cooked to avoid reactions from individual mushroom allergies and undercooking. No matter how you prepare chicken of the woods, I like to cook them for at least ten minutes to be safe.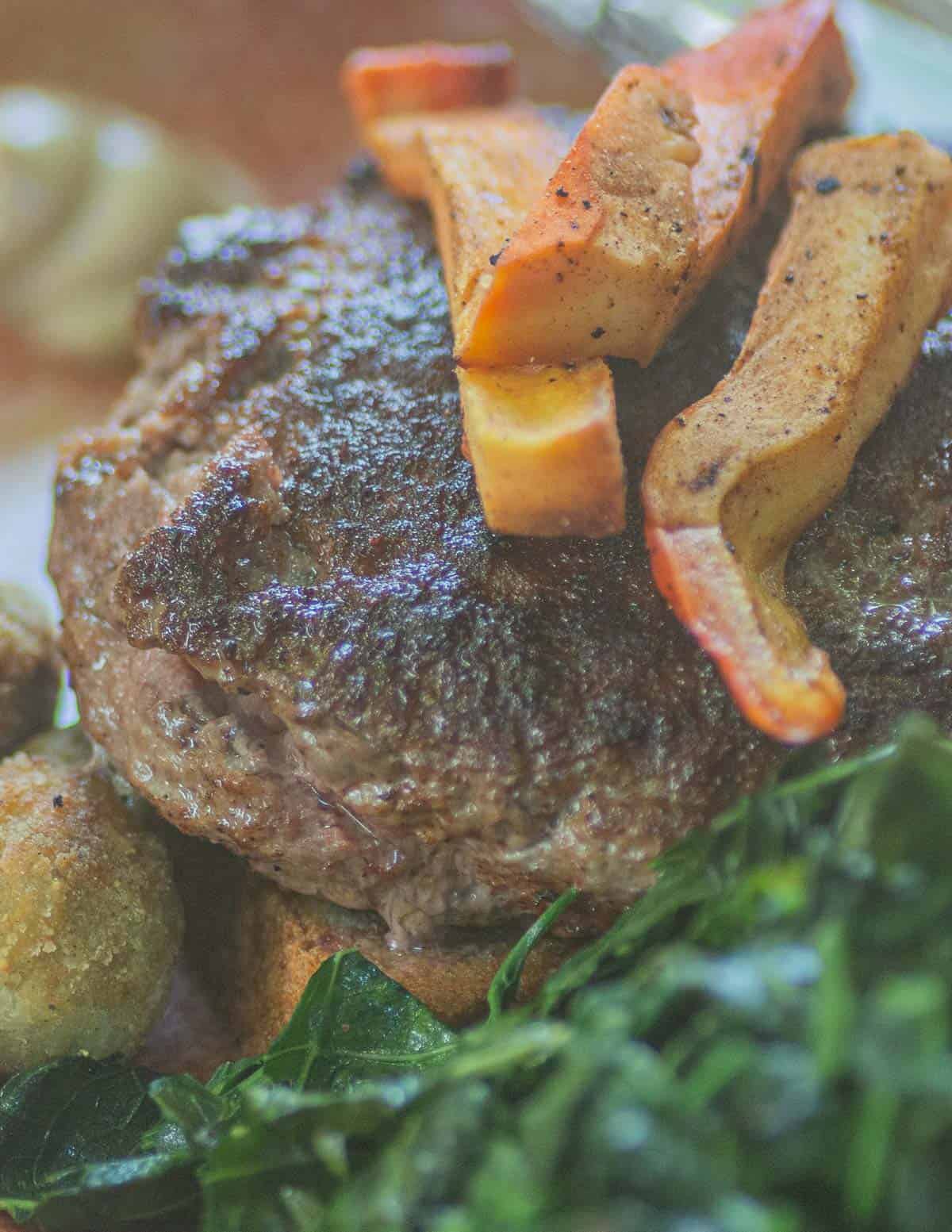 Common symptoms range from mild to intense. Tingling or numbness in the lips is the most mild symptom, but nausea, vomiting and diarrhea are common if the person has an allergy to the mushroom.
Another very important thing to keep in mind is the tree the mushroom is growing on. You need to be particularly careful harvesting chickens from conifer trees, but allergic reactions are common regardless of what tree they were growing on.
See more in my guide to chicken of the woods.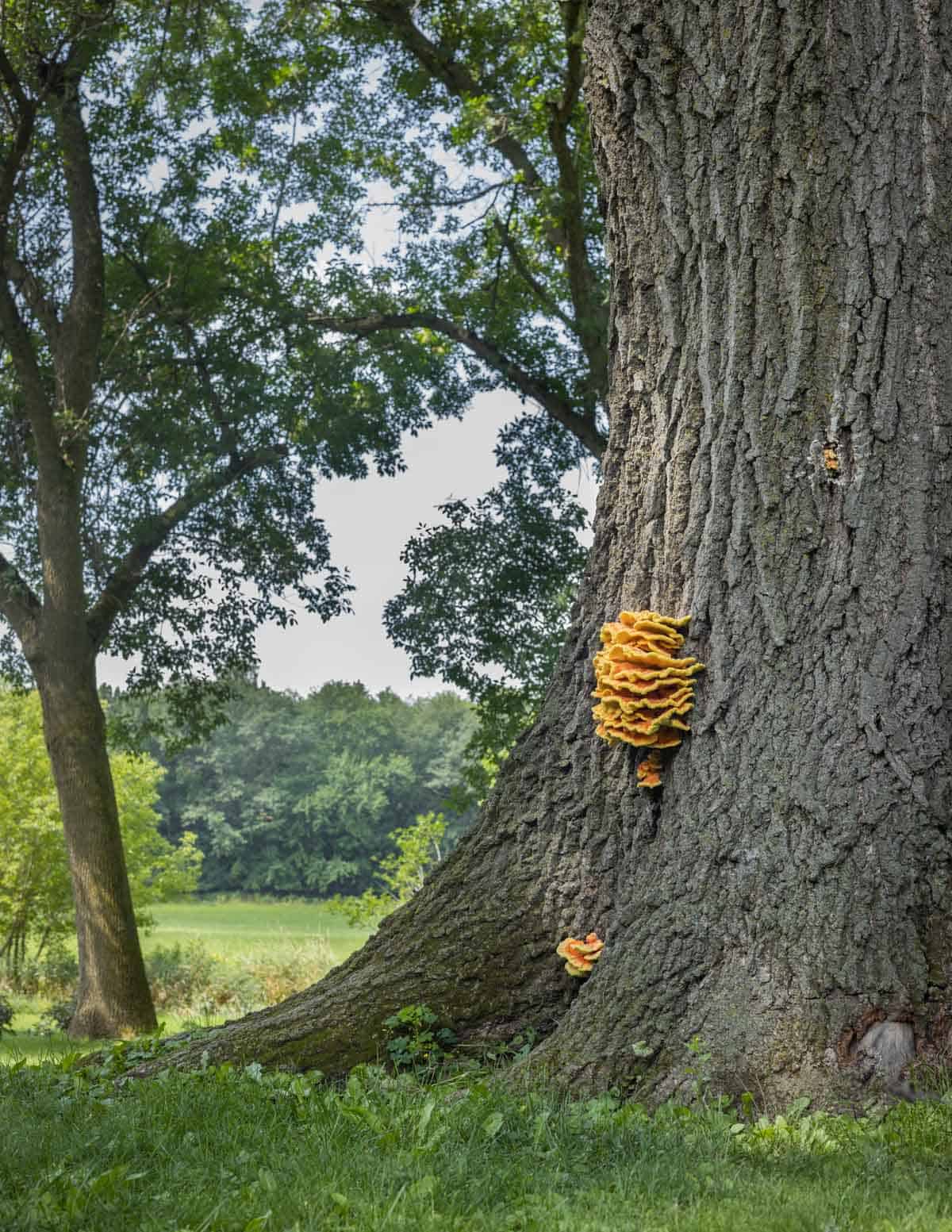 Chef's Tips
Chicken mushrooms are always wild and can't be cultivated, and that introduces a number of variables that affect how they can be cooked.
If it's rained recently or the mushrooms are very fresh, they can be filled with water. If that's the case, the mushrooms can be cooked in the dry saute I mention below.
Below: older chicken of the woods (left) very young chicken of the woods (right).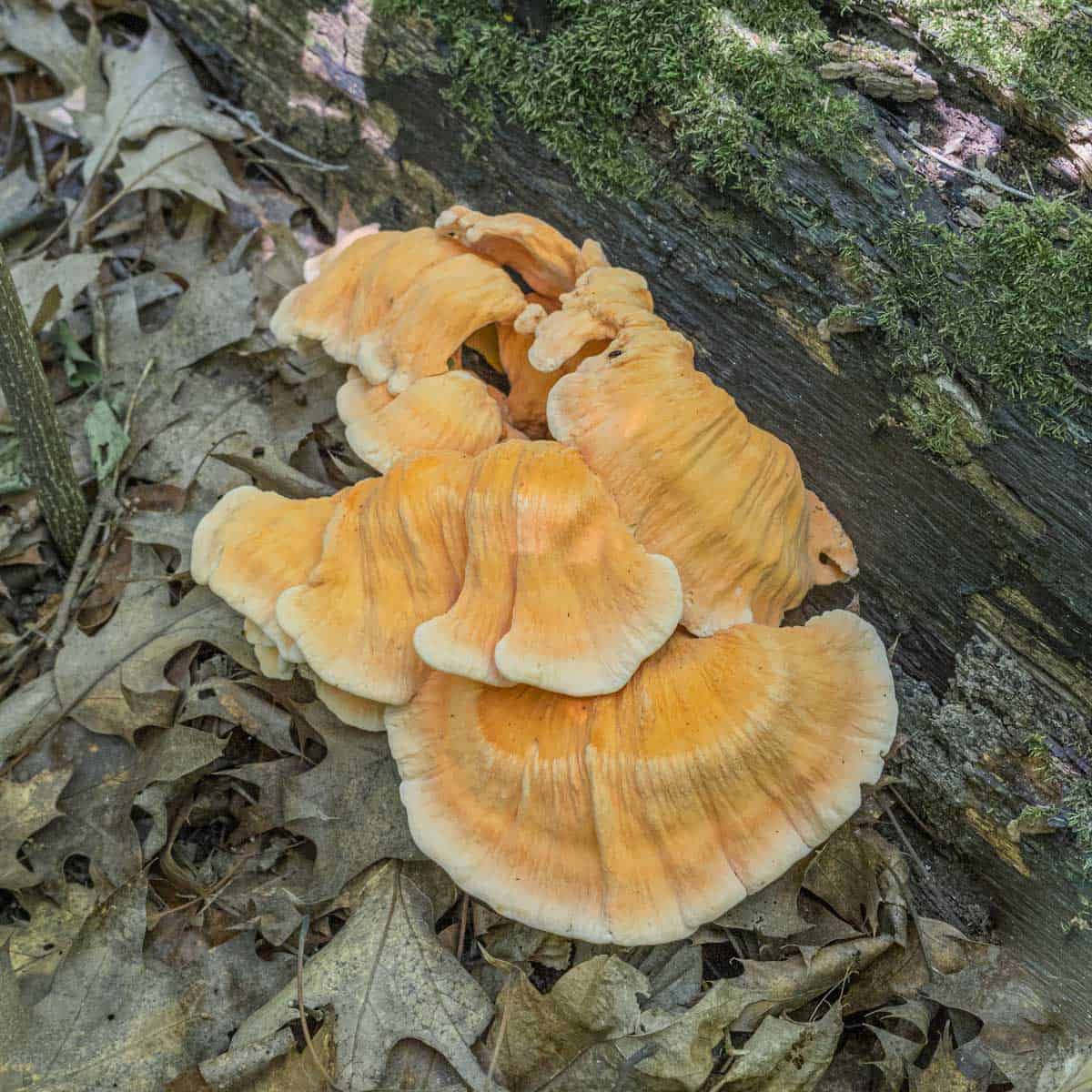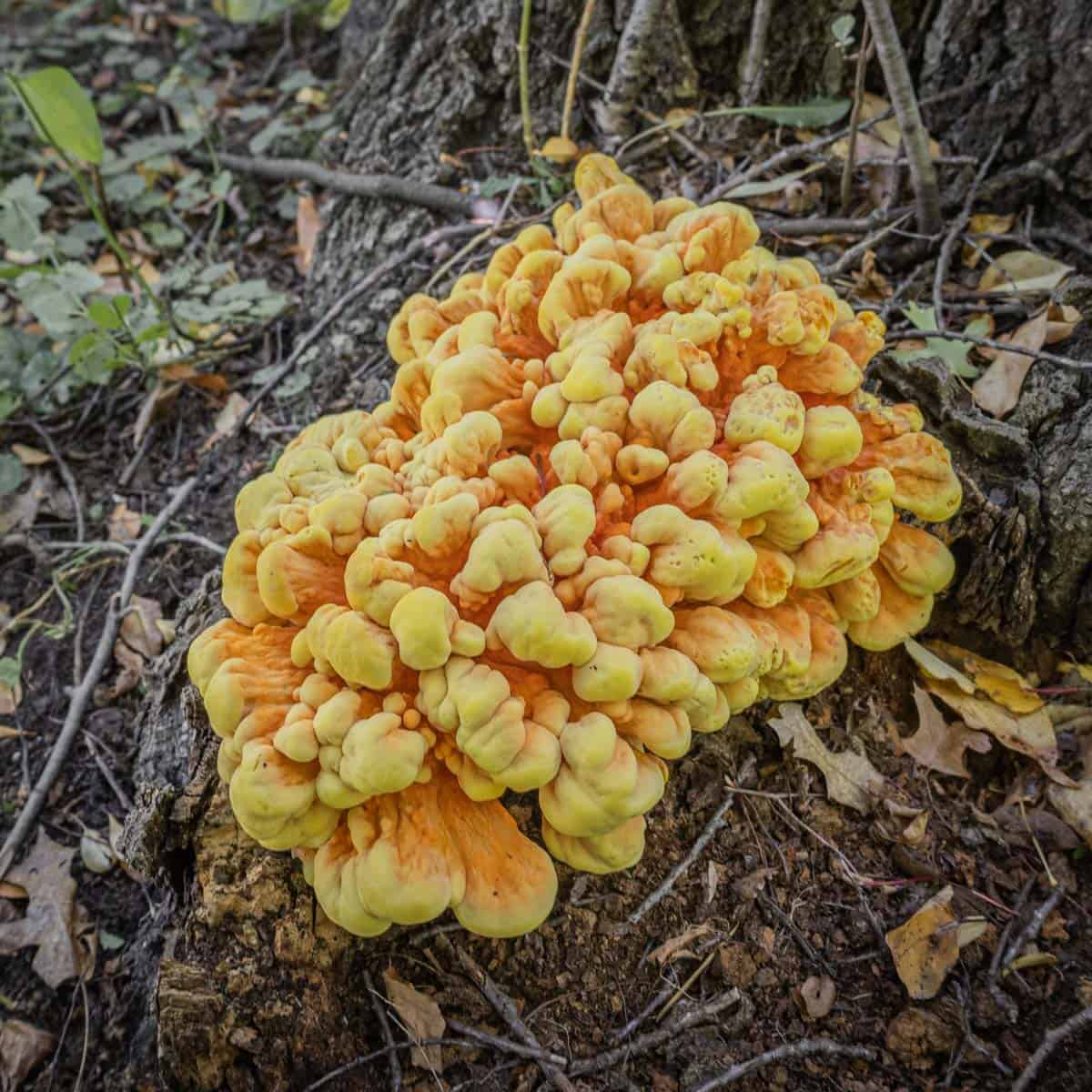 If it's been dry or your chickens are older they won't contain much water and would burn if cooked in a pan. For the best result, they'll need to be simmered in liquid until it evaporates before fat is added, which is called the wet saute.
How to saute chicken of the woods
First the mushrooms are trimmed and cleaned. Any tough portions are cut off from the bottom. If the mushrooms look dirty, they should be rinsed or dipped in water and dried on towels. Next the mushrooms are cut into thick pieces about ½ inch.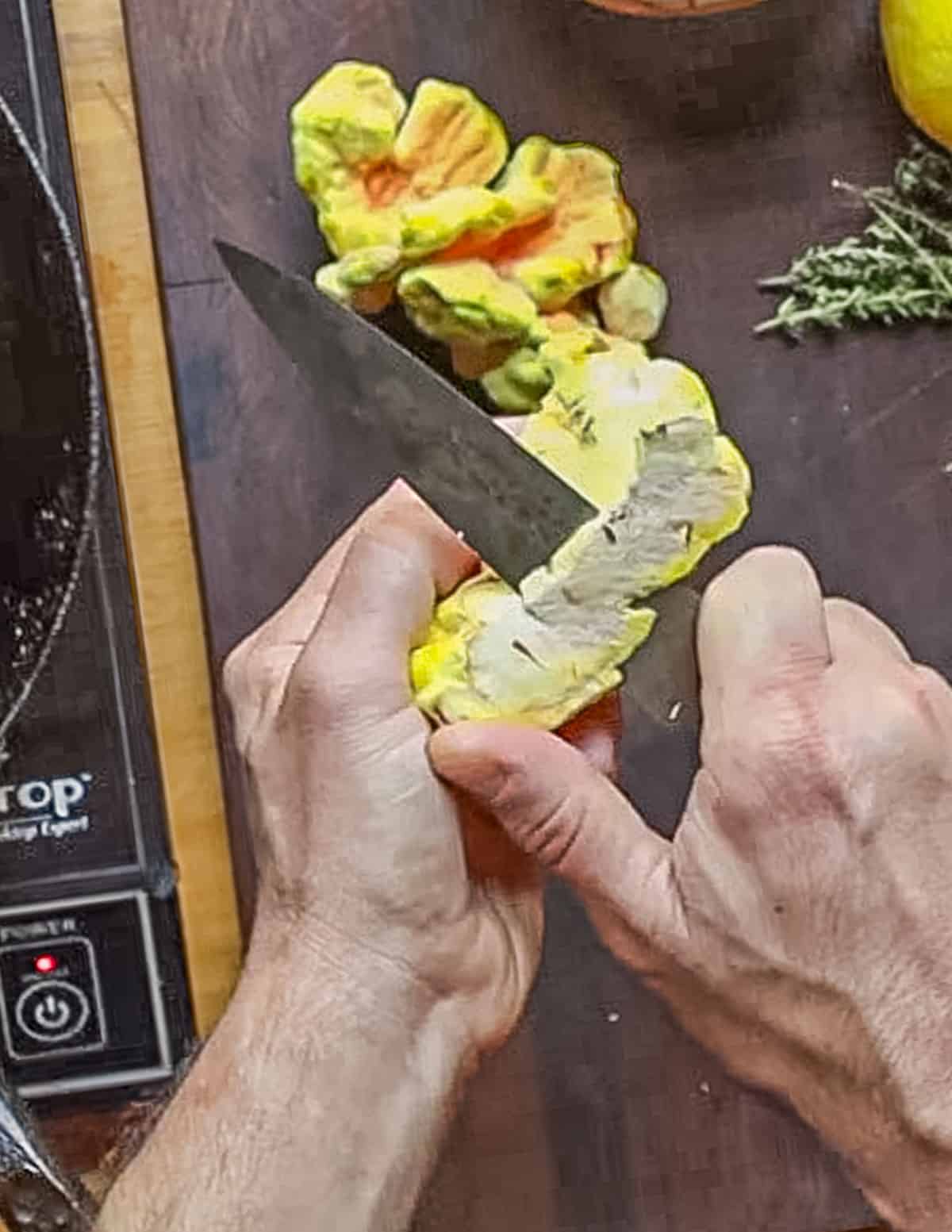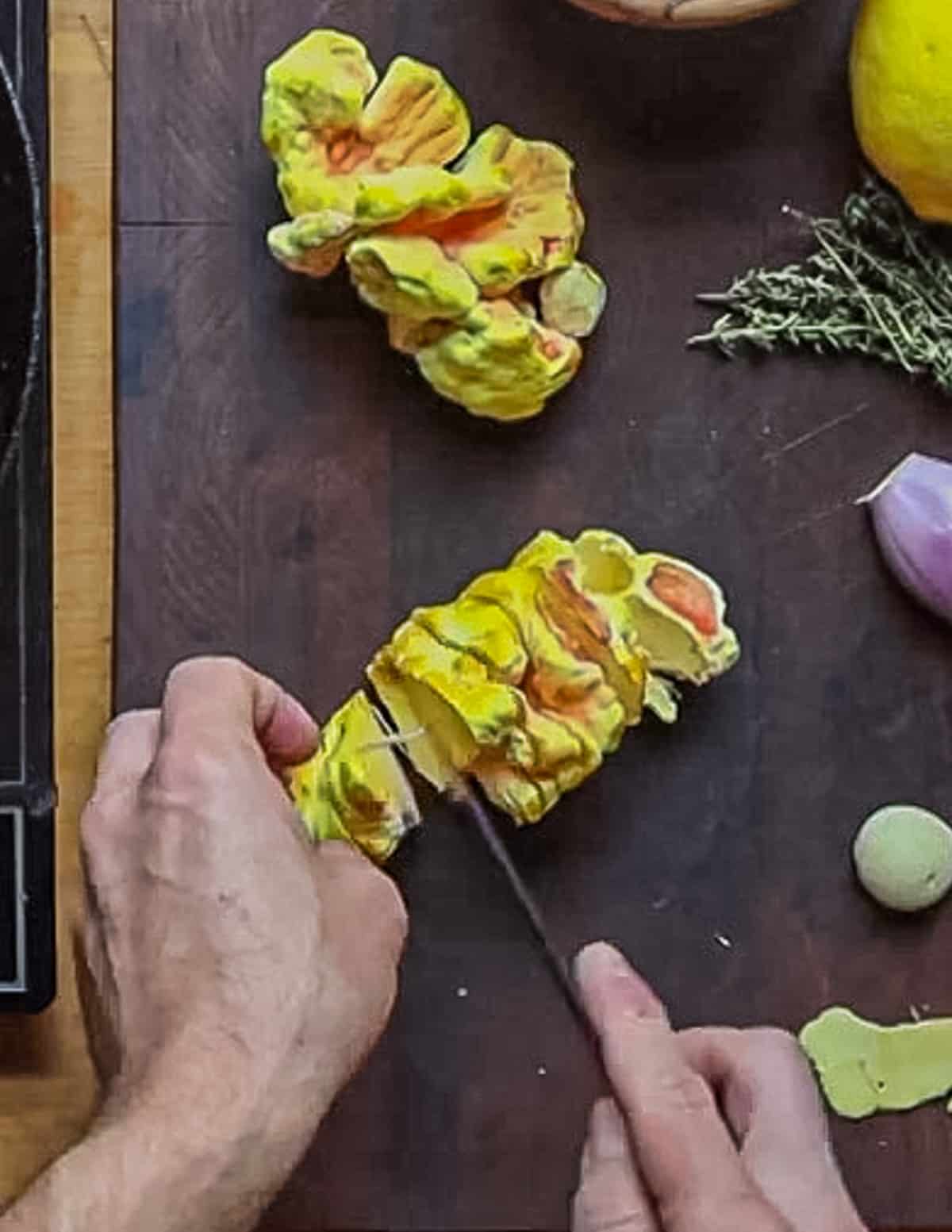 Next the mushrooms are cooked in a pan with a splash of water. After the water evaporates, oil is added.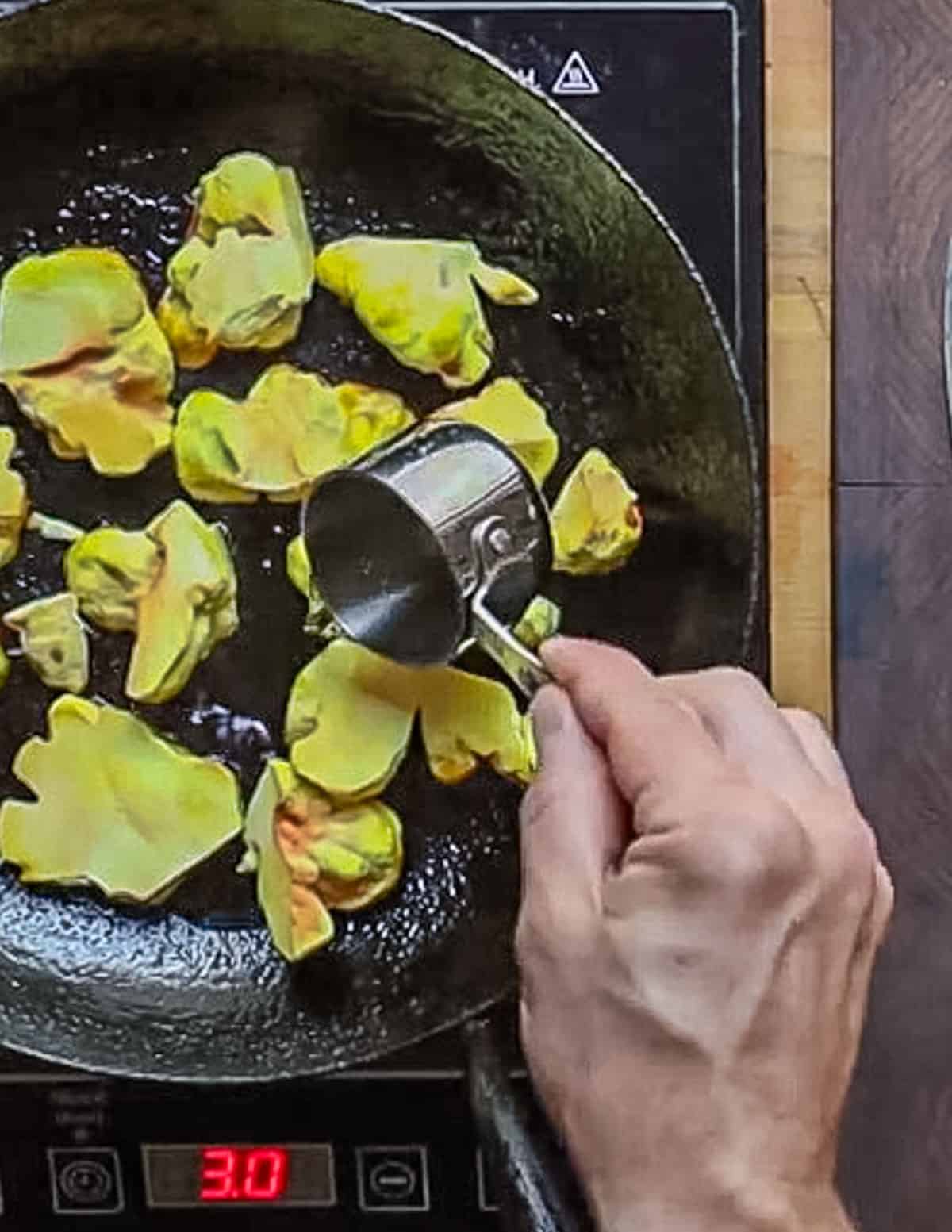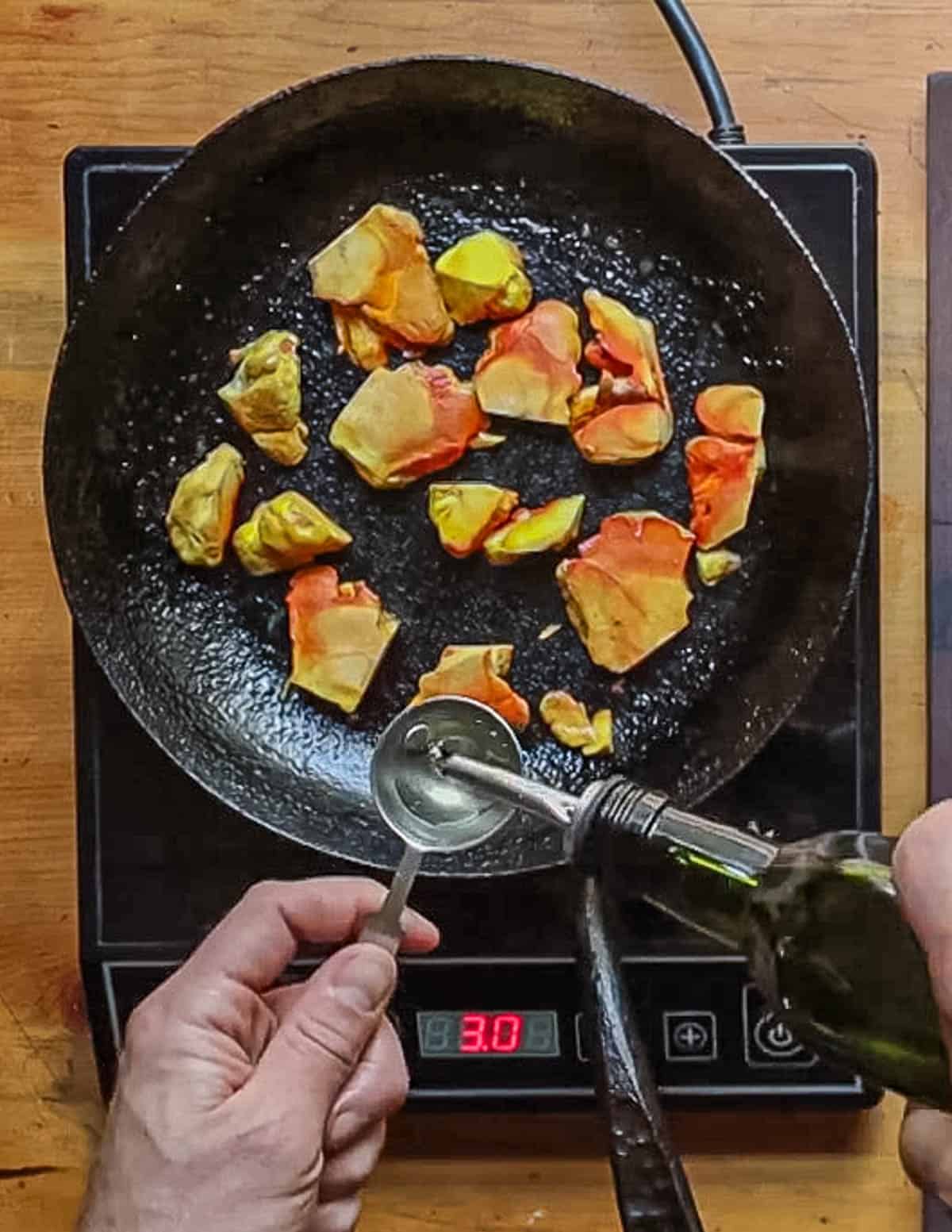 Next you add some garlic to the pan, along with a pinch of salt. Then sliced shallots and fresh thyme are added.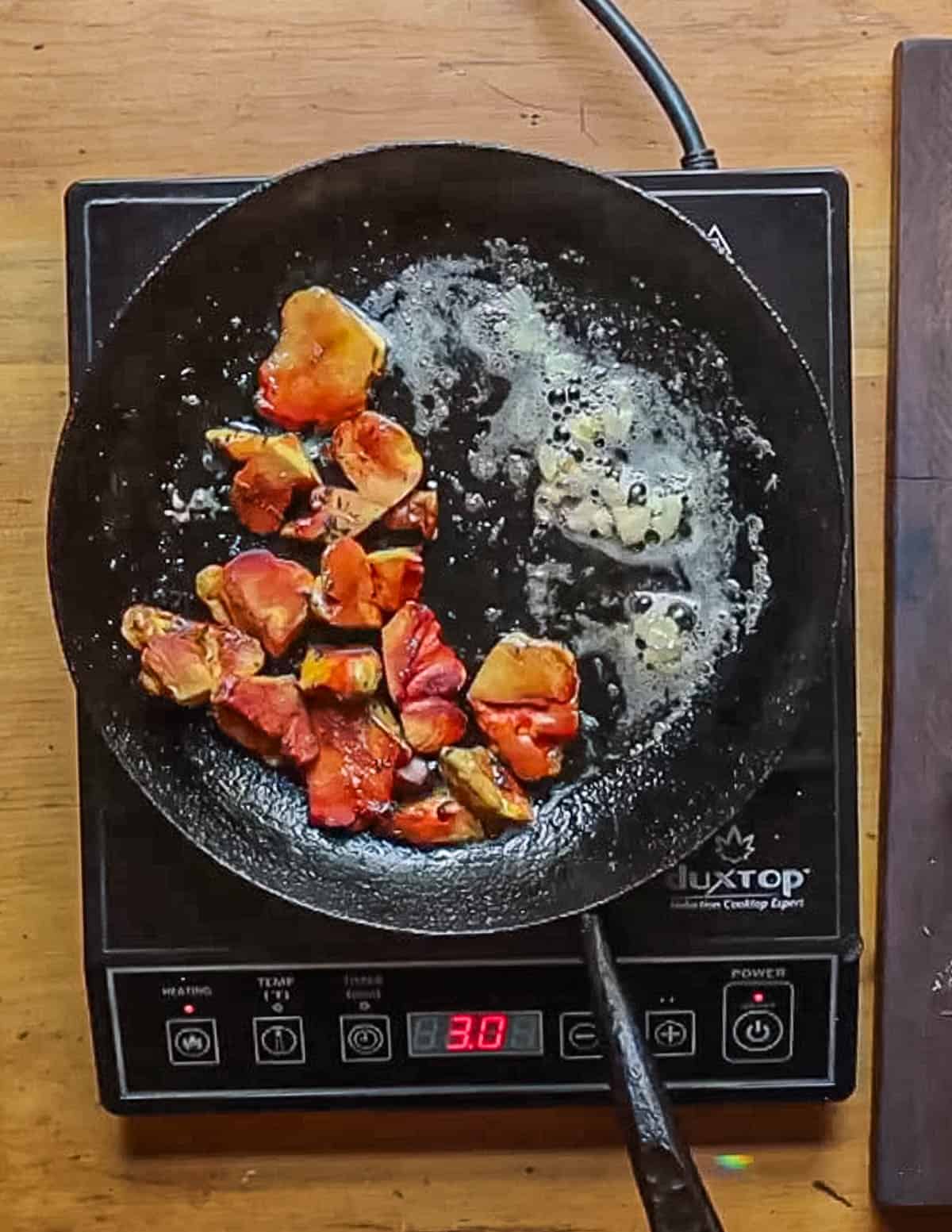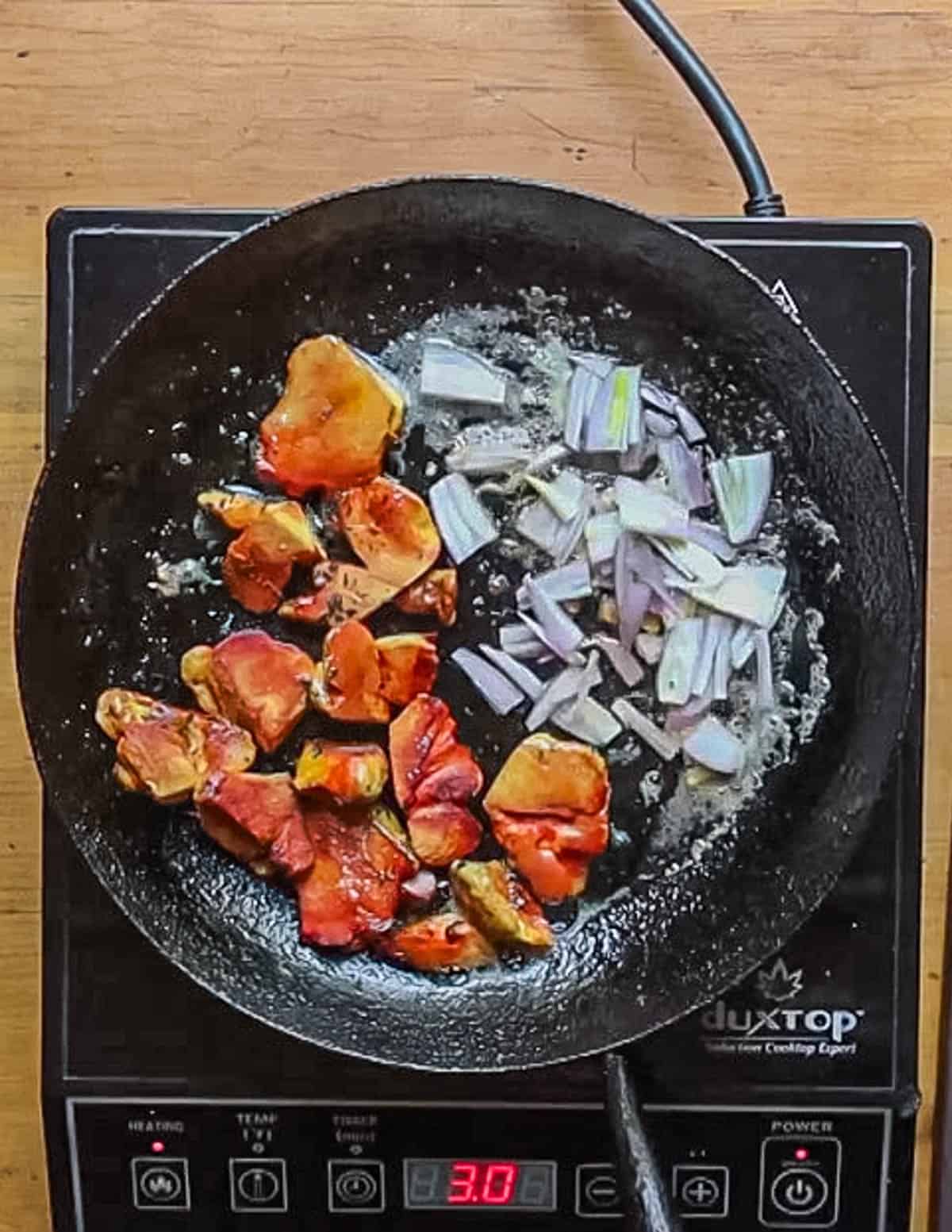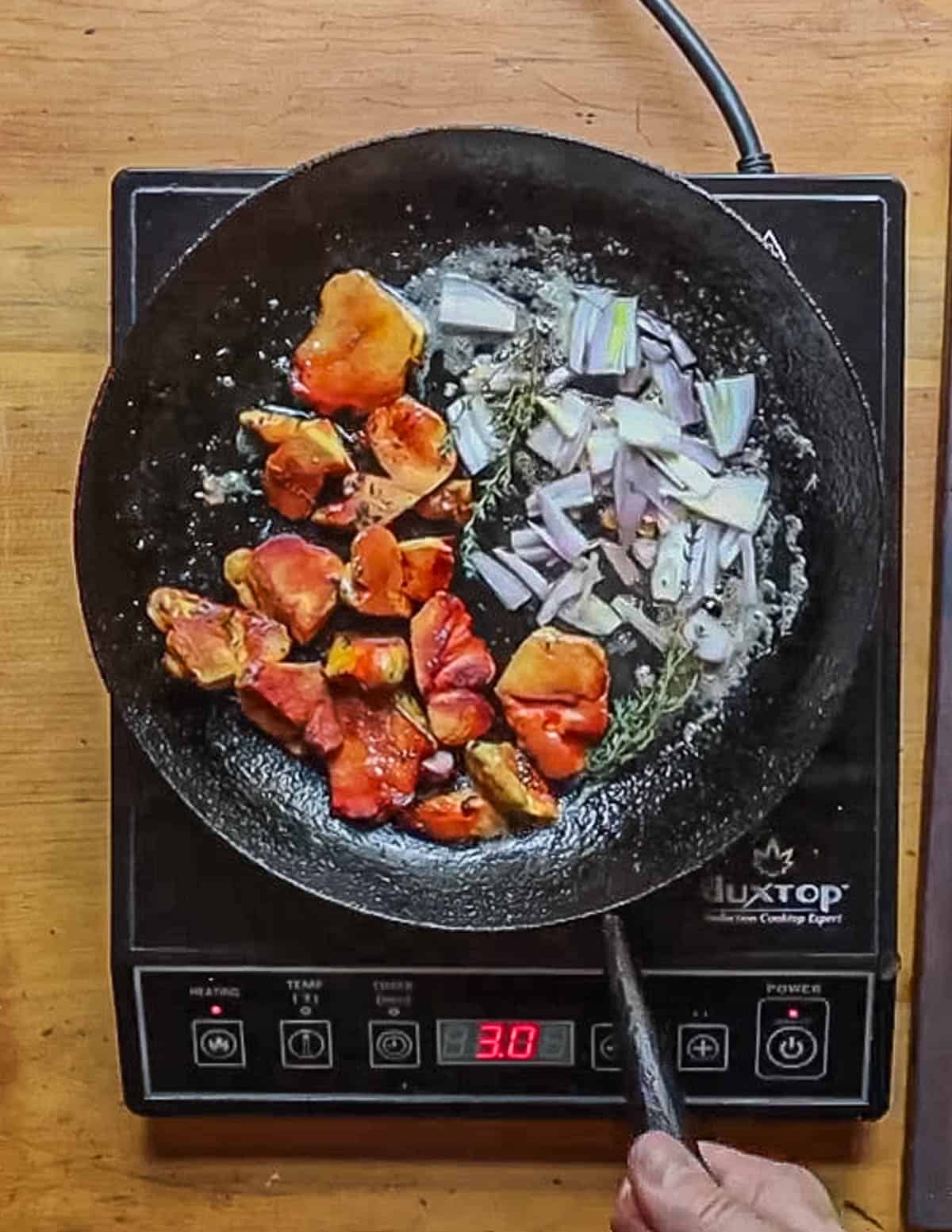 Everything is cooked until the shallots are tender. Then the mushrooms are ready to serve.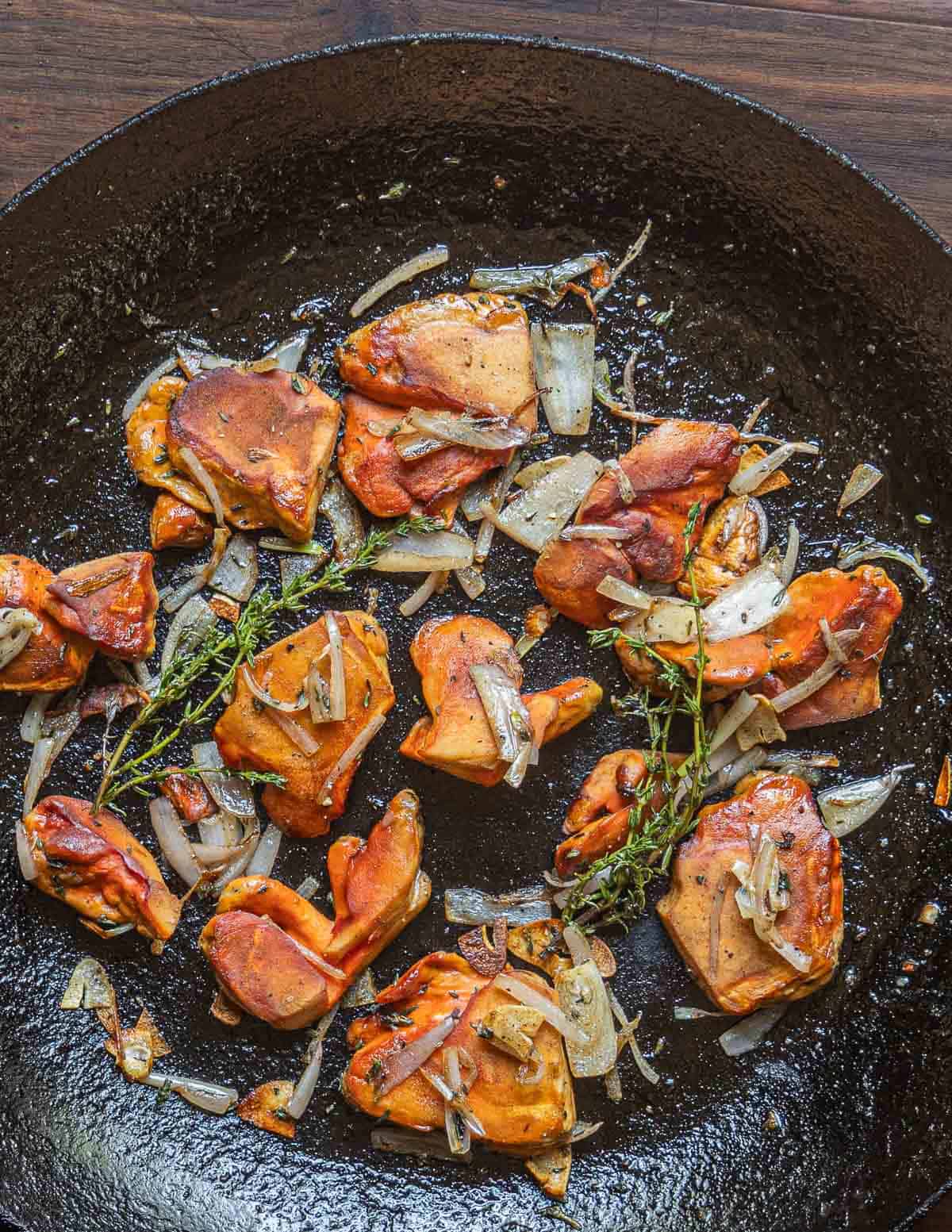 Chicken Mushroom Fajitas
One of my favorite things to do is to add sliced bell pepper and onions, and cooking the mixture down to serve like fajitas. Add a splash of tomato sauce, fresh ground cumin, and hot chili pepper to taste. Serve with warm corn tortillas and your favorite condiments.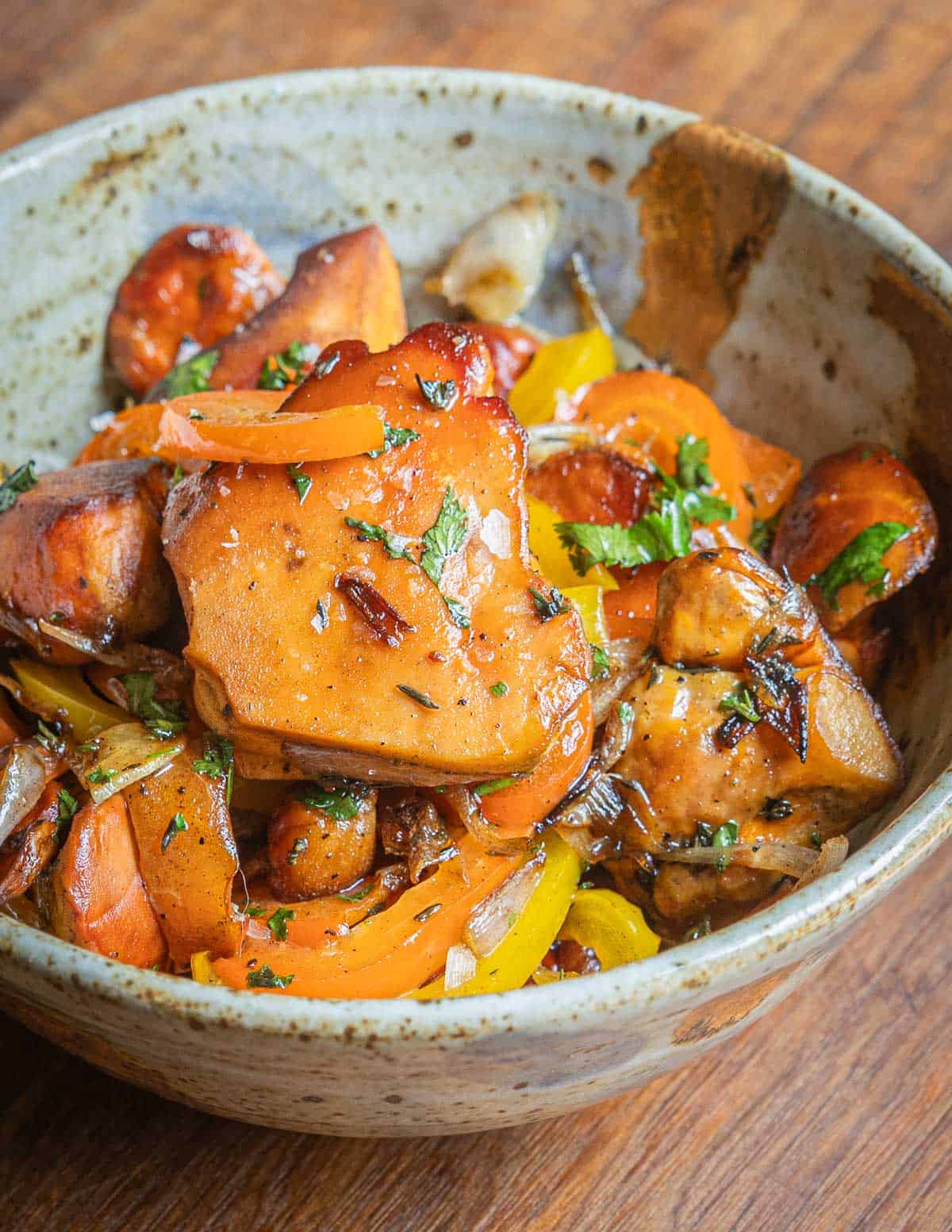 Dry sauteed chicken of the woods
If your chicken mushrooms are very fresh, harvested after a rain, or give off yellow juice when cut it can mean they contain a lot of natural water. These are often the finest mushrooms to eat, and are extra soft and tender.
To dry saute them, cut the mushrooms into pieces and heat them in a non-stick pan until the water releases. After the water has evaporated, you season the mushrooms with salt and add your fat to the pan. This method is great for making sure the mushrooms don't turn out oily since they won't absorb as much fat cooked this way.
Related Posts
Chicken Fried Chicken of the Woods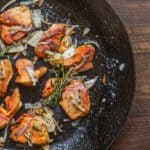 Print Recipe
Sauteed Chicken of the Woods
Simple sauteed chicken of the woods mushrooms with garlic and shallot, a simple, delicious recipe for a wild mushroom that tastes like chicken. Serves 2 as a side dish
Ingredients
5

oz

chicken of the woods mushrooms

2 oz 1 small shallot

1

large clove garlic

¼

cup

water

1

tablespoon

cooking oil

Kosher salt and fresh ground black pepper

½

teaspoon

Fresh chopped thyme

or a small handful of thyme sprigs
Instructions
Cut the chicken mushrooms into ½ inch thick pieces. Bring the mushrooms and water to a simmer in a 10 inch saute pan on medium-high heat. Allow the liquid to reduce.

When the pan is nearly dry, push the mushrooms to one side of the pan. Add the oil and garlic and allow to cook until the garlic is golden and aromatic.

Season the mushrooms with a pinch of salt. Add the shallot, and thyme, still keep the mixture on one side of the pan. After 1-2 minutes, toss the mushrooms with the shallot and continue cooking.

Double check the seasoning for salt and pepper and adjust until it tastes good to you. Serve the mushrooms as part of a larger dish like chicken of the woods with mushrooms and peppers (refer to the video), or as a simple mushroom side dish.
Video
Notes
Sauteed chicken of the woods with onions and peppers
A simple variation on the basic recipe. I like to serve this as I would fajitas. 
Follow the recipe as above, adding 1 thinly sliced and seeded bell pepper along with the shallot. You can also add a small yellow onion instead of the shallot. Cook the mixture on medium heat until the peppers are just tender.
I like to add a splash of tomato puree or sauce to help keep it juicy, along with fresh ground cumin, crushed red pepper, and chopped cilantro to taste. 
Nutrition
Serving:
2.5
oz
|
Calories:
86
kcal
|
Carbohydrates:
4
g
|
Protein:
2
g
|
Fat:
7
g
|
Saturated Fat:
1
g
|
Polyunsaturated Fat:
2
g
|
Monounsaturated Fat:
4
g
|
Trans Fat:
0.03
g
|
Sodium:
17
mg
|
Potassium:
297
mg
|
Fiber:
2
g
|
Sugar:
0.4
g
|
Vitamin A:
0.1
IU
|
Vitamin C:
0.5
mg
|
Calcium:
34
mg
|
Iron:
9
mg