It may be small, but with its bright lemony flavor, sheep sorrel makes a great addition to any foragers repertoire. It's great used in soups, sauces and garnishes. Here I'll walk you through how to identify and use it in the kitchen.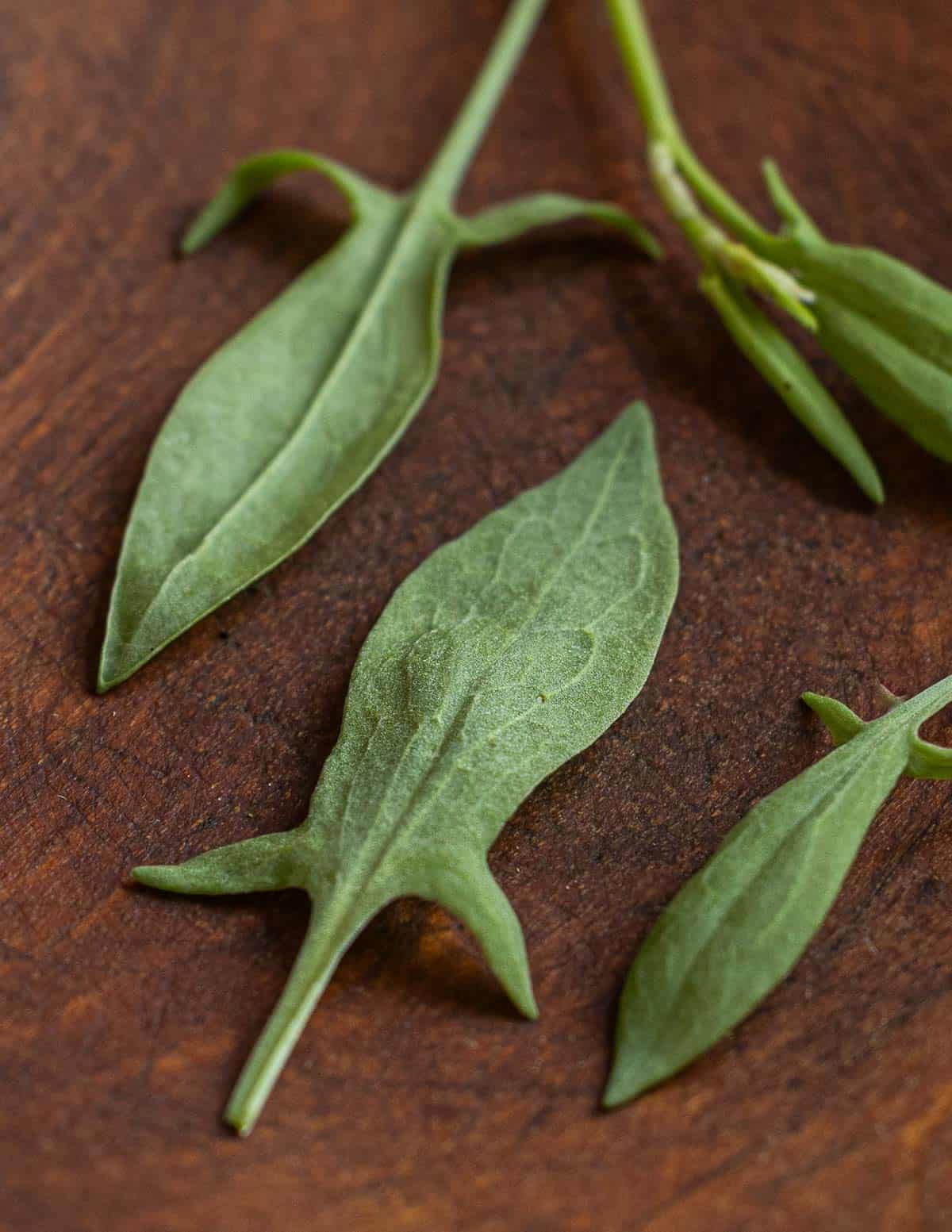 What is Sheep Sorrel ?
Common sheep sorrel (Rumex acetosella) is a perennial herb in the buckwheat family (Polygonaceae). It's also known as field sorrel, red sorrel, sour grass weed and sour weed. It's easy to identify from its arrow-shaped leaves.
Many people have memories eating the tart leaves as a child and kids seem to have an affinity for it. While there's many varieties of wild sorrel, according to Sam Thayer, none are as widespread or as common as sheep sorrel.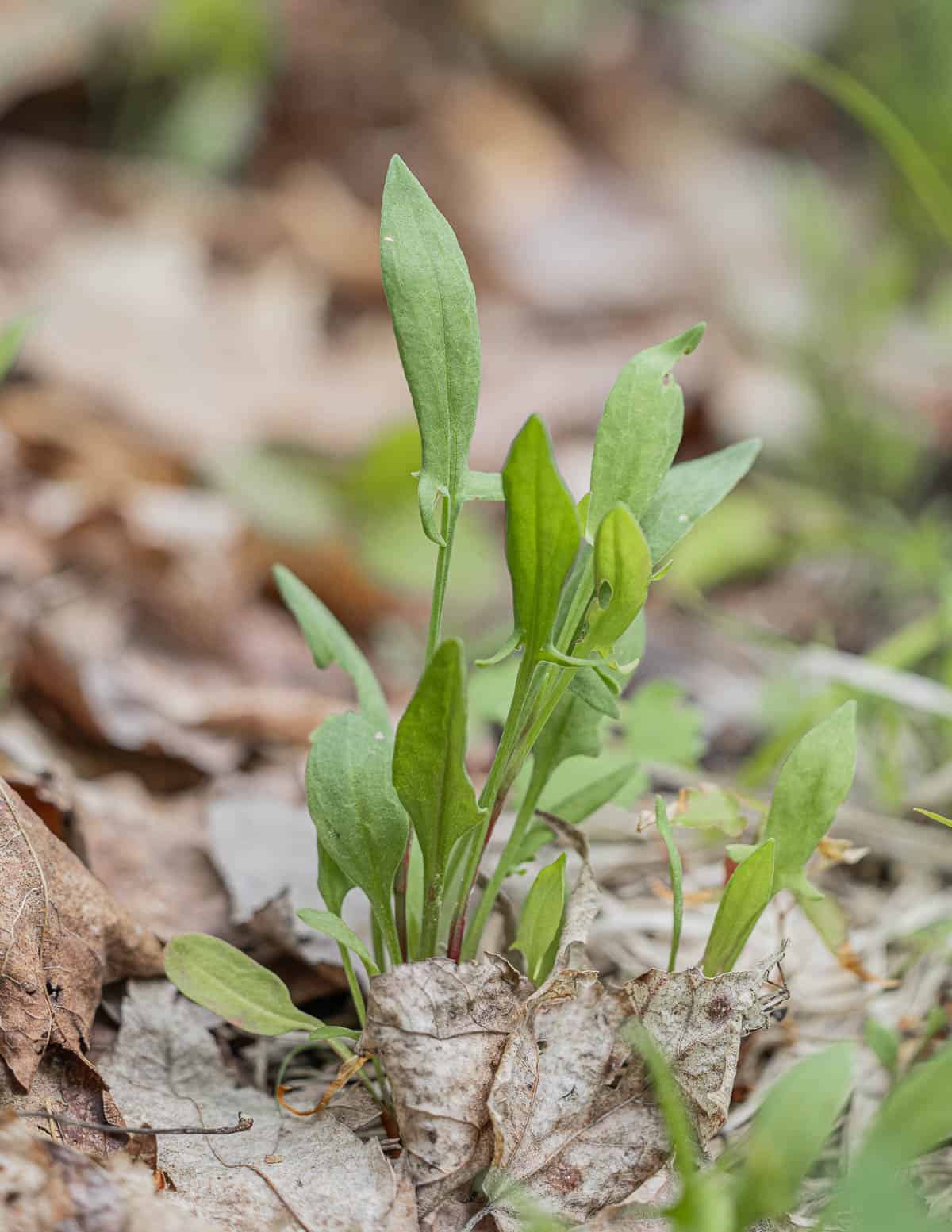 Reputedly native to Europe and Eurasia, sheeps sorrel is a perennial weed that can be invasive. It spreads both by seeds and creeping rhizomes or root suckers and is a common plant of disturbed areas across North America. It thrives in areas with sandy, acidic soil like coniferous forests and pine barrens where I pick wild blueberries.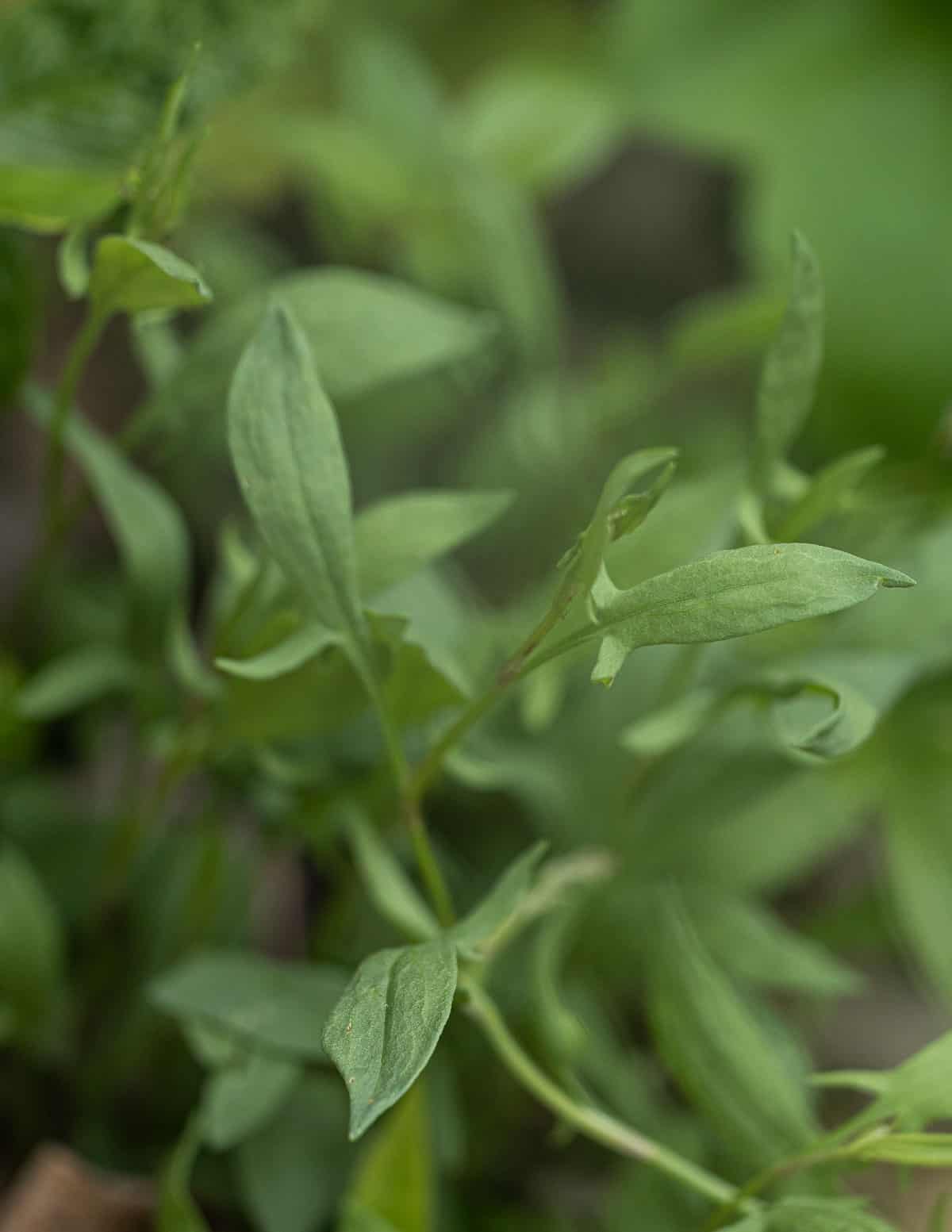 The plant is related to docks, and you'll see the resemblance in their flowering stalks with tiny green and rusty brown flowers in the early summer.
Below: sheep sorrel flowers are very small, the size of a mustard seed. Male and female flowers are borne on separate plants. Male flowers are yellowish-green while female flowers are reddish.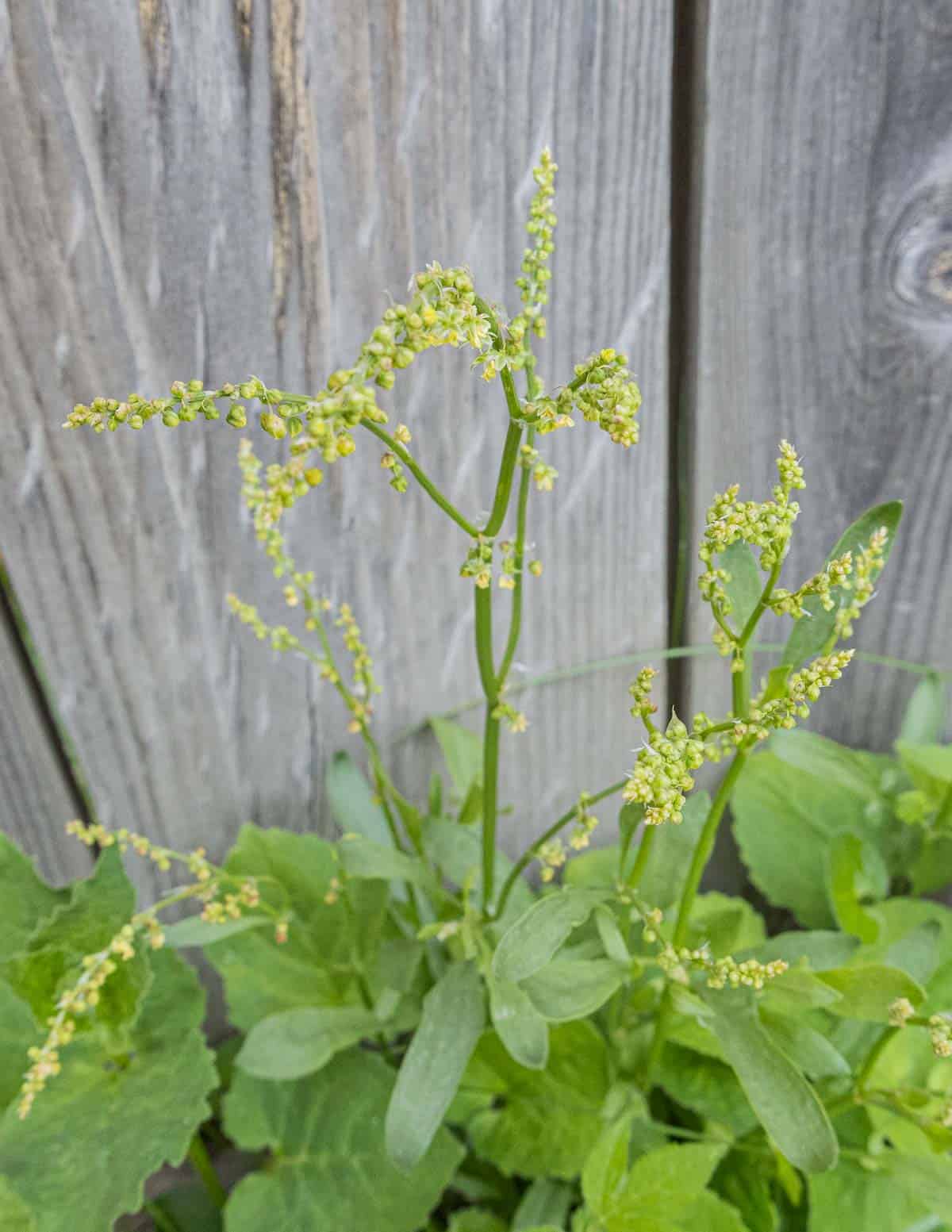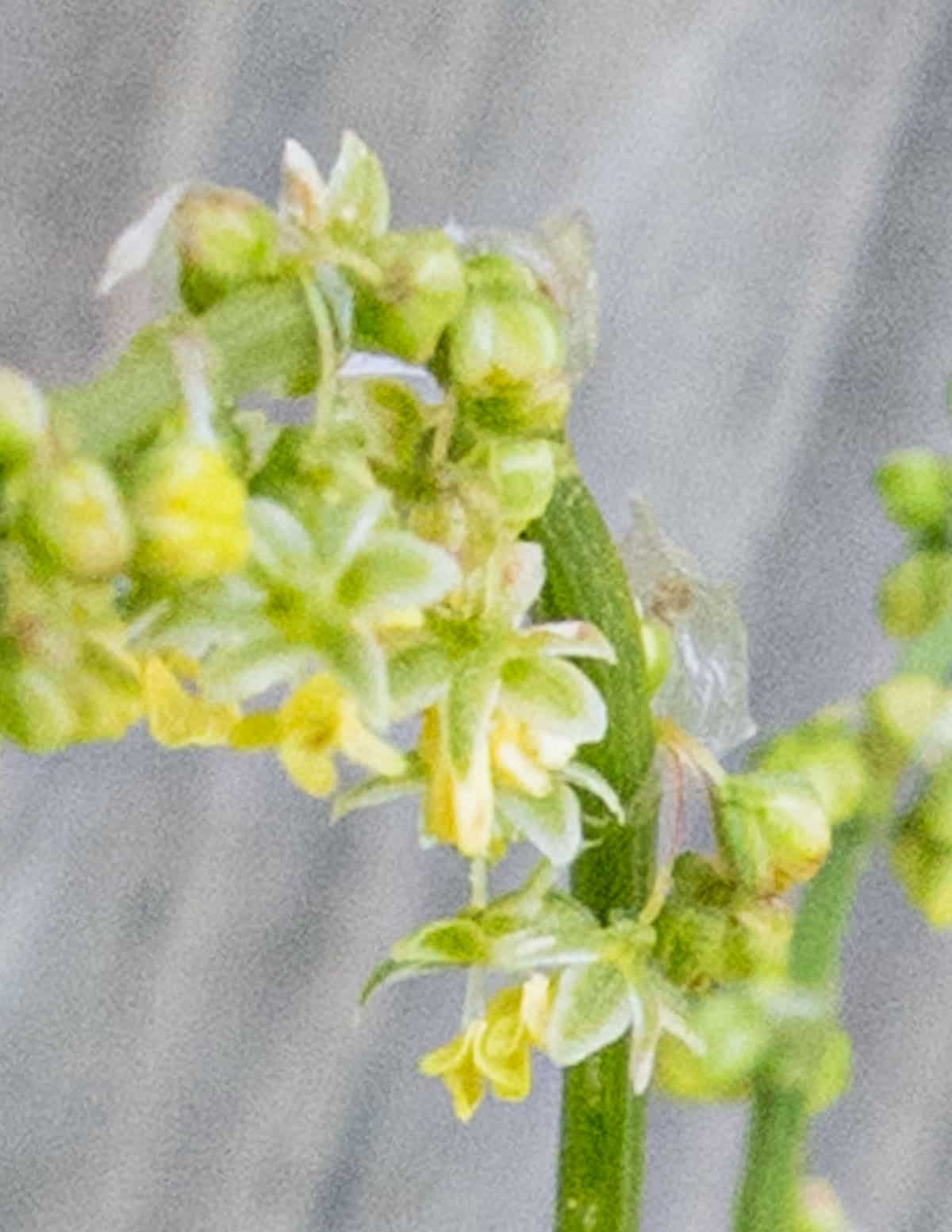 Identification
An easy plant to identify, sheep sorrel grows basal rosette leaves in the spring roughly ¾ to 2 ½ inches long and up to ¾ inches wide.
The sour-tasting, spoon-shaped leaves have typically have flares at the bottom, giving them an arrowhead shape. Young leaves at the base may not have the flares and may be simple ovoid.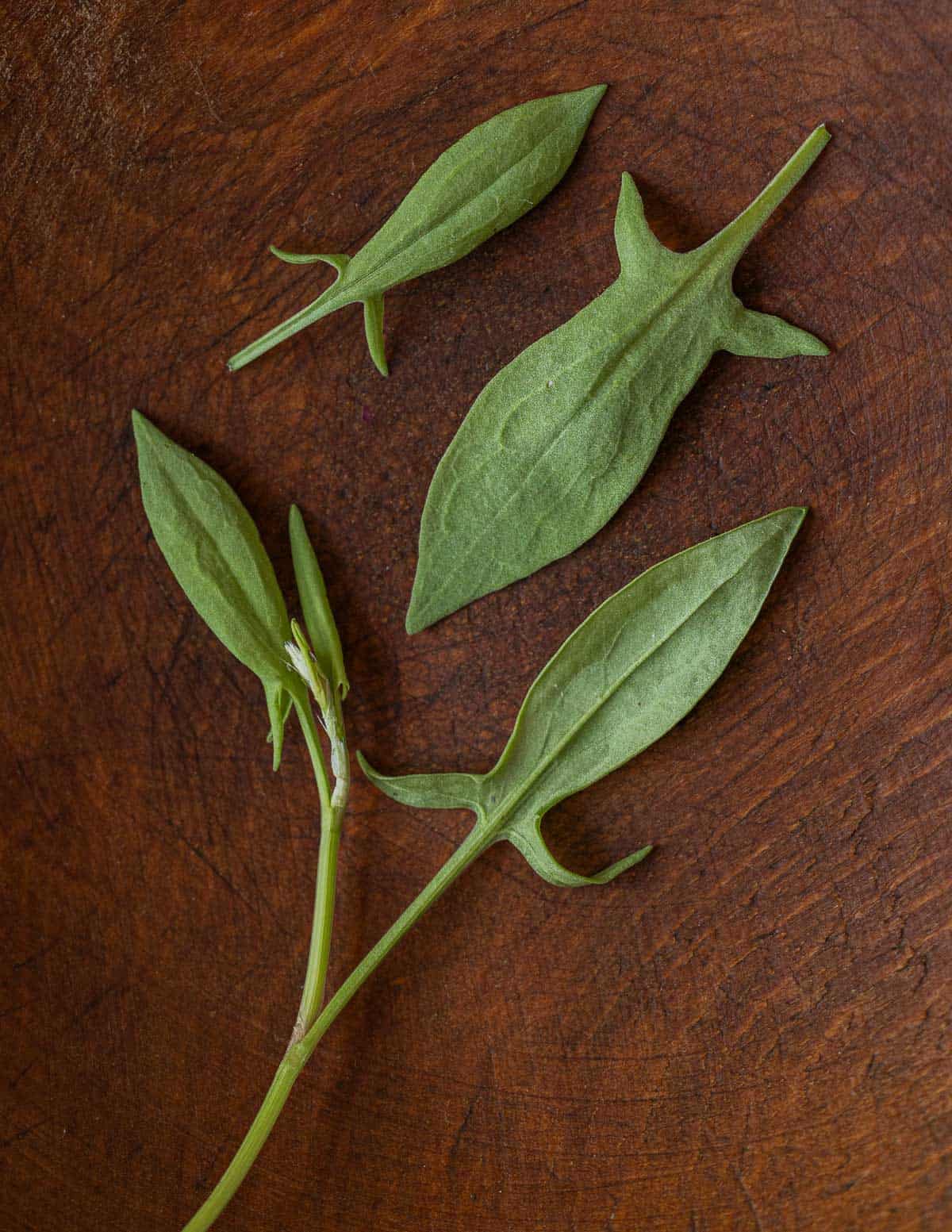 Sheep sorrel is closer in size to wood sorrel than its cousin garden sorrel (Rumex acetosa) which is much larger. Even at the flowering stage, it rarely exceeds 14 inches in height.
Below: Sheep sorrel growing in the sandy soil of my gravel driveway.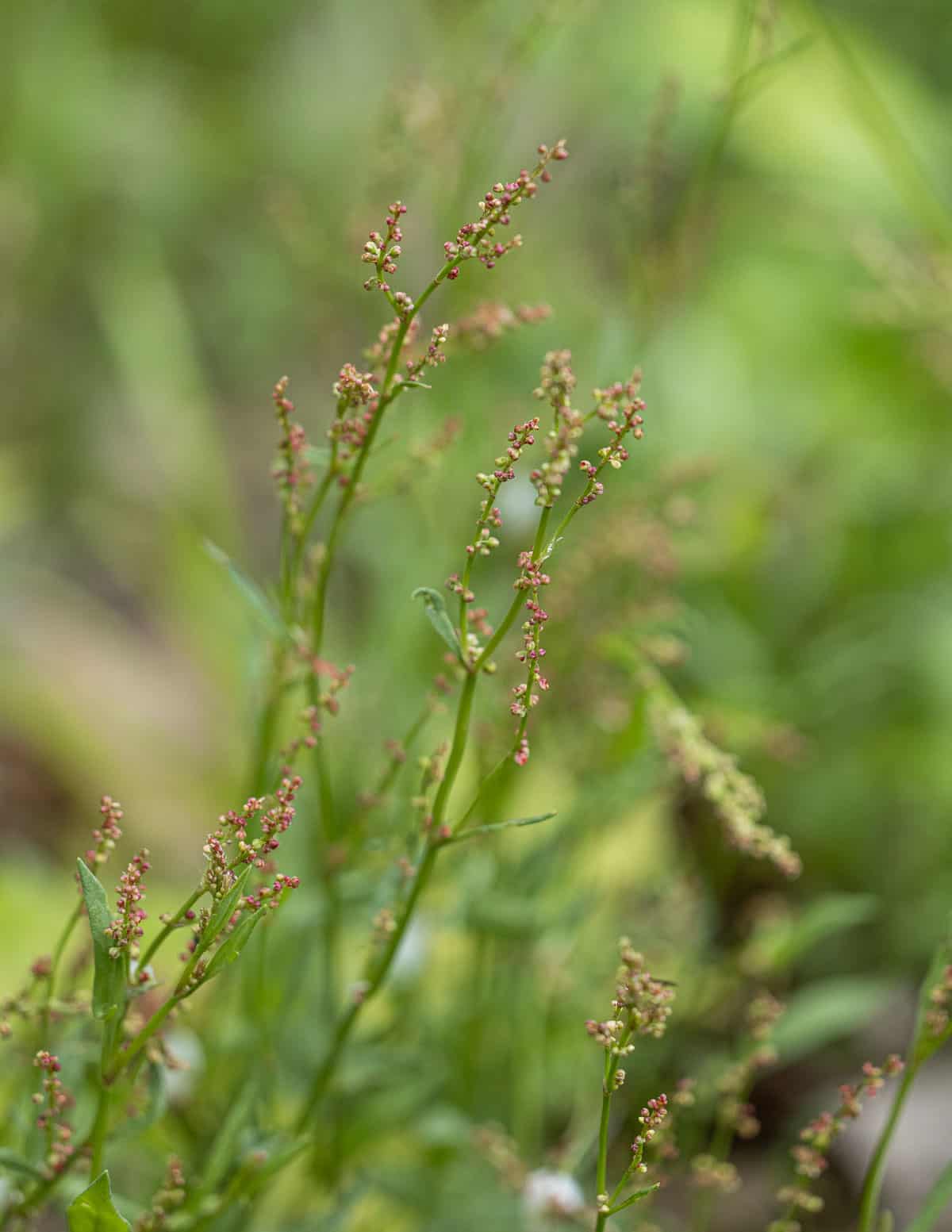 Harvesting
The young spring and fall leaves are the most tender and best for eating, but can be difficult to spot. Older leaves harvested from the flower stalks are fine and become tender after cooking if you remove any tough stems.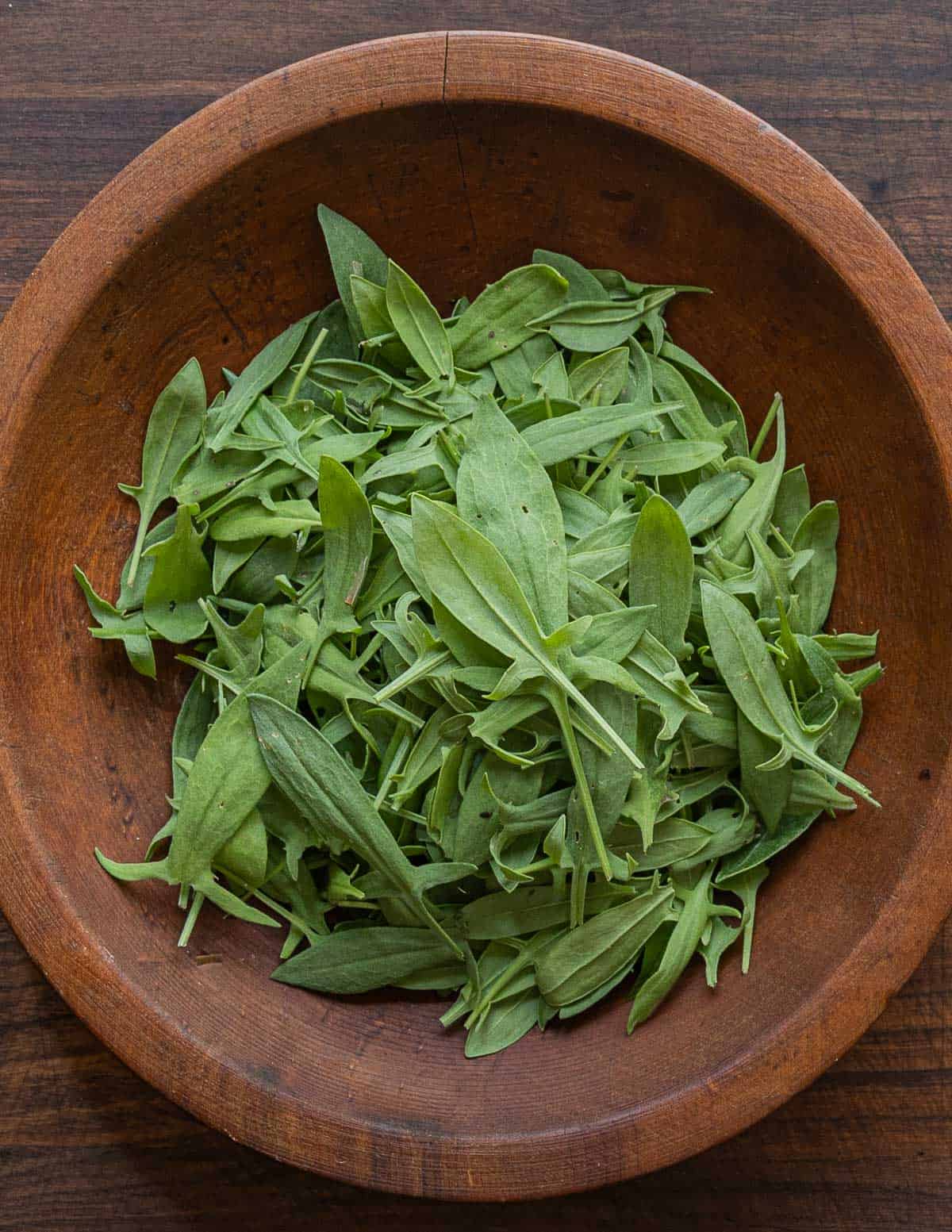 I look for large patches for easy harvesting, clipping the basal leaves or whole plants if needed with a scissors.
After harvesting, the leaves should be refreshed in cold water, drained, rolled in a dry towel and stored in a zip-top bag in the fridge where they'll last for 6-7 days, or longer, as pictured below. Change the towel occasionally.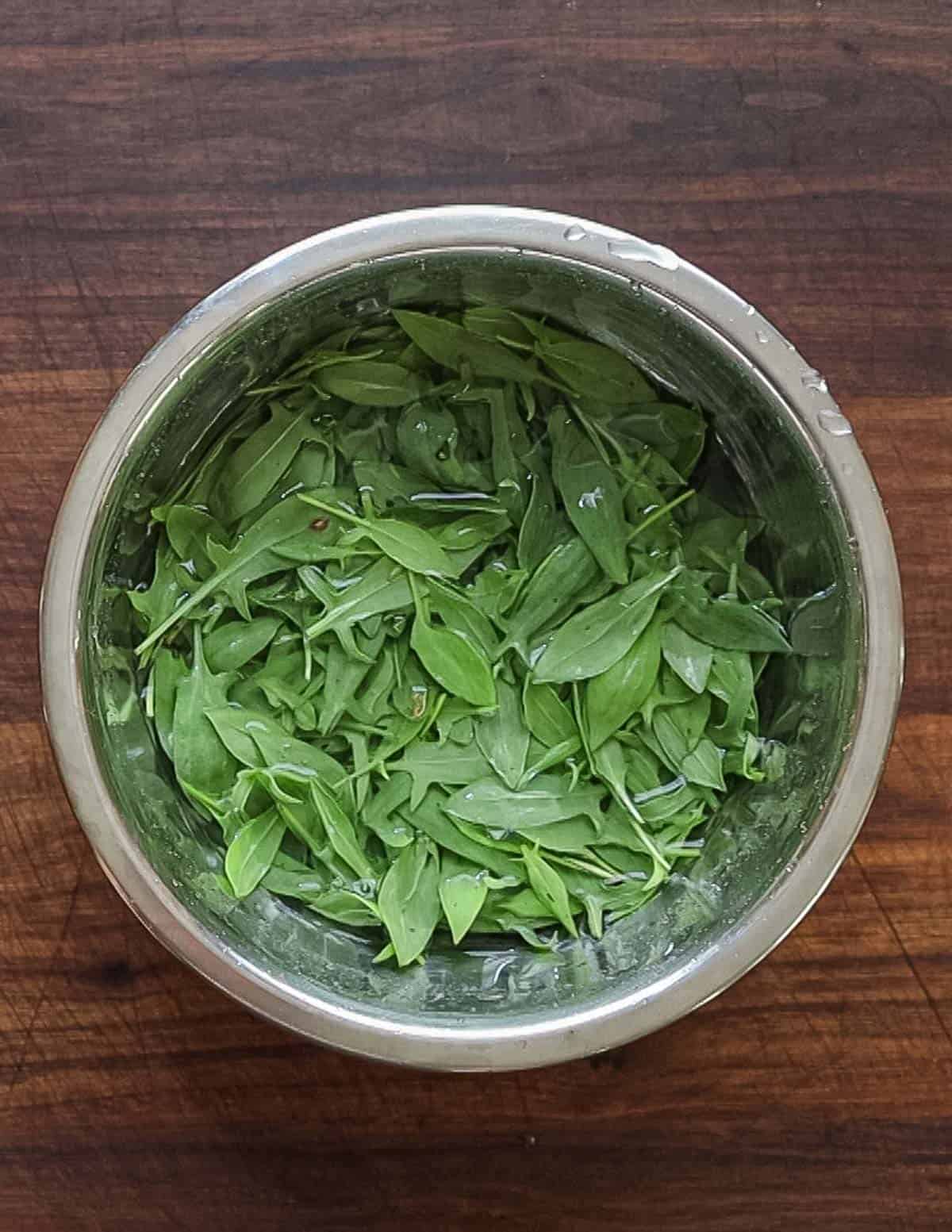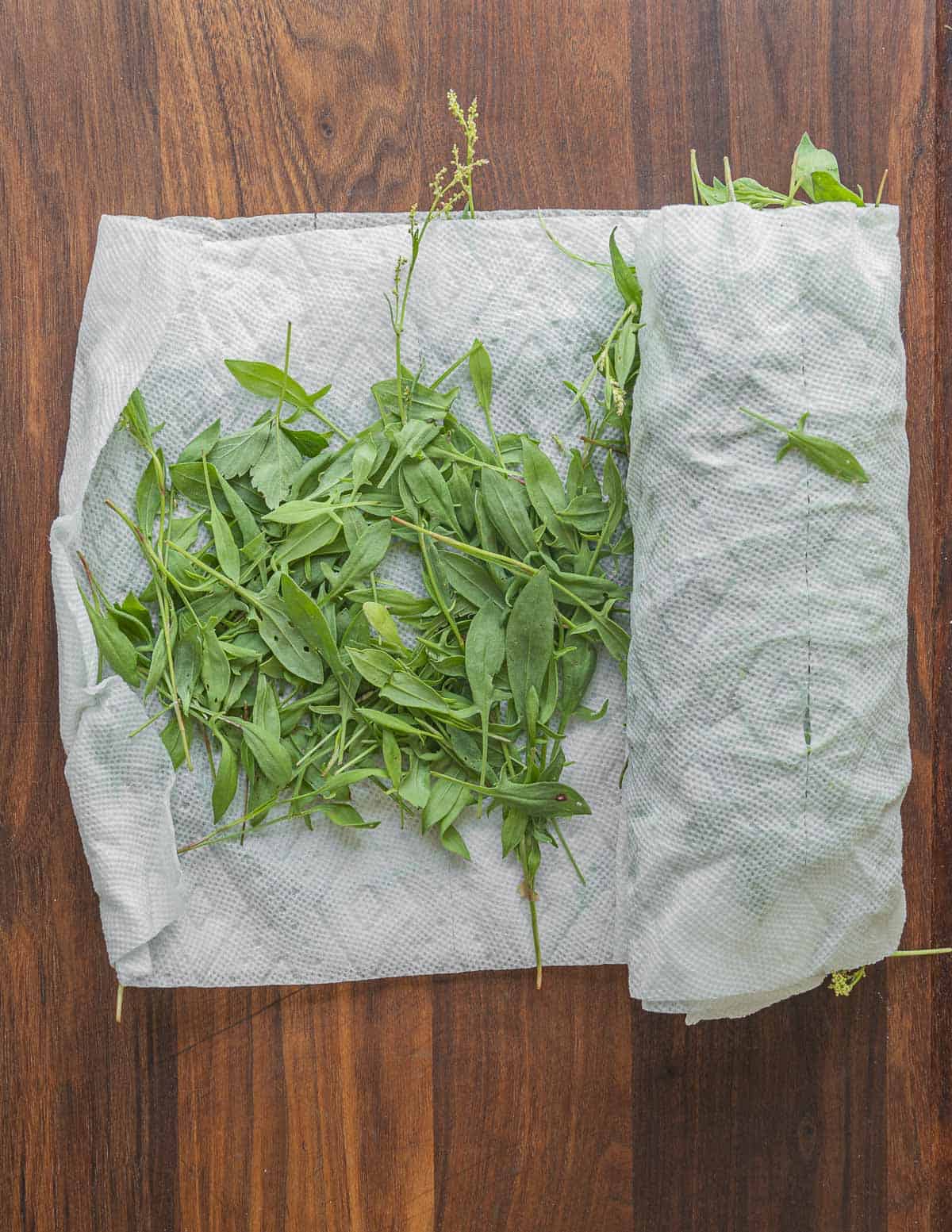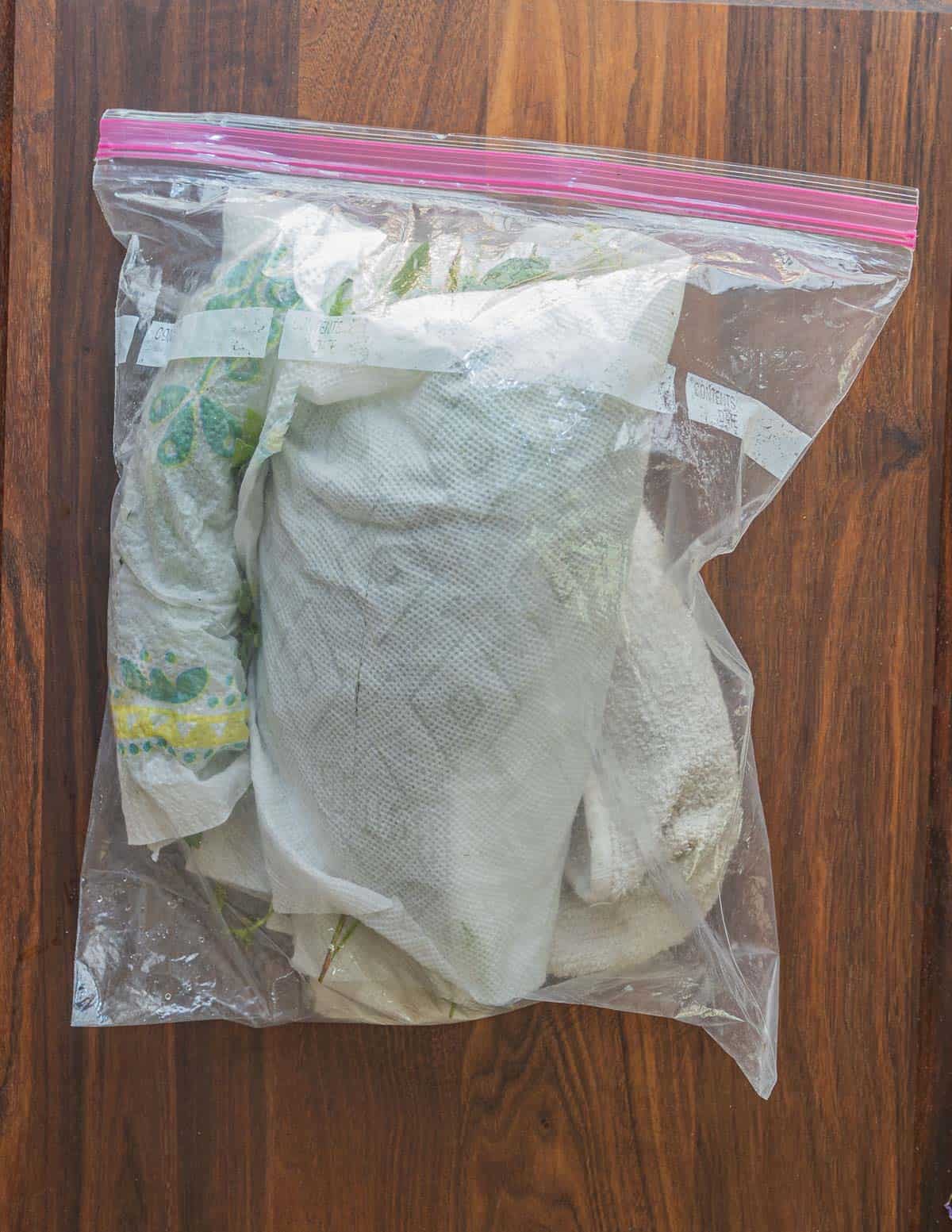 Using Sheep's Sorrel as an Herb
Many people enjoy wood sorrel, but sheep sorrel gives you much more bang for your buck. The succulent, tart leaves are great as a garnish and in salads, but they're at their best added by the handful and cooked into a dish as an herb. Use it anywhere a sour flavor or lemon would be welcome, good examples are:
Sorrel soup, especially with potatoes
Sauces warm and cold
Rice dishes
Fillings for pasta, dumplings, etc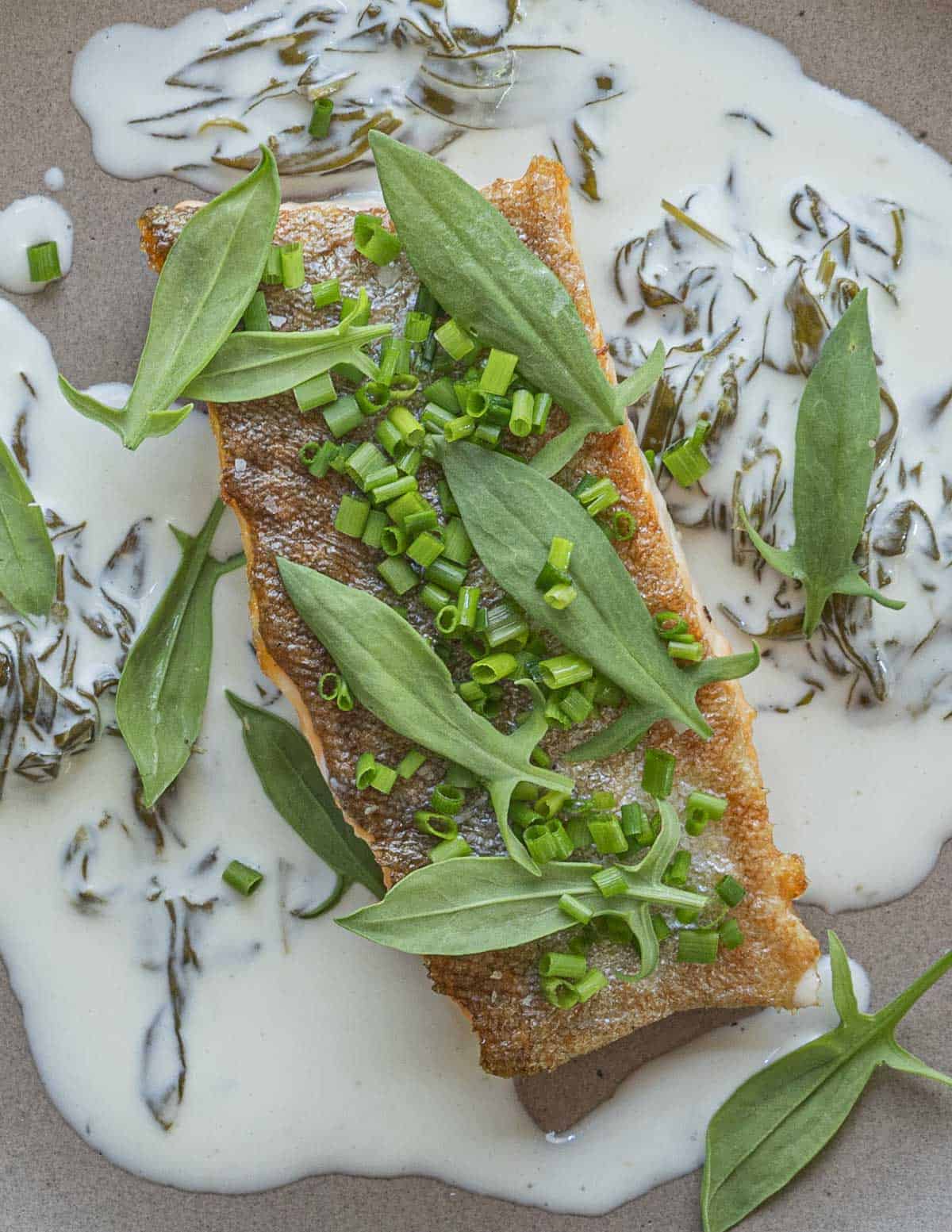 Not many chefs know of the plant, but it's sold commercially by a few farmers like my friends at Dragsmith who supply restaurants in the Twin Cities like Owamni.
Iconic French Chef Michel Bras was known to use the herb in his signature Gargouillou ("gar-goo-you"), a daily changing dish that could include 30-60 individual plants prepared in different ways.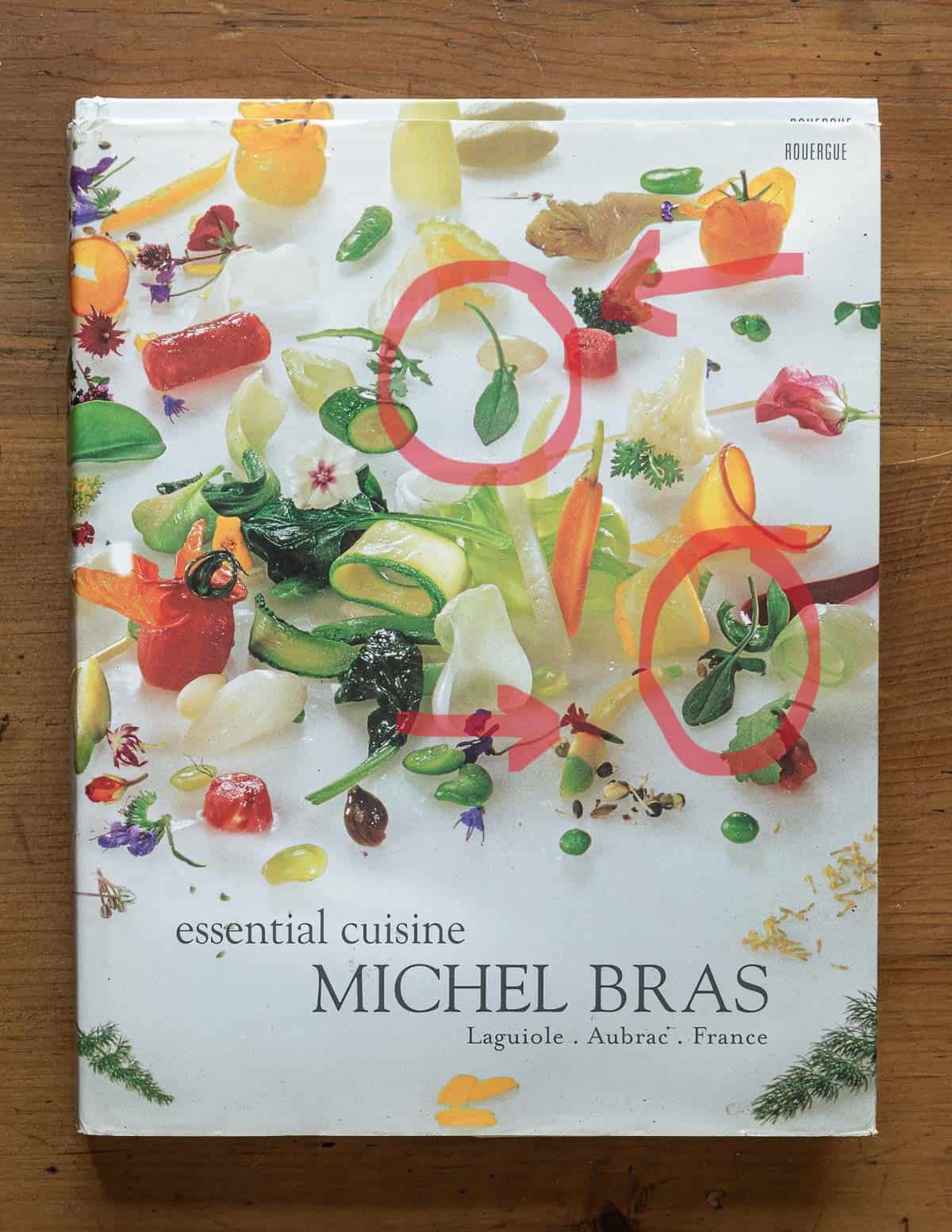 When I was at the Milkweed Inn recently, my friend Chef Iliana Regan used sheep sorrell mixed with herbs on a whitefish dish.
Below: whitefish with ramp gribiche and sheep sorrel and herbs. Image by Jesse Roesler.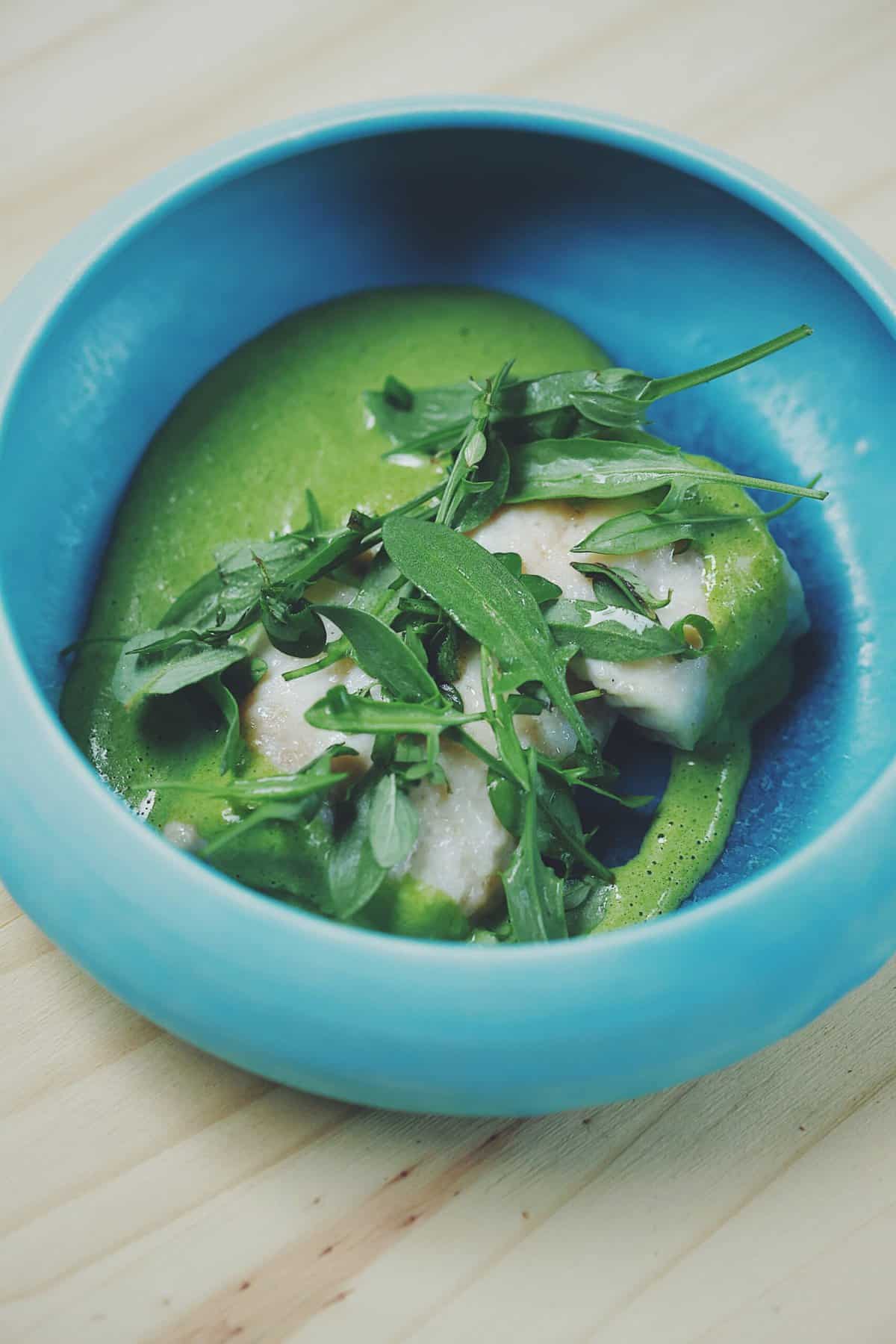 Arguably the most famous sorrel recipe is saumon à l'oseille (salmon with sorrel sauce). A cornerstone of French Nouvelle Cuisine from the 1960's-70s, it was created by the Troisgros brothers at their 3-star Michelin restaurant in Roanne, France.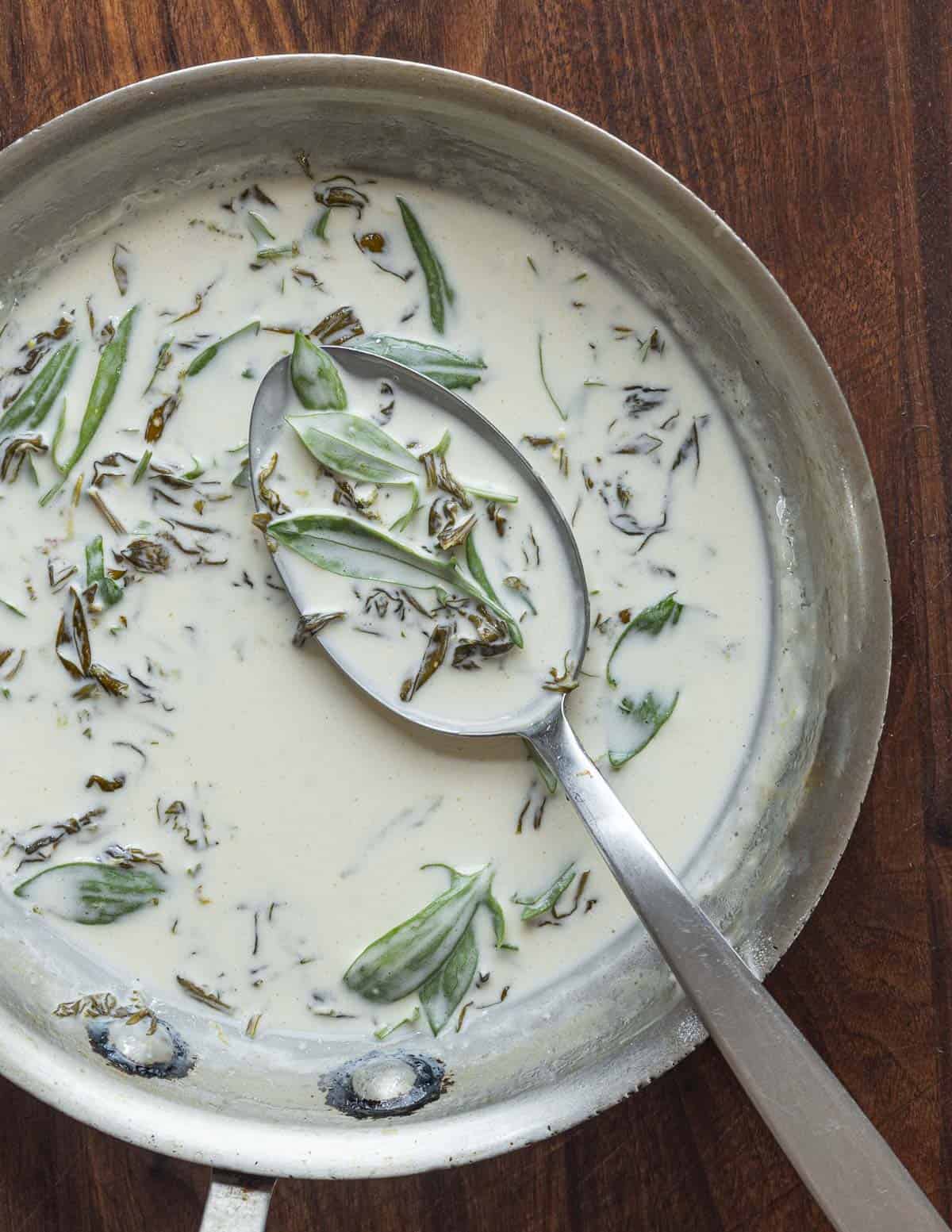 Sheep sorrel makes a fantastic adaptation of the famous sorrel sauce you can make at home, demonstrated in the video below. There's a link to the full recipe in the Related posts section.
Related Posts
Aveluk: Aremnian Dried Wild Sorrel (Dock)
Sheep Sorrel Benefits
Sorrel has a number of reputed medicinal uses and benefits. Some are verifiable, like its use to prevent scurvy as it contains vitamin C.
One of the more interesting, but anecdotal uses of the plant is its use in essiac tea by Rene Caisse, Canada's "Cancer Nurse". Essiac tea was a cancer treatment developed by Caisse, who's best known for her legal struggles attempting to get national recognition for tea. Her story is described in the book Clinic of Hope: The Story of Rene Caisse and Essiac.
Like all the sorrels, sheep sorrel contains a high amount of oxalic acid, a compound also found in rhubarb, spinach and chard. If you've had a history of kidney stones your doctor may advise you to avoid sorrel and other high oxalate ingredients.