Rich with a nutty flavor, dock seed flour is something every forager should know about. Many will know dock as a cooked green, but its seeds and the papery husk that surround them are one of the best known wild flours available to foragers. Today I'll show you how to make dock seed flour and a few ways I use it in the kitchen.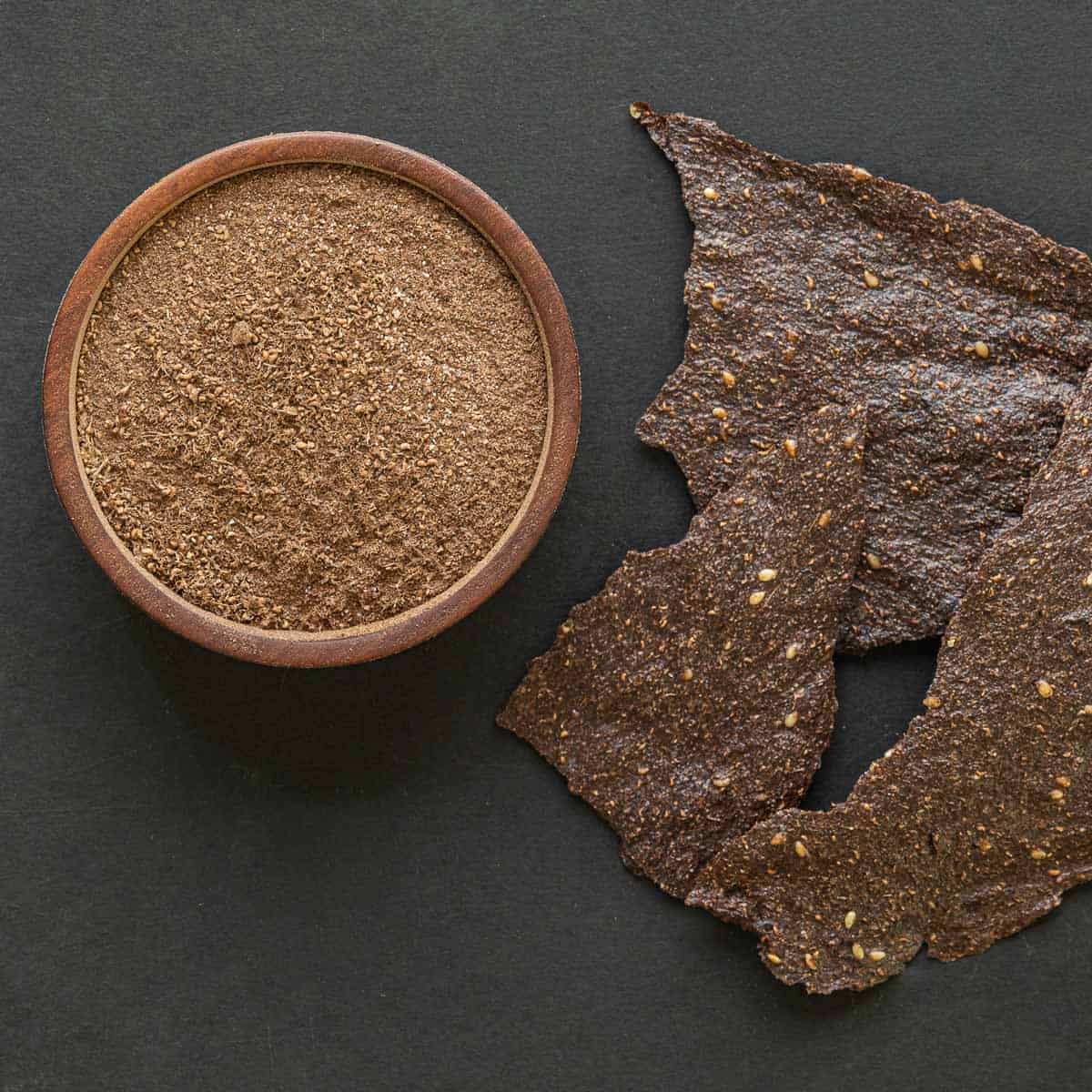 While there's many docks, curly dock (Rumex crispus) is the most commonly used and is what I recommend. Patience dock (Rumex patientia) should work too. One I don't recommend is bitter dock/broadleaf dock (rumex obtusifolius) pictured below.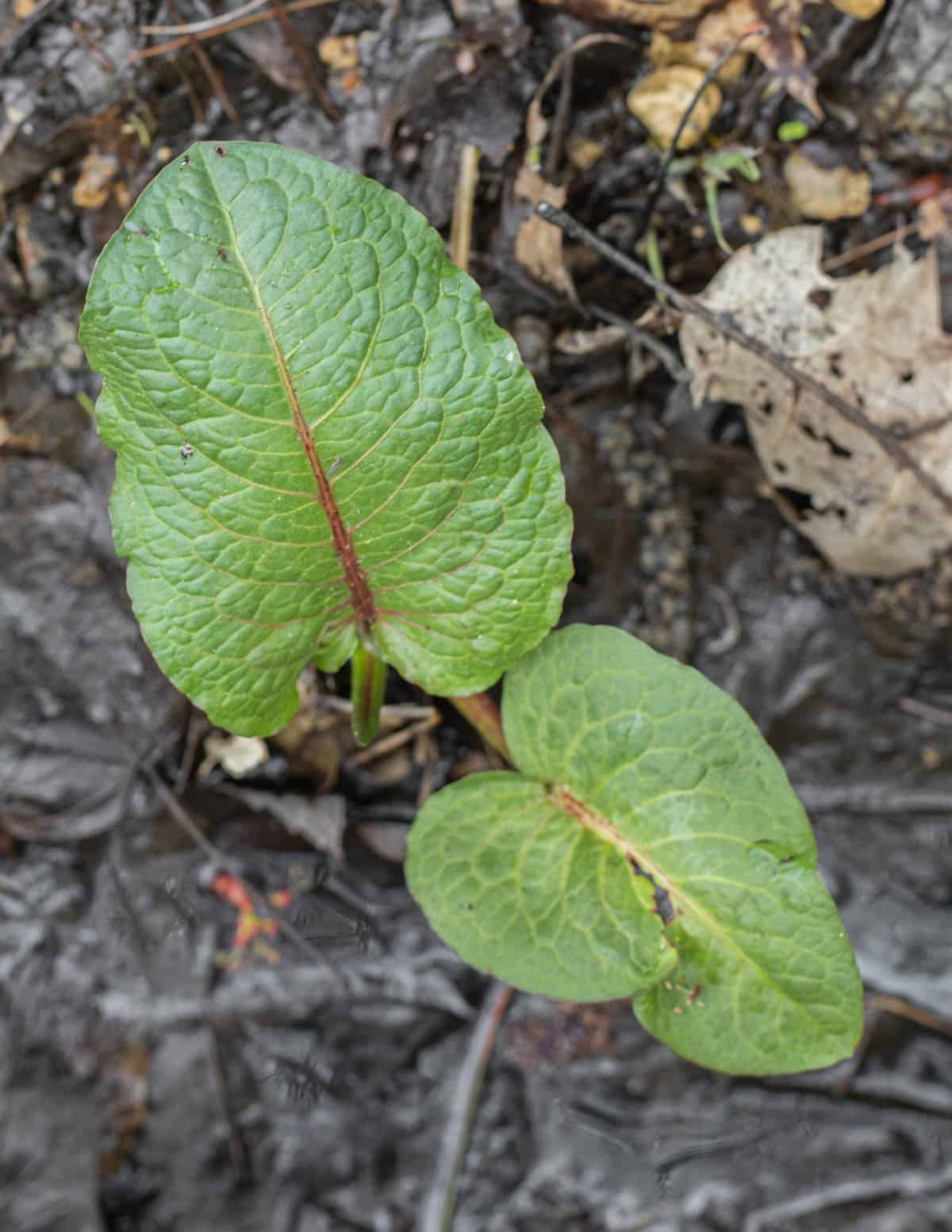 How to harvest dock seeds
Curly dock is a perennial that can be weedy or invasive in places. You can find dock growing in disturbed areas and around gardens and fields. After harvesting the young leaves in early spring it's just a matter of time before the seeds are ready.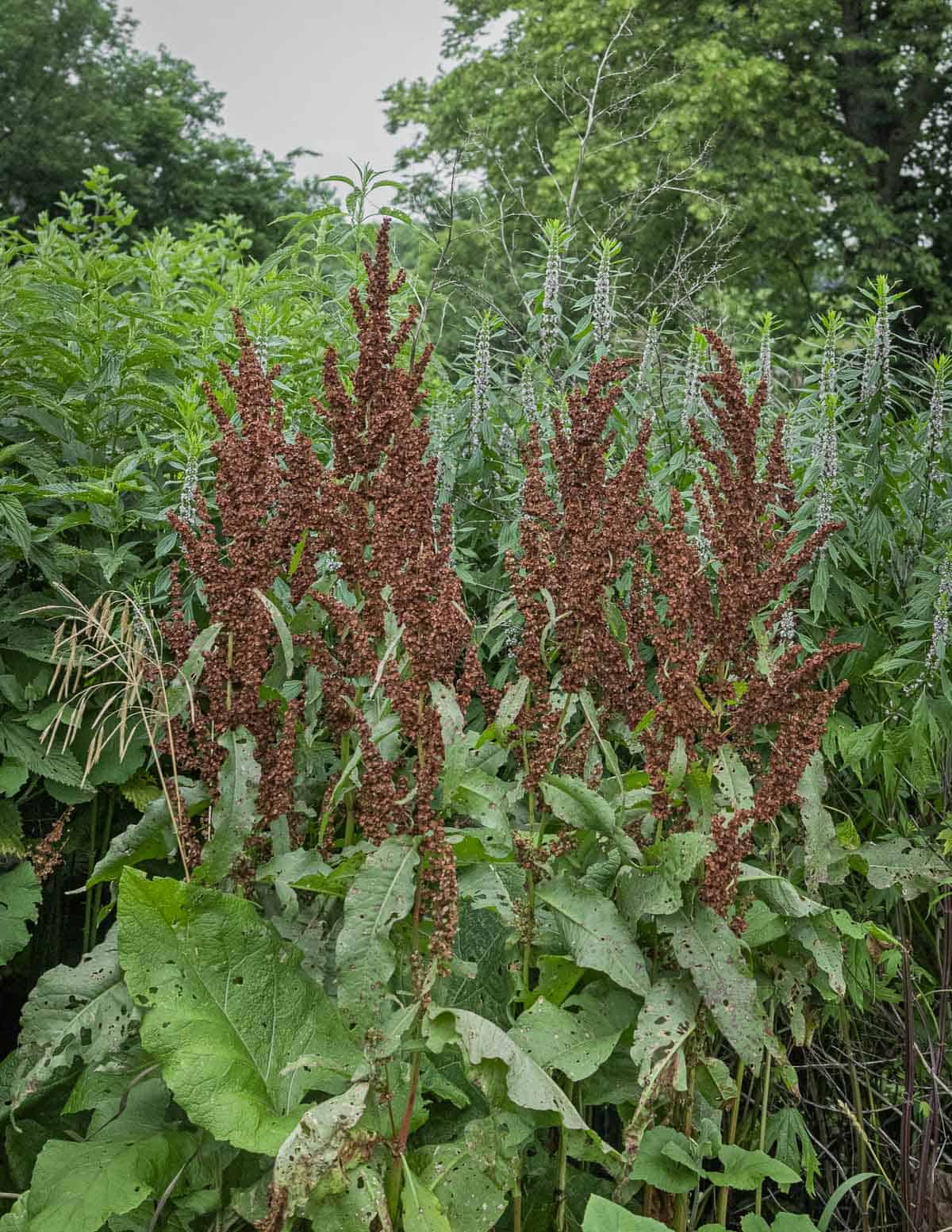 The seeds are borne on long stalks that can reach 3-4 feet above the basal rosette. Each small seed is held inside of a three-winged membrane or husk. It's easy to identify and can be gathered in large quantities.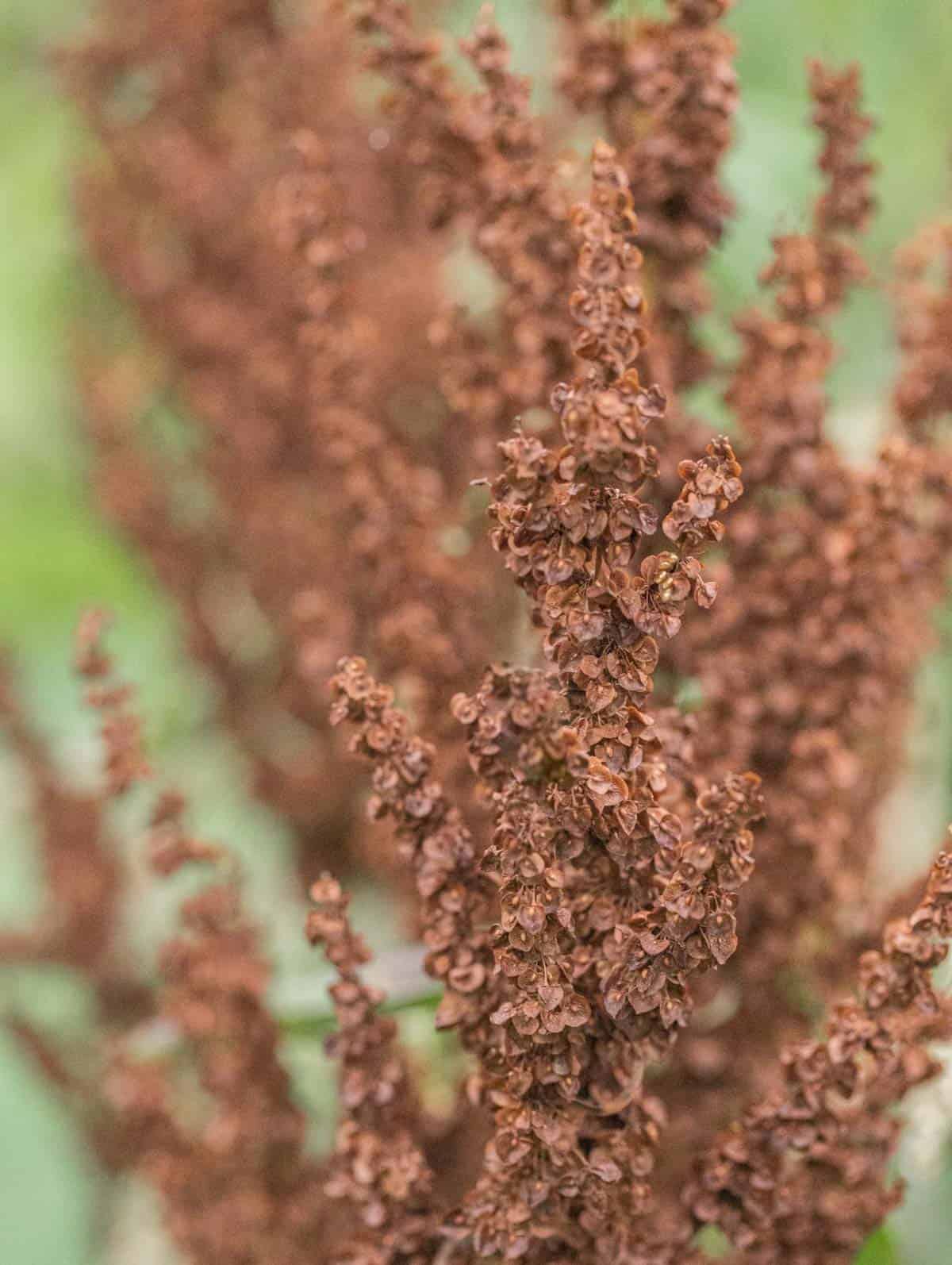 The seeds start out green, but will darken to a reddish brown with age. The dark brown stage is what you want for making dock seed flour. Green dock seeds are edible too, try adding a handful to a pot of rice as it cooks for a subtle tart flavor.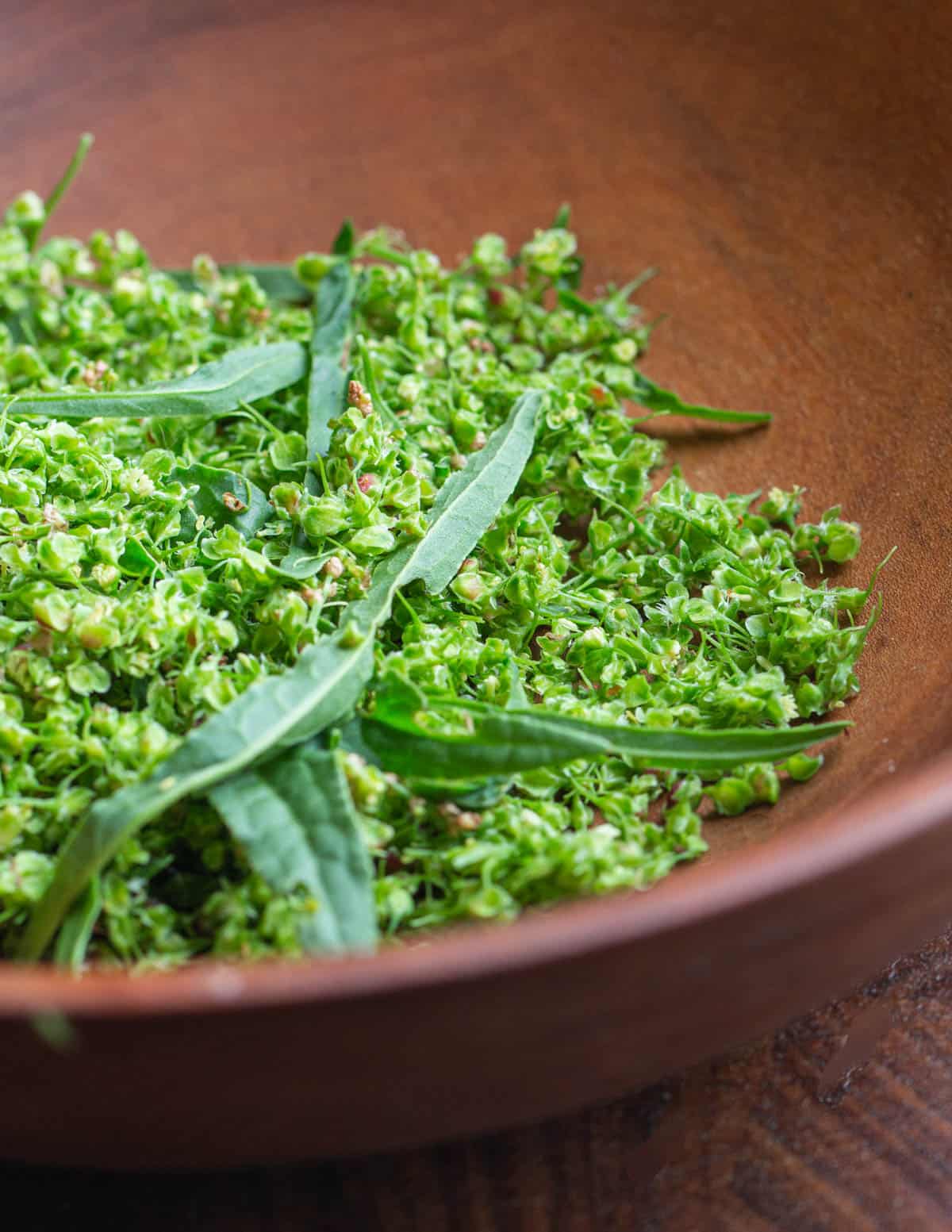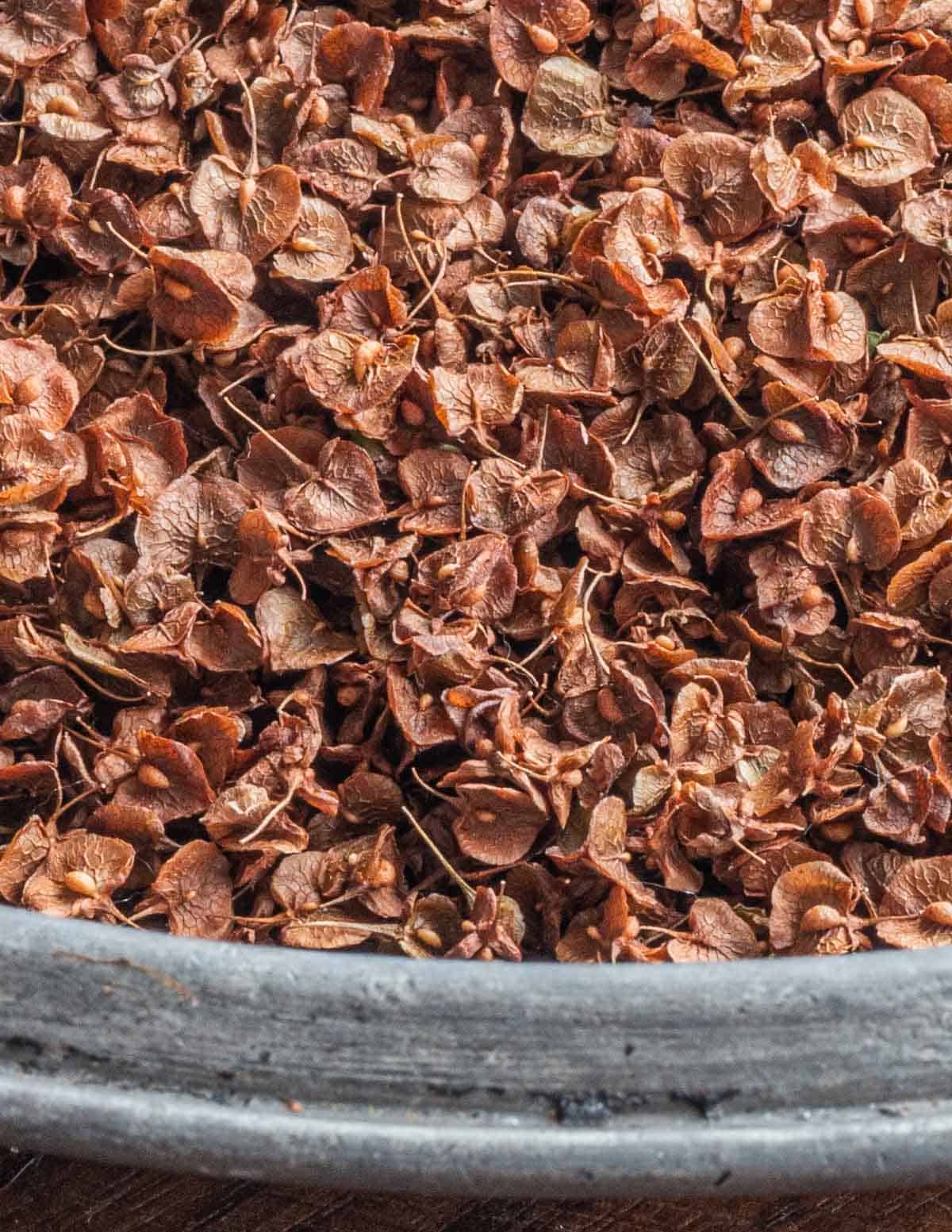 Harvesting dock seeds is easy: strip the seeds off of the stems and put in a paper bag. When you get home, the seeds should be picked over for green leaves and stems, which are discarded.
Below: stripping dock seeds from any remaining stems.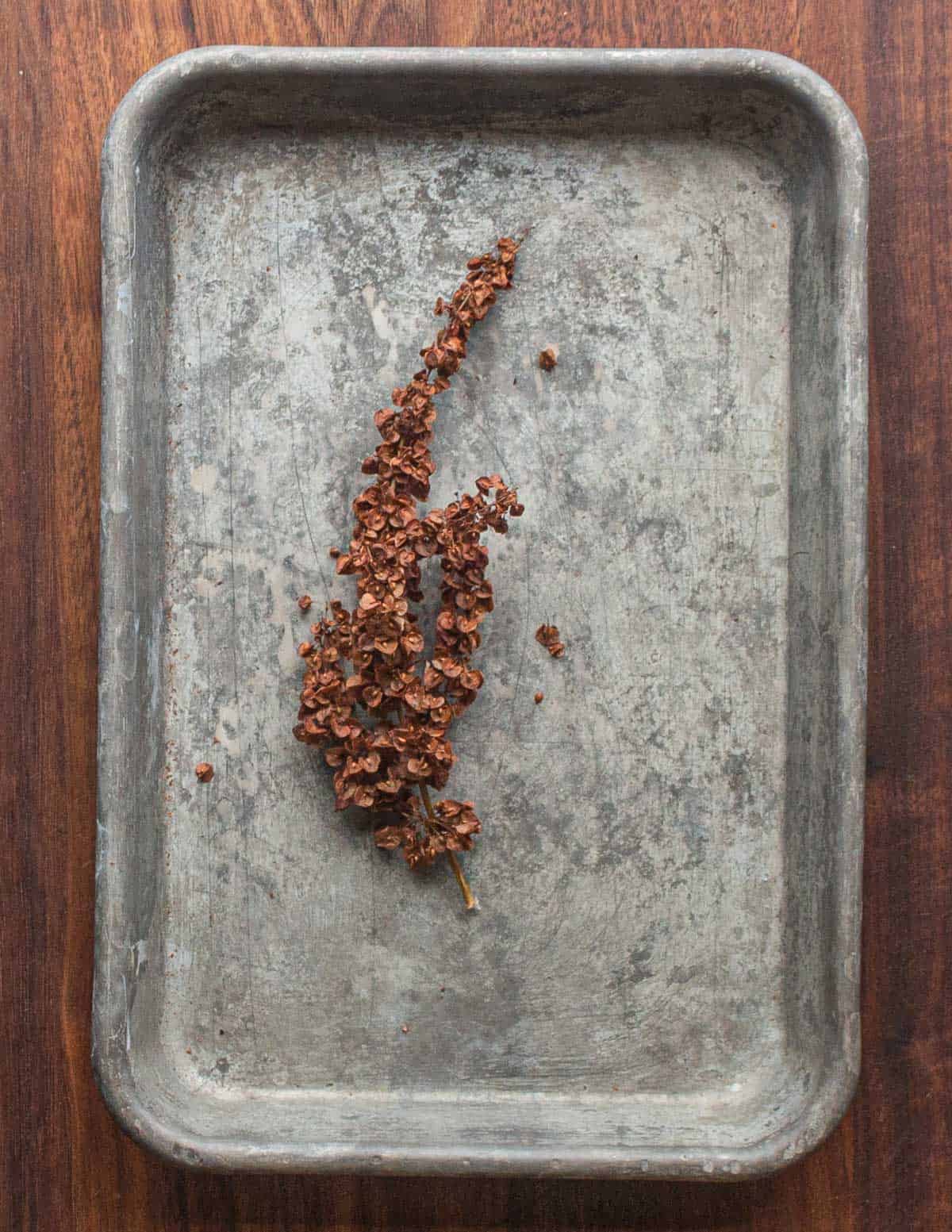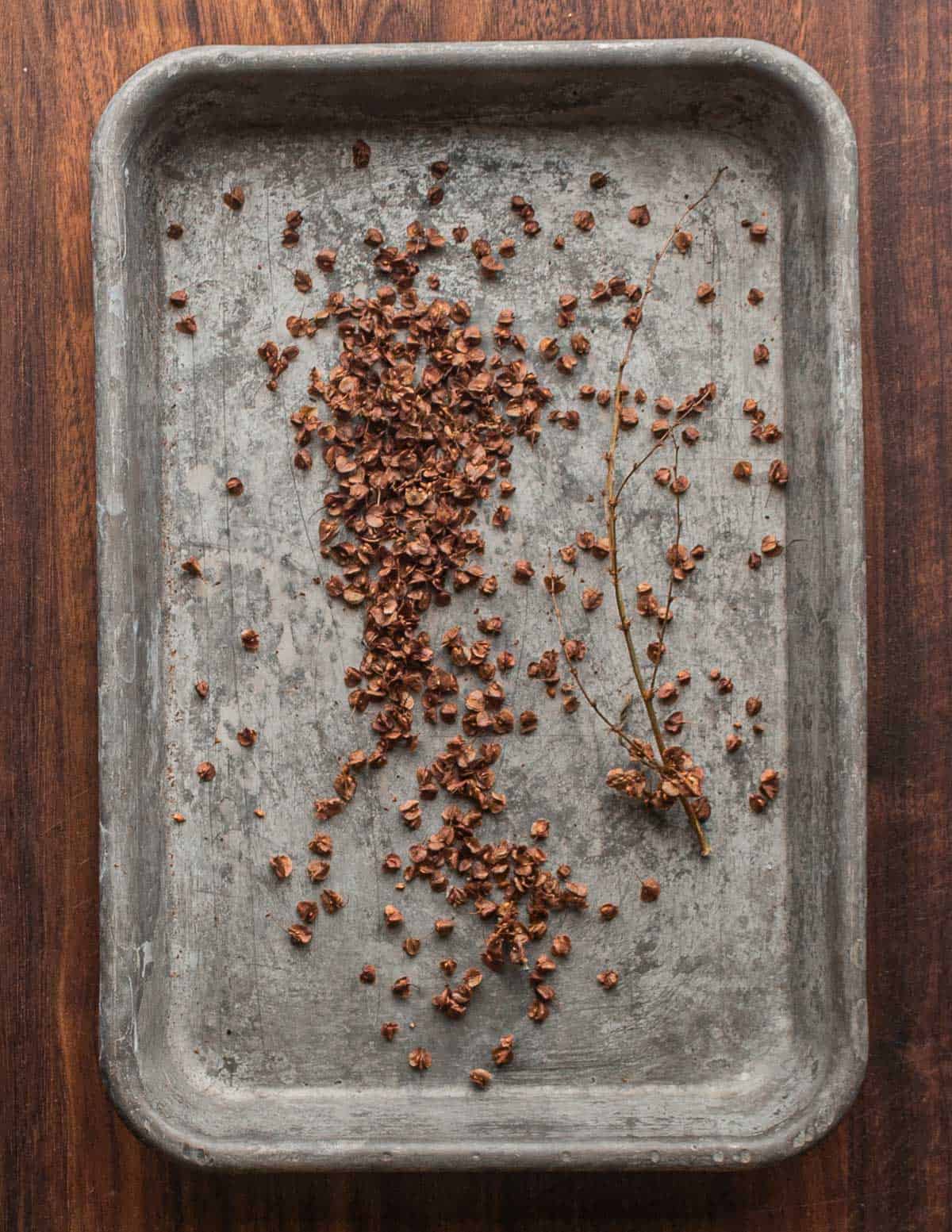 To make the seeds crisp enough to grind to a flour, they need to be dehydrated. Dry them on a high setting in a dehydrator (145 F) for 6-8 hours, or until cracker dry. Some people use a baking sheet in an oven set on low heat (~200 F) for a short time. After the seeds are cracker dry, store them in a pantry.
Below: dock seeds may need to be picked over for leaves, which I discard.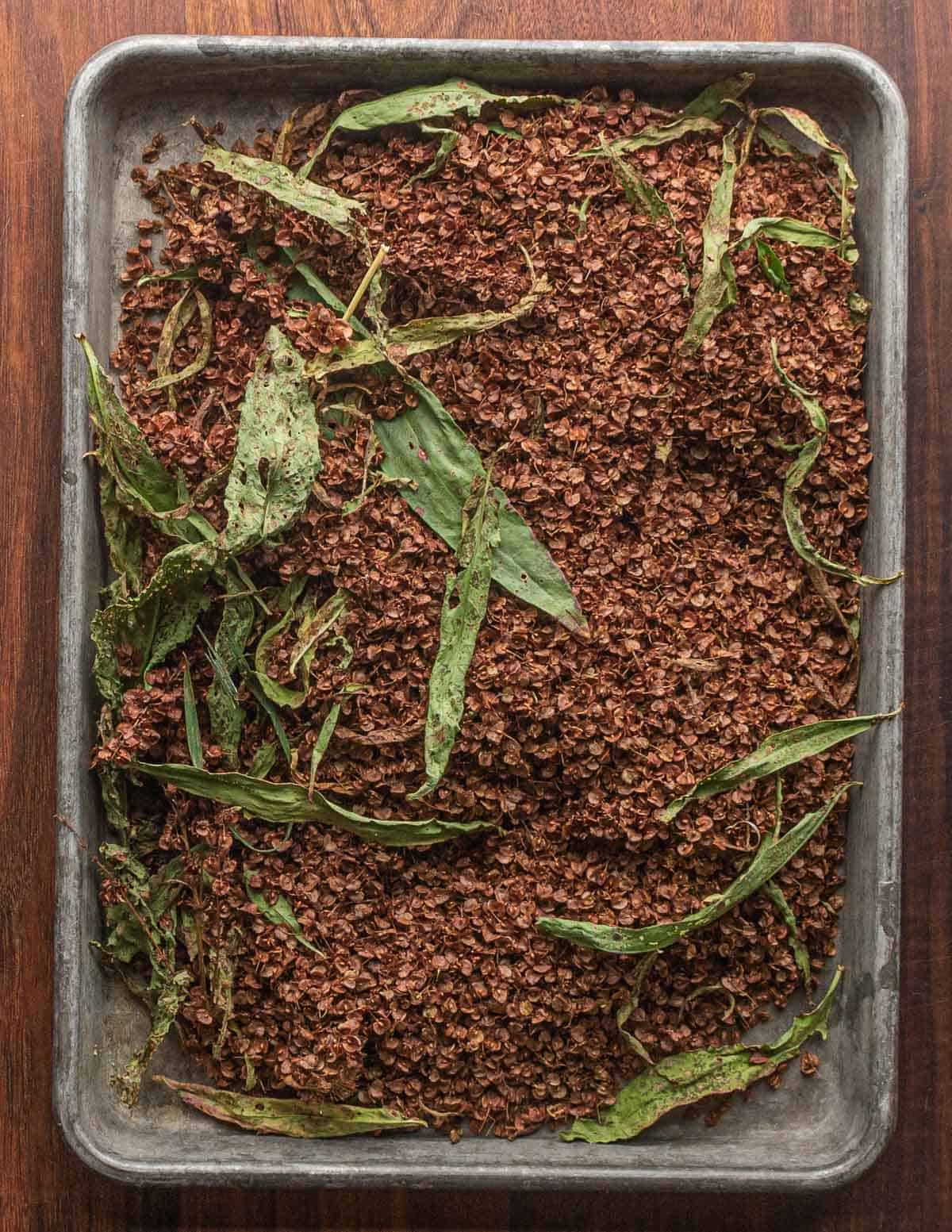 How to make dock seed flour
To make curly dock flour you'll need a spice grinder, vitamix or high speed blender. Some people mention using a mortar and pestle or food processor but that won't give very good results.
To make the flour, grind the seeds and their papery husk until as fine as you can manage. This is a bit confusing. To be very clear, you're not grinding up the literal seed.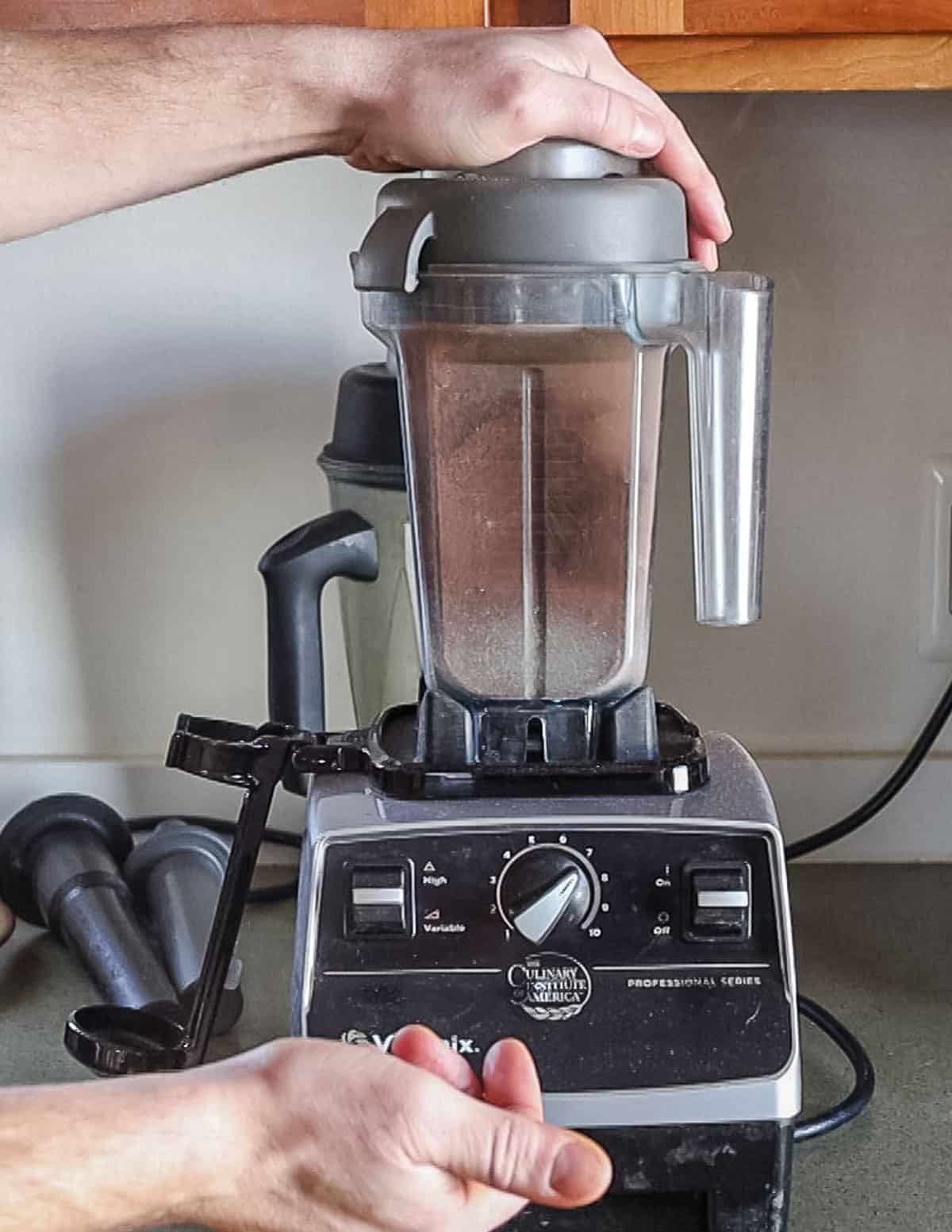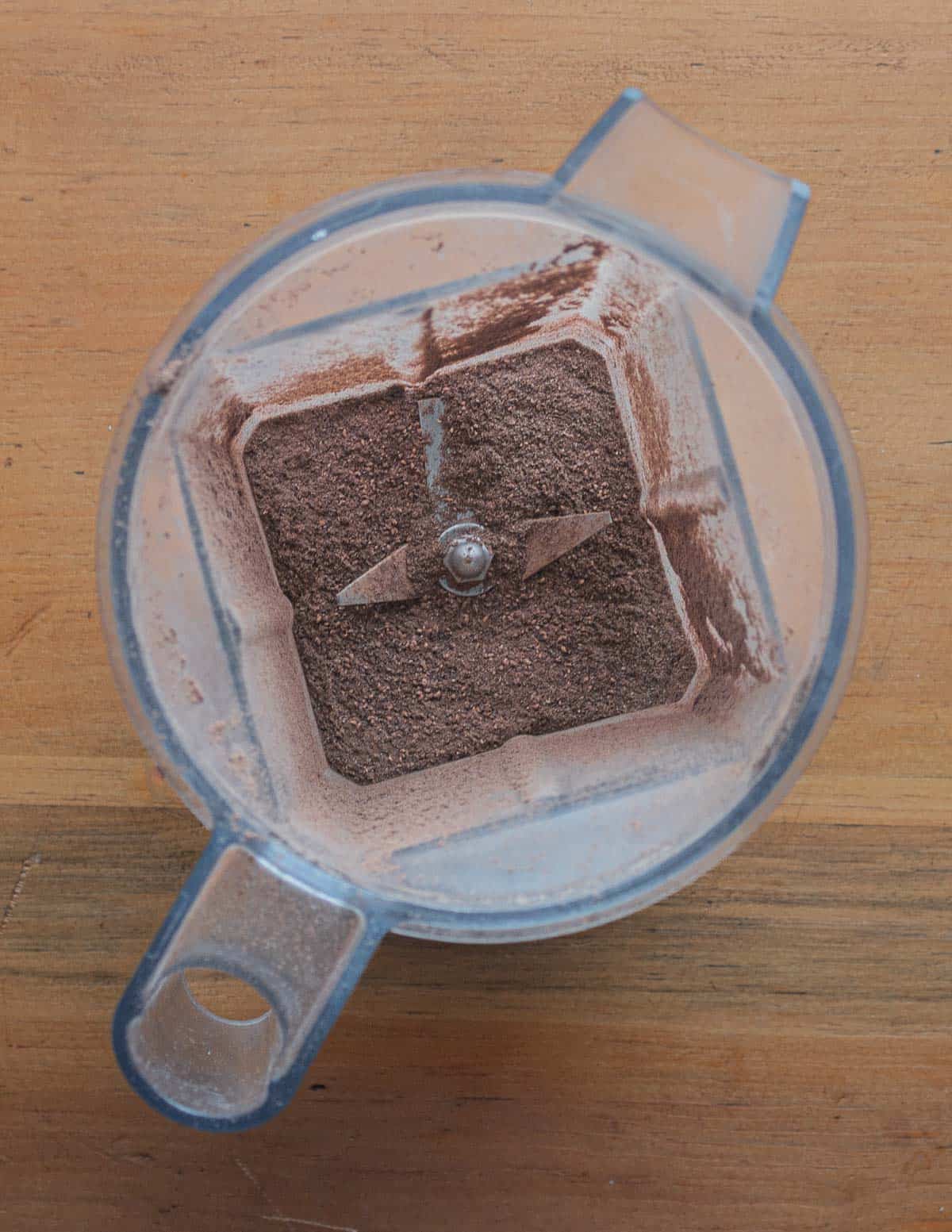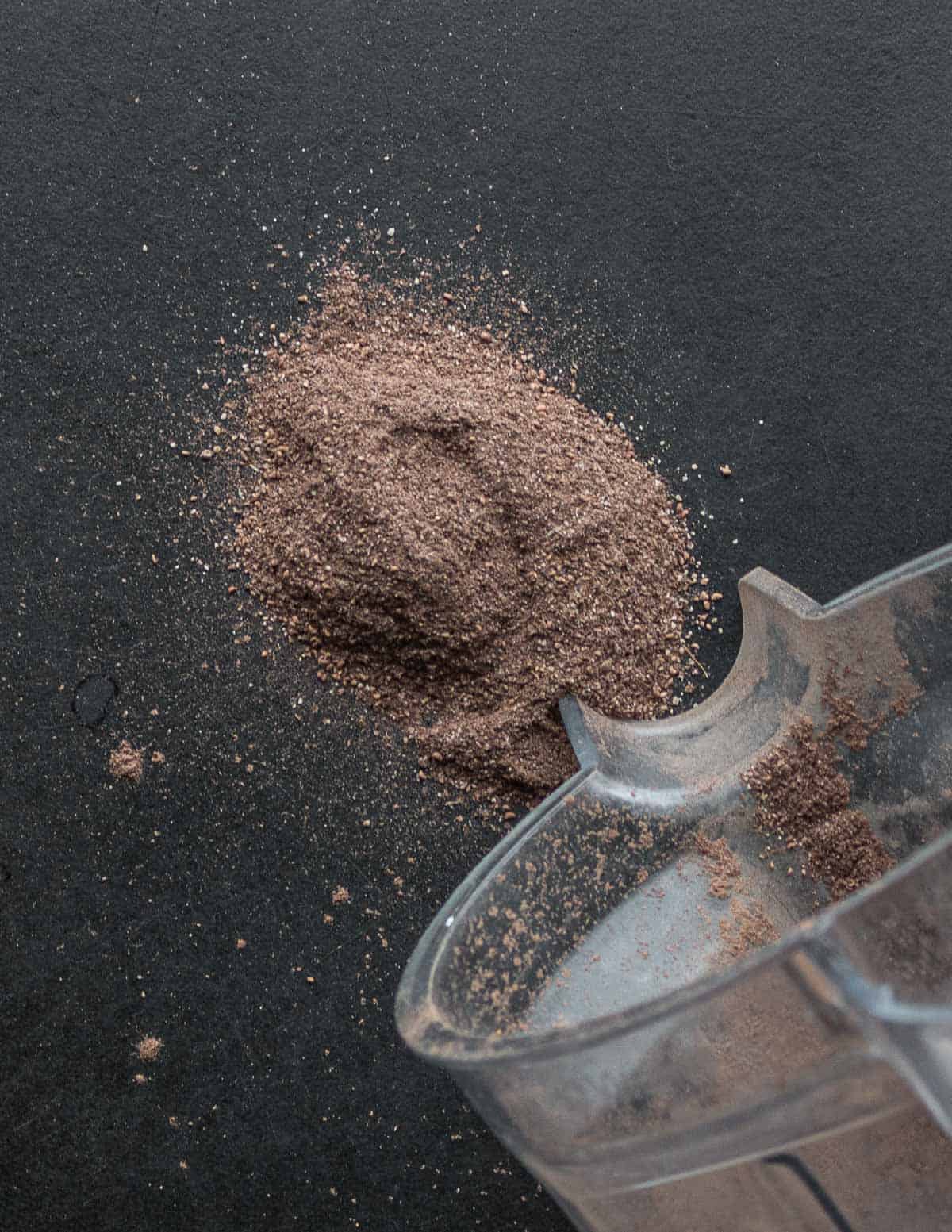 The majority of the flour will come from grinding the chaff. It follows from there that there's no need to winnow the seeds from the chaff-use it all and appreciate the extra fiber.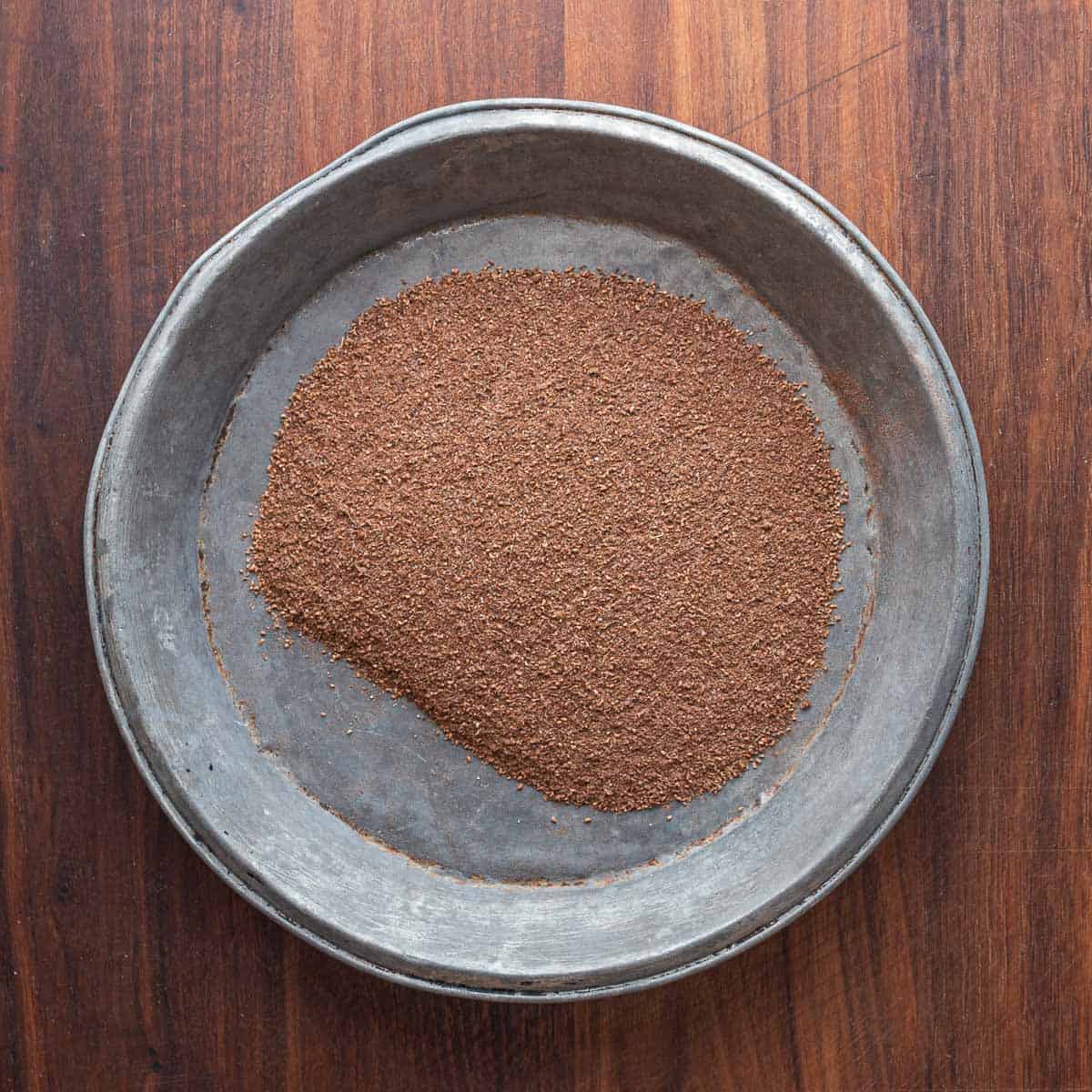 Below: You do not need to winnow dock flour or sift it.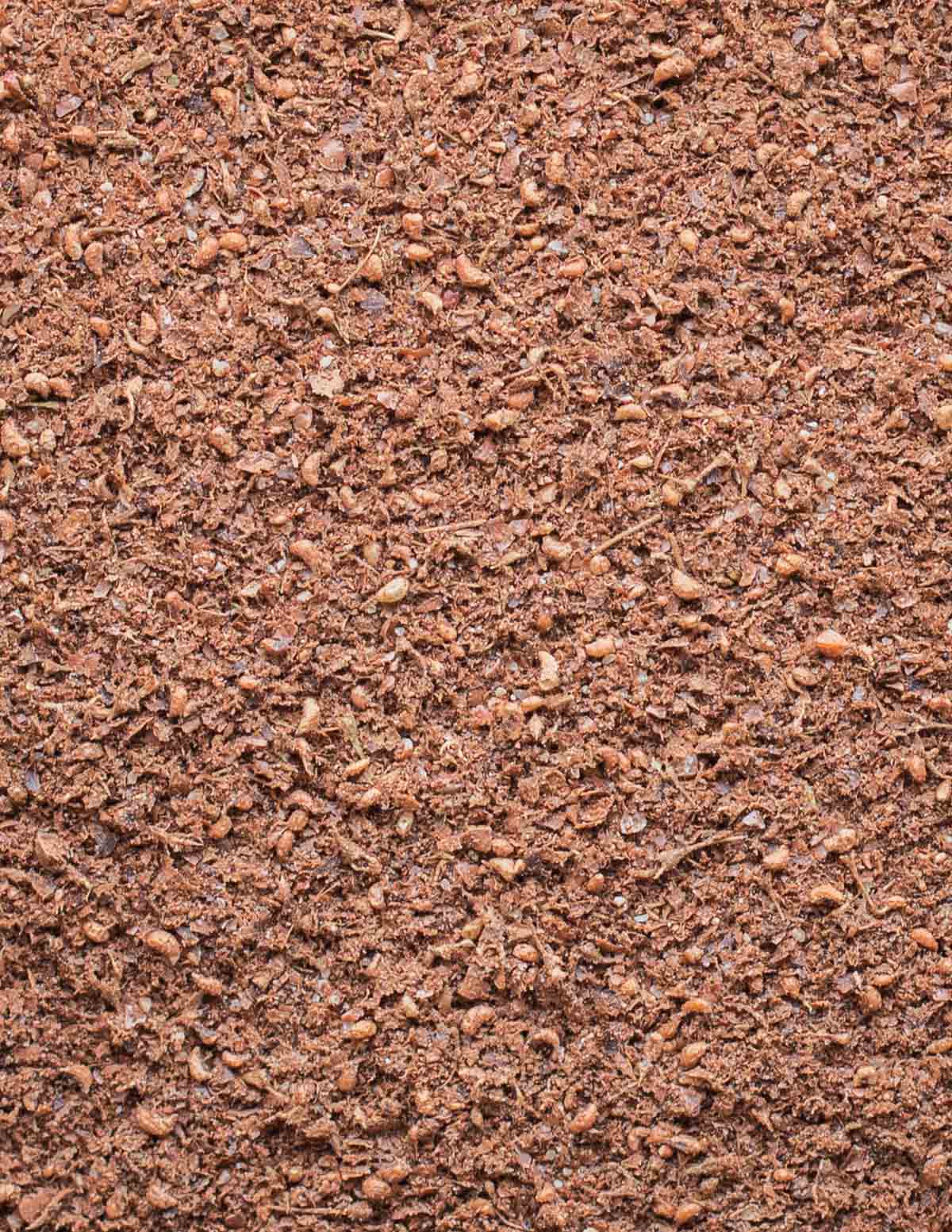 It's unlikely that your seeds will actually be ground in the flour which means it's mostly husk. To help the flour not tear gluten strands in baking recipes, I recommend using the soaker method. To do that, pour ¼ cup boiling water over ½ cup of dock flour, mix, cover with cling film and allow to cool before using in recipes.
Dock seed flour recipes
Dock seed flour tastes a little like buckwheat as the two plants are related. It can be substituted in baking recipes for around 25% of the flour-sometimes a little more if you're not making bread. The flour contains no gluten, so it's best used in recipes like crackers, pasta or brownies where a denser texture can be ok.
Below: dock seed crackers.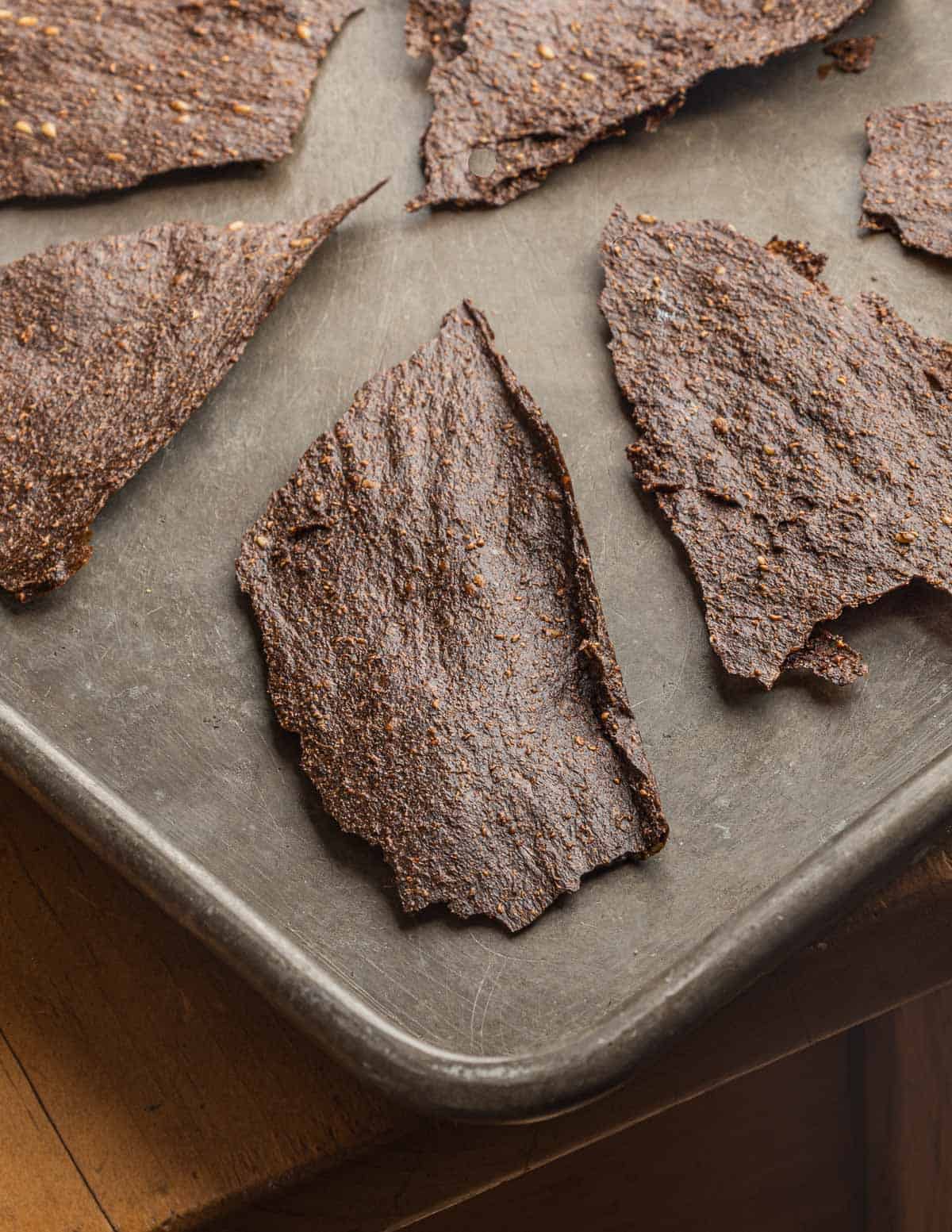 Below: dock seed pasta. Combine 2 cups of flour with ½ cup dock flour, 5 eggs, 1 teaspoon salt and ½ cup water. You can use the same proportions (or even more) for dock seed oatmeal or polenta.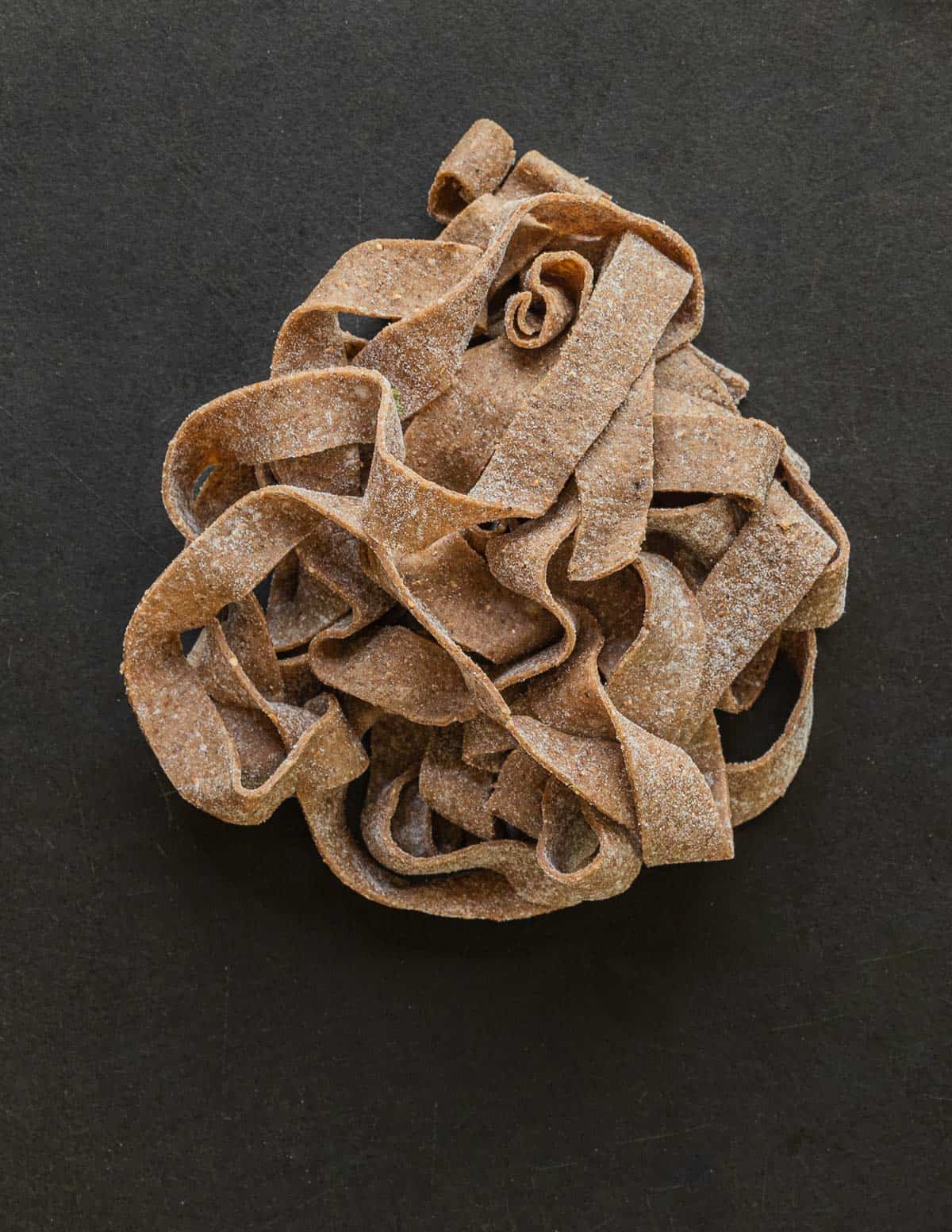 Below: dock seed pasta with brown butter, morels, salsify tips and lambs quarters.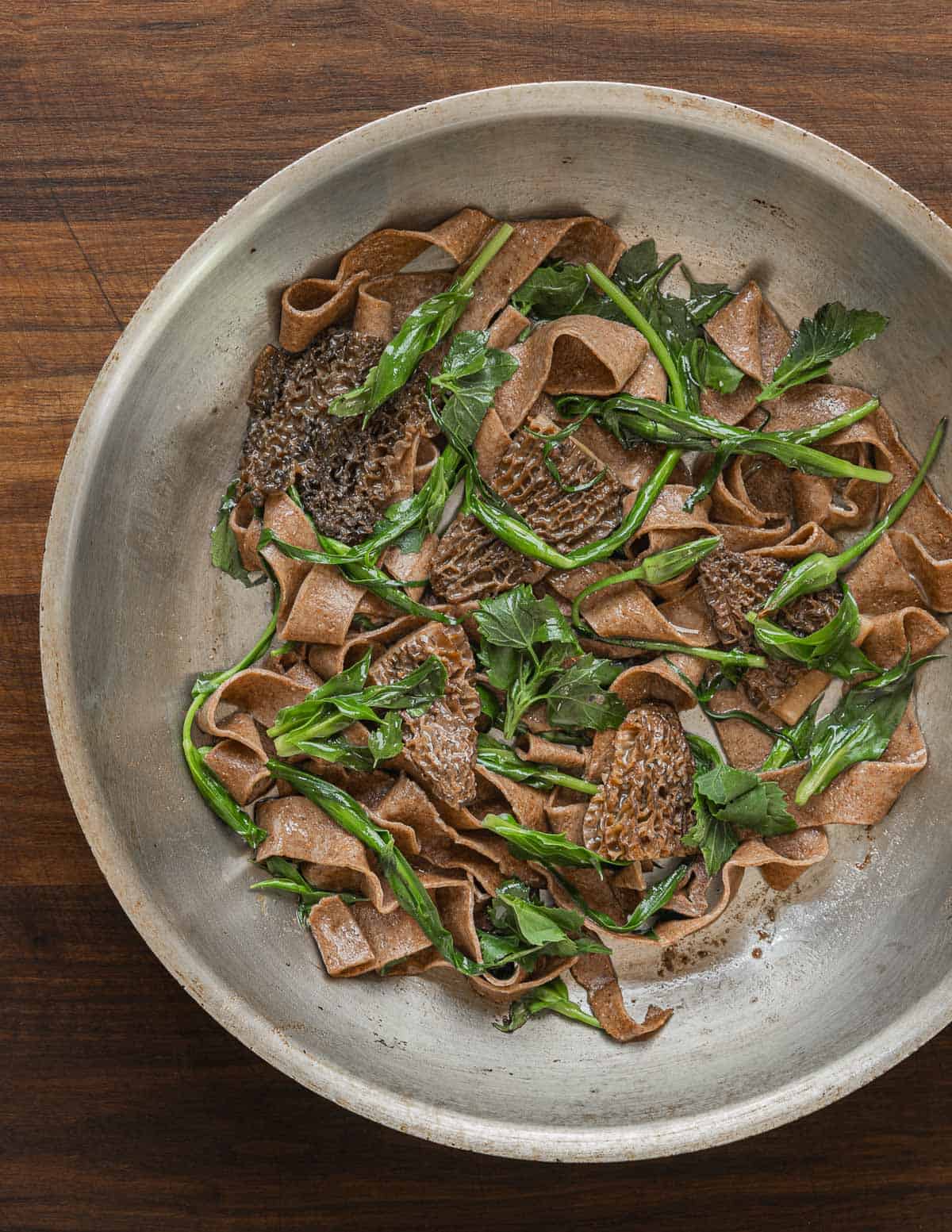 Dock Seed Crackers
Dock seed crackers are the most popular recipe for dock flour. They have a subtle taste of buckwheat and are a great excuse to make a cheese plate or charcuterie platter. I have two recipes for you to try.
Classic Dock Flour Crackers
Make a dough using dock flour and wheat flour. Roll the dough out until as thin as possible, then cut into shapes as pictured below and bake at 375 F for 15-20 minutes.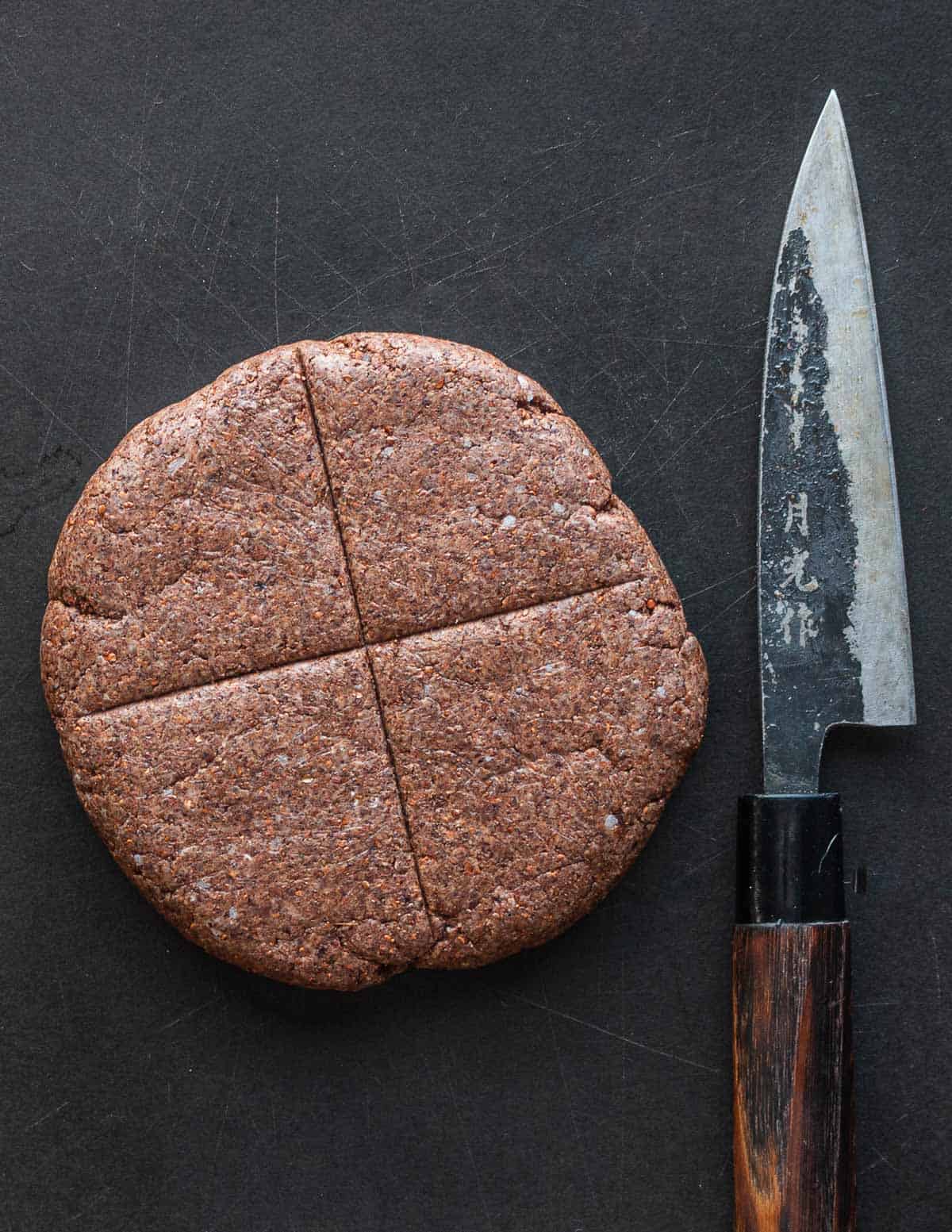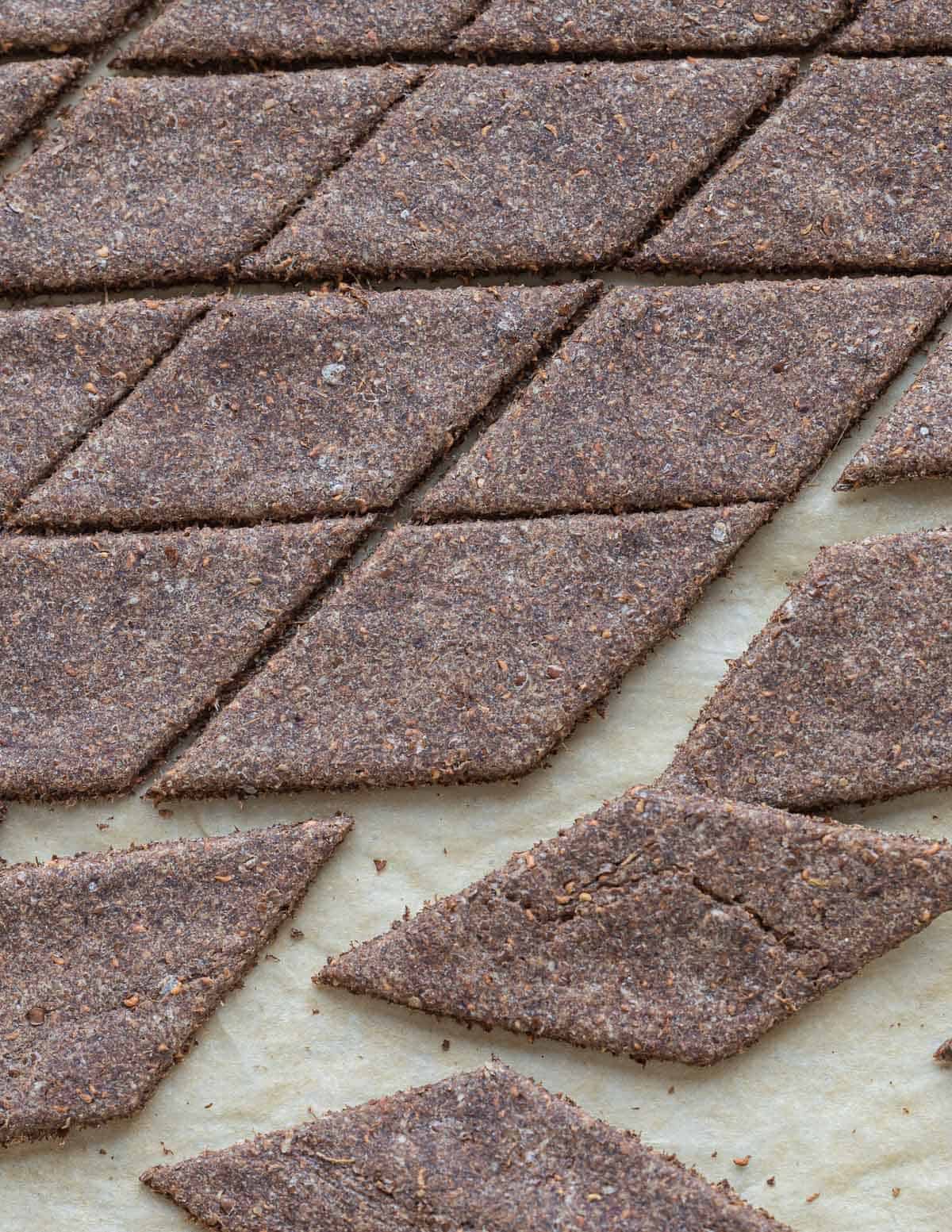 Gluten Free Dock Flour Crackers
My favorite version is gluten free and made with acorn starch instead of flour. Cook dock flour and starch or cornmeal with water, oil, a pinch of salt and maple syrup. Spread the paste on a baking sheet and cook at 300 F for 45 minutes. After drying they can be deep fried to make "vegan pork rinds".
Below: cooking a paste of dock flour.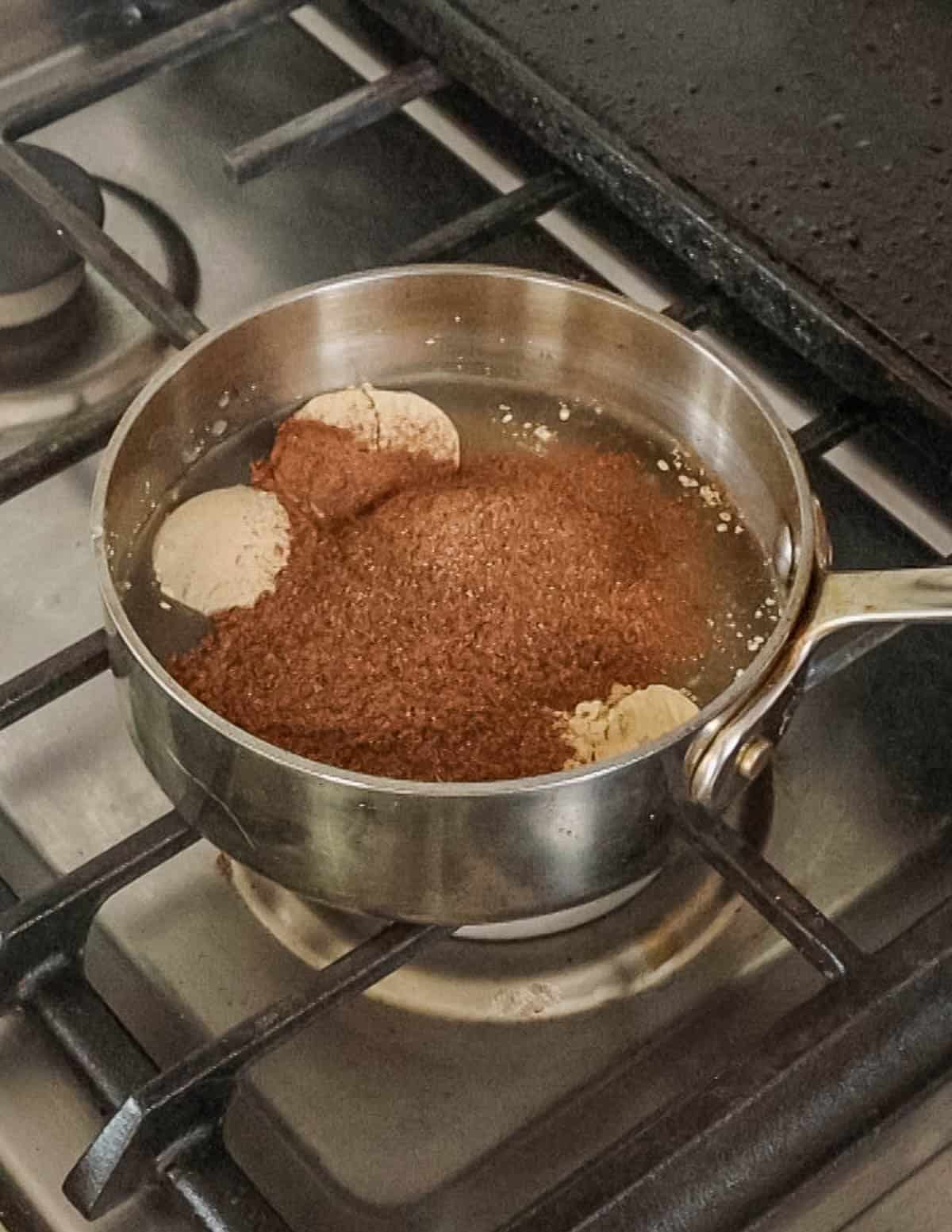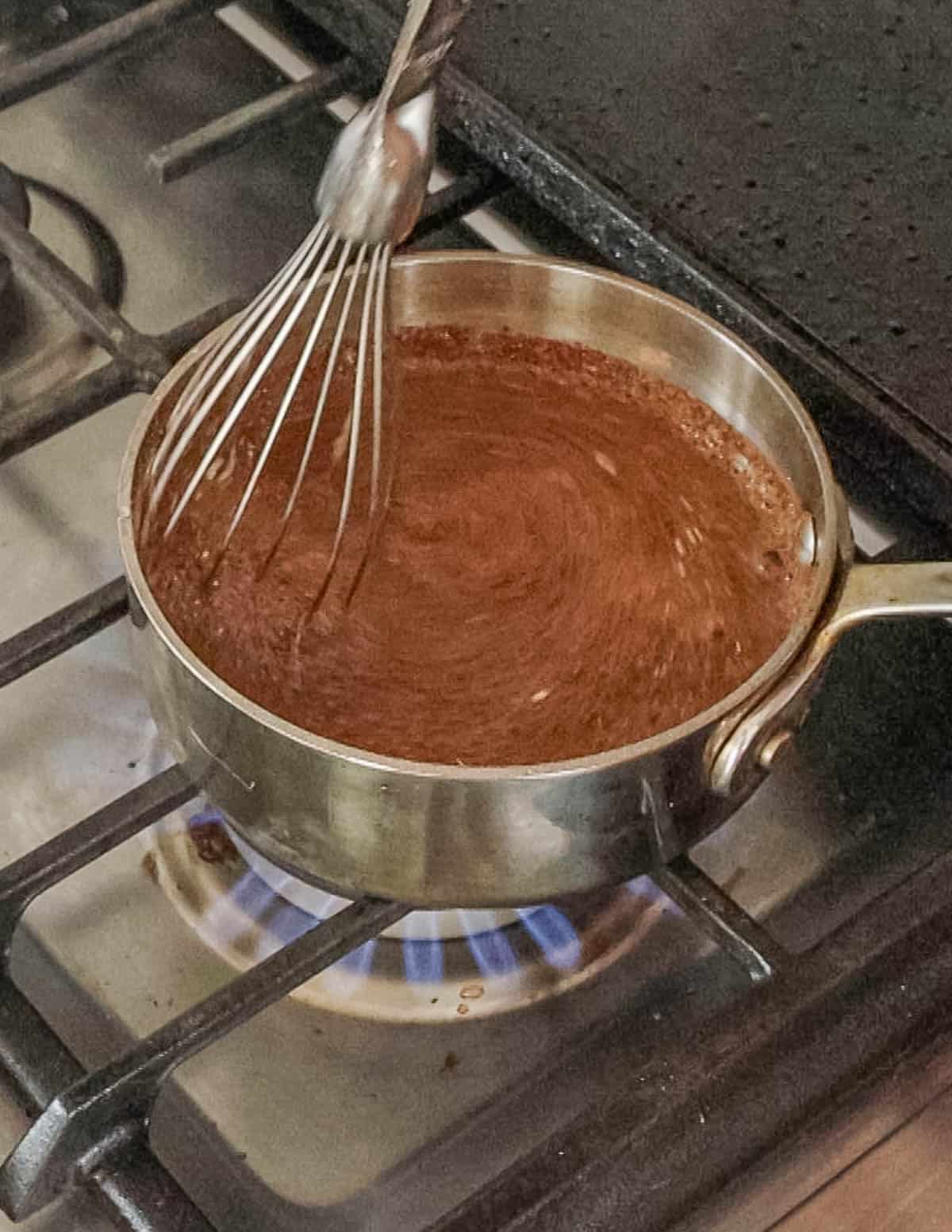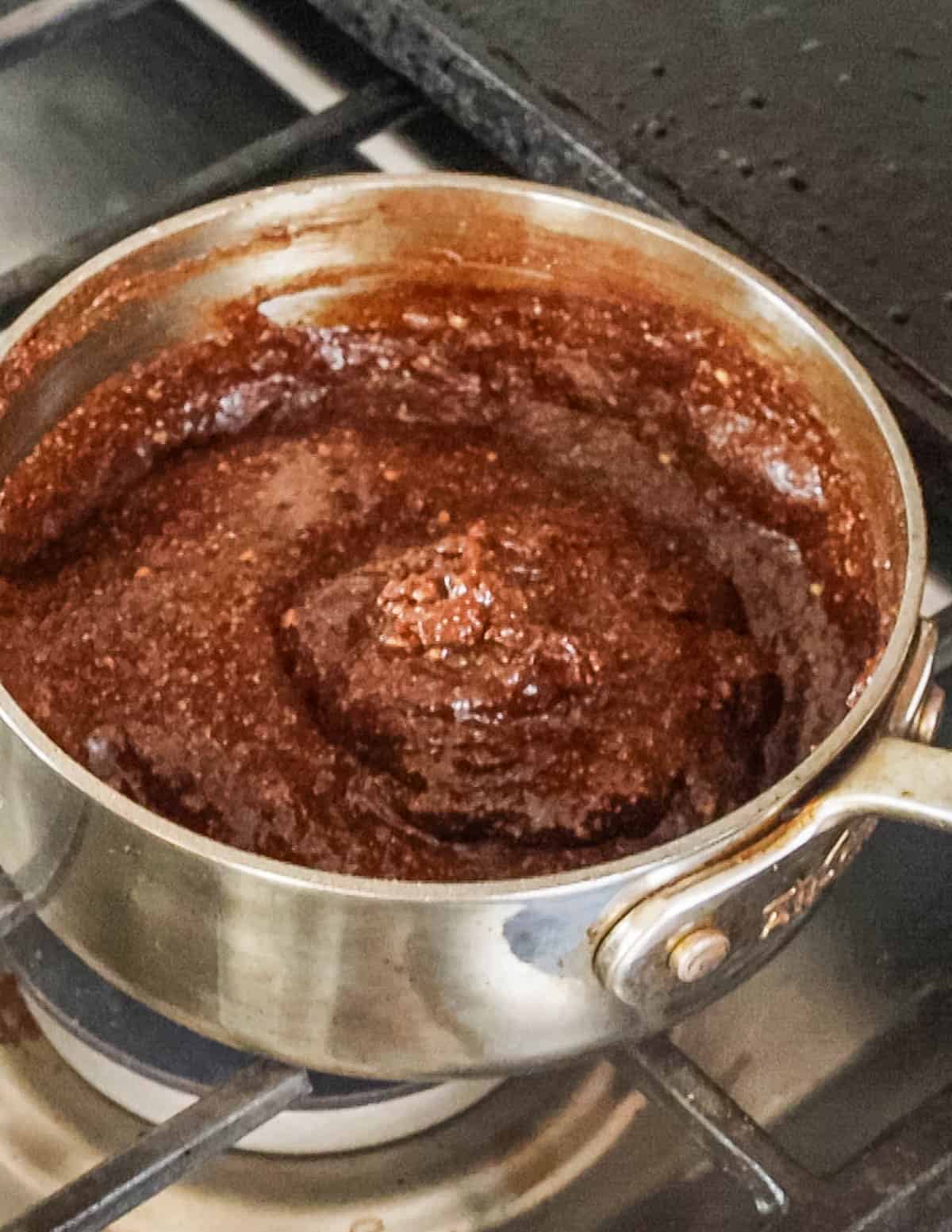 Below: Drying the sheet of dock paste and breaking into rustic crackers.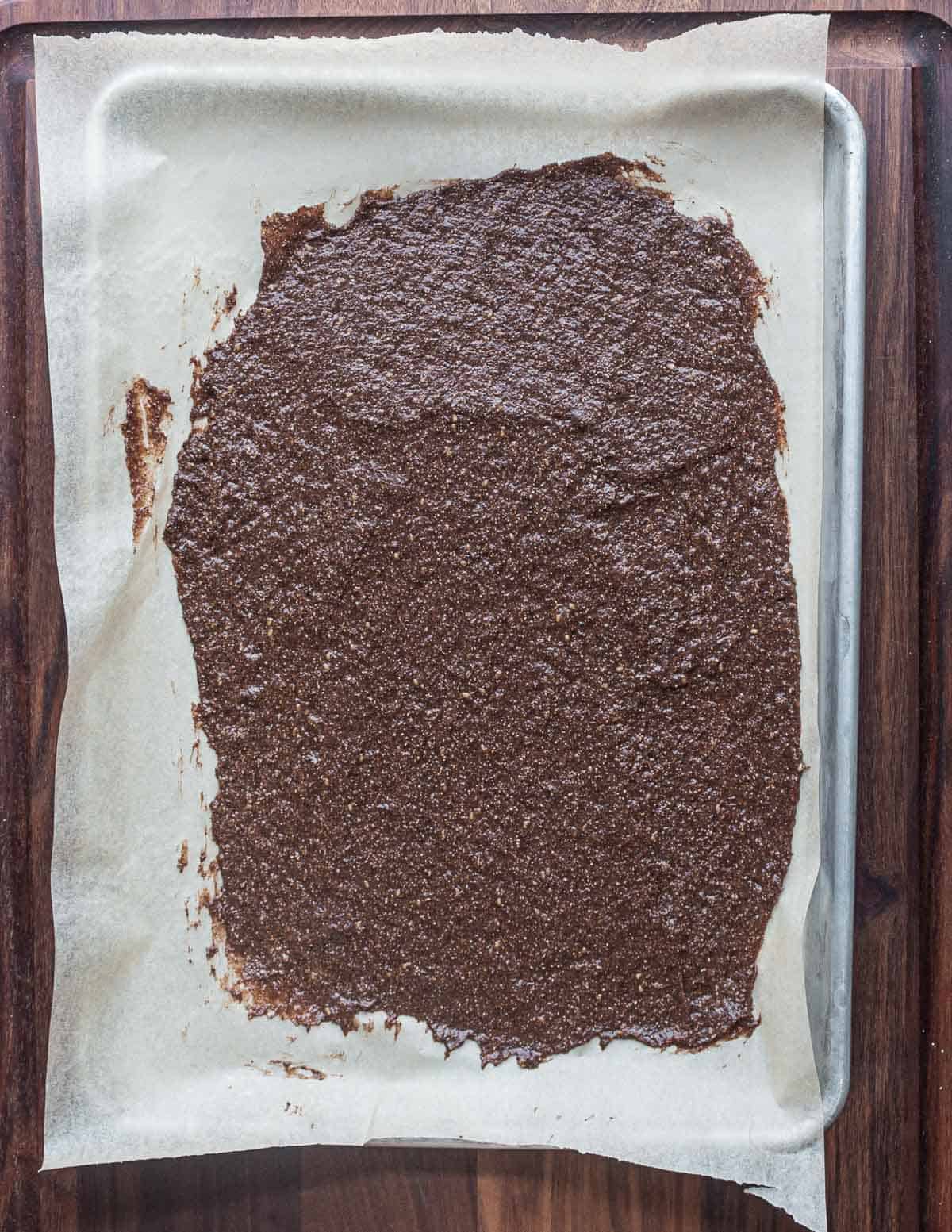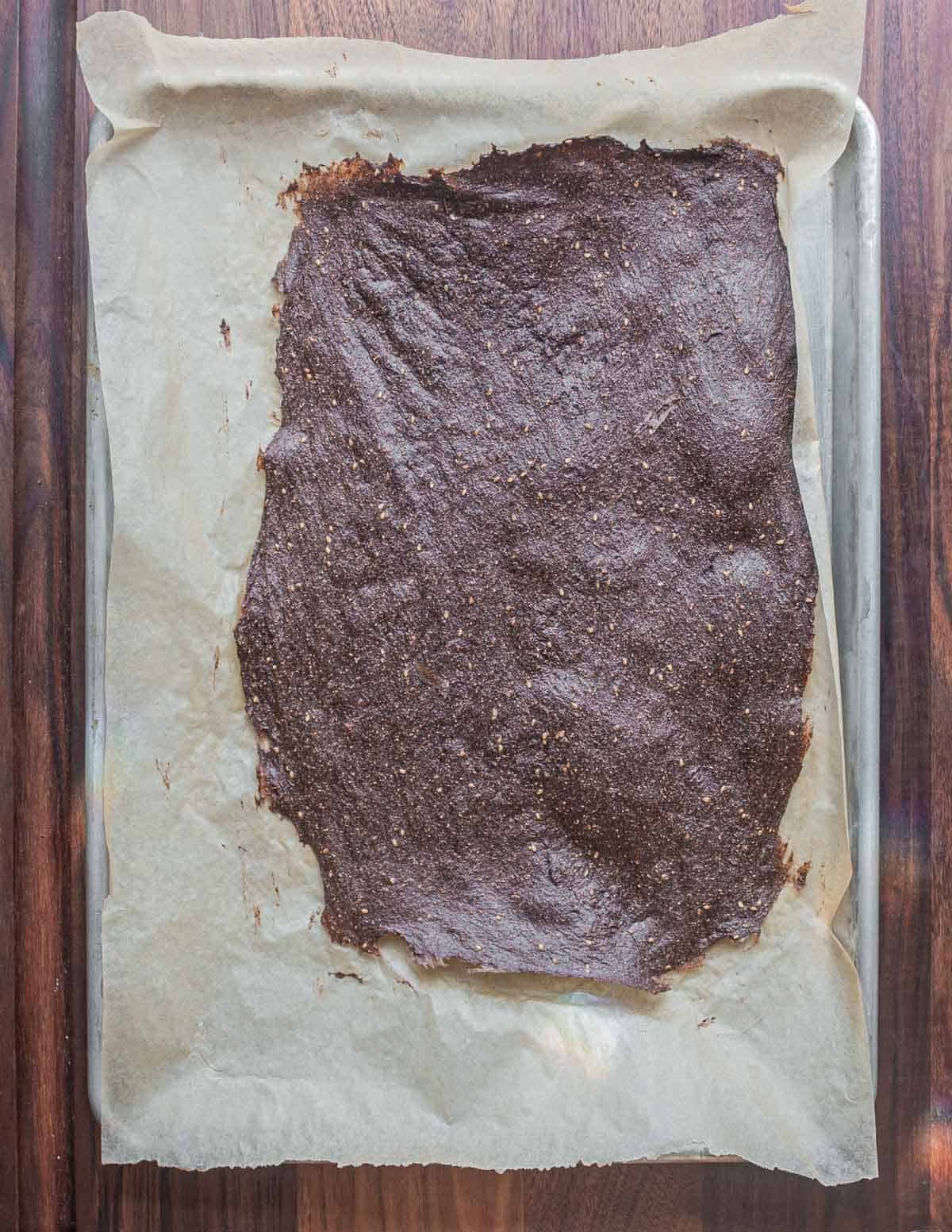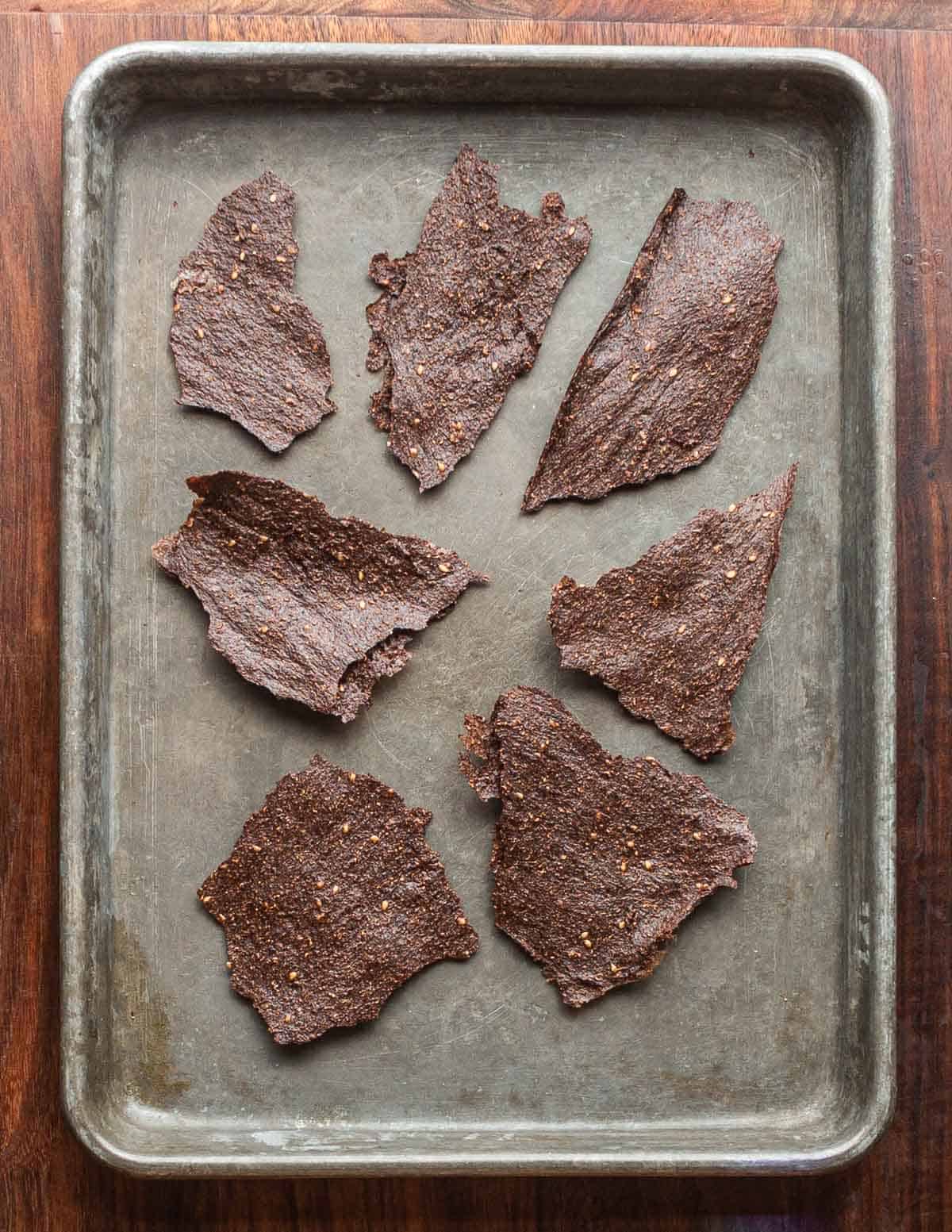 More Curly Dock Recipes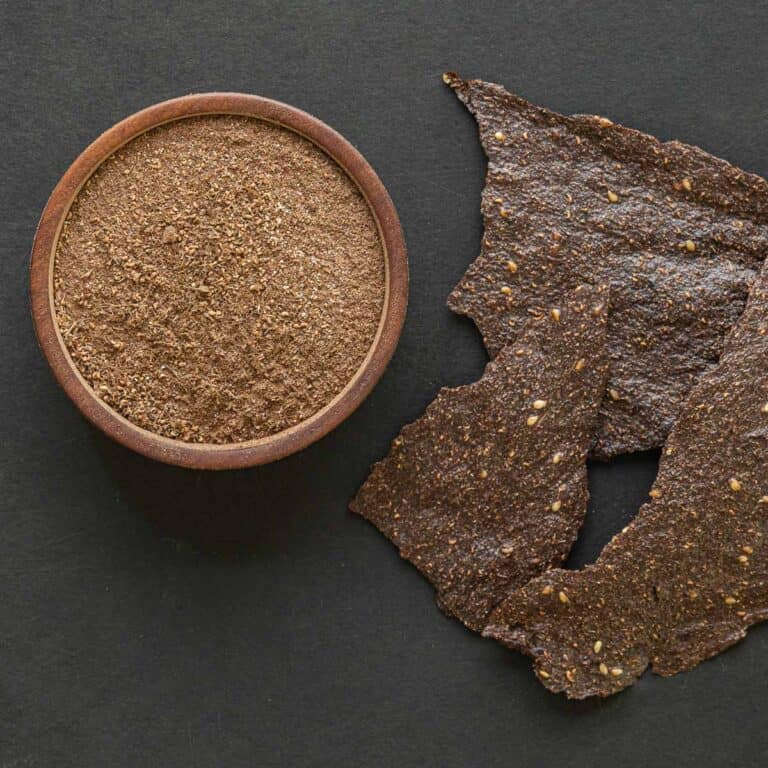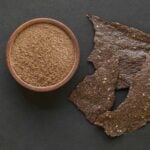 Print Recipe
Dock Seed Crackers
Two recipes for dock seed crackers. One made with starch and dock flour, the other is a classic cracker recipe.
Equipment
1 baking sheet

Parchment paper

as needed

1 dehydrator or oven
Ingredients
⅓

cup

dock flour

3

tablespoon

acorn starch

or cornstarch or ¼ cup fine cornmeal

1

tiny pinch

kosher salt

1

cup

water

1

tablespoon

cooking oil

1.5

teaspoons

maple syrup

1

teaspoon

lightly toasted sesame seeds

optional, a garnish
Instructions
Preheat the oven to 300 F. Lightly toast the dock seeds for few minutes in a pan on medium heat before grinding.

Combine all ingredients in a small saucepan of roughly 4 cup capacity. Whisk to mix, then turn the heat to medium-high and bring to a simmer.

Cook the mixture until a thick paste forms and the starch has activated.

While it's still warm, spread the paste as thin as you can on a baking sheet lined with parchment or a silpat, attempting to keep it in a single, even layer.

Bake the crackers for 45 minutes, or until brittle. Cool and store in container with a tight fitting lid in a pantry. They'll last for weeks and can be refreshed in a warm oven if they lose their crunch.
Notes
Classic Dock Crackers 
Ingredients
26 g (⅓ cup) dock flour
3 tablespoons (37 g) hot water
½ cp 80g flour
1 T (16 g) maple syrup
1 Tablespoon (11 g) oil
½ teaspoon kosher salt 
Method
Pour the water over the dock flour in a small bowl and mix to combine as well as you can. Cover the bowl with cling film and allow to cool.
In a larger mixing bowl, mix the maple syrup, oil, and salt. Add the cooled dock flour and mix. Add the all purpose or other flour and mix well to form a soft dough. Flatten the dough into a disk, wrap in cling film and refrigerate for 20 minutes to hydrate.
Roll the dough out between two pieces of parchment paper on a cutting board until very thin, roughly ⅛th inch. Take your time and make sure the dough is an even thickness. Remove the top layer of parchment and gently cut the dough into strips. Next, make diagonal cuts (refer to the video) to create diamond shapes.
Bake in a preheated 350 F oven for 15-20 minutes or until the crackers are crisp and snap when broken. Cool and store in a covered container at room temperature. If the crackers lose their snap, gently warm them in a 250 F oven for 10 minutes to refresh the texture.
Nutrition
Serving:
1
oz
|
Calories:
61
kcal
|
Carbohydrates:
7
g
|
Protein:
0.01
g
|
Fat:
4
g
|
Saturated Fat:
0.3
g
|
Polyunsaturated Fat:
1
g
|
Monounsaturated Fat:
2
g
|
Trans Fat:
0.01
g
|
Sodium:
101
mg
|
Potassium:
6
mg
|
Fiber:
0.1
g
|
Sugar:
2
g
|
Calcium:
5
mg
|
Iron:
0.03
mg