Cattail and milkweed shoot salad has been on my list of things to make for a while. Both are two edible wild plants I like eating during the season, but neither of them is something I'm probably going to make a meal out of all by themselves.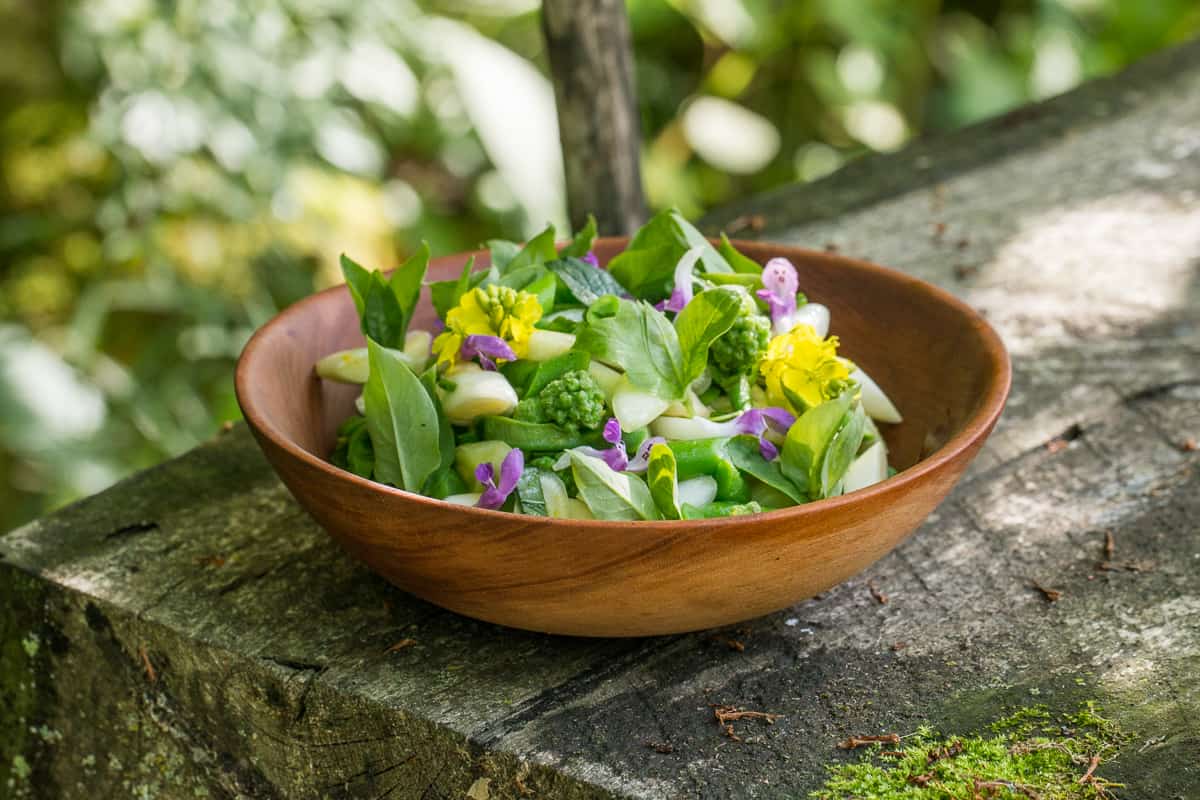 Milkweed is a great vegetable, but most of the time I have it, I like to mix it with other things, especially if I'm serving it to others like people who don't eat wild food often, since cultural bias against the plant is still very real, and without some proper framing of how and why the plant is a sustainable, safe food, you're likely to get comments about poisoning your dinner guests, or killing the butterflies, both of which aren't true.
Slippery Snacks (Embrace the Mucilage)
The other half of the salad is catdiddlys. Cattail shoots are great, but again, I'm probably not going to just sit down and eat a bowl of them alone. Their starchy flavor is great raw, especially dipped in zippy dressings as a crudite, but working with them in other creative ways can get funky, quick, and by funky I mean mucilaginous.
Cooking makes the mucilage a non-issue, as does munching them raw, but if you were to slice a bunch of cattail shoots up and put them in a bowl with some dressing, you'll quickly get a very sticky bowl of food. That sticky, slippery texture is something I don't mind, but some people (think okra) don't care for it.
As an aside, if you don't like the idea of mucilage, but still want to make something like the salad I'm describing here, sweating the cattails for a minute or two in oil will reduce the slipperiness.
"Instead of talking about how cattails have natural, slimy mucilage, use words like creamy, silky, cool and refreshing."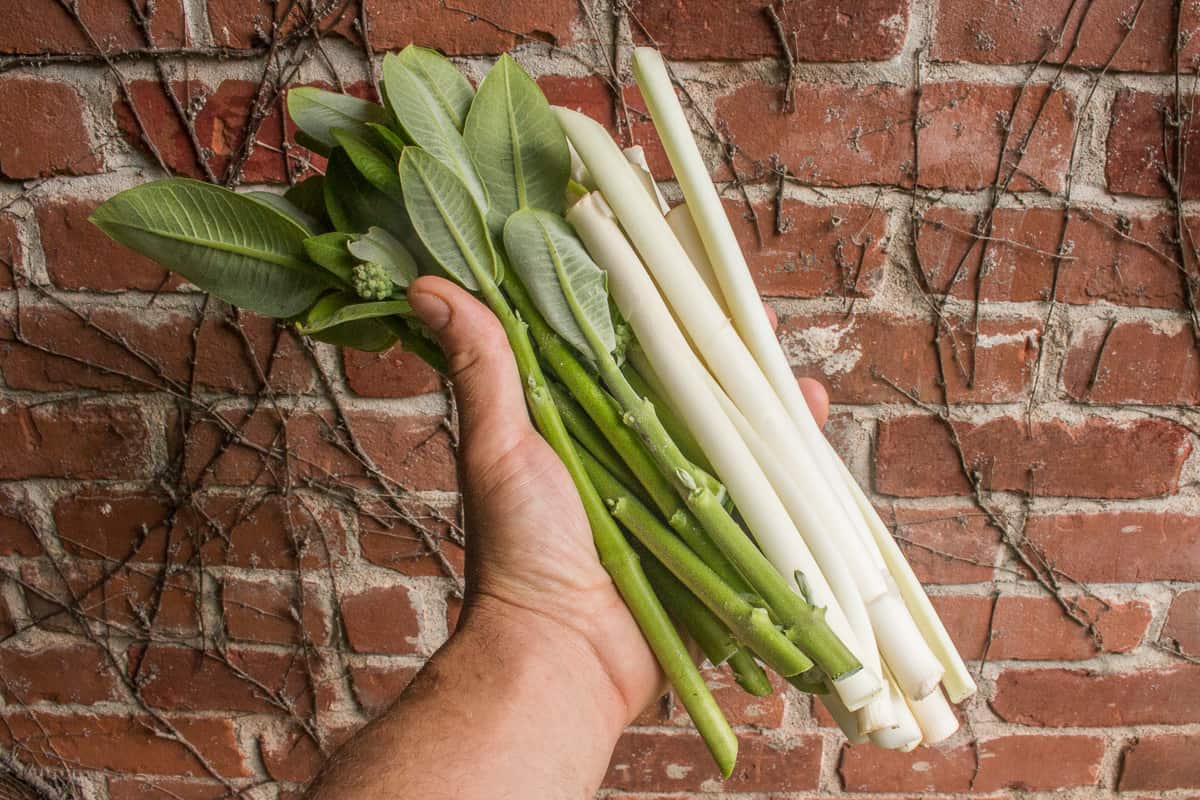 In our little shoot salad here, both of the vegetables play off of each other. Yes, you'll still get a little mucilage from the sliced raw cattails, but it's softened and spread out a bit by the milkweed. By the same token, the milkweed helps spread things out a bit, and adds an appealing green-white color combo I think is just great.
When I made the first test batch, I knew it tasted good, but I was happy that the first people I served it to proclaimed it delicious too, and remarked about the creamy texture and mouthfeel, quickly gobbling up the whole bowl.
It just goes to show that if you frame things correctly for people new to eating wild food, and present them as a delicacy, people can easily shed bias about textures and flavors, if they taste something delicious. Instead of talking about how cattails have natural, slimy mucilage, use words like creamy, silky, cool and refreshing.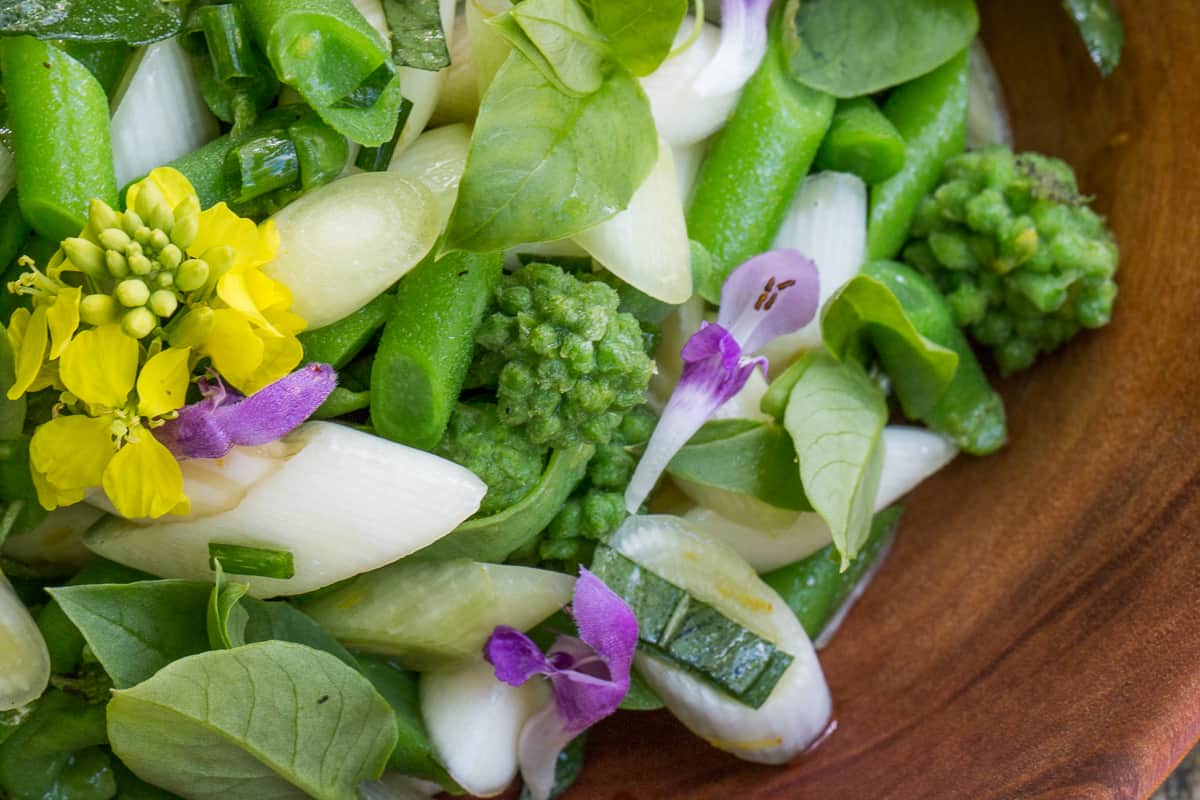 The recipe's pretty simple: slice some tender milkweed shoots and blanch them (don't eat milkweed raw) then mix with sliced raw, tender cattail shoots, season it up with a bunch of love, like bright fresh herbs, lemon zest, juice, and tasty oil, and serve.
It's a great warm weather salad that, besides being interesting and novel, is a nearly 100% wild harvested product, especially if you reach for a few flowers to give it an extra pop of color.
Oh, and if you're not familiar with trimming cattail shoots, which can be much trickier than milkweed, see my video below.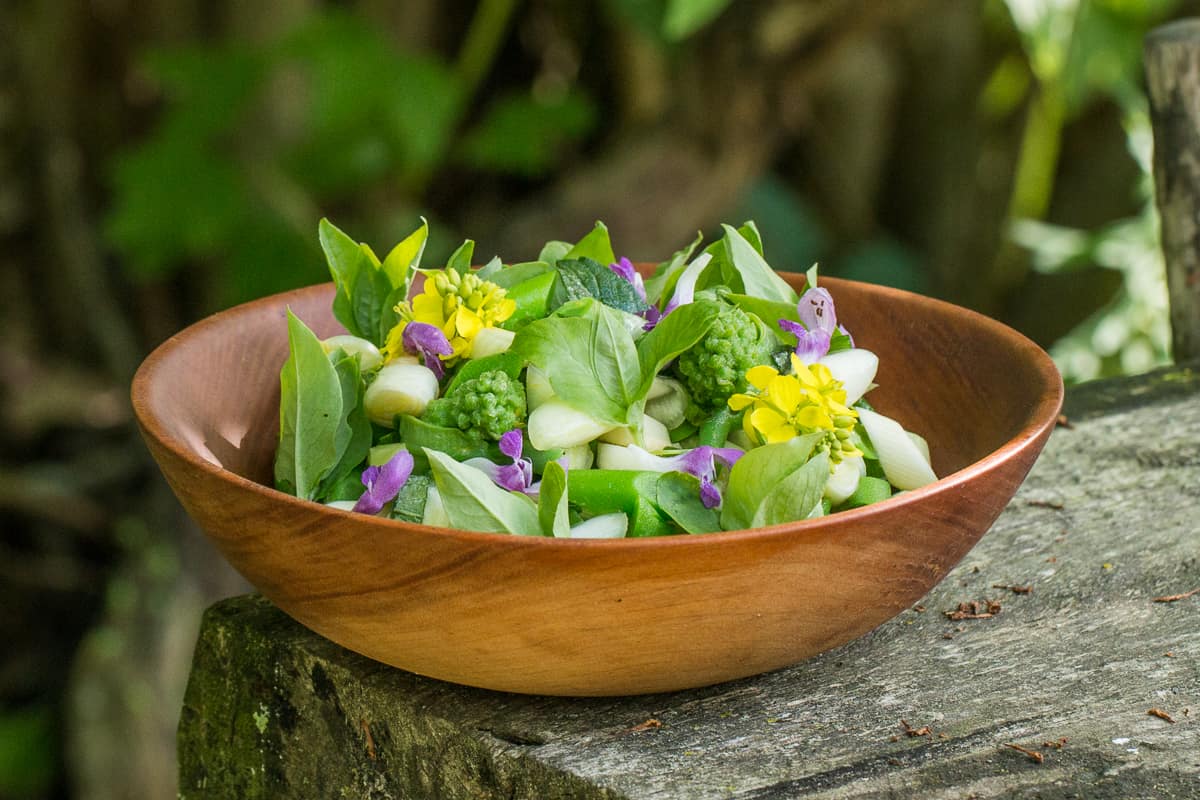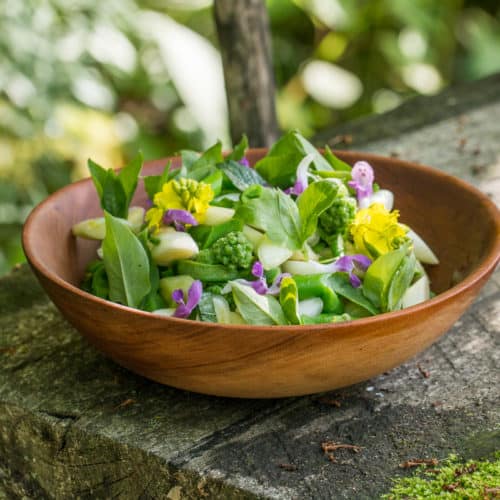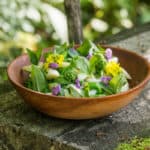 Print Recipe
Cattail and Milkweed Shoot Salad
A simple salad of marinated cattail and milkweed shoots with herbs, lemon and oil. Serves 4.
Ingredients
5

oz

tender cattail shoots (generous cup)

sliced ½ inch on the diagonal

5

oz

tender milkweed shoots (generous cup)

sliced ½ inch on the diagonal, blanched for 60 seconds in boiling salted water and shocked in an ice bath

A few leaves of wild mint or spearmint

or another herb like dill, cilantro, basil, etc, to taste

Edible flowers

for garnish, like mustard or deadnettle (optional)

Fresh cut chives

Kosher salt and fresh ground black pepper

to taste

Fresh lemon zest

to taste

Fresh lemon juice

about 1 tablespoon, to taste

Hickory nut oil

or substitute extra virgin olive oil
Instructions
Toss all ingredients together except the herbs if using, double check the seasoning and adjust for salt, pepper, lemon, and herbs, then serve.
More