The Umbrella polypore (Polyporus umbellatus, formerly known as Grifola umbellata) is one of the most interesting wild, edible mushrooms I've harvested. Today I'll share what I know about finding and cooking them, along with other information I think is valuable for learning about these very special mushrooms.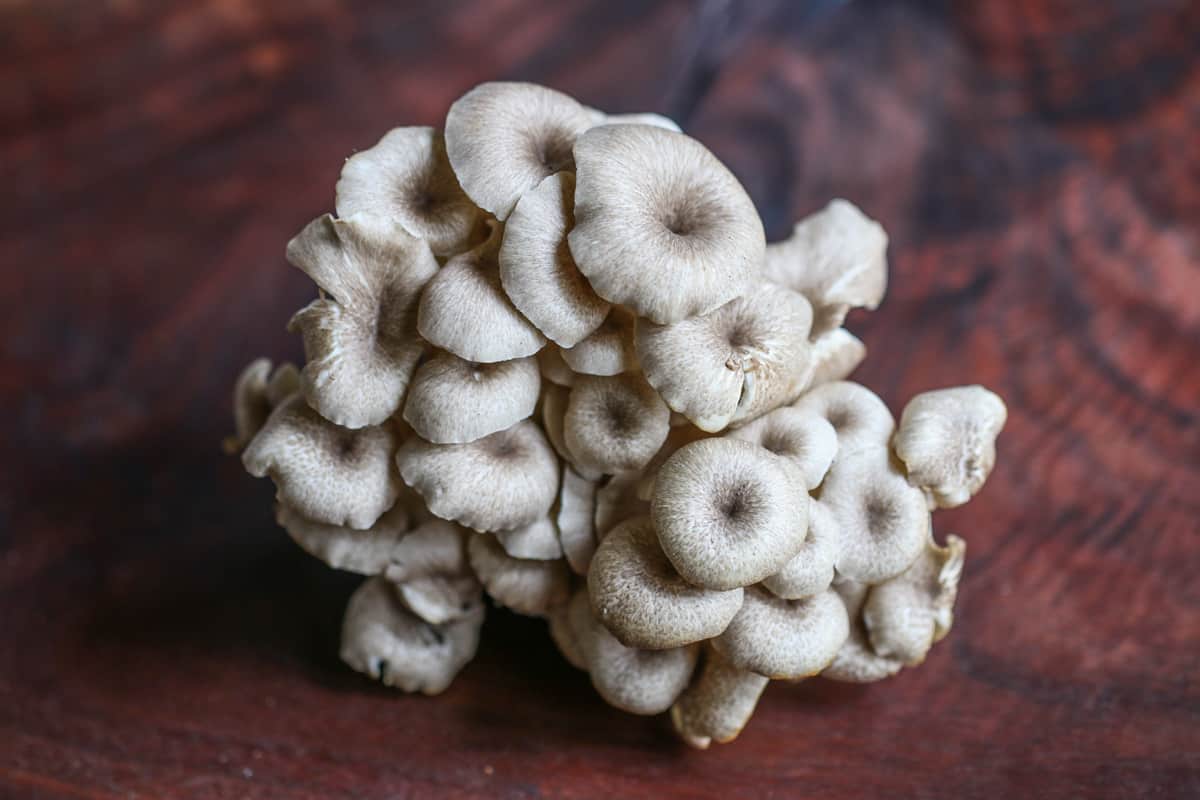 Habitat
These are a parasite of hardwood trees that cause a white rot in the host. The fruiting bodies appear at the base of the tree, just like chicken and hen of the woods mushrooms. I see them in mixed hardwood forests, especially woods with burr oak where I pick hens and chicken of the woods mushrooms.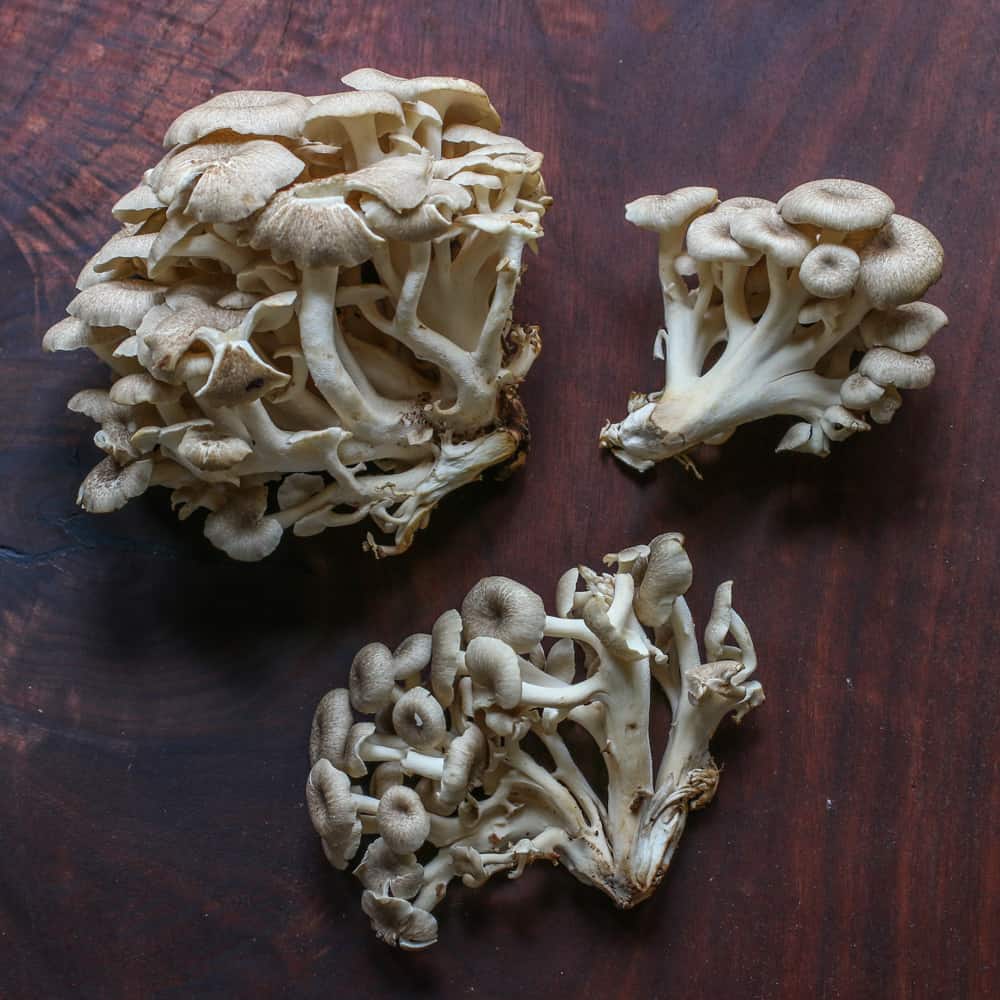 Umbrella polypores may fruit at the same time (late summer to early fall) as chickens and hens, but they can also come at the end of spring if there's a good heavy rain at the tail-end of morel season. When you're out foraging and find one growing on a tree, mark the location as they can come back year after year in the same spots, at about the same time.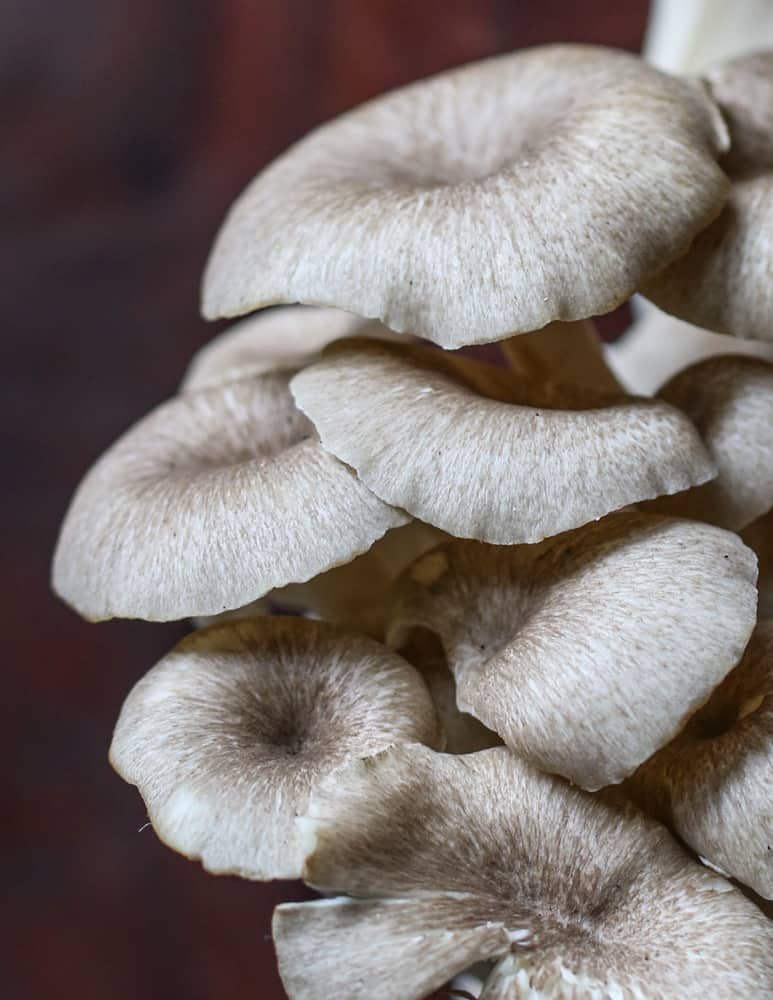 Identification
These are easy to confuse with hen of the woods (Grifola frondosa) if you aren't familiar with them, and the first time I found them, that's exactly what I did.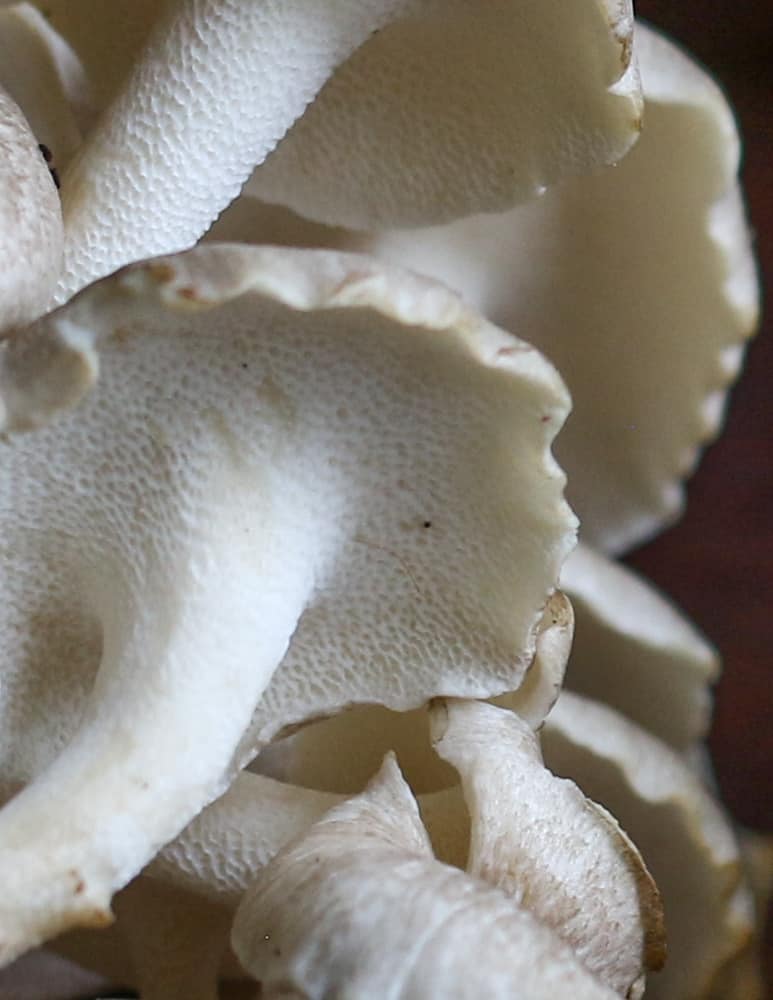 There's a few things that make umbrella polypores special though, and once you find one, they're pretty easy to separate from their close cousins, all of which are edible.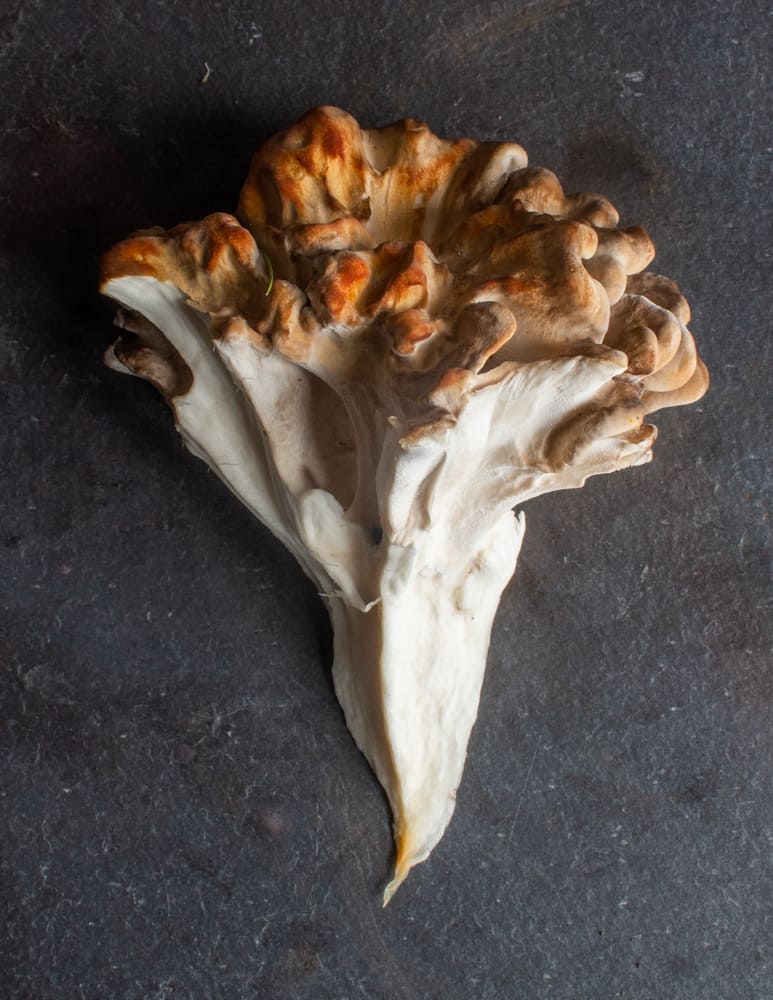 Umbrella Polypore Identification
White Spore Print
Growing at the base of hardwoods like oak and ash trees
Have pores, not gills under the caps
Composed of many caps with thin stems that form a large structure similar to hen of the woods
Caps may have an indentation in the center or a belly button or funnel shape, especially when young
Appear occasionally in spring in the Midwest, but I mostly see them during the summer
Have "umbrella-shaped" caps that become plane (flat) with age.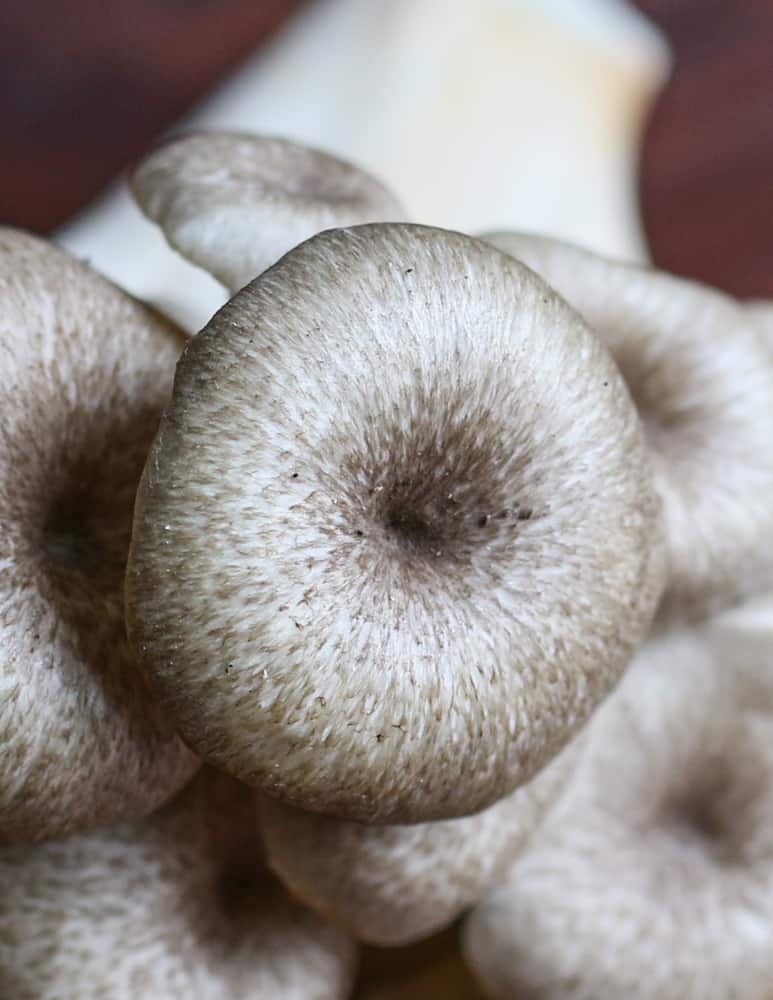 Rarity (Is it ok to harvest these?)
These are thought to be a relatively rare mushroom. Because of that, some people will advise they not be harvested. Personally, I don't see anything wrong with harvesting them when you find multiple mushrooms.
Occasionally friends of mine will harvest many clusters from a patch of woods, but if you only see one, lone mushroom in an area, It's probably best to leave them to spread their spores.
Harvesting
If you find a mushroom you'd like to harvest, the first thing you should do is determine the age and check for bugs. I feel like umbrella polypores have a much stronger resistance to bugs than, say, chicken of the woods, but as they get older the mushrooms will be invaded by larvae.
You're looking for young, tender mushrooms without any sign of spores being released. When you cut the base of the mushroom from the tree, the flesh should be pure-white, without any signs of tunneling by worms.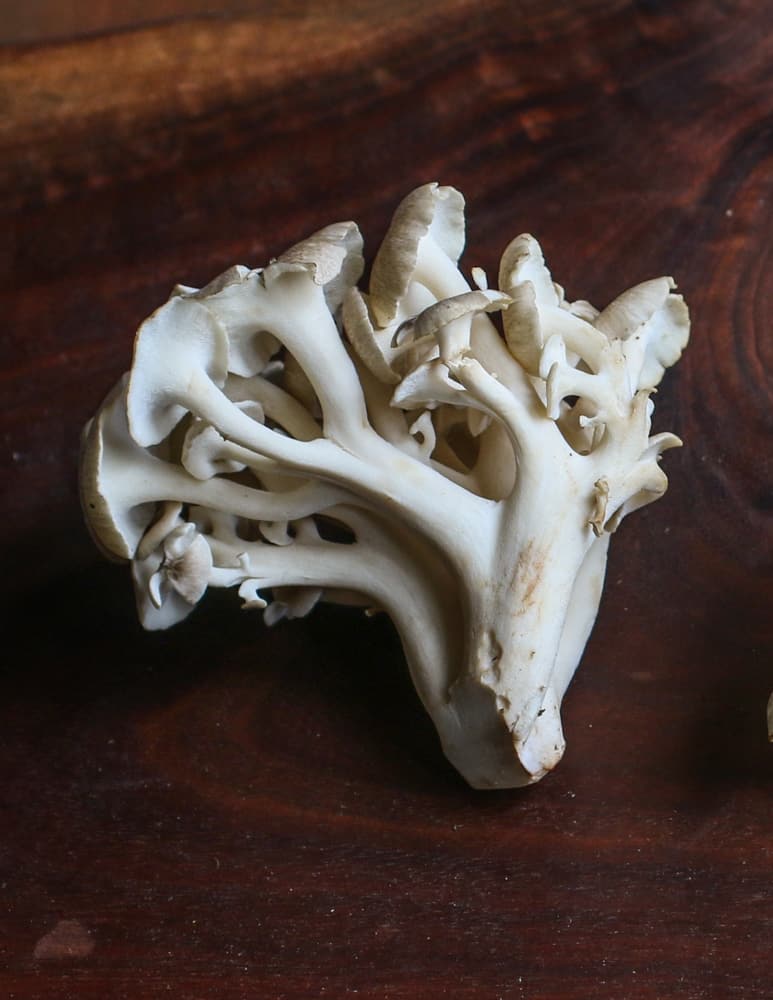 Use in traditional Chinese medicine
I have to preface this by saying I don't talk about medicinal mushrooms much, but the cultural significance is an important part of this mushroom's history, so I'll touch on it a little.
I first heard about Umbrella polypores being a medicinal mushroom used in Chinese herbal medicine from the documentary on mushroom hunter Larry Evans called "Know your Mushrooms". In the film, Evans discovers an umbrella polypore and digs up the sclerotium, which he then brings to a Chinese restaurant and uses like it was currency to pay his bill!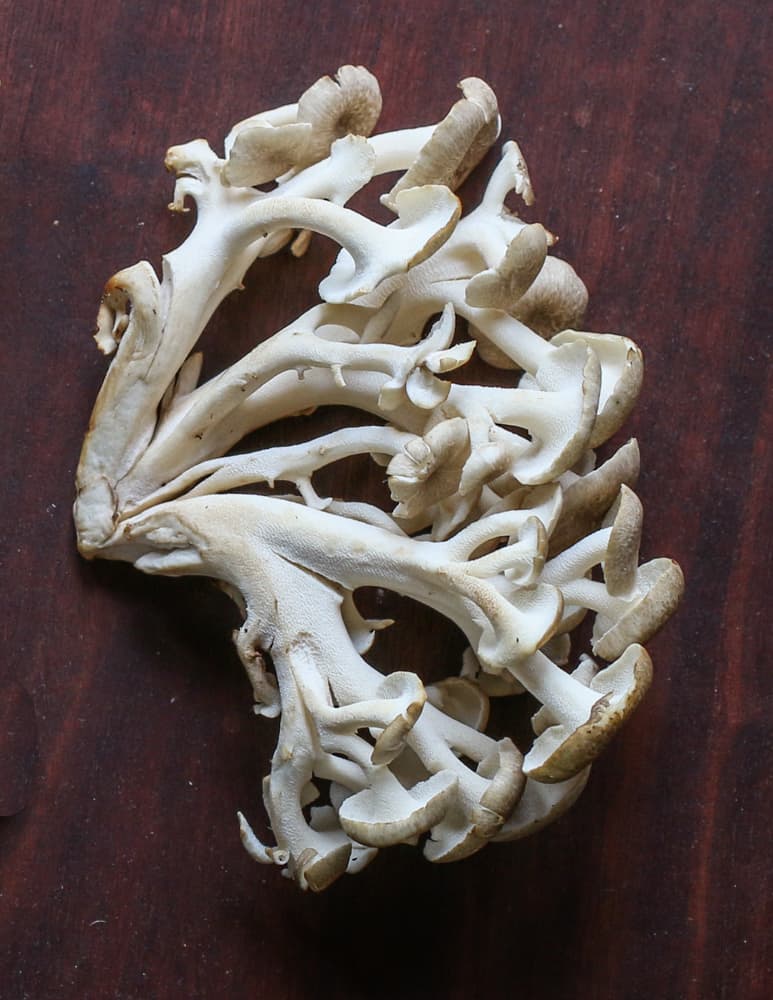 After seeing that I was excited to find sclerotia of my own, but, with the rarity of the mushroom as it is, I don't suggest digging your own if you find them as removing the underground portion of the mushroom could cause it to stop fruiting-similar to how removing a ramp bulb kills the plant.
The underground portion of the mushroom is traditionally cut into slices and dried for tea. Dried slices of Zhu ling sclerotia can be purchased online if you want to try it. Like a lot of medicinal herbs and mushrooms, I've heard some of the bioactive compounds are a strong diuretic, so be prepared to go to the bathroom if you take some.
How to Cook Umbrella Polypores
You can cook umbrella polypores in any recipe where you would use hen of the woods. While you can pull the fronds apart and cook like you would other mushrooms, one of my favorite things to do with them is to cook large clusters whole and make mushroom steaks.
I have a few wild mushroom recipes on this site you could use for umbrella polypores, especially hen of the woods steaks, and oyster mushroom steak. The process for both is very similar.
To make mushroom steaks, take a clean cluster of mushrooms and cook them whole in a pan, putting a weight on top of them as they begin to wilt. Once one side is browned, flip the mushrooms over, replace the weight, and cook until browned on the other side. Serve as a vegetarian main course or a mushroom side dish.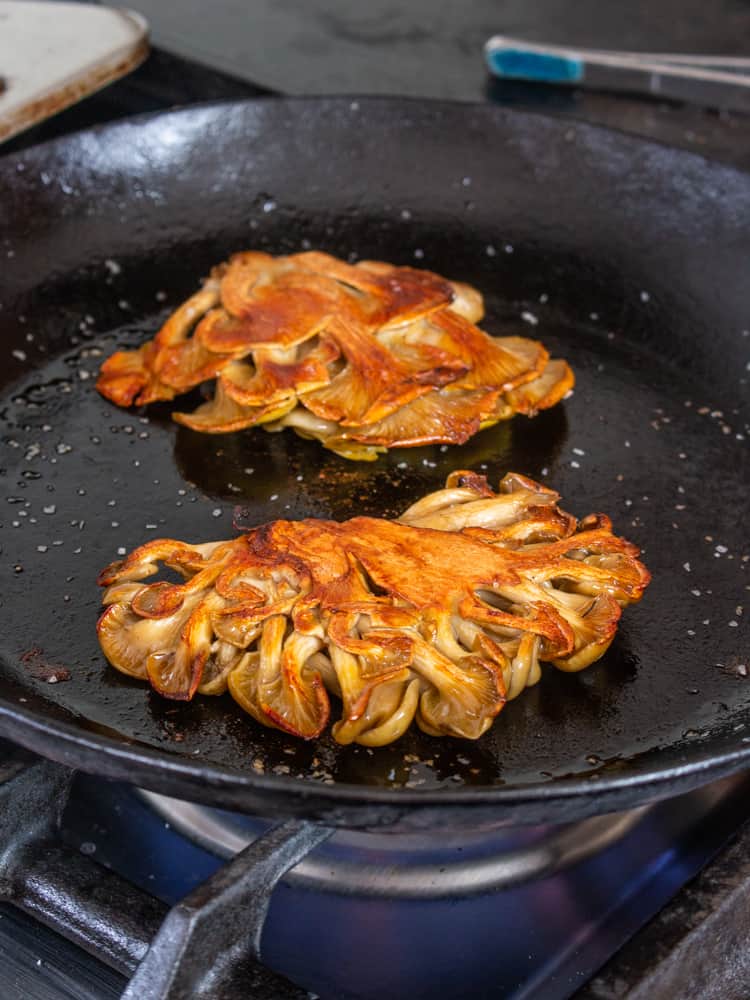 Resources
100 edible mushrooms by Michael Kuo
Mushrooms Demystified by David Arora
Know Your Mushrooms Documentary
Related Posts
Hen of the Woods or Maitake Mushrooms
Chicken of the Woods or Sulphur Shelf Mushrooms