Lampascioni (edible hyacinth bulbs) are a traditional Southern Italian delicacy, specifically in Puglia and the Salentine peninsula where they're gathered in the spring or winter before the plants produce their purple flowers.
Today I'll go over their traditional uses, and what I've learned about them over the past few years.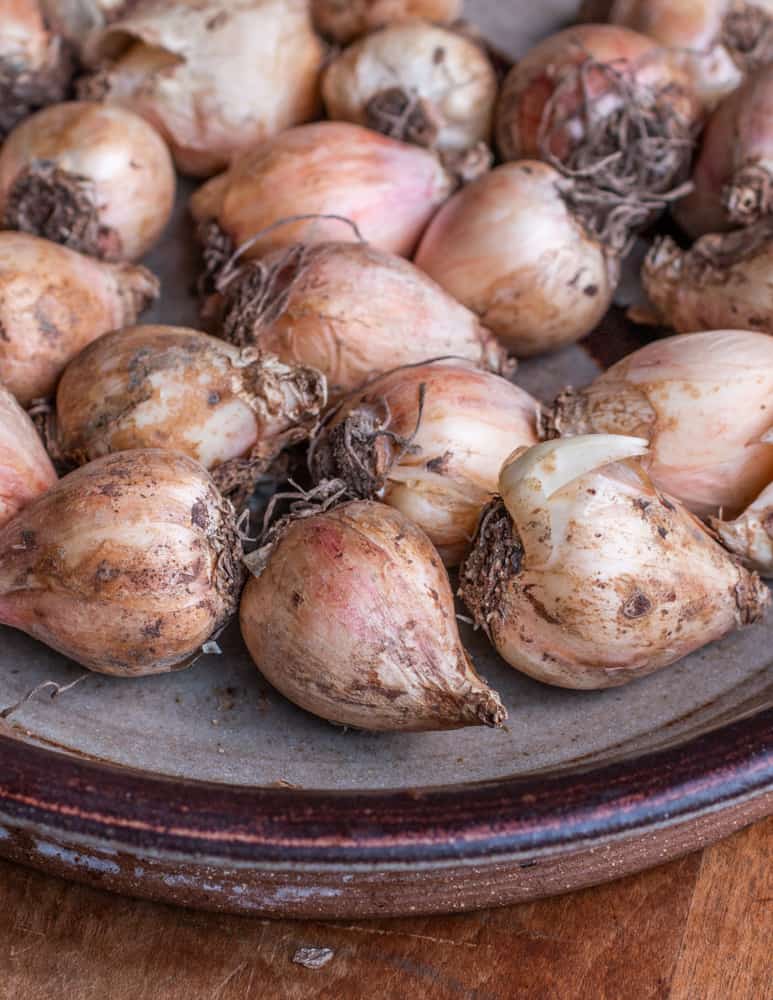 A few years ago I stumbled on a recipe for Hyacinth bulbs in one of my Southern Italian books.
I worked with Italian food for about half of my career, but I'd never heard of them at all. Fascinated, I starting scanning the index of a few other books for lampascioni, and, wouldn't you know it, almost every book on Southern Italian food I have mentioned them. I've captured passages from a few books for reference in this post.
Typically the bulbs are boiled then pickled with extra virgin olive oil, salt and herbs or what's known as sott'olio (literally under oil) then served as an antipasti.
Like a lot of traditional foods, lampascioni might also go under other names: vampagioli, lampascione, lampasciuolo, cipollaccio, lampone to name a few. They're also referred to as lampascioni cipolle (onion), which is a misnomer and probably a reference to a textural similarity between hyacinth and onion bulbs.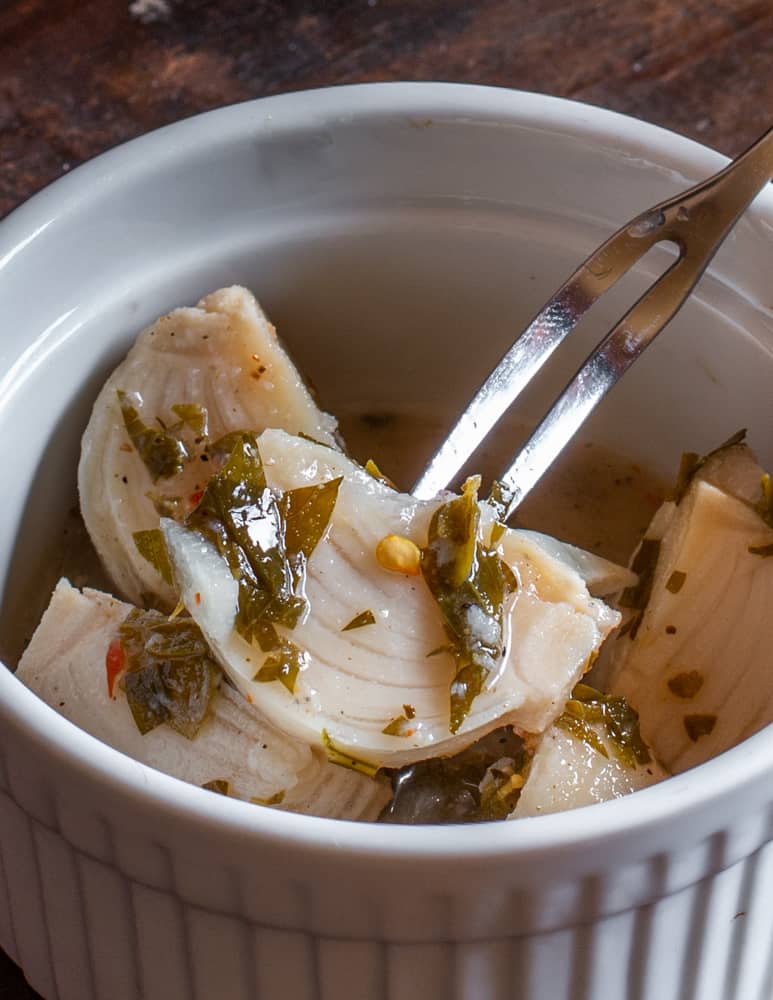 There were a few things that confused me though. For starters, there's a bunch of different types of hyacinth that are foraged and eaten. Accounts vary, and I can't seem to pin point if the most common species eaten are grape hyacinth (Muscari racemosum) musk hyacinth (Muscari neglectum) or tassel hyacinth (Leopoldia comosum, muscari comosum is a synonym).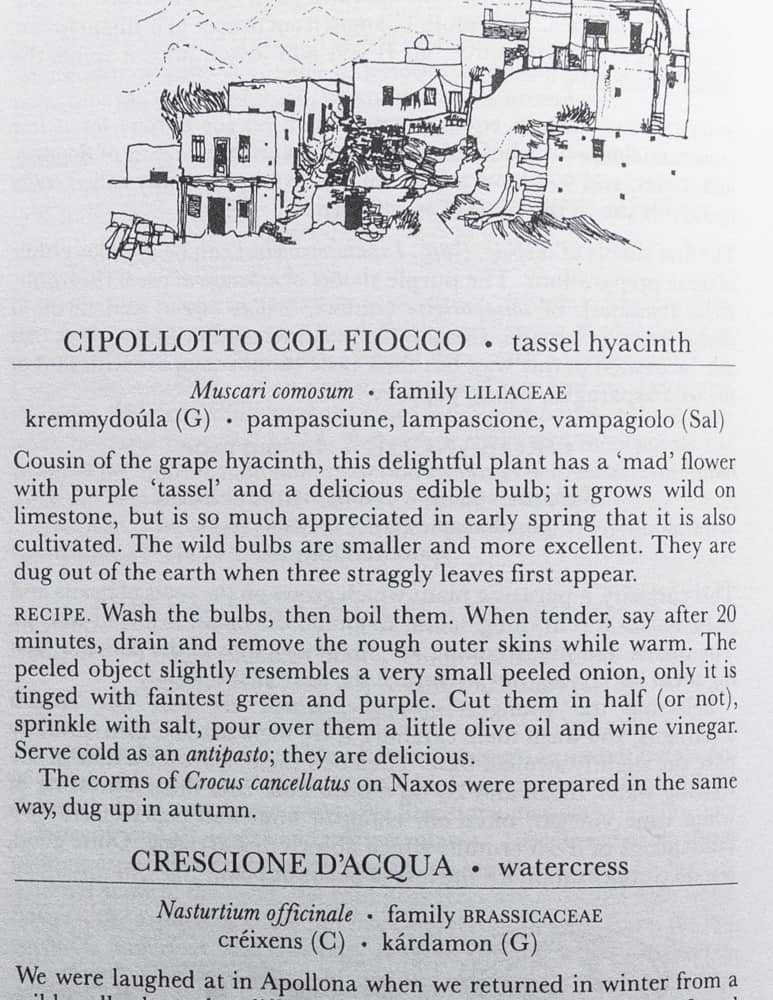 After eating a few different species, and knowing what I do about cucina povera and Italian poverty food traditions, I think all of them could be eaten, with people harvesting whatever species is available to them.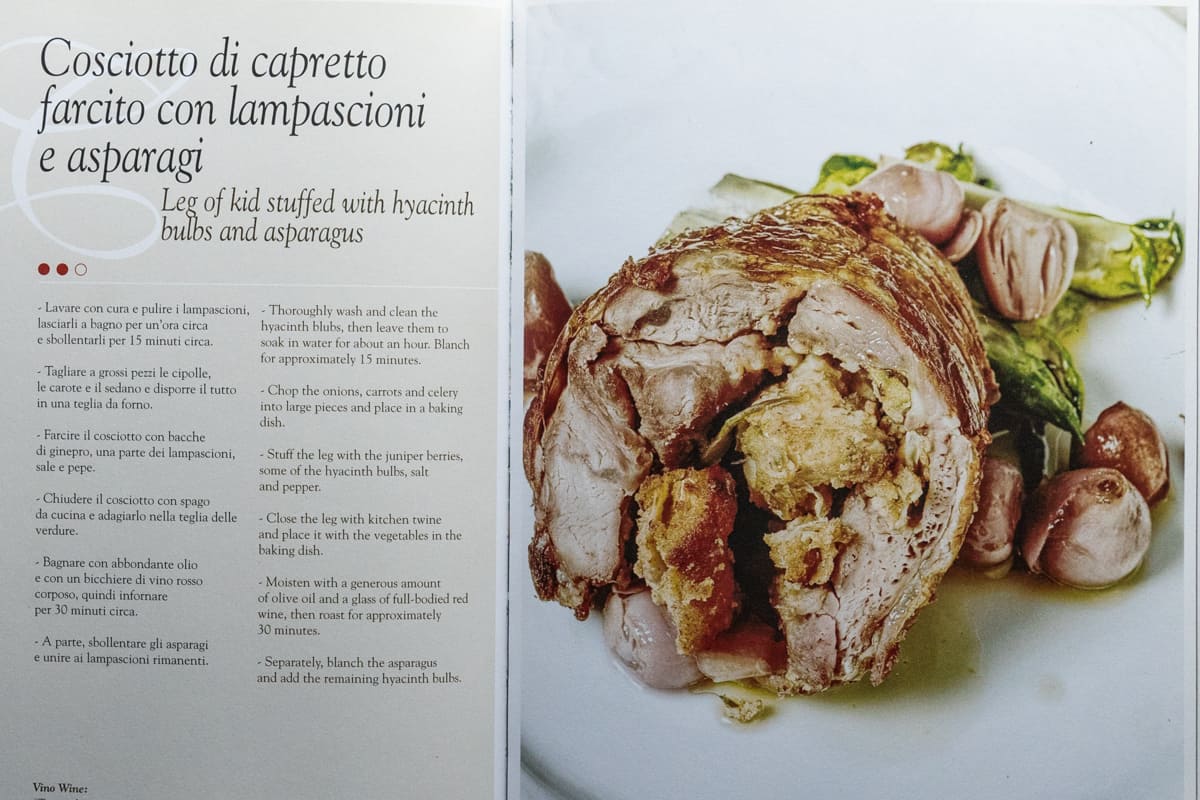 Toxicity
Hyacinth bulbs are said to be poisonous, but they're also a traditional food you can order through specialty grocers. Before I ate some, I really wanted to understand the toxicity of the bulbs, and how cooking and processing makes them safe.
Cosimic acid
The problem compounds in the Genus muscari seems to be comisic acid, a compound also found in other plants we eat that's been compared to saponins. For reference, green beans and quinoa also contain saponins.
The comisic acid is said to give the bulbs their bitter flavor. Cosmic acid appears to be water-soluble, which explains why traditionally the bulbs are boiled.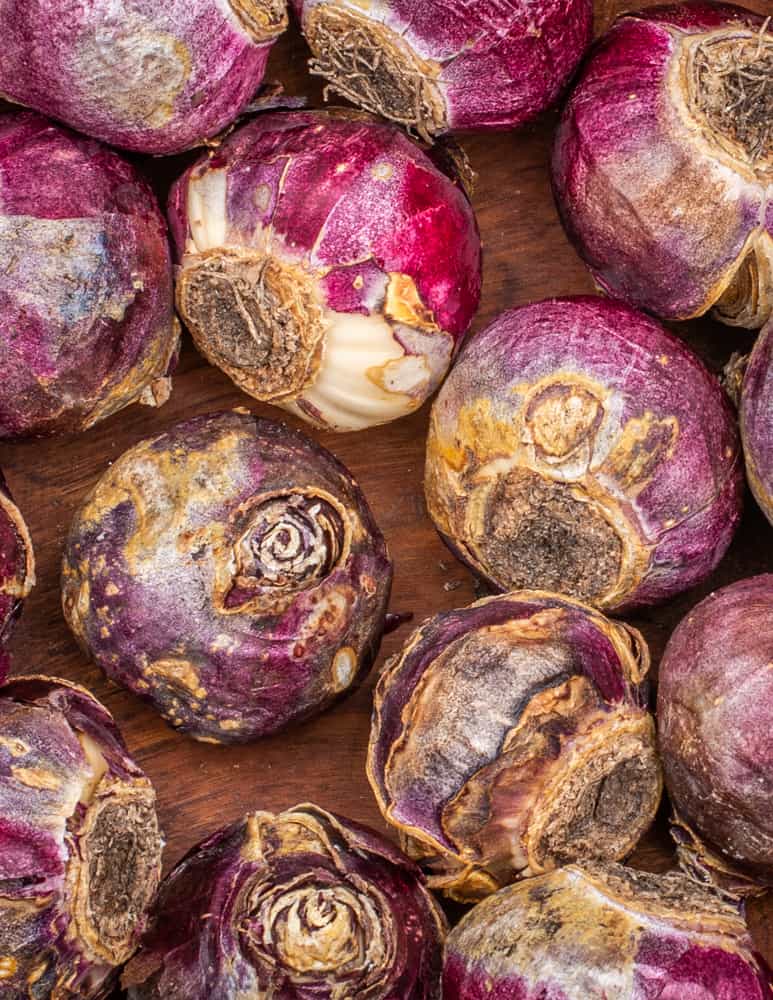 Oriental Hyacinth Bulbs
I really wanted to try the bulbs, but I didn't know anyone that was growing grape hyacinths. So, I called my local garden store, asked when they received hyacinth bulbs and set a date to stop by in the fall.
When I got to the store and bought my hyacinth bulbs, I noticed that the label on the package said "oriental hyacinth". This seemed a little strange, so I made sure to look them up too. Turns out that oriental hyacinths are a totally different genus (Hyacinthus) than Muscari. I figured for good measure I should try to cook them anyway.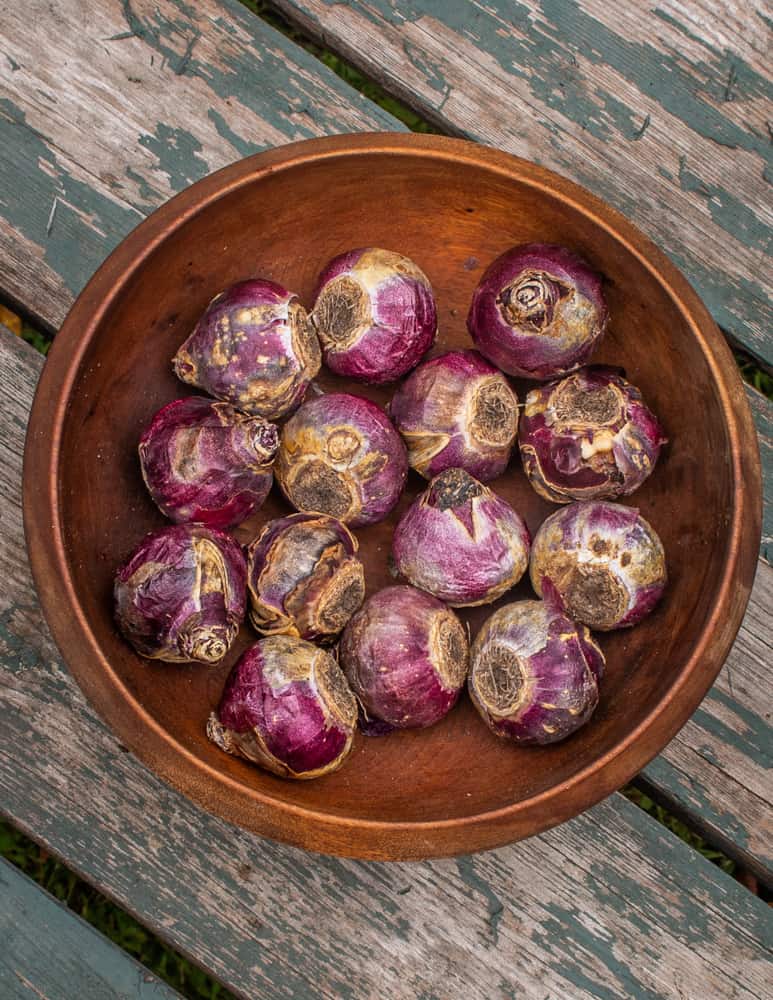 Unfortunately, looking up my Oriental hyacinth bulbs showed a bunch of articles outlining the toxicity of them too, and to make it more complicated, the compounds in the Oriental hyacinth bulbs (lycorine and calcium oxalate) were different than the bulbs in the genus Muscari.
For reference, calcium oxalate (oxalic acid) is also found in spinach, sorrel and rhubarb. Calcium oxalate is water-soluble, so blanching can help remove or at least reduce it.
There's plenty of poisoning examples from ingestion of Hyacinthus bulbs though, so I took a look at all that I could find. One thing that's important to know is that some garden centers apply pesticides to bulbs as they're not considered food, so make sure to inquire about that. 
Every one of the poisonings from Oriental hyacinths I could find were cases of dogs or pets eating the bulbs raw. This might sound alarming, but raw is the key phrase here. Morels, the state mushroom of Minnesota are also toxic raw.
Oddly, the most authoritative book I have on Italian food says Muscari bulbs can be eaten raw. To be very clear, none of the bulbs I'm referring to here should be eaten raw. See the image below for reference.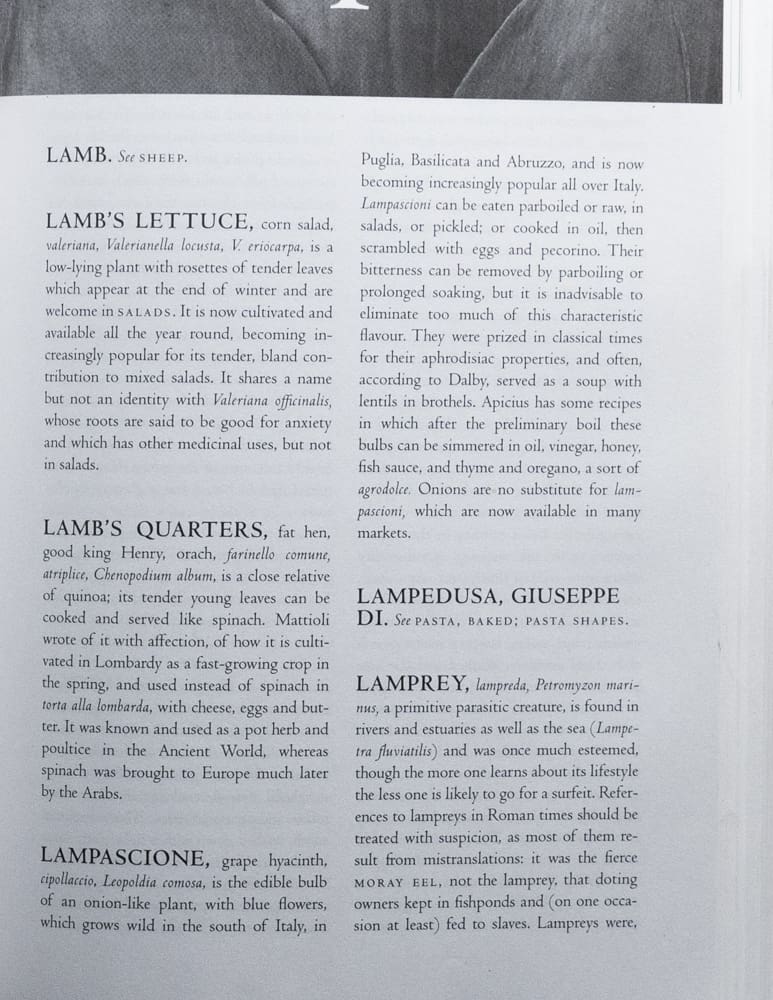 The latex, or sticky sap from the bulbs is also said to be problematic and gives some people dermatitis, but seems pretty tame compared to the phototoxic compounds in carrot family plants that I eat regularly. That being said, some people react strongly to the sap of these bulbs, and it's a good idea to wear gloves handling them, especially if you haven't worked with them before.
As far as lycorine, I can't find evidence to prove it's completely removed through boiling, but, as the effects are emesis and I didn't experience any with my consumption on any occasion, I doubt that the amount left in the bulbs after cooking is likely to give anyone an upset stomach, especially eaten in small amounts as an antipasti or appetizer.
The Oxford Companion to Italian Food claims you can eat the bulbs raw. I wouldn't do that.
Cooking and Eating L. comosum and H. orientalis
Luckily my friend Ellen Zachos was able to call in a favor for me and had her friends at the New York Botanical garden ship me a box of true L. comosum. Finally I could try both bulbs side by side to compare the flavor, and hopefully not get sick. Here's my experience.
Both species of bulb give off a sticky latex when cut, but it didn't bother my hands. I applied the same treatment to both types of bulbs: a long boil until tender, with a change of water about halfway through.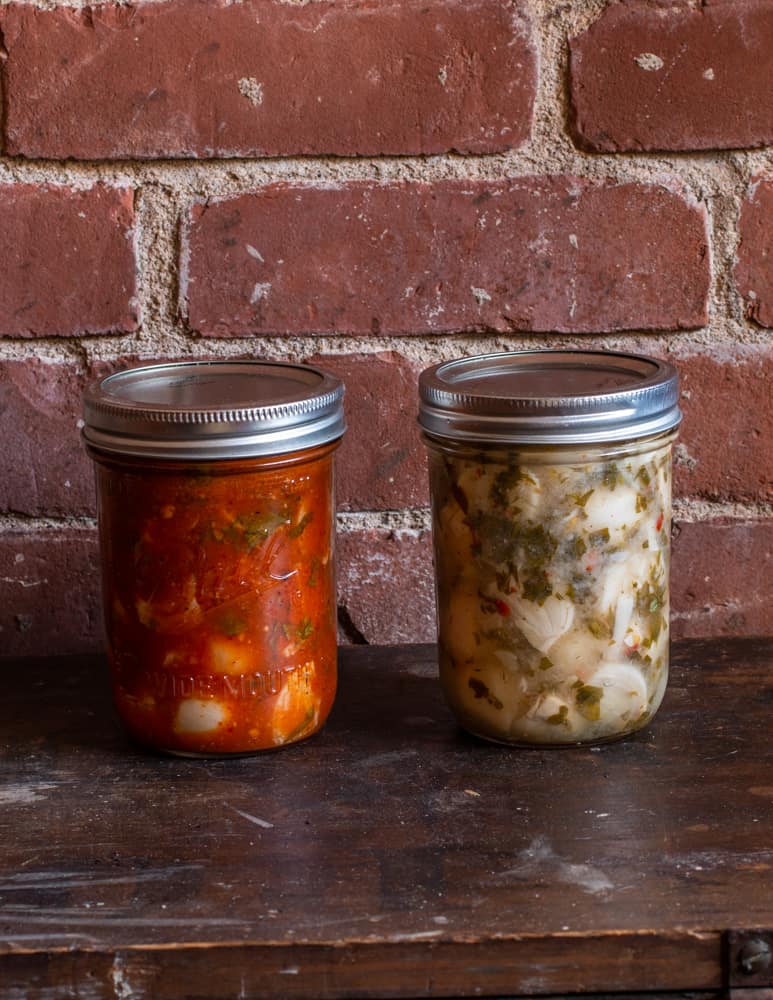 After boiling, the tassel hyacinth bulbs were still intensely bitter, and only mellowed slightly after a few months of aging. The oriental hyacinth bulbs were as mild as a cooked potato.
To test them out, I ate 1 oz portions of the bulbs on separate days. One ounce of bulbs is comparable to how they're served as a garnish or antipasti. Afterward, I waited a couple hours to see if I could feel anything out of the ordinary. 
Feeling fine, I ate larger portions of each bulb separately, increasing my dosage to about 4 oz each time. I had no ill effects from eating either bulb, but the next time I cook L. comosum I'll probably leach (soak) the cooked bulbs for at least 24 hours in a couple changes of water to cut the bitterness.
Conclusion
Hyacinth bulbs are a well-documented, traditional food of the Mediterranean. While H. orientalis isn't listed as a traditional edible, I see no harm in sampling some of the bulbs as the compounds appear to be water soluble and removed through boiling.
Lampascioni are served as an antipasti in small amounts, so I'd encourage you not to eat more than a few ounces your first time trying them.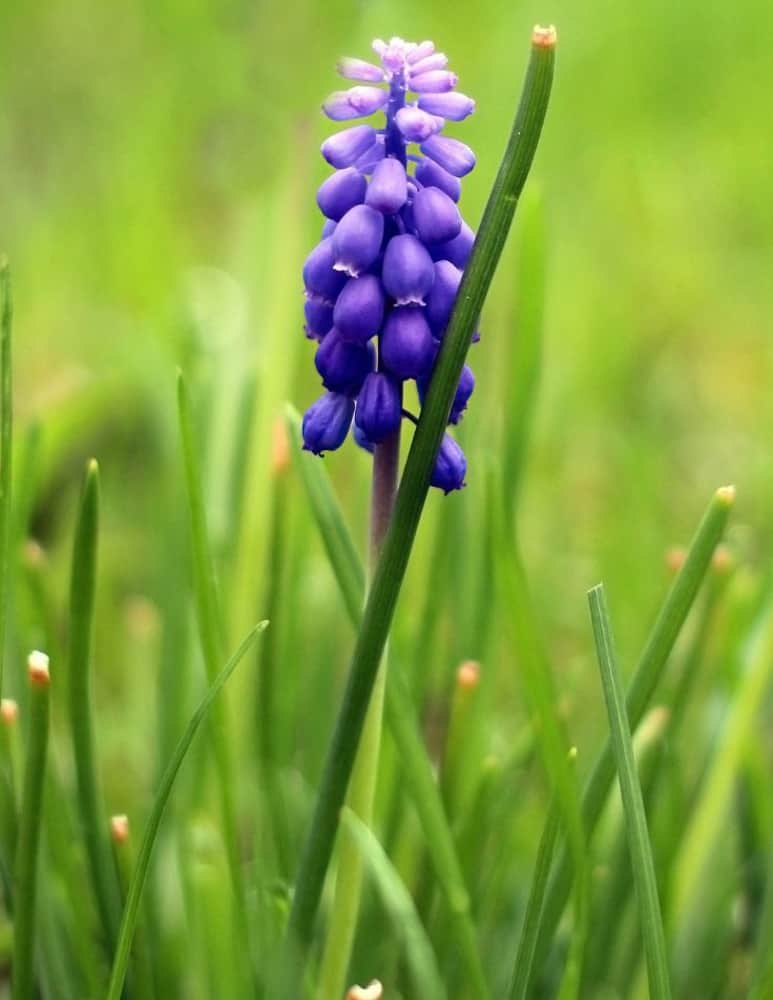 More
References
Oxford Companion to Italian Food
Puglia: The Silver Spoon Kitchen
Eat the Weeds: Tassel, Musk, and Grape Hyacinth
Oxalic Acid in the Genus Hyacinthus
Effect of different cooking methods on vegetable oxalate content