Golden oysters mushrooms (Pluerotus citrinopileatus) are everywhere right now, and perfect for bringing home if you find some nice bug-free clusters.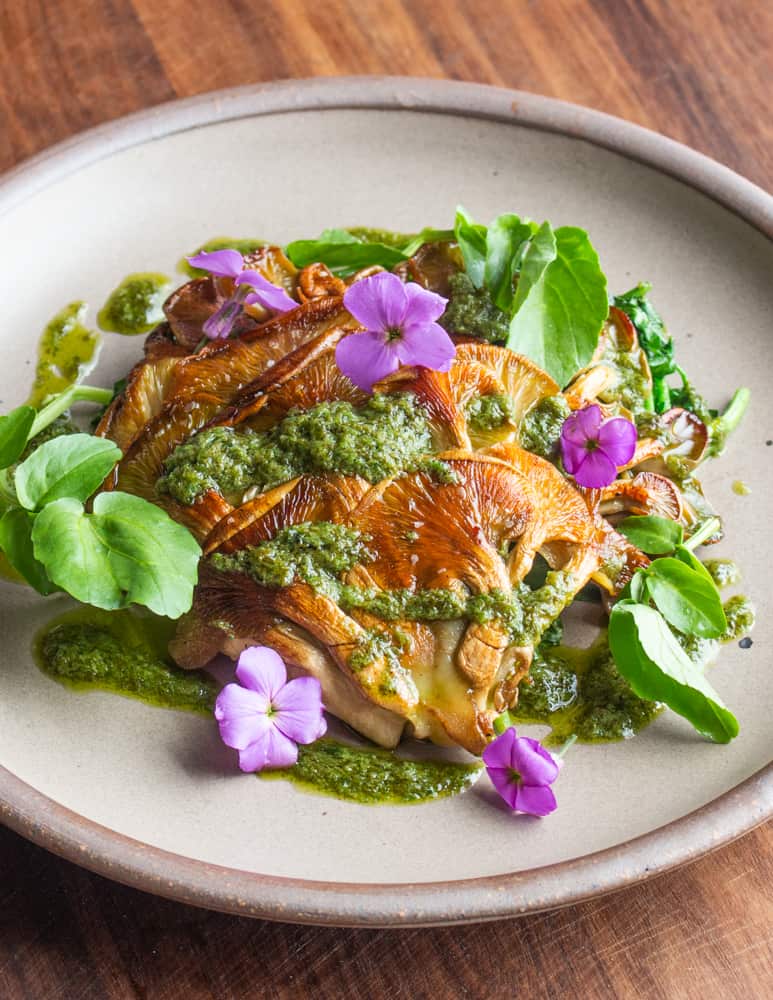 When you find those perfect clusters, one of the best oyster mushroom recipes you can make is oyster mushrooms steaks.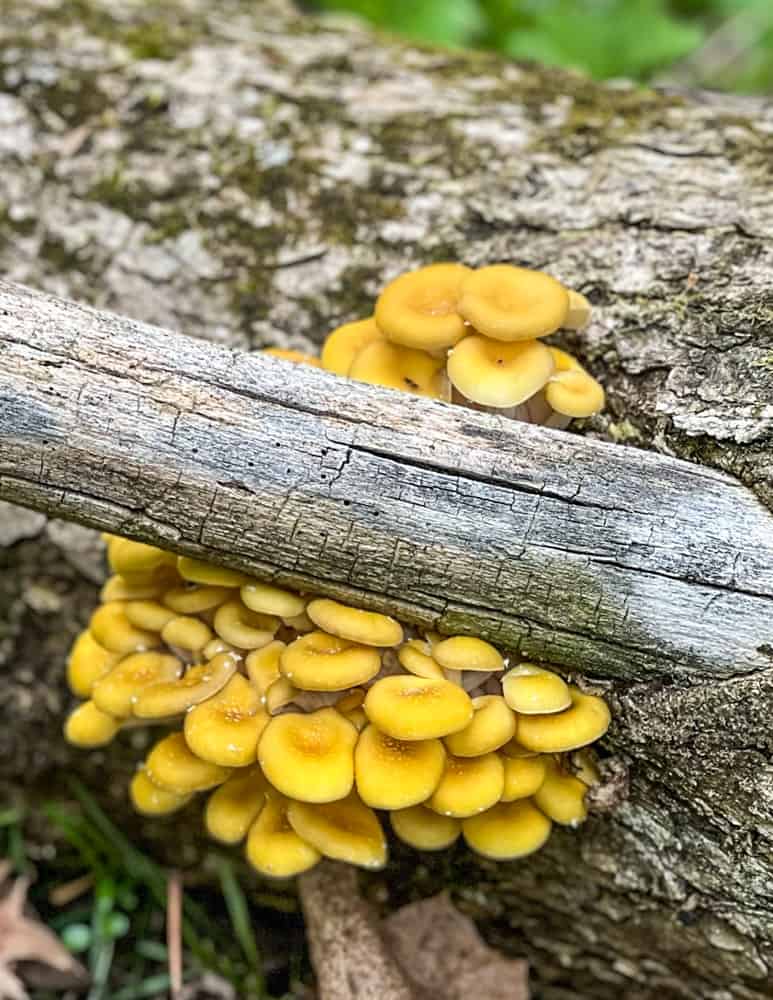 Wild Mushroom steaks are one of my favorite things to serve as a mushroom meat substitute, or as a compliment to meat as you'd serve a side of sauteed mushrooms. All you need is some good, fresh mushrooms in a nice clump, a weight of some kind, some oil, salt and pepper.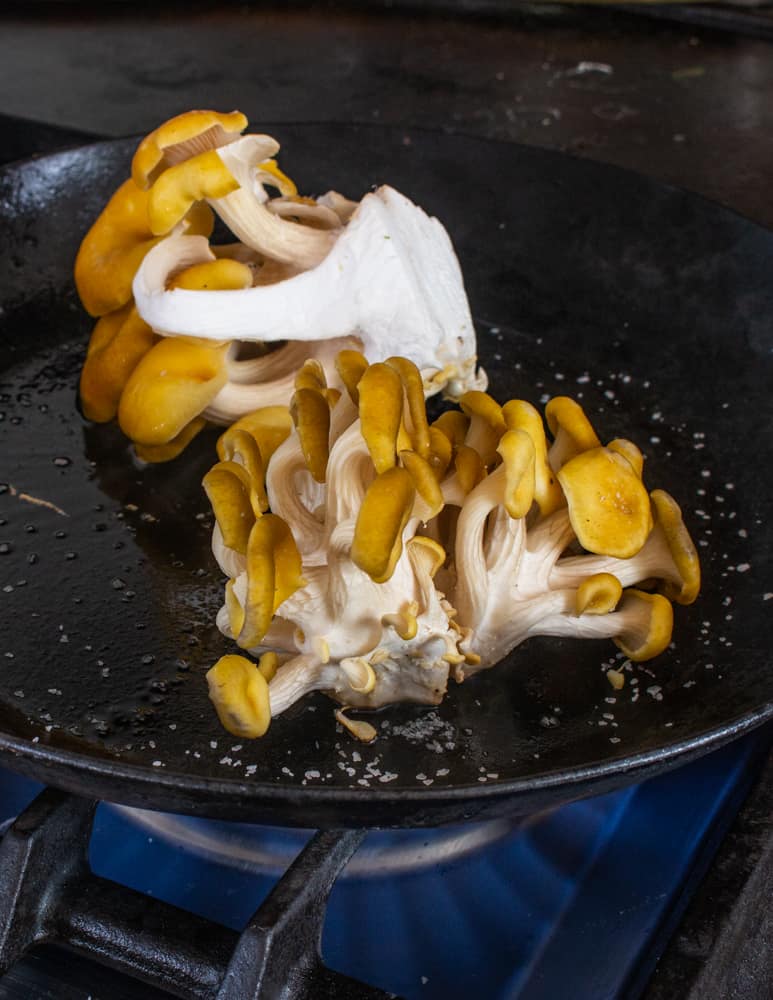 Choosing the right weight
For the best result you really need to use a weight here to press the mushrooms against the pan. I have a bacon press that works well, but you can use all kinds of things. Putting a pan on top of the mushrooms while they're cooking is probably the best substitute for an actual press.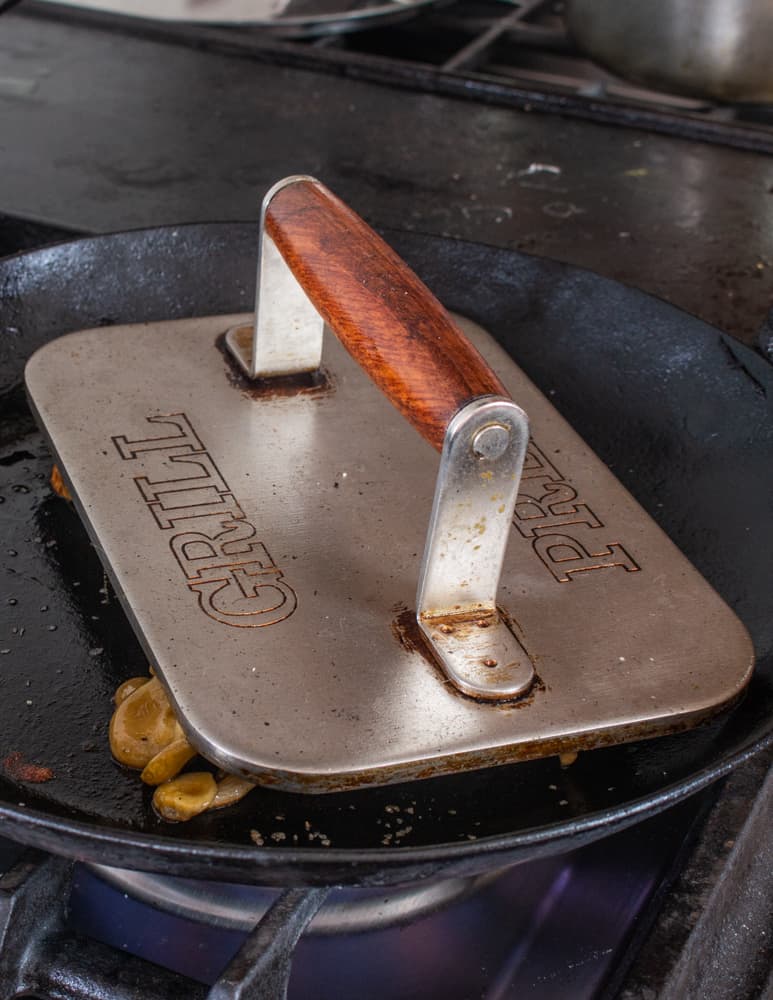 Making enough to serve a crowd
I served mushrooms steaks first for a tasting dinner I did, and we had to do about 30 at once. Pressed for time, I put a sheet tray on top of the mushrooms on a flat top grill, putting a cast iron pan on top of it and it worked really well. If you want to make more than a couple steaks at a time, a good way to do it is to use a pancake griddle and a cookie sheet with a heavy pan on top.
Other mushrooms you can do this with
This is a good wild mushroom recipe for a number of different species. Here's a few others that work well.
Umbrella Polypore
Puffballs (when breaded and fried)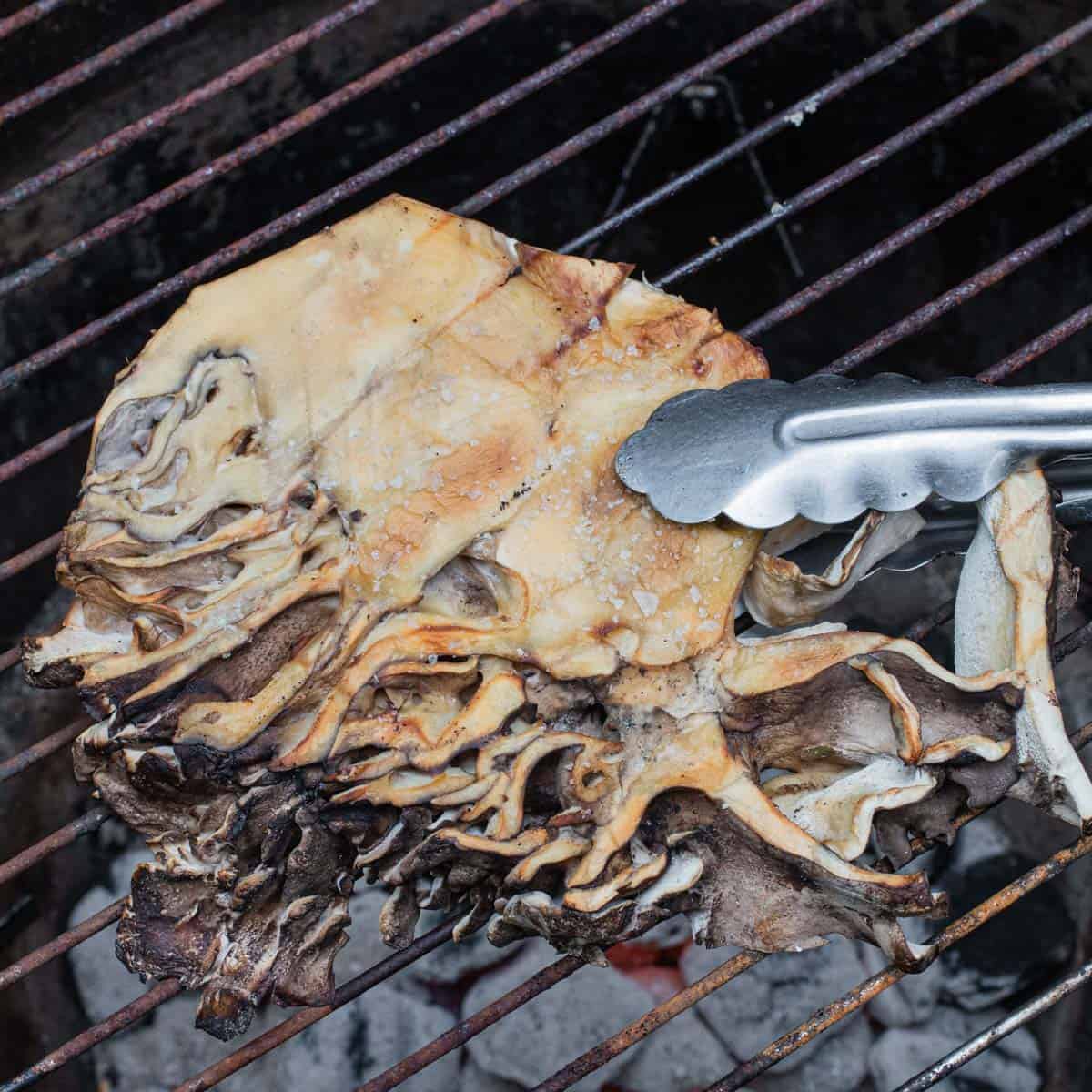 Serving Ideas
There's lots of things you can do with mushrooms steaks. Here's a few ideas of how I serve them.
For the simplest version, serve them with a lemon wedge and a salad or side of cooked greens.
If you have a favorite condiment, like aioli or another creamy sauce, spread some on the plate and put the mushroom steak on top.
Spooning over a vinaigrette, or some melted-infused butter as pictured here is great too. Chimmichurri, salsa verde, melted ramp butter, and other herby things are great.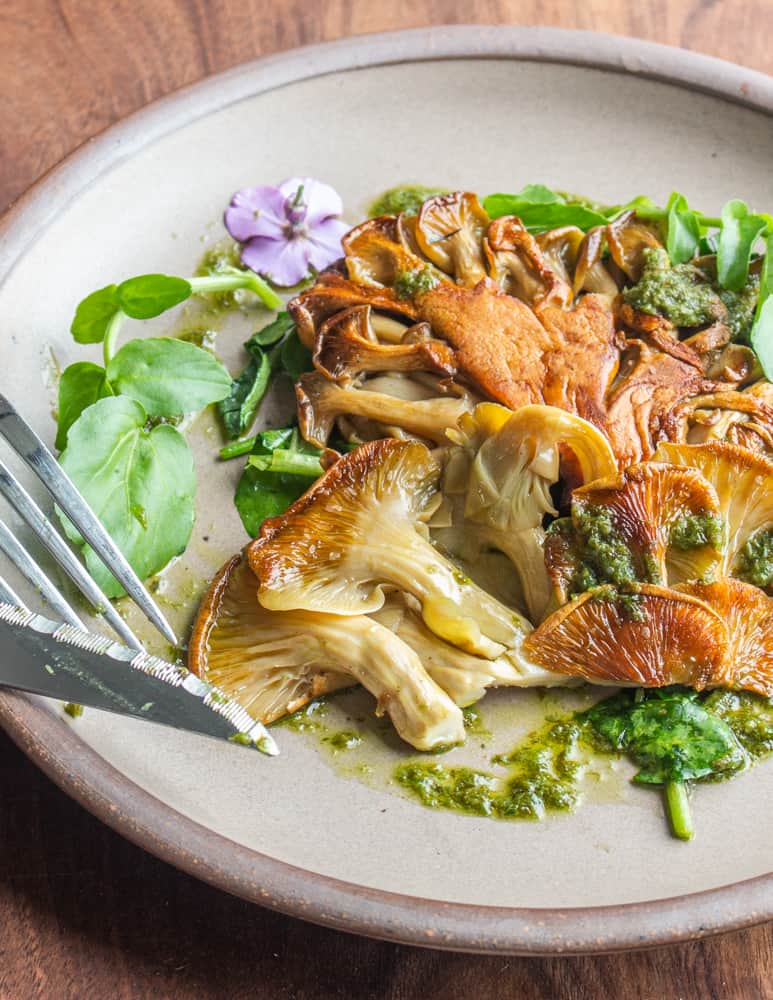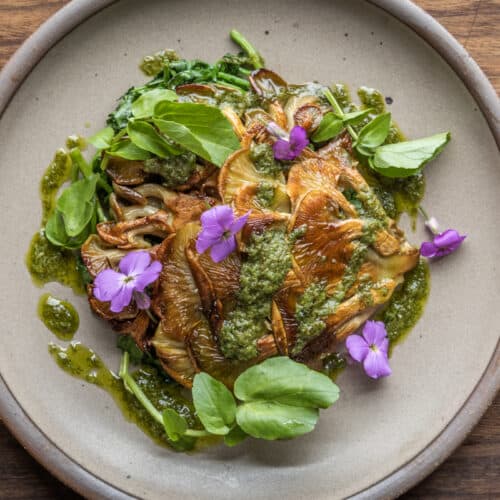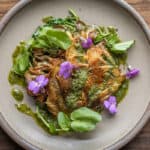 Print Recipe
Golden Oyster Mushroom Steaks
Mushrooms steaks made with foraged golden oysters make a good meat-substitute or side dish.
Ingredients
2

very clean, four to six-ounce clusters of oyster mushrooms

wild or cultivated are both fine

2

tablespoons

cooking oil

Kosher salt and fresh ground black pepper

Optional

3

tablespoons

ramp butter

optional

8

oz

cooked leafy greens

like watercress

A squeeze of fresh lemon juice
Instructions
Mushroom Steaks
Heat the oil in a large pan on medium high heat.

Add the clusters of oyster mushrooms and cook until lightly browned.

Put a weight like a bacon press or another pan on top of the mushrooms and cook for a minute or two more until golden.

Flip the mushrooms, put the weight back on and cook for a couple minutes more. Remove the press from the mushrooms, season the mushrooms lightly with salt and pepper, then serve. They're great served as a meat alternative, or used as a compliment to meat dishes, like a steak or other proteins as you would a mushroom side dish.
Serving as pictured
Warm the ramp butter if using. Arrange the mushrooms on top of a bed of cooked leafy greens, drizzle the ramp butter over, along with a squeeze of lemon juice, and serve.
More
Foraging and Cooking Golden Oyster Mushrooms