A salad of cooked black locust flowers inspired by Sam Thayer is one of the most interesting dishes I've ever eaten, and something that changed the way I think about what constitutes a vegetable.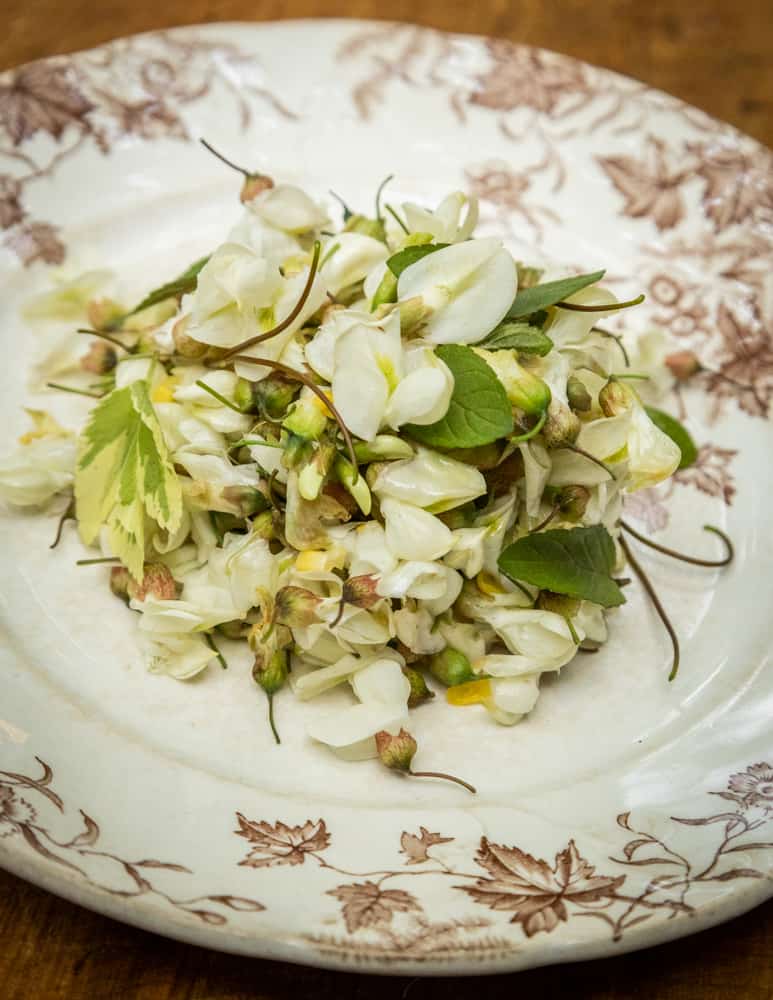 It's no secret that I love edible flowers-I submitted over sixty different images of different flowers you can eat for a gallery in my book. But, most of the flowers you can cook with are strictly garnishes. Some are spicy hot or bitter, like mustard flowers. Some are incredibly powerful aromatics, like signet marigolds (Tagetes tenuifolia) or angelica and can ruin a dish if you add too much.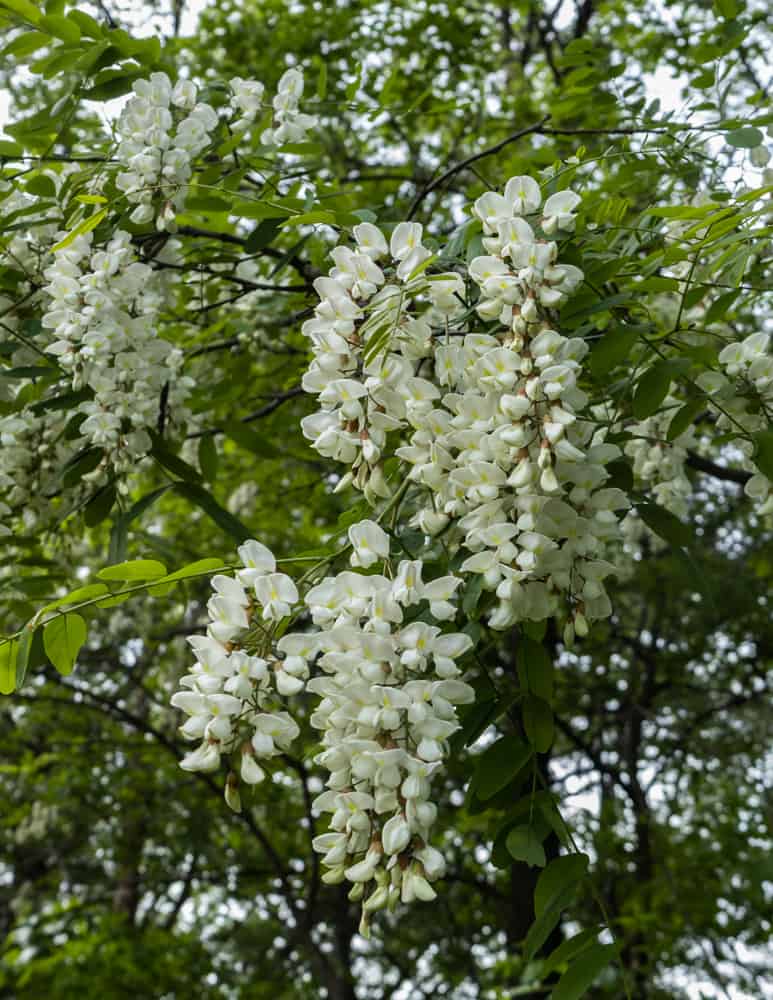 Black locust flowers (Robinia pseudoacacia) are probably my favorite edible flower, and one of the big reasons is that you can eat them by the handful. Stripping the flowers from the branches and gorging on them like a wild animal is strangely pleasing, almost as pleasing as the jasmine-aroma and sweet nectar in the flowers themselves.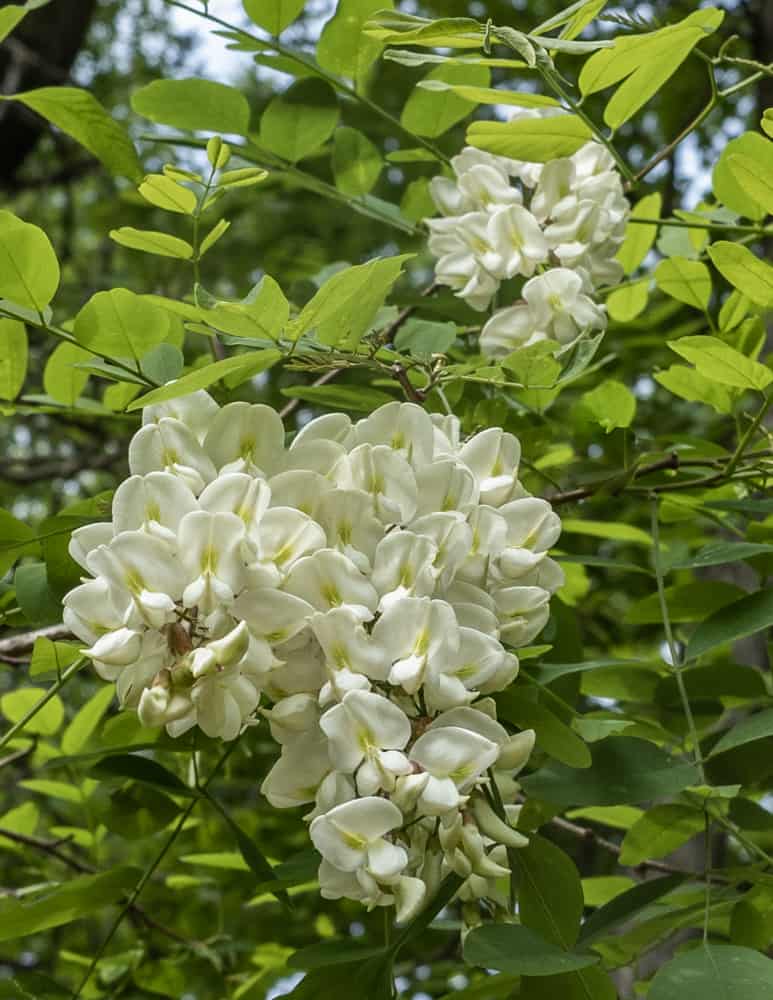 Up until Sam told me about his salad I'd only ever used the flowers as a garnish-a sprinkle here and a handful there. Sam's salad is different though. Instead of using the flowers as a sprinkle, he makes a salad completely from black locust blossoms (with a little sweet corn too). What I found fascinating is that the salad is cooked, changing the way the flowers are enjoyed from a garnish to something more like a vegetable.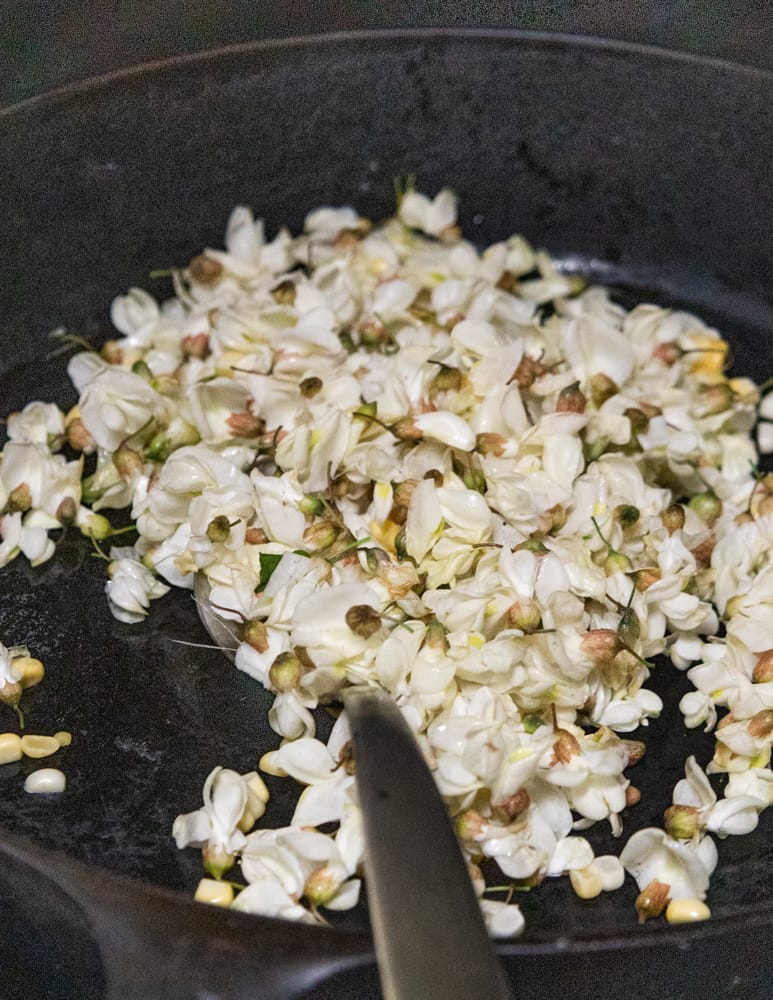 Here's how he explained it to me. He takes a couple big handfuls of flowers and sweats them with some coconut oil. After the flowers are wilted, he adds another handful off the heat and stirs until they're about half-wilted.
Next, he takes the flowers off the heat and transfers them to a bowl, stirring in more raw flowers that get barely wilted from the residual heat. After that he adds some sweet corn. Sweet corn may not be as seasonal as the locust flowers, but the sweet flavor and splash of yellow is a nice compliment. If you want to a strictly seasonal version, fresh, sweet peas or cut up snap peas work well.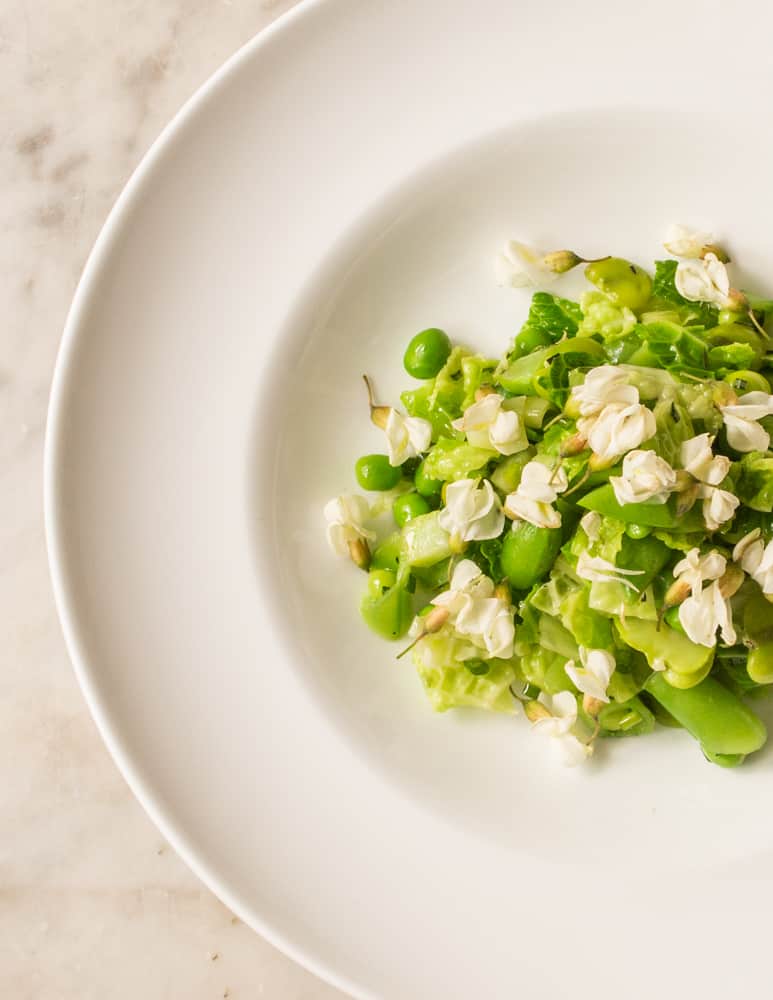 This is just one example of Sam's genius in action. I mean honestly, I've cooked my entire life, for plenty of talented chefs, and I've never seen anything comparable to this in my entire career.
To me it's a perfect example of how interacting with nature can change how you think about food, since only foragers familiar with black locust trees who get to the flowers during their short season can harvest them in a quantity large enough to cook and eat as a vegetable. It's the kind of ground-breaking dish you'd expect to see in a three-star Michelin book, but is more likely to be made in the home kitchen of foragers than in an expensive restaurant.
The finished dish eats like a vegetable side. Not only is it delicious, it just might change the way that you think about vegetables in general.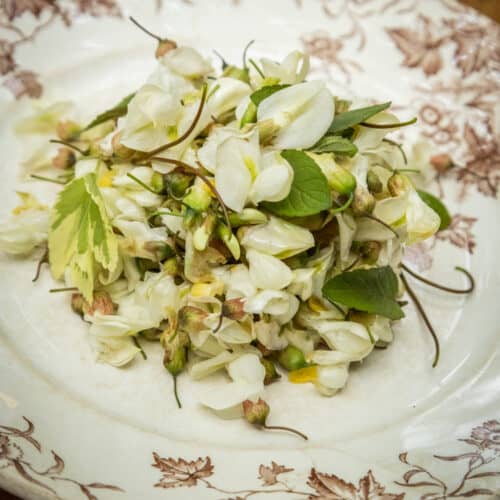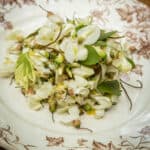 Print Recipe
Black Locust Flower Salad
A salad of cooked wild black locust flowers with coconut oil, lemon and herbs. Use as a side dish or salad. Serves 4
Ingredients
6

oz

6 cups fresh locust flowers

½

cup

fresh sweet corn kernels

1

tablespoon

coconut oil

Pinch

of sugar

Pinch

of kosher salt

to taste

Fresh lemon juice

to taste

Fresh mint leaves

torn to taste
Instructions
Clean and inspect the flowers
Lay the flowers out on a single layer on a baking sheet or other flat surface. Inspect the flowers closely for bugs and insects and rehome any you see. Pick the flowers up carefully, leaving any foreign debris behind.
Cooking
Heat the oil in a wide pan until hot and add 2 cups of the flowers.

Cooking on medium heat, stir the flowers occasionally until wilted, then add another two cups of flowers, the corn, and a pinch of salt and sugar and stir.

Turn the heat off and keep stirring for a moment, then transfer the flowers to a mixing bowl. Add the last two cups of raw flowers and mix, adding the lemon juice.
Serving
Taste the mixture and adjust the seasoning for salt and sugar until it tastes good to you. Finally add the mint, mix, and serve as a salad or side dish.
Related Posts
Foraging and Cooking Black Locust Flowers
More Edible Flowers