Here in the Midwest we just went through a brutal heatwave pushing triple digits, so cold food has been on regular rotation. This dip made from Lamb's Quarters has been on repeat for a while. It's one of my all-time favorite lambs quarters recipes.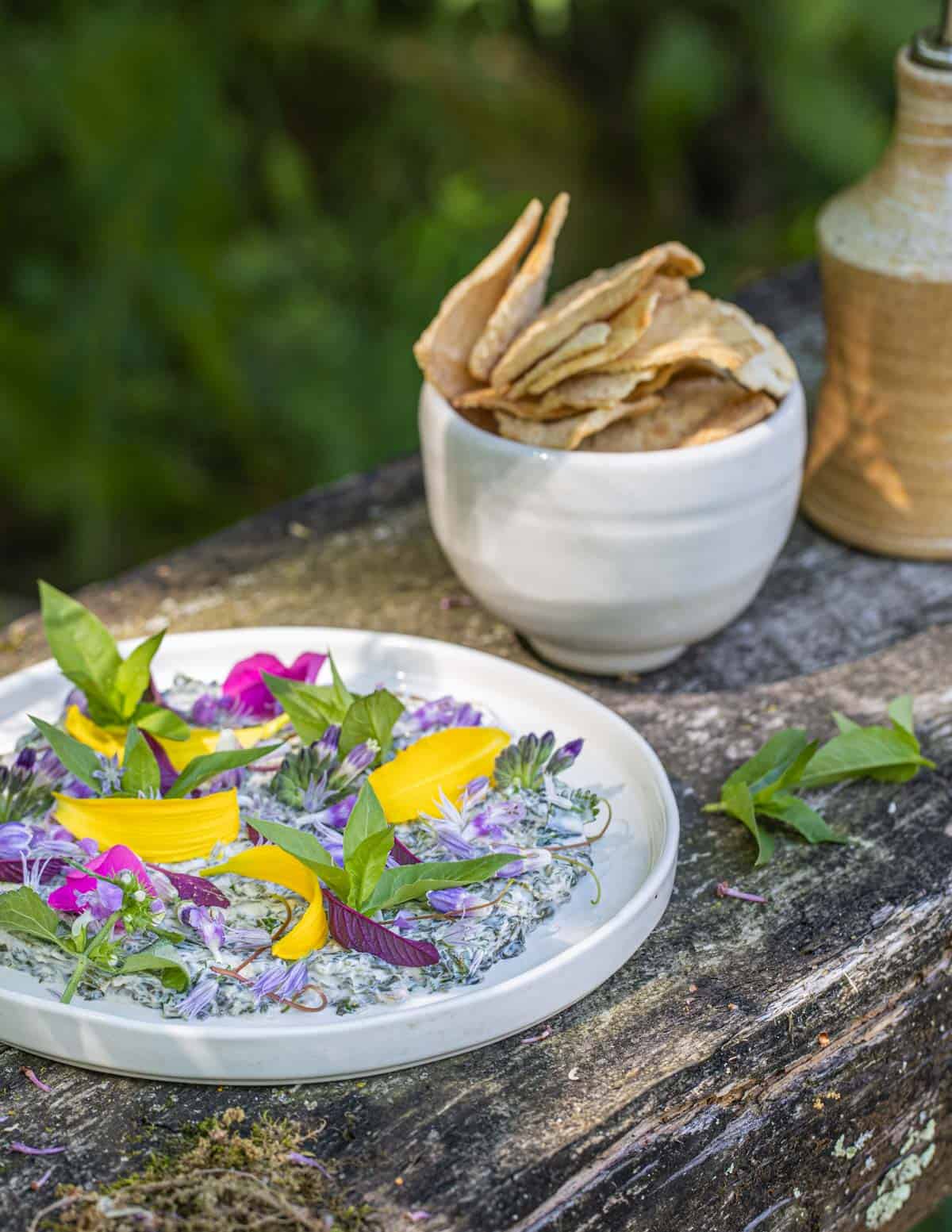 Back in the Spring when I shared my now absolute favorite way to cook nettles, a commenter mentioned that the Turkish version with cheese I shared reminded her of Borani Esfenaj, a Persian dip made with spinach and yogurt.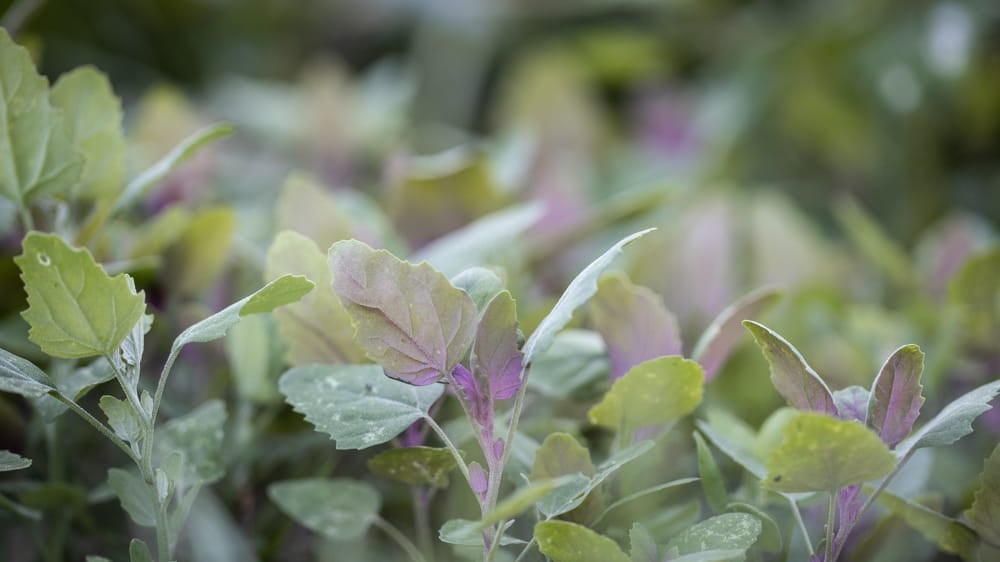 I'd never heard of it, but I had a hunch It would make a good lambs quarters recipe standing in for the spinach as the two plants are related, wild spinach being one of the legion of common names for Lamb's Quarters around the world (Good King Henry is another fav of mine). That, and after writing a book about eating plants, I've been greedily searching out every interesting, traditional plant recipe I can find.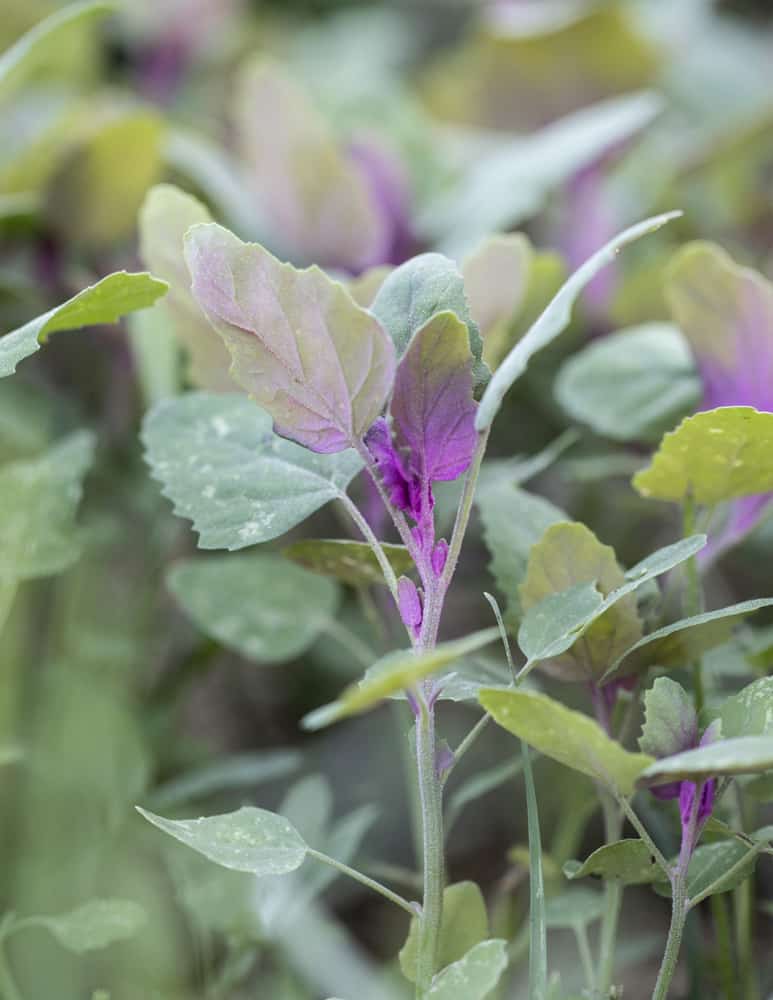 NERD ALERT. If you love cognates like I do, you might notice that the esfenaj in Borani esfenaj resembles words for spinach in other Languages influenced by Latin, and you'd be right, although the name appears to be derived from Arabic, then spread by the Romans.
Either way, I like to think of Lamb's Quarters as the original spinach, as Spinach as we know it probably wasn't introduced to Europe until around 11th Century, while Lamb's Quarters were undoubtedly consumed earlier, at least in Europe and Scandinavia. Here's a few cognate examples because I can't help myself.
Spinach around the world
Espinacas (Spanish)
Épinard (French)
Espinafre (Portugese)
اسفناج Esfenaj and Aspanakh (Persian)
Spina (Latin)
Spinaci (Italian)
I love spinach, but since I harvest so many plants to eat, I hardly ever eat it. That, along with the fact that the high quality young spinach I used to get from a farmer named George Weppler (who supplied Alice Waters) ruined me for the commercial stuff.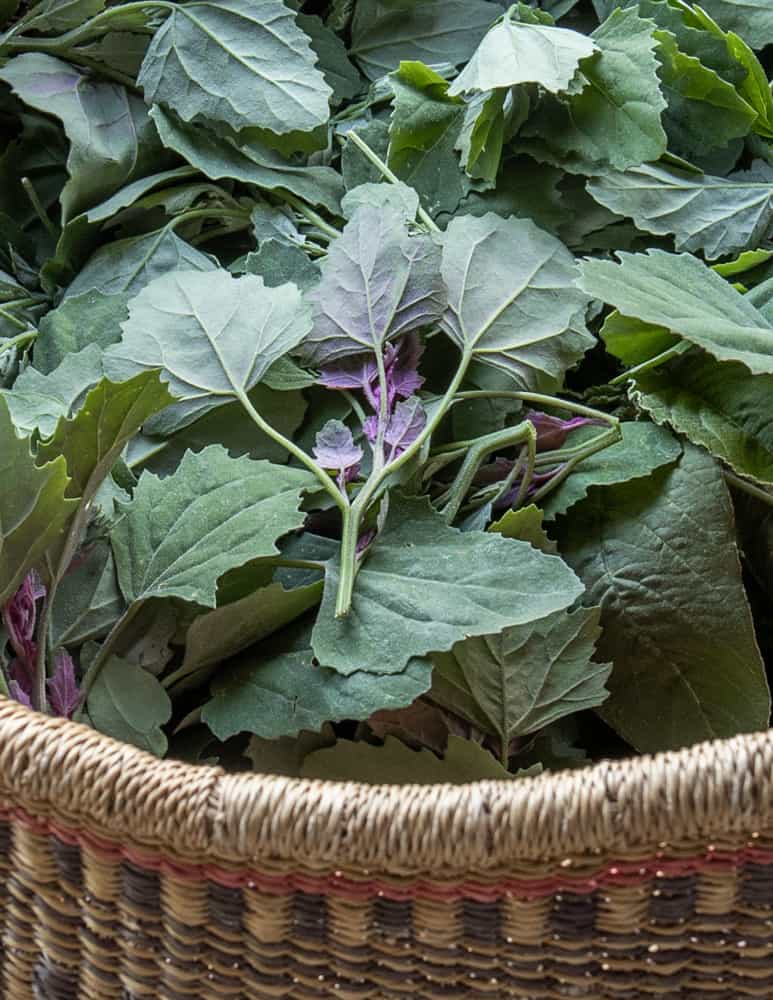 George's young spinach came as an entire plant, with attached clusters of tender stems you can cook alongside the greens.
It's hard to find spinach sold like that, but Hmong farmers at the St. Paul Farmers Market do a great job (along with other wild plants like amaranth and purslane) and Asian markets like Dragon Star often sell young clusters of spinach plants instead of the loose plastic tubs of leaves most Americans are sold. I wrote about George's spinach a few years ago in Eating the Whole Spinach.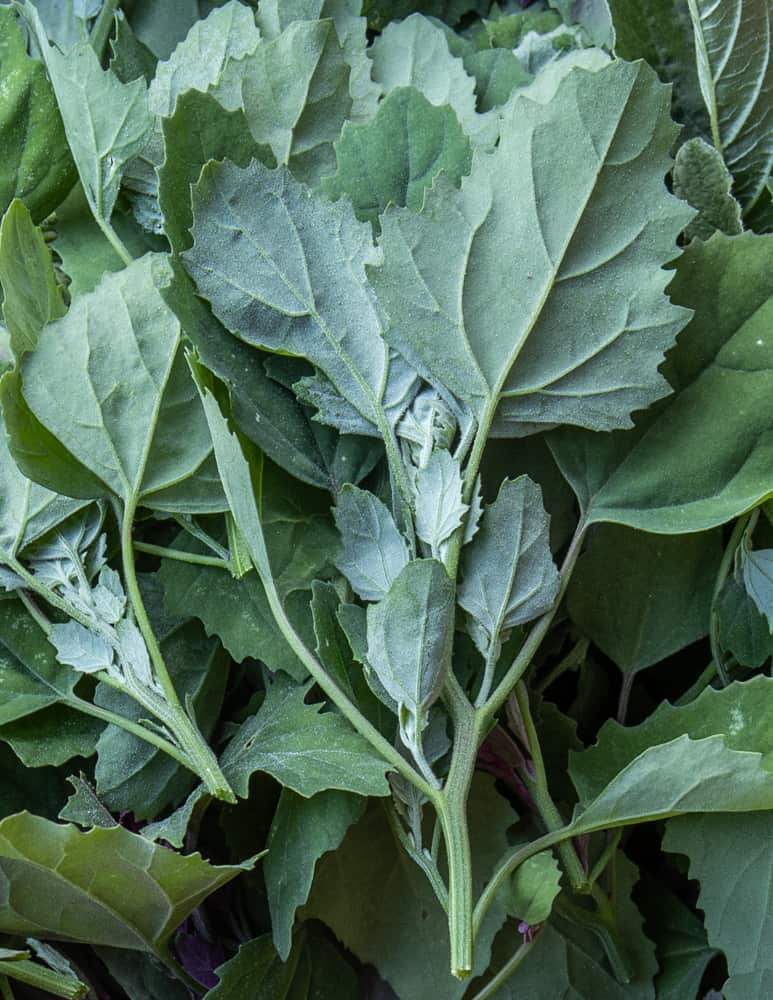 Back to the dish, Borani Esfenaj is a popular Persian recipe. You take some yogurt, add some garlic, herbs, lemon zest and juice, season it up, chill, and serve it as a dip, hopefully with pita chips. Easy money.
Like I often do when I haven't made a dish, I looked at different proportions of commonly used ingredients in a few recipes, took an average of them for a standard sized batch, making sure to note "outlier" ingredients (English or black walnuts can make a nice addition). It's a bit like doing a stem and leaf plot for food research.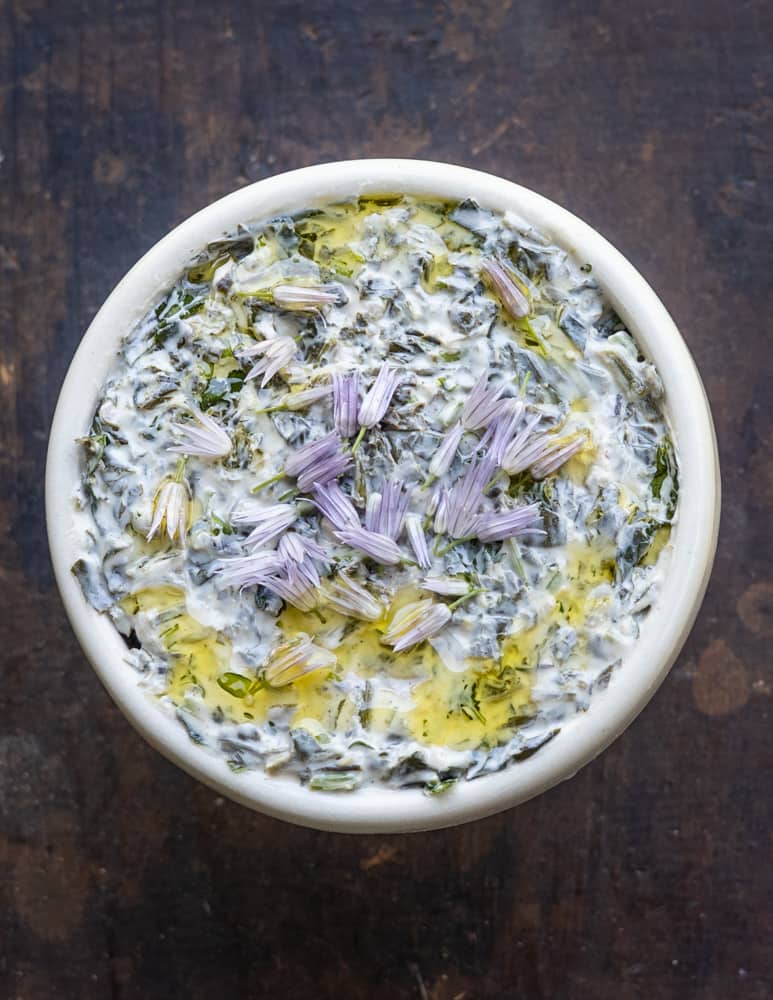 A bowl of plants vs a bowl of yogurt
As I was writing down my proportions to start with, I noticed many of the recipes seemed to be really heavy on the yogurt. Now, I'm a champion of yogurt, and I only buy the thickest unflavored yogurt with the highest fat content, but, I mostly use it as a condiment. I don't really eat dips of mostly yogurt.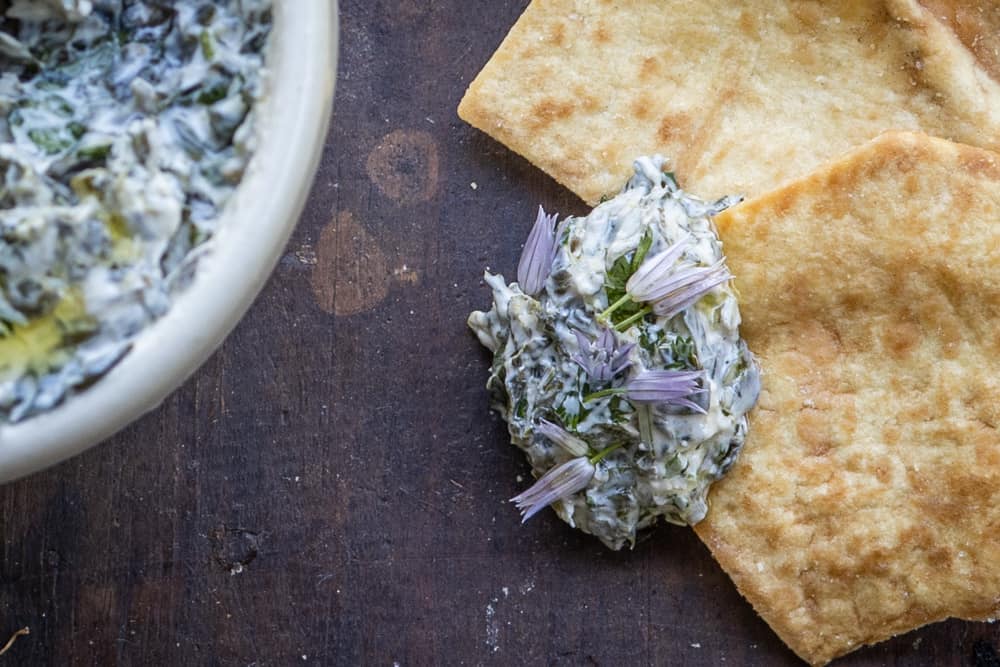 Some recipes for Borani Esfenaj seem to call for paltry amounts of greens for my taste, with some as little as 6oz of fresh greens to a whopping 20 oz (2.5 cups) of yogurt (I don't use fresh greens as over time their water will dilute the dip). The version I saw in my mind was one that would make Popeye slap his Momma, as the kids say, so that's the version I made for you.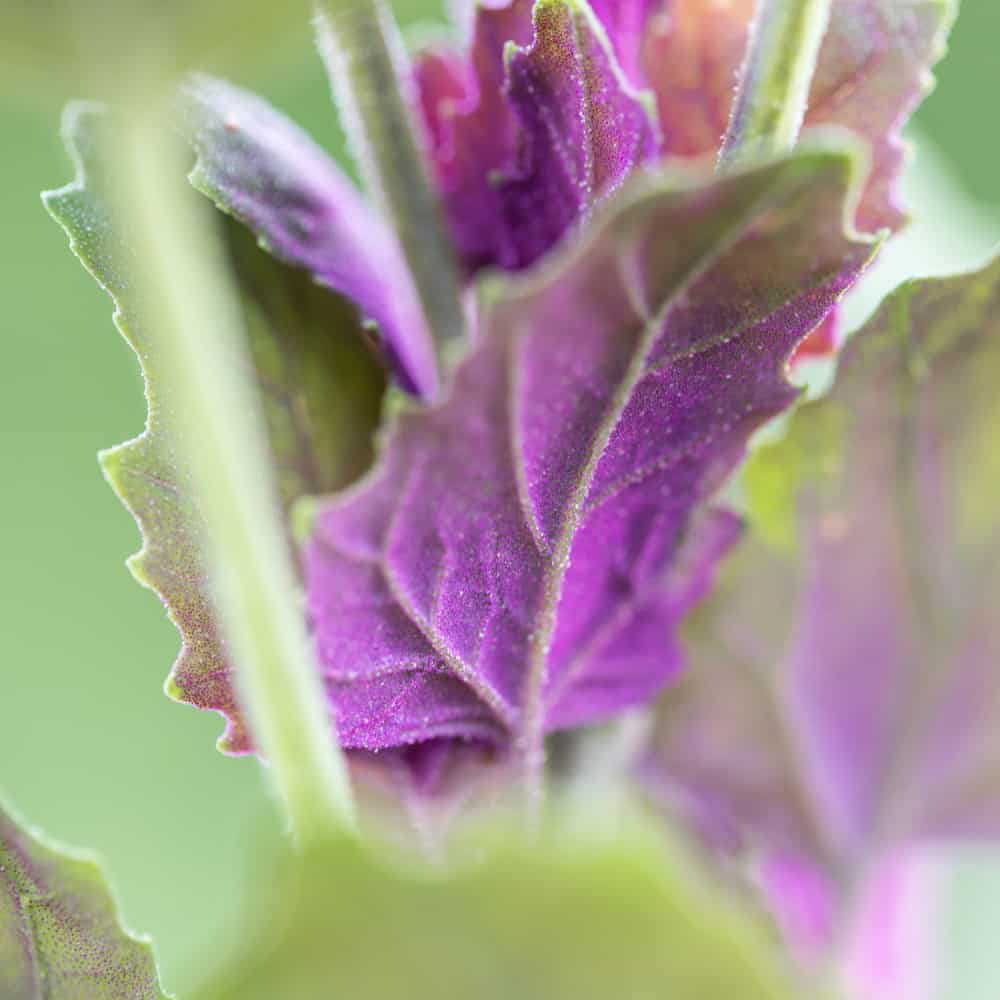 I got my ingredients together, scrapped my original proportions, and just seasoned it until it tasted good to me, going heavy on the lambs quarters. I used a little creative liberty with the flavors, but I think you'll appreciate it. Sometimes intuition is the best recipe.
Malva Variation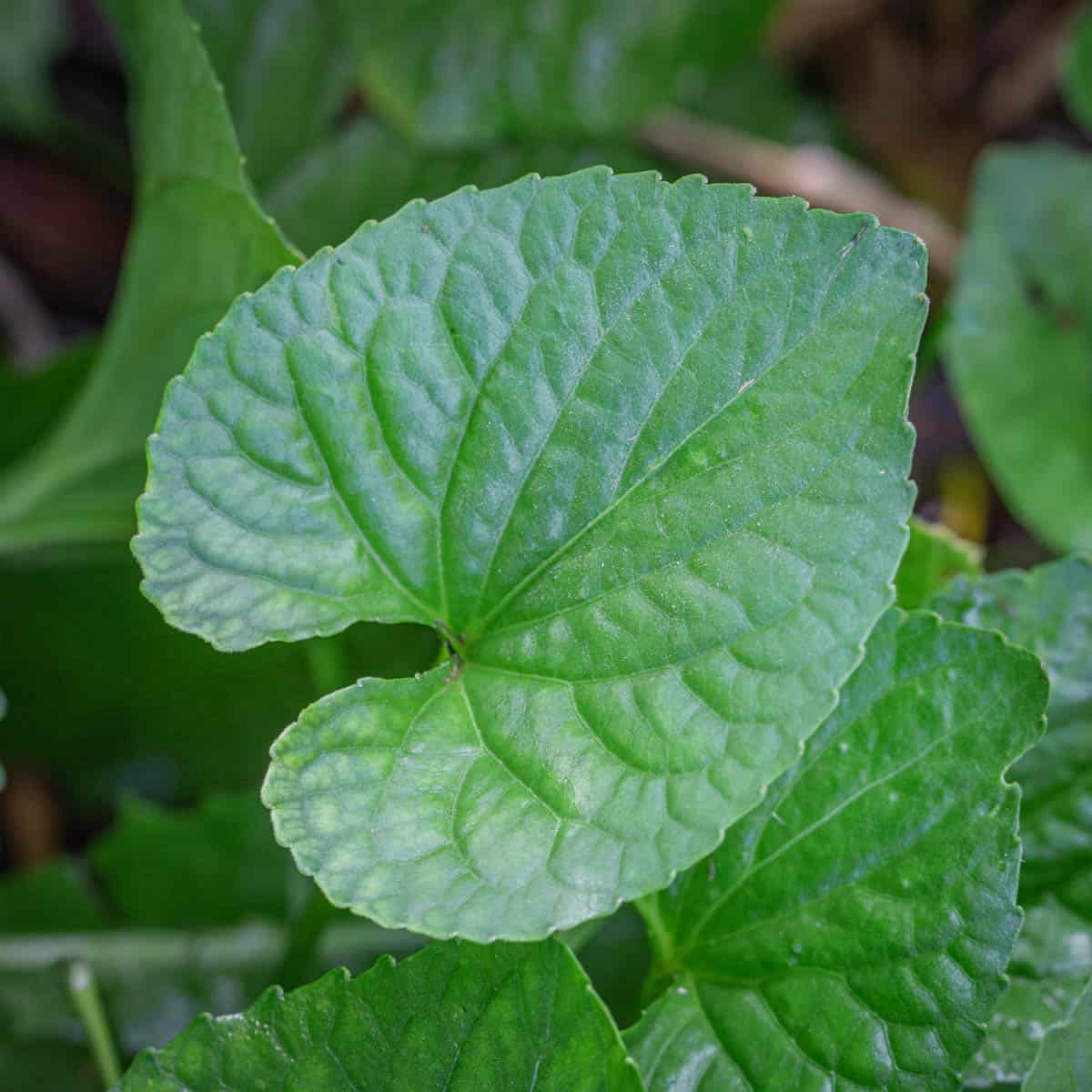 Mallow and violet greens can be off-putting to some to eat cooked all alone as they're mucilaginous (slimy) after cooking, but if you cook them, then chop them up fine, it can be a great way to use them if you have large amounts. Young-ish mallow and violet greens would all be good, but violets need to have their thin, tough stems finely chopped or removed.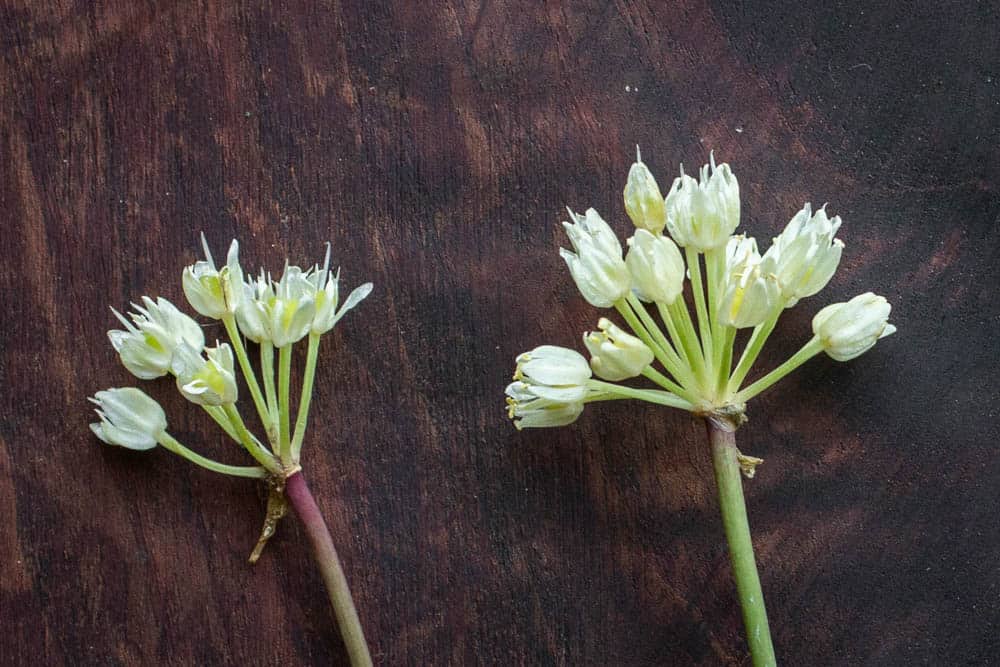 "Fun in the Garden Remix"
You may have noticed there's two versions of the dish here: a simple one packed into a cup for easy scooping, and what I call the "Fun in the Garden Remix".
The latter is a showstopper you can make with a little selection of young growing things like flowers, young tender leaves, additional herbs, and anything that can add a blast of color you have available. Just look around for young growing tips of things and channel your inner goat.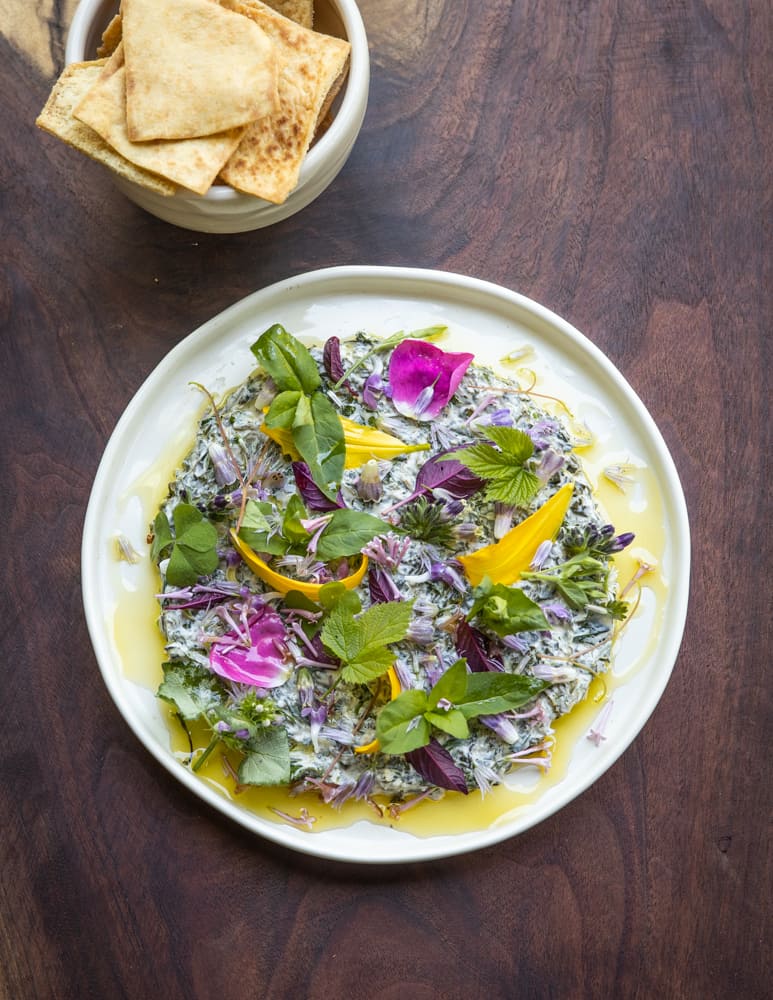 To make the flat remix version, I spread the dip out on a chilled plate using a spoon dipped in cool water, form it into a thin layer on a plate, and use it as a canvas to build on with all the small edible things I can find.
Chickweed tips, young hop leaves, young grape vine tendrils, wild rose petals, day lilies, lilacs, comfrey flower buds, wood sorrel, chive flowers, and tender burgundy amaranth leaves are shown here, but you could use whatever you have available.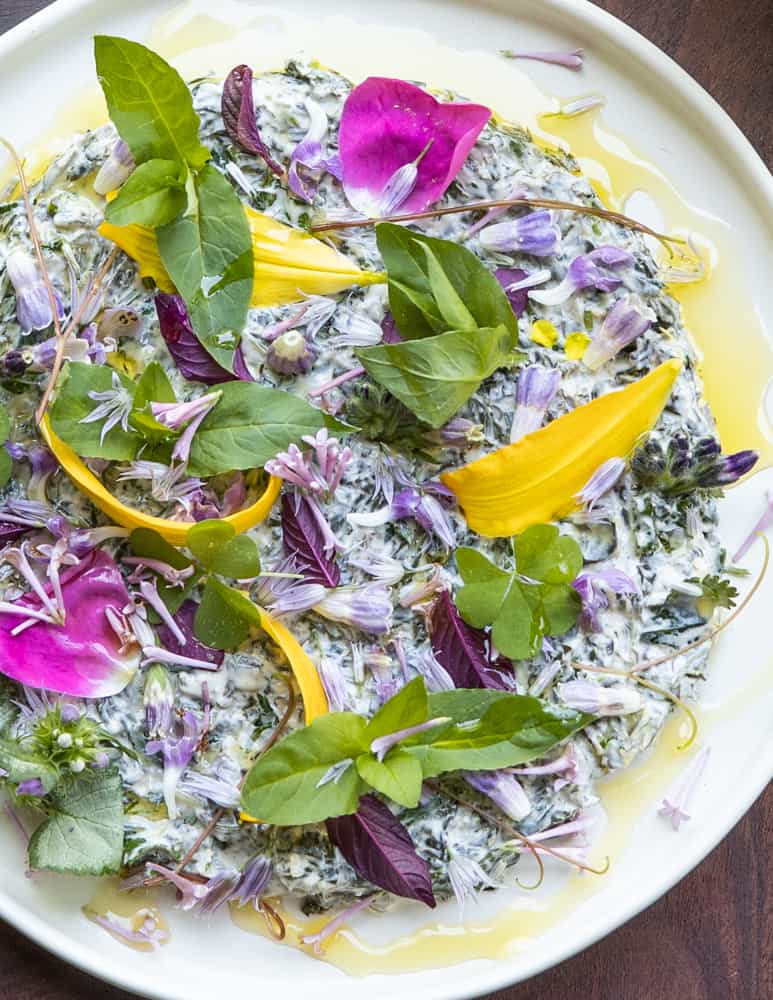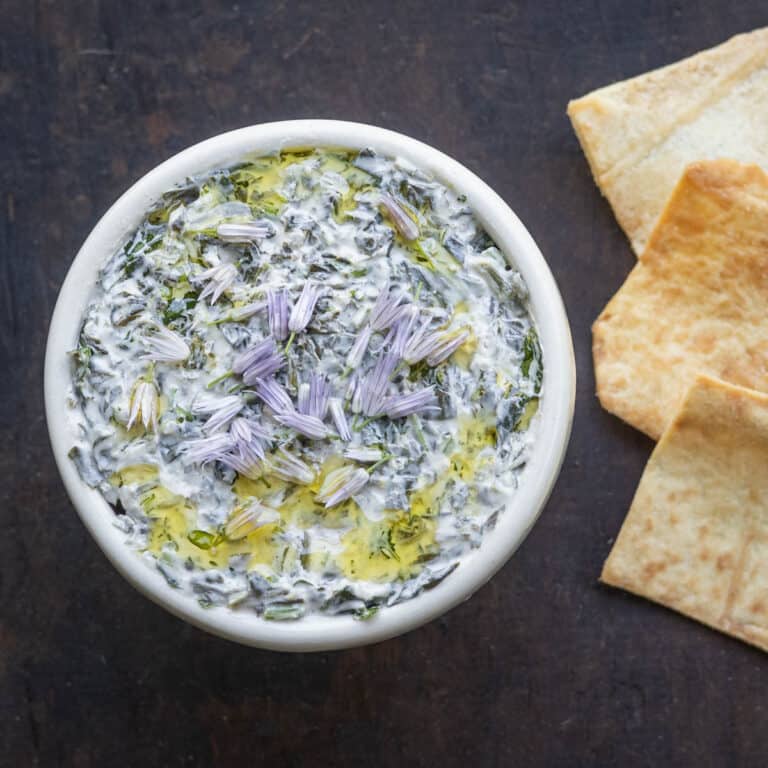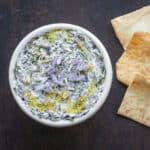 Print Recipe
Wild Spinach Dip (Borani Esfenaj)
A cool, refreshing dip made from Lambs Quarters, yogurt, herbs and spices. Adding ¼ cup freshly cracked and chopped black or English walnuts can be a nice variation.
Equipment
1 3 quart soup pot

for blanching greens
Ingredients
10

oz

tender top clusters of lambsquarters

(approximately 1 generous cup steamed, cooked and chopped Lamb's Quarters.)
Aromatic Oil
½

teaspoon

fresh ground cumin

1

large clove garlic

minced or grated on a microplane

2

tablespoons

extra virgin olive oil

⅛-1/4

teaspoon

crushed red pepper flakes

to taste, or a dash of hot sauce
Dip
1-1.5

cups

Thick Greek yogurt, unflavored

Highest fat content you can find

Kosher salt and fresh ground black pepper

Zest and juice of one small lemon

(Juice is optional-see note)

1.5

oz

Very thinly sliced fresh cilantro leaves and tender stems (roughly half a bunch)

or a mix of cilantro and fresh dill, or fresh mint, or another combination of tender herbs you like.

A few chive, onion, or wild flowers

to garnish, optional
Instructions
Wash the Lamb's Quarters if you have any reason to suspect they're dirty. Working in batches if needed, steam the Lamb's Quarters until tender (cook them a little longer than usual as this needs to be spreadable) then cool naturally spread out on a baking sheet. Chop the greens medium-fine and reserve, making sure to chop up any stems.

In a small pan, heat the oil with the garlic*(see note) on medium heat until the garlic is starting to brown around the edges and is aromatic, about 5 minutes. Swirl the pan occasionally to promote even browning.

Add the cumin to the pan, turn the heat off, and swirl to allow the garlic to continue cooking with the residual heat. Add the cumin and crushed red pepper to the garlic and stir. Do not allow the garlic to burn. If you're unsure about the color, go lighter as opposed to darker.

Scrape the garlic-cumin-chili oil onto the Lambs Quarters, then add the remaining ingredients, mix well, taste and adjust the seasoning for lemon juice and zest* (see note), salt, and herbs, then continue tasting and adjusting the seasoning as needed until it tastes good to you. I like it with just a hint of spicy heat.
How much yogurt?
I found anywhere from 1-1.5 cups of yogurt can work. I suggest adding it until you like the consistency and it looks like dip to you, with 1.5 cups being the maximum amount of yogurt. It should be easy and pleasurable to spread.

Serve cold or tepid with pita chips or another vehicle, garnished with a few chive, onion, or ramp flowers.
Alternate plating "Fun in the Garden Remix"
For a showstopping presentation, spread the dip out onto a flat plate using a serving spoon dipped in cool water, forming it into a thick mat about ½ inch tall. Build a little garden of young shoots, plants and flowers on the top and listen to the oohs and aaahs as it comes to the table.
Notes
Notes
*Grating the garlic on a microplane grater will give you the strongest flavor and cook the fastest here. 
*If you want to make the dish ahead of time, add the lemon juice right before serving to keep the green color bright. When, and if you add the lemon juice, the "darkening timer" will start, and the dip will lose its green luster after a few hours. You will get some tang from the yogurt alone, so let your taste buds guide you-but don't skip the zest! 
Varying the flavors 
Instead the cumin I use here, a combination of a few scrapes of nutmeg and grated fresh ginger is also good. 
Nutrition
Serving:
2
oz
|
Calories:
110
kcal
|
Carbohydrates:
5
g
|
Protein:
7
g
|
Fat:
7
g
|
Saturated Fat:
1
g
|
Polyunsaturated Fat:
1
g
|
Monounsaturated Fat:
5
g
|
Trans Fat:
0.003
g
|
Cholesterol:
3
mg
|
Sodium:
74
mg
|
Potassium:
469
mg
|
Fiber:
2
g
|
Sugar:
2
g
|
Vitamin A:
6648
IU
|
Vitamin C:
20
mg
|
Calcium:
127
mg
|
Iron:
2
mg