Since pheasant backs have a sort of cucumber taste to them, here I make them into pickles with jalapeno and dill. It's a good option for preserving pheasant back mushrooms, which I don't usually dehydrate.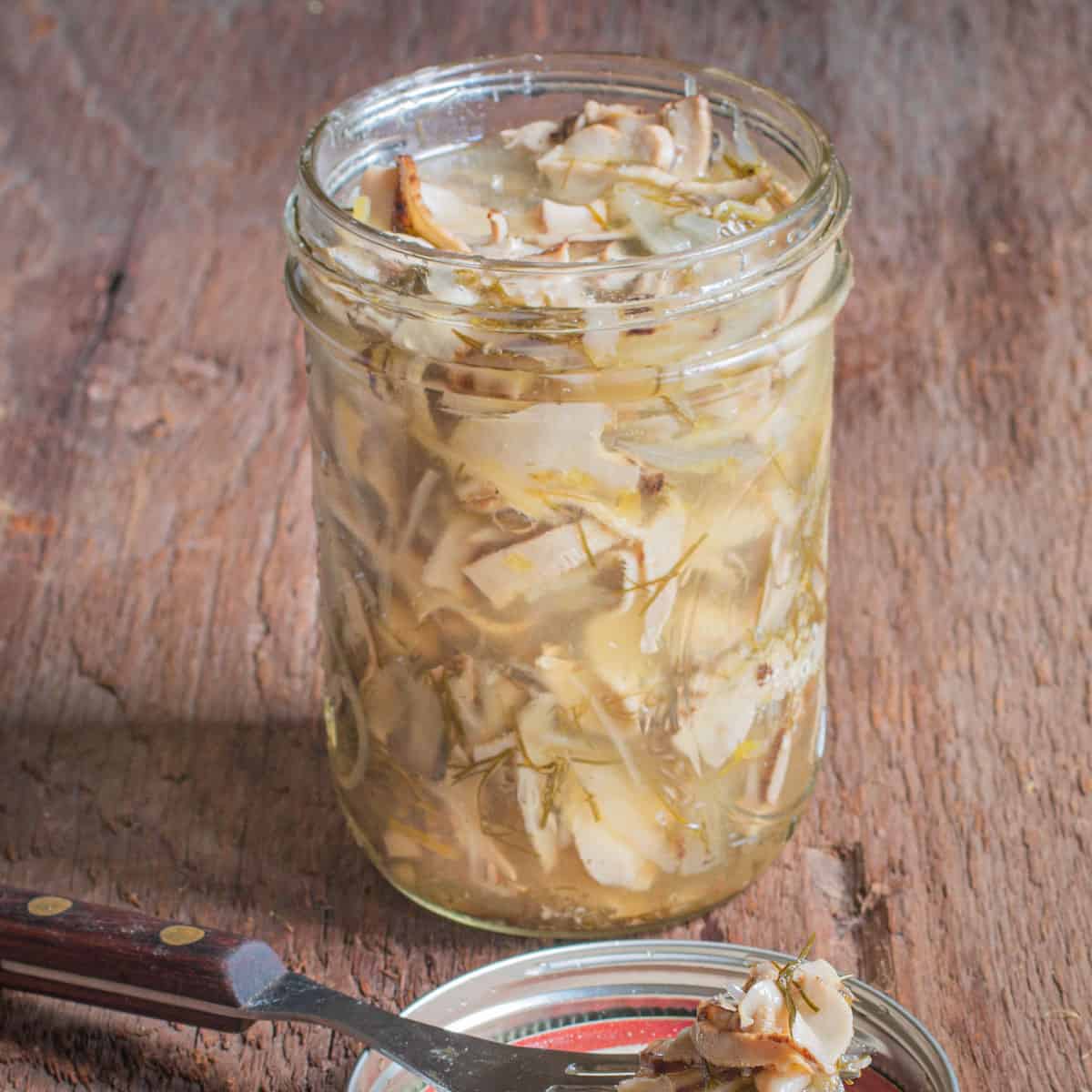 I have a few friends in particular that go out every year for morels and consistently can't grab enough for a meal. But, one thing they can usually count on are a few dryad saddles / pheasant backs (Cerioporus squamosus). The flavor is strong, and some people don't care for it, but, however you feel about them, you have to agree it's a fascinating flavor, and a rare one in the mushroom world, although St. George mushrooms I've had taste eerily similar.
If you haven't had them, dryad saddle mushrooms have a sort of strong, cucumber-y, melon rind aroma, and it makes for some really interesting dishes. If you took a peek at the Noma Guide to Fermentation I mentioned when making meat garum a few months back, know that there are recipes in there for wild mushrooms too, including a sort of fermented soy sauce made specifically with dryad saddles.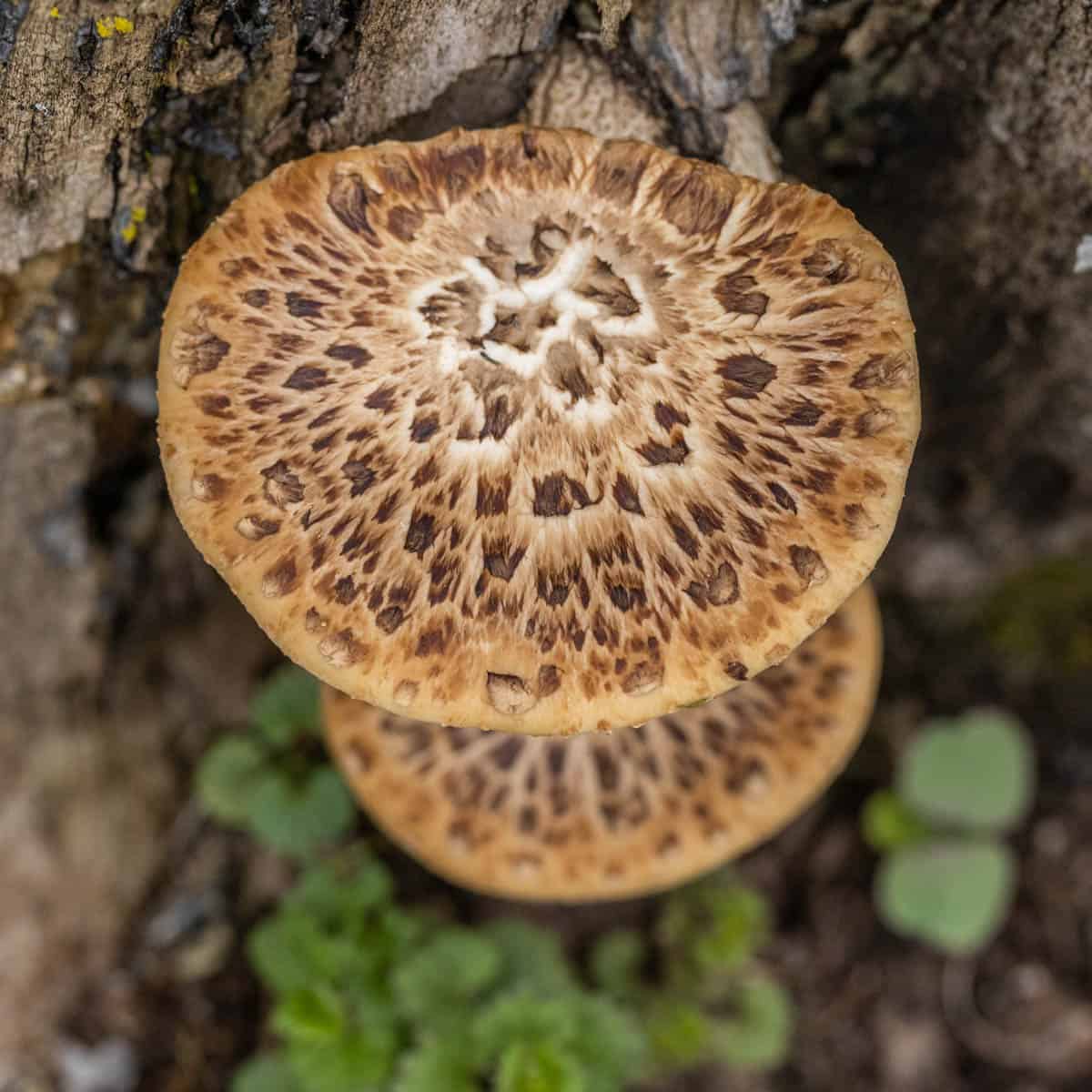 Today is just a fun pickle idea for you. Part of the fun of these mushrooms is that their flavor is not mushroomy, which opens doors for flavor pairings that we might not necessarily think of, as instead of earthy mushroom, with dryad saddles, I think cucumber.
I don't like a lot of sweetness in my mushroom pickles though, as you would get with traditional bread and butters, and I didn't want to ferment them like sour dills, so I went in another direction: dilly beans.
If your not familiar, dilly beans are green bean pickles you can find all over the Midwest, my favorite being the spicy hot ones you'll probably see on a Wisconsin cheese or charcuterie plate flavored with jalapeno, or crushed red pepper, swimming a vinegar brine kissed with dill.
At the end of the day this is just a basic pickle, but there's a couple tricks for working with dryad saddles hidden in the recipe: complimenting the flavor of the mushrooms, and working around the texture, both of which are covered somewhat in my introductory post on these.
Shave those dryad saddles!
Dryad saddles have a terrible reputation for being tough, and it's well earned, but shaving on a mandoline can work wonders with them. Another good trick I mention in my original post too, is that since the size can, but isn't always necessarily an indication of toughness.
I test if I can scrape the pores off of the underside of the cap with my fingernail, if the pores come off easily, I take the mushroom home, if they don't, most of the time I leave them. That being said, even some older mushrooms can become tender when shaved on the mandoline, it just takes a little experimenting, and sometimes they still fool me.
These were great on a sandwich, warmed up and paired with grilled fish, warmed up and mixed into a salad with cucumbers, fresh greens and goat cheese, you get the idea. Just like with all the other mushroom preserves on this site, know that they're more than something to eat cold.
Warming up some pickled dryad saddles in a pan can be a great garnish to all kinds of things, assuming of course, that you like the taste of dryad saddles.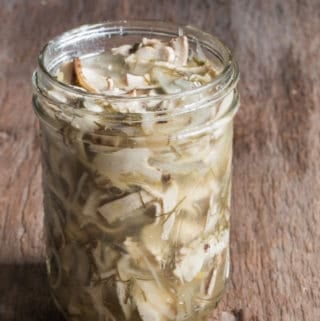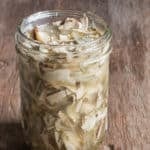 Print Recipe
Pickled Dryad Saddle Mushrooms with Dill and Jalapeno
An easy pickle similar in flavor to Midwestern dilly beans. These should be very spicy. Since the heat of jalapenos can vary, you may need to adjust the heat with a pinch or two of cayenne.
Ingredients
1

lb

Young dryad saddle mushrooms

shaved thinly on a mandoline, woody ends discarded to yield 1 lb after shaving

4

ounces

shallot

roughly 2 large shallots

1

cup

champagne vinegar

2

cups

water

1

tablespoon

kosher salt

1

oz

fresh dill

chopped

3

large jalapenos

or 5 serranos, depending on your heat tolerance

1

large clove of garlic

finely chopped

1

tablespoon

flavorless cooking oil.
Instructions
Wearing gloves, slice the jalapenos into ¼ inch slices on the mandoline. Cut both ends off the shallots, then cut in half the long way, and shave end to end on the mandoline.

If you don't have a mandoline, just slice everything as thin as you can, but don't complain to me about the mushrooms being tough.

In a 2 qt saucepot, sweat the shallot and garlic in the oil for 2 minutes, then add the mushrooms and salt and sweat, stirring occasionally, until wilted.

Add the dill, jalapenos and water and bring the mixture to a simmer for a few minutes. Add the vinegar, simmer gently for a few minutes more, then pack the mixture into pint jars and process in a water bath or refrigerate.

Label, date, and reserve until needed. Canned in a water bath, the pickles can be stored at room temperature as long as they're unopened for a long time, at least until the next season.
Nutrition
Serving:
1
oz
|
Calories:
367
kcal
|
Carbohydrates:
37
g
|
Protein:
18
g
|
Fat:
16
g
|
Saturated Fat:
1
g
|
Polyunsaturated Fat:
5
g
|
Monounsaturated Fat:
9
g
|
Trans Fat:
0.1
g
|
Sodium:
7073
mg
|
Potassium:
2137
mg
|
Fiber:
9
g
|
Sugar:
18
g
|
Vitamin A:
2193
IU
|
Vitamin C:
45
mg
|
Calcium:
153
mg
|
Iron:
7
mg
More