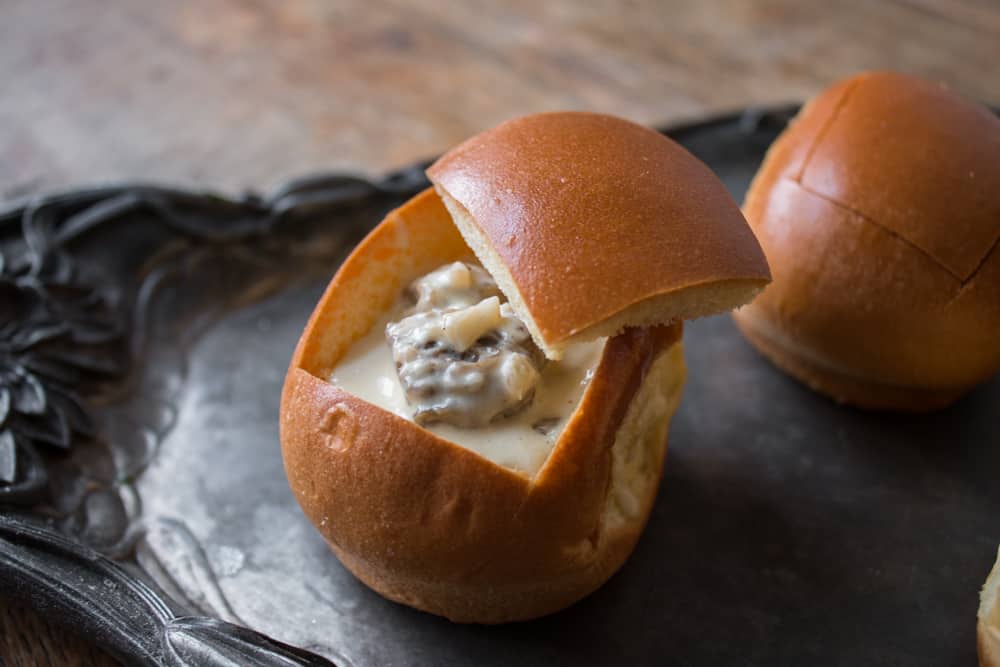 I'm calling this morel-gasm. Basically, it's creamed morels served in toasted, hollowed out rounds of brioche--Just think morel mini bread bowl. It's ridiculously rich, a snap to make, and something you should give a shot if you're a morel hunter.
The inspiration came from reading one of Richard Olney's books I'd been perusing for a past consulting gig at a small French restaurant in South Minneapolis. In the book, one of the things I took note of was a dish Olney described using morels cooked in cream, that were served in a sort of bread crust, a square of bread that had been hollowed out, if I remember correctly.
I could taste the dish in my mind, and it was pure genius. The toasted bread would soak up the morel liquid as it sat, getting richer, and thicker by the moment. I needed to have it.
Cutting a loaf down into squares could make a great dish to share, but I thought it might be a little much for one person, especially if I was doing it as part of a multi course dinner. I noodled around the idea for a few months, since I really liked the thought of serving some stewed morels in something that would soak up all the delicious sauce.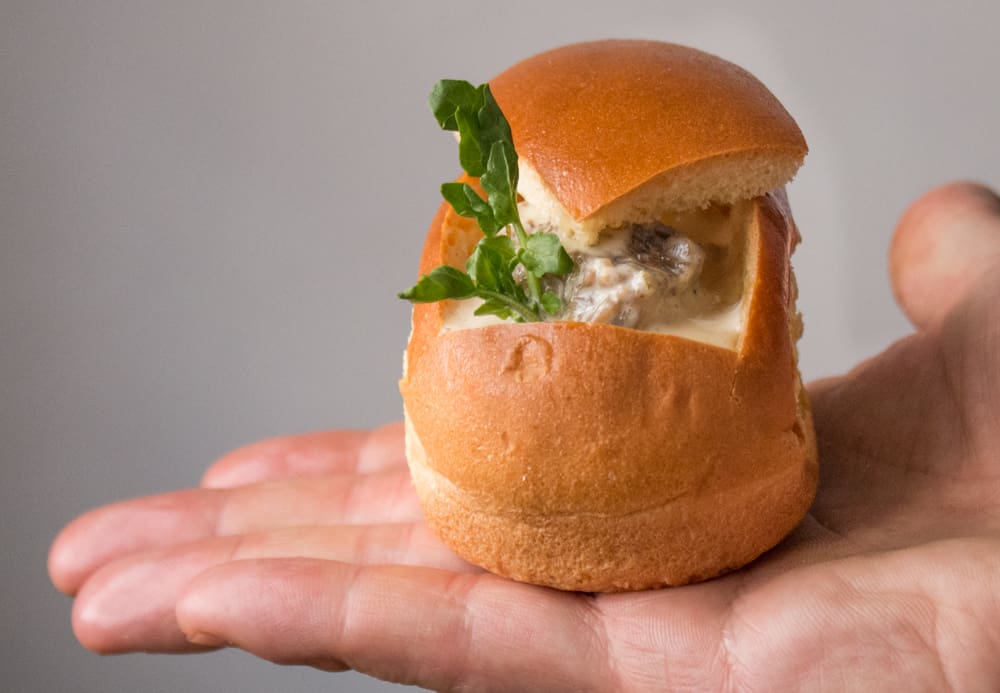 As I was walking around the grocery store one day the perfect vehicle for the morels appeared: a little pack of small brioche buns. I knew If I was careful with a sharp paring knife I could cut a lid off of each one, hollow it out gently with a fork, toast it lightly, then fill them up and put the lid back on-a ridiculously rich hand-to-mouth bite.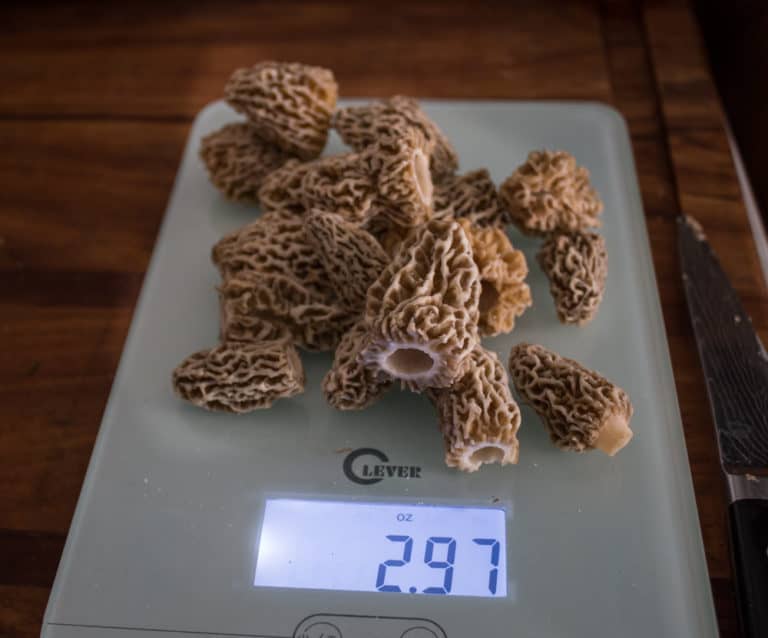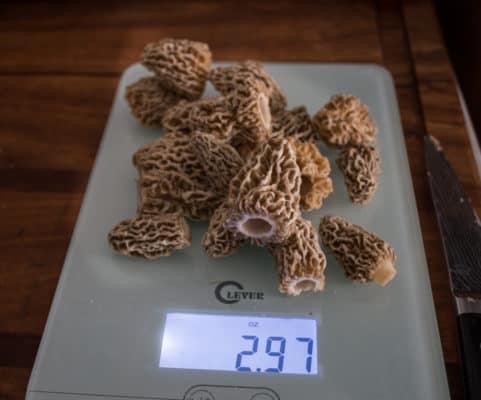 I worried about my little morel bite being too messy, but, it isn't, toasting the buns makes them ready to soak up liquid, any liquid, and the creamy morel goodness soaks up just enough into the sides of the buns to make them easy to eat out of hand as a nice little bite, and what a bite it is.
Cutting off the lids, hollowing, and toasting the rolls
A few weeks later it went on the menu for a charity event I did during morel season, and man was it good. The best part is, if you're ambitious, you can make your own buns (parker house rolls would be great) but it's easy nowadays to find a good grocer that will probably carry rich little brioche buns.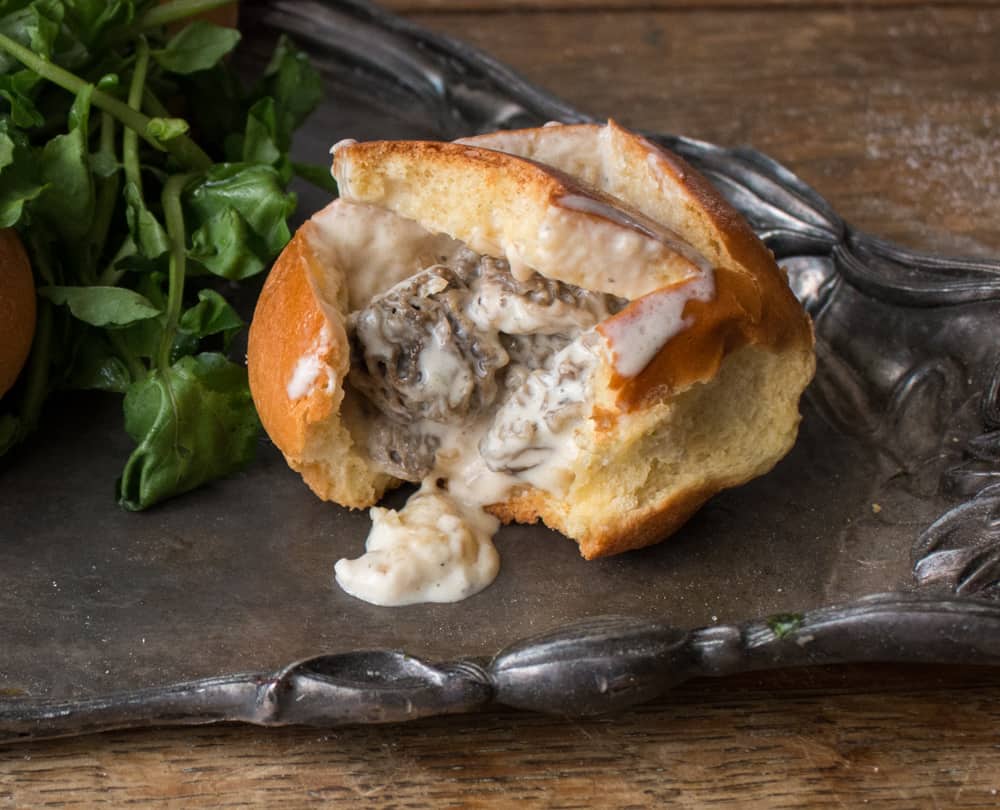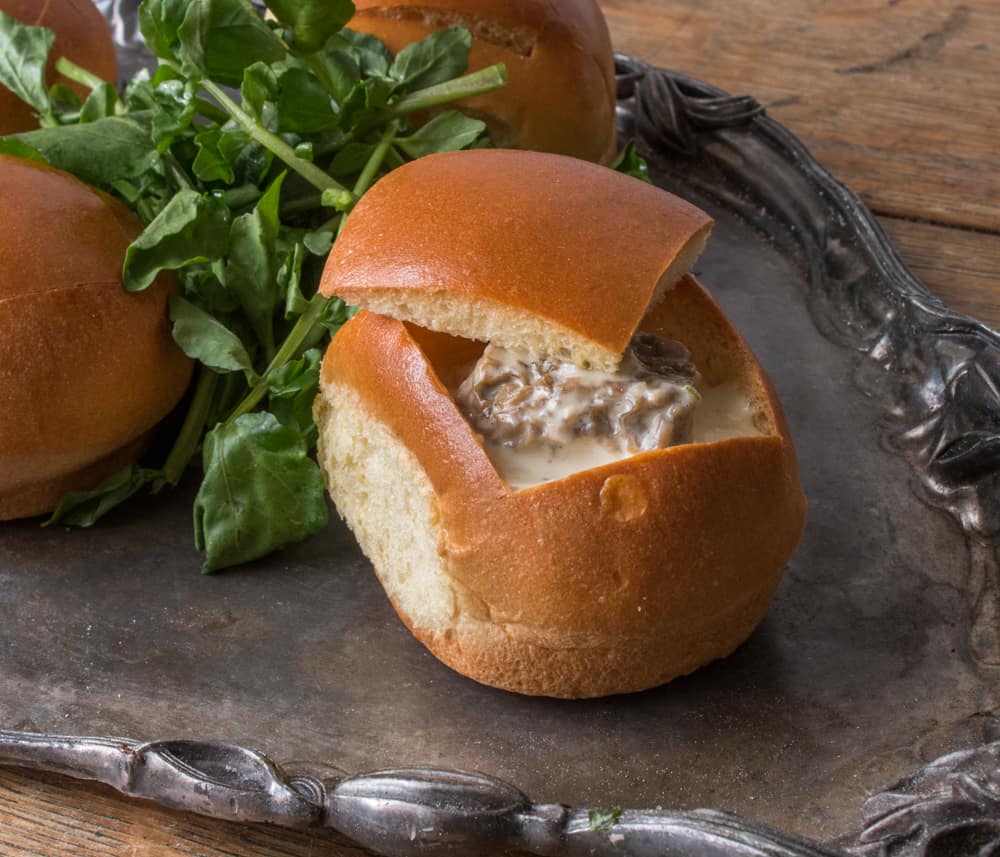 In a pinch, even common, soft dinner rolls would work, and, of course, it would be fine to use some of your precious dried morels too. File the idea away for when you have some morels, and want to treat some people.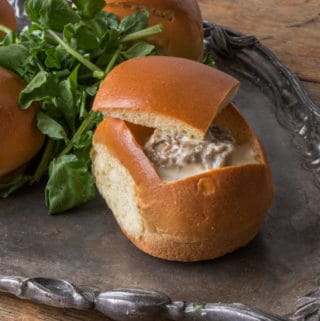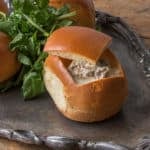 Print Recipe
Dry Land Fish Mushroom Buns
Crisp brioche or dinner rolls filled with creamy dry land fish or morel mushrooms.
Ingredients
4

small brioche rolls

or dinner rolls (*see note)

4-6

ounces

fresh morel mushrooms

depending on how many you have

½

cup

heavy whipping cream

¼

cup

chicken stock

preferably homemade

3

tablespoons

a good splash of dry sherry

1

tablespoon

shallot

diced ¼ inch

Kosher salt

to taste

3

tablespoons

unsalted butter

Fresh water cress dress with lemon and oil

to serve, optional
Instructions
Buns
Preheat the oven to 250F. Make a cut in the top of each bun with a knife and cut a square out. Remove the lid, trim off the excess, and gently hollow out the middle of each by flaking with a fork. Don't go down too far since you don't want holes in the buns.

Put the buns on a baking sheet and cook in the oven for 15 minutes. You don't want them crunchy. The outside should be crisp, but they should still be a little tender. This can be done ahead of time up to a few hours.
Mushrooms
Look over the mushrooms and cut off any bad spots. Quickly wash the mushrooms by rinsing under cool water. If your mushrooms are large, cut them into 1 inch rounds. If they're large, you can cut them in half lengthwise and inspect for insects.

Heat 2 tablespoons of the butter in an 8 inch saute pan. Add the morels and shallots and cook, stirring occasionally, until morels and shallots are just starting to brown lightly.

Season the mixture to taste with salt, deglaze the pan with the sherry, and reduce by half. Add the chicken stock and reduce the mixture by half again, until only about 4 tablespoons remain.
Serving
Add the cream, and reduce again until the mixture is nice and thick like a good cream sauce. Double check the seasoning for salt and pepper.

With a slotted spoon, divide the morels evenly between the buns, then finish by spooning the sauce into each bun. Allow the buns to sit and absorb the sauce for a minute or two before serving.

Put the lids back on the buns then arrange on a platter, with the watercress salad in the middle if using, and some napkins. Allow the guests to serve themselves.
Notes
Variations
You can serve mushrooms with toast points instead of in buns. 
Nutrition
Serving:
1
bun
|
Calories:
319
kcal
|
Carbohydrates:
23
g
|
Protein:
6
g
|
Fat:
22
g
|
Saturated Fat:
13
g
|
Polyunsaturated Fat:
1
g
|
Monounsaturated Fat:
6
g
|
Trans Fat:
0.3
g
|
Cholesterol:
57
mg
|
Sodium:
263
mg
|
Potassium:
229
mg
|
Fiber:
3
g
|
Sugar:
2
g
|
Vitamin A:
700
IU
|
Vitamin C:
0.4
mg
|
Calcium:
112
mg
|
Iron:
5
mg
More