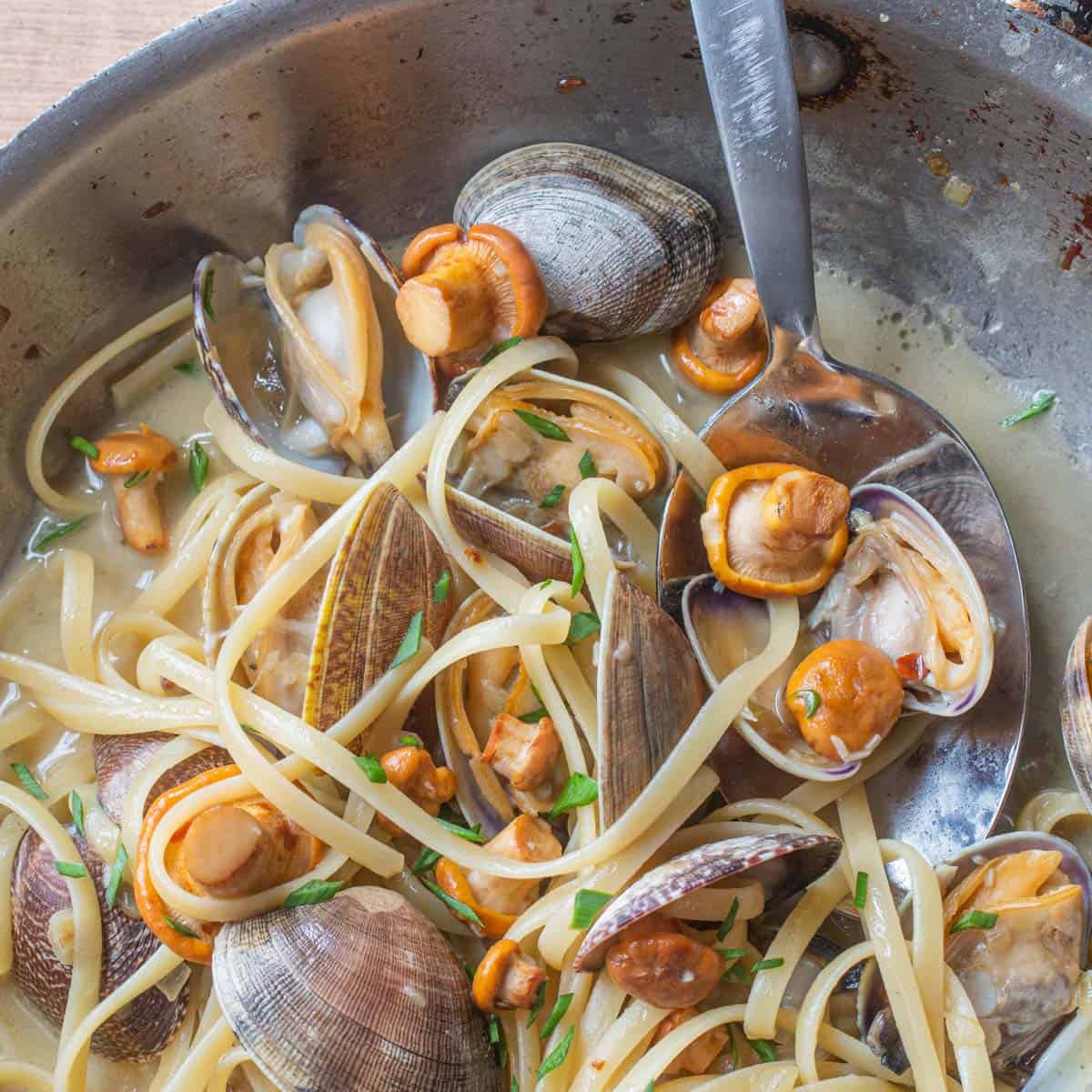 If you pick chanterelles you know the excitement that comes with the first buttons of the year, and picking what recipe you'll make with the first teeny guys is something I really look forward to. Bright egg-yellow, rock hard wine corks that squeak like cheese curds when you chew them whole, giving off whiffs of apricot and mushroom as you eat.
This year I have a great one for you way to show off the little chanterelle buttons whole in all of their glory: classic linguine alle Vongole with baby chants. It's a great pairing: subtle brine and the ocean and little pops of floral chanterelle goodness. Loosen your belt and peek through your hands: it's about to get really buttery and delicious up in hyah.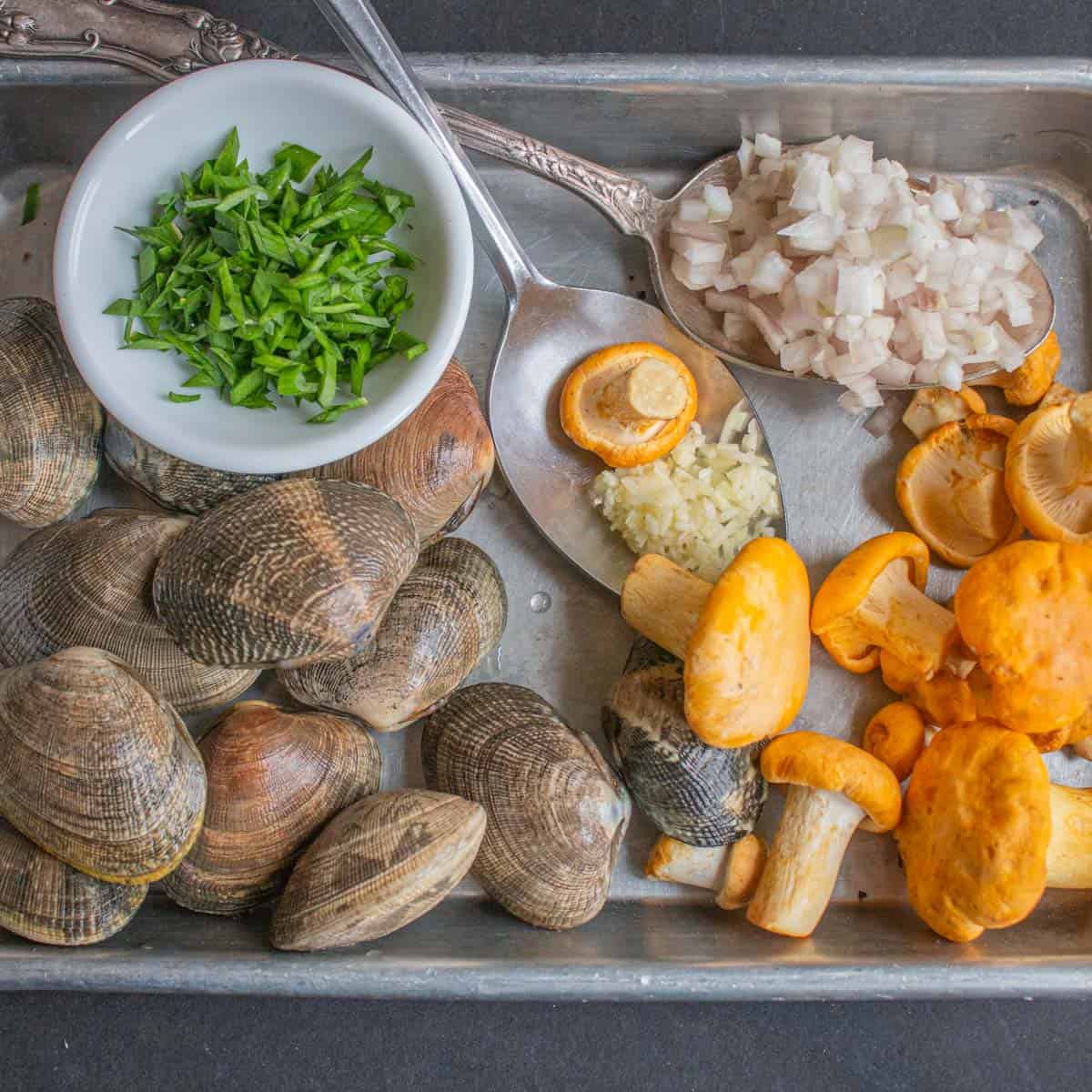 Linguine with clam sauce can be a cheesy cop-out at sub-par Italian joints. Cliches aside, it is really, really good made well. (Great for date night) I learned to make a killer one when I was sous chef of the old Il Vesco Vino in St. Paul with Chef Andy Lilja: my chef, now an old friend and mentor.
Along with crab ravioli, white clam linguine was one of the top sellers at the restaurant, and, coming from saute meant it was on my station. When you multiply say 5-20 orders a day, x 5 days x 52 weeks in a year, x the two years I was there, that's a range of anywhere from 2,600-10,400 bowls of clam pasta I made. So, you could say I know a thing or two about making a solid linguine con le vongole.
Cook Your Chanterelles Whole
This is a drum I beat every year. Some people say: "Meh, chanterelles are just ok, they don't taste like a lot", etc, etc. To be clear: chanterelles are not just ok, they're one of the best, easily identifiable wild mushrooms you can harvest in quantity, and someone that says anything else probably means they just like being contrarian, or have never eaten chanterelles cooked whole like we're doing here.
But, if you chop those perfect chants all up into slices, and cook them with a bunch of stuff, you might as well throw them in the garbage, skip eating the mushrooms altogether, and have someone follow you through the streets dinging the shame bell, for wasting your time in the woods and the best chanterelles of the season. The best part of chants is their shape, and texture, and whenever possible, they should be cooked whole.
The first young chanty buttons are only 1 of plenty of mushrooms that would be great here, but keep in mind you want something preferably from the Cantharellaceae. Yellow foot chanterelles, black trumpets cinnabar chants, hedgehogs, fairy rings, or, even diced chicken of the woods would also be great too though.
Print Recipe
Linguine with White Clam Sauce and Chanterelle Mushrooms 
Classic linguine and clams with chanterelle mushrooms in a white wine-clam sauce
Ingredients
4

ounces

dried linguine

preferably a nice Italian bronze extruded variety like Rustichella or Masciarelli, but in a pinch, use whatever

16

ounces

freshest possible manila clams

4

ounces

fresh chanterelle buttons

left whole, washed if needed, trimmed and cleaned

4

tablespoons

unsalted butter

for the sauce (this is not a typo, it's why it tastes so good, do it and skip dessert already)

3

tablespoons

shallot

diced ¼ inch

1

tablespoon

olive oil or cooking oil

2

teaspoons

minced garlic

Fresh sliced chives

to taste

2

tablespoons

light olive oil

lard, or high heat cooking oil, like grapeseed

¼

cup

dry white wine

½

cup

nice canned clam juice

Dash of fresh lemon juice

to taste
Instructions
Rinse the clams and inspect them: look over each clam and make sure it's alive, they should be closed, but will occasionally very slowly open and close to respire. Bring a a gallon of lightly salted water to a rolling boil. Add the linguine to the pot and stir to prevent sticking. Meanwhile, heat a 10-12 inch saute pan with the oil, add the shallot and garlic and cook for 1 minute, stirring occasionally.

Add the clams and chanterelles and stir to coat with the oil, shallots and garlic, turn up the heat to medium-high and cook 4-5 minutes more, deglaze the pan with the wine, reduce by half, then add the clam stock and continue to reduce on medium-high. Drain the pasta, then add directly to the pan along with the butter. Stir the noodles to coat with the sauce, tossing occasionally.

Reduce the sauce until the butter has thickened it and it tastes really good, keeping the heat around medium-high, stirring to steal some starch from the noodles that will help the sauce thicken. The sauce should be velvety and thick enough to coat the back of a spoon. Finally at the end, add a dash of lemon to taste.

To plate, remove the pasta to preheated bowls with a tongs, reserving the clams, mushrooms and sauce in the pan. Twist the linguine into a tight mound, then arrange the clams on top of each pasta, drizzle over excess sauce, garnish with the chives and serve immediately (discard any clams that don't open).

Plating

Plating pasta is one of the most important parts of enjoying this (and all long pasta). First the pasta is removed with tongs and twirled in the bowl into a mound, only afterwords are the ingredients and sauce distributed. Long pasta should always be plated like this.