Mushrooms wrapped in prosciutto or pancetta, sauteed and served with a simple lemon caper sauce makes for a great chicken of the woods recipe. Read on and I'll go over the details.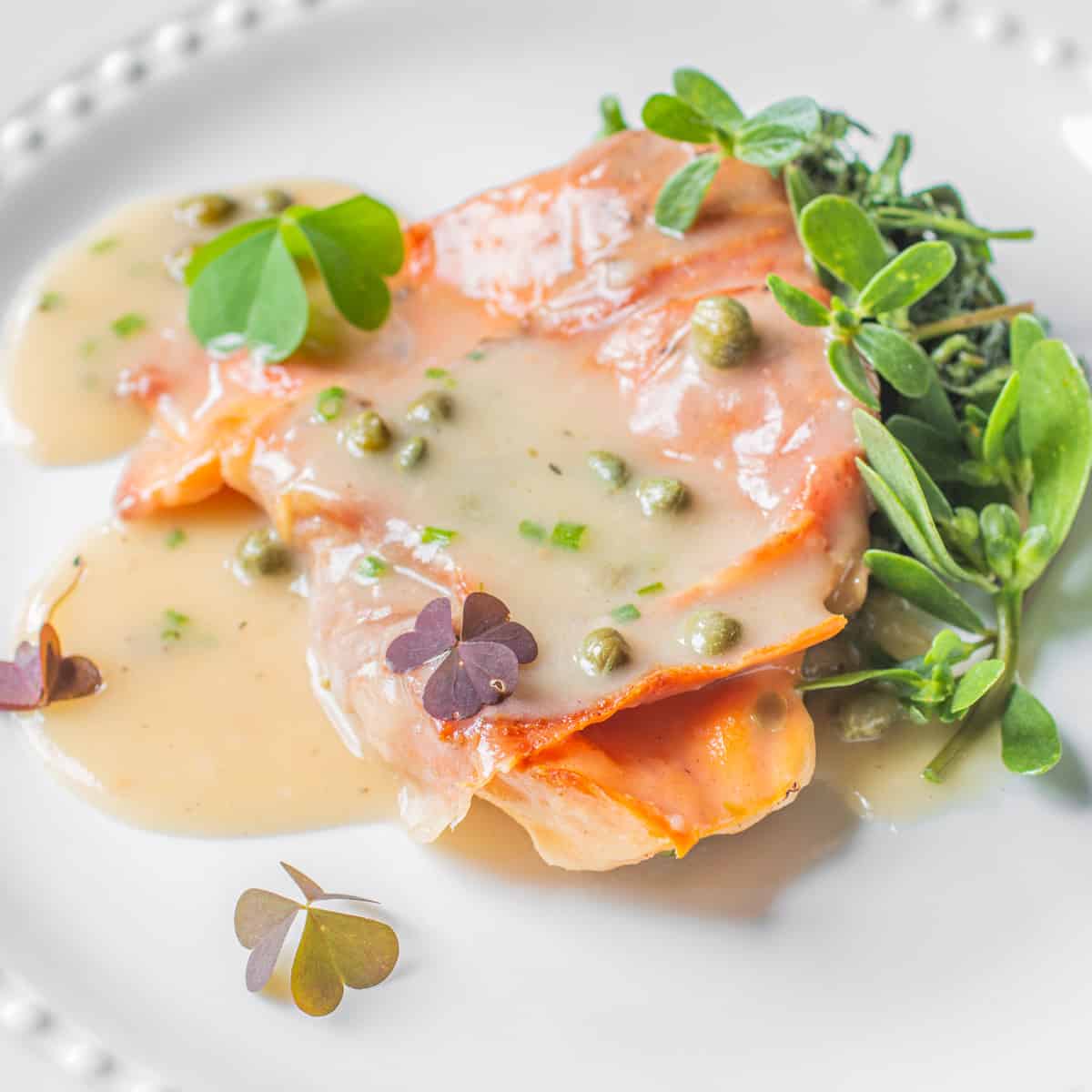 I went to one of my favorite places a few days ago: a wayside rest on the way up to Northern Minnesota. Well, the wayside rest isn't my favorite, but there's a tree I know of, that *is* my favorite.
The tree in question is a red oak that typically bears chickens early in June, and not just any chicken, white chicken mushrooms (Laetiporus cincinnatus). If you're not familiar, white-pored chicken of the woods are better eating than their yellow-pored chicken of the woods (Laetiporus sulphureus), at least in my opinion, and that of many other seasoned mushroom hunters.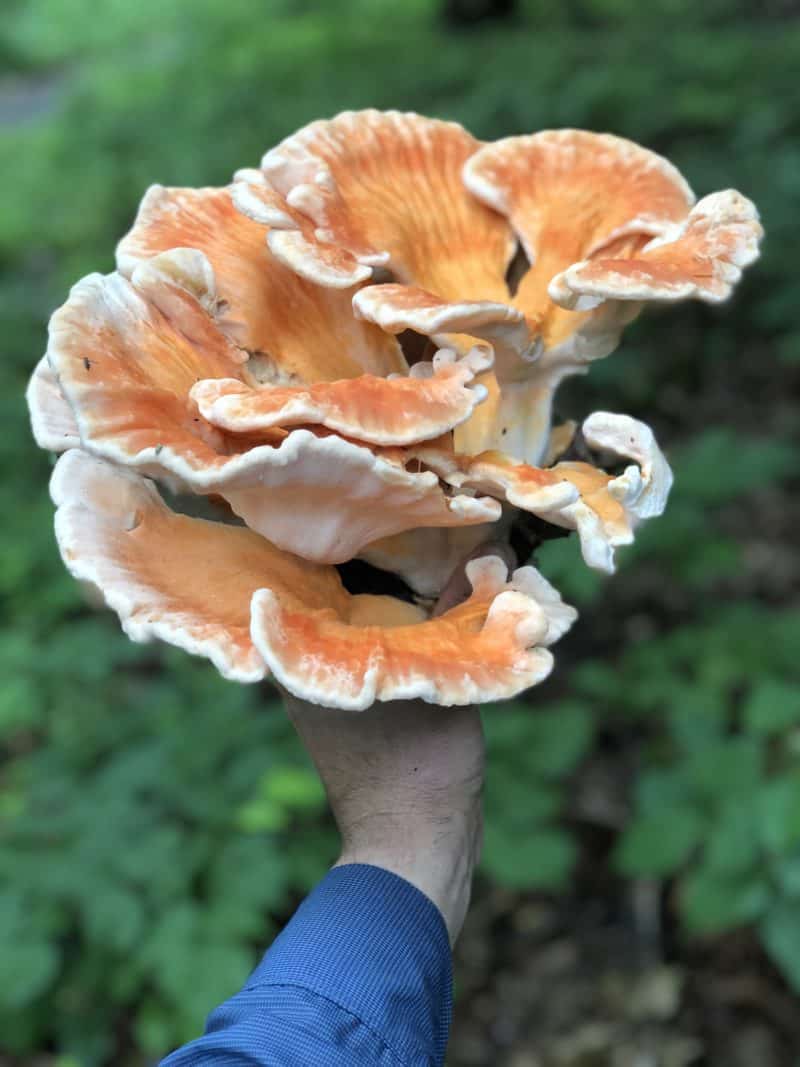 Rest areas are great, especially in Minnesota and Wisconsin where they're often composed of a few wooded acres with trails for dogs to run around on. What we forget as we drive past them though, is often those trails, and that small patch of rest area woods can hold treasures, they're a glimpse of what the land used to be before the roads came through, remnants from before the surrounding woods was developed and used to grow corn, soy, or have a culdesac installed.
I'm getting a little romantic here, and, it's only kind of true, as most of the woods are not actual old-growth forest in Minnesota, but that's also besides the point as young growth forest are much better for hunting wild mushrooms, in my experience.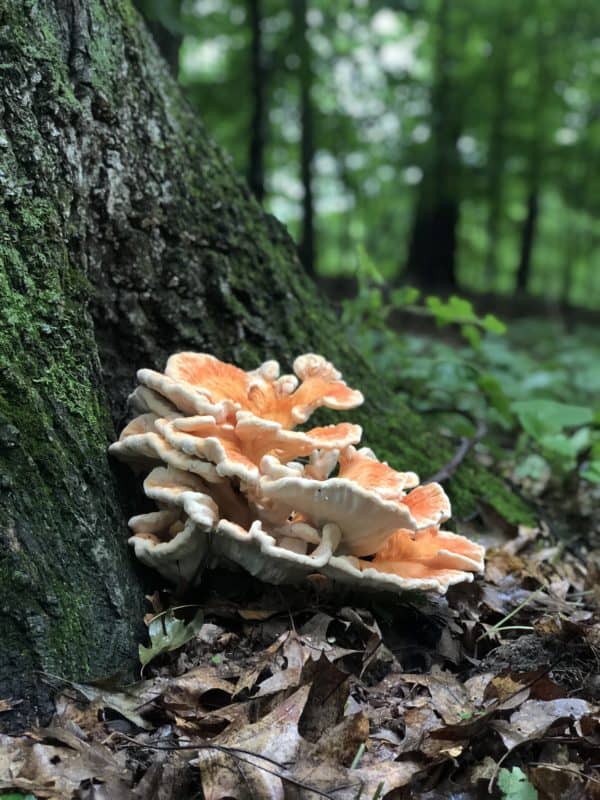 Anyway, the take-away is a rest stop can be a great place to grab a quick mushroom or two on a dog trail, while you're on your journey to get more mushrooms at the big patch you know of that's a few hours away, that is.
The only catch is that you probably shouldn't be flashing that big orange chicken mushroom like a trophy to the civilians, hollering "found one!" to your comrades across the parking lot like the feverish, fiending mushroom addicts you are, as sometimes harvesting is not allowed. But, as the old adage goes, if you pick a Laetiporus cincinnatus in the woods, and no one sees you.....
I digress. This week is all about a chicken of the woods recipe I've been waiting a long time to make: piccata. Well, it's kind of a cross between two Italian dishes: picatta and saltimbocca. Both are dishes made with cutlets, but, with slightly different preparations.
Saltimbocca vs. Piccata
If you're not familiar with the differences between the two, here's the technical definition: saltimbocca (translates literally to "jump in your mouth") refers to cutlets layered with a leaf of sage, and then a layer of prosciutto. Piccata, pichotta, or piccatina (small), refers to cutlets that are simply dredged and served with lemon sauce and capers, etc.
Skip the proscuitto and it's vegetarian
My version is a hybrid. Chicken of the woods mushrooms are often a little dry and not easy to sear whole, so wrapping them in proscuitto, or another ham, salame, etc, etc, gives them a little more surface area that can brown and mingle in a pan, and helps to insulate them. You could sure do it without the proscuitto to make it vegetarian, to be clear, but wrapping mushrooms in fine dry cured Italian ham never sucked.
Choose your proscuitto carefully
Only use the good stuff. I use La Quercia proscuitto since it's an American product that actually, finally, rivals the real thing. La Quercia is made next door to me in Iowa, but the real-deal Italian stuff is great too, specifically Proscuitto di Parma, and San Danielle. You can also use salame or mortadella too, but avoid American products like Hormel "proscuitto", taste like garbage.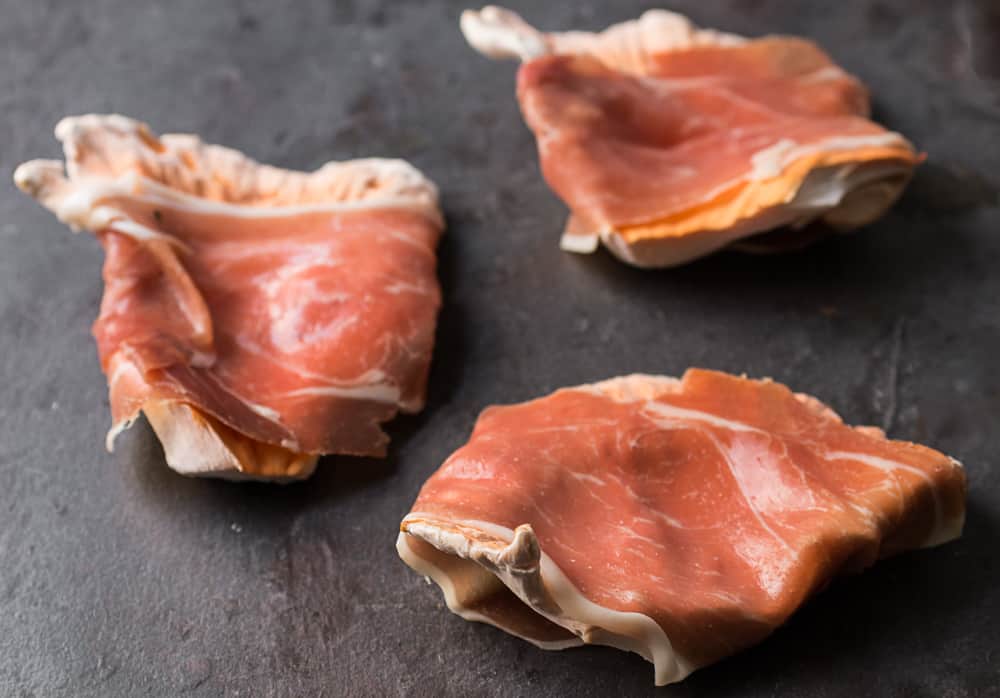 Tips for a great chicken of the woods piccata
Here's the skinny: for the best results, you need a young, tender chicken of the woods that you can fashion a cutlet out of somehow, which will usually be using the leaves, as I've done here, or, if you're supremely lucky, cutting a slice of a mushroom that's still growing and hasn't developed the rosette or shelf formation yet, where they could be cut like slices of meat.
If your chicken mushroom doesn't seem tender enough to cook the leaves whole, skip this recipe and cut it up into pieces for soup, or something else you like. Only young, tender mushrooms can be used in large pieces like this.
For the garnishes, wilted greens of your choice, and a few sprigs of edible things from your yard are all this chicken mushroom could ever dream of. Freshly cooked nettles or other greens cry out to be mixed around in lemon sauce on a plate, and a little crunch of purslane makes an attractive garnish too.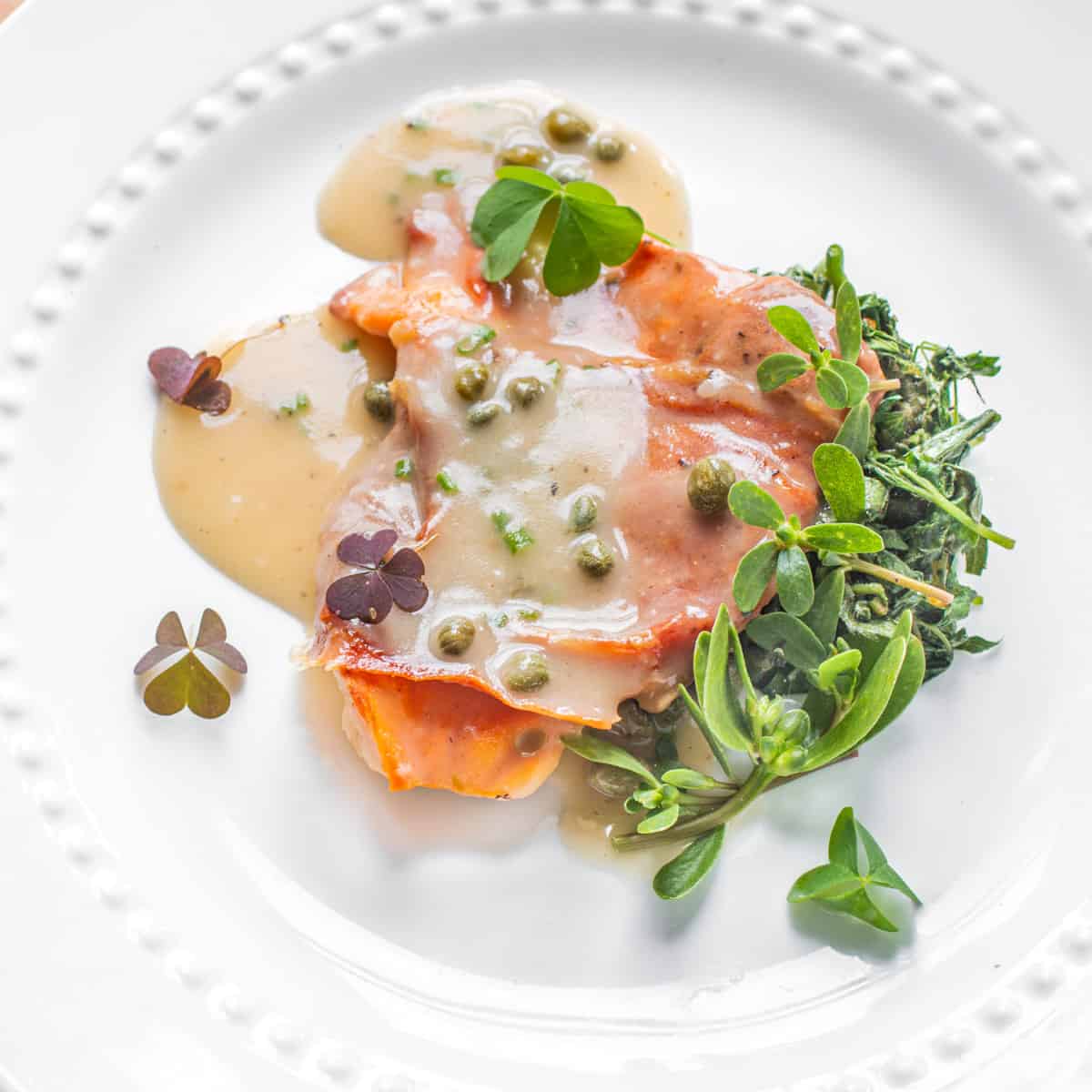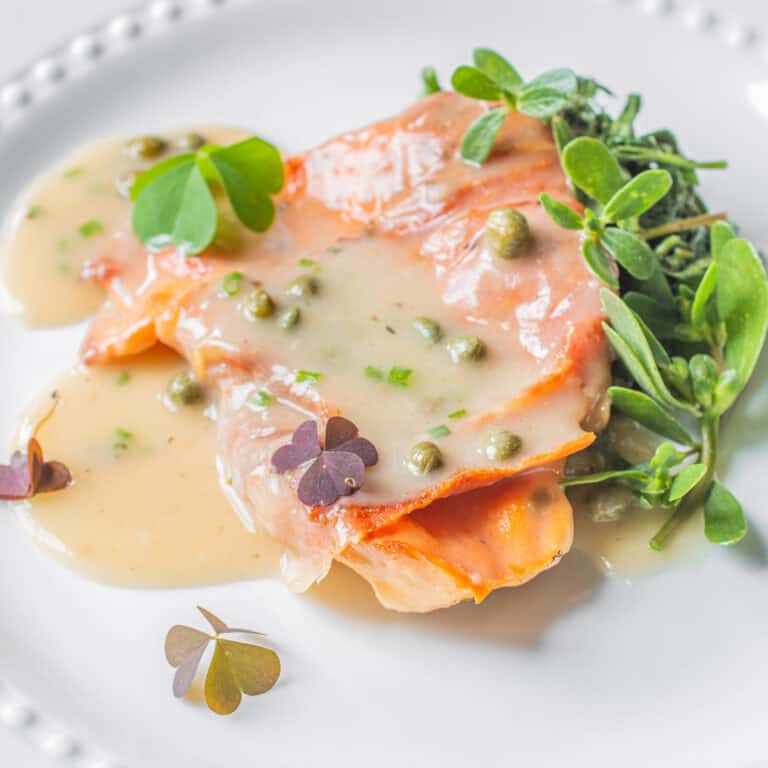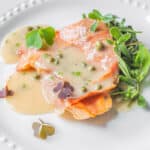 Print Recipe
Chicken of the Woods Mushroom Picatta
Picatta made with chicken of the woods wrapped in prosciutto, in a lemon caper sauce
Ingredients
2

leaves

of chicken of the woods

as young as possible, any tough stem removed

3

tablespoons

cooking oil

¼

cup

dry white wine

½

cup

chicken

vegetable, or mushrooms stock, preferably homemade

Fresh lemon juice

to taste

¼

teaspoon

kosher salt

plus more to taste

1

Tablespoon

non-pareil capers in brine

1

Tablespoon

each all purpose flour and unsalted butter for the kneaded roux

Thin slices of proscuitto

for wrapping the mushrooms (optional)

Fresh cut chives or parsley

a pinch, (optional)

For serving

wilted greens, wood sorrel and sprigs of purslane (optional)
Instructions
Mix the tablespoon each of flour and butter well into a ball, and reserve one teaspoon (you'll only need a teaspoon but it's hard to make just a teaspoon) Heat the oil in a saute pan wide enough to accommodate the mushrooms.

Wrap the mushrooms in the prosciutto, making sure to press the seam to make it adhere, then dredge in flour, tap off excess, and brown well in the oil on both sides, starting with the seam.

Season the mushrooms lightly with salt and pepper. It's very important not to burn the flour that comes off in the pan, as that is what will make your sauce.

Remove the cooked mushrooms from the pan and keep warm. Deglaze the pan with the wine, reduce by half, and add the chicken stock and kneaded roux. Heat, whisking to break up the roux.

The sauce will start to thicken, season it with salt to taste, lemon juice and capers.

From here as long as the mushrooms are completely cooked, and to keep the prosciutto crisp, you can plate them and pass the sauce separately, or, you can put the mushrooms back in the pan simmer for a moment and serve--both ways are fine.

If the sauce thickens or threatens to break, adjust it by adding a little water to return it to a saucy consistency, swirl the pan to emulsify, and simmer until you like the consistency/thickness.
Nutrition
Serving:
5
oz
|
Calories:
672
kcal
|
Carbohydrates:
1
g
|
Protein:
0.1
g
|
Fat:
72
g
|
Saturated Fat:
17
g
|
Polyunsaturated Fat:
17
g
|
Monounsaturated Fat:
36
g
|
Trans Fat:
0.1
g
|
Cholesterol:
44
mg
|
Sodium:
292
mg
|
Potassium:
25
mg
|
Fiber:
0.01
g
|
Sugar:
0.3
g
|
Vitamin C:
0.02
mg
|
Calcium:
3
mg
|
Iron:
0.1
mg
Related Posts
Chicken of the Woods Mushrooms