After the morels, the first mushrooms I start to notice fruiting everywhere in Minnesota are white crown corals. Crispy fried with a little flavored aioli is one of the most popular things I've done with them.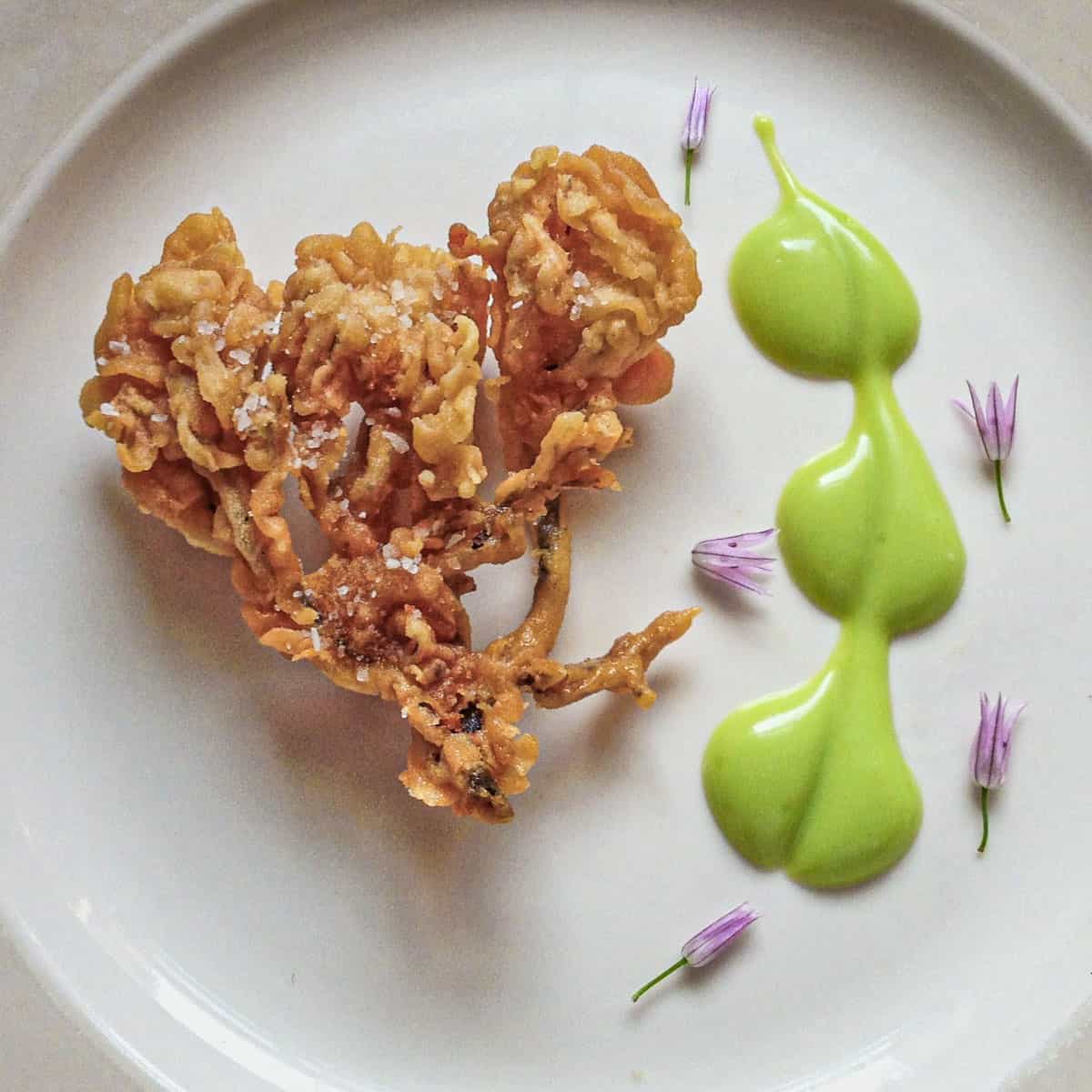 The trick here is to find preparations that keep their integrity as much as possible. Trying to fry them crisp took me a couple different tries to really get it right, they are really finicky. If the corals are fried in a very light dusting or dredge, the mushroom body turns black, which is a bit off-putting, although they still taste good.
When fried in a more heavy batter, they almost disappear into it and it's impossible to distinguish their texture. I had to figure out a way to possibly preserve their color, and at the same time keep their textural integrity. In hindsight, tempura would be a great way to fry these too.
I experimented with a number of different breading/battering techniques until I got it right, here are some I played with:
1. Dipped first in flour, then pure beaten egg, then flour again:
Mushroom keeps color and doesn't darken, but breading is too heavy
2. Dipped only in flour and fried:
Mushroom is nice and crisp, giving off a pleasant flavor, but turns black in the pan
3. Dipped in a light beer batter, then in flour and deep fried:
Batter takes too long to cook, by the time the batter is golden brown, the mushroom is too wilted and overcooked to taste like anything
4. Dipped in flour, then egg and fried:
Egg overcooks, getting a bit tough and mushroom still turns black
5. Dipped in flour, then egg thinned with water, then floured and fried
This was the best I found. Loosening the egg with some water allowed the coating to be lighter and not absorb so much flour.
As for the condiment here, I have been picking the chive blossoms from a large bush in the backyard religiously. Since both the green oniony stem and the pretty pink blossoms can both be used, I show them in two different ways here. The chives are made into an oniony mayonnaise, The blossoms are simply picked fresh off of the plant, and sprinkled on for punchy, onion kick.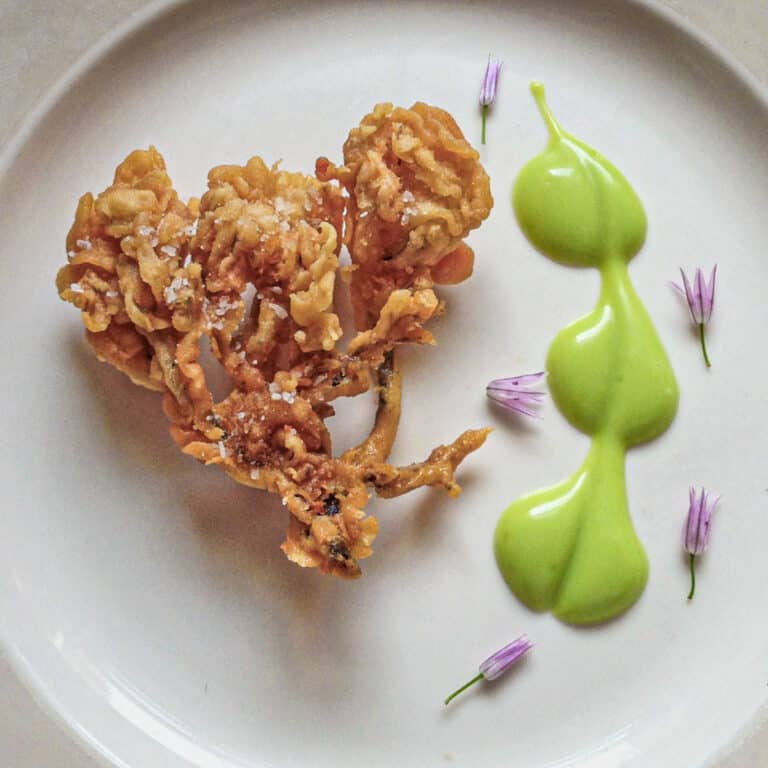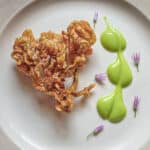 Print Recipe
Crispy Fried Coral Mushrooms, with Chive Aioli
Ingredients
½

lb

Coral Mushrooms

Chive Aioli

recipe follows

Kosher salt and fresh ground pepper

½

cup

flavorless oil for frying

like grapeseed or canola

1

recipe chive aioli

follows

Chive Blossoms

to garnish

All purpose flour

as needed for dredging

2

large eggs

beaten with 2 tablespoon water
Instructions
Separate the coral mushrooms into pieces about the size of a chicken egg.

Clean the coral mushrooms with a brush and if needed dip and swish in water.

Dust your coral mushrooms lightly in flour, dip in the egg, then in the flour again.

Heat a saute pan on medium low with cooking oil. Test the heat of the oil by sprinkling some flour in it, when it sizzles, turn the heat to medium-high, then add the coral mushrooms and fry 3-4 minutes on each side, or until golden. Adjust the heat as necessary here to brown the mushrooms.

Remove the corals from the pan sprinkle with kosher salt, and allow to drain on a paper towel for a few seconds to remove excess oil. Serve immediately with the chive aioli on the side.
Chive Aioli
Makes ½ cup of Aioli
A handful of fresh chives, about ¼ oz
⅛ cup flavorless oil
1 cup prepared mayonnaise
Method
Blanch the chives in boiling salted water for 2 seconds, then remove and chill in an ice bath. Remove the chives from the ice water and wring dry. Mince the chives finely.
Puree the chives in a blender or small food processor until they are well pureed, be careful not to puree them too long in the food processor or blender though, since this will heat them and turn their color brown and ugly, as well as making it bitter.
Pour the pureed chives and oil into a small container like a bowl or custard dish and refrigerate overnight.
The next day, pour the pureed chives and oil into a fine small strainer, allow the oil to drip though without pressing on it for a few hours. This will yield a tablespoon or two of deep green, strongly flavored oil.
Stir the chive oil into the mayonnaise, then season to taste with salt. The aioli can be refrigerated and held for days at this point.
Before serving, lightly stir in 2 teaspoons of champagne vinegar, which will give it acid. Don't put the vinegar in days before you use the aioli though, since the vinegar will turn the color brown and destroy the chlorophyll.