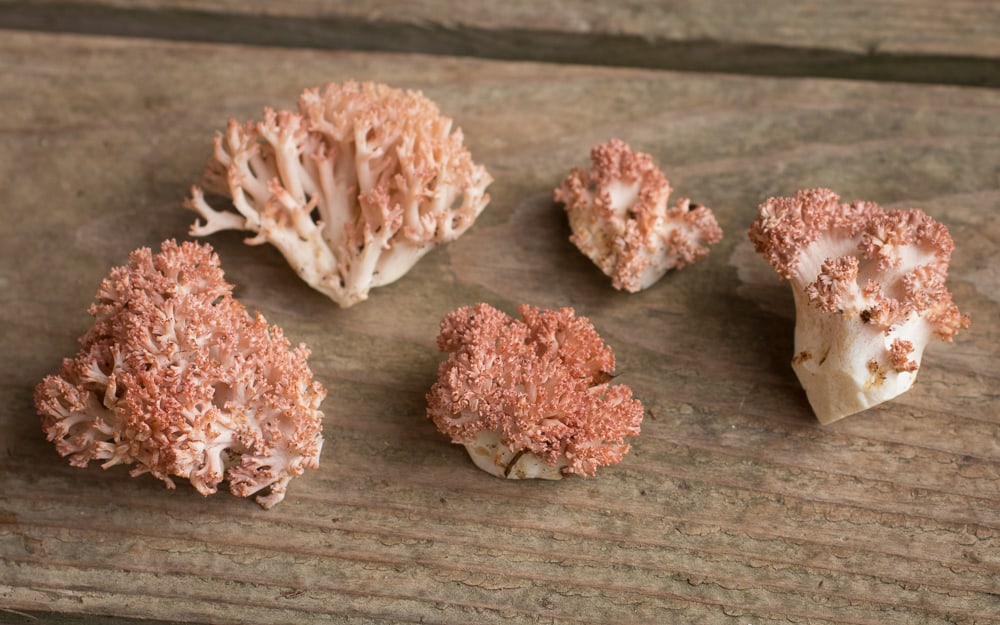 Ramaria botrytis. These are the best coral mushroom for the table I've eaten in the Midwest, and, most importantly, by far the easiest species to identify (they're pink!). There isn't a lack of coral mushrooms in my area, but really good ones can be tough to pin down. With the exception of another yellow variety that's really chunky and looks like golden cauliflower, and is even more rare, the botrytis is my favorite Ramaria, and I know more than one mushroom professional that shares my opinion.
"Young, stubby pink-or purple-tipped branches are the most readily recognized of all the Ramaria" -David Arora
I've eaten a few others in the genus, but I haven't bothered to really get to know those like I have this one, which should tell you something-they're worth it. I first ate these about 5 years ago, and I've waited to share them until now, as it was difficult to keep them pink, and I kept finding them without having my tripod with me in the woods.
More importantly than the color, was that I wanted to repeatedly eat, and serve them to others, just to make sure none of us got loose bowels, which is the common danger I see listed regarding mushrooms in the genus. Personally, I have never had any stomach issues from eating any Ramaria, but I also usually only consume 2-3 ounces (raw weight) of cooked mushrooms in a sitting when I eat, unless it's hen of the woods season.
Habitat
The only trick with the Ramaria botrytis is finding them, and it's a trick. I searched for years and found nothing. Now, I have a couple spots and, like other mycorrhizal (perennial) mushrooms, I can count on them to come up at roughly the same time and place each year, give or take a week or two. My botrytis are hardwood lovers, and they grow with oaks in each place I pick them, generally in mid to late August, although in other places I've read they can grow with conifers.
Color
These two characteristics are the biggest ID tells I can share with you. First, the color-they're pink, not red, purple, tan, orange or bright yellow like other Ramaria I see. The botrytis is absolutely, positively pink, pink, pink. But, Botany being a slightly malleable science, it's unfortunately not that simple. The pink color of the botrytis, from my experience, can be very pronounced when young, but, as they mushrooms grow, the color, in the majority of specimens I've harvested, will be muted, or only visible on the tips.
To make things a little trickier, I have even had the color of mushrooms I've harvested fade while they sit under refrigeration (see above and below). I remember bringing my first pink coral in to impress my line cooks, and, after sitting in the fridge for a night, it was tan. There was only a faint pink was left on the tips-not nearly as impressive as when I plucked it from the ground. So, know that the tell-tale pink can wane in age, or be relegated to the young, meristematic growing tips. To clarify a bit, I assume the color fading to tan-ish is due to the ochre spore print, as you can see above.
Above is the cluster in this post immediately after I brought it home, below is after 24 hours under refrigeration. After a night in the fridge the pink color was barely noticeable, and it's taken me years to find another batch of specimens for me to prove to you that, they're actually pink, until a few weeks ago.
Shape (Think Cauliflower)
After a few good rains the Ramaria can be all over in hardwood forests where I hunt, but, most of the others have straight branching tips that connect loosely at a base, in a sense, they can look more like under sea corals than Ramaria botrytis. Below is Ramaria botrytis, followed by another, unidentified coral I've eaten and enjoyed that fruits at the same time, both have very tight branches when young, and a "cauliflower-y" look.
The botrytis (and other corals I prefer) are chunky, and by that, I think it's helpful to think of them more like cauliflower than like corals. It may not be a scientific explanation, but the intuition of searching for the cauliflower shape hasn't failed me yet.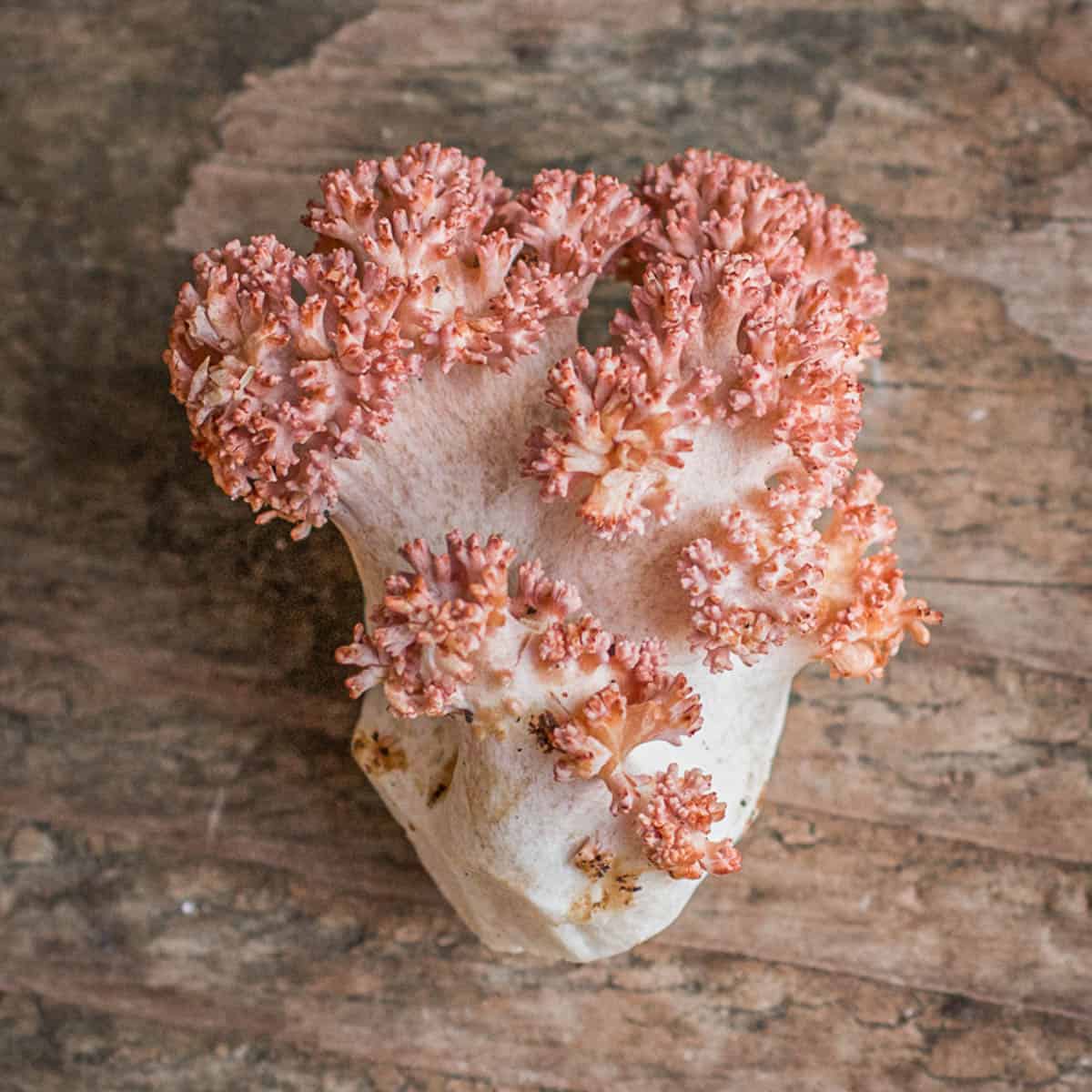 Funny enough, there's also a cauliflower mushroom (Sparassis) and the Ramaria I eat look more like cauliflower than the mushroom that bears the common name. Either way, here's a couple bullets I find helpful, as Ramaria botrytis, generally speaking
Can be visibly rounded at the base or chunky, and almost bulbous in some cases (this is also a characteristic I look for in other corals, specifically yellow ones).
In prime stage they'll look like they could be easily sliced, without the tips breaking apart, as they're composed of a higher proportion of base than branching tips.
The tips, especially when young, are very crowded, not tall and erect like other Ramaria, from what I've seen, until they're pretty mature.
In maturity, the tips can be pink, with the rest of the mushroom getting tan.
The cauliflowery base, and flesh of the mushroom is white, inside and out.
I taste and spit a small piece before I pick, these should taste mild and pleasant, like a good mushroom, some bitter look-alikes are reputed to exist.
Repeat after me: cauliflower, cauliflower, cauliflower, pink, pink, pink.
Ramaria vs Crown Corals
Bear with me for a moment, some of you may be thinking:
"I like coral mushrooms, I pick the crown tipped ones from wood all the time"
In a sense, crown corals (Artomyces pyxidatus) are coral mushrooms, as they look like corals, with their branch-y, under the sea look, and they share a closer relationship to Ramaria than something like, say, a hen of the woods. The relation ends there though, and, if you've been studying your mushrooms you'll have noticed that Artomyces is a completely different genus than Ramaria. Another difference, and am easy way to instantly tell the two apart is to remember that crown tipped corals grow directly from wood-they're decomposers, true Ramaria grow terrestrially (directly from the ground), and are mycorrhizal, living in harmony with the trees, and helping them absorb nutrients.
Most importantly to me, these two mushrooms don't cook the same. Ramaria are firm, sliceable, say like a hen of the woods when young, and they're heavy. Crown corals are always brittle, generally small, light weight, and cook down to a floppy pile, Ramaria can be cooked in a pan and browned, fried, roasted, boiled, pickled, grilled, (you get the idea) and will hold their shape any way you cook them.
Cooking
These are a breeze to work with. The tight branching means they often don't get debris stuck in them, I trim the dirt off the base in the field, as much to remove dirt as to inspect for larvae (yes the bugs like these, but it's not horrible) Compared to other mushrooms, they usually don't require much more work, I may swish a cluster in cold water here and there as needed, and dry on a towel.
For cooking, I never just chop them up. Their shape is part of what makes them special, so I try to keep that in mind. My advice is to break them into clusters, or slice them thick to retain their character. Below are a few recipes I've made specifically using Ramaria, but they're transferable to plenty of other preparations too.
Recipes
More