I've been working on recipes with Rau-Ram, or Vietnamese coriander, as it's basically my new favorite herb. If you don't like cilantro, you should probably close your browser immediately, and walk away slowly from the computer, using your fingers to form a crucifix. Trust me, it may not be in the cilantro family, but the flavor is definitely in the same vein, and for me, that's a good thing.
It's an acquired taste, but for those of you who find cilantro pleasant, or (gasp!) crave it, like me, you'll find it an incredible addition to your fresh herb tool kit, and one that is easily had for pennies at your local Asian market, or at a farmers market via Hmong or other Asian farmers, who plant it in my region as an annual.
The soup here started out as poached chicken for a classic Vietnamese chicken salad that relies on the Persicaria odorata / rau ram, but I had some fresh Ramariaj coral mushrooms I'd picked too that needed to be used, and it wouldn't do to put them in a salad, I thought.
Once I smelled the poaching liquid, which I had planned on discarding, I switched gears immediately, told myself I'd make chicken salad later, and quickly made a bowl of mushroom soup with the poached chicken originally meant for the salad, the coral mushrooms, and all the garnishes I could scrounge up. It wasn't a mistake.
Obviously you could use plenty of different mushrooms here, but I was using a Ramaria I hadn't eaten before, so I cooked them cautiously. Ramaria are widely eaten around the world, but often they are boiled before cooking, so I blanched mine, and then simmered them again in the poaching liquid. That method isn't reflected in the recipe below, and it was probably overkill, but, as it was my first time with the species I wanted to be extra cautious. It was delicious.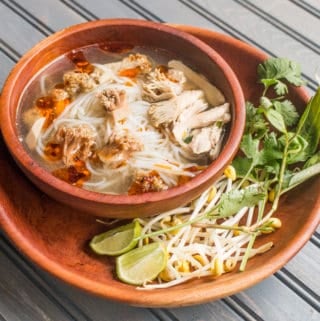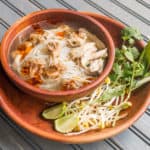 Print Recipe
Vietnamese Coral Mushroom-Chicken Noodle Soup
Vietnamese inspired coral mushroom soup with rue-ram
Ingredients
3

large chicken thighs

8

oz

fresh Ramaria / coral mushrooms

or other wild mushrooms, like whole, small chanterelles, or hericium

Cooked rice stick noodles

about 1 cup of cooked noodles per person.

Poaching liquid

optional, the seasonings are just ideas

8

cups

water

1

tablespoon

salt

Good dash of fish sauce

to taste preferably Red Boat brand

1

inch

piece of ginger

sliced

3

cloves

of garlic

crushed

1

stalk of lemongrass

bruised with the back of a knife and chopped into 1 inch lengths

Small handful of parsley or cilantro stems

½

inch

piece of cinnamon stick

or 1 star anise, crushed

1

tablespoon

dried Szechuan peppercorns

optional

1

small onion

coarsely chopped

1

rib of celery

coarsely chopped

1

small carrot

coarsely chopped

5

whole cloves

Zest of ½ a lime

Optional Garnishes

Fresh bean sprouts

Fresh cilantro

Rue ram leaves

Persicaria odorata/Vietnamese coriander

Fresh mint leaves

Hot chili oil

sriracha, or other spicy condiment

Lime wedges

Fresh sliced scallions
Instructions
Bring the ingredients for the poaching liquid to a simmer and cook for 20 minutes, then add the chicken, bring the mixture back to a simmer, turn the heat off and allow the chicken to cool in the liquid and finish cooking with the residual heat.

When you can handle the chicken, remove it, discard the bones and shred the meat. If you want, save the skin, dry it, and bake until crisp like bacon for a garnish, you can also remove the skin before poaching for an even better result.

Strain the poaching liquid, then add it back to the pot with the mushrooms and simmer for another 20 minutes. Double check the seasoning, adjust as needed, and keep hot.

Meanwhile, pour boiling water over the rice noodles and leave for a second or two, just to tenderize them.

Divide the noodles between large soup bowls, (discarding the water) add the chicken, then ladle over the boiling hot broth, dividing the mushrooms and broth evenly between the bowls. Serve with your choice of garnishes on the side.