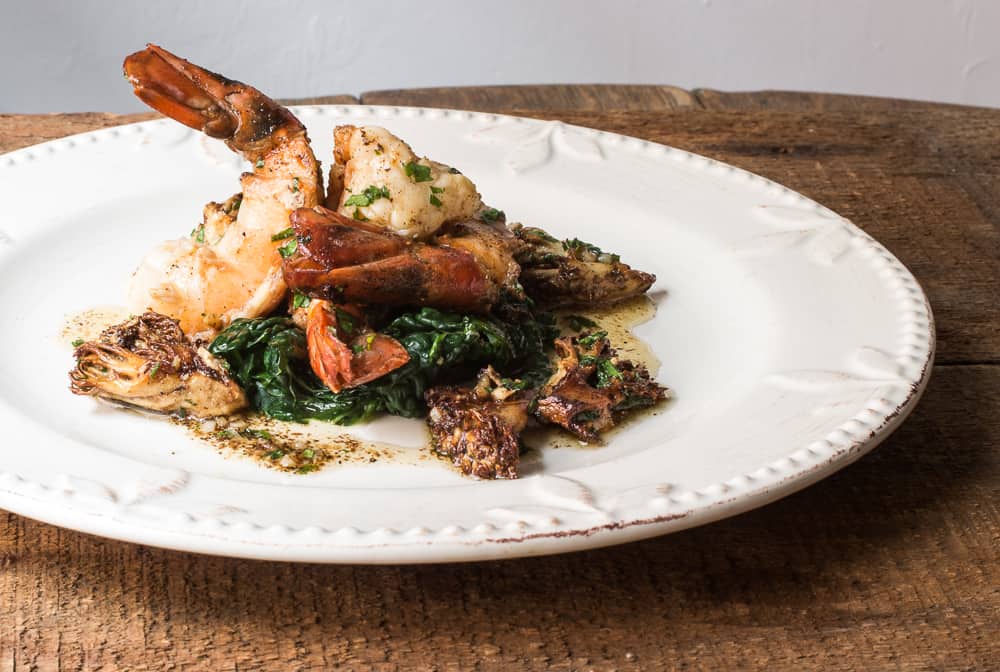 Here's a really simple, land and sea, or surf and turf combo with those Ramaria / Coral mushrooms we know and love. It took me a number of years to find species of coral fungus in my area I was comfortable with, but after I did some testing to make sure I didn't suffer from the laxative effect that seems to plague people here and there, I've been off to the races with them, especially Ramaria botrytis, the pink, and most delicious coral I've found yet.
I've eaten plenty of other coral mushrooms, some purple ones and a few different yellows, if I remember, but the Ramaria botrytis are the best I have had, no question. I've also never had a problem with any of them, yet. For more interesting tidbits about edibility of corals, see the article on them by David Arora I shared a few years ago.
The rest of the dish could be whatever, really, but the goal is seafood, with a mushroom that looks like it should be growing in the sea. The greens are there to soak up the pan juices, but they could just as easily be spinach, or another green like lambs quarter, nettles, etc, the fun stuff. Maybe it can serve as some inspiration the next time you find a few nice Ramaria.
Oh, one more thing, if you like to make pan sauces, or, if you would like to practice pan sauces, this sort of simple deglaze-and-spoon-it-on method is a great intro, as the sauce is meant to be broken, meaning you don't have to worry about it having a creamy texture.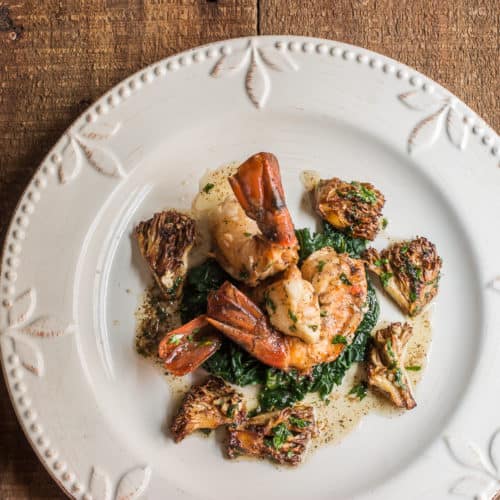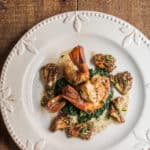 Print Recipe
Seared Prawns with Coral Mushrooms, Lacinato Kale and Garlic Butter
Jumbo prawns with wild coral mushrooms, kale and broken garlic butter sauce
Ingredients
6

large prawns

u-10 or u-12 are a fine size

4

oz

lacinato kale

stems removed, leaves cut into 2 inch squares

4

oz

fresh ramaria

cleaned, washed and dried if needed

2

tablespoons

unsalted butter

2

tablespoons

cooking oil

Kosher salt and fresh ground black pepper

Fresh squeezed lemon juice

to taste

Fresh chopped Italian parsley

a pinch

½

teaspoon

high quality fresh garlic

finely chopped

¼

cup

dry white wine
Instructions
Break the coral mushroom into medium-sized pieces about the size of a walnut. If your coral mushroom is large, and clean, you might consider cooking it as a steak or a big hunk, by searing it in a pan and finishing in a hot oven. Heat the oil in a saute pan, then quickly sesaon the shrimp with salt and pepper just before they go in the pan. Do not move the shrimp once they're in the pan or they won't sear right.

When the prawns are golden brown on one side, flip them and add the coral mushrooms to the pan. Continue cooking with the pan on high heat for a minute or two, making sure to caramelize the mushrooms.

Discard the oil and add the unsalted butter to the pan, and continue cooking on high heat. When the butter is nut-brown, add the garlic, and cook for 1 minute, then remove the pan from the heat and swirl for a moment to deepen the color of the garlic, being careful to let it get dark, but not burn.

Deglaze the pan with the white wine, reduce by half, double check the seasoning, season lighlty with salt and squeeze of lemon and prepare to plate the dish.

Meanwhile, wilt the kale simply in a pan with a lid, a touch of butter and salt, without adding any color.

On two preheated dinner plates, arrange a bed of kale. Arrange 3 shrimp on each plate on top of the kale, then spoon the coral mushrooms and pan juices over the shrimp and around the plate and serve immediately.