One of the most noticeable things about Lactifluus volemus is their smell, a sort of strong, cheesy, crotchy aroma. Whatever you want to compare it to, it's strong, and it's noticeable, as long as the mushrooms are fresh.
The smell fades as it cooks though, and transforms into delicious, nutty, mushroomy-ness. Here's one of the first things I decided to make with them: a nod to the love of cooking saffron milk caps they have in Spain where they're known as niscalos or rovellones.
Serve this with some toasted bread to mop up any juices, or just wipe the pan with the bread and keep it to yourself. It's also great on top of some noodles tossed with olive oil, or on toast for an open faced sandwich or tartine.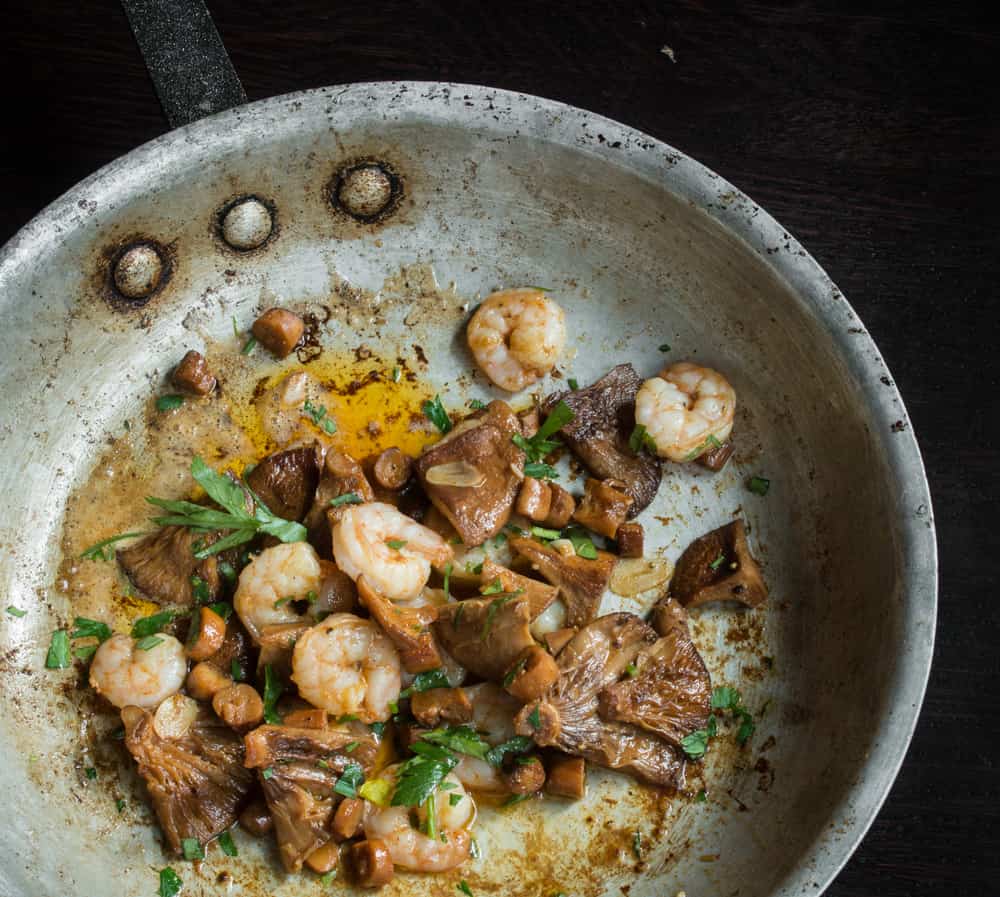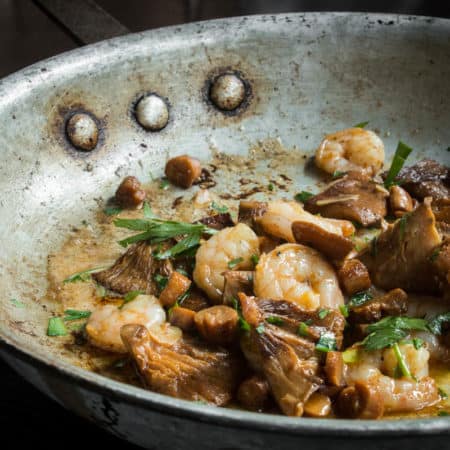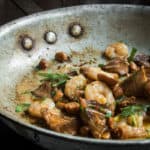 Print Recipe
Lactifluus Volemus with Shrimp, Smoked Paprika, Garlic and Parsley
A rich side dish of milkcap mushrooms cooked with shrimp and a touch of smoked paprika
Ingredients
2

ounces

fresh Lactarius volemus

stems sliced ½ inch, caps quartered (roughly 2 cups of mushrooms)

2

ounces

fresh small shrimp

I like to use 16/20 size here peeled and de-veined

Tiny pinch

of smoked paprika

1

teaspoon

minced fresh garlic

Good pinch of fresh chopped Italian parsley

2

tablespoons

unsalted butter

1

tablespoon

extra virgin olive oil

Kosher salt and fresh ground black pepper to taste

Splash of dry sherry
Instructions
Heat the butter and olive oil until sizzling add the mushrooms and shrimp and increase the heat to high until the shrimp and mushrooms are gently browned.

Add the paprika and garlic and cook for a few moments.

Season to taste with salt and pepper, then add the sherry and de-glaze. Finally toss in the parsley and serve immediately.
More
Saffron Milk Caps: Niscalos or Rovellones