I didn't get to attend classes at the Midwest Wild Harvest Festival this year, but I did have a great time with some good takeaways. If you're not familiar, it's a bit like Hogwarts School of Magic for adults, and is run by Forager's Harvest.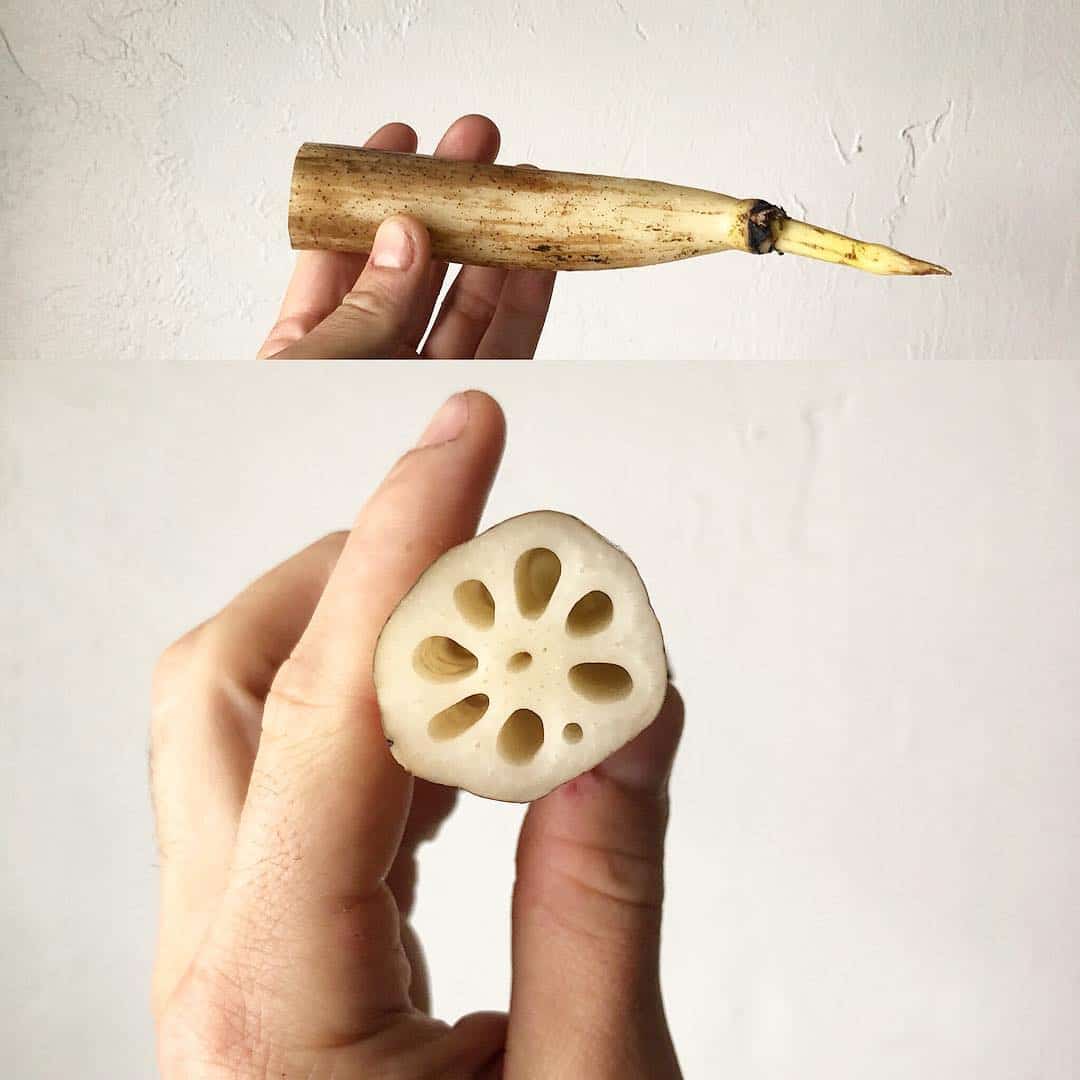 You can take classes with wild food experts from around the country ranging from processing acorns to making mustard from wild seeds, mushroom and plant ID walks, etc.
One of the things I brought back, besides the dregs of a growler filled with hickory nut oil was a lotus tuber, my first real live wild one qnd a gift from Sam after he was diving for them in the river for one of the classes.
Sam's first book The Forager's Harvest, really changes my appreciation for lotus tubers. I had seen them being sold in Asian markets, and I knew that they were common in stir fry and other things, but I never really thought about them as a local vegetable.
My guess is, if you live in the Midwest, you may not have thought about adding lotus root to your list of seasonal ingredients either, but they are. And they've been here for a long time.
The first thing I noticed about the wild lotus tuber I had was that the size was much longer, and thinner. Cultivated tubers have been conditioned to have more "meat" on them, and are more stout/short.
They're a really fun vegetable to work with, the texture is a little like water chestnut, but on the sweeter side. Cooking them, from my experience usually ends up going one of two ways for me: hot and fast, or low and slow. Cooked quick they retain some of their crunch and add texture, braised or confit'd slow they get soft-crunchy, if that makes any sense.
After I got back from the Festival (read as 620 meals in 24 hours with two cooks) I was beat, and took a day to poke around in the wood. I brought back a few nice Ramaria botrytis and some yellows that fit Ramaria rasilispora. Before I got to work the next day I put together a little fried rice with all of them, quick and dirty style. The ramaria pictured above was good, but the botrytis is even better. While we're on the subject too, I put up a great post on Ramaria drawing from David Arora a few years ago, if you haven;t read it, check it out.
The Milwaukee Rice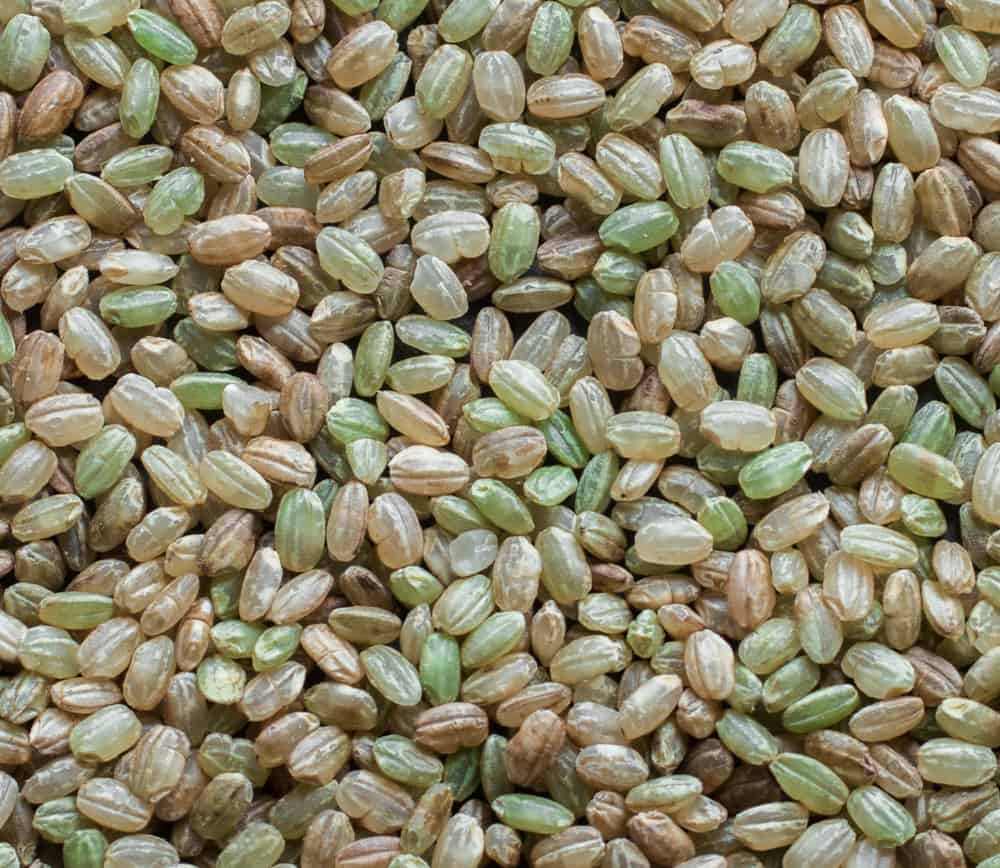 With fried rice, you're obviously going to need a little rice, and this stuff is a story in itself. The word Milwaukee in the title of this post is a real thing, as my friend Mushroom Mike in Wisconsin is in contact with farmers growing a type of heirloom Russian rice. The end product looks like speckeled jade jewels, and after drying, it cooks up just like good brown rice. Mixing that rice with a little parched wild rice, coral shrooms and pond veggies made a great lunch, and a snapshot of my week.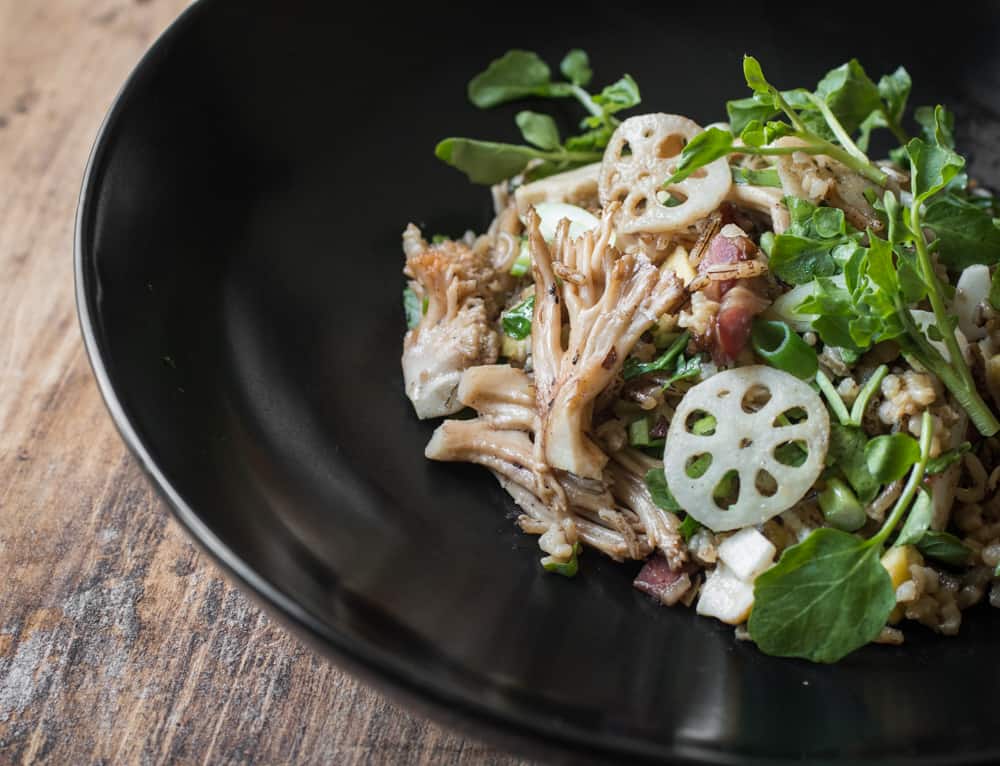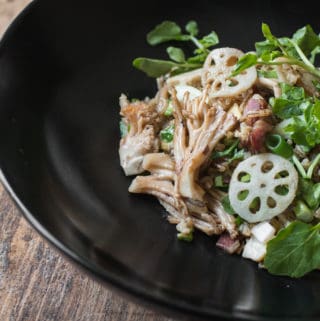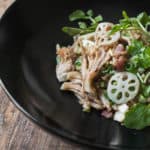 Print Recipe
Rice Bowl with Coral Mushrooms, and Lotus Root 
Heirloom rice bowl with coral mushrooms, bacon, and lotus root
Ingredients
1

duck egg

2

oz

lamb bacon

finely chopped (sausage can be substituted)

3-4

ounces

fresh Ramaria/coral mushrooms

cleaned and broken into clusters the size of a walnut shell

2

green onions

sliced thin

A good handful of watercress

picked, cleaned and any woody stems removed

1

Lotus root

optional

Kosher salt and fresh ground black pepper

Pinch

of red pepper flakes

sriracha, or whatever spicy condiment you like

1

cup

cooked brown rice

½

cup

cooked parched wild rice

2

tablespoons

lard or cooking oil

Soy sauce and sesame oil

optional, for garnishing
Instructions
Bring 3 cups of lightly water to a simmer and blanch the coral mushrooms until wilted, about 2 minutes, remove, drain and reserve. In a large saute pan or cast iron skillet, cook the duck egg in 1 tablespoon of the oil, whacking the yolk so the egg will cook flat and be easy to chop, do not over cook the egg or brown it.

When the egg is cooked, remove and reserve.

Add the remaining tablespoon of oil to the pan and render the bacon on medium heat for 3-4 minutes, until some of the fat has come out.

Add the Ramaria and cook for two minutes more, add the lotus root and heat through, finally (and working quickly to avoid overcooking the lotus) toss in the rice, chili flakes and heat through.

Meanwhile, dice the egg and add to the mix. Turn the pan off.

Right before plating, fold in the water cress and the green onion.

Double check the seasoning and adjust as needed, then serve immediatley, garnishing with a few nice cress sprigs on top. Pass some soy at the table.
Notes
Serves 2 as an entree or filling side dish or entree