Can you say golden brown and delicious? Crispy deep fried oyster mushrooms are one of the most addictive mushroom appetizers I've ever had. It's also a delicious vegan mushroom recipe. I learned the technique from my old boss Chef Lenny Russo when I was his sous chef at Heartland Restaurant in St. Paul MN.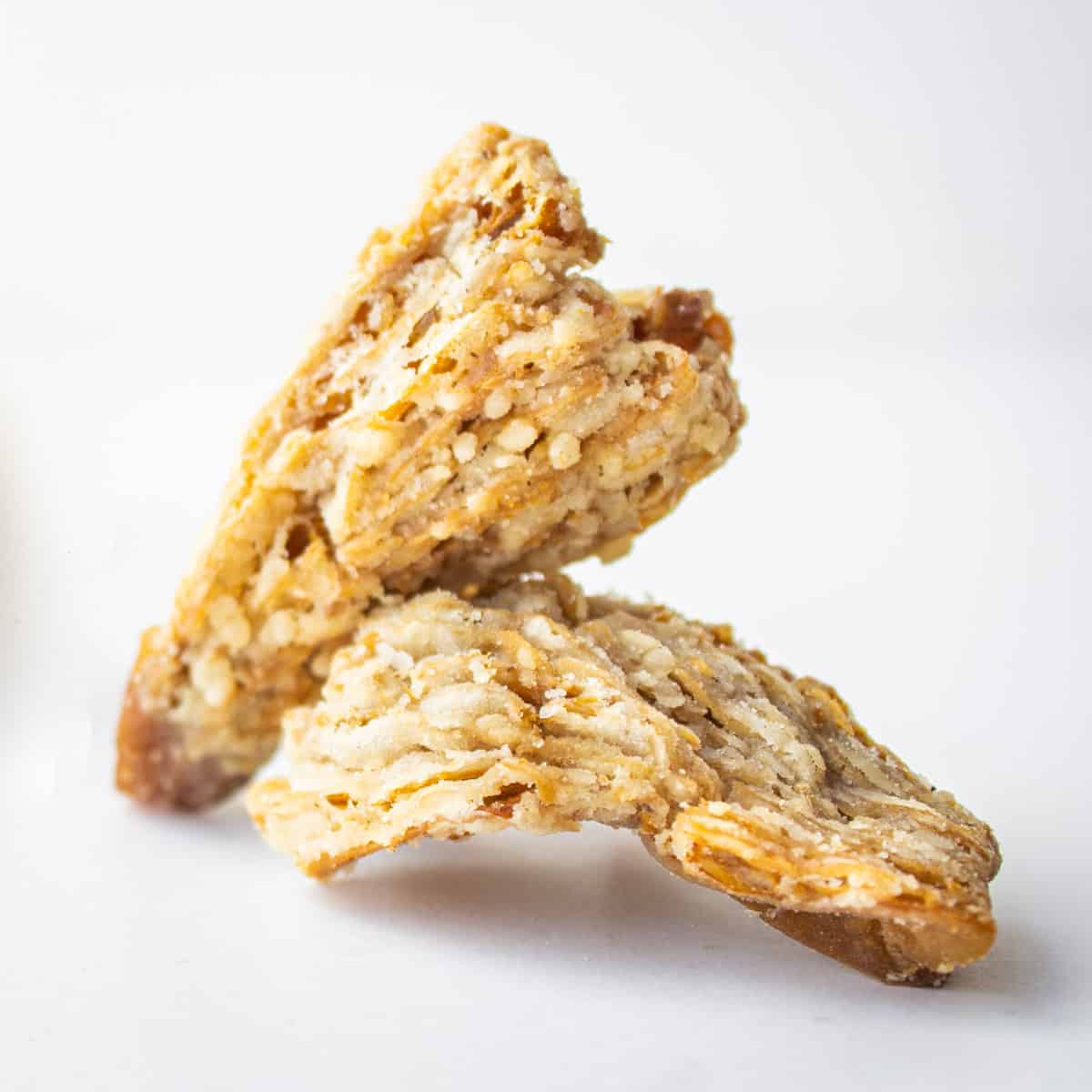 The secret to the recipe is in the shape of the oyster mushrooms, as well as the technique. Oyster mushrooms have a wavy shape, and are mostly caps and gills. Those gills are the perfect shape for becoming extra crispy after being tossed with flour and deep fried.
I have two different versions of these I'll share with you. The first is the simplest, and includes only flour, salt, mushrooms and oil. The second involves brushing the mushrooms with mustard and herbs before dredging in flour. Both are delicious.
Notes on other variations
Some recipes might instruct you to coat mushrooms with panko bread crumbs or soak mushrooms in buttermilk or plant based milk. That can work, but it's definitely more work.
The only thing you need for crispy fried oyster mushrooms are mushrooms, flour, salt, and oil. I don't add any garlic or onion powder, but you can add a pinch of you want. A thermometer is helpful too.
Likewise, battered mushrooms are very different and will not come out crisp like these will, so I would avoid any recipe with a liquid batter as well.
Other ways to fry
Some of my friends have had good results making air fried oyster mushrooms. I don't own an air fryer, but it should work just fine if it's what you prefer.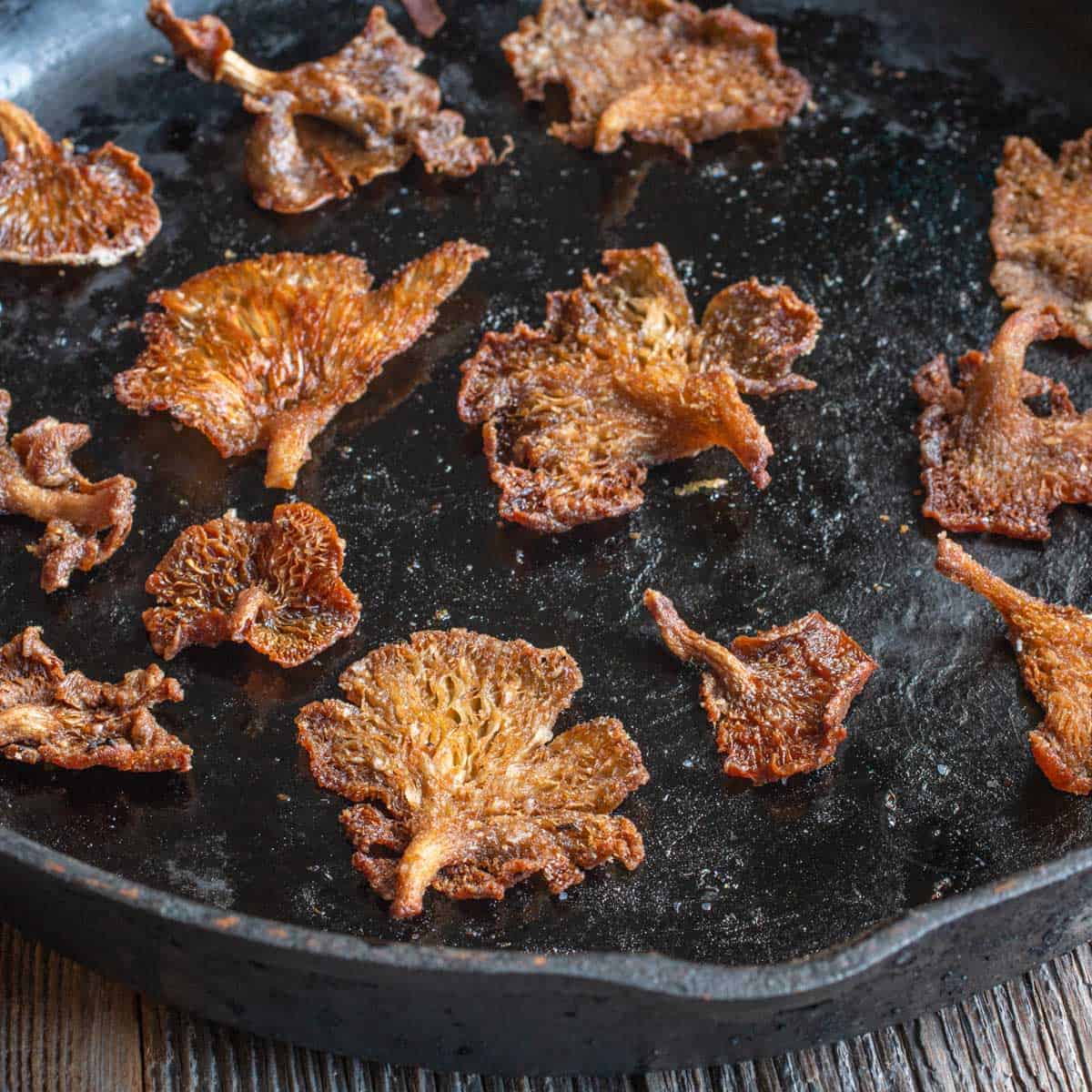 The second way to make these is to bake them. I have another method for those too. If you want to bake them, see my baked oyster mushroom croutons.
Other mushrooms you can use
Oyster mushrooms are one of the best here, and you can use pink or blue oyster mushrooms, as well as just about any oyster mushroom variety. King oyster mushrooms are different and won't fry up the same as they don't have the same amount of gill surface.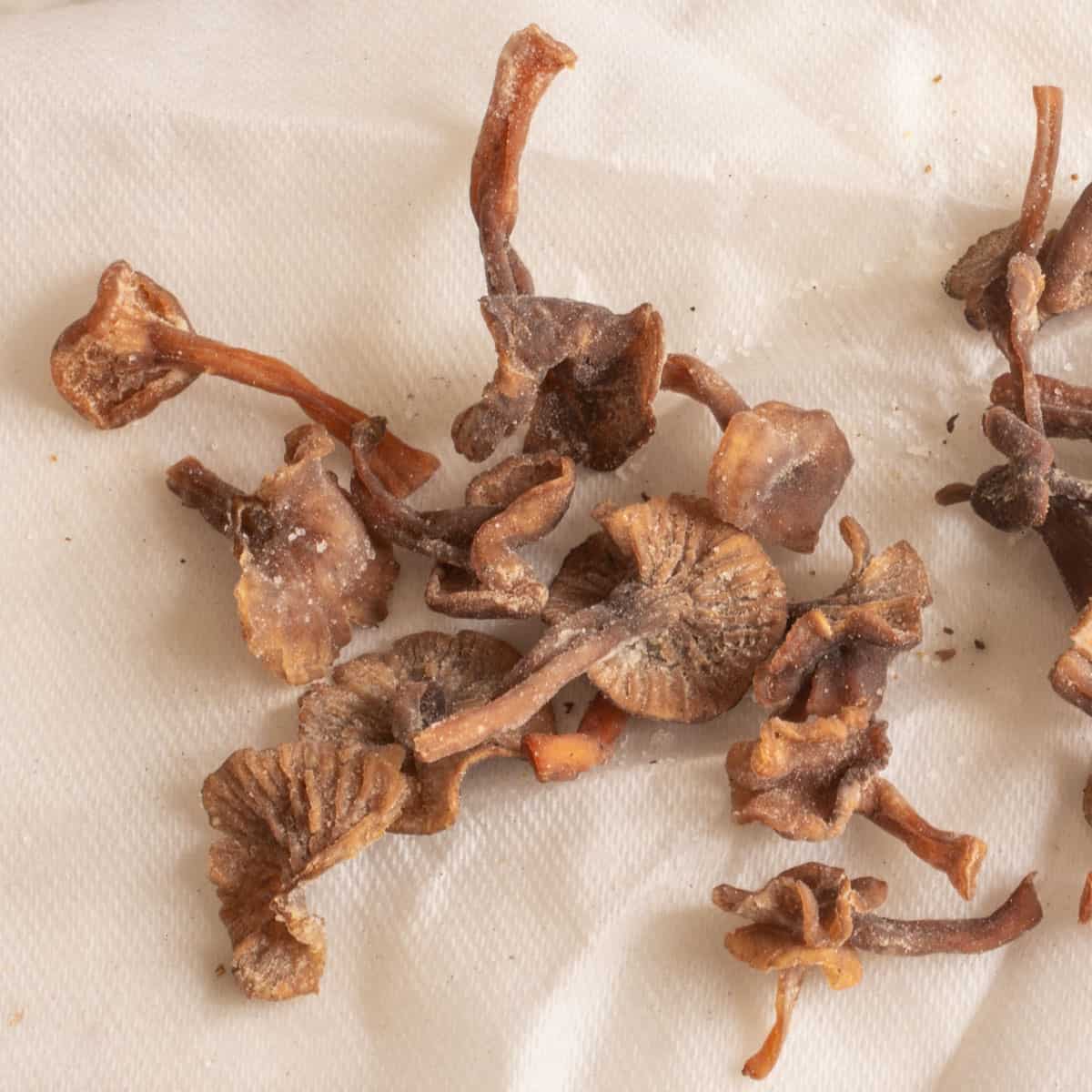 Any of the mushrooms below will give you a great result. The best varieties will be hollow or thin, which helps them crisp without burning.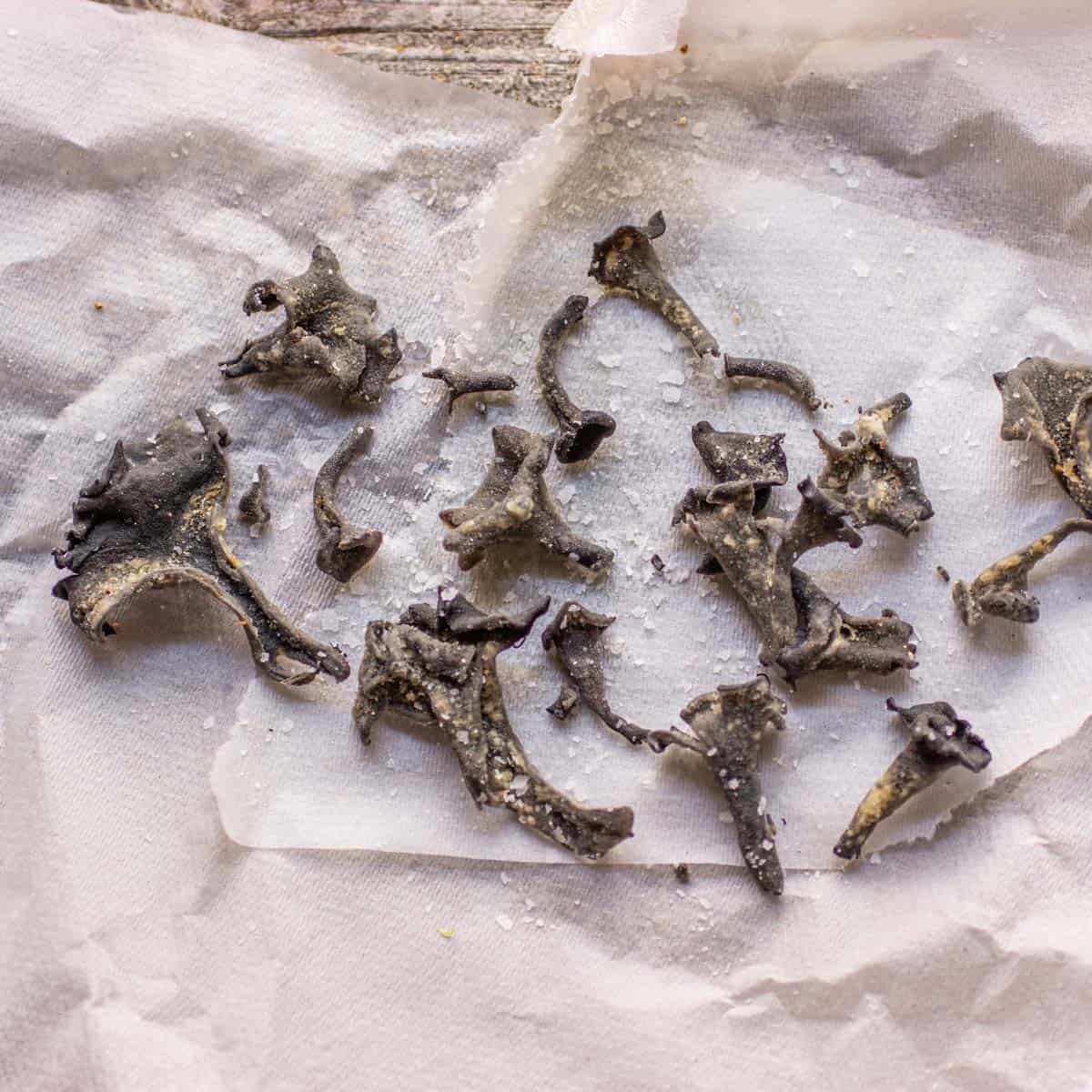 Version two: with mustard and herbs
The second version is inspired by mushroom Author Jack Czarnecki. In his book, he describes a method where the mushrooms are brushed with dijon mustard and dusted with breadcrumbs before deep frying.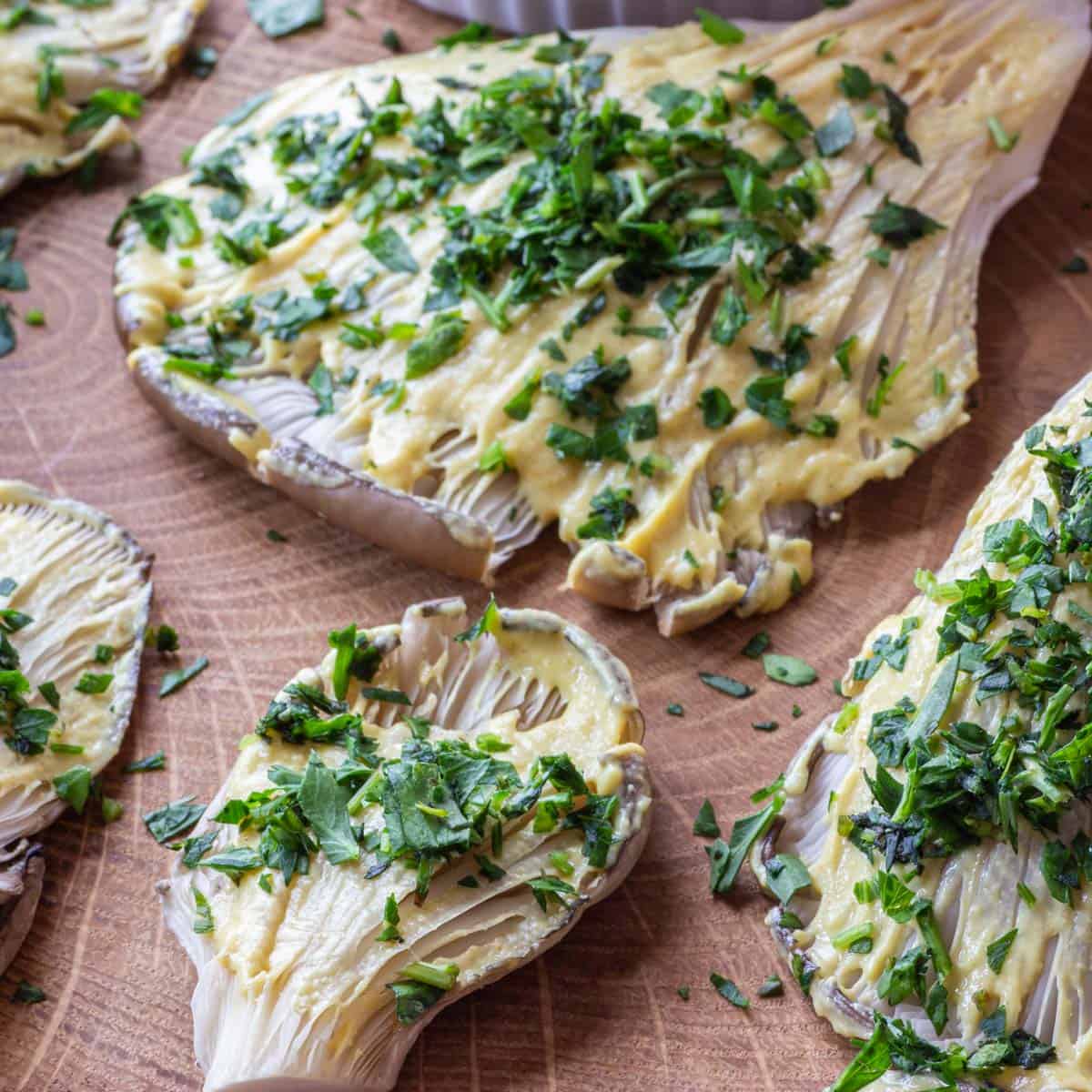 It takes a little more time than simply tossing the mushrooms with flour, but it's well worth the effort it takes to prepare. The mustard version is very rich.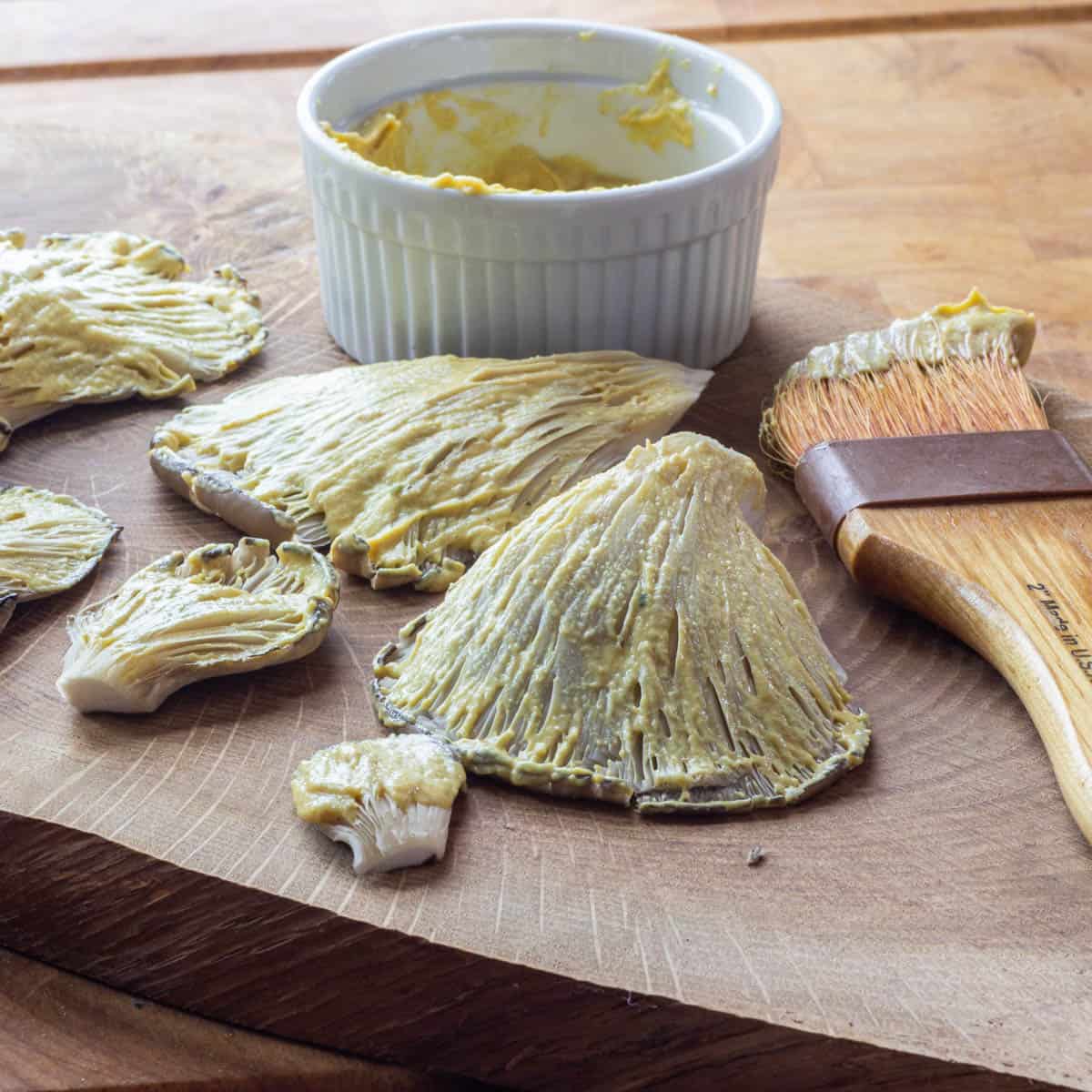 The recipes here are so simple I shouldn't need to list proportions, but you'll want to pay close attention to the method to get the same effect as the mushrooms pictured here.
How to Enjoy
Pure crunchy comfort food: these are one of the most delicious mushroom snacks I've had. They're great all by themselves with a cold beer, but at the restaurant we would use these in other creative ways. Here's a few examples.
Served room temperature on a salad in place of croutons.
As a garnish to a piece of baked or sauteed fish.
Use a blend of mushrooms I've described in this post for a mushroom "fritto misto".
I usually eat these all by themselves, but it's fine to serve them with a simple dipping sauce too. Creamy sauces are fine, as are lighter, tart Asian9style sauces made from things like soy sauce and seasoned with apple cider vinegar, lime or lemon juice.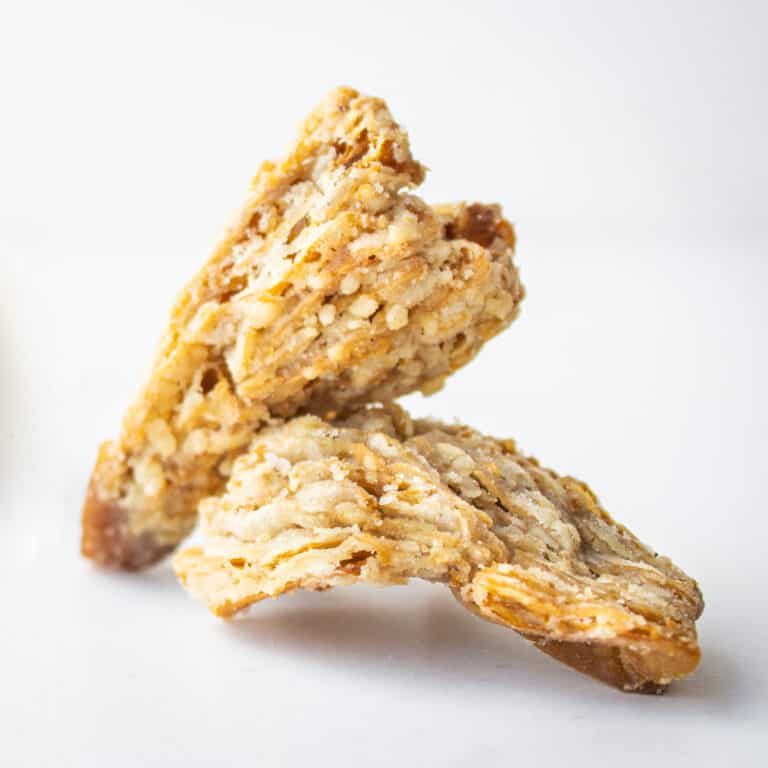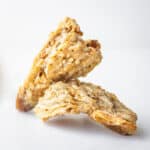 Print Recipe
Fried Oyster Mushrooms
Crispy fried oyster mushrooms are a delicious, addictive appetizer.
Equipment
Tall sauce pan, dutch oven or deep fryer

Thermometer

large mixing bowl
Ingredients
1

lb

clean oyster mushrooms

2

cups

All purpose flour

Peanut oil, or your favorite frying oil

as needed

2

teaspoons

Kosher salt

plus more to taste
Spices (optional)
1

teaspoon

paprika

1

teaspoon

garlic powder

1

teaspoon

onion powder

½

teaspoon

fresh ground black pepper

½

teaspoon

cayenne pepper (optional)
Instructions
Mix the flour and optional spices if using. Add the mushrooms to the flour and toss well to coat.
Frying
Using a thermometer, heat the oil to 300 degrees in a stock pot or dutch oven note that you will need at least a couple inches of oil in the pan to make it work. Make sure the oil is at least 3 inches beneath the lip of the pan to prevent overflowing.

Remove the mushrooms from the flour in small batches, tapping off the excess, then, working carefully, add them to the hot oil and cook for roughly five minutes (this will vary depending on species) or until you don't hear water sizzling in the oil (this means the water has been cooked off and the mushrooms will stay crisp and not be soggy.)

When the mushrooms are thoroughly fried and golden, remove them from the oil to a bowl and toss with salt to taste. Remove the mushrooms to a cooling rack or paper towel on a tray in a warm oven. Repeat the process with the rest of the mushrooms.

You can hold finished, fried mushrooms in a warm oven until all of the mushrooms are fried or place them on a cooling rack to help them stay crisp.

Make sure that when you lay them out without touching after frying. Don't put them in a pile on top of each other as it will trap escaping moisture and make them less crisp.
Storing
The mushrooms keep well for a day or two after they're cooked, unrefrigerated in a paper bag. Don't store them in a plastic container or they'll become soft. Reheat them in a 300 F oven for a few minutes to make them crisp again. At my house they rarely last more than an afternoon.
Mustard Version
To make the version with mustard and herbs, take the oyster mushrooms and brush them lightly on the gill side with dijon mustard. Sprinkle with a mixture of herbs.

I like a mixture of half Italian parsley mixed with thyme, tarragon, savory or oregano. Proceed with the recipe as directed above for frying the mushrooms, omitting the salt from the flour mixture.

The mustard version contains more moisture, so it's more delicate. You'll need to watch them carefully so they don't scorch.
Notes
Use enough oil
A trick to making these is they need to be completely submerged in the oil. Buy a gallon of frying oil. Strain the oil after cooking and save it. Frying oil can be re-used 2-3 times. 
Frying safety 
Make sure  that the oil is 3 inches below the lip of the pan. This will prevent overflowing when you add the mushrooms to the hot oil. 
Nutrition
Serving:
3
oz
|
Calories:
265
kcal
|
Carbohydrates:
25
g
|
Protein:
10
g
|
Fat:
13
g
|
Saturated Fat:
4
g
|
Polyunsaturated Fat:
0.4
g
|
Monounsaturated Fat:
0.1
g
|
Sodium:
22
mg
|
Potassium:
400
mg
|
Fiber:
4
g
|
Sugar:
1
g
|
Vitamin A:
54
IU
|
Calcium:
13
mg
|
Iron:
4
mg