A simple jam made from rowanberries and apples. If you like the taste of rowans, you'll love this. If you don't, it'll grow on you.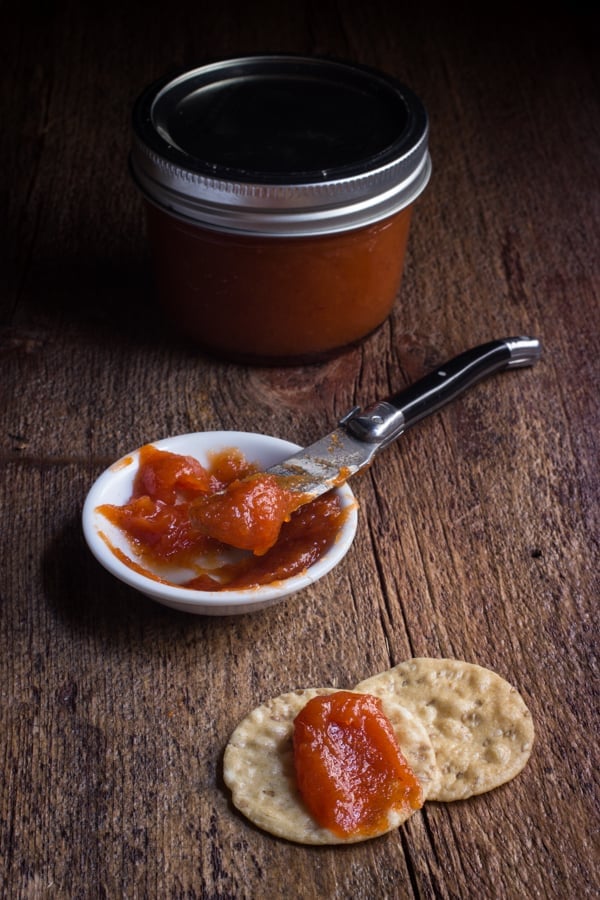 The rowan berries will be ready soon. Last year I shared my favorite method for preserving them in syrup, which makes them taste a bit like cranberries, and curbs their bitterness so much you can eat them right from the jar, after a while.
Sometimes I don't want to wait. Also, gathering food for the restaurant and working long shifts takes it's toll on my free time, so when I do go out to hunt goodies for the restaurant, I try to stretch ingredients for all they're worth.
I came up with this jam as a way to use rowan berries right away, but also to stretch them, since when you combine them with the apples, you get a lot of yield from just a small amount of berries.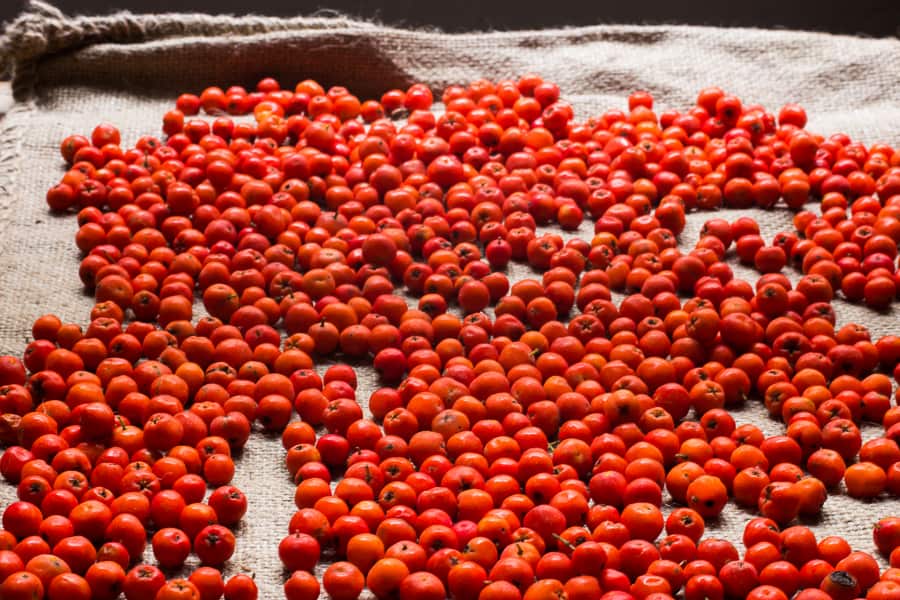 Cranberries are paired with apples to mellow their tartness. Rowan berries are similar, but much more bitter. The key with them is figuring out a way to curb their punch, and enhance their fruity-ness. Traditionally, jellies are made from rowan berries, but jellies often have way too much sugar for my taste.
I tend to stray towards sweet jams and thick fruit purees that utilize the skin of the fruit as a thickener. This means that you have to deal with the high amount of natural, mouth-drying tannin in the skins of fruit, but with a little effort, it can be mellowed, not removed, but mellowed.
That being said, the mechanics of the jam are simple. Cook some apples and rowan berries together, pass through a food mill, reduce. That's it. The apples mellow the tannin and bitterness of the berries, but the jam retains enough of their flavor to make it interesting, and it definitely isn't too sweet.
Pick your berries after a frost
The flavor of rowanberries is drastically improved by a few cold frosts. I don't even think of harvesting them anymore before it gets cold.
Different species, different levels of bitter
Know that there are different species of mountain ash, and they definitely taste different. One tree I pick from has very small berries that I can eat straight from the tree and barely taste any bitter, some are incredibly bitter raw. I'm a chef, not a botanist, so I can't speak to all the different types, but don't be discouraged. If you have some property, you might think about getting a European strain, but you're on your own there. In the end, there will be some bitterness, if that scares you, refer to the rowanberries in syrup.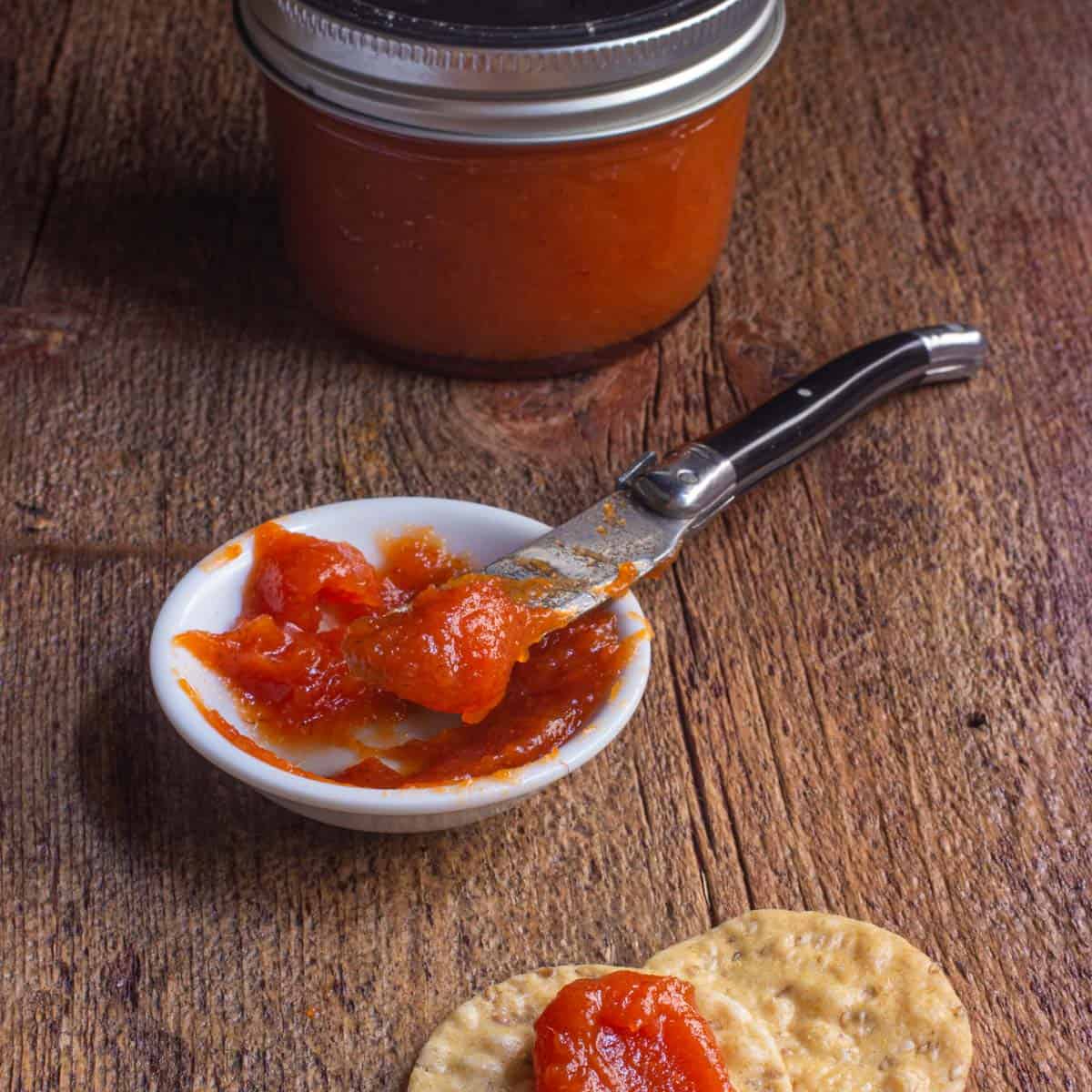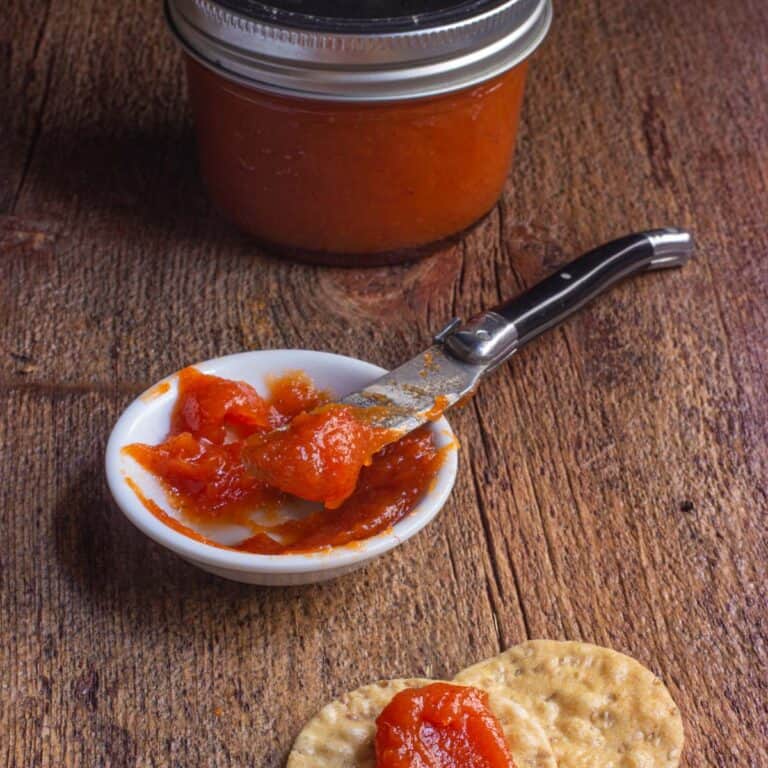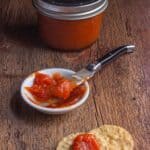 Print Recipe
Rowan Berry-Apple Jam
Try it on a cheese plate, mixed with meat stock, cooked, and mounted with butter for a sauce, spread thin and dehydrated to make a sweet-sour fruit leather, etc. Yield: about 2 cups of jam
Ingredients
1.5

cups

ripe rowan berries

picked after a couple hard frosts

1

cup

white granulated sugar

5

cups

diced firm apples

like braeburn, fuji, honeycrisp or granny smith, peeled and diced

1

tablespoon

fresh ginger

roughly chopped, or more to taste

Pinch

of salt
Instructions
Cook all ingredients on medium heat in a non-reactive pot until soft, about 30 minutes, stirring occasionally. If the pan gets dry, add a tablespoon or so of water.

Pass the mixture through a food mill. Put the jam into a labeled, dated container, then freeze or refrigerate until needed.

If the jam looks watery, put it back on the heat and cook gently to dry it out until it thickens. The jam will keep in the fridge for a week or two and will mellow with time.
Notes
Rowanberries are an acquired taste. Picking the berries after a frost will help calm their astringency, but they will always have a certain edge to them. Look for hints of grapefruit and orange along with the astringency.
Nutrition
Calories:
96
kcal
|
Carbohydrates:
25
g
|
Protein:
0.2
g
|
Fat:
0.2
g
|
Saturated Fat:
0.02
g
|
Polyunsaturated Fat:
0.03
g
|
Monounsaturated Fat:
0.01
g
|
Sodium:
1
mg
|
Potassium:
65
mg
|
Fiber:
2
g
|
Sugar:
22
g
|
Vitamin A:
33
IU
|
Vitamin C:
4
mg
|
Calcium:
4
mg
|
Iron:
0.1
mg