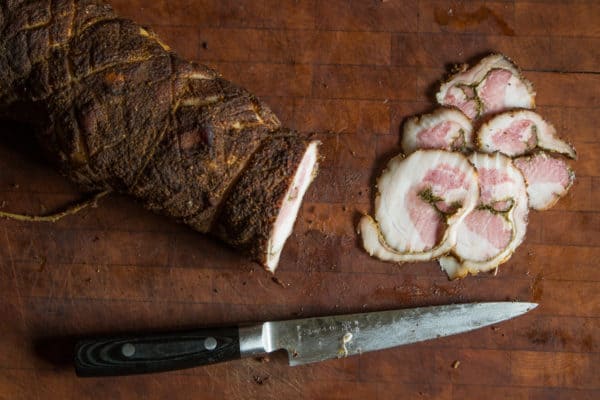 Salo is a great piece of pork charcuterie that I found out about from one of the members of Hank Shaws great Facebook Group Hunt Gather Cook when I asked for some ideas for interesting pork cuts to take out of 2 pandemic pigs I butchered. I love cultural specialties and the rabbit holes that come with them, so salo made for a great couple weeks of research and planning.
It's a famous Ukranian delicacy typically made from pure pork fat back, eaten cool, sliced like ham, similar to Italian lardo. There's lots of different versions and ways to go about it--a lot more than I'm used to seeing with charcuterie methods. It could be salted and dried like lardo, cured and boiled, or, cured and smoked, like the one I'm sharing with you here that I knew would be dependably delicious. According to the Guardian, it's so popular in fact, the it has multiple entries into the Ukranian book of records, including the worlds first "pork and salo monument" and a 76m long salo sandwich.
I've cured my share of pork fat, and after reading a few examples, I could see into the future a bit and planned accordingly to make sure I got an end product I'd really like. I like and respect the salt cured pork fats like lardo, but it's something I can only take in small amounts, as unless the pork fat is cooked, the texture can be a little rubbery for some people. Cured, smoked, or otherwise slow cooked pork fat is another thing entirely though, and it can make a sandwich or charcuterie plate of the gods.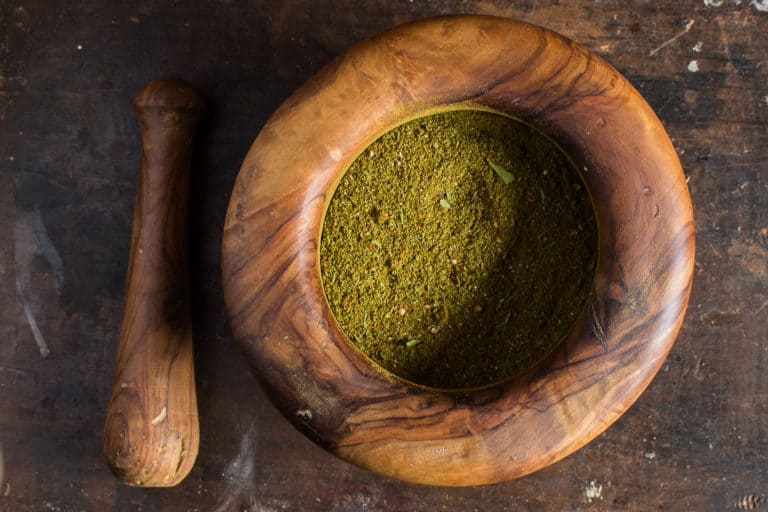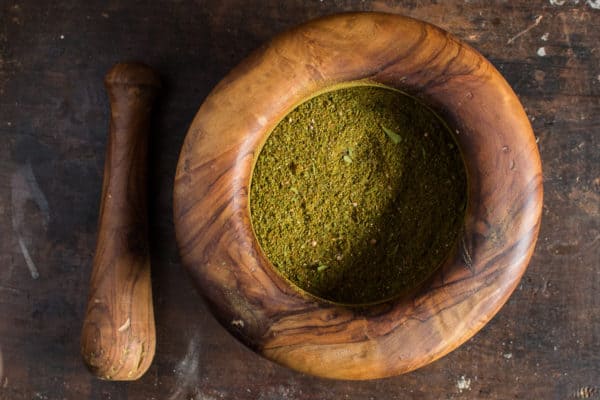 Another tweak I made was using a marbled piece of meat, instead of pure pork fat. I had to skin the pigs, which removed some fat in the process, and most of the pure back fat we donated to one of the guys who showed up to help cut to make sure he had enough to render some lard out of to share with his family. A fat cap off the loin / rack of pork chops was just the ticket.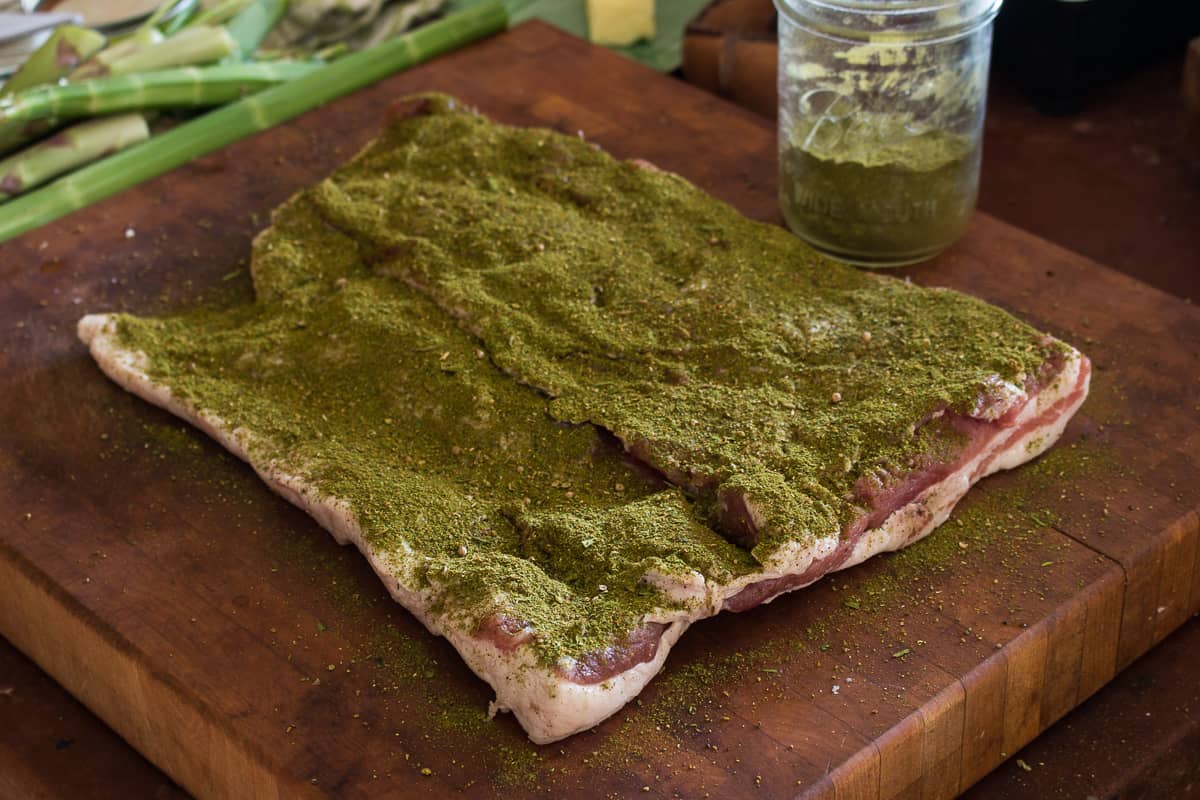 I pounded the fat cap, cured it with 1% of it's weight in salt, along with some pink salt (sodium nitrite) for a few days. After the initial cure had penetrated, I wiped it clean, and, following the tradition of some of the salo's that I'd seen, applied a thick coating of rub to the entire thing. Most of the rubs I could see online were paprika or something, and that would be fine, but mine uses my dried ramp leaf rub (see that recipe here). You could use all kinds of flavors and seasonings though, so think of mine as just an example.
How to enjoy
Since I shared this, a number of Ukranian friends reached out to help me get the best from my fatty pork. Here's a few of their suggestions. A open-faced sandwich on bread with horseradish and onion being the most repeated
Open faced sandwich on brown bread with horseradish and thinly shaved onion
Millet porridge with fried onions and salo (I've been told it's an ancient dish that should cook in a clay pot)
Mashed into a spread with garlic, dill, or other herbs and spread on black bread
Mixed in and gently rendered with fried potatoes
Aforementioned open faced sandwich served with steaming a piping hot bowl of borcht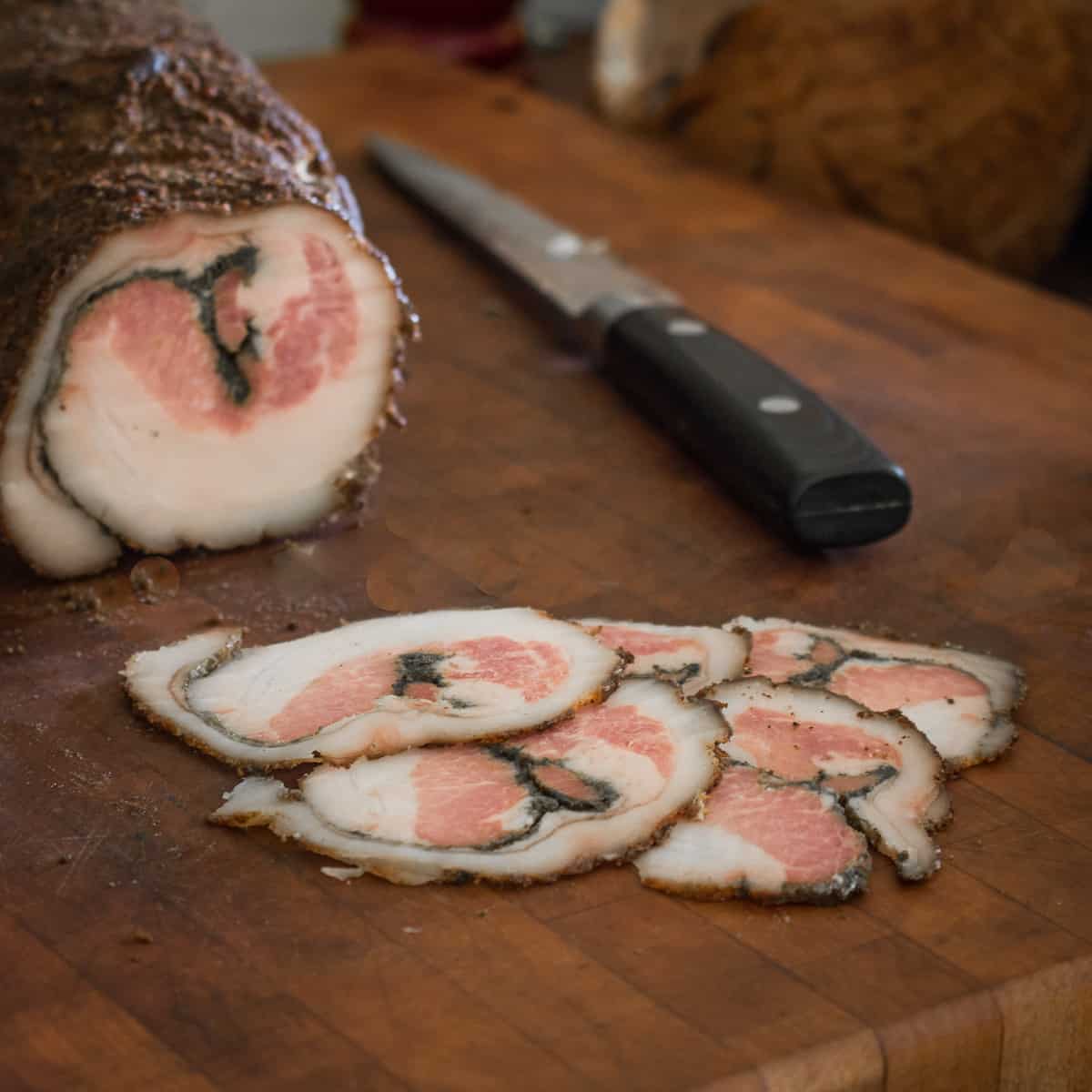 Pork cuts you could use
The difficult part for most people is just sourcing a fatty cut of pork. If you call and ask a butcher, they may be able to get you a fat cap or backfat, but another great alternative is just to use pork belly, especially if it's your first time. Pork belly is fatty, but it's not pure fat, making it a good doorway for a first time salo journey, which, if you smoke it like I did, isn't much different from bacon except for the fact that it's eaten raw like ham as opposed to cooking crisp.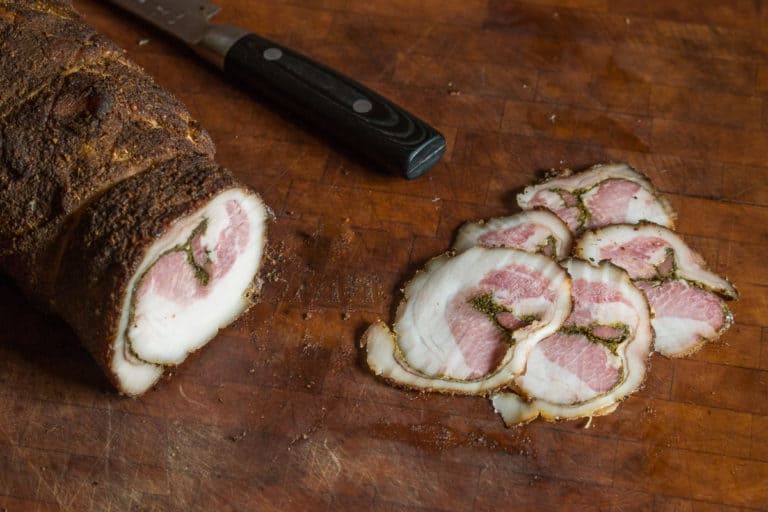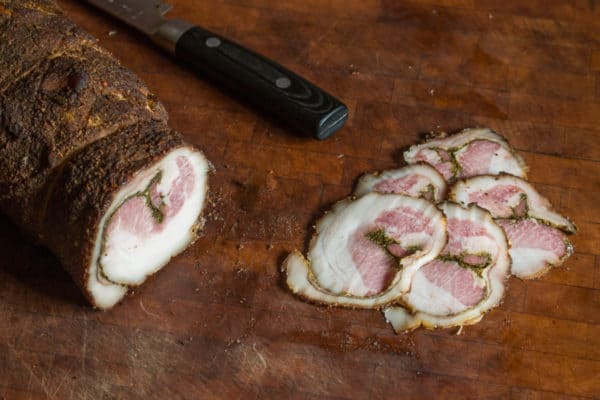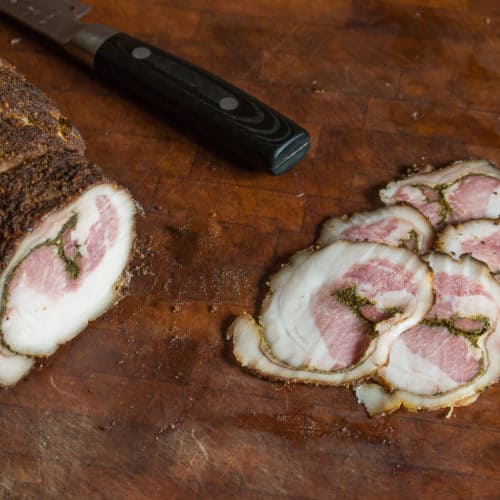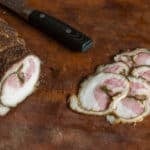 Print Recipe
Ramp Rubbed Pork Salo
Ukranian inspired cured fatty pork rubbed with dried ramp leaf seasoning.
Ingredients
Meat
2

lbs

very fatty pork ribs, fat cap, belly, or fatback
Final Rub
Dried ramp leaf rub

as needed, a couple tablespoons
Instructions
Mix the salt and pink salt.

Pound the meat all over with a mallet to give it the shape of a rectangle that can be rolled up like a jelly roll to make for attractive slicing. Trim the meat as needed, if you have to cut or butterfly with a knife. The jelly roll aspect of the meat is part of it's attractiveness.

Wearing gloves, rub the meat with the salts. Rub the cure in well, massaging it in to ensure proper seasoning. Let sit in the cure for 5 days wrapped in a bag, or vacuum sealed using the marinate setting, turning occasionally to distribute the juices.

After 5 days, wipe the meat completely dry, rub with the ramp rub all over, then roll into a tight log like a jelly roll with butchers twine and smoke at 225 F for 3 hours, chill, slice thinly, and eat.

You can also cook and brown the salo like bacon, but know that it will be slightly more salty.
Notes
On the cure
I used an all-salt cure for the salo since that was the most traditional example I could find. This means that it may taste a little more salty than bacon for some people, especially those people sensitive to salt. If you or people you'll be serving are sensitive to salt, consider using a salt and sugar combination cure instead of only salt. Here's an amount that will work--just don't serve it to traditionalists. 
6 oz dark brown sugar
3 oz kosher salt or fine salt
½ teaspoon pink salt / sodium nitrite (available from butcherpackercom)
Further Reading on Salo
A foodie's guide to salo: The Ukranian National Obsession