Mushroom meatball soup with greens is a dish I came up with after I'd been reading about campion, and how it, and it's relatives (mostly Silene vulgaris and Silene inflata) are used widely in Mediterranean cooking. It's fine to use spinach at home if you don't know that plant.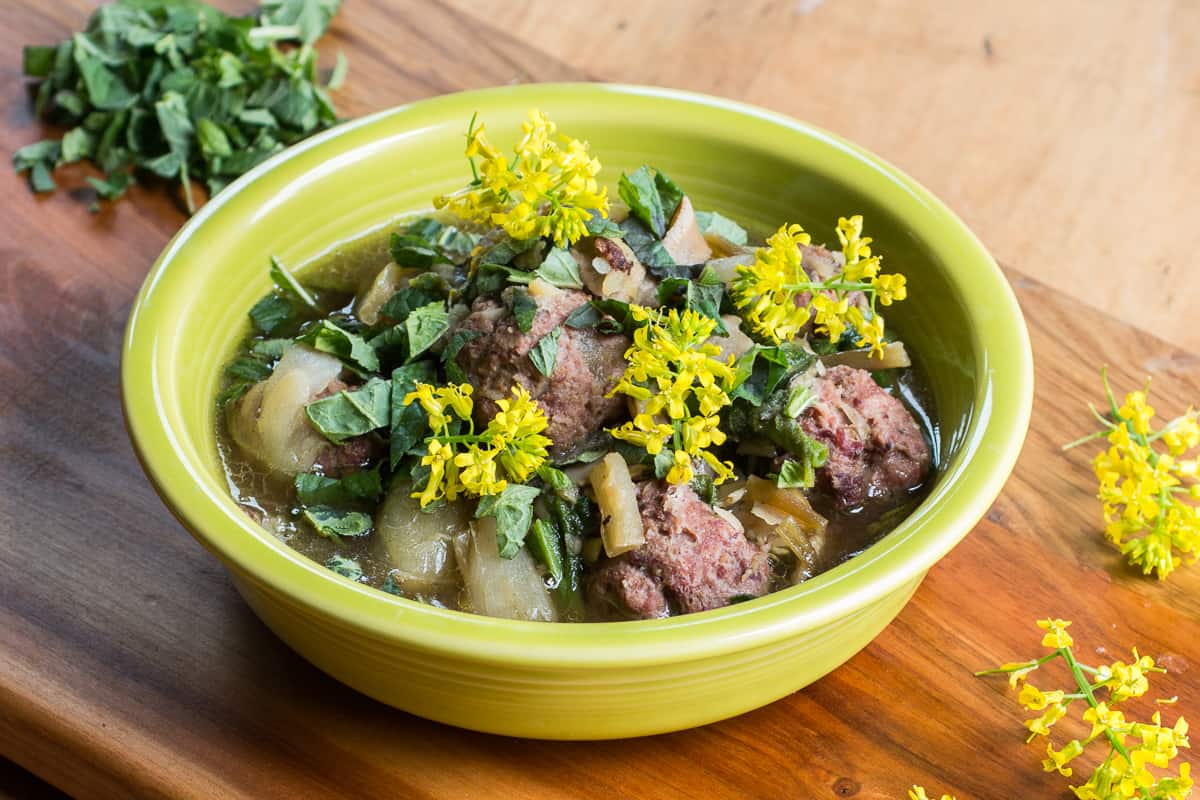 The recipe itself is a sort of hodge-podge of different ingredients you might see in European poverty cooking around the Mediterranean. To be honest, adding meat could be debatable here, but I had some ground meat that needed to get used, so it went in the pot. If you don't have meat, or abstain, the whole thing will be just fine without meat--just make sure to use a good stock.
The real backbone of the simple stew is the dried favas, ramps (or whatever onion) and mushrooms. Dried favas are a completely different product compared to fresh ones, you can cook them, and really hammer them in a soup or stew.
As you eat it though, marveling at the luscious texture of the broth, you might find it hard to actually find a fava bean, and that's ok. Dried favas dissolve as they cook, and it's part of what makes them nice--although the price, being dirt cheap, doesn't hurt either. Make sure to buy peeled, dried favas. You don't want to be eating dried fava skins.
The pheasant back / dryad saddle mushrooms could really be anything here--they just happened to be the mushroom I had laying around when I put it together.
Lots of mushrooms could be used, but it's the perfect place for mild mushrooms, or if you need an outlet for some of the trim from a big haul. Using expensive, treasured shrooms like morels would be out of place as you won't taste them at all. My advice is to keep with the poverty theme and use cheap shrooms here.
The campion (or your choice of greens, are added only at the end, and given just enough heat to wilt them. Other greens, like spinach or nettles, could be cooked for longer, but campion will start to dissolve into the broth a bit like dock would if it's boiled or continually cooked.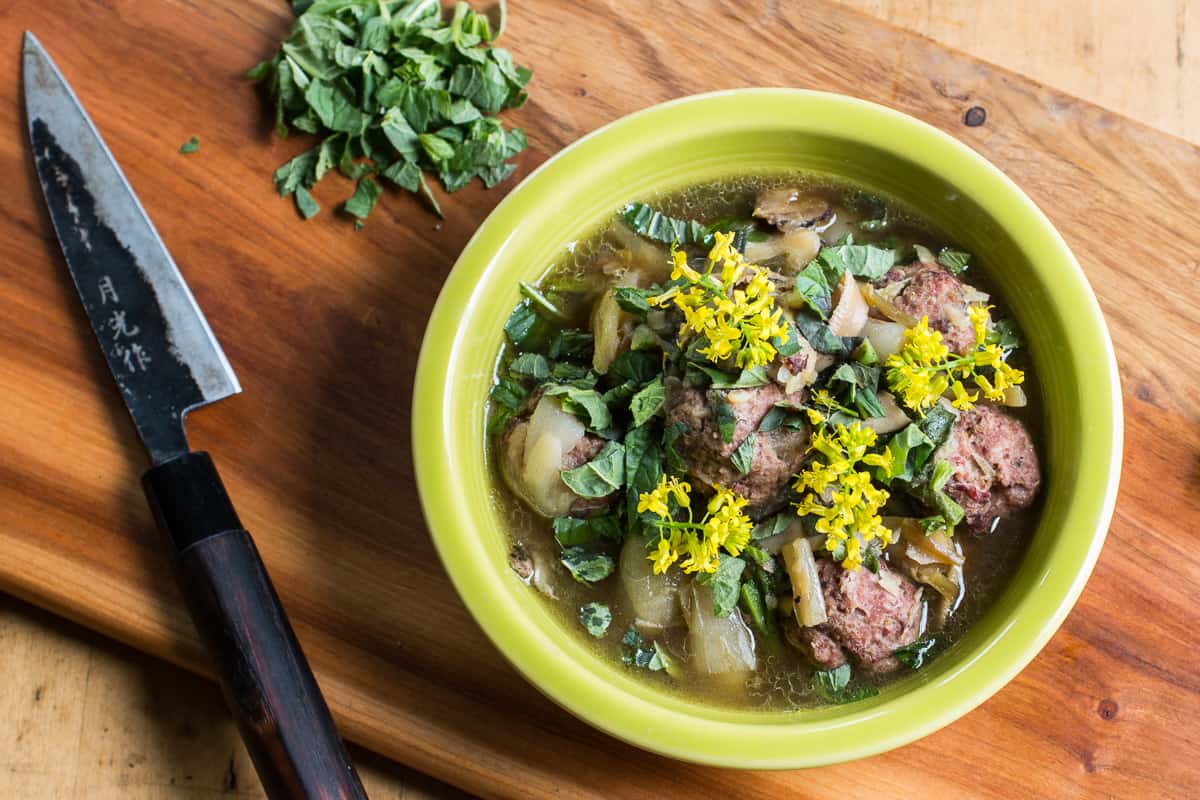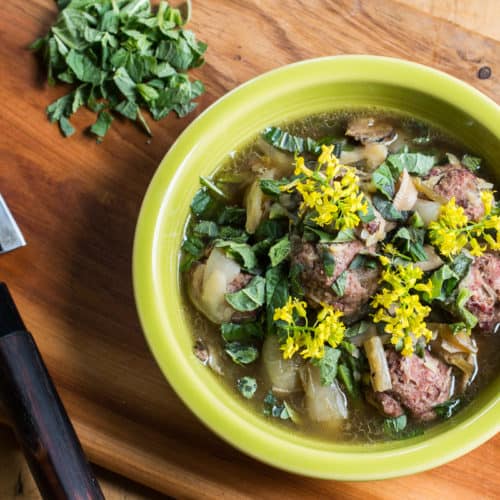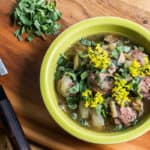 Print Recipe
Mushroom Meatball Soup with Greens
A simple stew of meatballs with campion greens, pheasant back mushrooms, dried fava beans and mint.
Ingredients
Meatballs (or use 1 lb of your favorite recipe)
1

lb

ground lamb

¼

cup

breadcrumbs

1

large egg

¼

lb

lamb bacon

optional

¼

teaspoon

salt

⅛

teaspoon

crushed red pepper flakes

½

teaspoon

ground black pepper

½

cup

chopped onion or shallot
Stew
6

oz

spring onion

green garlic, ramp bulbs or similar

4

oz

2 cups chopped wild mushrooms

3

cups

meat stock

4

oz

2 packed cups fresh greens, like spinach, nettles, etc

¾

cup

dried fava beans or 2 cups cooked beans or your choice

Fresh mint

for serving

2

tablespoons

cooking oil

Wild flowers

to garnish (optional)
Instructions
the night before, soak the dried fava beans if using in twice their volume of water to cover.

For the meatballs, pulse the bacon in a food processor with the onion or shallot until smooth-ish. Mix the bacon mixture and remaining meatball ingredients, then form into small meatballs.

For the stew, heat the oil in a stew pot or dutch oven, then brown the meatballs. When the meatballs are browned, remove, then add the onions, sweat for a minute, then push to the side and add the mushrooms. Season to taste with salt and pepper.

Add the meat stock, meatballs and soaked fava beans, cover, and cook for 30-45 minutes, or until the beans are tender. Stir in the greens to wilt. Double check the seasoning for salt and pepper, adjust as needed, and serve garnished with the fresh mint and wildflowers if using.
Notes
Feel free to use your favorite cooking greens in the soup. Kale and spinach are good. 
Nutrition
Calories:
449
kcal
|
Carbohydrates:
9
g
|
Protein:
23
g
|
Fat:
35
g
|
Saturated Fat:
13
g
|
Polyunsaturated Fat:
4
g
|
Monounsaturated Fat:
16
g
|
Trans Fat:
0.03
g
|
Cholesterol:
127
mg
|
Sodium:
938
mg
|
Potassium:
433
mg
|
Fiber:
1
g
|
Sugar:
2
g
|
Vitamin A:
488
IU
|
Vitamin C:
8
mg
|
Calcium:
76
mg
|
Iron:
3
mg
More