Wild rice flour pasta dough is exactly what it sounds like: fresh pasta dough, made with wild rice flour. Not 100% wild rice flour, just 50%, since that's about the most you can work into fresh pasta and still have it act like fresh pasta while you're rolling it out, since wild rice flour lacks the gluten that gives pasta it's bouncy, resilient quality.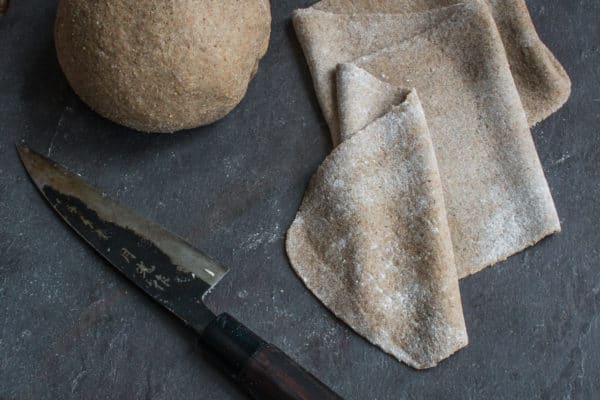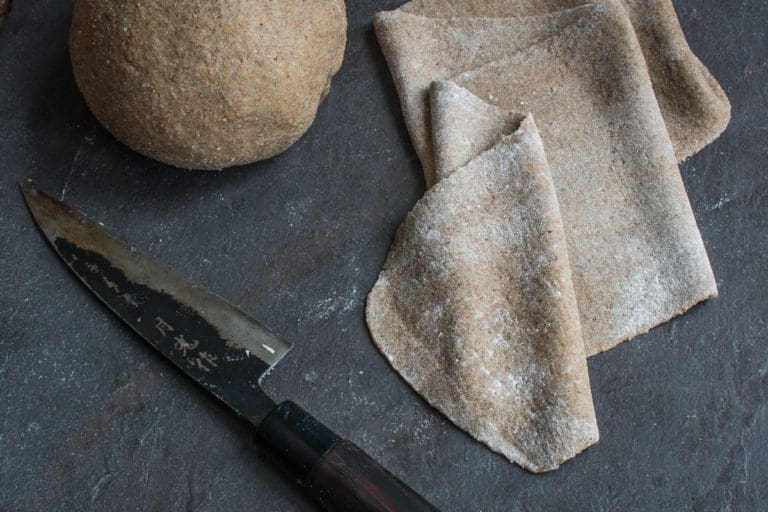 One thing that doesn't involve wild rice flour, and is worth mentioning here is the eggs in the recipe. There's a couple different ways you could make the dough egg wise, or possibly even without egg (not recommended for beginners) but the best pasta, and the finest eating experience, will always come from a dough that uses 100% egg yolks. "7 egg yolks for less than a pound of pasta dough?!" You say? Yes, absolutely.
You'll have some leftover egg whites, use them to make a white frittata, a pavlova(s) or, what I do when I'm not feeling creative: a white frittata with vegetables I serve to, or share with the dog. The point is, eggs are cheap, and pasta made with whole egg yolks used to be made for royalty for a reason. Each of those egg yolks has a job to do, and that job is making bouncy, tender, delicious noodles.
Other than the egg yolk P.S.A., the only other thing to mention is that absolutely, this dough tastes like wild rice, so it does change how you'll use it a bit. Since the flavor is in the pasta here, you won't be using the pasta as a vehicle for sauces like heavy tomato sauces and thick ones with cream.
Well, you can, but you won't taste the wild rice. The best way to serve pastas like this is with minimalist preparations. Here's a few examples of how I'd serve it, you'll notice a theme in that most of them are very lightly sauced, or rely on butter or oil.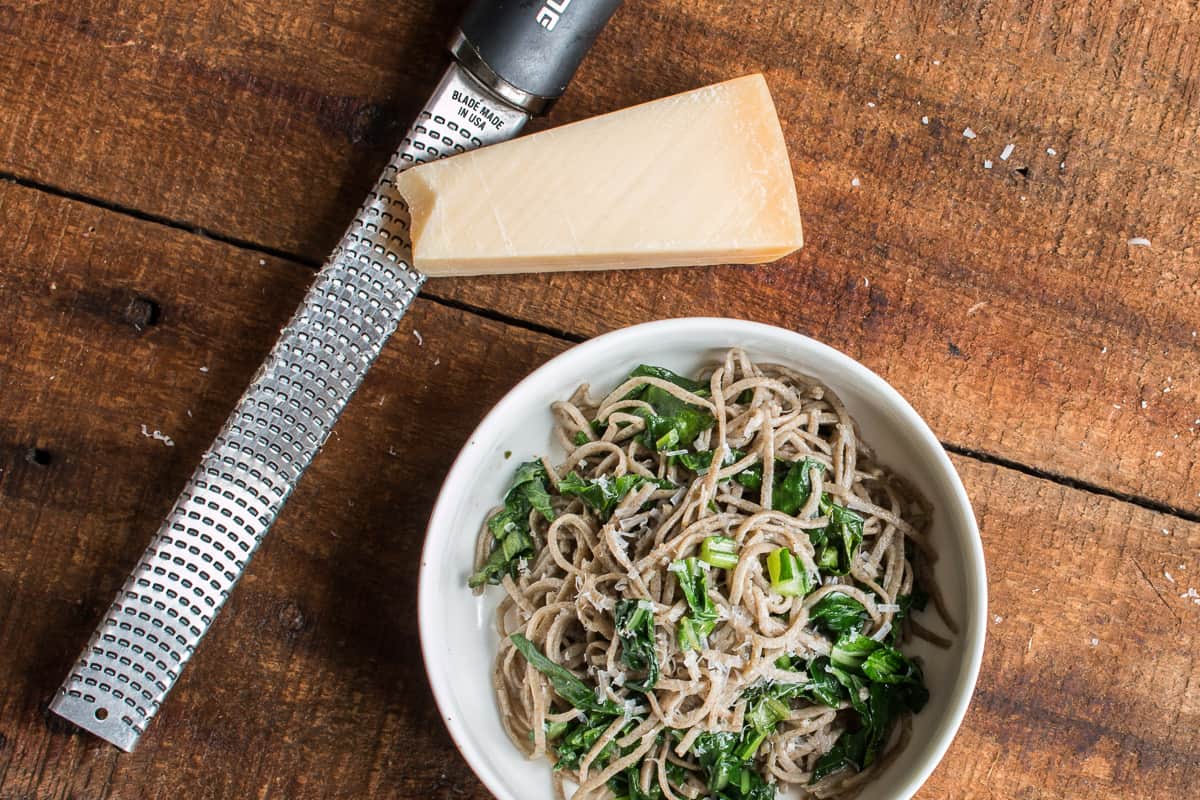 Flavor Combinations
Butter sauces, like brown butter or melted butter
Wilted greens and oil or butter
Grease or sauces based on things like rendered bacon or other pork fat
Anchovy or garlic and oil based sauces
Thin, buttery sauces with white wine
Meat roasting juices or drippings, but not gravies thickened with flour
Flavor partners like mushrooms, wild greens like nettles, and or nuts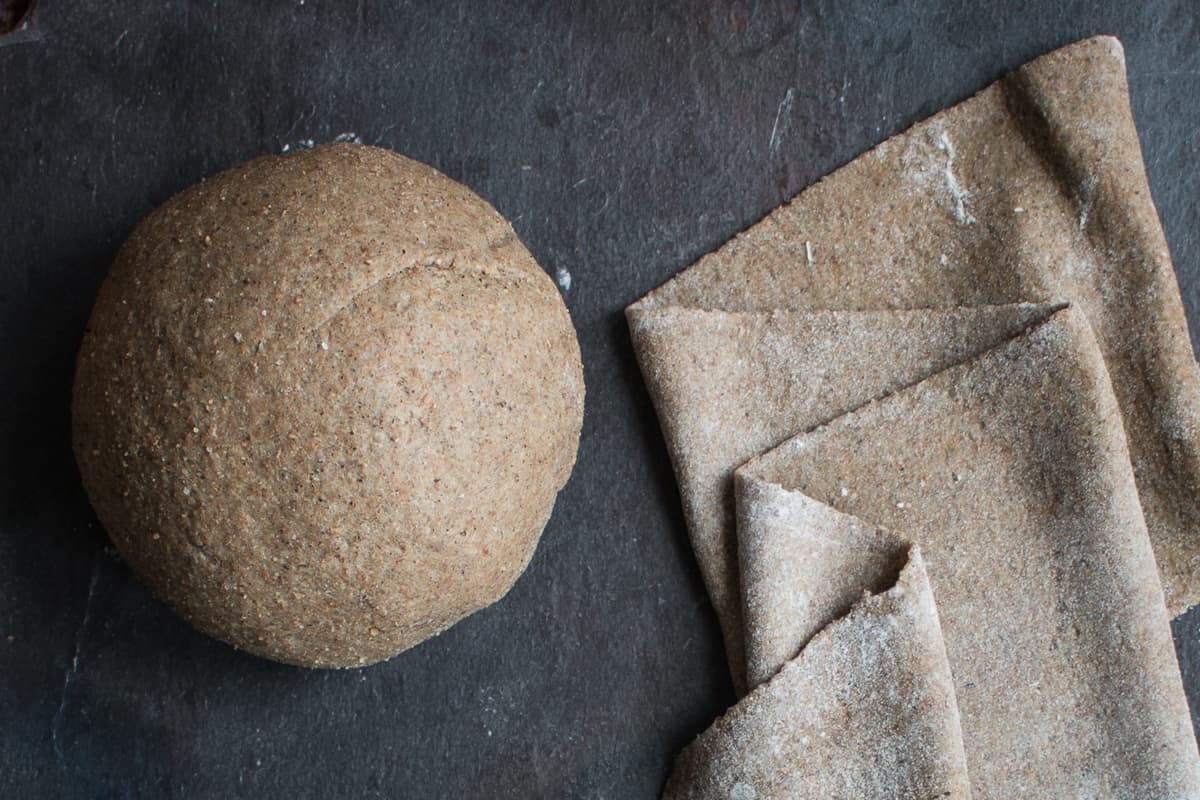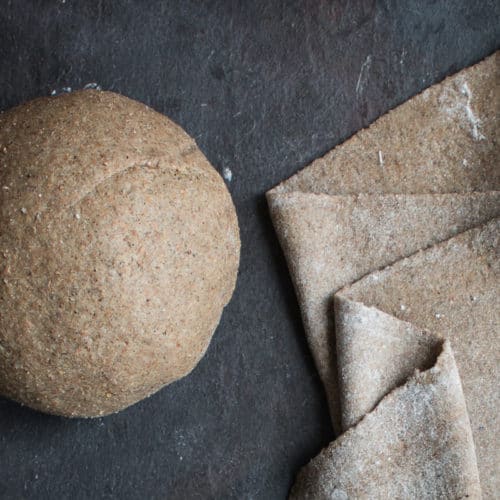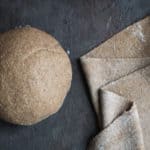 Print Recipe
Wild Rice Pasta Dough
A rich pasta dough made from wild rice flour and bread flour or all purpose flour. Makes enough dough to serve 5-6 people a small entrée or lunch at 2 oz of fresh pasta per person.
Ingredients
8

oz

bread flour or all purpose flour

4

oz

wild rice flour

see note

7

egg yolks

or use two eggs and a bit of water, at your peril

Cold water

as needed to bring the dough together

½

teaspoon

kosher salt
Instructions
If using raw wild rice, grind the wild rice in a spice grinder or highspeed blender as fine as possible, then sift. Discard the sifted crumbles, add them to another dish, etc.

Mix all of the ingredients in a mixer with the paddle attachment, adding a tablespoon or two of water to help the dough come together to the dough hook and knead for a minute or two.

Wrap the dough in plastic and allow to rest for 15 minutes, then switch before rolling out.

To cook the pasta, bring a pot of lightly salted water to a boil and cook until al-dente. Fresh pasta cooks almost instantly and will be done in a minute or two.
Notes
Making wild rice flour 
If you can't buy wild rice flour online, you can make your own by grinding wild rice in a coffee grinder, sifting, and grinding again. 
Nutrition
Serving:
3
oz
|
Calories:
409
kcal
|
Carbohydrates:
66
g
|
Protein:
15
g
|
Fat:
9
g
|
Saturated Fat:
3
g
|
Polyunsaturated Fat:
2
g
|
Monounsaturated Fat:
4
g
|
Cholesterol:
340
mg
|
Sodium:
309
mg
|
Potassium:
216
mg
|
Fiber:
3
g
|
Sugar:
1
g
|
Vitamin A:
460
IU
|
Calcium:
55
mg
|
Iron:
4
mg