A good hop shoot (or beer asparagus, as I call them) frittata is one of the first things I'll make in spring when the hop shoots start to come up outside the house.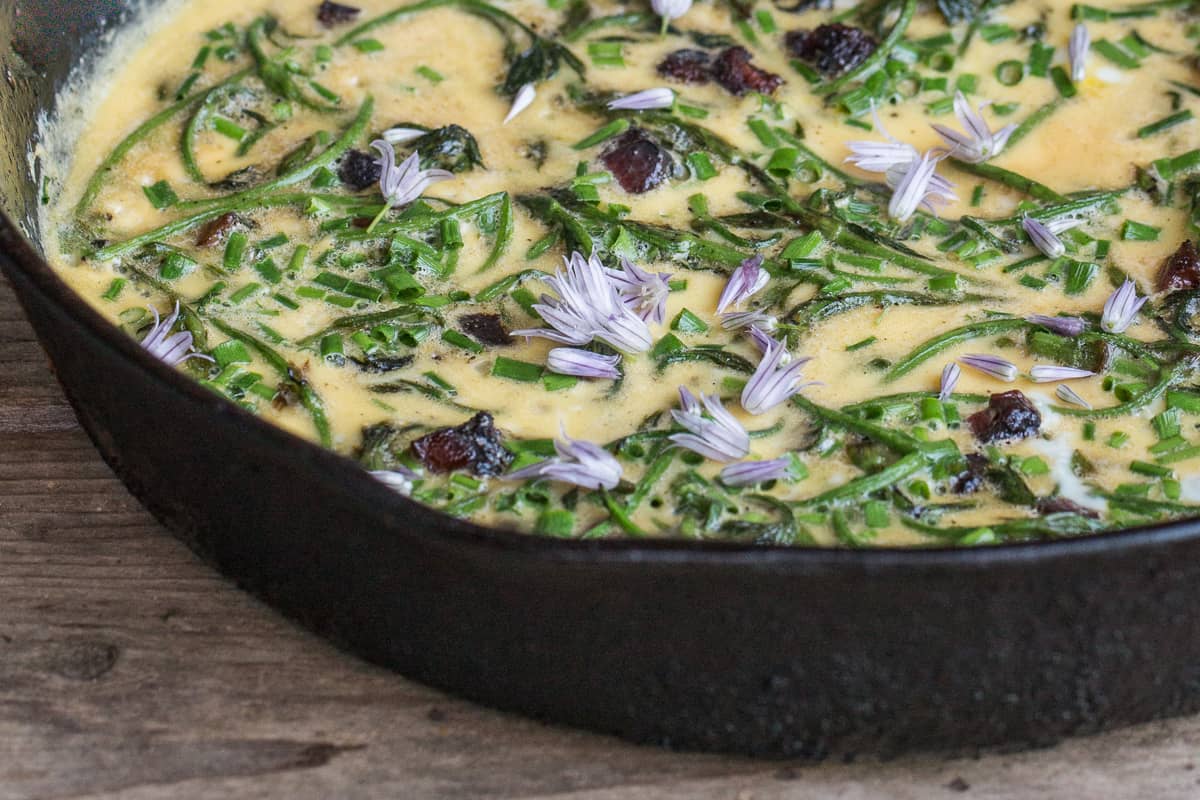 We have some vines alongside the house that function as a good indicator that I need to go check my wild patch and take a look at their progress.
Hop shoots are good for all kinds of things, but the best recipes are simple things, easy things without too much fuss. A frittata is popular with lots of people who harvest hop shoots--it's just a great way to have them.
A quick dip in some water, or just a gentle saute in a pan is usually all I do to the shoots, and that's what I recommend in the frittata--browning some bacon to give off some fat, then wilting the shoots quickly in it before I add a few eggs and herbs.
Use only the most tender parts
The shoots, in all their twisty, ropey glory give the finished product a really special look--just make sure you're only using the most tender parts of the shoots, which can vary depending on when you're picking them.
Depending on when you find them, your hop shoots may be short or just a couple inches, or very long like vines. Hop shoots can be harvested at any time of the year up until they form their seed heads-the cone-like parts of the plant that are used to flavor beer.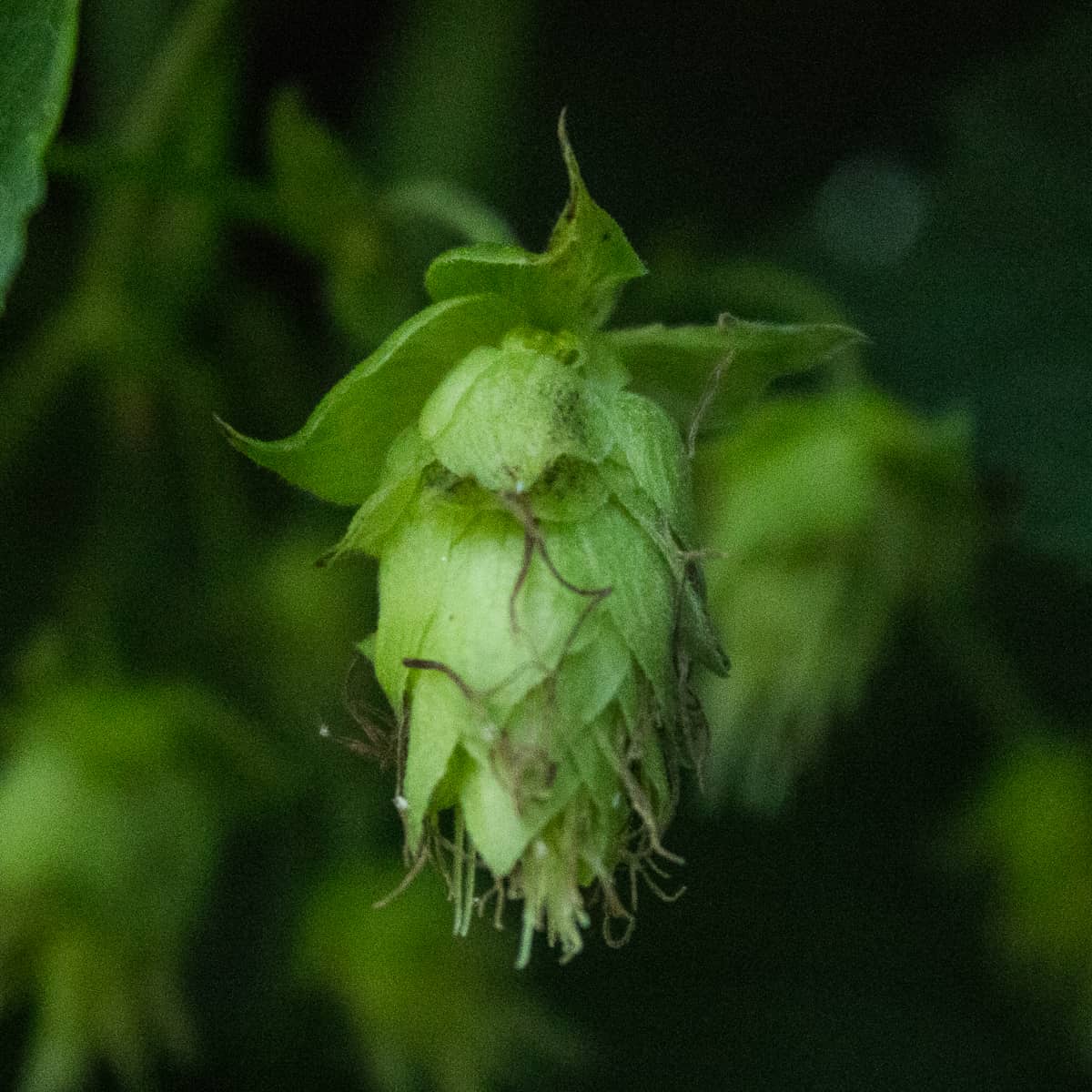 As long as there is tender, young growth to harvest they're fine to eat, but this may mean that you're only eating a couple inches at the tip of the growing bine/vine instead of the entire thing, as you're able to do in the spring when the plant is young.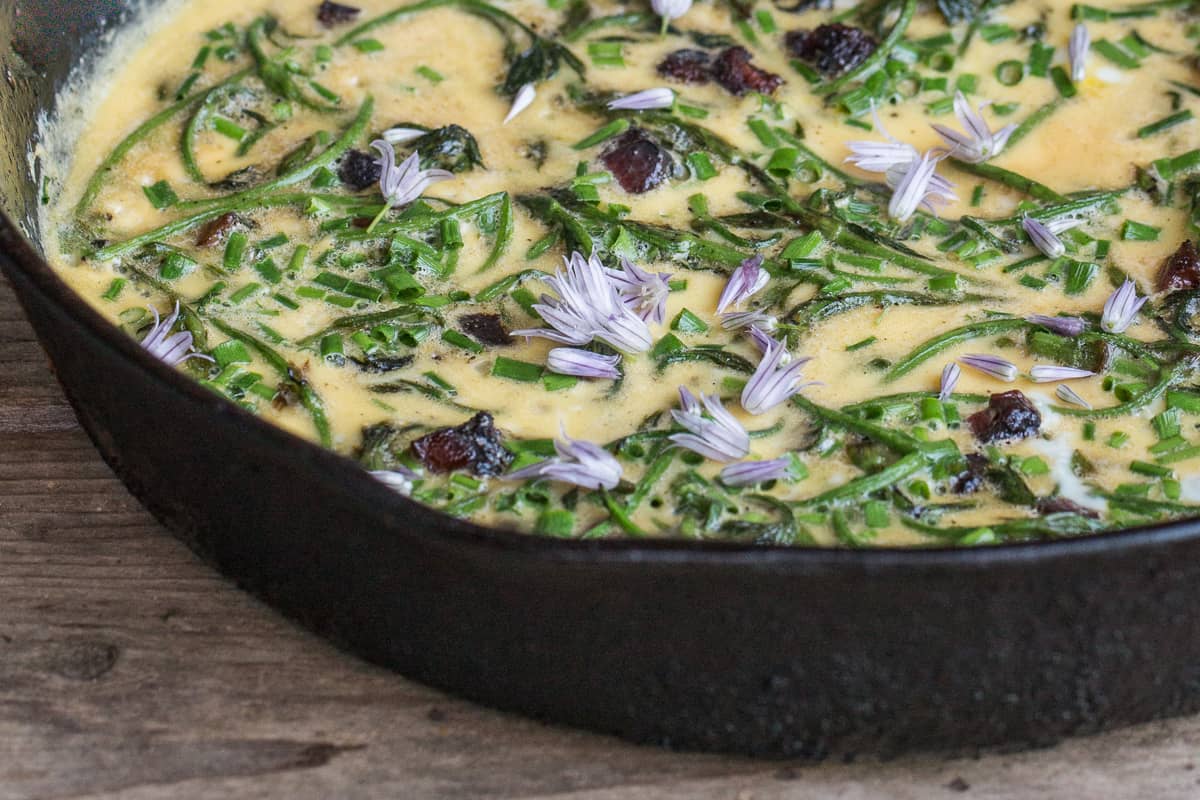 Variations
There's different ways you can switch things up and be creative here. To be clear, there is nothing wrong with simple steaming or gently blanching the shoots until they're tender and taste good to you, then serving with a dollop of butter and salt.
If you don't feel like baking a whole frittata, having some blanched shoots alongside eggs in the morning is great-the slightly bitter shoots are good alongside some rich, creamy scrambled eggs.
Another one of my favorite things to do is to mix hop shoots with other wild spring vegetables to make a mixture, similar to the French vignole and Italian vignarola.
More
Hunting, Harvesting and Cooking Hop Shoots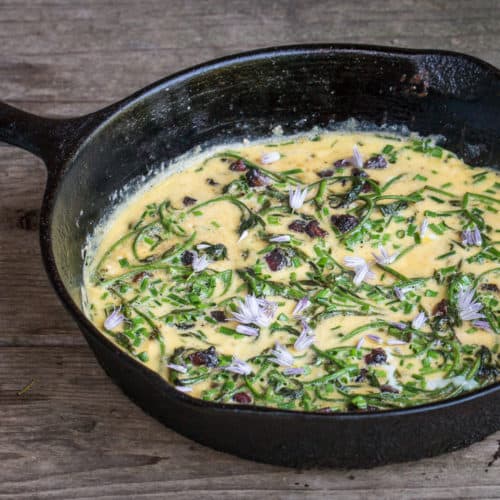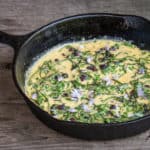 Print Recipe
Hop Shoot Frittata
A simple frittata made from hop shoots and herbs. Serves 2-4.
Equipment
1 10 inch cast iron skillet
Ingredients
2

oz

fresh hop shoots

tender portions only

Kosher salt and pepper

to taste

2

oz

bacon

optional

¼

cup

heavy cream

or half and half

4

large eggs

2

tablespoons

fresh cut chives

or a combination of fresh chopped herbs like parsley, chives, dill, cilantro, etc

Chive blossoms

to garnish, optional
Instructions
Preheat the oven to 300. Beat the eggs, chopped herbs, a pinch of salt and pepper, and the cream and reserve. In a 10 inch cast iron skillet or similar, heat the bacon and render the fat.

When the bacon fat is rendered out, add the hop shoots, cover the pan and cook on medium heat, just to wilt them. Season with a touch of salt.

Add the egg-herb mix and cook, stirring and twirling the pan around to distribute the egg.

Put the pan in the oven for just a minute or two to dry out the top, and serve immediately just as the egg finishes setting. Garnish with the chive blossoms, if using.
Notes
Hop shoots are great here, but chopped fiddleheads and ramp leaves make a good version too. Make sure to blanch fiddleheads for a couple minutes in boiling salted water if you use them. 
Nutrition
Serving:
5
oz
|
Calories:
175
kcal
|
Carbohydrates:
1
g
|
Protein:
8
g
|
Fat:
15
g
|
Saturated Fat:
7
g
|
Polyunsaturated Fat:
2
g
|
Monounsaturated Fat:
5
g
|
Trans Fat:
0.04
g
|
Cholesterol:
190
mg
|
Sodium:
161
mg
|
Potassium:
132
mg
|
Fiber:
0.3
g
|
Sugar:
1
g
|
Vitamin A:
569
IU
|
Vitamin C:
1
mg
|
Calcium:
39
mg
|
Iron:
1
mg