Meet the most expensive vegetable in the world. Hop shoots are the young, tender shoots of hop vines, and they taste a bit like beer meets asparagus. I haven't done experiments with different varieties, so for the purposes in this post I'm referring to common hops or Humulus lupulus that I harvest wild around Minnesota and Wisconsin.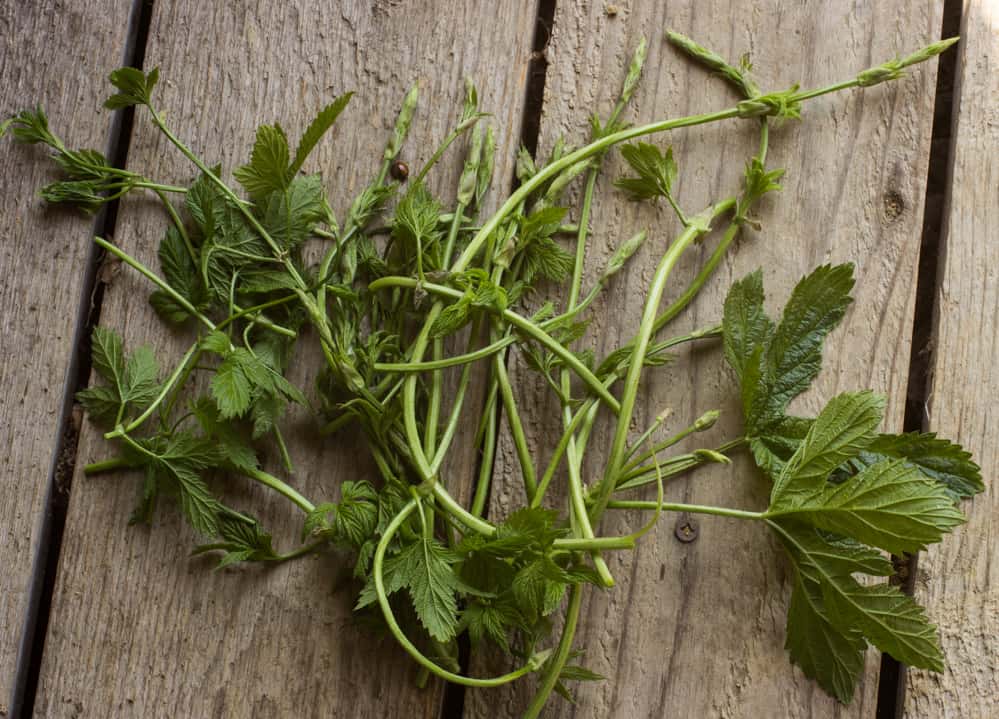 I was introduced to hop shoots when the University of Minnesota dropped some off for us at St. Paul's Heartland Restaurant and Farm Direct Market where I was sous chef. They had some program with the plants and would bring bags of the cut shoots by after trimming for us to put on the menu. I remember not being too impressed looking at the puny bags of shoots sitting on my station at the restaurant--there wasn't much there--a few shoots per person. But good things come in small packages. Hop shoots could possibly be the most expensive vegetable in the world, and, according to this site: The first 2 pounds are sold by auction and could get as much as 500 Euro per pound! For a vegetable.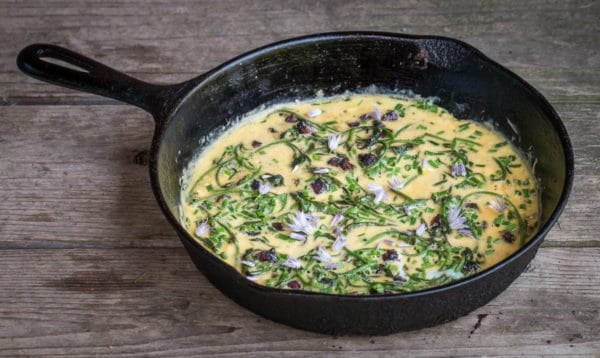 The shoots are small, but have a great flavor, as well as an interesting look. They're also easy to harvest, and when picked, actually help the hop plant grow more vigorously, just like cutting back the young growth of herbs. Just last week I cut most of the shoots off of a plant I know (growing on the side of the house) and the next week, there were even more that had grown back to take the place of the ones I'd cut.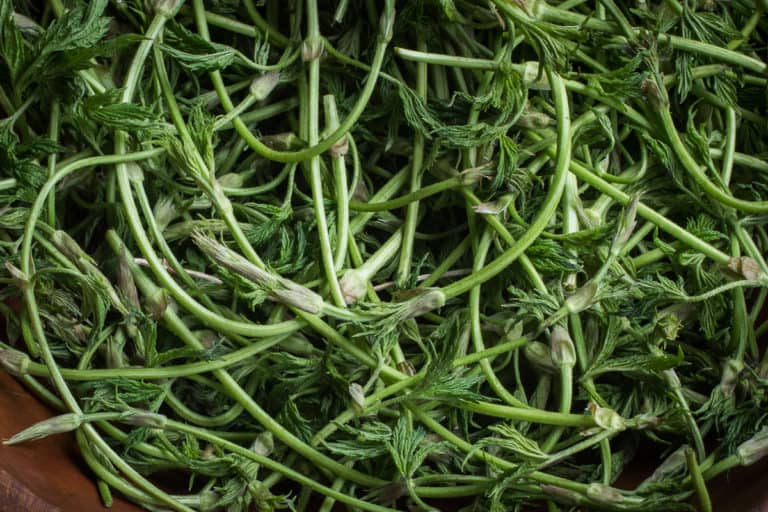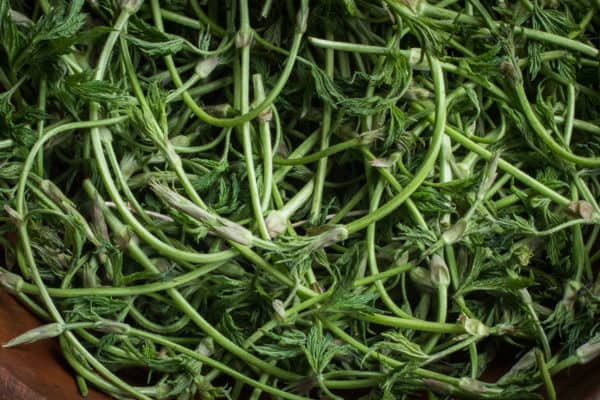 Looking for wild (and tame) hops
You probably won't have to venture deep into the woods to find these either, as plenty of places use them as decoration--look for places that use them in landscaping, or grow some in your garden. But I do see them in the woods, more specifically on the edges of woods. Here's a few pointers.
The easiest trick is looking for vines from the previous year, this can be the best way to see them from afar. I see them often on the sides of bike trails, and on the edges of woods containing hardwoods--but not deep in the woods since they like sun. Stick to the peripheries of your wild places.
In the winter and fall, you can see the previous years growth, but there's a lot of different vines that look similar. A good way to tell hops apart from them is their leaves, the flowers, and dried flowers and vines from the past year. See images for examples below.
Grow hops in your garden, or on the side of a house! Hop vines make a great addition to a garden, and are a great example of how you can grow food vertically, as well as horizontally. Add some extra edible biomass to your land. Obviously, you'll need a lot to get large harvests, but they're a great plant to keep around, and they're not that pesky.
Contact a brewery or a place that grows their own hops and ask if you can pay or help with the pruning process. This is a great way to get hands-on experience and meet the plant, without having to go out in the wilds. If you ask nicely (and buy some of their beer) you might be able to convince the grower to let you take some cuttings or transplants back.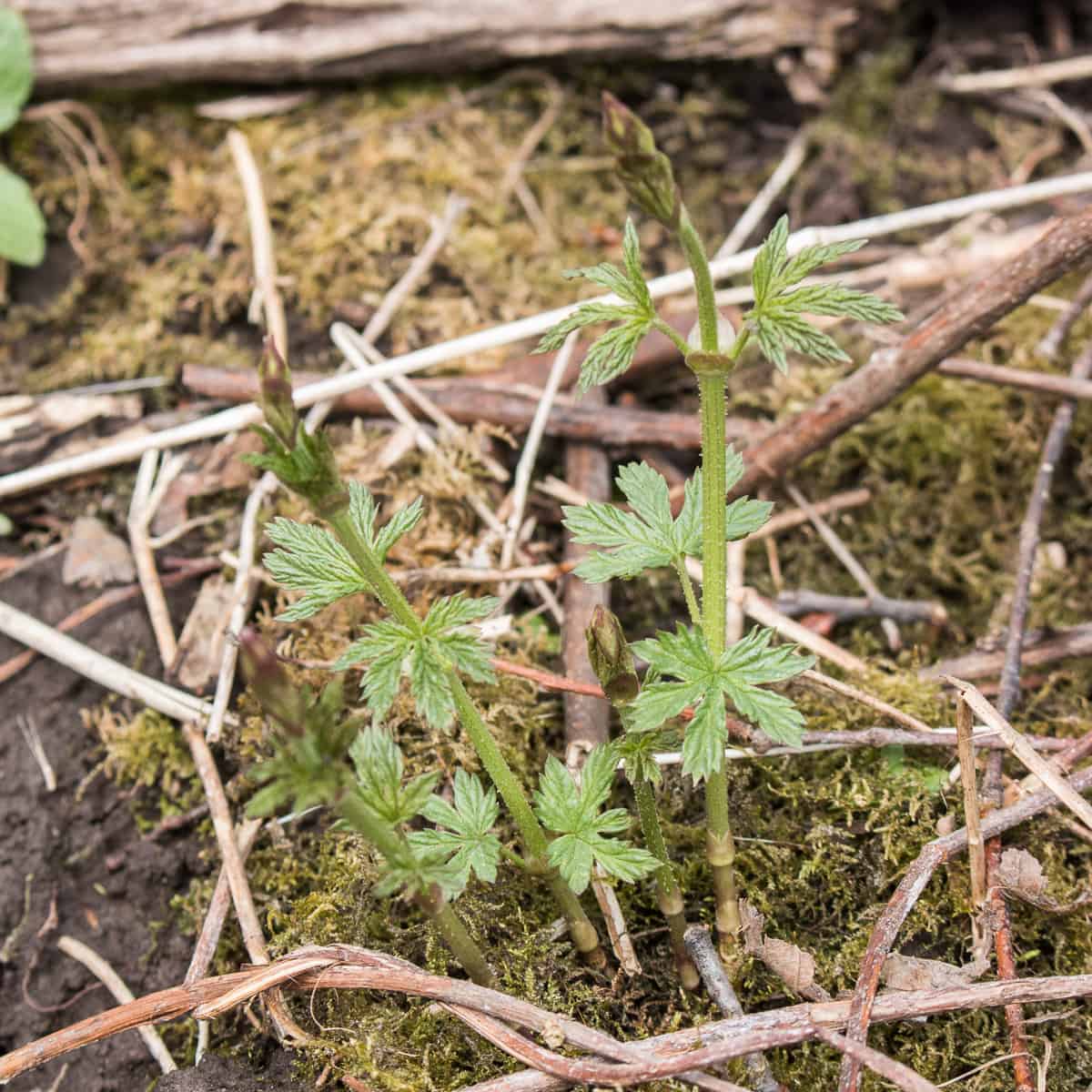 For the biggest harvest, you'll want to find a good wild patch. In my best spot, I can easily harvest pounds in an under an hour--and that's a lot of hop shoots.
A Belgian Delicacy
Wouldn't you know it, places that grow lots of hops for beer might have a habit of eating the shoots. In fact, before I cooked my first hop shoots in a restaurant, I read about them in a book called Europes Master Chefs. Funny enough, I thought that hop shoots must grow white, because the shoots in the dish were white, but that's just a nod to the European method of blanching vegetables to keep their white color. I've never had it with hops, and our wild hops seem to thin to be worth the trouble, but the European hop shoots look as thick as asparagus--I can only imagine the flavor. Someday.
Harvesting and Preparing
Cleaning and preparing them isn't hard at all, but it is important to know that past the tip of the shoot itself, the vine does get tough and fibrous. The first 3 inches (or more on young shoots) or so of the shoot are gold though, and worth picking if you find some.
Cleaning wise, all they need is a quick swish in some water and they're good to go, some may be clean enough to just throw right in the pan. That being said, they're delicate little things, and should be cooked quickly, with a light hand on the seasonings, bury them with a heavy sauce and you won't taste them at all.
Fresh hop shoots, stored in a zip loc with a damp towel can keep for up to a week or more. Once you have some, hop shoot frittata is a great place to start!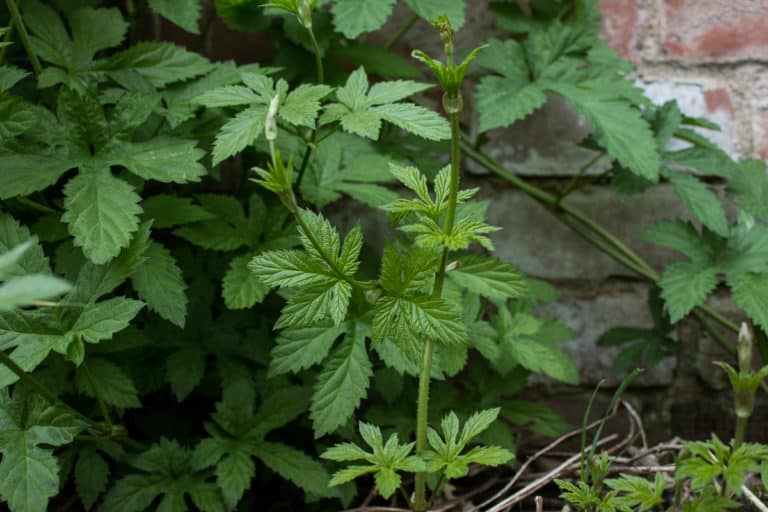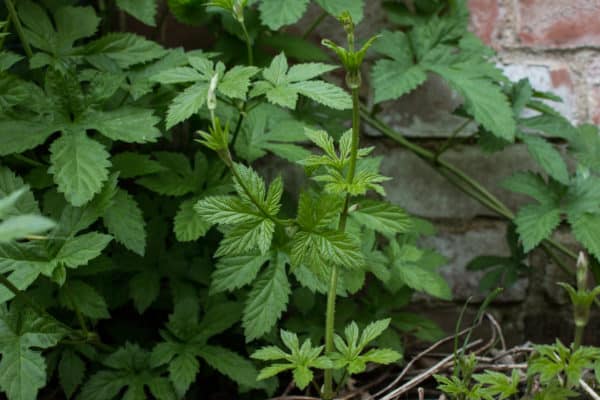 Beyond Shoots: Hop Leaves
If you've ever seen a hop vine, you'll know that they make large leaves too. The leaves, from my experience have more of the bitter hop flavor you'd associate with beer, but can definitely still be wilted and eaten as a green when young, or used in something similar to the fun recipe below.
It's pretty simple, but you'll need to make some green pasta. Take some hop leaf puree and mix it into a simple pasta dough, then cut into fettuccine, toss with sauteed hop shoots, ramps and morels and garnished with some cheese.
They also make fun dolmas, although you won't be able to fit tons of filling in them as the leaves are so deeply lobed.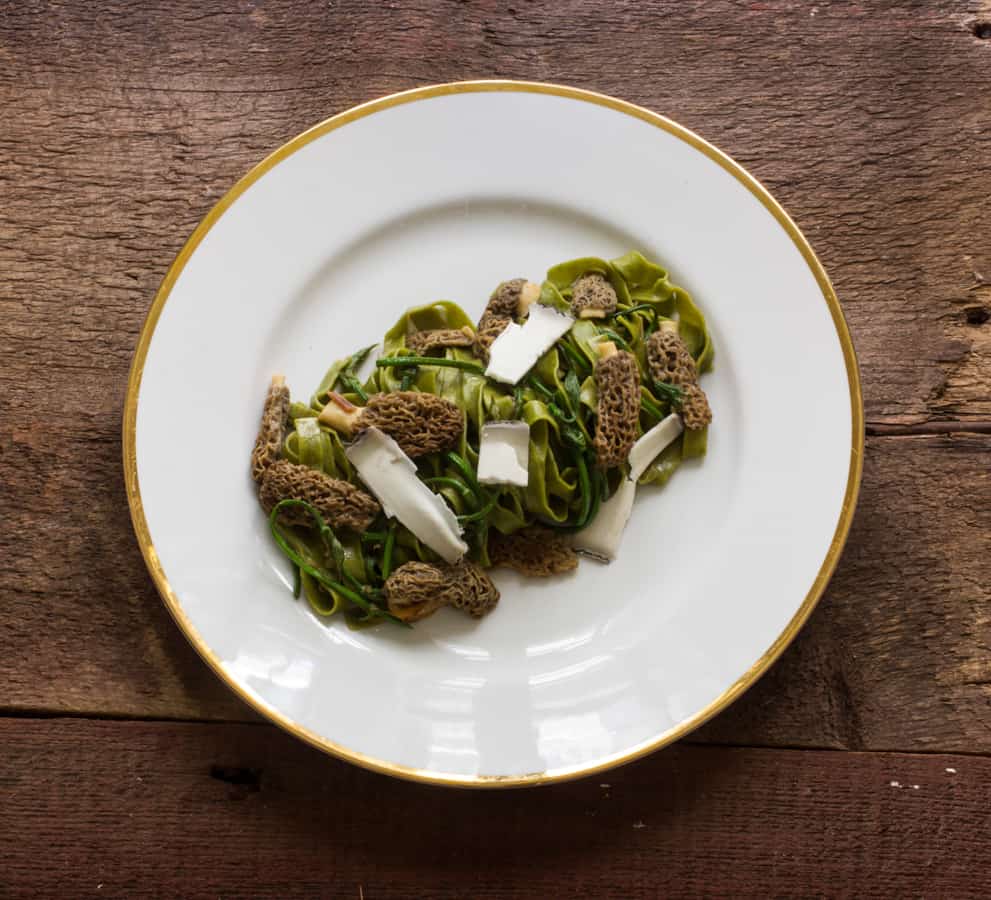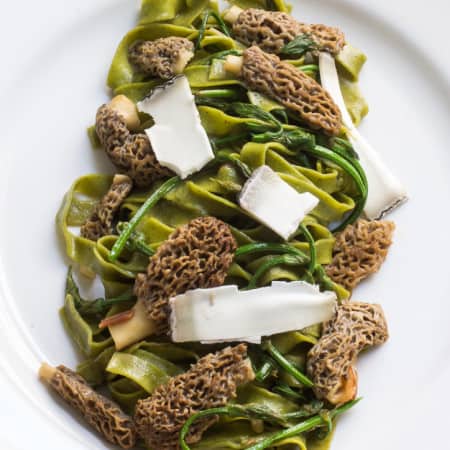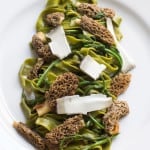 Print Recipe
Hop Leaf Fettuccine, With Morels, Ramps, And Hop Shoots
Green fettucine made from hop leaves with ramps, morels and tender hop shoots
Ingredients
1

oz

fresh hop shoots

roughly a large handful

4

oz

fresh morels

rinsed in cold water to remove dirt, then dried on a towel for 30 minutes

¼

cup

chicken stock

¼

cup

dry white wine

2

tablespoons

unsalted butter

Kosher salt and black pepper

to taste

1

tablespoon

chopped fresh ramp bulbs

4

ounces

hop leaf fettuccine

recipe follows

Grating cheese of your choice

I used a little aged goat cheese, but pecorino or a nice parmesan would be great too.
Instructions
Bring a pot of salted water to a boil for the pasta. In a large saute pan, melt 1 tablespoon of the butter. Add the morels and cook on medium-high heat until caramelized, then add the ramps and cook for 2 minutes more. Deglaze the pan with the wine, then reduce by half and add the chicken stock and hop shoots.

Cook the pasta for 2-3 minutes in the salted water, stirring occasionally, then drain in a colander and add to the pan with the morels, ramps and hop shoots. Toss the pan to coat the pasta with the liquid in the pan, then increase the heat a bit and add the remaining butter. Toss the pan to incorporate the butter and thicken the sauce, and double check the seasoning for salt and pepper. Make sure not to overcook the hop shoots.

To plate the pasta, using tongs, remove the pasta from the pan and place the pasta in 2 preheated bowls. Spoon the sauce, morels and hop shoots over the pasta, garnish with a little cheese if using, and serve immediately.
Notes
You could change this up in plenty of ways, adding some mixed spring vegetables like blanched peas, fava beans, or asparagus would be great.
The horizantal plating style of this is a fun way to cook pasta and show off the ingredients inside it, as opposed to having everything en masse in a bowl. It's a restaurant trick, but one that's easy to do, you just use a tongs or forceps and twist the pasta, then arrange on the plate and garnish with the remaining ingredients.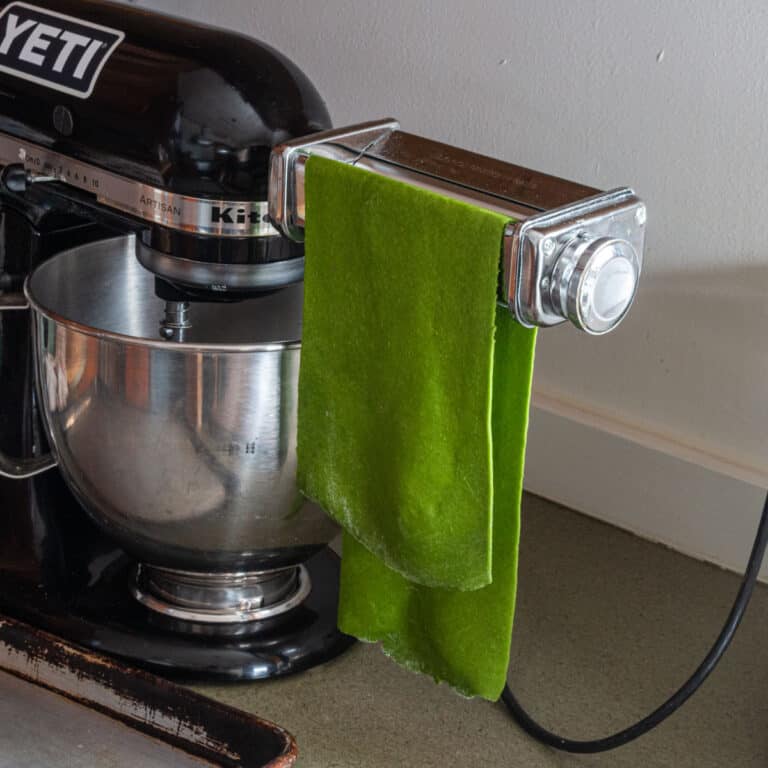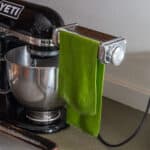 Print Recipe
Easy Hop Leaf Pasta
Simple green pasta colored with hop leaves. Serves 4-6
Ingredients
5

egg yolks

2

ounces

fresh ramp leaves

about 2 packed cups chopped

2

cups

all purpose flour

Pinch

of salt

Water

as needed

Semolina flour or cornflour to dust the work surface

as needed (optional)
Instructions
Bring a pot of lightly salted water to a boil. Blanch the hop leaves for 30 seconds, then refresh in an ice bath and drain. Chop the blanched hop leaves fine, then puree on high speed in a blender with the eggs until finely pureed.

In the bowl of a stand mixer or by hand, combine the flours, salt, and egg-hop leaf puree. Mix the ingredients together with a paddle attachment until just combined, then switch to the dough hook and knead for a minute or two. Allow the dough to rest for 30 minutes wrapped in cling film before rolling out.

After cutting, toss the cut pasta in semolina flour or corn flour to prevent sticking. Freeze the pasta or store in the refrigerator for up to 3 days, tossing occasionally with more semolina or cornflour if needed to prevent sticking.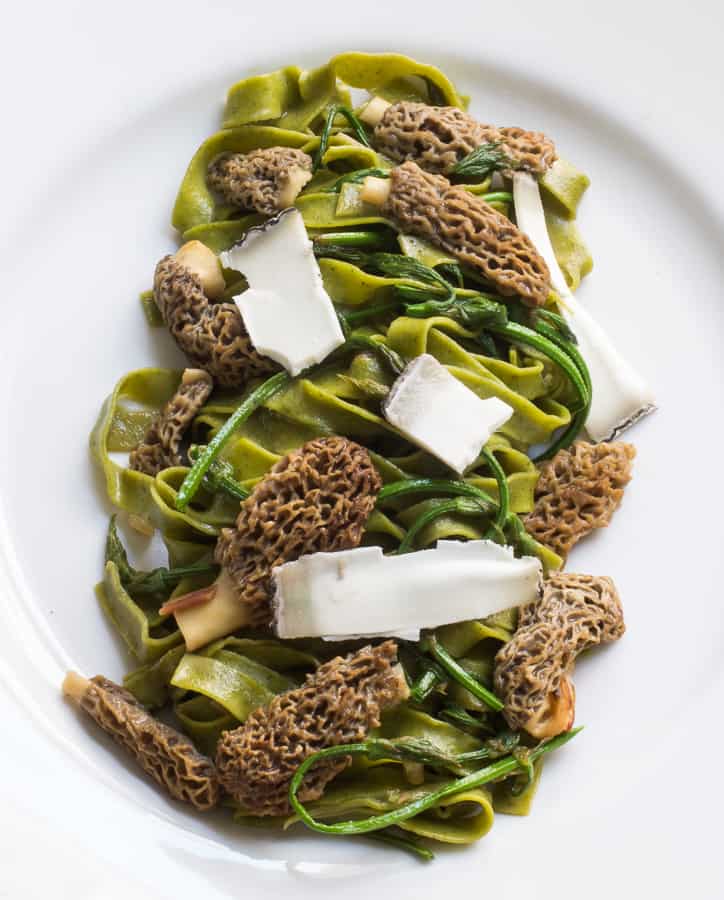 Further Reading
https://www.theguardian.com/lifeandstyle/wordofmouth/2015/may/18/its-like-eating-a-hedgerow-why-do-hop-shoots-cost-1000-a-kilo