Chicken of the woods stock, made with woody trim from a large haul is a good example of one of the best parts about hunting wild mushrooms.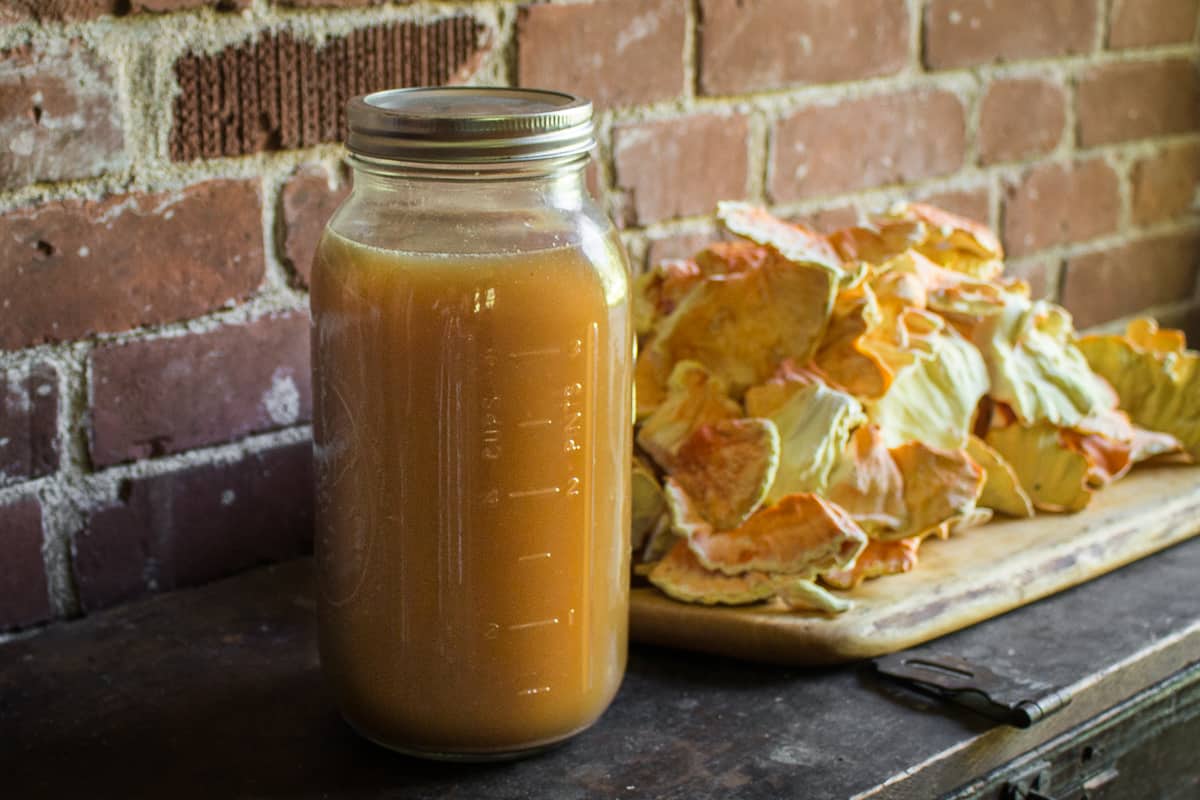 Not only do you get to bear witness to the incredible volume of nature's bounty, you get to take it home, too, and you can often find yourself staring at much more food than you might have anticipated.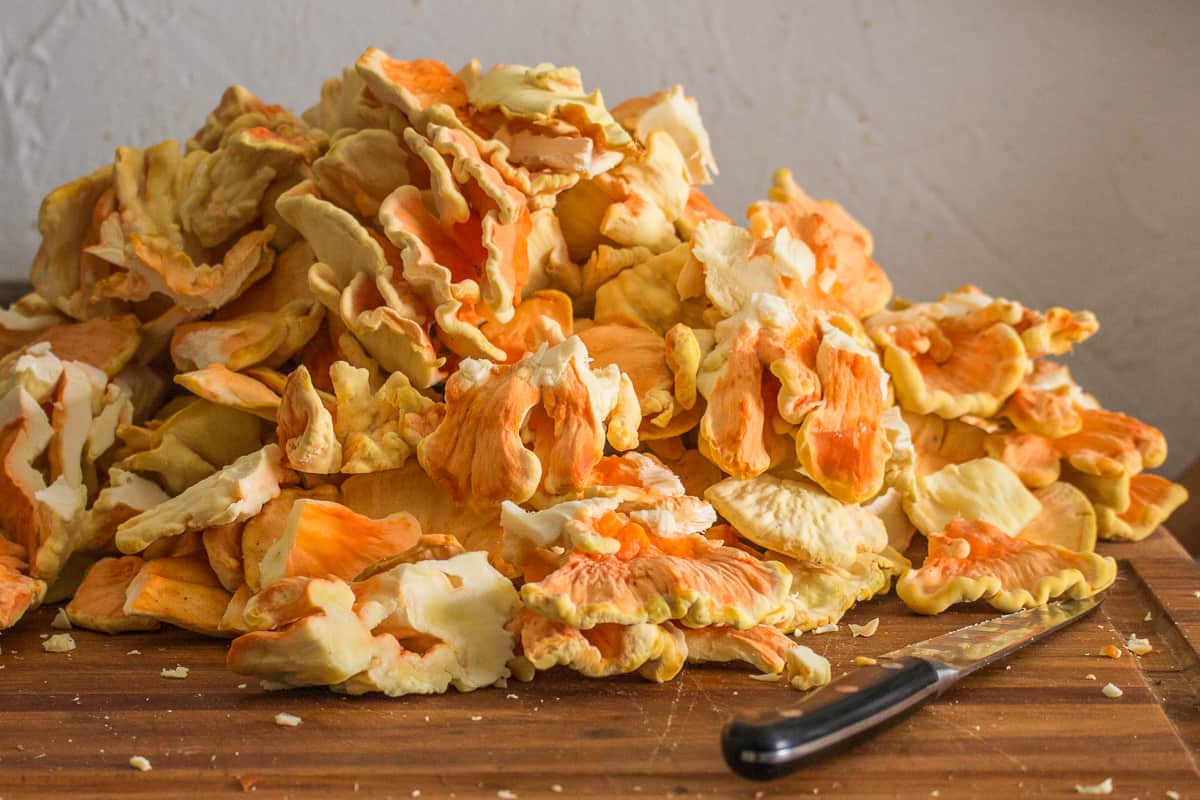 Chickens and hens (and other polypores like Ischnoderma resinosum and Cerioporus squamosus) are both known for fruiting heavy, if you hit the right tree, at the right time, it wouldn't be out of the question for you to be able to take 50lbs of mushrooms home that are completely edible.
That's a lot of food, and a lot of value when you consider the price of wild mushrooms wholesale is at the very, very least 10$/lb. As exciting as that find is (and we've all been there) there's only so much fridge Tetris you can play (and that your spouse will put up with).
Roast wild mushroom scrap to reduce weight and volume
The other day, staring at a large pile of chickens I was preparing to clean, I had a stroke of genius. Most of the time I save the trim and woody parts for making stock or dehydrating to make seasonings, etc, but something occurred to me that I hadn't thought of before. What if I roasted the mushrooms before making stock, not only to deepen the flavor, but to make it so I could fit more in the same pot?
Roasting the mushrooms would keep my yield in check (I don't need 2 gallons of mushroom stock at home) as well as yield a richer end product, since more mushrooms by volume could be fit in a pot after roasting than when they're fresh. In the end, my mushrooms lost at least 75% of their beginning weight, going from 42 oz down to 14 oz after roasting. That's a lot of water loss!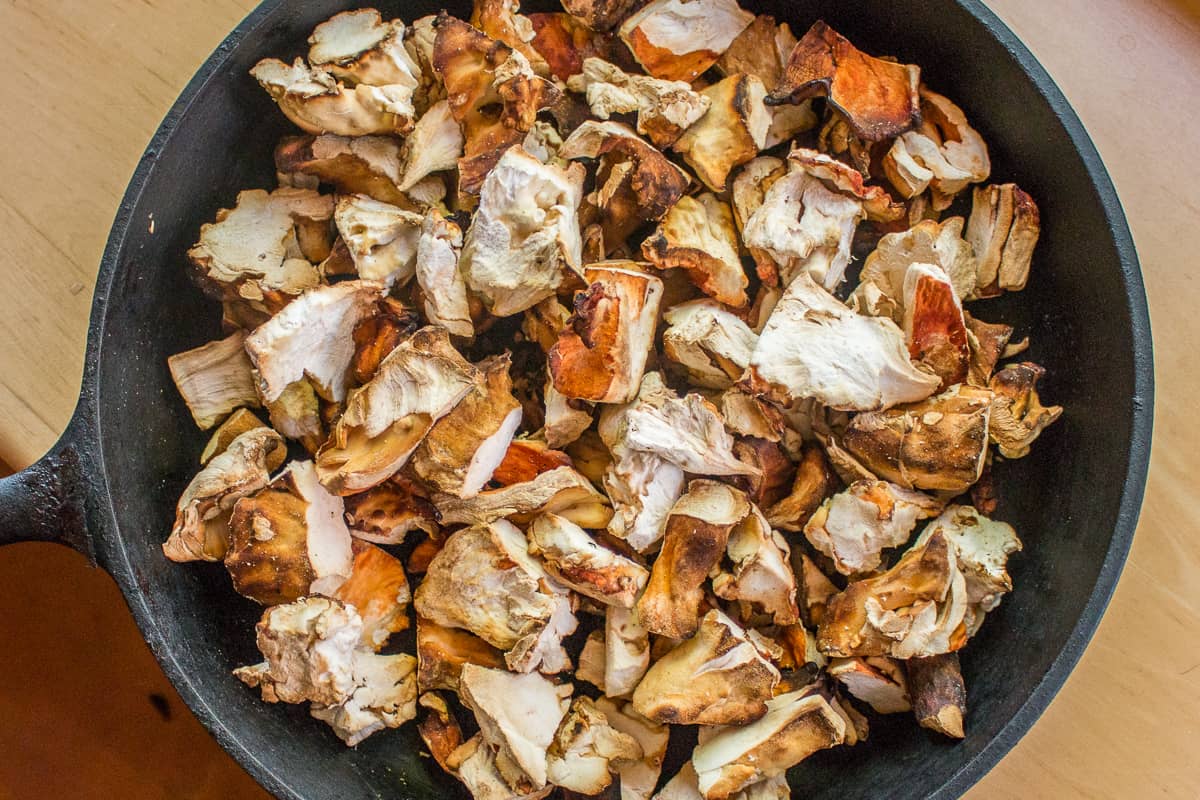 Only mushroom hunters need apply
And there you have it. A recipe for making wild mushroom stock that only the mushroom hunter can afford. Feel free to apply the method to all kinds of different polypores and chunky mushrooms, even terrestrial mushrooms that fruit in large amounts could be good too, things like golden oyster mushrooms, or honey mushrooms, since they both often fruit in very large amounts.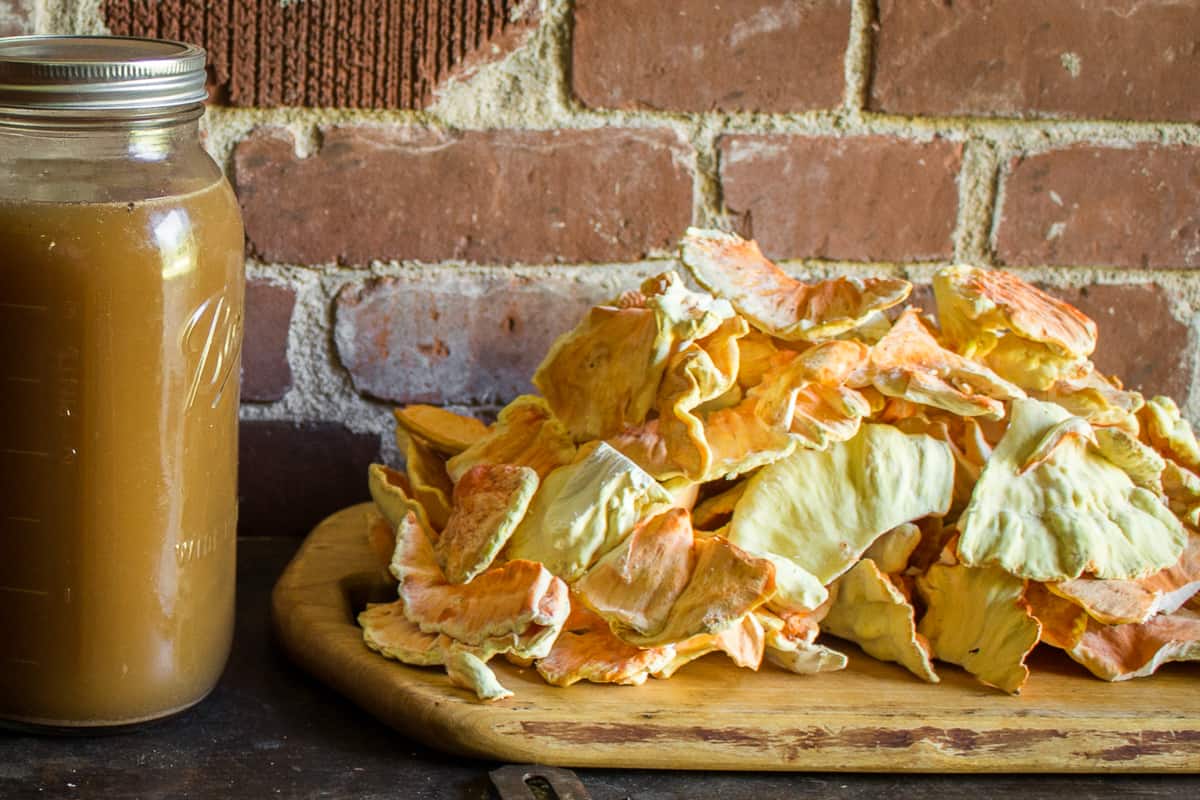 Related Posts
Vegan or Vegetarian Mushroom Recipes
Chicken of the Woods Mushrooms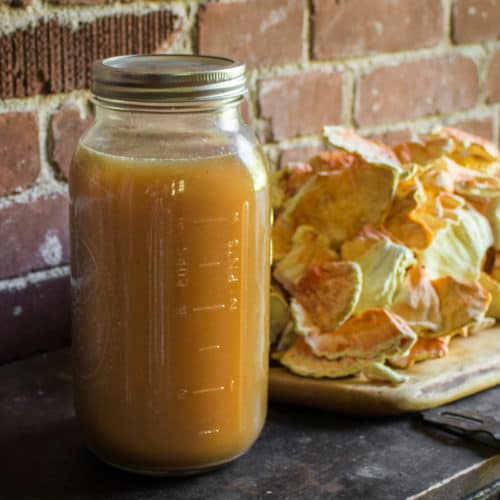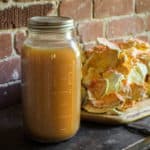 Print Recipe
Roasted Chicken or Hen of the Woods Stock
A deep, rich mushroom stock made from the woody ends and trim of your favorite polypore, or another mushroom that fruits in large quantities.
Equipment
baking sheet or large cast iron skillet(s)

1 gallon capacity stock pot
Ingredients
2.5

lbs

(~42 oz) wild mushroom scrap or trim

¼

cup

flavorless cooking oil

2

teaspoons

kosher salt

or to taste, optional, this is a preservative

1

each: small onion

carrot, rib of celery

1

gallon

water

just enough to barely cover the ingredients--not too much!

Fresh herbs, like thyme, bay, parsley stems, etc

optional
Instructions
Heat the oven to 350. Cut the mushrooms roughly into pieces the size of a quarter, then toss with the oil, and vegetables, lay out in a single layer on a baking sheet, and roast for 60 minutes, or until dried out and beginning to color.

Check on the mushrooms at 30 minutes to shake the pan and check on them—if the heat seems too hot, turn it down, since if the mushrooms burn it can ruin the stock. You want to take your time here, leisurely roast them and dry them out, and opposed to roasting them hard to caramelize them.

Keep in mind that your woody trim and scrap will have less water weight than typical fruiting bodies or tender margins of the same mushroom, so they may dry out and start to color slower or faster depending. Use your instincts.

Take the roasted mushroom mix and put it into a stock pot with the fresh herbs, add the water until it barely reaches the top, bring it to a simmer, then turn the heat down to low and cook for 2 hours with the lid ajar.

Strain the liquid, whisk in the salt if using, cool, and refrigerate. The stock will keep for at least a week if not longer, especially if you add the salt, and can be frozen.
Notes
Many different mushrooms can be used here, but this is a place for scrap and trim. Unless you have a large amount of fresh mushrooms like cremini, portobello, or shiitakes for some reason, it's best to use trim to be economical. 
Nutrition
Serving:
1
cup
|
Calories:
98
kcal
|
Carbohydrates:
6
g
|
Protein:
5
g
|
Fat:
8
g
|
Saturated Fat:
1
g
|
Polyunsaturated Fat:
2
g
|
Monounsaturated Fat:
4
g
|
Trans Fat:
0.03
g
|
Sodium:
619
mg
|
Potassium:
502
mg
|
Fiber:
2
g
|
Sugar:
3
g
|
Vitamin A:
1274
IU
|
Vitamin C:
4
mg
|
Calcium:
22
mg
|
Iron:
1
mg