Bright green, creamy and bright, spruce key lime pie is one of the most enjoyable spruce tip recipes I've made. I love spruce tips, but cooking with them is kind of a misnomer. Besides making syrup (which is great) I don't really cook them much.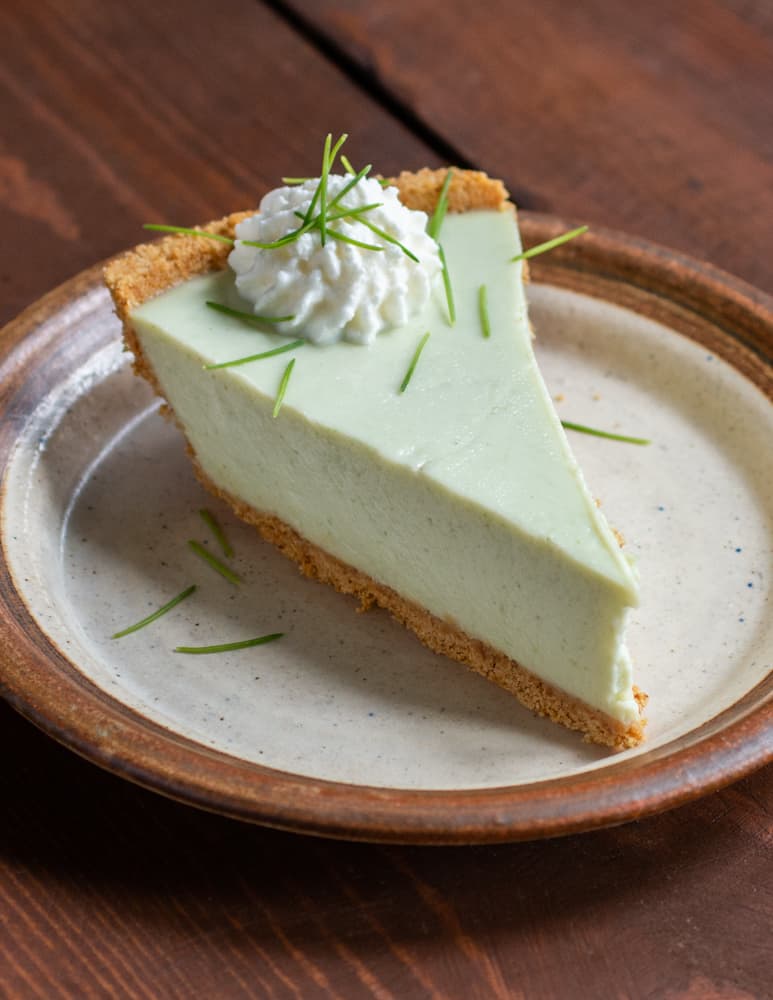 Just like paw paws, spruce tips keep their flavor and bright color better if they're not exposed to high heat. That, and their affinity for lime were what gave me the idea to try and make a key lime pie from them.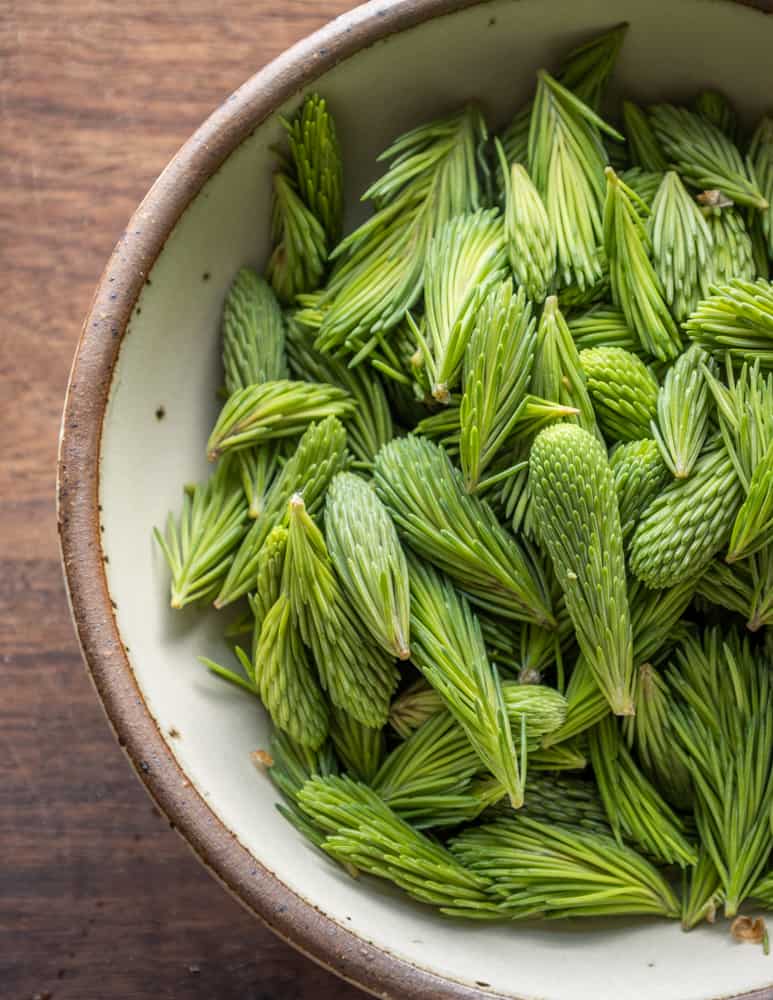 I tried a few versions when I was developing this, and, the more avante-garde I got, the less I liked it. There's just something magical about a can of sweetened condensed milk that really makes it.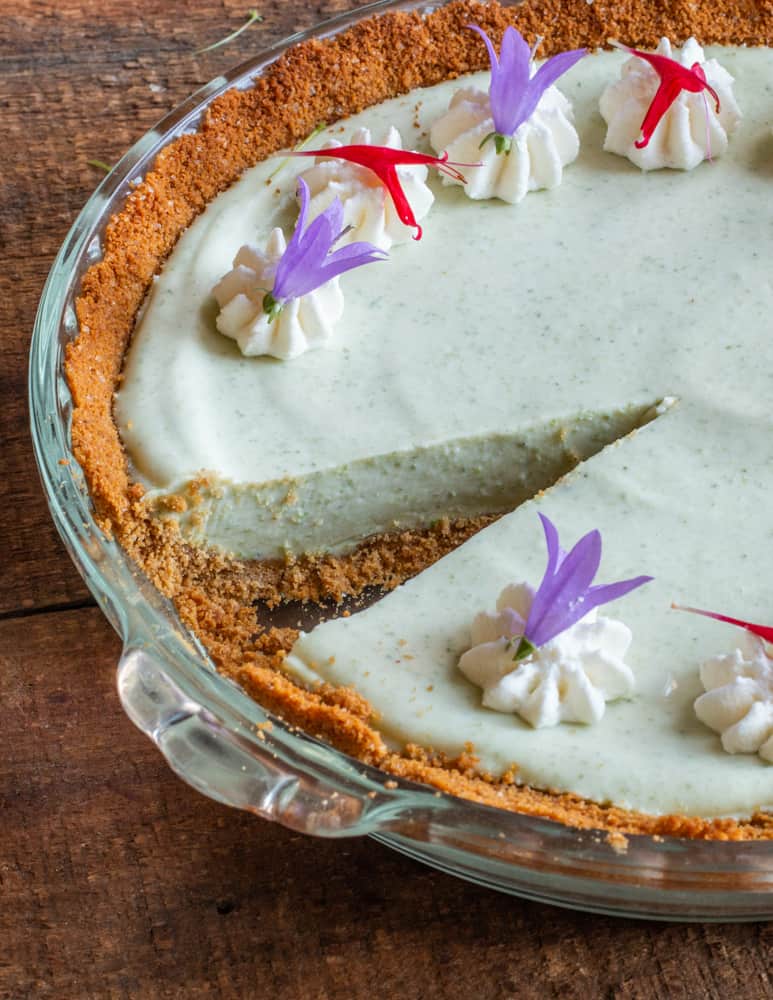 Here's how it works. Take some cream and warm it with the sweetened condensed milk. Diluting the cream with sweetened condensed milk denatures the cream's tendency to thicken when it's agitated, so you can puree it with the spruce tips without turning it into butter.
After the mixture is pureed, you strain it through the finest strainer you have. Then you mix in a bunch of lime juice. The lime makes the dairy seize up and thicken like magic, and from there you spoon it into a crust, chill it to set, and serve.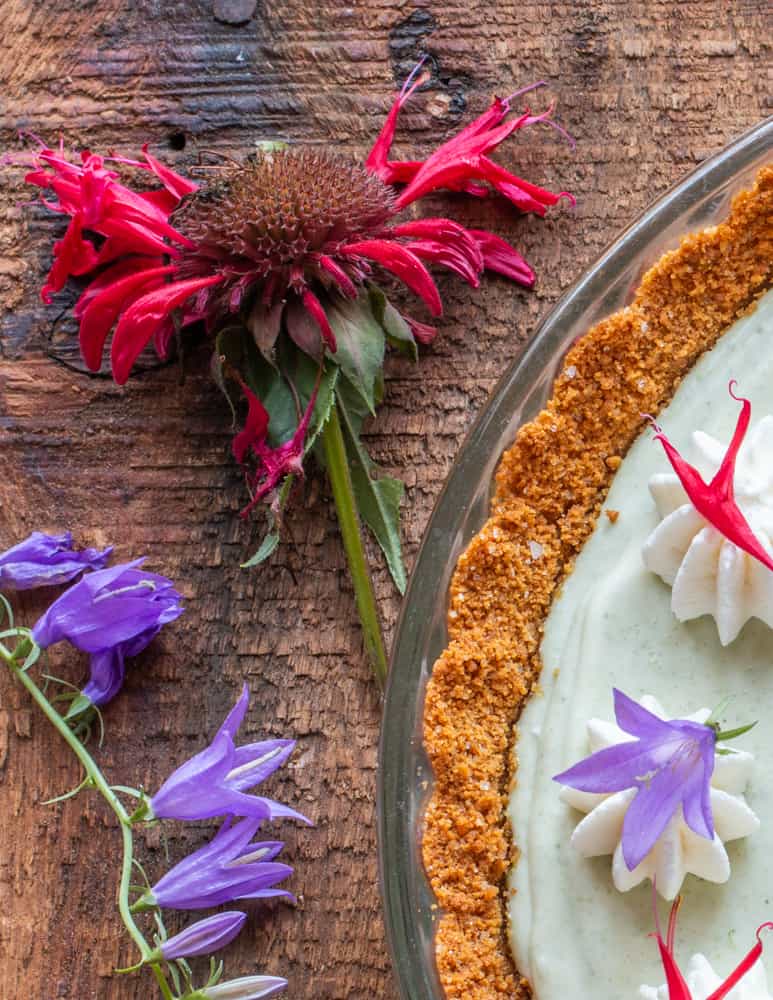 The Crust
I did a couple different versions here to make it so even people that don't like to bake can make this. First I made a nice crust with black walnuts and graham crackers.
The walnut crust is great, but, after eating a key lime pie one of my relatives brought to a family gathering and seeing that she used a pre-made crust, I had to try it with one of those too, just to make sure it would work. It does, and if you're pressed for time, there's no shame in using one.
Use fresh or frozen spruce tips
One of the best parts about spruce tips is that they freeze well.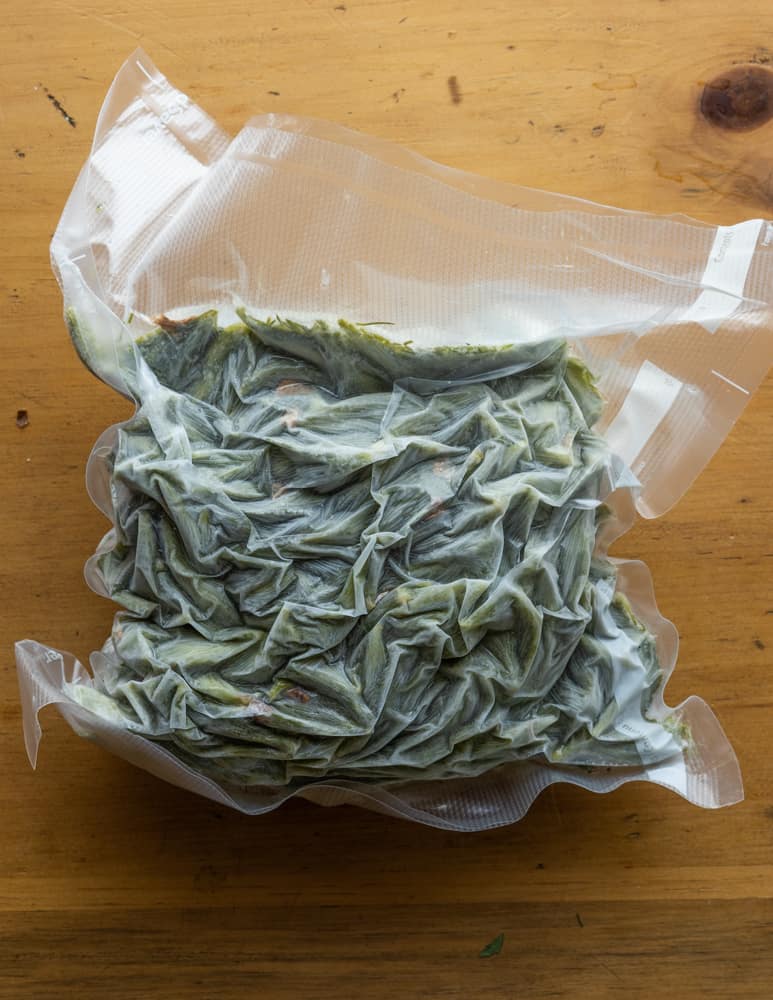 They lose a tiny bit of their bright color, and you won't be sprinkling them on anything, but frozen spruce tips are sold to chefs for $20/lb through wholesalers in North America all year long. It's also ok if your tips are a little leggy or long since they'll be pureed and strained.
Straining
If you look closely at the two different cakes in this post, you'll see that one has more green flecks than the other. For the most refined version, you'll want to strain it.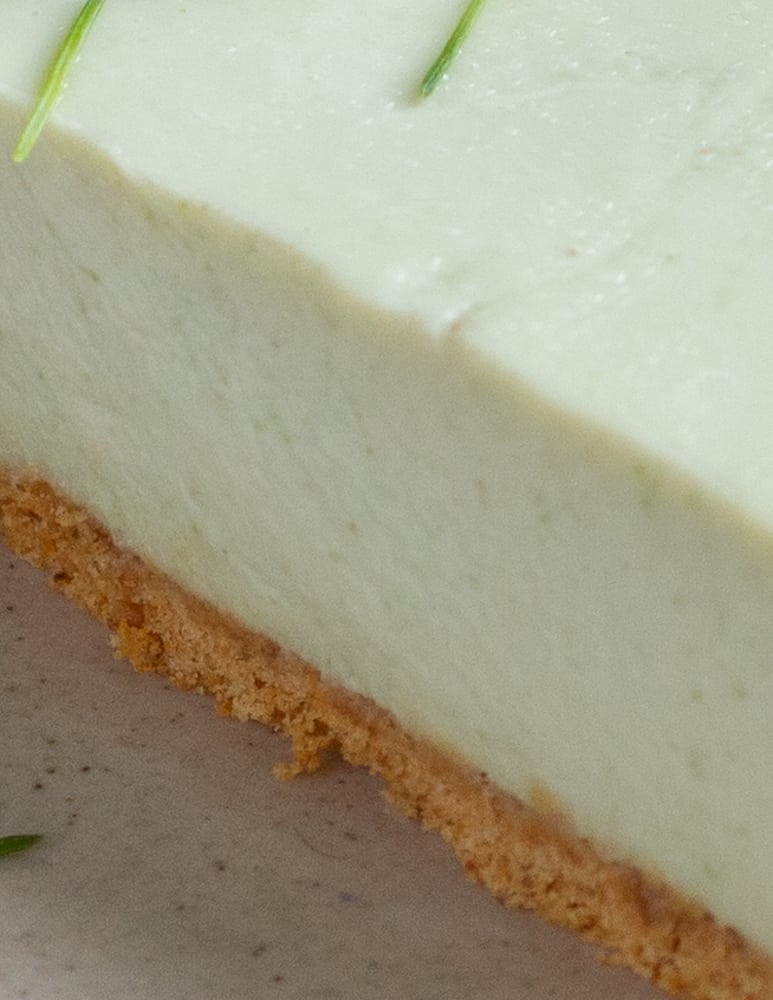 Some people don't mind small flecks of tips in desserts like this, as well as my all time favorite spruce tip ice cream and panna cotta. If you don't have a very fine strainer, it's ok. It's not my first choice, and you need to grind them up well, but it will work in a pinch.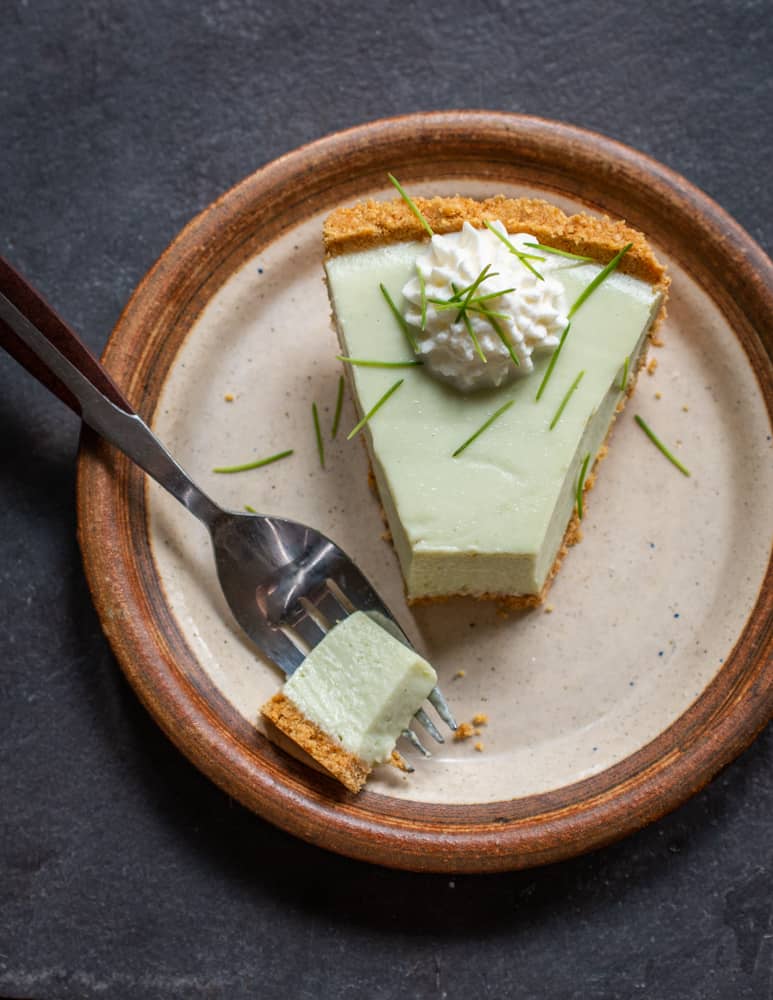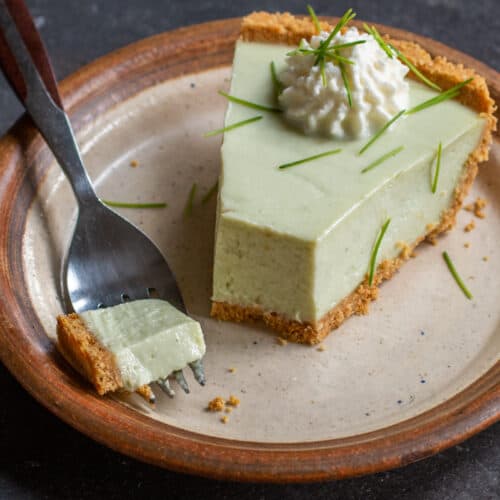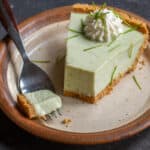 Print Recipe
Spruce Tip Key Lime Pie
Key lime pie flavored with spruce tips is a simple dessert that tastes like spring. Serve with stewed blueberries or whipped cream. Makes one 9.5-10 inch pie, or at least 8 servings.
Ingredients
Filling
Scant 1 oz spruce tips, chopped

such as white spruce, or blue spruce

1 ¾

cups

heavy cream

4

sheets leaf gelatin (silver) or one ¼ oz packet unflavored gelatin

sheet gelatin grades are organized by color/strength-see note

¼

teaspoon

salt

a pinch

¼

cup

white sugar

A few scrapes of fresh lime zest

½

cup

key lime juice

1

can

sweetened condensed milk

(14oz size)
Walnut-Graham Crust
¼

teaspoon

salt

a pinch

6

tablespoons

unsalted butter

¼

cup

sugar

1.25

cups

graham cracker crumbs

¼

cup

finely chopped black walnuts

or regular walnuts

¼

teaspoon

ground cinnamon

Good pinch of salt
Instructions
Crust
First bake the crust. Preheat the oven to 350, then melt the butter and mix with the graham crumbs and black walnut or regular walnuts, cinnamon, sugar and salt. Press the mixture into an 9-10 inch inch pie dish, then bake for 12-15 minutes, or until lightly browned. Cool the crust while you prepare the filling.
Filling
Bloom the gelatin sheets if using in ice water. Warm half of the cream with the condensed milk in a saucepan, then whisk in the gelatin sheets (squeeze them dry) or powdered gelatin thoroughly until just dissolved, remove from the heat, add the remaining cream, salt and sugar and whisk in a sink or bowl full of cold water until room temperature.

If you use powdered gelatin you'll want to puree it with a hand blender to make sure there aren't any clumps.

Pour the mixture into a blender with the spruce tips and puree for 30 seconds or so, until well blended and the mixture is a brilliant green, then strain through the finest strainer you have into a mixing bowl.

Whisk the lime zest and juice into the cream-spruce mixture well (it will cause it to thicken, this is normal) then pour into your par-baked crust.

Refrigerate until set, at least a few hours and preferably overnight.
Serving
Cut the pie into slices and serve with whipped cream and a few spruce tip needles if you have some. Gently cooked wild blueberries make a good garnish too.
Notes
On the gelatin
I made this both with powdered and leaf gelatin, and both will work, but I really encourage you to seek out silver leaf gelatin for cooking instead of powder. Powdered gelatin often has a set that's more firm. Leaf gelatin is the professional kitchen standard. It's cheap and once you use it, you won't go back. 
Related Posts