My spruce tip ice cream recipe is one of my spring standby's, and a cornerstone in a canon of wild food recipes I've developed over the years I served in my restaurants.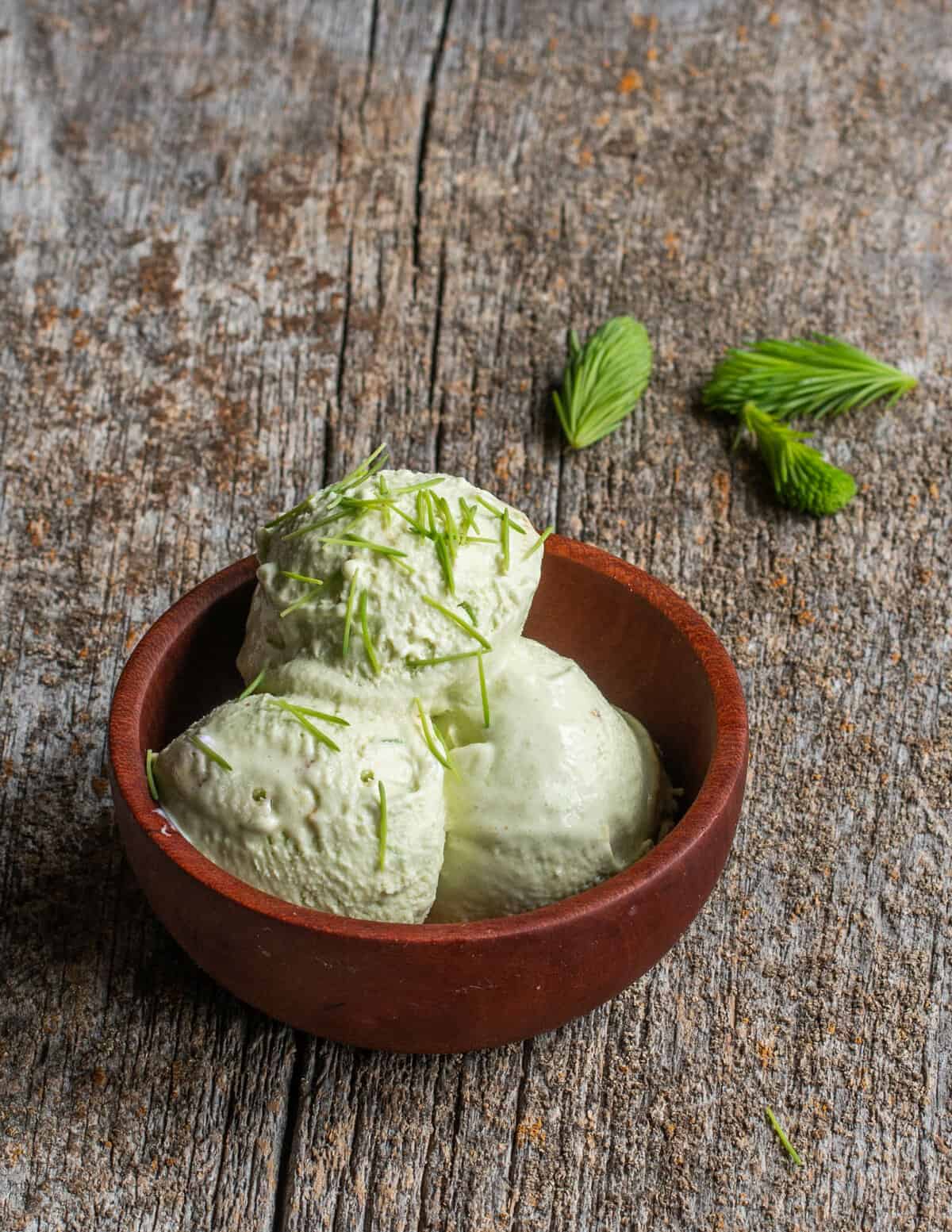 Spruce tips are a great introductory flavor for people getting into foraging, but also for others that may be knowledgeable about plants and mushrooms, since thinking of spruce tips as an edible commodity is a relatively new thing.
Besides being delicious, they're easy to spot, widely available, and difficult to over-harvest, just don't remove the apical (top) tip of small trees as it can stunt their growth.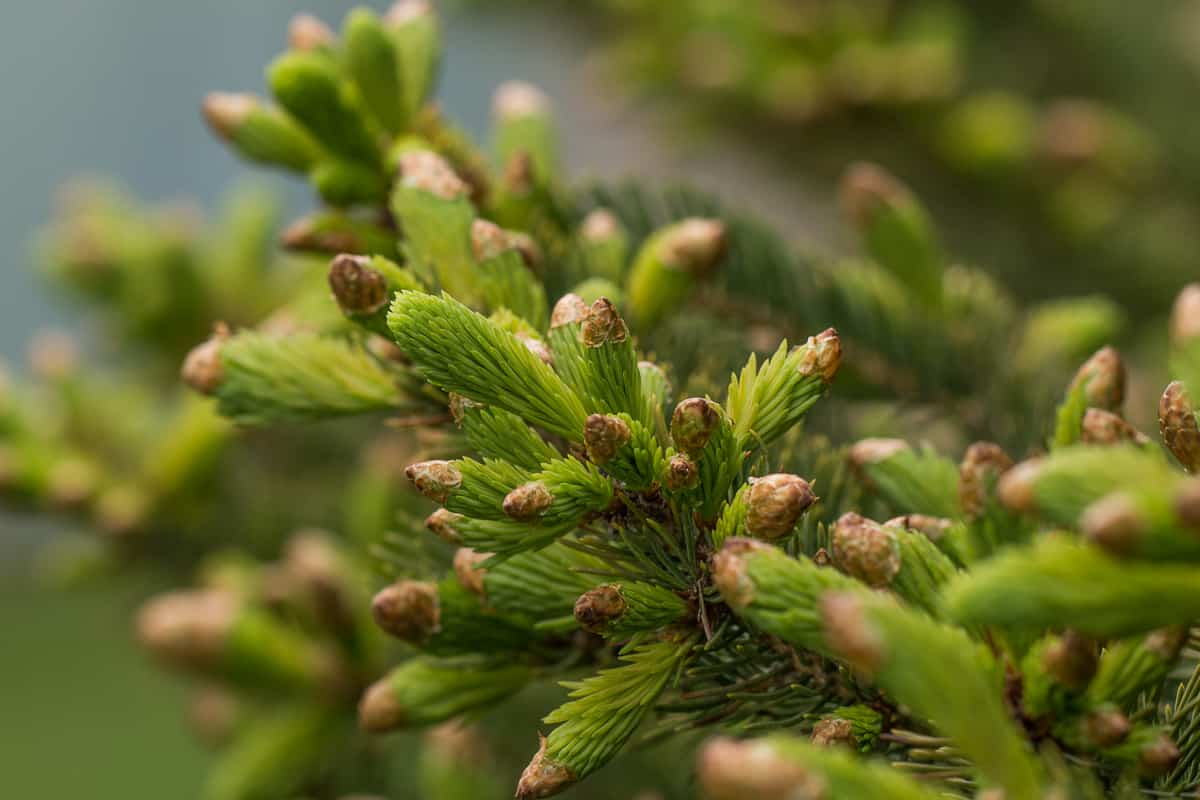 The most important thing to know is that each coniferous tree species will produce tips with different flavors. They will all have a similar resinous, piney taste, but some of them have an intense astringency that follows, you want to avoid this.
The best flavored tip species that I have found in Minnesota is that of the blue spruce, white spruce, and Norway spruce.
All of those have a nice citrus flavor, and only mild astringency. I haven't eaten all of the available spruce species in my area, but I do know that I don't care for balsam fir tips (not technically a spruce) although the cones can be useful to a degree after they're cooked in syrup.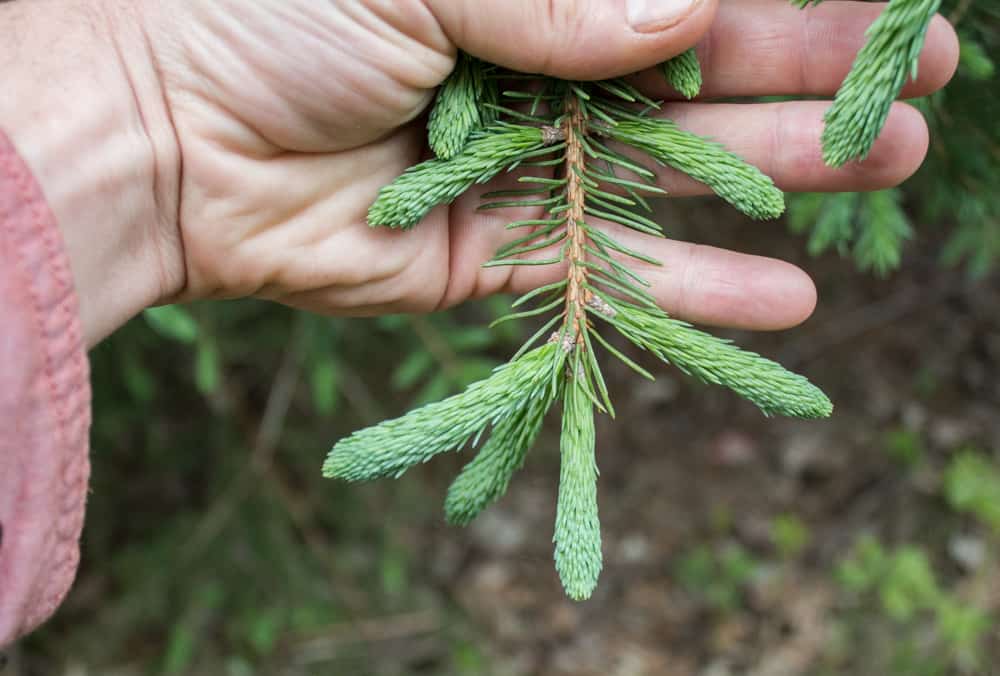 Hands down though, the greatest recipe I've ever made with spruce tips is this simple ice cream. Nothing really captures the aroma and flavor of your spruce tips like some good'ol ice cream. It's pleasant, mild, and ends up tasting a bit like melon rind.
When you use nice tasting species, it's not astringent at all, not like eating a pine cone, or the Caucus mountain preserves called varenye (pine cones cooked in syrup) which can be too strong for many people.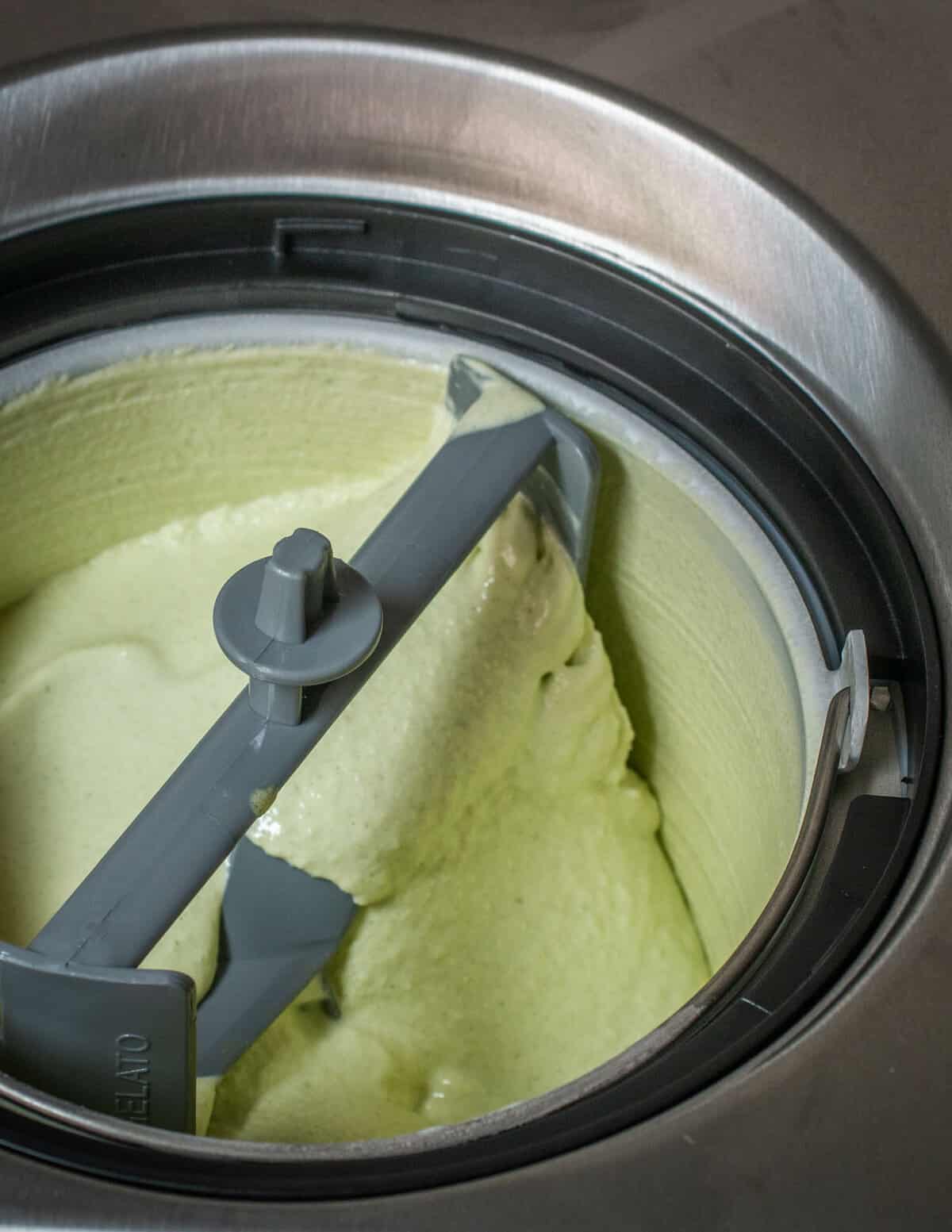 Tips for success
After making my spruce ice cream for years now, it's like an old friend--tried and true. As happens on the internet with original ideas, there's been plenty of people who've tried to copy this recipe and claim it as their own, or just outright plagiarize it and not give me credit, which is when I call my trademark attorney.
You don't want to play around with the proportions here—I've dialed them in well over the years. Contrary to what others might say, you cannot make a good spruce ice cream without pureeing the tips in the dairy, just chopping them and trying to make an infusion is amateurish, and will not give a flavor like the recipe here.
You also want to make sure that the spruce is pureed cold, in order to keep the flavor and color bright. You also need to strain it to avoid it being overly tannic. Not straining the ice cream base is lazy, and can be overly tannic.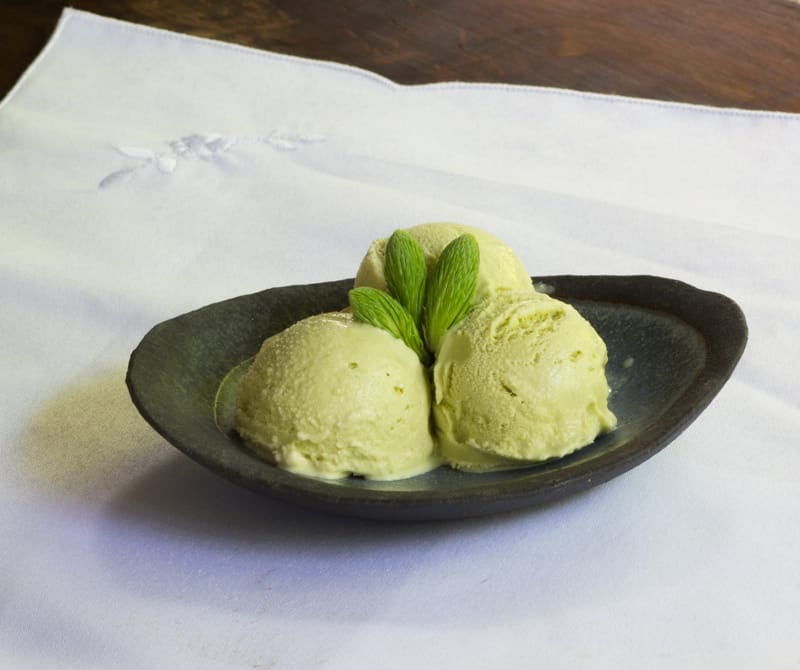 Can you use spruce syrup?
A lot of people make spruce syrup, and I've seen a few recipes that use it in cooking, but I don't recommend starting out cooking with the syrup as it's difficult to control the sweetness, as it can take a good amount of syrup until you can taste the flavor.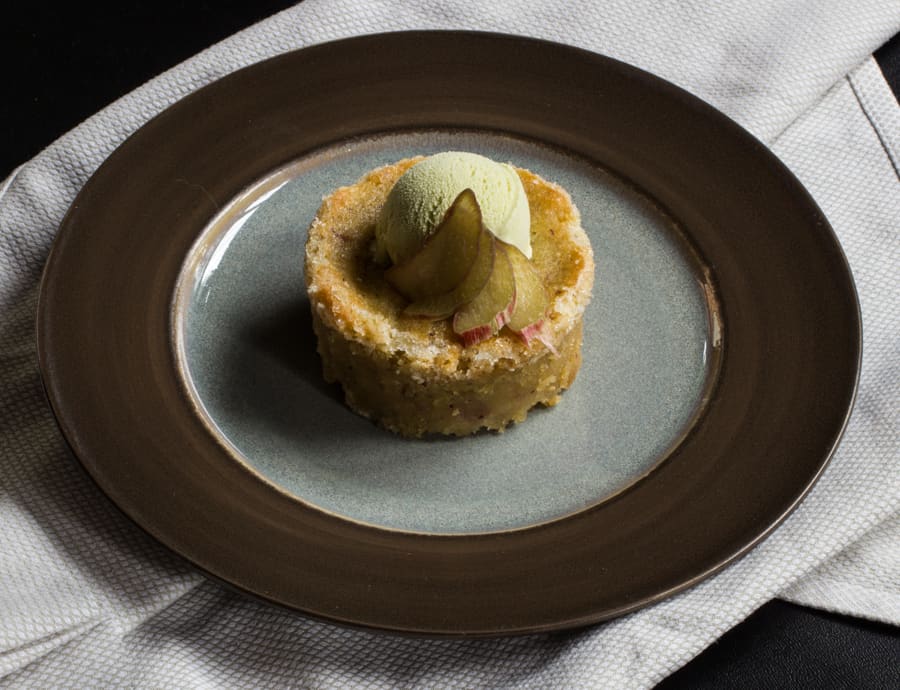 Pine cone syrup mugolio, or long-infused sun-syrup products made of spruce tips, pine cones, needles, and other aromatic products are good, but prohibitively expensive to cook with in the amounts needed in most dessert recipes, for what it's worth. The best thing you can do with those syrups most of the time, is to just drizzle them on things and keep it simple.
If you like cooking with conifers, make sure to take a look at my original guide to spruce tips, too.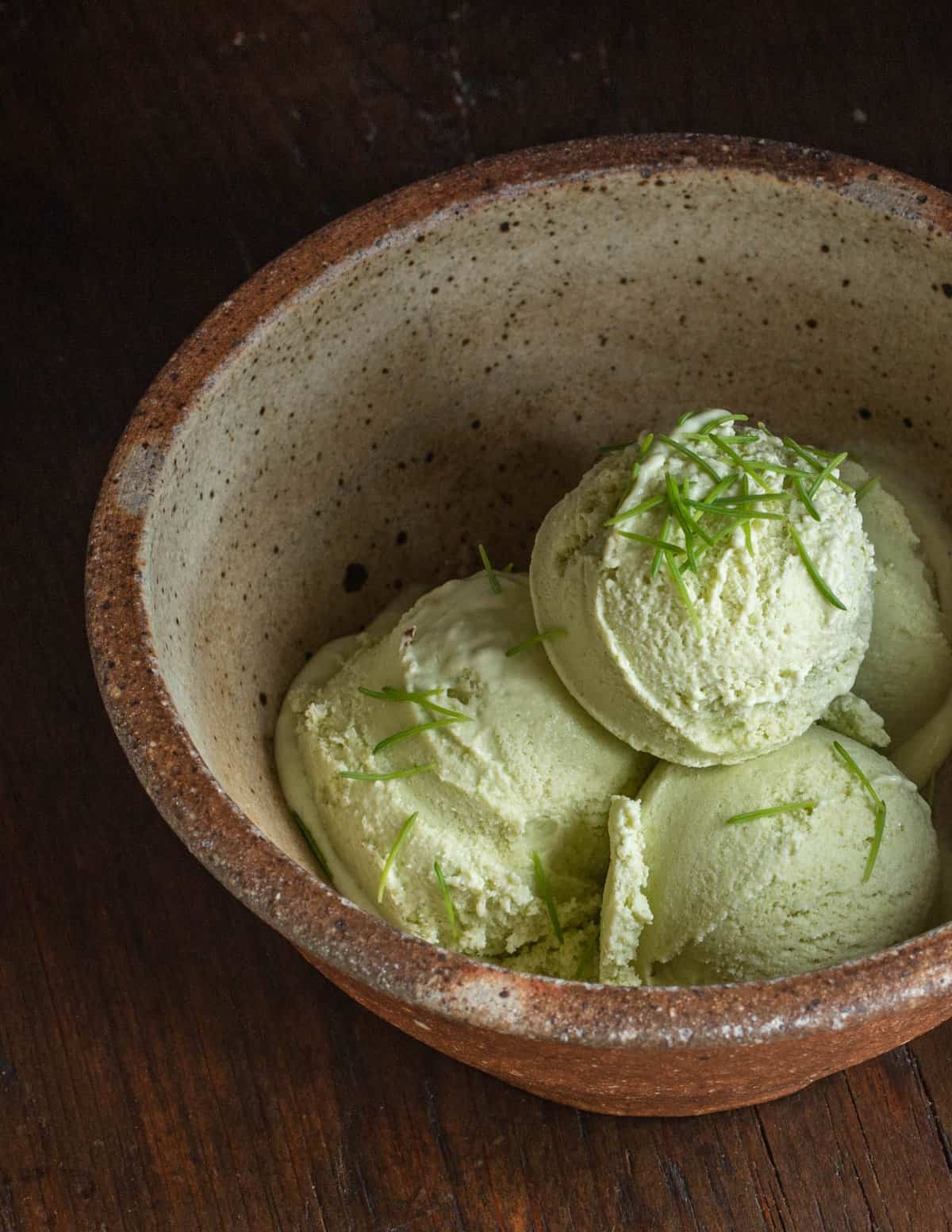 Print Recipe
Spruce Tip Ice Cream
Homemade ice cream is a spring flavor you didn't know you've been missing.
Ingredients
3

cups

half and half

½

cup

fresh spruce tips

5

large egg yolks

¾

cup

sugar

⅛

teaspoon

salt

1

teaspoon

lime juice

optional but recommended--helps to balance the flavors
Instructions
On low, heat the half and half, sugar, salt, and egg yolks in a small sauce pan, whisking occasionally until the mixture is hot and thickens slightly.

Allow the mixture to cool to room temperature, then transfer to a blender.

When the mixture is cool, chop the spruce tips well, then add to the blender and puree until very smooth. It takes a bit of horsepower to break down the needles, for the best flavor you really need them finely blended.

When the mixture is pureed, pass it through a fine mesh strainer. If possible, allow the custard to sit in the fridge overnight, which will give a better texture in the finished product. Before spinning, whisk in the lime juice.

Place the spruce custard in the bowl of an ice cream maker and process according to the manufacturers directions. Mine usually takes about 45 minutes.
Notes
For some of my ice cream recipes I substitute cornstarch for the eggs. Unfortunately this is not possible with spruce as pureeing causes the cornstarch to break, giving a grainy result. 
More