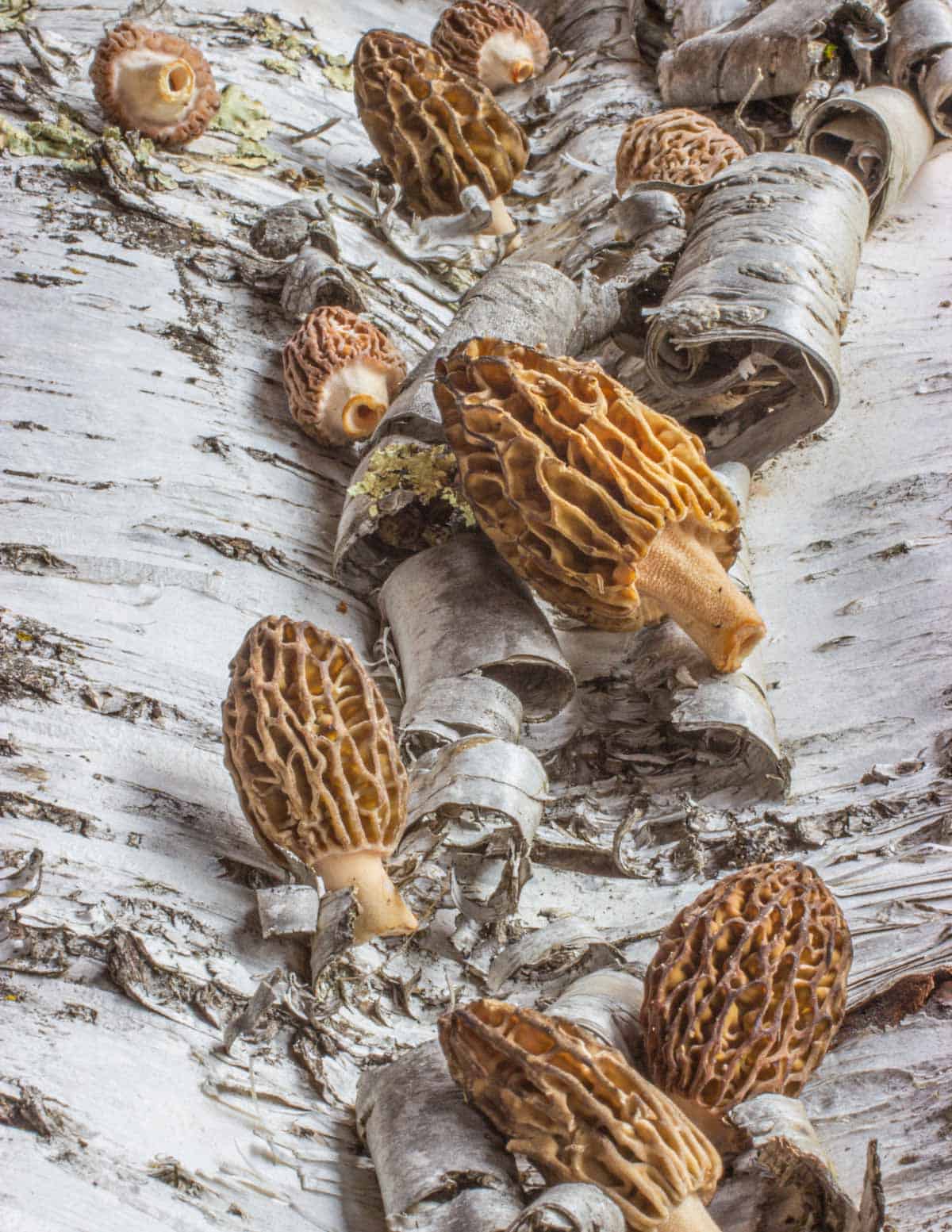 In the Midwest, most people will be familiar with morels, especially in Minnesota where it's our official state mushroom. Most likely people will probably describe the morels they find as either blondes or greys. Those species grow around dead elms, cottonwoods, as well as a few other scenarios. There is another morel that can be found though: the black morel.
If you purchase dried morels from a store most likely you are getting blacks. Black morels are foraged in mass quantity each year in the United States, dried and shipped all over the world, they form the bulk of the commercial morel market.
I knew of black morels, and that they liked to grow in burned areas on the west coast, but it wasn't until a couple years ago that I discovered through talking with other Minnesota mushroom hunters that blacks grow here in the Midwest as well. After poking around and asking some questions, I learned that they like to grow in stands of aspen. Other than that, their Midwest habitat remained a bit of a mystery to me, until now.
Habitat
In Minnesota, black morels will be in the state's northern coniferous forests.After the yellow and grey morels start to fruit in the southern portion of the state, as a rule of thumb, you might want to wait a week or two before venturing up north to look for black morels, since the temperature can still be much colder than up there, which will slow growth a bit.
Habitat wise, these are a real bugger to discover unless you have some inside knowledge of local spots or a lot of time on your hands. Stands of aspen will give natural black morels, which seem to grow in harmony with nature as opposed to reacting to death and decay. Confusingly, they will also grow in areas that have been disturbed as well.
On my first foray hunting black morels near Bemidji Minnesota, we found the heaviest fruitings to be in areas of aspen that had been clear cut a year or two prior. Just like with burned areas, the black morels will keep coming for a few years after their habitat has been disturbed, although they will gradually reduce in number year after year as the land heals.
Cooking
See a basic video of cleaning morels here.
These can be prepared just like other morels. You could cut them in half if they are large, but if they are very small I like to leave them whole, which allows them to catch and hold a bit of sauce, and highlights their interesting shape. To clean, I like to give them a quick swish, one at a time in cold water to remove any debris, then allow them to drain on a towel. After drying on a towel for 30 minutes or so, they will have shed water they may have absorbed, and will be ready to cook.
A Black Morel Allergy?
I had read in David Arora that some people have an allergy to species of black morel, but didn't really expect I would see it. Let me tell you though, it's true. At a foray/culinary expo I was at a couple years ago, two guests out of 27, both of whom had eaten species of yellow and grey morels for years both experienced severe intestinal distress after eating small quantities of mushrooms for the first time, even after they had been thoroughly cooked.
The guests showed the same symptoms I experienced with my one and only run in with leccinum poisoning: nausea, emesis, and diarrhea, followed by a feeling of relief once the mushrooms have been removed from their system.
At first I was really confused, I mean think of how many black morels are sold every year, how are more people not having reactions to them? Here's my take, keeping in mind I'm a chef, not a mycologist.
There's many, many different species of morels. The morels we were picking were natural black morels that like to grow in aspen and coniferous and hardwood forests of Northern Minnesota. Black morels picked from burn areas you will get if you typically by them in a store, are a likely a different species of black morel, and the allergy *should* reside with the particular species we were picking in Northern MN.
More
Forager's Guide to Morel Mushrooms