A classic rowanberry jelly made with apples and fresh fruit is by far the most delicious thing I've tasted made with the fruit. If you have access to these-just maek some. It's something you have to taste it to believe.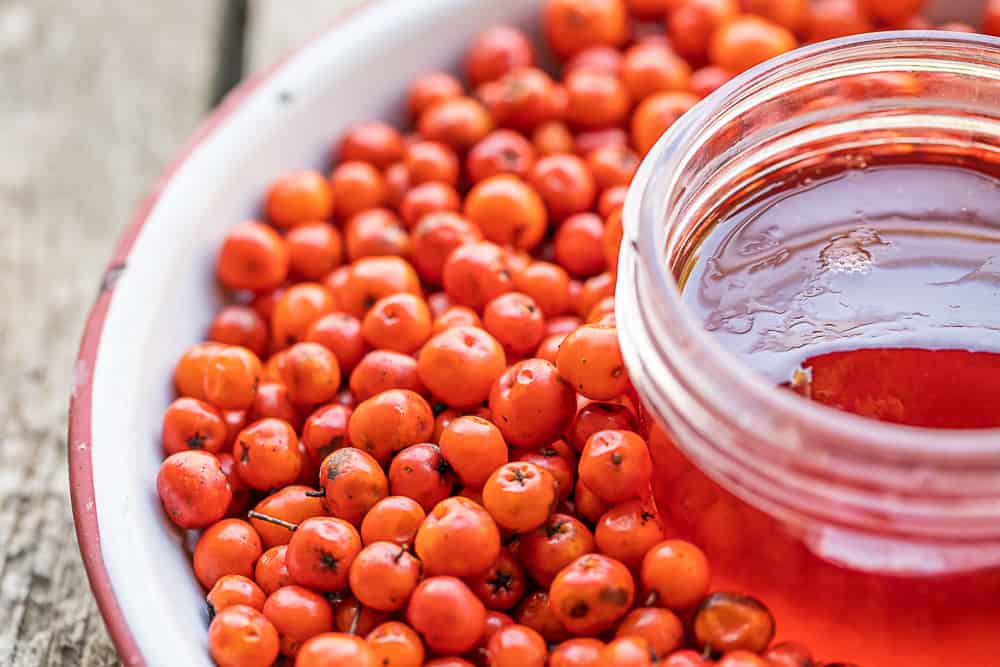 Rowanberries / mountain ash berries (Sorbus americana) are one of the more difficult fruits to work with I know of. At first I really, really wanted to find ways to use the fruits that made use of the entire fruit, and, yeah, it's difficult.
But, traditional rowan jelly is supposedly a good condiment for game, so I've been meaning to work out a version. I didn't have high expectations, but the jelly ended up being one of the most interesting I've had. The flavor is excellent, and the bitterness is there, but tempered by the perfume of apples and the sugar.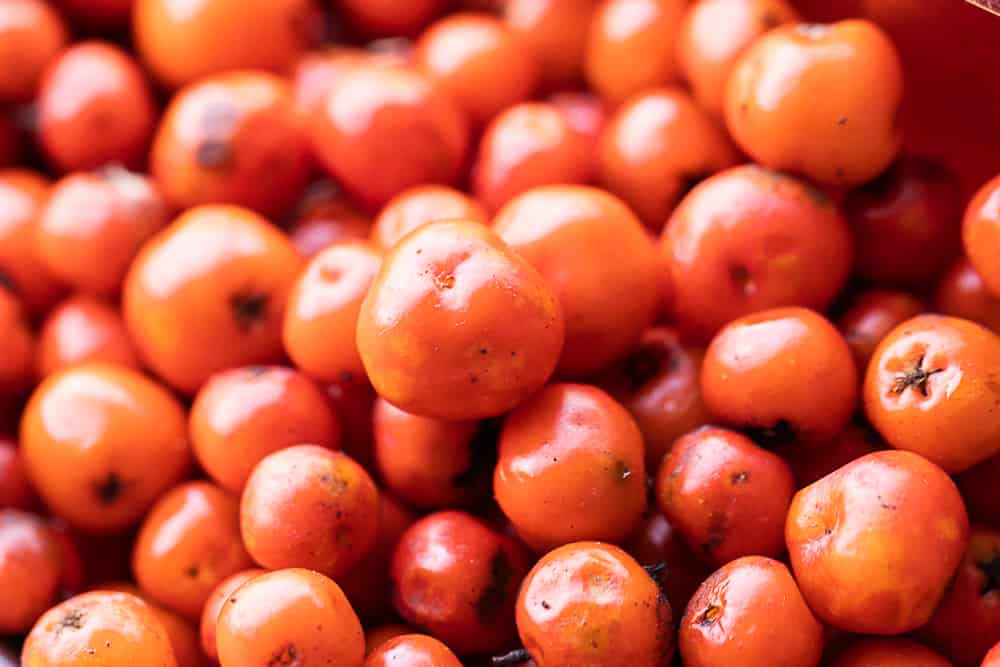 Pick your berries after multiple hard frosts
The berries are horrifically bitter, and they stay bitter if they haven't seen multiple hard frosts, which makes things doubly difficult since there's a number of the trees in areas I forage around the Twin Cities, but, every year, the cedar wax wings stripped the trees bare before I can get to them.
To beat the birds, I would pick the berries early, and try to work with them, but the results were always very bitter. It wasn't until I started finding the trees on the North Shore, north of Duluth where they grow in mass quantity, that I really got berries palatable enough to cook with.
The rowanberries on the North Shore were much better since they were exposed to multiple hard frosts, and for whatever reason, the birds don't seem to pay them as much attention as they do the berries a few hours south. So, if you're in the area and wondering, the key is to go get them in say, mid-October if you want to make something you can eat.
Back to the jelly itself, one of the reasons I was excited to make this was that it would be my first foray into a no-pectin added jelly. I usually add pectin just for the sake of covering my bases, but, as traditional rowan jelly includes apples that are strained out specifically for the purpose of pectin (and flavor and color) I saw no reason to add commercial pectin.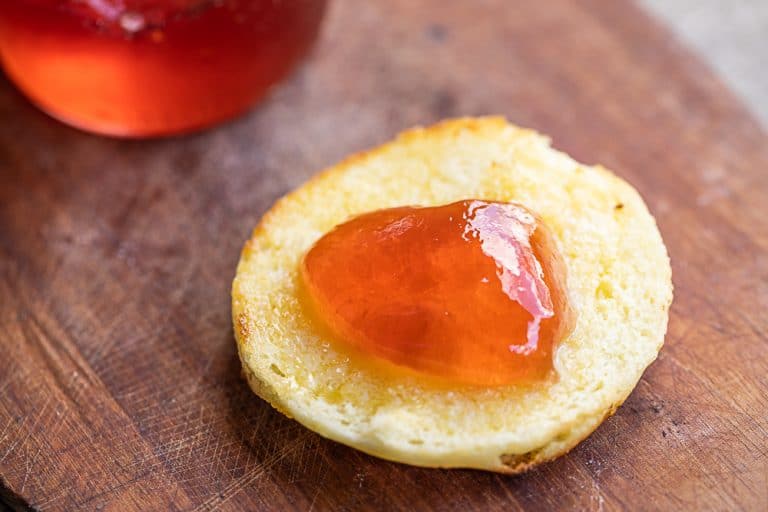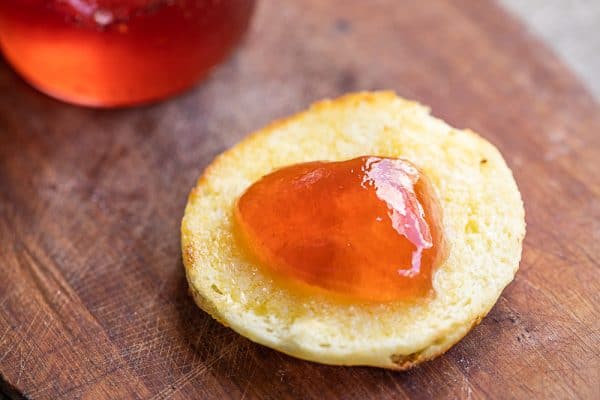 The result was is one of the best sets I've had in a jelly, and if you've ever wondered if making pectin-less jelly by adding apples is possible, trust me, it is, and it's great.
The flavor is a sort of crescendo, a pleasant bitterness and deeply rowan flavor underscored with sweetness. It's addicting, and the gentle set from the natural pectin seems to be a bit more forgiving than commercial pectin, the set on it is just perfect, barely holding together, quivering and jiggly. It's wonderful.
I haven't tried it with game yet, but rest assured, that's in the works.
The flavor is an acquired taste, but the sugar tames it enough so that even people unfamiliar with the berries will probably reach for seconds. Here's some of my favorite things I've eaten with it so far.
Use Ideas
With strong flavored cheeses, especially goat, sheep and blue cheese like gorgonzola
It likes cured meats, and salty sausages.
The bitterness and sweetness is a good foil for liver, just add a splash of wine to the pan some liver was cooked in, add a good glob of jelly, a knob of butter, a dash of lemon juice, whisk and reduce until thickened, and voila, pan sauce.
Mostly I've just been eating it for breakfast, and it's delicious on a buttered, toasted english muffin to show off the deep orange color.
The bitterness reminds me a bit of bitter orange, so the next thing I'll be making is the same jelly here, but with orange peel cut into fine julienne.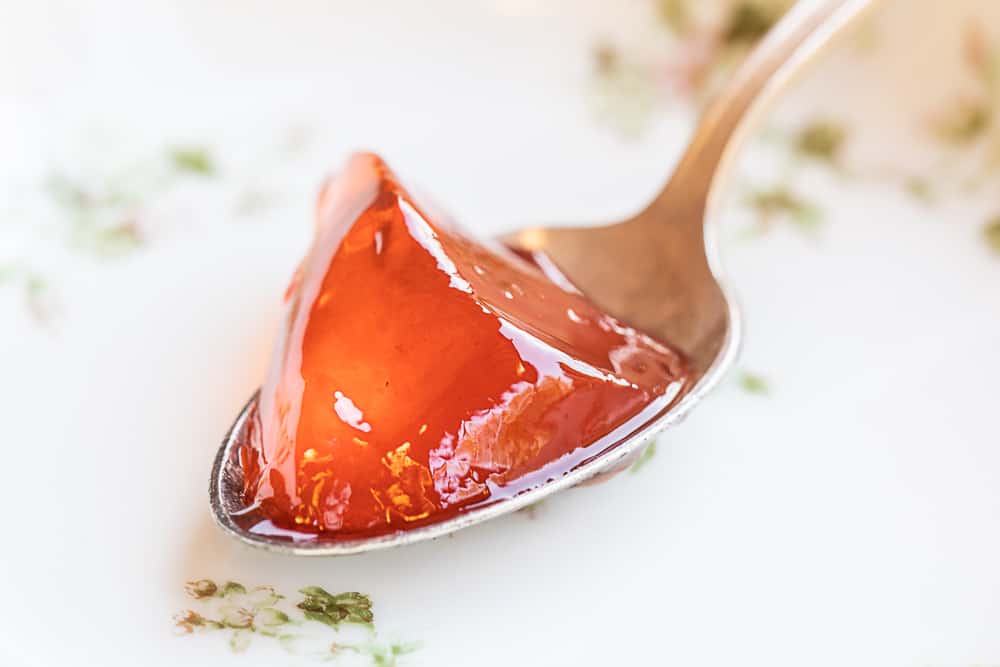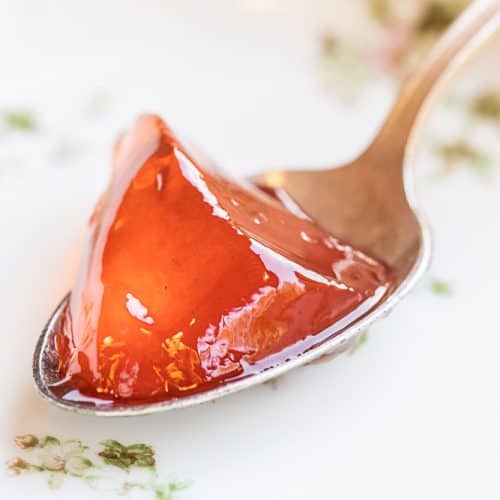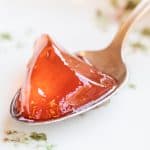 Print Recipe
Classic Rowanberry Jelly
Makes about 4.5 cups or 4 half pints with a ¼ pint left.
Ingredients
2

lbs

green apples, such as granny smith

See note

1

lb

rowanberries

2

lbs

(4 cups water)

2

teaspoons

lemon juice

or ¼ teaspoon citric acid

1

oz

chopped fresh ginger

optional

3.5

cups

Sugar

or as needed (use 1 cup per cup of strained juice)
Instructions
Cut the apples into pieces including the skins and seeds.

Gently mash the rowanberries with a potato masher or something similar.

in a wide pot of 3-4 quart size, combine the apples, ginger, berries and water and bring to a simmer, stir, then turn the heat to low and cook, uncovered covered for twenty minutes, stirring occasionally. Don't mash the apples.

Carefully strain the liquid into a strainer lined with a double thickness of cheesecloth or a jelly bag and allow to drain for a few hours. Don't squeeze the liquid from the cheesecloth unless you're ok with cloudy jelly.

Discard the spent apple-berry mix.

Combine the reserved liquid (you should have 3-4 cups. along with 1 cup sugar for each cup of reserved, strained liquid).
Doing set tests
Chill a small metal bowl or similar in the freezer for doing set tests. I use small metal as it freezes the fastest.

Mix the liquid and sugar, then bring to a boil, turn the heat to medium, and cook until the temperature starts to hover around 220F. Begin doing set tests a little after the mixture hits 220F. 223-5F is usually perfect for me, but let the set test be your guide.

For the set tests, pour a teaspoon of jelly into the frozen bowl. Once you can see a gentle wrinkle on the top of the of the test surface when it cools you're good, beat in the lemon juice or citric acid and pour the jelly into sterilized jars. Screw on lids and rings, and allow to cool. The jars will naturally seal themselves.

Cooking and reducing the jelly will take about 25-30 minutes. I start to test the set around the 20 minute mark.

Depending on the pan I'm using and how high the sides are, I may move it halfway off the burner to allow me to still use high heat without the pan overflowing. Cleaning up jelly overflows is, sticky and not fun.
Notes
Apples 
You want apples that have a good amount of natural pectin here, so use green ones like granny smith, or slightly unripe apples. For a 100% wild version, use crab apples.