Tender slices of poached meatloaf, napped with handfuls of hedgehog mushrooms in a sauce spiked with paprika and lemon is what happens when you were trained to cook like a French chef, but TV dinners helped raise you.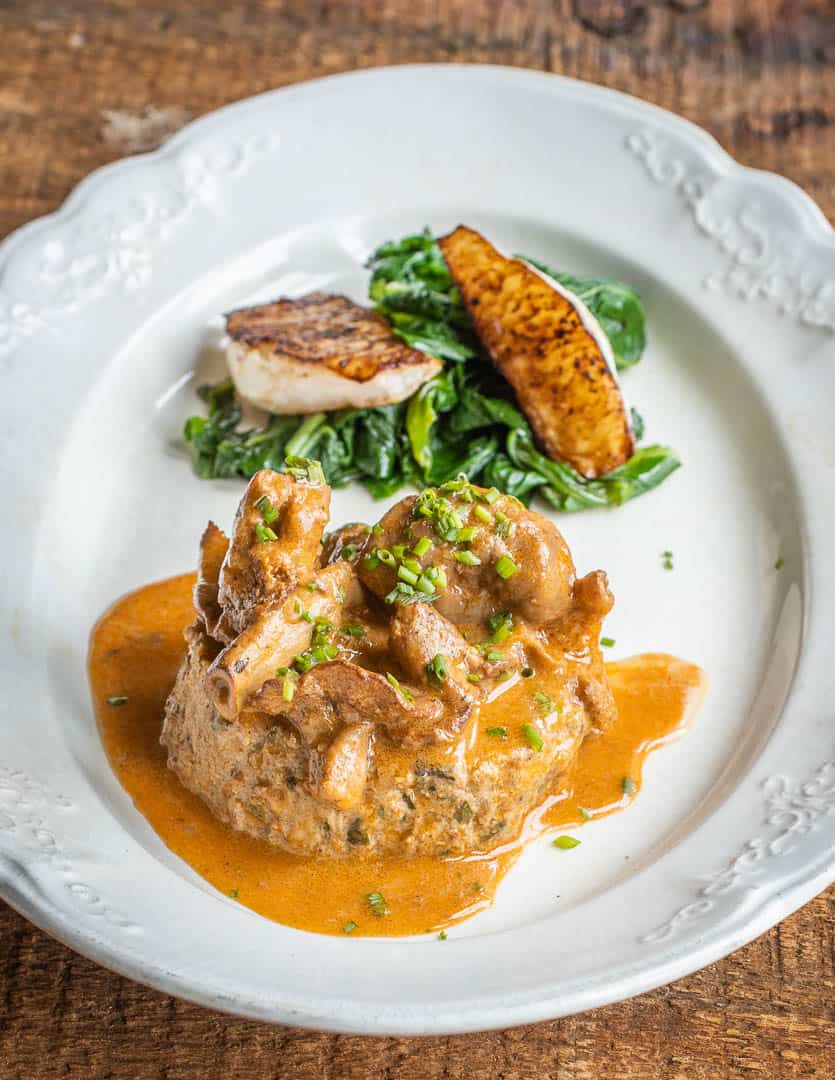 I came up with this to showoff how much fun hedgehog mushrooms can be. Hedgehogs have a great flavor and texture, but it can be difficult to keep their shape since they can be crumbly and easily broken in a basket.
I work around that here by putting a pile of mushrooms on top of the meatloaf in the pot while it cooks, and, as the pot bubbles away, the mushrooms steam and cook down into the sauce, holding their form It's a good recipe for just about any wild mushroom, but especially brittle hedgehogs.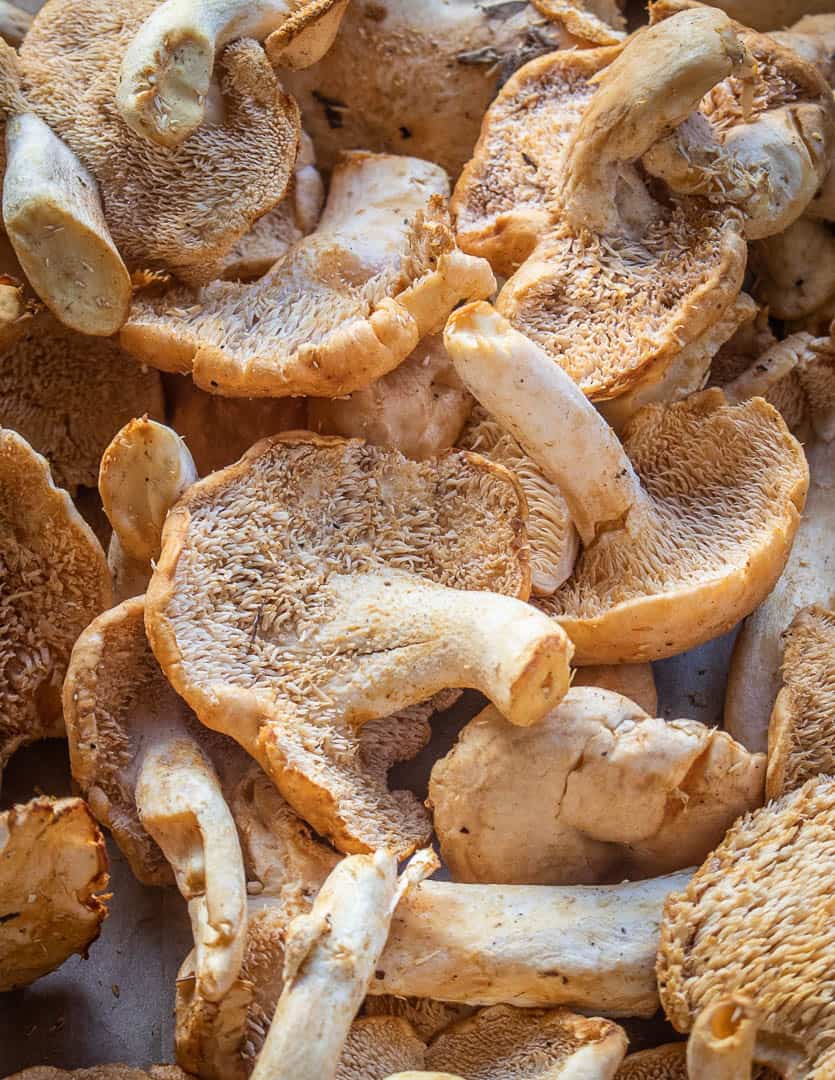 Originally this started out as large, wild rice-studded meatballs, but when I was plating them, I found myself wanting to see a pile of hedgehog mushrooms perched on top of something, instead of congregating around the sides.
As I ate the first beta versions, I was reminded of the nice, clean slices I used to get cutting pre-made meatloaf that came frozen in a bag at a little cafe I worked.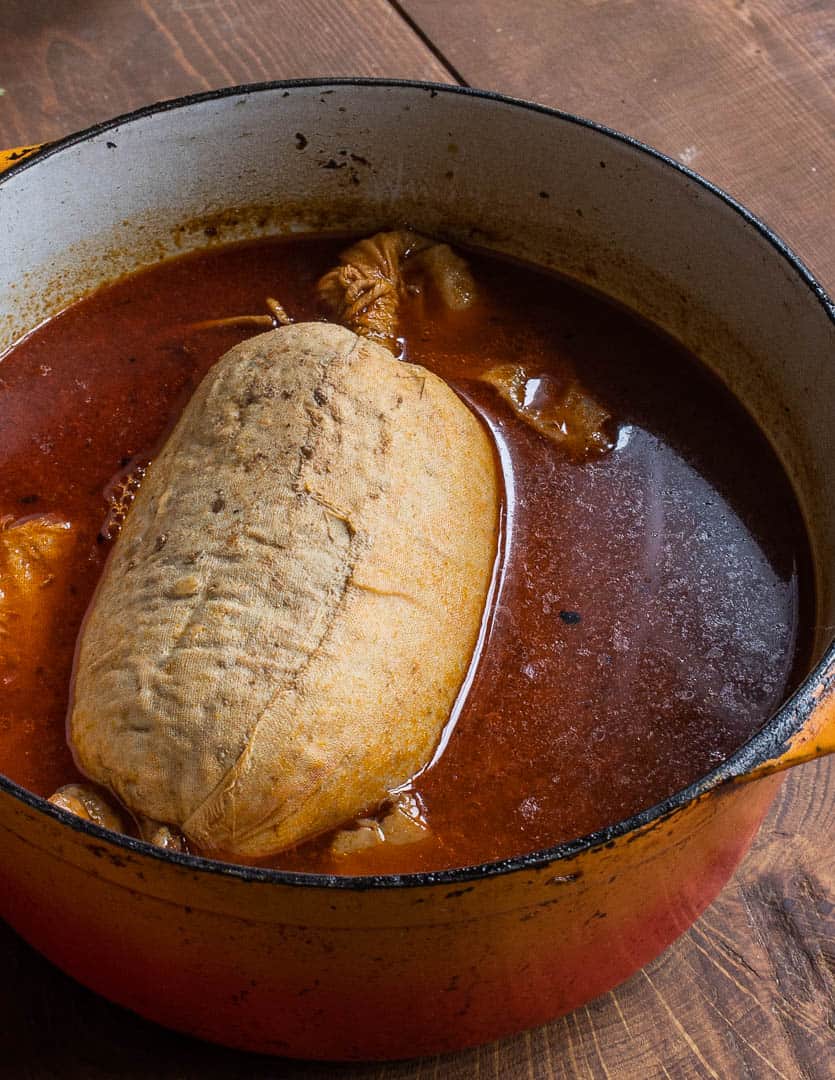 From there, It was only a matter of time before I got the idea to simply roll the meatloaf into a log, poach it in the cooking liquid and chill it to make slicing easy.
Technically rolling and poaching like this could be called making a torchon, like I do with foie gras, but meatloaf steaks has a nice ring to it. Either way, after rolling, poaching and chilling, you're going to get nice, clean slices you can easily smother with a pile of hedgehoggies. .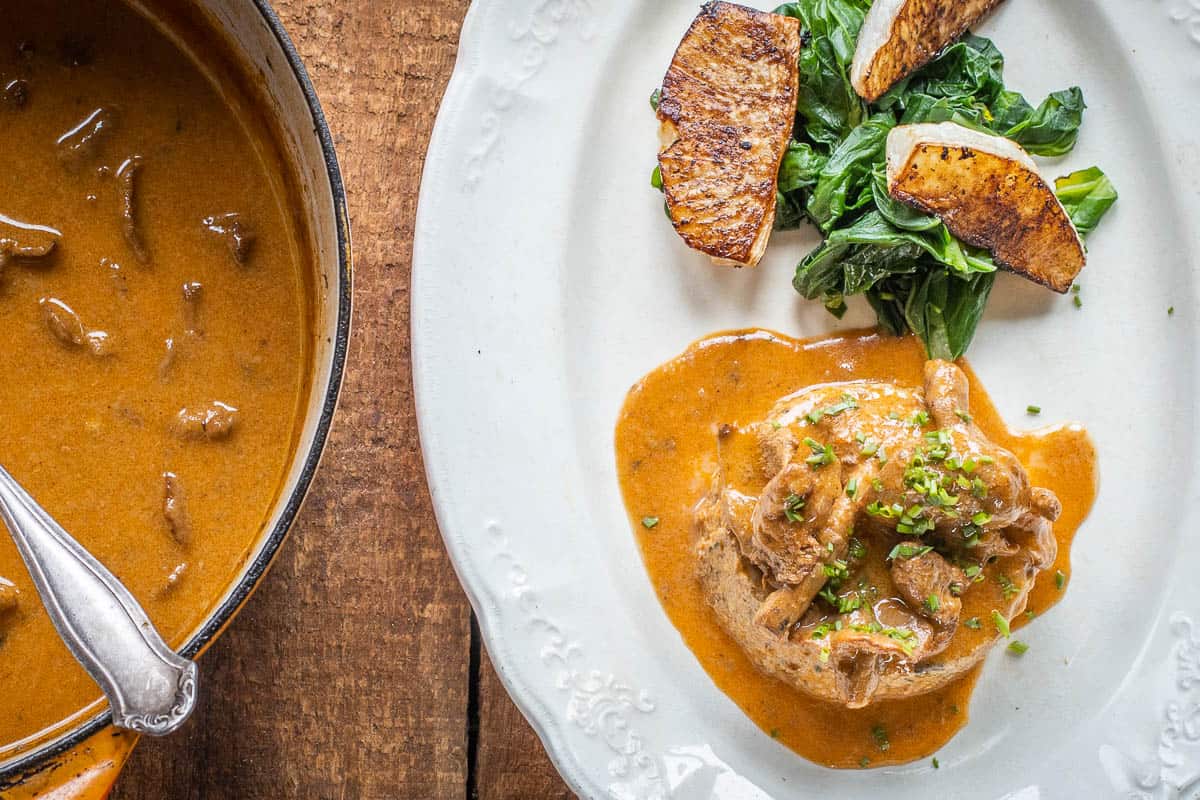 You can use your favorite meatloaf recipe
Think of the recipe here as an idea to build off of. If you have a favorite meatloaf recipe you like, use it, just leave out the ketchup. The mushrooms could be varied in lots of different ways too, but chanterelles and their cousins, along with other small mushrooms in button form will make for the most elegant presentation.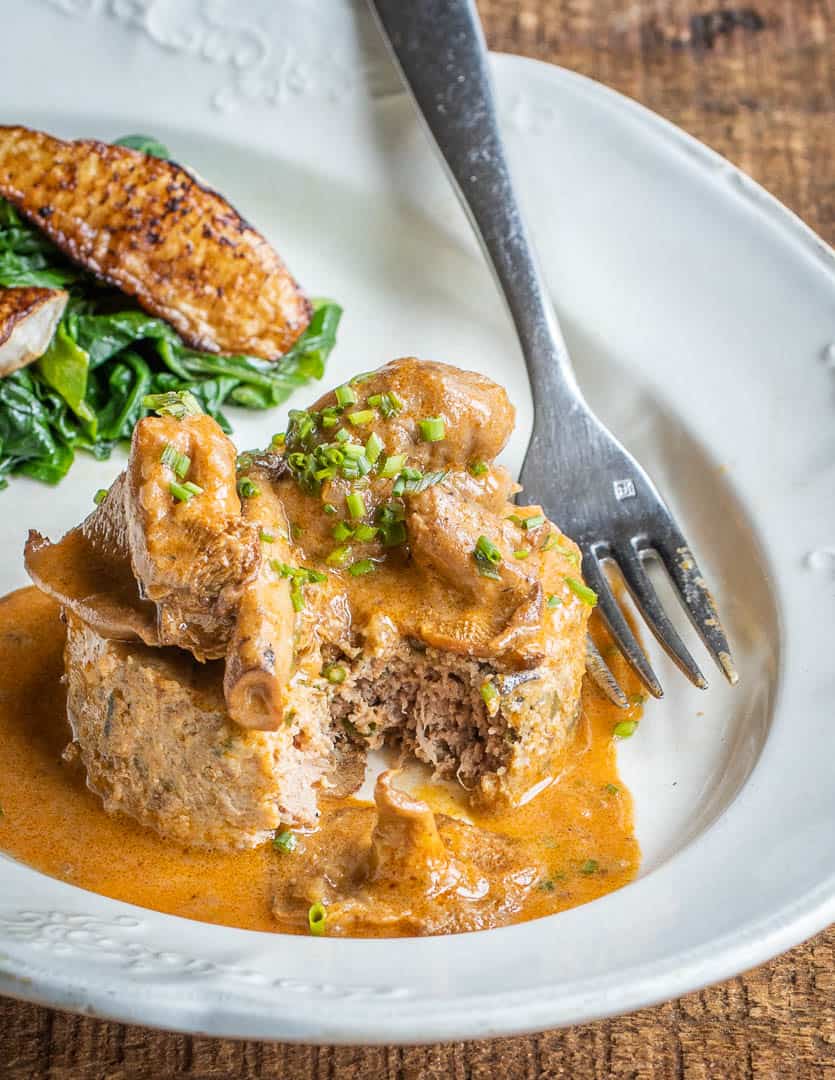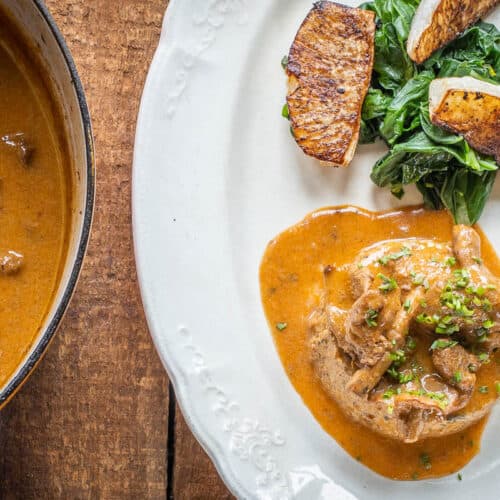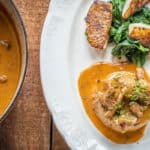 Print Recipe
Meatloaf Steaks with Hedgehog Mushrooms
Tender poached meatloaf with a sauce of mushrooms and paprika looks fancy, but tastes like comfort food. One of my favorite hedgehog mushroom recipes.
Ingredients
Meat loaf
1

lb

ground pork shoulder or whatever ground meat you have*

½

cup

breadcrumbs

¼

cup

heavy cream

1

teaspoon

kosher salt

¼

cup

dried powdered mushrooms

such as chanterelles

1

large egg

1

small clove garlic

grated

1

oz

yellow onion

minced

2

teaspoons

chopped fresh thyme

or to taste

2

teaspoons

cooking oil

Small piece of cold unsalted butter

for rubbing on the cheesecloth
Braise
Pinch

of crushed red pepper

8

oz

hedgehog Mushrooms

1

Tablespoon

paprika

sweet or spicy not smoked

2

oz

minced shallot

1

large clove garlic grated

1

cup

dry white wine

4

cups

stock
Finishing
2

T

duck fat or equivalent

1

tablespoon

butter mashed to a paste with a Tablespoon of flour

Dash of fresh lemon juice

to taste

Fresh cut chives

to garnish (optional)
Instructions
Meatloaf Mix
Heat the cream until steaming, then pour it over the dried mushrooms, salt and breadcrumbs in a bowl, mash to a paste with a fork and cool to room temperature. In a small pan, sweat the garlic and onion in the oil for a minute or two, just to take the edge off them, then add to the bread paste.

Combine bread paste, egg, onion mix, and meat in a stand mixer with the paddle attachment and blend well on low speed.

Cook a small piece of the meatloaf to test the seasoning for salt and herbs, adjust as needed, then scrape the mix out onto the middle of a large square of cheesecloth about 2-3 times the length and width of the torchon the center of which you've rubbed with a piece of butter (this prevents it from sticking to the meat).

Roll the meat gently into a chubby log, twisting the ends of the cheesecloth in opposite directions to help compress the mixture into a firm log. Tie the ends closed. The meat log should be tied very tight. If at all possible, allow the meat loaf mix to rest overnight which will deepen the flavor.
Braising the meatloaf
To cook the meat log, sweat the onion and garlic in the duck fat, then add the paprika and a pinch of salt and stir, gently cooking and toasting the paprika in the oil. Add the wine, cook for a minute, then add the stock and lower in the torchon. Add the mushrooms.

It's ok if the meatloaf isn't completely covered, just remember to turn it over a few times as it simmers. Bring to a simmer and cook on low heat, covered for 1.5 hours, then cool and chill overnight to firm and make slicing easier.
Finishing and serving
Remove the torchon and cut into thick slices. Reheat the jus and mushrooms, adding the paste of flour and butter, breaking it up with a fork, and reduce until thickened.

Double check the seasoning of the sauce and adjust as needed. Reheat the slices of meatloaf in the sauce (or in the oven if your pan doesn't allow) add a dash of lemon juice to the sauce just before serving to brighten the flavor.

Lay a slice of meatloaf on each preheated dinner plate, spoon the sauce over, garnish with chives and serve.
Notes
Later I served this with shaved cabbage steamed and tossed with chopped fresh and butter and it was excellent. Riced cauliflower or rice is another good accompaniment.
*Ground pork is preferable here as it's nice and fatty, but since you're adding bread and eggs to the mixture you can really use whatever ground meat you have laying around.
More
The Forager's Guide to Hedgehog Mushrooms