Tender lefse with winter chanterelles, sauerkraut and Swedish cheese is a sort of mushroom burrito from another dimension you have to try.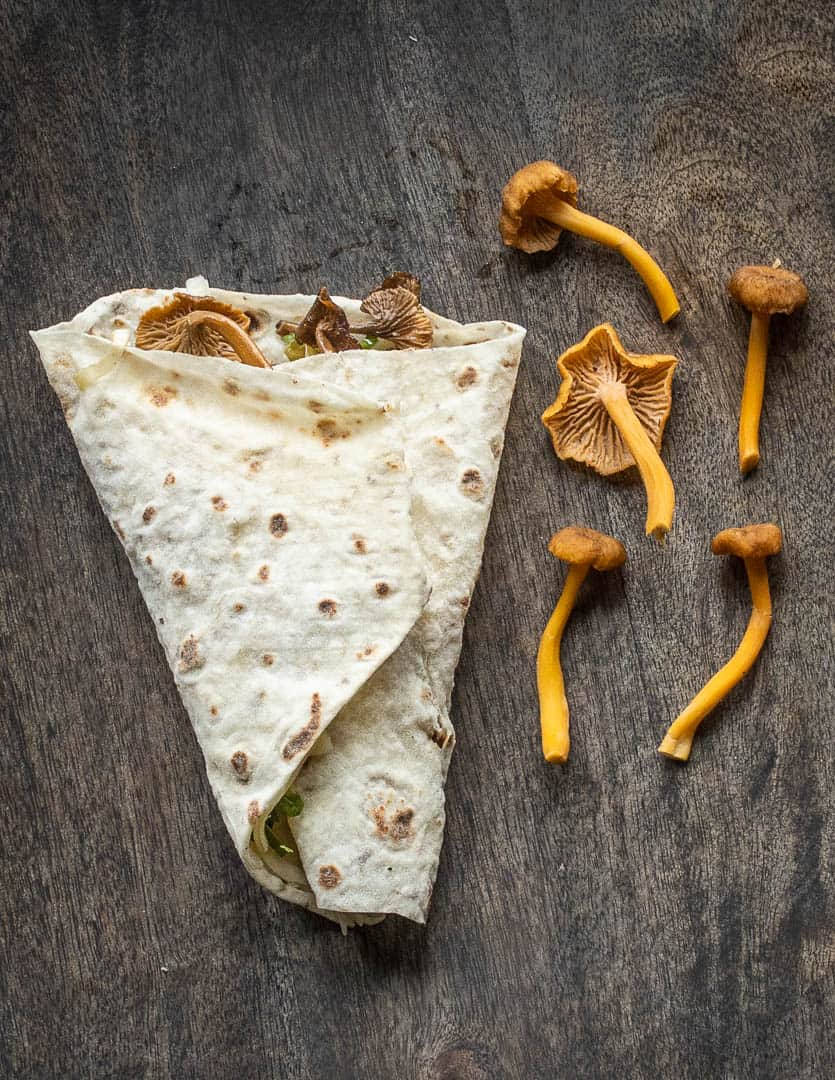 When I think of the cuisine of my Nordic ancestors, I don't usually think of mushrooms, and that's a mistake. Scandinavia is home to many similar varieties of mushrooms that we have in the Midwest: chanterelles, murklor, and even matsutake!
Lefse with chanterelles, sauerkraut, and hushallsost cheese is one of the most delicious examples of Nordic mycophagy I've seen yet, and a culinary birthright I didn't know I was missing.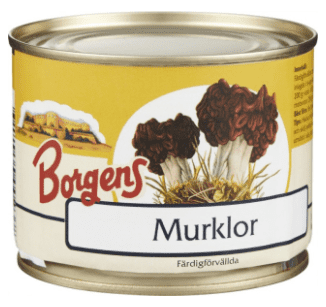 My journals are filled with ideas and little notes gleaned from all kinds of places though, and one day, watching a show on Swedish food (for the life of me I can't remember which one) I noticed some delicious yellowfoot mushroom wraps getting served up from the Nordic Food Truck.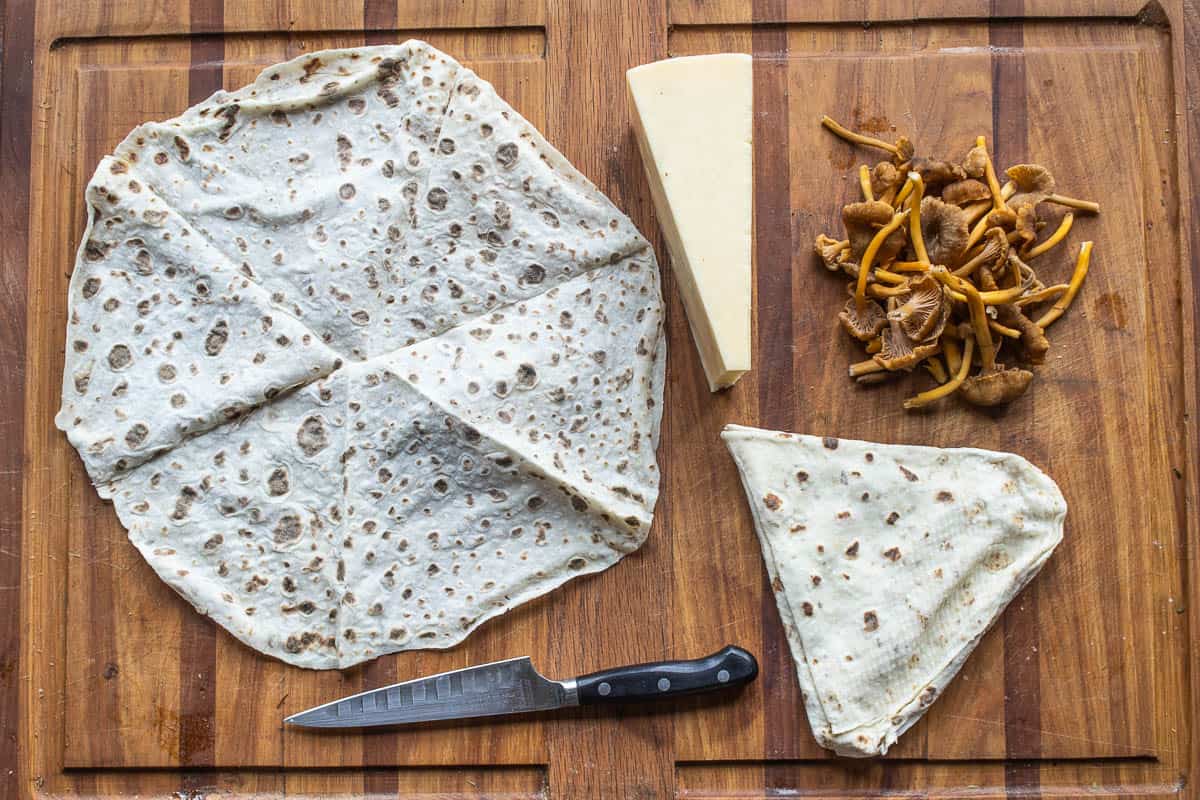 A worker in the truck was cooking mushrooms and sauerkraut on a flattop grill, turning them over with a spatula, and folding them into a sheet of tunnbröd (soft flatbread, I use lefse here since It's more available) lined with soft, melting Swedish cheese (Västerbottensost).
The show moved quickly, and I remember having to rewind it to make sure of what I was seeing, but after a re-wind, I could definitely see that the mushrooms were yellowfoot chanterelles, a delicious mushroom that seems to perpetually live in the shadow of it's famous, chunkier cousin, the golden chanterelle, or kanterelle, as it's known.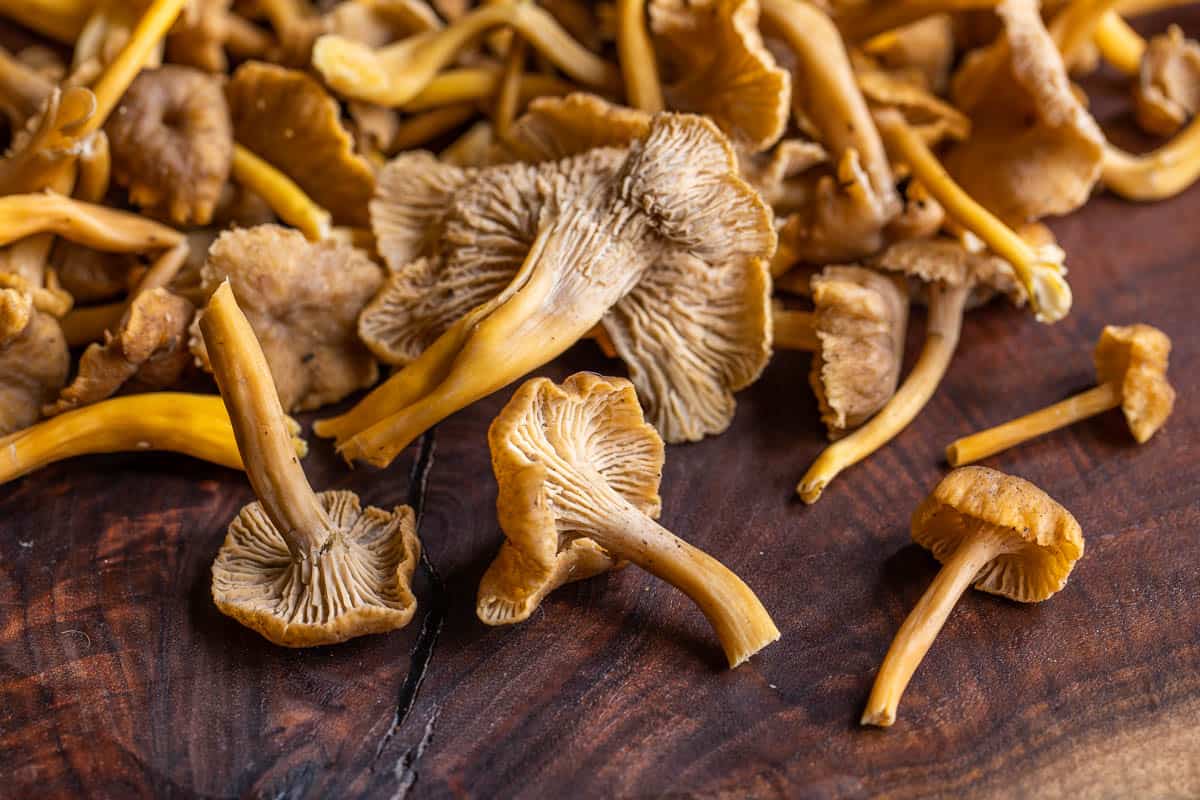 Kanterelle, Chanterelle, Cantharellus
In Sweden, winter chanterelles (Craterellus tubaeformis or something very close to it should be what they have in quantity) are known as "Trattkanterelle", tratt meaning funnel, and kanterelle a cognate of chanterelle.
These are, for all culinary intents and purposes, identical to the yellowfoot chanterelles sold commercially in the United States out of the Pacific Northwest.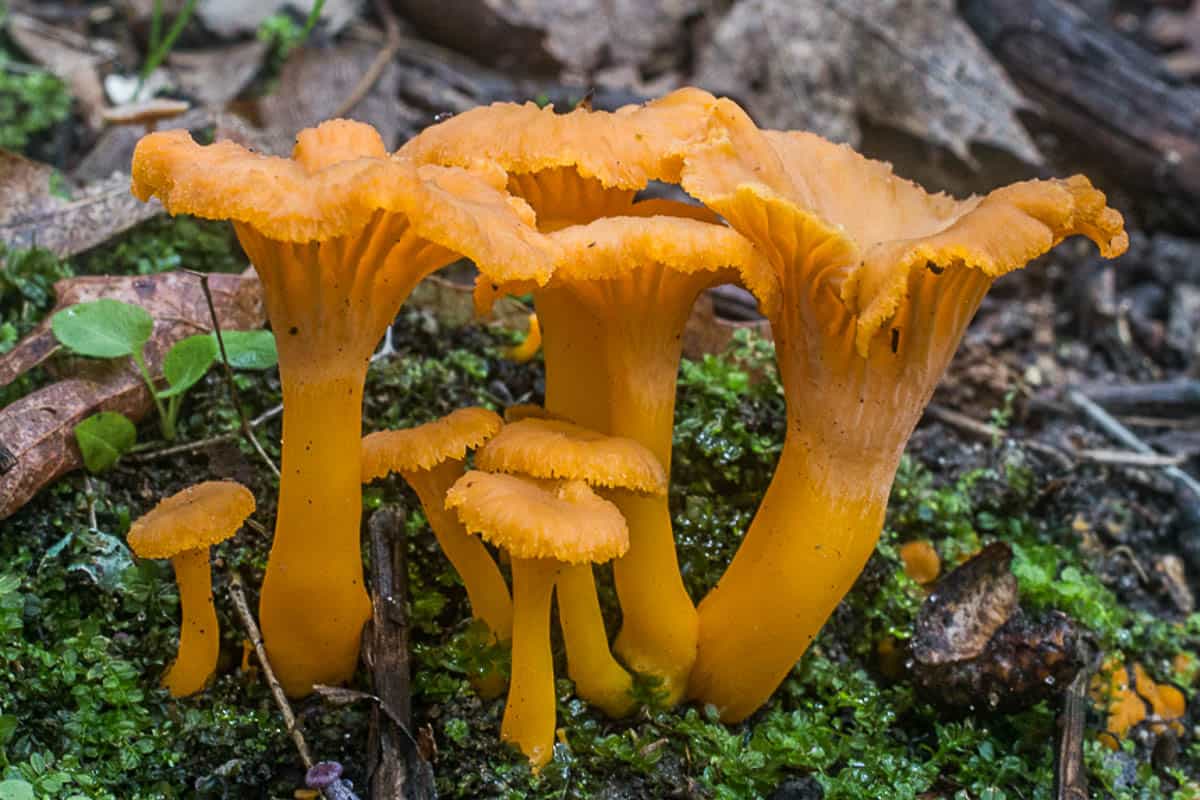 C. tubaeformis are the largest, meatiest yellowfeet I've eaten, with the ones I harvest locally generally being smaller (I assume they're Craterellus ignicolor with their brilliant yellow-orange color and small stature) although they make up for it with a great flavor.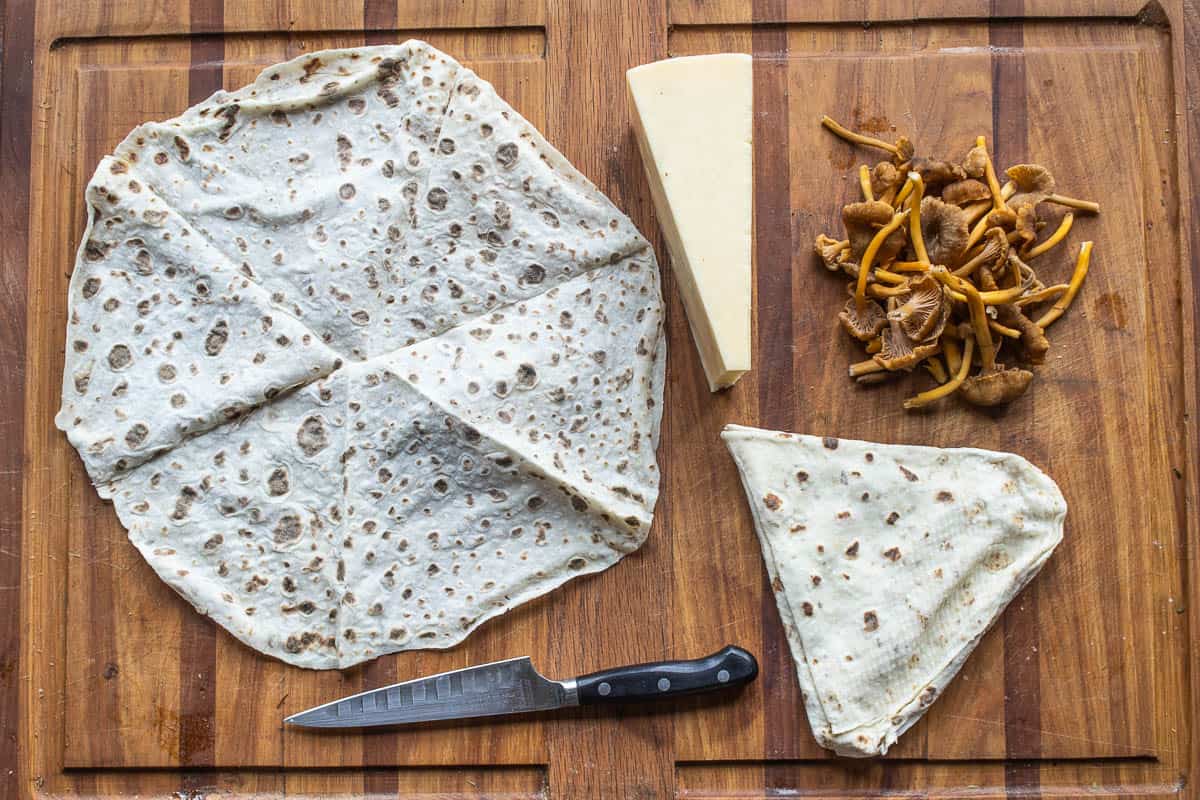 A heretical substitute
After I devoured my first Swedish yellowfoot burrito, I had to share it with someone, anyone, as soon as possible while I still had the lefse. It was too delicious to keep to myself.
I called my Grandma and Grandpa and asked if I could stop by with a snack, packed my things up, and drove on over. As I unpacked, pontificating about how delicious it was, I realized with some embarrassment, that I'd forgotten the lefse (Insert ringing of the shame bell).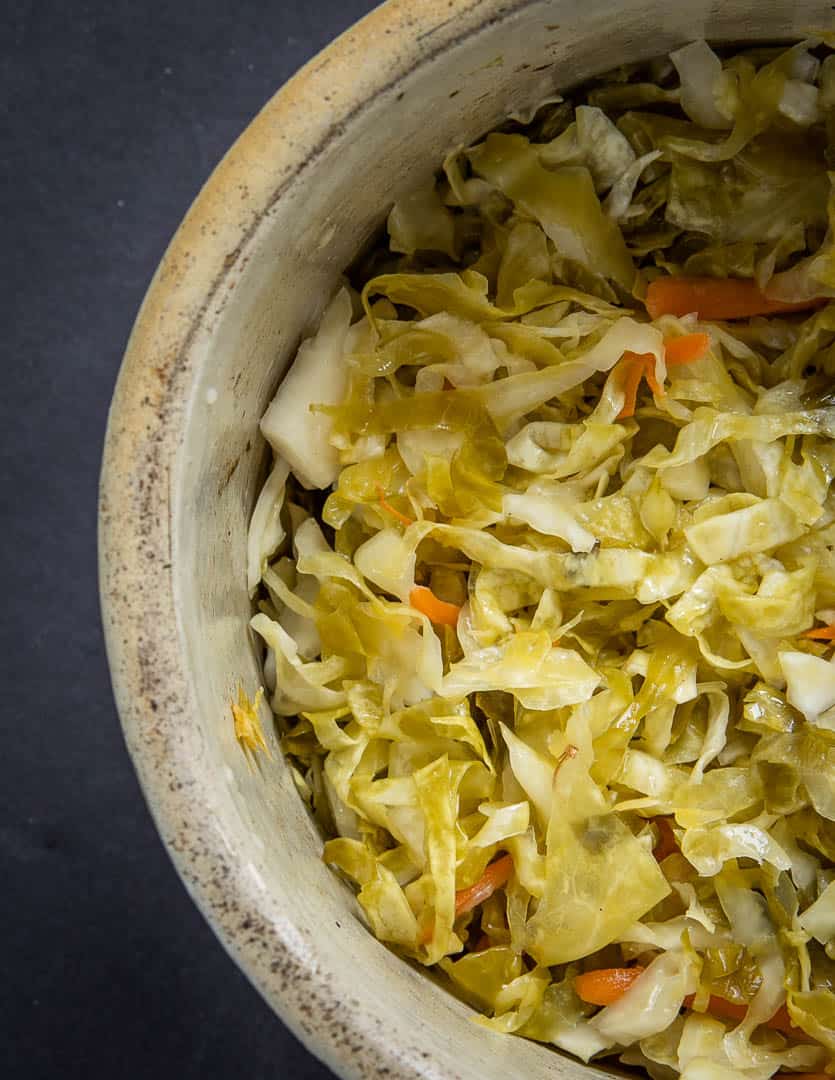 Grudgingly, I accepted Grandmas offer of flour tortillas to take their place. Now, I'm not saying you should skip the lefse, this little mushroom burrito is so good it's worth breaking out the lefse mat and turning sticks just to taste it (or buying some from your local grocery store).
But, if push comes to shove, a thin, warm flour tortilla can work in a pinch. Lefse is lighter, and more delicate than a clunky tortilla though, and the two are completely different products, so it's a concession.
Hunting lefse
In Minnesota and Wisconsin, Lefse is sold at all kinds of grocery stores, but, if you have the chance, it's worth heading over to one of the most iconic of Scandinavian food markets our region has to offer: Ingebretsens.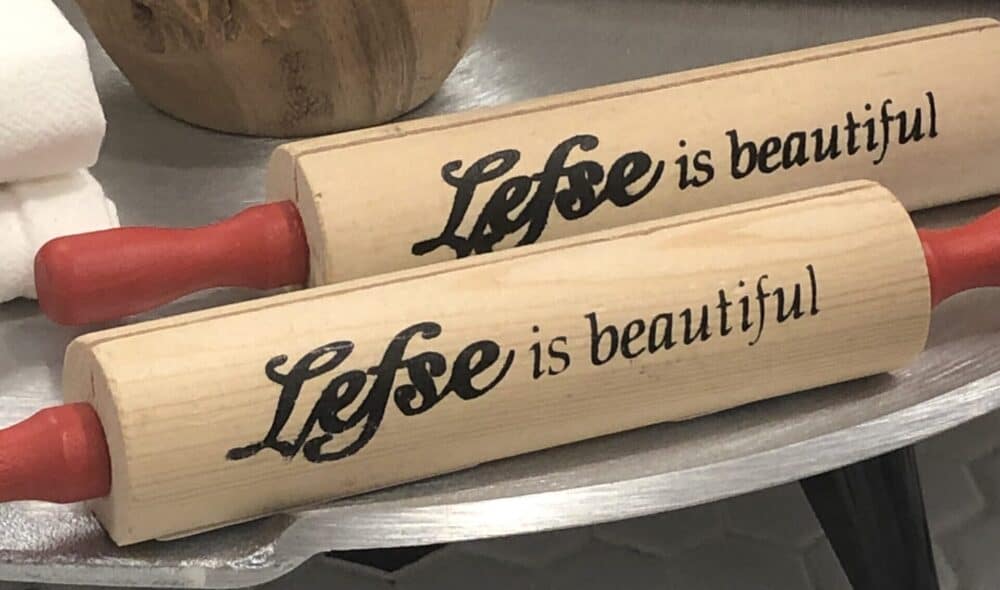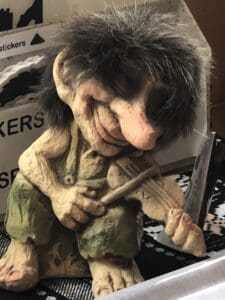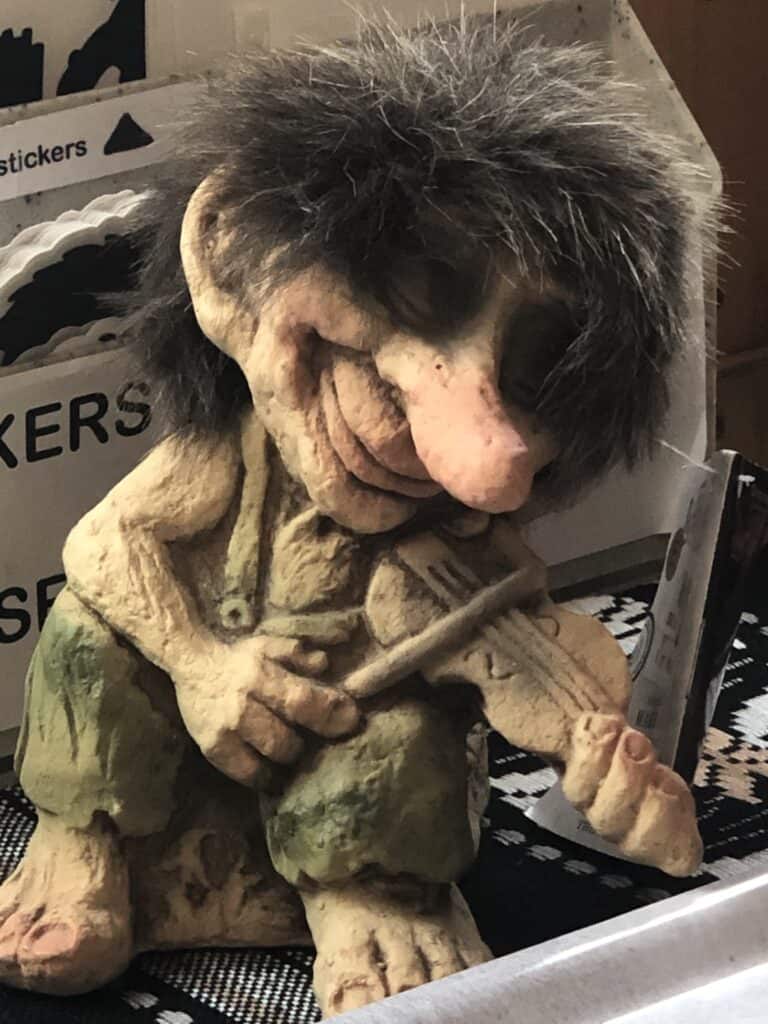 Not only does Ingebretsens make their own lefse, but they also have homemade fenelar (a smoked mutton ham), homemade blood sausage, salted pork trotters, and cloudberry preserves.
Of course, there's also the miniature trolls and crafts painted with the delicate Rosemåling technique all over that always reminds me of my Grandmother, and family time making rosette cookies and krumkake filled with whipped cream.
Using Different Mushrooms
I use winter chanterelles here, but any thin, delicate related mushroom would be good. Black trumpet mushrooms and small cinnabar chanterelles would be great too. Sliced Hedgehog mushrooms and cauliflower mushrooms are both in season at the same time and could work too.
More
If you like this, make sure you also try Winter Chanterelle Broth with Pasta, it's one of my favorite winter chanterelle recipes.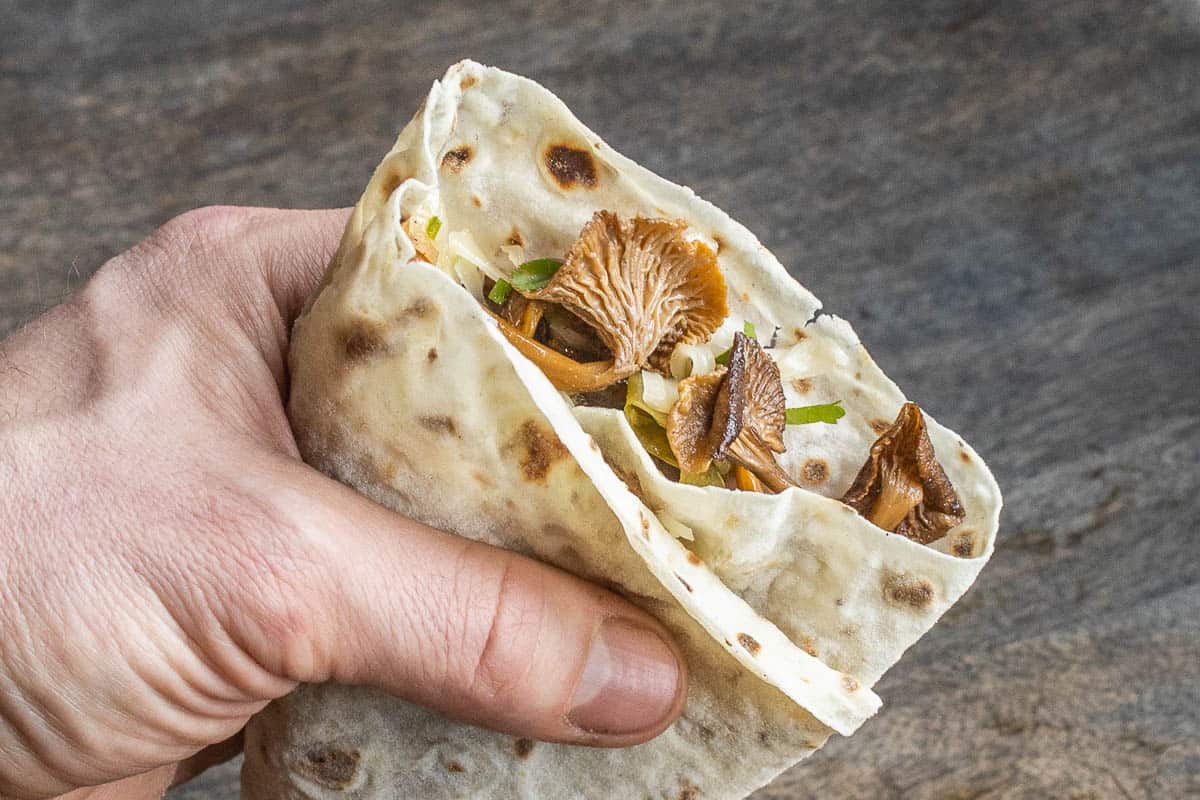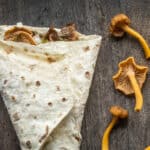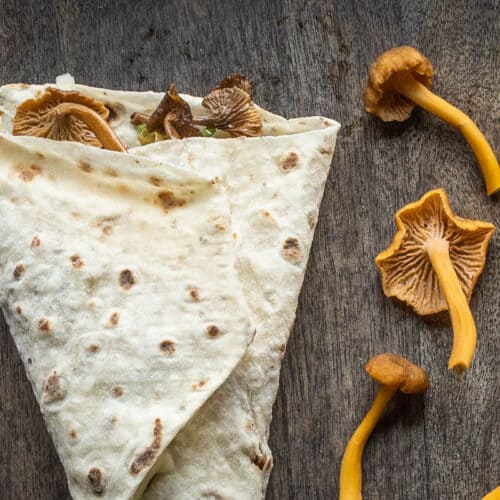 Print Recipe
Winter Chanterelle Lefse With Sauerkraut and Cheese
A delicious Scandinavian street food reminiscent of a burrito, filled with tart kraut, rich mushrooms, and melting Hushallsost cheese. Serves 4
Equipment
1 10 inch saute pan

1 baking sheet
Ingredients
2

sheets of lefse

10

oz

fresh yellowfoot chanterelle mushrooms

6

oz

grated Swedish cheese

a melting variety like Hushallsost or Brunost (very mild fontina can be substituted) at room temperature

8

oz

homemade sauerkraut

if you're sensitive to salt, rinse and pat dry. Canned sauerkraut should not be substituted.

4

Tbsp

sour cream

full fat, always

4

tablespoons

unsalted butter

Fresh cracked black pepper

Chopped fresh dill

or cilantro, chives, or a combination
Instructions
Preheat the oven to 300F.

Sweat the mushrooms in the butter until wilted, and aromatic. Add the sauerkraut to the mushrooms and heat through.

Meanwhile, cut each sheet of lefse in half, arranging the slices on a large baking sheet. Spread each slice with sour cream, then divide the cheese evenly over the slices of lefse.

Turn the heat on the mushrooms and sauerkraut to high (again, don't allow it to brown, you just want it hot enough to melt the cheese). Remove the pan from the heat, and stir in the herbs.

With tongs, evenly divide the mushroom-sauerkraut mixture between the four sheets of lefse.

Fold each sheet of lefse up in ⅓rds to make a sort of rustic, flat cone, then heat in the oven for a couple minutes to ensure the cheese melts.

For the real street-food feel, wrap the finished warm lefse sandwiches in parchment.

Serve with ice cold Carlsburg or Pilsner Urquell (probably the closest thing you can get in the States to a Swedish lager)
Notes
Lefse Substitutes 
I love the lefse here, but you may not be able to find any at your local grocer. If you can't, any sort of thin, wrap-able flatbread will work. You can even use a flour tortilla if you can't find anything else. 
Nutrition
Serving:
1
Lefse roll
|
Calories:
800
kcal
|
Carbohydrates:
64
g
|
Protein:
59
g
|
Fat:
114
g
|
Saturated Fat:
66
g
|
Polyunsaturated Fat:
6
g
|
Monounsaturated Fat:
27
g
|
Trans Fat:
2
g
|
Cholesterol:
200
mg
|
Sodium:
500
mg
|
Potassium:
2089
mg
|
Fiber:
19
g
|
Sugar:
11
g
|
Vitamin A:
3151
IU
|
Vitamin C:
34
mg
|
Calcium:
1774
mg
|
Iron:
16
mg